These easy little tricks not only make your egg white omelette look like the real deal, but also boosts the nutritional value without added fat. Perfect for Trim Healthy Mamas!
Let's Be Honest, Egg White Omelettes Aren't Really That Great, Right?
As a quasi real foodie, the thought of NOT using the delicious, healthy, deep-orange orbs in the middle of my freshly laid backyard chicken eggs is something akin to sacrilege. You just can't make an egg white omelette that looks or tastes good without them.
Or can you?
You most certainly can make a delicious egg white omelette that fools the senses into thinking you've used the whole egg. See, like this: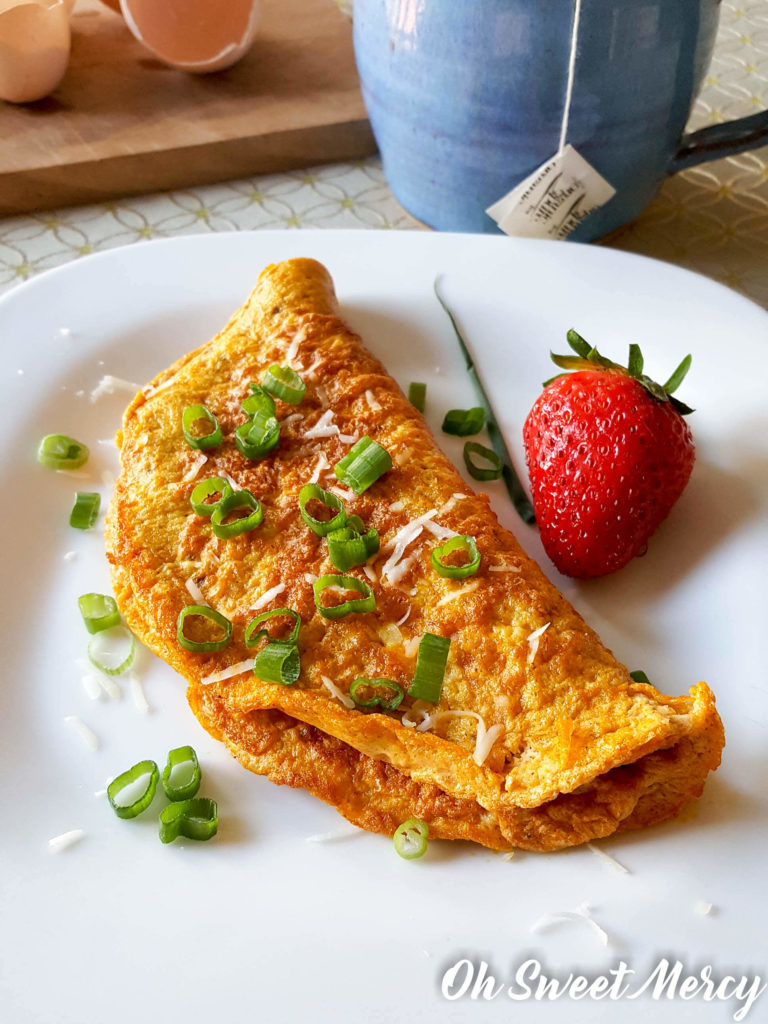 I'll share my tricks in a bit, but if you're still wondering why on earth anyone would do such a thing, let me explain…
If You're a THM, You Know Why!
Trim Healthy Mama, that's why! It will help you discover how to combine fuels (fats and carbs) in a way that encourages healthy weight loss.
If you're used to liberally schmearing grass fed butter on your freshly baked sourdough bread, or dipping it in the yolks of an egg fried in coconut oil, you might find some of the rules rubbing you the wrong way. But they will help nourish your body and encourage it let go of unwanted pounds.
You can have freshly baked sourdough bread, but only with very little fat (an E meal). You can have eggs fried in coconut oil, and the whole egg – but only in a meal that has very low carbs (an S meal).
Then there is the Fuel Pull, which is low in both fat and carbs. Those can sometimes need a little help!
Hey, Egg White Omelette…Not Sure I Like You.
It's perfect for any fuel type, but most especially for the E and Fuel Pull varieties as an egg white omelette is low in both fat and carbs. You can stuff that thing with tons of non-starchy veggies too.
But let's face it – an egg white omelette just does not look like a real omelette. It looks like you're cooking snot. And when it's cooked, it looks kind of like crumbled cheese…but without the yummy deliciousness of cheese.
It's a let down when you love cooking with whole eggs.
How To Fool Your Eyes!
I love nooch. I put it in all the things. So when I discovered it helps fool my eyes into seeing a "real" omelette I was overjoyed!
What is nooch, you say? It's short for nutritional yeast, and it's amazing stuff (if you can't find it at your local health food store or grocer, you can get some here).
Nooch is high in B vitamins, such as B12 as well as thiamin, niacin, riboflavin, and folic acid.
Nutritional yeast also has the wonderful characteristic of offering a cheesy, nutty flavor to foods and tickling the umami center on the tongue. It's often used by vegans to replicate cheesy dishes like macaroni and cheese and even to make this Sharp Vegan Cheddar Cheese Alternative. And it's amazing on popcorn!
It's also what makes it possible for dairy-free peeps to eat comfort foods like my Dairy Free Cheesy Chicken, Broccoli, and Rice Bake, which is a THM – E style recipe.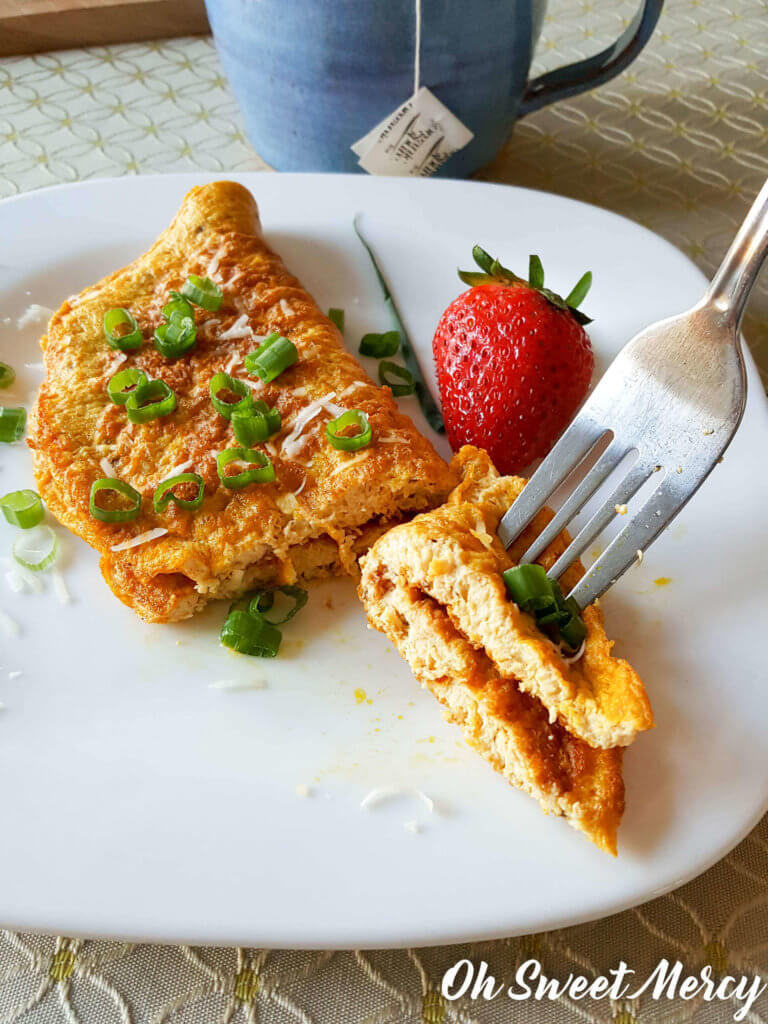 But Wait, There's More!
Since the original date of this post, I have also discovered two more healthy ingredients to give that bland egg white omelette the beautiful yellow color that yolks impart:
Red palm oil and turmeric! Use just enough red palm oil to coat your skillet, up to 1/2 teaspoon (you'll have another 1/2 teaspoon of additional fat allowed in your E or FP meal so just be mindful).
Red palm oil gets its deep, orange color from beta carotene and is a healthy source of fat-soluable antioxidants.
My affiliate partner carries delicious, sustainably-harvested red palm oil if you need some.
Add a pinch or two of turmeric (more if you really love the flavor) and be sure to add some black pepper to help your body utilize its inflammation-fighting goodness.
All those yellow things make your boring old egg whites a beautiful, "real egg" yellow. That can really help you feel more satisfied when your meal is lacking the fats you might be wanting!
Ways To Eat This Jazzed-Up Egg White Omelette:
Since it's a Fuel Pull, it's a perfect lean protein source for an E, FP, or lighter S meal or snack.
THM E Meals:
THM FP Meals:
THM S Meals:
Does it sound completely weird to have a low fat egg white omelette in an S setting? Believe it or not, there are legit times when you need to have just a bit less fat.
You might be in a season of life where your hormones say ALL THE FATS just doesn't work like it used to.
You can still cook it in some butter, maybe add a sprinkle of cheddar. And don't forget to load it up with the non-starchy veggies!
Whatever style meal you are eating, remember to center your meal around 20 grams of healthy protein. This recipe has about 18 grams of protein, making it a good start to a healthy breakfast!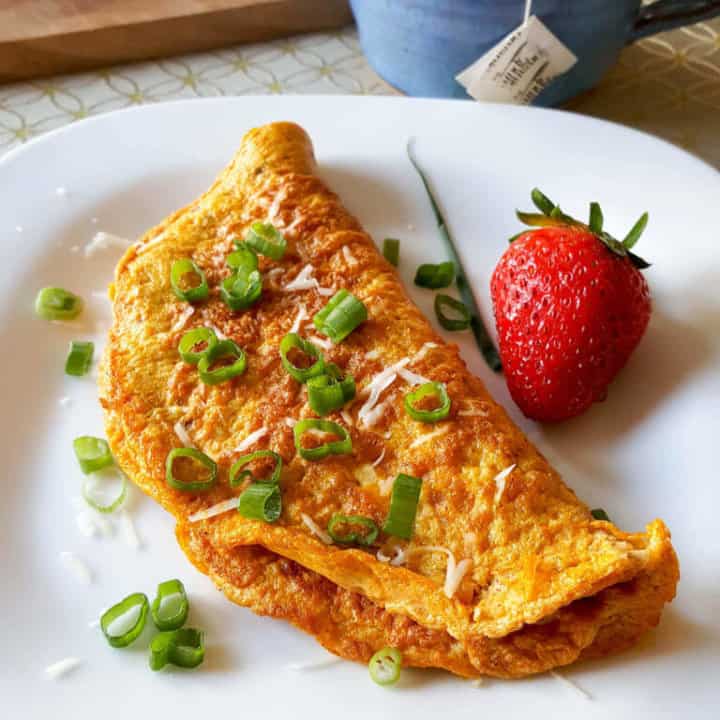 How to Make an Egg White Omelette That Looks Like the Real Thing
Yield: 1 serving
Prep Time: 10 minutes 5 seconds
Cook Time: 5 minutes
Total Time: 15 minutes 5 seconds
These easy little tricks not only make your egg white omelette look like the real deal, but also boosts the nutritional value without added fat. Perfect for Trim Healthy Mamas!
Ingredients
Basic Egg White Omelette
1/2 cup egg whites (about 4 eggs)
1 tablespoon nutritional yeast
1/2 teaspoon onion powder
1/4 teaspoon black pepper, or to taste
1/4 teaspoon paprika
1/4 teaspoon salt
1/2 teaspoon (or less) red palm oil
Optional Add-Ins
Chopped onions, peppers, and mushrooms (omit onions if doing a Fuel Cycle)
Spinach, kale, or other dark, leafy greens
Garlic, onions, and jalapeno peppers
Instructions
In a small bowl, whisk together egg whites, nutritional yeast, and seasonings until combined well.
Heat a small skillet and melt the red palm oil.
When water droplets skitter around the pan when dropped in, cook any additional non-starchy veggies such as onions, mushrooms, or peppers if adding, then pour in the egg mixture.
Otherwise, pour in the egg mixture.
Allow to cook until set well around the edges and the omelette can be flipped (alternately, cover the skillet to steam the top of the omelette). Add any leafy greens at this time.
When cooked through, fold omelette in half and serve.
Recommended Products
As an Amazon Associate and member of other affiliate programs, I earn from qualifying purchases.
Nutrition Information:
Yield: 1
Amount Per Serving:
Calories: 0
Total Fat: 0g
Saturated Fat: 0g
Trans Fat: 0g
Unsaturated Fat: 0g
Cholesterol: 0mg
Sodium: 0mg
Carbohydrates: 0g
Fiber: 0g
Sugar: 0g
Protein: 0g
Nutrition information is approximate and based on the best knowledge available at the time of recipe publication. Your results may vary due to differences in ingredients.
Do You Like In Your Egg White Omelettes? Will You Try My Healthy Eye-Tricking Tips?