Independence Day usually means BBQs and fireworks here in America.
And celebrating our nation's hard-earned freedom also means a veritable minefield of off-plan food choices for the Trim Healthy Mama follower. Potato salad, chips, buns for grilled meats as well as sugar-laden desserts can make sticking to our healthy eating plan difficult.
If you're hosting a party or bringing food to a family cookout, one solution is to make on plan foods that everyone will enjoy. These low-fat BBQ baked beans fit with the Trim Healthy Mama E style meal guidelines without leaving out the flavor everyone else will expect.

While THMs are not afraid of fat, we do need to eat them wisely.
This means that when you have a meal with a higher amount of healthy carbs such as beans, you limit your fat to just 5 grams or less. This BBQ baked beans recipe contains a low amount of fat, so you can include a little added fat in another component of your meal. Or opt for completely fat free baked beans. Choose lean grilled chicken breast or fish as your main protein and use your remaining allowed fat portion in an on-plan salad dressing for a big leafy green side salad.
Enjoy some fresh fruit for dessert, such as berries or a small amount of fresh melon. Choosing a non-fat frozen drink, such as the Fat Strippin Frappa in the THM Cookbook, with added gluccie (glucomannan powder) or Gluccie Pudding will also help reduce the impact of the carbs in your meal on your blood sugar as well as help you stay full longer.
You'll be full and satisfied, and that will help you resist temptation. Remember, you are fueling your body with healthy foods to feel better as well as to lose weight. You know how you'll feel if you indulge in that off-plan treat. Is it worth it?
What's wrong with regular baked beans?
Many classic baked beans recipes have a high amount of sugar – brown sugar and molasses – along with a lot of fat, usually in the form of bacon. Let's not kid ourselves, it really tastes good. But when you're trying to lose weight or make healthier choices, your Aunt Betty's Boston Baked Beans might not be the best choice. They taste amazing, yes, but they're wicked hard on the blood sugar!
Unsulphured molasses is totally on plan, and thanks to Gwen from Gwen's Nest, there's also a very suitable substitution for brown sugar that you can make yourself! I've been using her Sugar Free Brown Sugar recipe and love it, so naturally it was my go-to for this recipe.
These low-fat BBQ baked beans are cooked low and slow in your oven, so plan ahead!
You can certainly cook them more quickly at a higher temperature if you're in a hurry. But I promise you won't be disappointed by planning ahead and baking them for several hours. They are even better the next day (or so!). Just keep them covered and check on them several times during baking to stir and add more liquid if they seem dry.
If you have a heavy cast iron Dutch oven, or one of those fancy Le Cruset enameled French ovens, please use that! I popped my cast iron dutch oven into the oven while it's preheating, although now that I think about it I cold have just made it all in that one pot and made one less dish to wash later.
Hindsight…gets me every time.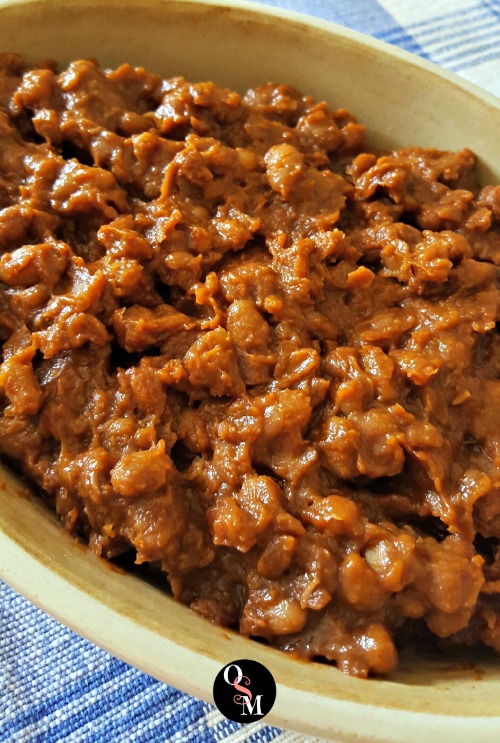 My husband, who doesn't really like beans, said these were "really good." That's akin to receiving a Michelin Star. He's not easily impressed by anything!
Trim Healthy Mamas, here's how these baked beans fit into our healthy eating plan.
These are definitely an E! If your only carb source is going to be the beans, then enjoy a full cup. But if you're thinking maybe a piece of watermelon sounds good, or you have another E-friendly carb source you'd like to add to your plate, then stick with just half a cup.
Be sure to have a nice, lean protein source such as grilled chicken breast to center your meal on – that's key! There are three teaspoons of fat in the entire recipe, which will make 5 1/2 to 6 cups. Each cup of beans will have around 2.5 grams of fat. You could make them fat-free by using cooking spray instead of butter.
So next time Aunt Betty offers to bring her baked beans to your cookout, tell her you've got it covered.
Then don't even mention that they're healthy. No one will miss the fat or the tons of sugar! Then you fill your plate with healthy choices and enjoy the day. Your pancreas and waistline will thank you later.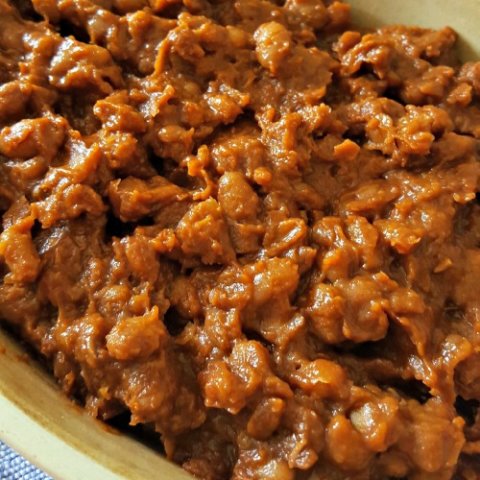 BBQ Baked Beans - Low or No Fat
Yield: approx 11, 1/2 c each
Soak Time: 9 hours
Prep Time: 15 minutes
Bake Time: 2 minutes
Total Time: 9 hours 17 minutes
These low (or no) fat baked beans are cooked low and slow to develop their flavor. A Trim Healthy Mama E side dish
Ingredients
1 pound dry navy beans, soaked overnight (or follow quick soak directions) and cooked until tender. Reserve the cooking liquid, unless you prefer to use chicken broth to thin out the beans
1 small onion, diced
2 cloves garlic, pressed or minced
1 can tomato paste
1 Tbs butter (omit and use non-stick spray for fat free version)
2 Tbs unsulphured molasses
1/2 tsp yellow mustard
2 tsp Liquid Smoke (optional)
2 Tbs ACV (apple cider vinegar, just use the inexpensive pasteurized kind since you're cooking with it)
Fat free chicken broth, or cooking liquid, as needed for consistency
Instructions
Preheat oven to 300, if using a cast iron dutch oven place it in the oven while preheating
Drain cooked beans, reserving cooking liquid if desired
In a large pot over medium high heat, melt butter and cook onions for several minutes, until soft and translucent
Turn the heat down a bit and add the minced garlic. Cook for about 30 seconds, garlic burns quickly so be careful!
Whisk in the tomato paste, molasses, mustard, salt, paprika, sugar free brown sugar, liquid smoke and apple cider vinegar until well combined
Add reserved liquid from the beans, or chicken broth until you have a sauce that is slightly thick
Mix in drained beans, add more liquid if it seems too dry
Be sure to taste before putting them in the oven and adjust flavors to suit your family's tastes
If you're using a cast iron dutch oven and it's preheating in the oven, remove it
Add the beans to your dutch oven or other baking dish
Cover and bake for 2-4 hours
Stir occasionally and add more bean liquid or chicken broth if they seem too dry
Recommended Products
As an Amazon Associate and member of other affiliate programs, I earn from qualifying purchases.
Nutrition Information:
Amount Per Serving:
Calories: 0
Cholesterol: 0mg
Sodium: 0mg
Carbohydrates: 0g
Fiber: 0g
Sugar: 0g
Protein: 0g
Like this recipe? Your friends will too! Maybe not Aunt Betty, but you never know. Please share and pin to your favorite Pinterest boards!