One of my favorite things is blessing others!
That's just one reason why I love being a part of the THM Blogger Test Kitchen (Unofficial) group on Facebook. We're a group of veteran bloggers dedicated to providing THM friendly recipes to all the Trim Healthy Mamas and their families out there. And we LOVE blessing mamas with some of the tools that make it easy and fun to stay on plan. Last month, we gave away an ice cream maker bundle! This month, it's a Ninja Mega Kitchen System!
You'll get a blender, food processor, and 2 single serve blender cups for all your THM blending needs. Check out the product details from my affiliate partner below:
Shakes, smoothies and more!
If you've been doing THM for any length of time, you've probably heard of the Fat Strippin Frappa and Big Boy Smoothies (recipes in the THM Cookbook) as well as the Secret Big Boy Smoothie, which includes a powerful ingredient you'd never think to add to a smoothie – okra. Okra is super good for you, but I can't stand it unless it's in smoothie form!
But, to make these types of recipes, you need a fairly powerful blender. I can attest to the fact that one can NOT make a Fat Strippin Frappa with a hand blender. At least not without making a huge mess. And a very chunky FSF.
The Ninja Mega Kitchen System 1500 will crush ice, make smoothies and even functions as a food processor with the bowl attachment. And with the dough blades, you can mix doughs! Perfect for making the Soft Sprouted Bread on page 200 of the cookbook.
If you need some recipes to try, here's a few of my favorites:
Creamy Coconut, Lemon, and Turmeric Shake
Creamy Vanilla Chai Protein Shake
And my blogging buddies have terrific recipes too!
My Favorite THM Drinks – Kristen Hay Photography
Tiramisu Smoothie – Nana's Little Kitchen
Peanut Butter and Jelly Sandwich Smoothie – Chrissy Benoit
Criddle Family Salsa – Mrs.Criddle's Kitchen
Basic Low Carb Yeast Bread – Wonderfully Made and Dearly Loved
How to enter this Ninja Mega Kitchen System Giveaway: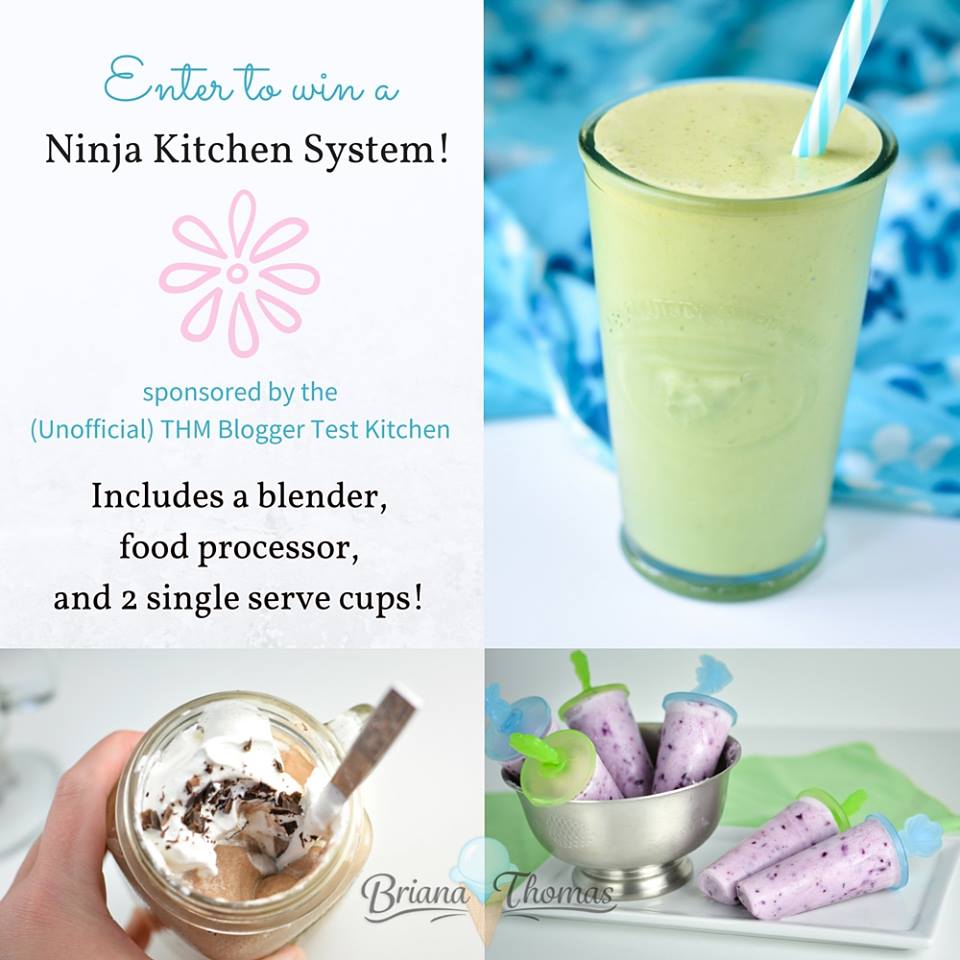 First, read the terms and conditions, then enter via the Rafflecopter widget below.
All entries must be made through Rafflecopter (if you have trouble entering on mobile, try a desktop).
All entrants must be a part of the THM Blogger Test Kitchen (Unofficial) Facebook group (this will be confirmed when randomly choosing a winner, and anyone not a part of the group will be disqualified).
This contest is open Friday July 1 through Thursday, July 7th, 2016, midnight EST.
This contest is open worldwide; if international shipping costs are prohibitive, a $150 Amazon gift card will be sent to you. If you win and you already have a blender, you can choose to gift it to a friend (can be shipped directly to them if you like) or we'll send you a $150 Amazon gift card to use toward the kitchen equipment you need!
Best of luck to you! I know whoever wins this will have a blast whipping up THM treats with it!