Ever take a bite of something and find yourself instantly transported back in time?
To a moment in time? To an era long left behind? Some food you forgot about, maybe? Or maybe you never knew the recipe because your friend's mom made it and you never asked her for it.
Because when you're 10 you don't really think about stuff like recipes. You just know that you can go across the street to your friend's house and her awesome German mom will have that yummy stuff in the fridge.
We don't eat pork anymore, but when we did I used to buy ham salad from a local butcher on occasion.
I got it for my hubby, because ham salad wasn't really ever a favorite of mine. I don't know the exact recipe they use, but it probably had something like ground ham, sweet pickle relish and "whipped salad dressing" (more commonly known as Miracle Whip).
Turkey "ham" isn't something I use often, but now and then I'll pick one up for meals. I decided to make ham salad for hubby's lunches, but since the style of ham salad he likes has too much sugar in it for my THM needs, I decided to make a sugar-free version that I could eat.
Simply replacing the sweeter, sugary ingredients with savory versions was all it took.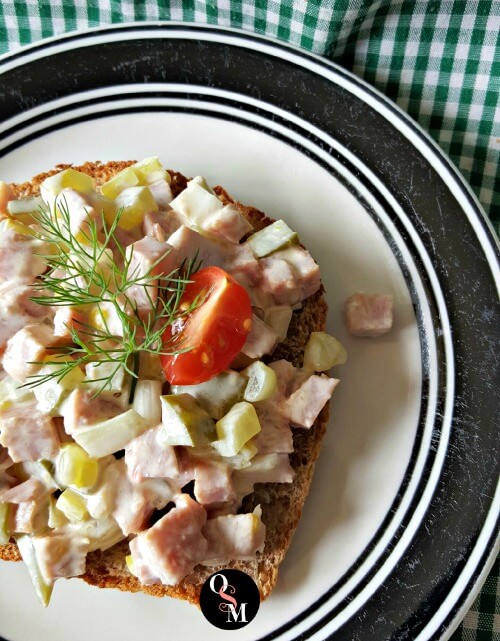 That's when a wormhole opened up in my kitchen.
One bite and for a second I found myself whisked back to 1981…standing there in my friend's kitchen (probably with big hair and jelly shoes)…eating her German mom's sandwich filling on a crusty roll of some sort. I haven't had that in over two decades but have thought of it often over the years.
Since I never knew how to make it, I never did. All I remember is that it had chunks of meat, onions and pickles (and maybe cheese) and I'm pretty sure it had mayonnaise.
I wasn't intending on replicating this recipe, so that bite zapping me back to that childhood memory was such a lovely surprise. I don't know if this is exactly how she made it (I had always thought she used bologna), but it's close enough for me.
Best of all, it's totally Trim Healthy Mama friendly. I love to THM-ify our favorite foods!
Trim Healthy Mamas, here's how to fit this Turkey Ham Salad into your healthy eating plan.
Since this recipe uses mayo, it's an S. You'll want to keep your carbs to under 10 grams (6 or less if using low carb wraps since those are considered "Frankenfoods"). Fill a low carb wrap with it, or even better use my Bread in a Mug or large lettuce leaves for the wrap. Then you can use your remaining carb allowance for some fresh berries. It makes a great quick and easy cold lunch for a hot summer day.
How to make this Time Travelling Turkey Ham Salad.
You weren't there in that kitchen with me in all my big-haired, jelly-shoed glory so maybe this nostalgic ham salad recipe won't snap you back in time but I hope you will enjoy it. If you do have a food that takes you back to yesteryear, I'd sure love to hear about it so please leave a comment below!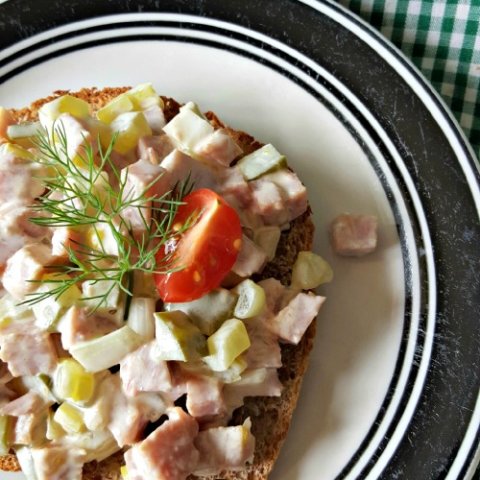 Turkey Ham Salad | THM S, Low Carb
Yield: 4
Prep Time: 20 minutes
Total Time: 20 minutes
This quick and easy Turkey Ham Salad is reminiscent of a favorite childhood food that my friend's German mom prepared often. We always ate it on crusty rolls of some sort, and it was soooo good!
Ingredients
2 oz diced turkey ham (1 densely packed cup of 1/4" cubes)
1/2 c diced dill pickle (1/2 large, whole pickle)
1 to 2 Tbs diced onion
1 to 2 Tbs mayo
1 tsp nutritional yeast (optional)
Instructions
In a bowl, combine all ingredients and mix well.
Notes
Trim Healthy Mamas, enjoy this tasty S recipe on a low carb wrap or use large lettuce leaves instead. Using lettuce frees up carbs in your meal for fresh berries! If you use only 1 Tbs mayo, your fat per serving will be half as much.
Recommended Products
As an Amazon Associate and member of other affiliate programs, I earn from qualifying purchases.
Nutrition Information:
Yield: 4
Serving Size: 1
Amount Per Serving:
Calories: 128
Total Fat: 8g
Saturated Fat: 1g
Trans Fat: 0g
Unsaturated Fat: 6g
Cholesterol: 40mg
Sodium: 537mg
Carbohydrates: 2g
Fiber: 0g
Sugar: 1g
Protein: 12g
Nutrition information is approximate and based on the best knowledge available at the time of recipe publication. Your results may vary due to differences in ingredients.
Like this recipe? Your friends will too! Please share and pin to your favorite Pinterest boards!