Creamy, delicate dill Havarti cheese makes this cheesy spaghetti squash casserole the low-carb star of your holiday feast this year! A perfectly satisfying alternative to the classic cheesy potato dish for Trim Healthy Mamas and gluten/grain free peeps.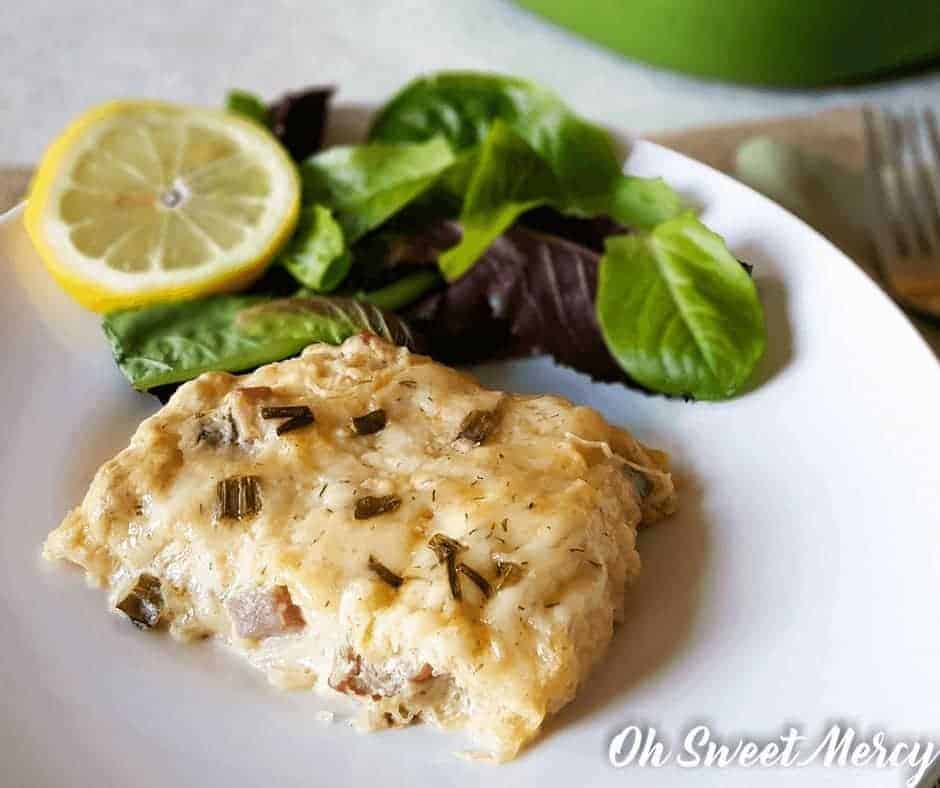 It seems like you always see a cheesy potato casserole on the holiday table, right? You won't have to miss out on cheesy potato-y goodness this year because of following the Trim Healthy Mama plan or having grain or gluten issues.
Wanna know why?
Spaghetti squash. Most of all, this is how I know there is a God – because He so kindly provided a perfect substitute for potatoes and pasta! 😉
Check out my review of the new, simplified THM plan book.
A Spaghetti Squash Casserole That Does Double Duty!
You can make this cheesy, satisfying comfort food two ways – as a main dish or a side. For a main dish, just add a meat for protein.
Since this is a low carb S type recipe, you can add any kind of meat. I used diced turkey ham, but you could throw anything in there:
leftover turkey or chicken
cooked roast beef
cooked ground beef
tuna
cooked turkey sausage or bacon
As a side, simply omit the meat. How easy is that?
How To Cook A Spaghetti Squash.
If you have an Instant Pot, cooking a spaghetti squash is a snap!
Simply wash the outside of the squash, cut the stem off if needed to fit in the pot, place on the trivet and add a cup of water to the pot. Secure the lid and set to SEALING, then set your IP to MANUAL for 20 minutes.
You can do either QPR (Quick Pressure Release) or NPR (Natural Pressure Release). If you forget to get your spaghetti squash out of the pot right away, no worries. It will be fine.
If you live at higher elevations, you may need to increase the time. Here in Indiana 20 minutes was perfect (and I forgot about it for about 40 minutes).
The outside shell should just peel away, too, making it super easy to get all that spaghetti squash goodness out for your recipe.
If you don't have an IP, no problems! I also have a post on how to bake one in the oven.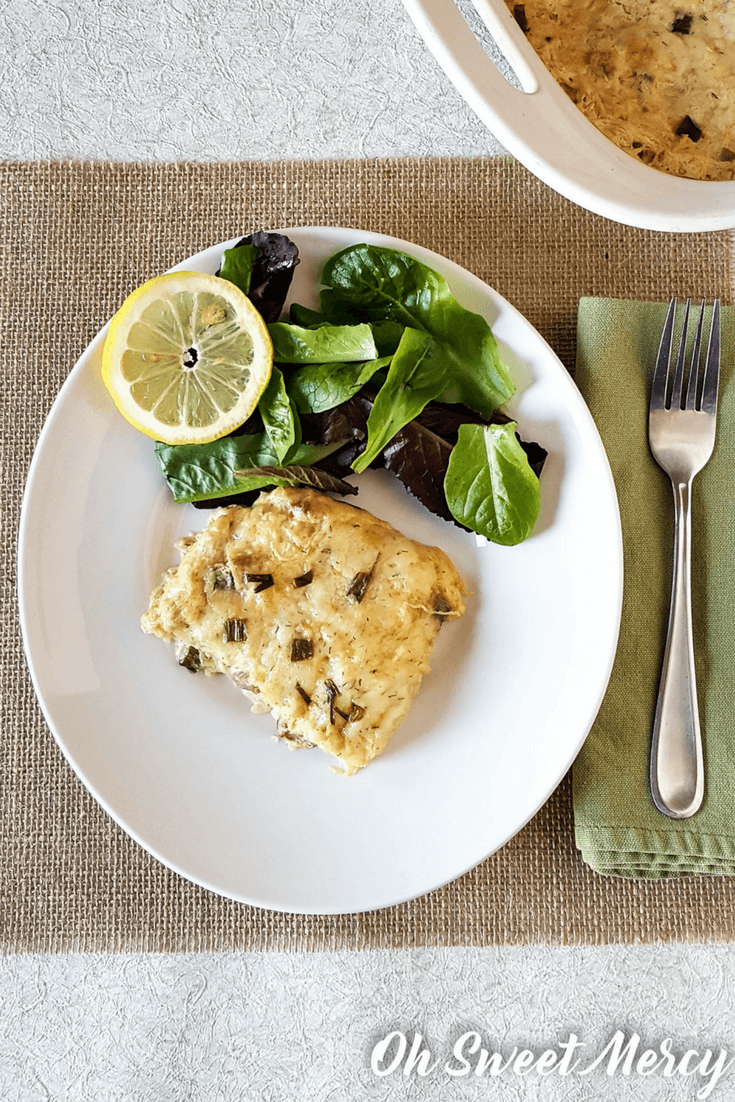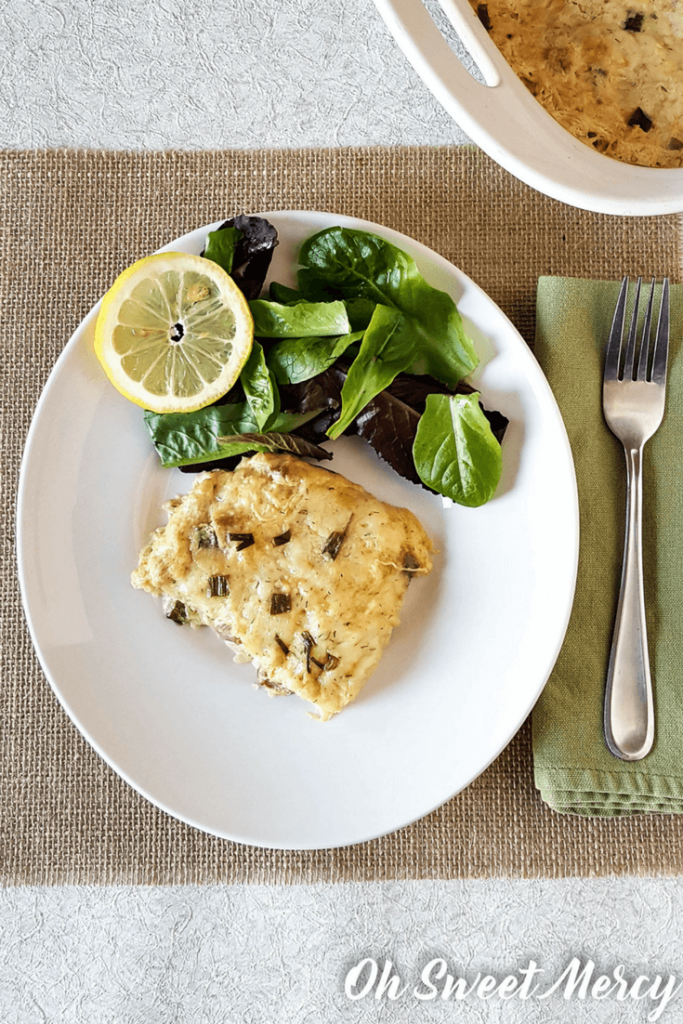 How To Fit This Dill Havarti Spaghetti Squash Casserole Into Your THM Plan:
This dish has all the satisfying fats in it, mamas! For a lower-fat option you can replace some or all of the sour cream with 0% Greek yogurt. This will, however, add some carbs to the dish but will not affect its S classification.
You can enjoy this for Thanksgiving (or any time of year!) by filling your plate with low carb options such as:
A healthy source of protein if making this as a side, such as turkey breast
buttered green beans
a big, leafy green salad with lemon juice or raw ACV for dressig
A plain or Garlic Biscuit with grassfed buttah
My Dill Havarti Spaghetti Squash Casserole tastes even better the next day, so you can make this ahead of time and pop it in the oven to reheat! That makes holiday meal prep a little easier.
It also makes a great breakfast casserole!
See how easy it is to eat and be satisfied on THM? I just love the freedom the plan gives us to choose healthy and delicious foods.
If you need more THM Thanksgiving recipes, and want nourishing, traditionally prepared foods, check out this big round-up at Traditional Cooking School!
Let's Make This Dill Havarti Spaghetti Squash Casserole!
I use glucomannan powder as a thickener, but if you would rather use another thickening agent just be sure it's on plan, THMs! If that's not an issue for you, feel free to use whatever you like.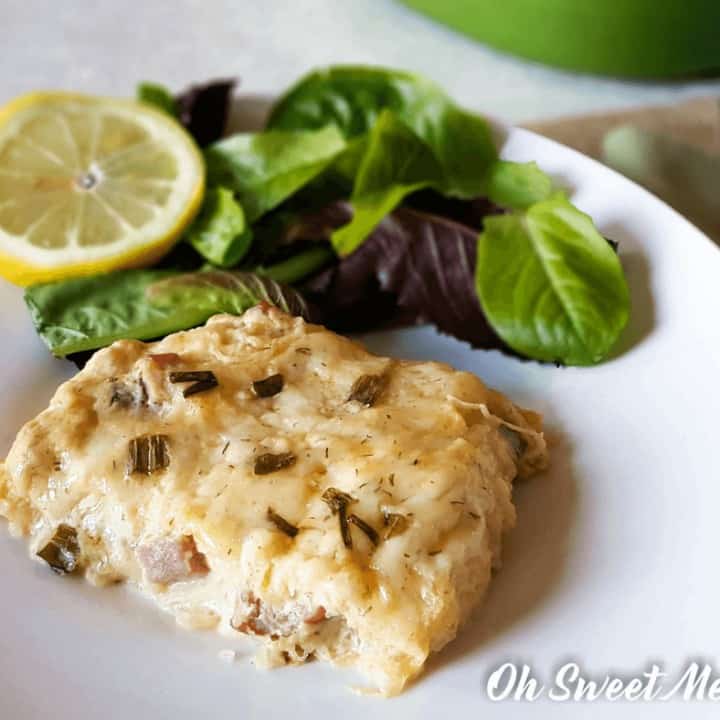 Best Ever Spaghetti Squash Casserole for an Awesome Feast
Creamy, delicate dill Havarti cheese makes this a comforting, cheesy, low carb substitute for traditional cheesy potato casseroles. Serve as a main by adding meat, or a side by leaving it out. Perfect for Trim Healthy Mamas (an S recipe) or gluten/grain free people.
Ingredients
1 spaghetti squash, cooked and shredded (about 4 to 5 cups)
2 cups diced turkey ham or meat of choice
4 green onions, sliced, reserve some of the sliced green tops for sprinkling on top
2 cups shredded dill Havarti cheese, divided
2/3 cup nut milk (I used cashew milk)
4 oz cream cheese
1 cup sour cream or Greek yogurt
1 tsp onion powder
1/2 tsp garlic powder
1/2 tsp paprika
1/2 tsp black pepper
2 tsp pickle juice OR 1 tsp additional dill, if desired
Instructions
Preheat oven to 350
Lightly grease a 9" x 12" baking dish
In a large sauce pan, combine nut milk and cream cheese and heat over medium. Whisk until cream cheese is fully incorporated into the nut milk.
Add the spices and test for flavor, adjusting as desired
Add 1 cup of the dill Havarti and whisk until melted and smooth
Whisk in the glucomannan powder (or desired thickener) and cook until you have a slightly thick sauce. You want a consistency similar to gravy.
Add meat (if desired), spaghetti squash and sliced green onions (reserve some green tops for sprinkling on top of the casserole) and mix well
Pour into a greased 9" x 13" baking dish
Sprinkle remaining 1 cup dill Havarti cheese over the top
Sprinkle reserved sliced green onion tops over the top
Bake uncovered for 40 to 50 minutes, or until bubbly and lightly browned
Notes
If you don't have, or want to use gluccie, xanthan gum is an acceptable substitute.
Not a Trim Healthy Mama? Use your favorite thickening agent here instead.
Recommended Products
As an Amazon Associate and member of other affiliate programs, I earn from qualifying purchases.
Pin This Dill Havarti Spaghetti Squash Recipe To Your Favorite Pinterest Boards!