---
Tart cranberries, crispy pecans, rich whipped cream, and a special low-carb veggie make my Aunt Kathy's cranberry salad Trim Healthy Mama friendly. I've loved this dish as long as I can remember and I hope this delightful recipe will become a favorite at your holiday tables, too.
---
You know that one dish you look forward to every Thanksgiving?
The one you never make and only have once or twice a year at the holidays because Aunt so-and-so makes it every year? Remember the disappointment you felt when for some reason, it wasn't there nestled among the holiday feast?
Or worse yet, the dish that always held your favorite holiday food ever had something else in it?
The horror.
Maybe I wax too nostalgic over cranberry salad, but that is the dish I remember the most from my childhood holiday meals with family. My Aunt Kathy would bring it in this beautiful covered bowl, it was white with a blue square pattern around the middle of it. I would eagerly look for it every Thanksgiving and Christmas.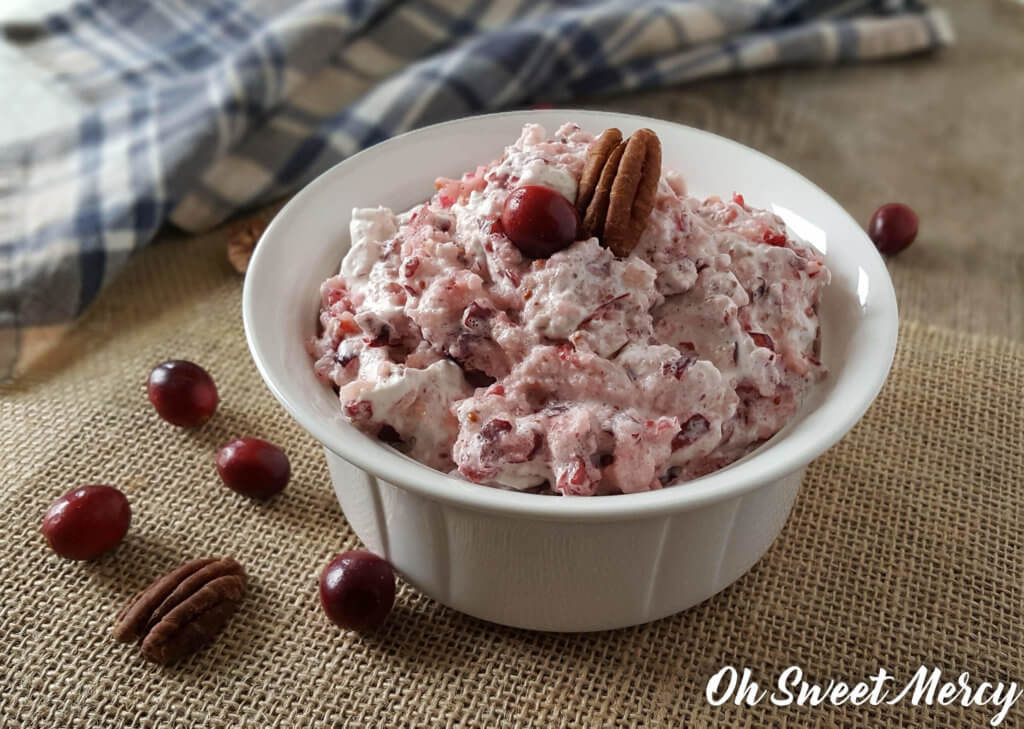 On a few occasions, I saw The Dish – which was covered – only to be profoundly disappointed that something else was in there. Some culinary interloper had hijacked the cranberry salad.
Like I said…the horror.
Aunt Kathy gave me her recipe years ago, but unfortunately it is not Trim Healthy Mama friendly. Sugar, apples, pecans, and whipping cream…all delicious but combining the carbs in apples with the fats in the whipping cream and nuts is not on plan. White sugar (and other high-glycemic sweeteners) are also a no-no.
This year I was determined to THM-ify it because I must have Aunt Kathy's Cranberry Salad.
And once I do, I must share it with the all the peeps missing out on this holiday wonder because they follow THM or a low-carb, sugar-free lifestyle.
It's my gift to you. On my birthday, no less.
Read about why I follow Trim Healthy Mama here!
The Cranberry Salad Grind
Aunt Kathy always made her cranberry salad with an old-fashioned hand grinder – until one year she (or maybe Uncle Wayne, I'm not sure) decided to use a food processor. I have to tell you that the very best way to make this is the old-fashioned way.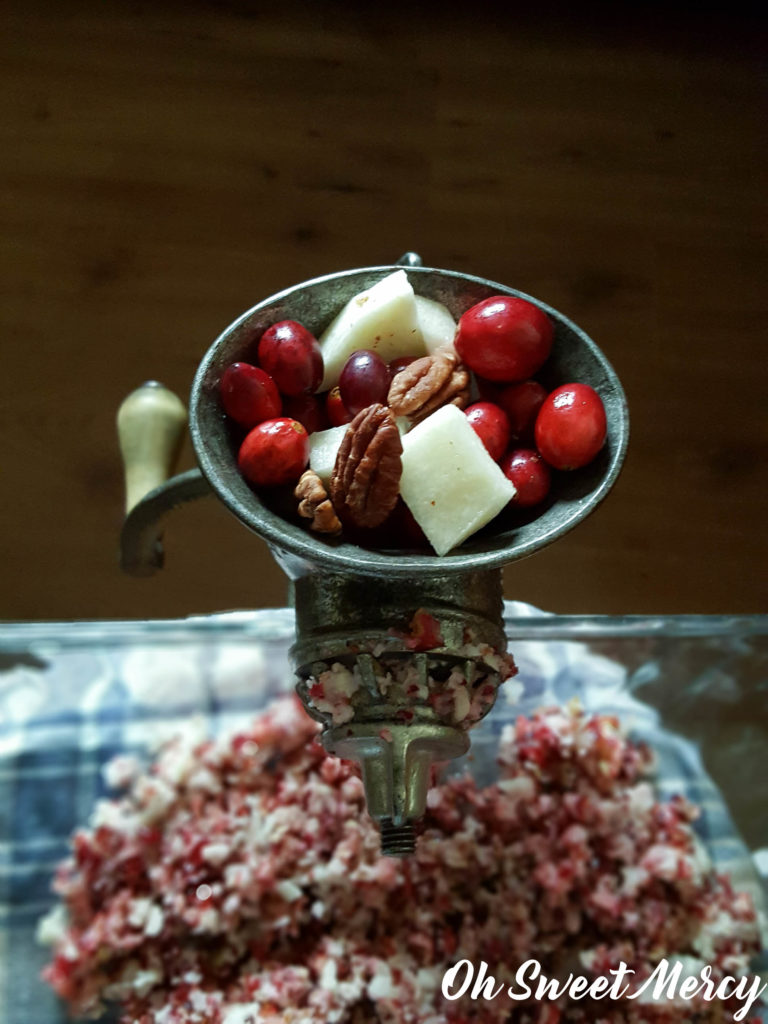 You certainly can use a food processor, and it will still taste good. But if texture is a thing for you, well, the electrical appliance just falls a little flat in that department in my opinion.
If you have a hand grinder, or access to one, I highly recommend you use it! My mom surprised me with this one that she picked up at an auction for a buck or two. She's awesome like that.
If all you have is a food processor no problem! It will still be delicious, and if you've never had this recipe before you won't have any texture expectations anyway, right?
You could also carefully pulse in your blender if that's what you've got, maybe in small batches so you don't end up pureeing it.
Crispy Pecans Are Delicious (And Nourishing)!
If you are familiar at all with traditional foods preparation, you know that soaking grains, legumes, and nuts increases the bioavailability of their nutrients. Let me tell you a secret:
Soaking and dehydrating pecans makes them out-of-this-world delicious too! It takes a bit of time, barely any effort, and it's absolutely worth it! They also crumble easily in your hands, super easy to "chop" them that way!
Learn more about why and how to soak and dehydrate nuts at Traditional Cooking School.
Self-control is needed when you have to keep these nuts around for a recipe. Trust me…
So What's The Low Carb Veggie I Mentioned?
I had first made this with just eliminating the apples and using stevia in place of the sugar. It was good, but left something to be desired – namely, something apple-y.
Enter the humble jicama!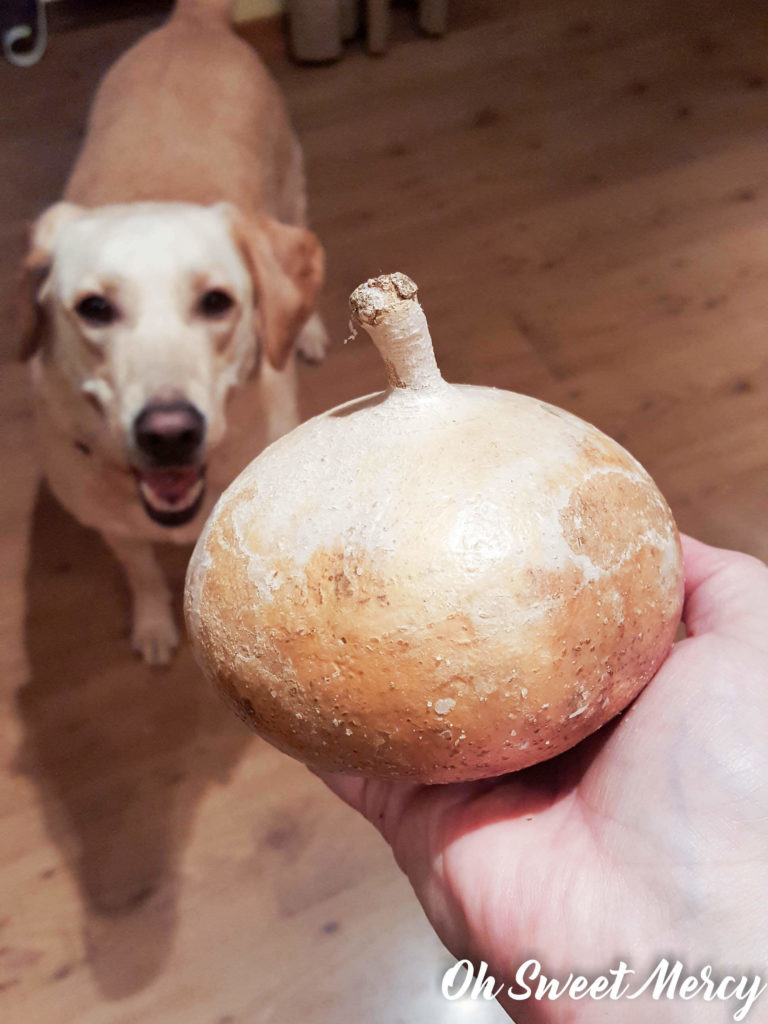 This low carb veggie is a wonderful replacement for apples. Peel, chop, and toss with lemon juice, granulated stevia, and a bit of raw ACV and let it marinate a while.
You'll end up with crispy, tart, sweet pieces that are similar to apples. Since you grind this all together you'll never notice that it's not actual apples in there!
The longer you let them marinate the better. If you think about it the night before making this recipe, get your jicama marinating in the fridge. Otherwise, let them sit in the marinade for at least 30 minutes before preparing this cranberry salad.
A shout out to Carey at The Healthy Milestone and Judy at Wonderfully Made and Dearly Loved for helping me figure out the best substitute for apples! Both these ladies are very creative and resourceful, check out their sites for more THM friendly recipes!
A Note On Sugar Substitutes
If you're more purist-minded, feel free to use just pure stevia extract (I really love the THM brand). THM Gentle Sweet is another great option.
I'm out of the Gentle Sweet so I used the DIY "Dietz Sweet" for this recipe, which is a simple mixture of pure stevia extract and erythritol (get the recipe here). I think it really does measure just like sugar and it's delicious!
The original recipe for this cranberry salad calls for 1 cup of sugar, so when exploring alternatives you'll want an equivalent to 1 cup. Here are a few suggestions:
THM Gentle Sweet 1/2 cup plus 1 Tbs
THM Super Sweet Blend 3 Tbs
THM Pure Stevia Extract 1/4 tsp, rounded
Pyure Organic Stevia 1/2 cup
Dietz Sweet 1 cup
When working with stevia-based sugar alternatives, it's always better to err on the side of caution and start with less. Taste, then add more if needed. Cranberries are super tart so they'll need a bit of help!
I used 1 cup of Dietz Sweet, but I think I could scale it back just a bit. My tastes for sugar sure have changed!
While I may not have the beautiful white and blue bowl to present this holiday classic in, I have successfully captured the flavors and textures that have delighted me for as long as I can remember. I can serve it in one of my other favorite, nostalgic pieces of dishware – my mom's Tuna Casserole Dish.
Oh, so vintage!
What Is Your Favorite Holiday Food? Have You Been Able To THM It? Don't Forget To Pin Aunt Kathy's Holiday Cranberry Salad!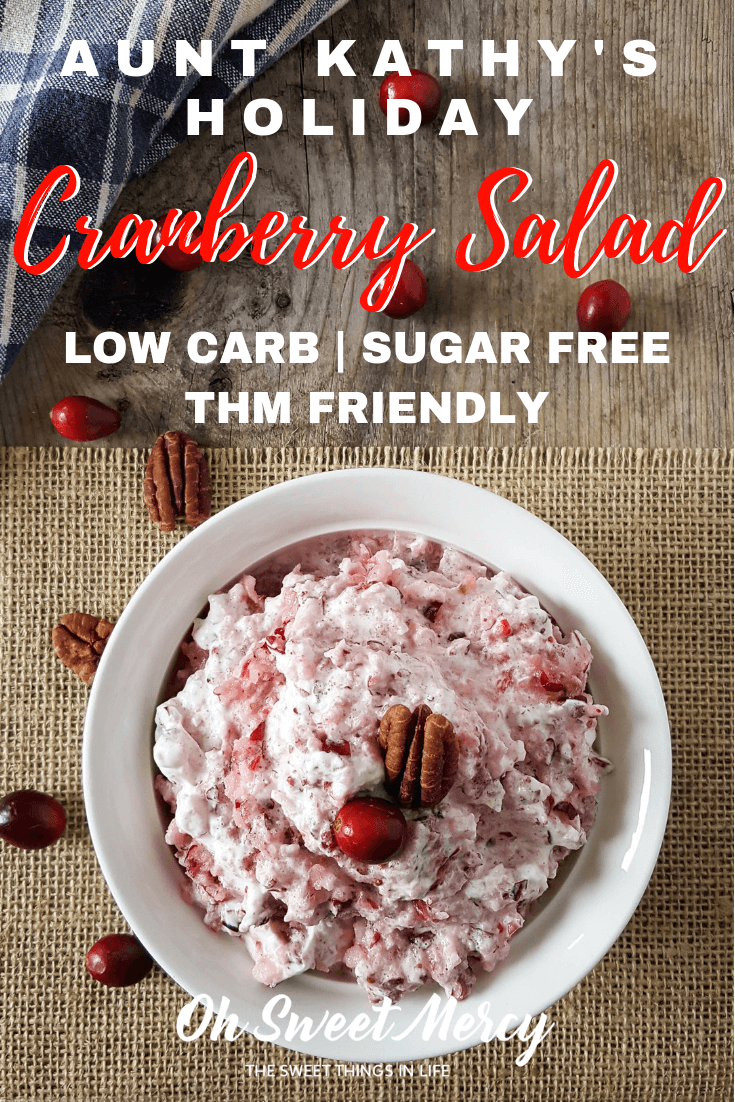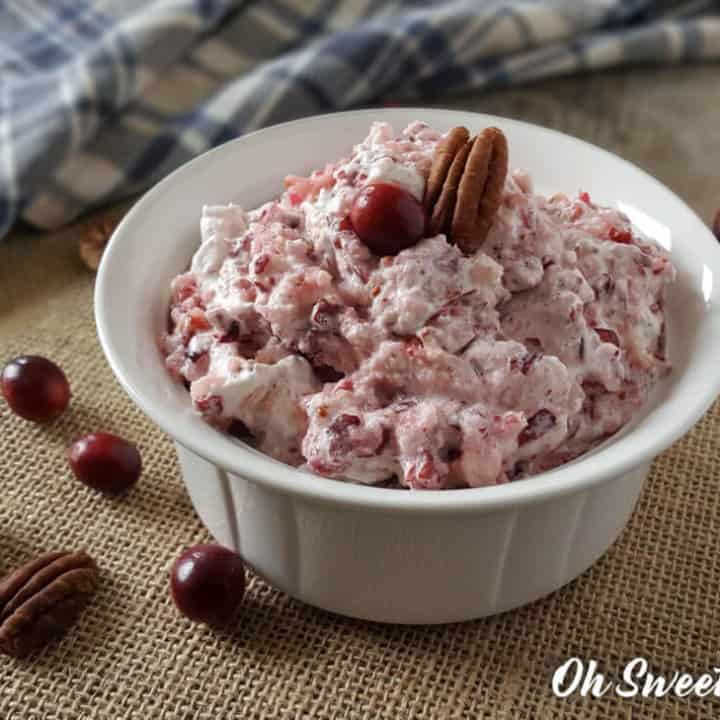 Aunt Kathy's Holiday Cranberry Salad - Low Carb and Sugar Free!
Tart cranberries, crispy pecans, rich whipped cream, and a special low-carb veggie make my Aunt Kathy's cranberry salad Trim Healthy Mama friendly. I've loved this dish as long as I can remember and I hope this delightful recipe will become a favorite at your holiday tables, too.
Ingredients
Jicama "Apples"
3 cups peeled and chopped jicama, about 1 pound or so
2 Tbs lemon juice
1 tsp raw ACV
The Rest of The Ingredients
Instructions
At least 45 minutes before you plan to put this salad together, peel and chop the jicama.
In a mixing bowl, toss the chopped jicama with the lemon juice, ACV, and granulated stevia.
Allow to marinate for at least 30 minutes. You can also do this the night or several hours before.
After the jicama has marinated, drain the juice well then combine the jicama, cranberries, and pecans in a bowl.
If using a hand grinder, load the hopper with a good mixture of all 3 ingredients with each grind.
If using a food processor, combine all ingredients in the bowl of your food processor and pulse a few times until you have small pieces, just be careful to not over process.
Combine the ground/processed mixture in a bowl with your preferred sugar alternative and mix well, set aside.
In a mixing bowl, combine the whipping cream and vanilla.
Using a hand mixer or whisk attachment on a stick bender, whip the cream until it's thick and fluffy.
Fold into the cranberry mixture.
Serve immediately or refrigerate until ready to serve.
Recommended Products
As an Amazon Associate and member of other affiliate programs, I earn from qualifying purchases.