Like this post and don't want to miss more like it? Be sure to sign up for my newsletter at the end!
We aren't a dairy-free household, although it often crosses my mind to take a break from dairy products for a season.
I just love cheese too much. And butter. And ice cream. And puddings. I'm not afraid to try something new (usually), and while searching for recipes to use coconut milk, I came across a recipe for Chia Seed Pudding and decided to give it a try. Besides, making pudding yourself is both healthier and frugal.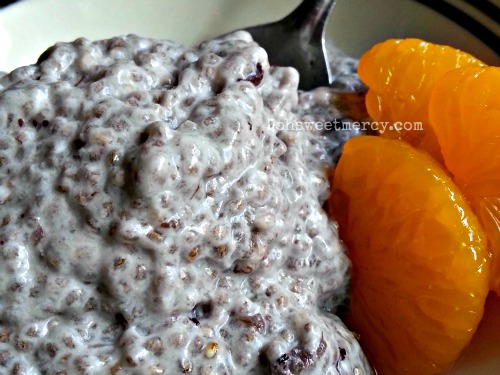 It's reminiscent of tapioca, so if you dislike tapioca pudding you probably won't like this one.
I happen to love tapioca pudding so I was eager to try it. Besides, it's super easy! Just mix the ingredients together and refrigerate. It's not instant chia seed pudding (if such a thing actually exists) but that's part of why it's good for you – minimally processed ingredients and real, whole foods. It may take a little bit longer to set up, but it's worth the wait.
As is often the case, I didn't have all the ingredients on hand so I had to improvise.
I have to confess – that doesn't irritate me! I love the challenge of making something work in spite of not having what I need.  Here's my version:
Chia Seed Pudding: Dairy Free and Delicious!
An easy and delicious pudding recipe using dairy-free milks such as coconut and almond. Mix and match ingredients and make it your own!
Ingredients
1 can (13.5 oz) coconut milk
2.5 oz almond milk (enough to make 2 cups of coconut/almond milk) plain or vanilla flavored
1/2 c chia seeds
1/4 c organic blueberry preserves
1/4 tsp vanilla extract
**optional** raw honey, maple syrup or stevia if you'd like it sweeter
Directions
Mix all ingredients in a bowl
Ready to eat after 20 minutes, but better if you put it in the refrigerator over night
Stir before serving
Top with anything you like, fruit, nuts, chocolate...
While my recipes are not officially endorsed by Trim Healthy Mama, I do my best to ensure they meet plan guidelines. Always refer to the THM plan book for complete information.
Trim Healthy Mama options:
Use the Slim Belly Jelly from the cookbook or just use fresh or frozen blueberries. Be sure to use an on plan sweetener, such as Gentle Sweet.
I loved this chia seed pudding!
It was sweet enough just using the blueberry preserves and I didn't feel the need to add any other sweetener. I used unsweetened almond milk, if you use sweetened almond milk be sure to taste the mixture before adding more sweetening ingredients. None of the flavors stood out more than the others, it was just a nice combination and it paired well with sweet-tart mandarin oranges. This is a pudding you can feel good about serving your family for breakfast, even! Chia seeds have a ton of nutrition – rich in EFAs and antioxidants.
You can make this chia seed pudding with any kind of milk, any kind of fruit – or none at all.
You can use any healthy sweetener and top it with just about anything – fresh fruit, nuts, cacao nibs, cinnamon…whatever your heart desires. I love recipes like this – they work so well in my kitchen, which is often a fly-by-the-seat-of-my-pants operation.
Be Sure to Pin this Chia Seed Pudding Pin to Your Favorite Pinterest Boards!