---
If you're missing the "tangy zip of Miracle Whip" I've got something great for you! A super easy, no-cook copycat Miracle Whip recipe that's THM-friendly, sugar free, and low carb.
---
When I was growing up we had both mayo and Miracle Whip in our fridge. Dad only liked mayo, mom liked both. It was also an essential ingredient in our family's favorite "California Salad" (now THM'd and renamed Creamy Cucumber Tomato Salad).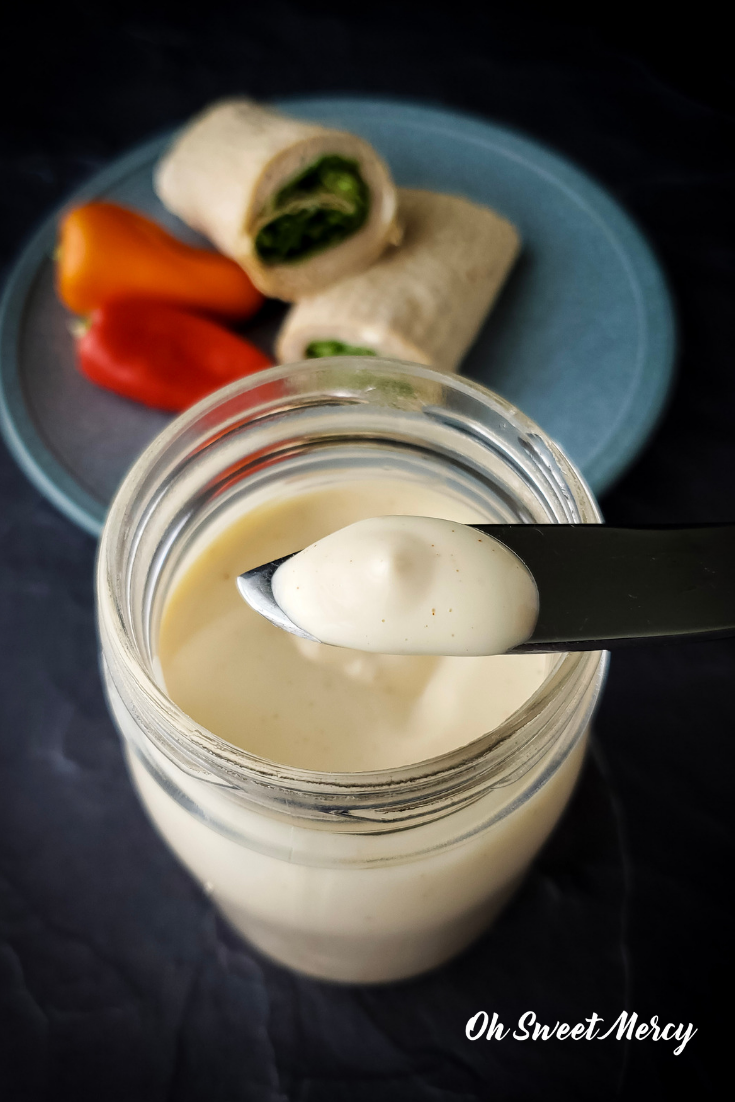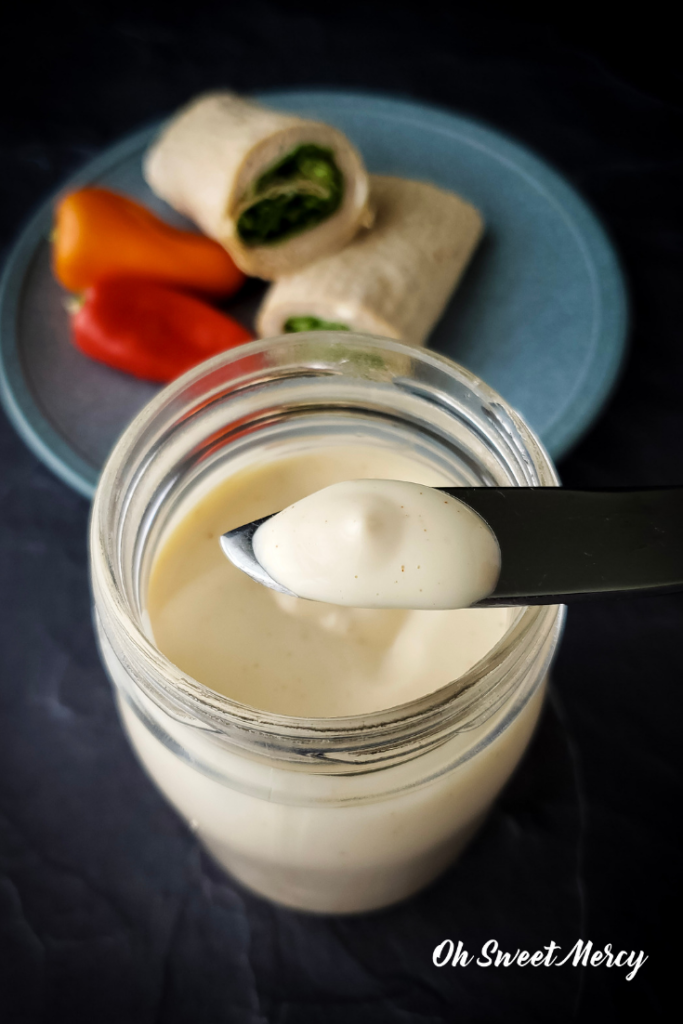 If you're a Trim Healthy Mama plan follower, you know that Miracle Whip is not on plan. Products that contain high fructose corn syrup and cornstarch are not plan-friendly.
But like almost anything else, there's a way to make it so it does fit plan guidelines.
Does Copycat Miracle Whip Taste Exactly Like Miracle Whip?
You probably know the answer to that…which is no, not exactly. Remember, you're not making THM-friendly homemade Miracle Whip with high fructose corn syrup and modified cornstarch.
Not using the exact ingredients often means not exact taste.
However, you still get the tangy sweetness you love in Miracle Whip with my easy recipe. It's perfect for all your favorite recipes using Miracle Whip, too.
My mom always told me "you can't use anything but Miracle Whip for California Salad." But when I used my THM'd copycat Miracle Whip I could not tell the difference.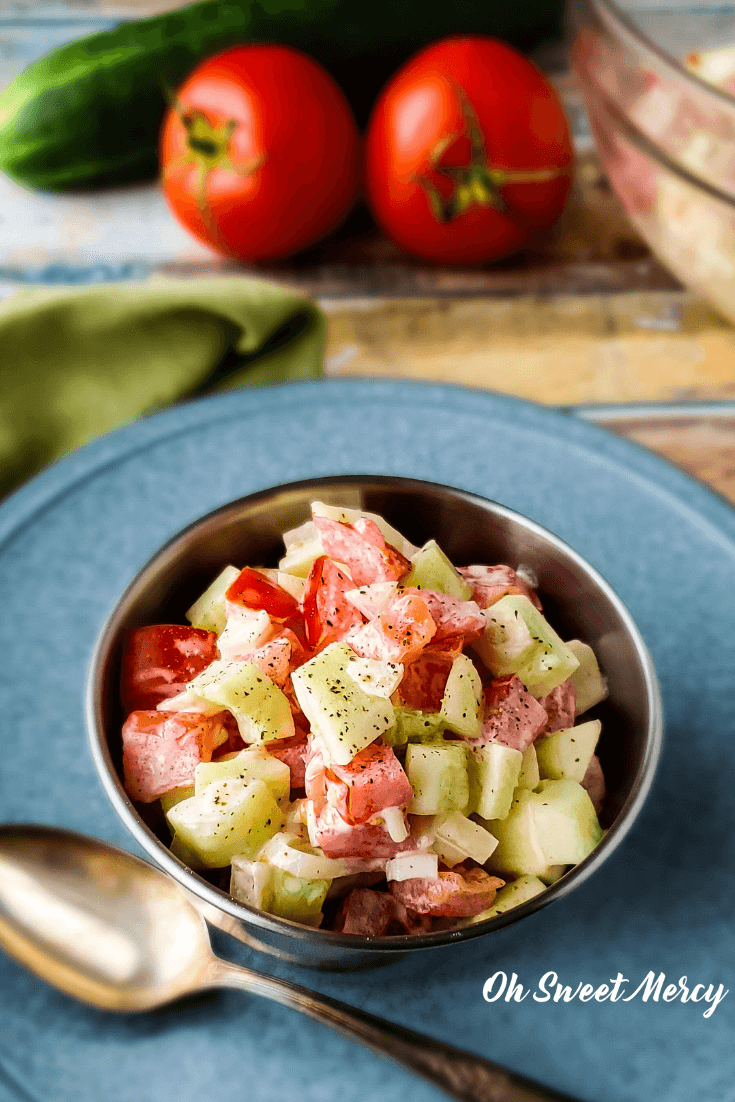 It was just as delicious as what I've had my whole life!
What's The Difference Between Mayo And Miracle Whip?
Apparently, the FDA has some strict requirements for what can be called mayonnaise:
The U.S. Food and Drug Administration requires that anything labeled "mayonnaise" contain a minimum of 65 percent vegetable oil by weight. And though Kraft keeps Miracle Whip's exact oil content a secret, the company confirms that it is too low to meet the mayo standard.

https://www.realsimple.com/food-recipes/shopping-storing/food/miracle-whip-mayonnaise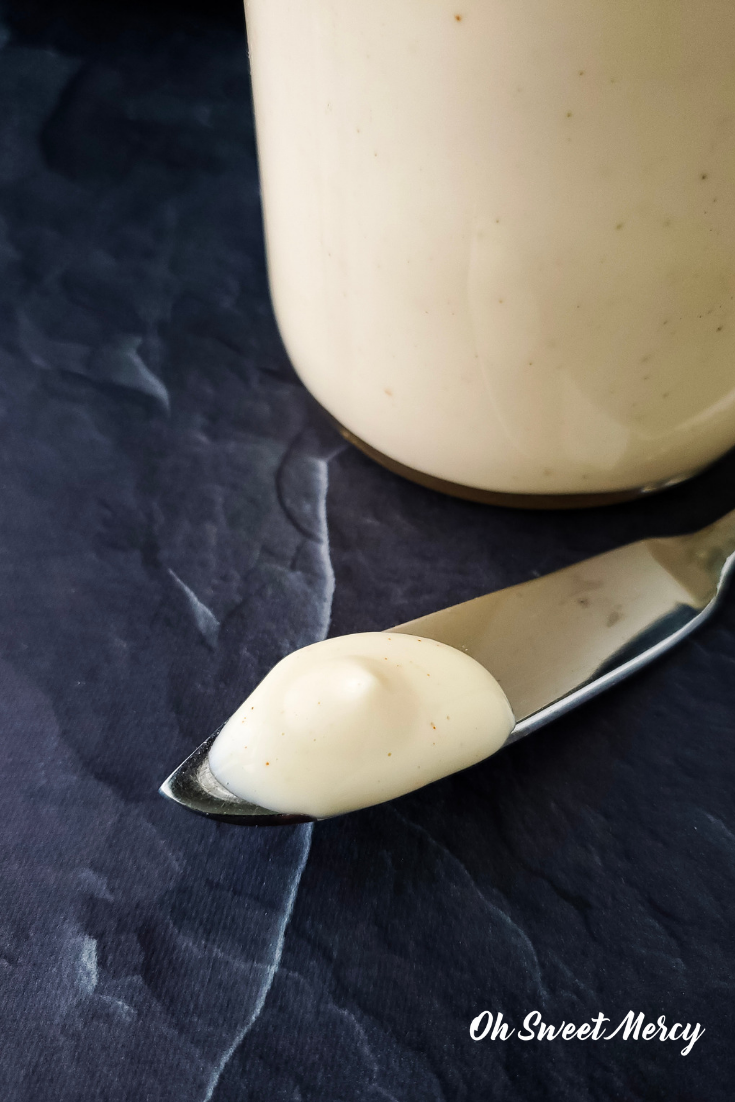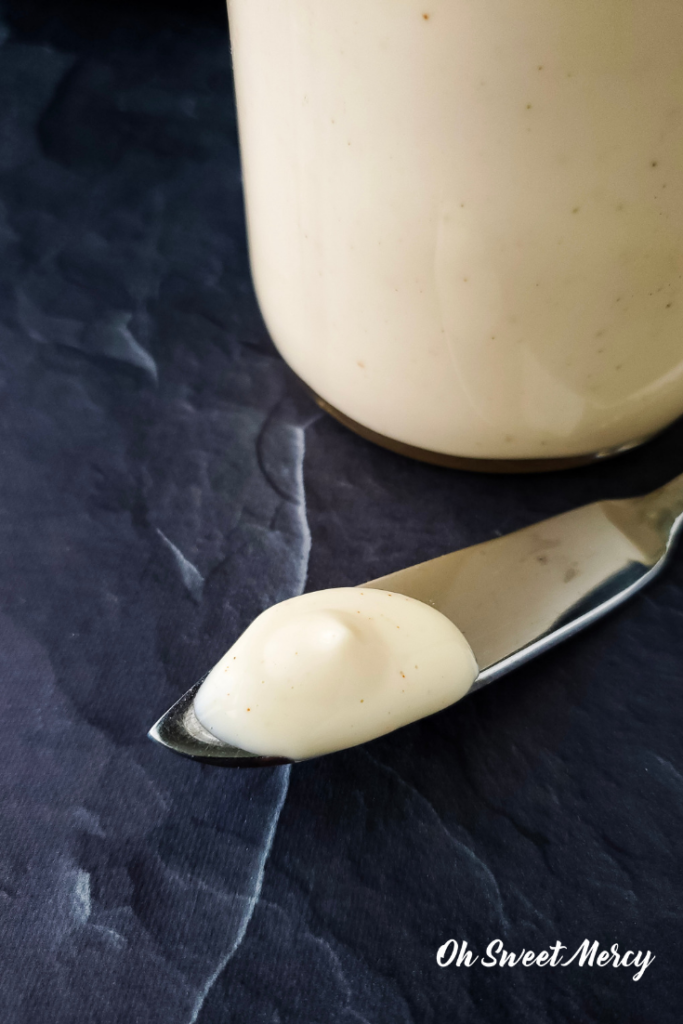 Miracle Whip is sweet and tangy, where mayo is not. And people have argued for decades over which is better!
Off-brand versions are usually called "whipped salad dressing."
Many copycat Miracle Whip recipes call for cooking together flour, vinegar, dry mustard, and water.
Other copycat recipes have you making it similarly to mayo. Whisk egg yolks, gradually add in oil to emulsify, then the remaining ingredients.
Miracle Whip does have some similar ingredients to mayo. So, using mayo as our starting point cuts out a bunch of preparations steps.
Also, homemade mayo is one thing I stink at! This THM ain't got time for that kind of nonsense.
How To Make This Easy Copycat Recipe In 5 Minutes Or Less.
First, get out your ingredients.
Next, mix them together in a bowl or mason jar.
Finally, use as you would regular Miracle Whip in all your low carb, Miracle Whip-needing sandwiches, wraps, salads, and more.
It's really that simple!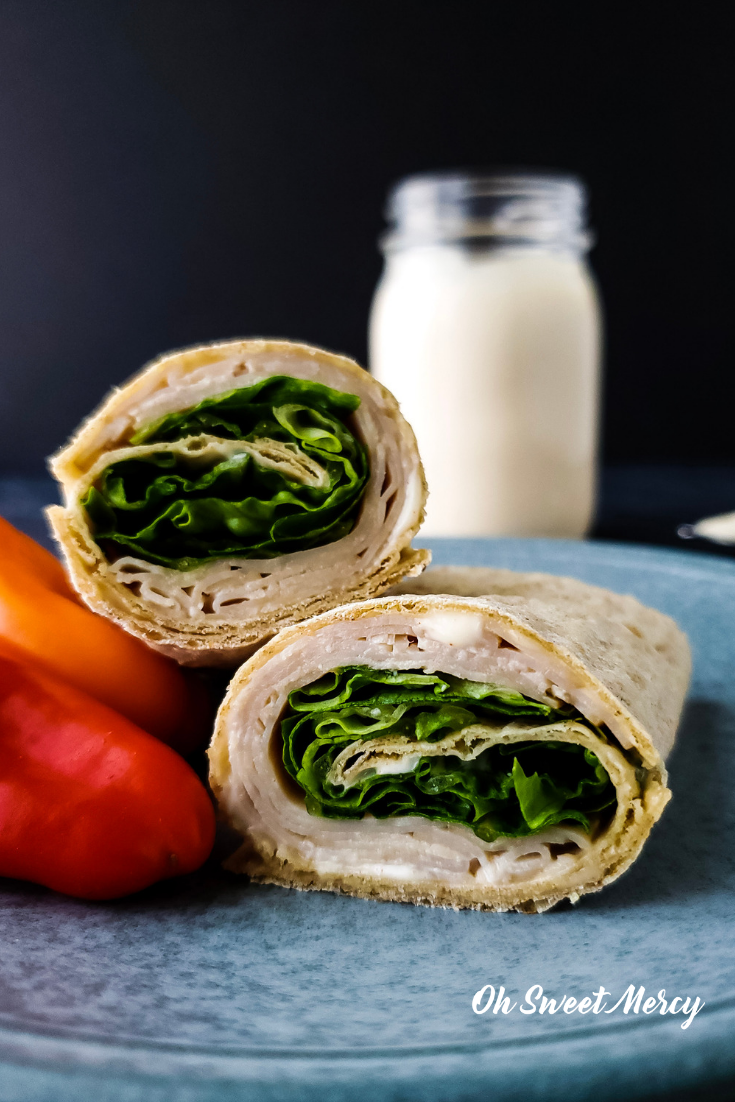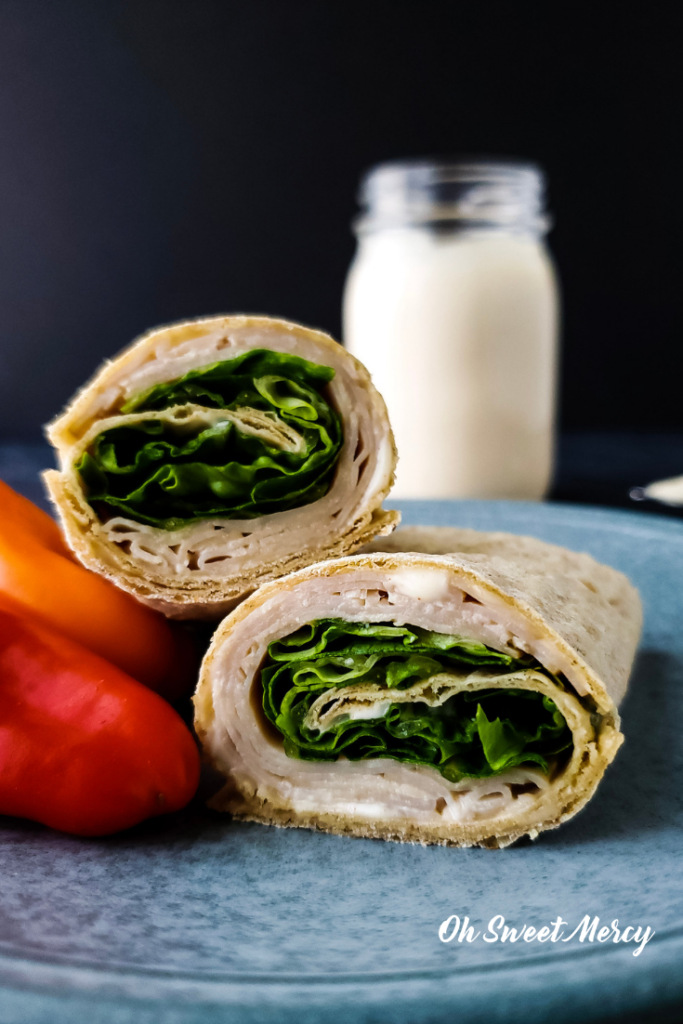 How THM'd Whipped Salad Dressing Fits Into Your Healthy Eating Plan.
Remember that this recipe is primarily best for THM S uses. This is because it's high in fat and virtually carb-free.
However, you can use a teaspoon in an E or FP setting as all of your added fats for the meal.
You could also try the Low Fat Mayo Hack technique I have to lighten it up and make it a FP condiment.
So there you have it! A super simple copycat Miracle Whip recipe that's THM friendly. Enjoy!?
Have You Been Waiting For A THM-Friendly Miracle Whip Recipe?
Pin the Image Below!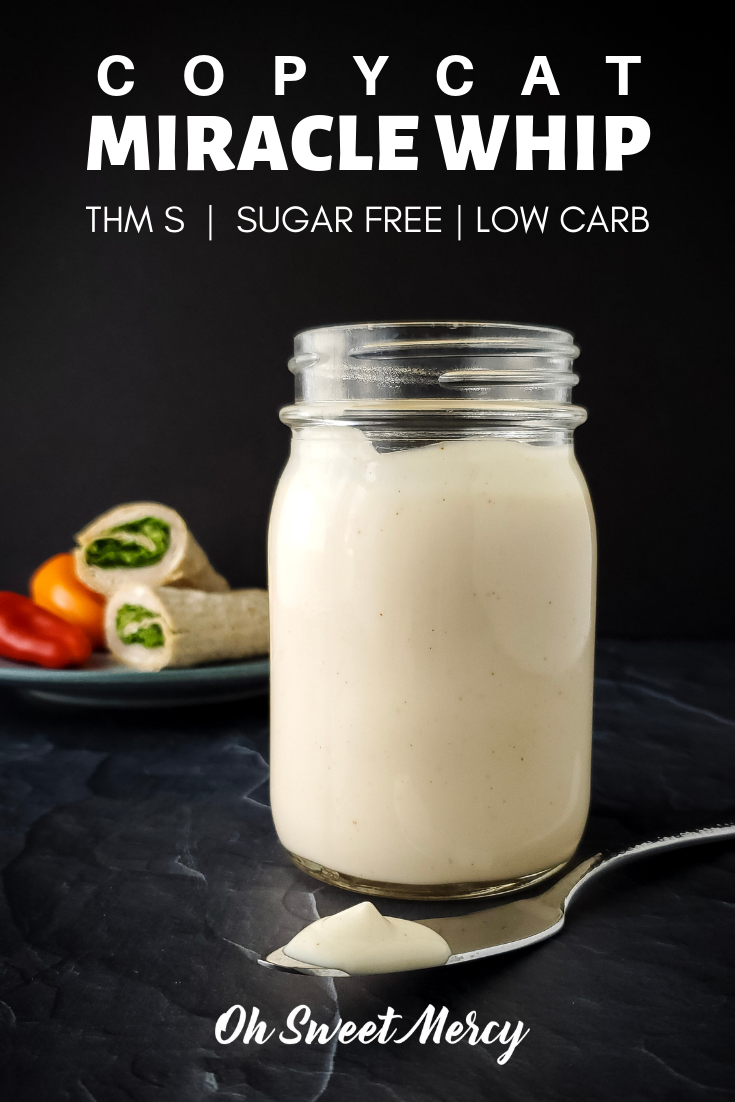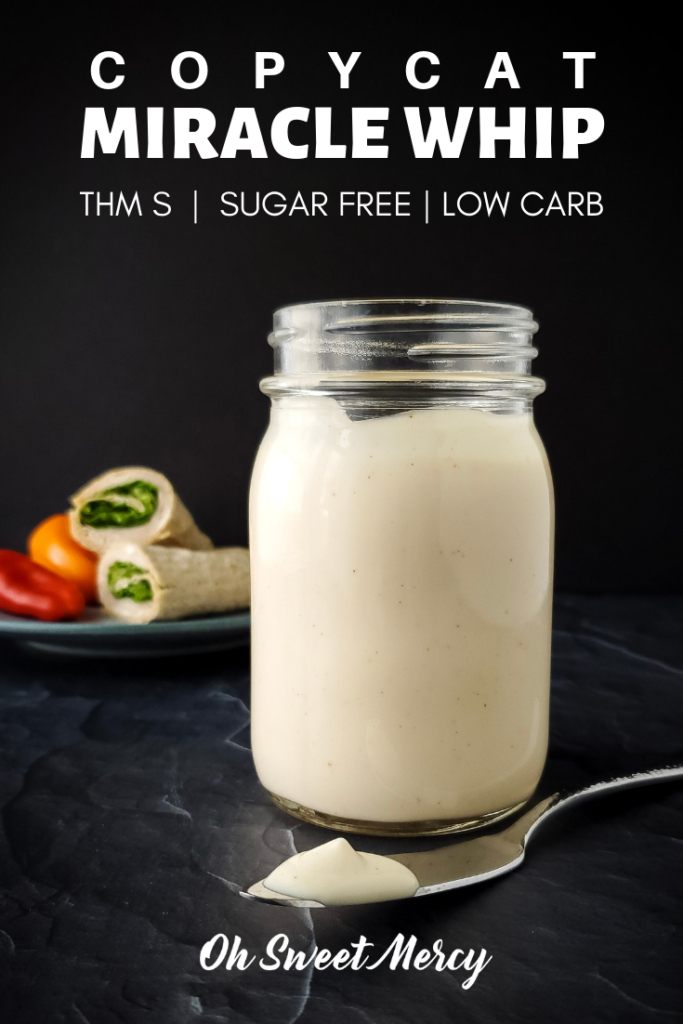 Copycat Miracle Whip | Sugar Free, Low Carb, THM S
Yield: 1 cup
Prep Time: 5 minutes
Total Time: 5 minutes
If you're missing the "tangy zip of Miracle Whip" I've got something great for you! A super easy, no-cook copycat Miracle Whip recipe that's THM-friendly, sugar free, and low carb.
Ingredients
1 cup mayonnaise
4 teaspoons ACV
3 doonks (1 doonk = 1/32 tsp) pure stevia extract OR 1 rounded tablespoon granulated stevia, or preferred sweetener to taste
1/4 teaspoon mustard powder
3 pinches paprika
2 pinches cayenne pepper
2 pinches high mineral salt
1 pinch garlic powder
Instructions
Combine all ingredients in a small bowl or pint sized mason jar and stir well to combine.
Use as you would regular Miracle Whip.
Notes
It's been ages since I've had real Miracle Whip but this tastes a LOT like I remember it. My tolerance for sweet is not what it used to be, so feel free to adjust the sweetness level to your own tastes.
Recommended Products
As an Amazon Associate and member of other affiliate programs, I earn from qualifying purchases.
Nutrition Information:
Yield: 16
Serving Size: 1 tablespoon
Amount Per Serving:
Calories: 94
Total Fat: 10g
Saturated Fat: 2g
Trans Fat: 0g
Unsaturated Fat: 8g
Cholesterol: 6mg
Sodium: 104mg
Carbohydrates: 0g
Net Carbohydrates: 0g
Fiber: 0g
Sugar: 0g
Sugar Alcohols: 0g
Protein: 0g
Nutrition information is approximate and based on the best knowledge available at the time of recipe publication. Your results may vary due to differences in ingredients.