---
Is there anything worse than choking down a dry sandwich? If you're new to the THM plan you might find E-style sandwiches a challenge (especially if you don't like mustard) as the recommended amount of mayo to use is just 1 teaspoon! That doesn't go far, does it? With just a tiny, super simple tweak that little bit o'mayo can be transformed into a magical, creamy low fat mayo spread. Bye bye dry sandwiches!
---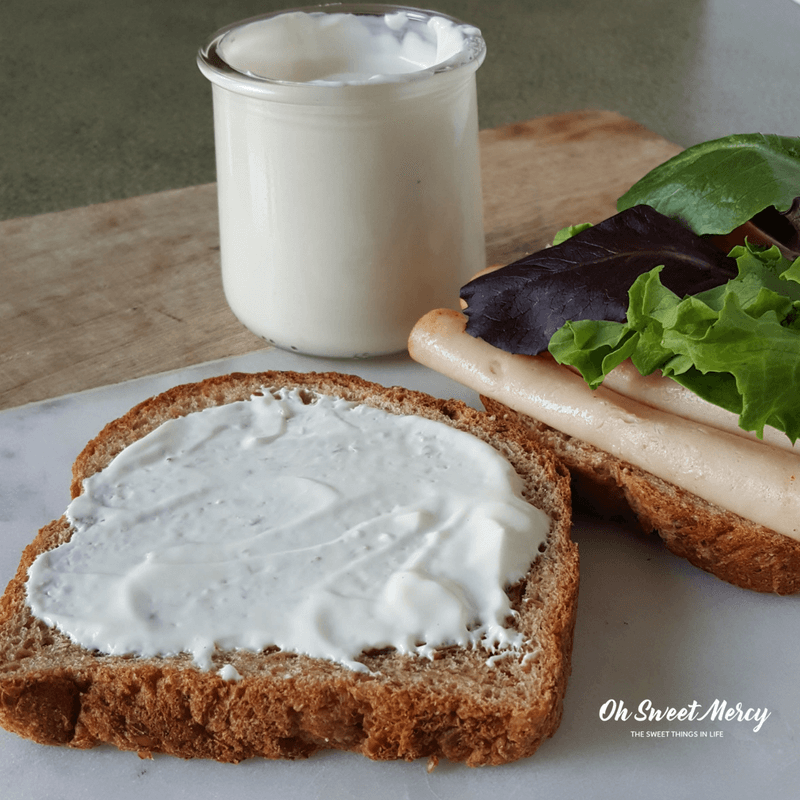 If you've been following along on my 10 Day KISS Challenge on the OSM Facebook page you might have noticed I recommended an easy hack for mayo on THM E sandwiches. I've been meaning to put this on the blog for ages and finally decided I just better do it!
While I wish I could take credit for the idea I must give credit to the brilliant source from where I discovered it. It was when listening to an episode of the THM Poddy (sorry, I can not remember which one) and I think it was Serene who said she mixed mayo and nonfat Greek yogurt together for her sandwiches.
As I'm not a huge fan of nonfat Greek yogurt for replacing things like sour cream (or mayo, yikes!) I filed that away in my brain. Just in case I decided to get brave and try it one day.
Turns out that, just like several other recipes and ideas I've initially thought were questionable, I loved it! You still get the mayo taste but it goes so much farther than 1 tiny little teaspoon. Mustard is something I enjoy very much on a sandwich but if you don't like it or can't eat it you're pretty limited on sandwich spreads.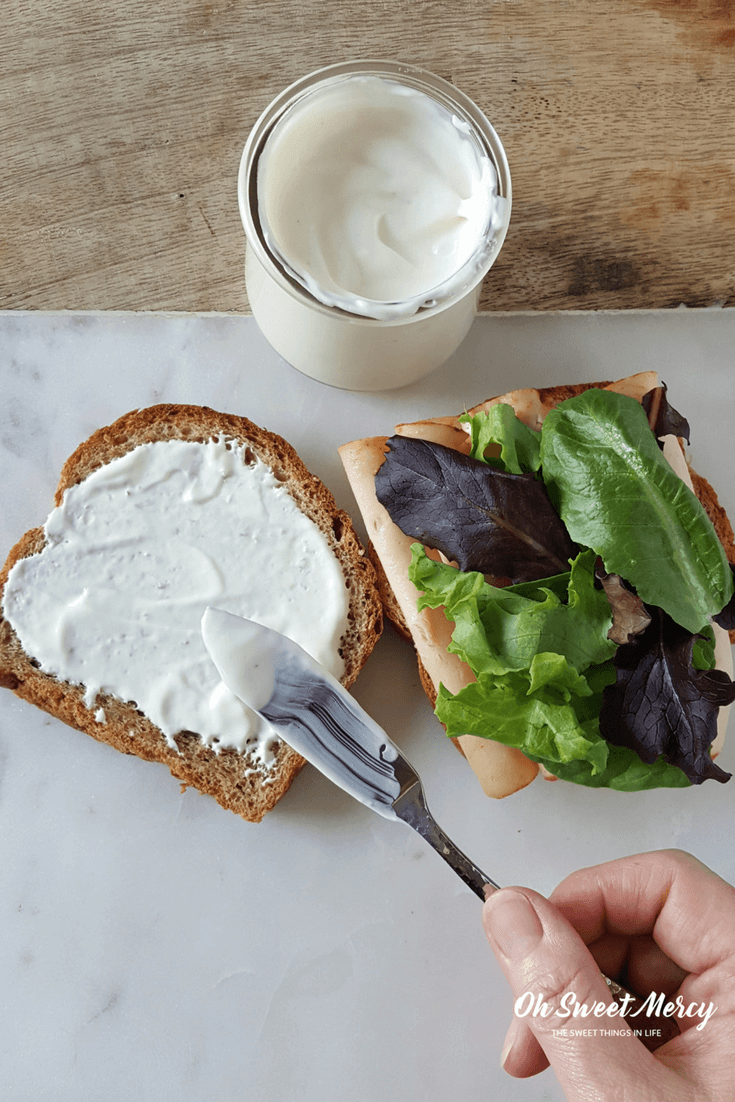 Say Hello To Your New Best E (or FP) Condiment Friend.
During a busy week of catering I planned to pack E sandwiches to help me stay on plan. It's important to not neglect those healthy carbs, Mamas! They used to really intimidate me but after challenging myself to eat an E a day for a week I discovered they aren't that bad, they don't actually make me fat, and they don't have to be scary at all. So I decided to give that mayo hack I'd heard a try.
No amounts were given in the Poddy so I just experimented until I found a mixture of mayo and yogurt that worked for my tastes.
Brilliant! No more dry sandwiches or mutard-only when I'm wanting something creamy on my sprouted bread.
This coming week is another crazy busy one for me! My daughter and I leave for a week in England in just 6 days and I have caterings almost every day up until the day before we leave. Since we're still in the 10 Day KISS Challenge that means I need to be prepared to stay on-plan and sandwiches are super easy to take (and great way to get those E meals in 😉 ).
The Golden Ratio For Low Fat Mayo.
The golden ratio, at least for this low fat substitute for mayo, is 1:2. That means you'll mix together 1 part mayo to 2 parts yogurt. That's it! So, for a single serving (I suggest 1 tablespoon) you'll mix your little 1 teaspoon of mayo with 2 teaspoons of yogurt.
If you want to get fancy try adding some seasonings to your low fat mayo spread. You could try:
Sriracha sauce
Curry powder
Italian seasoning
Cajun seasoning
Ranch dressing mix (homemade, preferably…try My Best Ranch Dressing Ever Seasoning Mix from Nana's Little Kitchen)
Or just plain old garlic and onion powder or your favorite herbs
I make about 3 tablespoons of mixture at a time when I need it since I don't eat sandwiches all the time. I prefer sweet potatoes, quinoa, or fruit for my E carb sources over grains. But when days are busy I grab some sprouted bread and make sandwiches to keep things super simple.
You could also use this low fat mayo, plain or seasoned, in any recipe calling for mayo. Tuna, chicken, and egg salads (and deviled eggs) can easily be lightened up with this super simple sandwich spread! I've got these you might like to try: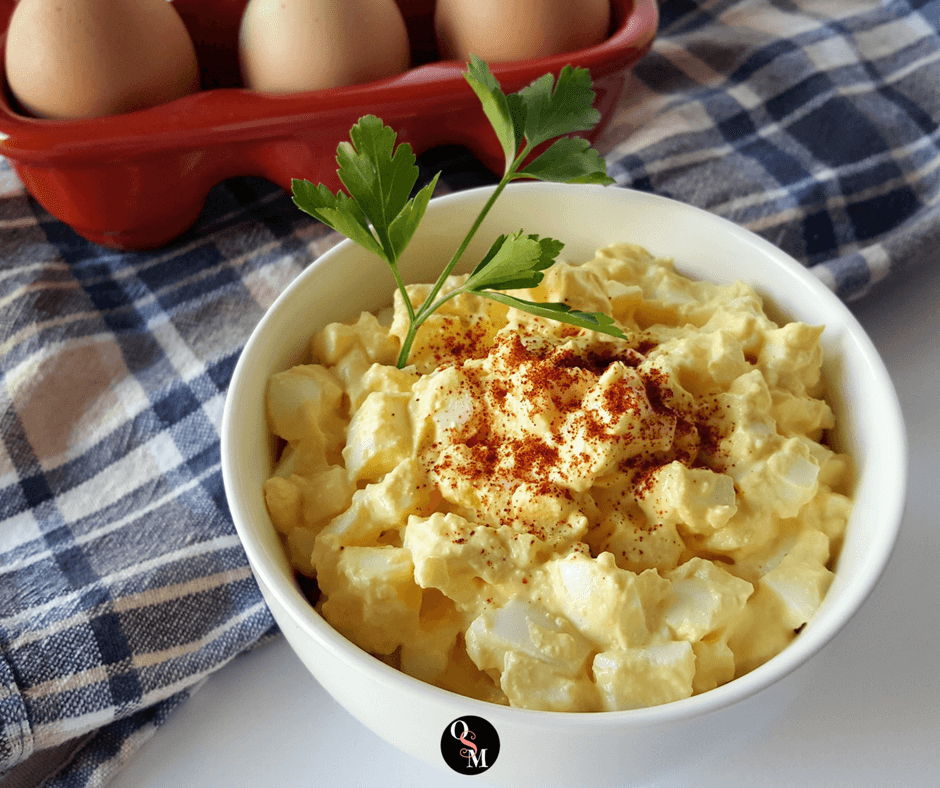 Pretty much anywhere you use mayo you can use this low fat mayo substitute to lighten things up. While we're not afraid of fats on the THM plan, we're smart about the way we eat them! Use the healthiest mayo you can find (or make yourself, such as the Body Burn Mayo in the first THM Cookbook, pg 470).
Whether you are using this low fat mayo for an E sandwich, a Fuel Pull wrap, or just to lighten up your S meal you'll want to keep this easy condiment on hand!
Did This Low Fat Mayo Hack Just Revolutionize Your THM Sandwich Game?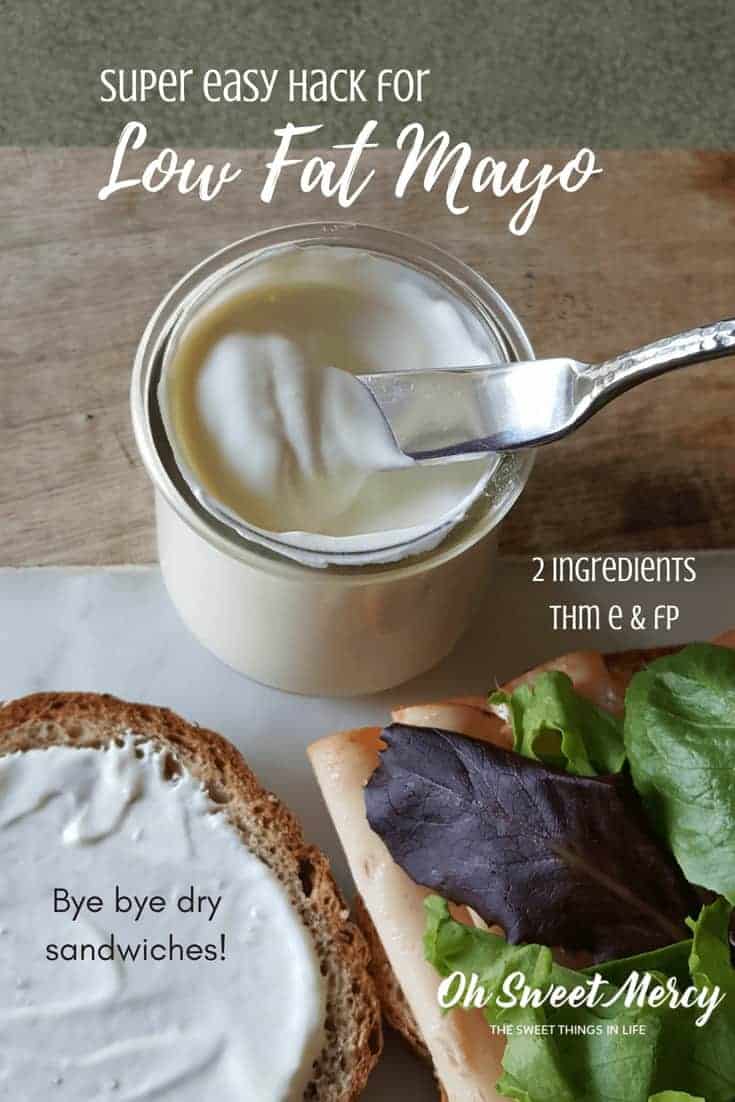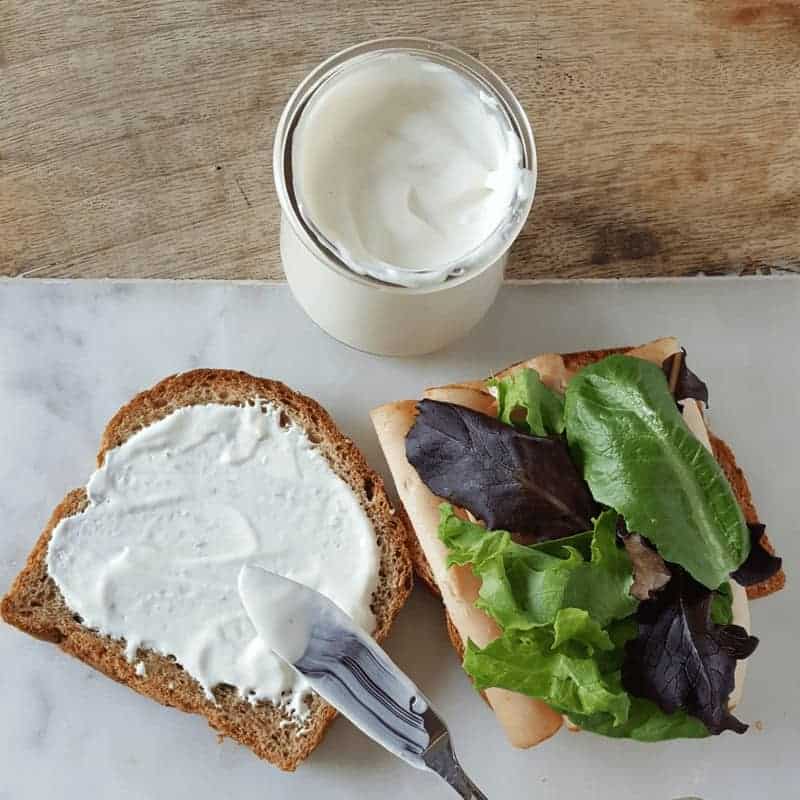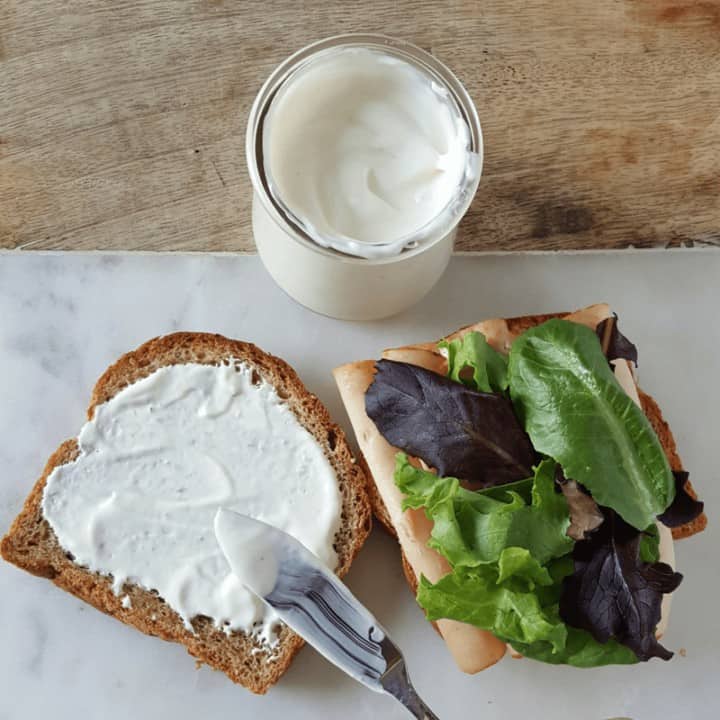 Easy Low Fat Mayo - THM FP
Yield: Varies
Prep Time: 2 minutes
Total Time: 2 minutes
If you're following the Trim Healthy Mama plan or just watch your fat intake you'll love this easy Low Fat Mayo Sandwich Spread. No more dry sandwiches! Plus get the benefits of gut-healthy probiotics. Spice it up if you want, too!
Ingredients
Mayonnaise
0% Greek Yogurt
Optional seasonings such as Taco Seasoning, chili powder, garlic and onion powder, or a DIY ranch dressing mix.
Instructions
Using a 1:2 ratio (1 part mayo to 2 parts Greek yogurt) combine in a small bowl or storage container.
Add any optional seasonings to taste
Cover and store in the refrigerator.
Should keep for a couple weeks.
Notes
Trim Healthy Mamas:
I suggest as a single serving 1 teaspoon mayo and 2 teaspoons yogurt. This will give you a tablespoon of lightened up mayo. You'll still have your 1 tsp of additional fat but it will go farther.
The Body Burn Mayo from the first Trim Healthy Mama Cookbook would be a great choice here especially for the Purist.
Recommended Products
As an Amazon Associate and member of other affiliate programs, I earn from qualifying purchases.
Nutrition Information:
Yield: varies
Serving Size: 1 tablespoon
Amount Per Serving:
Calories: 35
Total Fat: 3.6g
Saturated Fat: 0.5g
Cholesterol: 1.7mg
Sodium: 28.1mg
Carbohydrates: 0.4g
Sugar: 0.9g
Protein: 1g