---
Quick and easy, this creamy berry quinoa bowl makes a delicious breakfast. Quinoa is a wonderful, grain-free energizing carb source for the Trim Healthy Mama, so if you can't do oats, give this a try! It's a cold bowl and if you already have cooked quinoa on hand it's ready in 5 minutes or less. It's also delicious warm!
---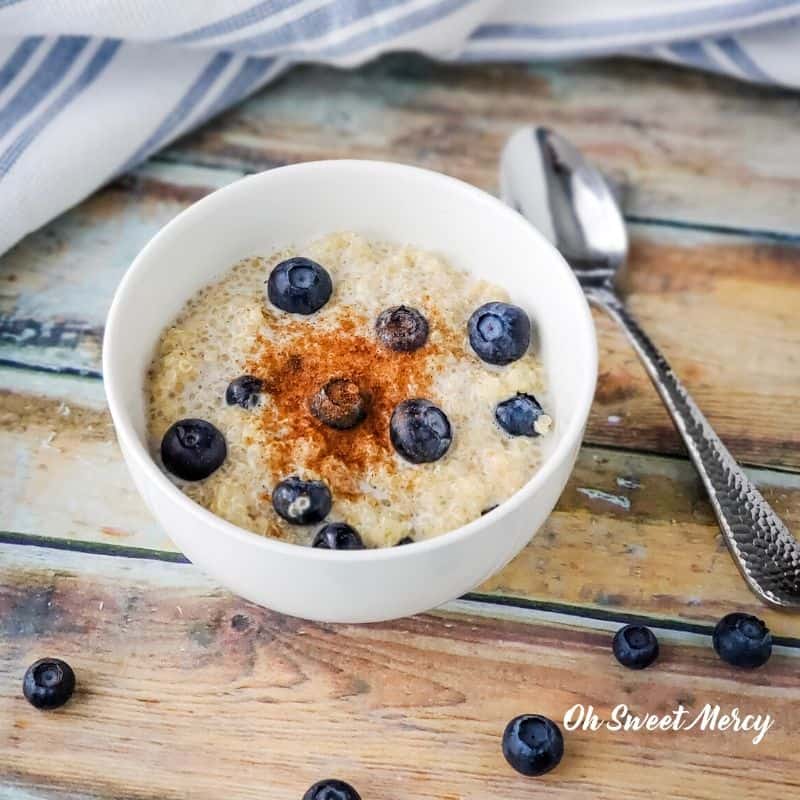 Have you ever tried quinoa? Maybe the name in itself throws you off. How do you even say that, anyway? It's Keen-wa, actually.
Maybe you think it's some weird hippy food or just for vegans. While it is a great plant-based source of protein for vegans, it's also super healthy for anyone.
Ok, then, so what is it?
What Quinoa Is (and Is Not).
Let's clear up any confusion about quinoa. First, what it is and next what it's not.
Quinoa Is A Healthy Plant-Based Complete Protein.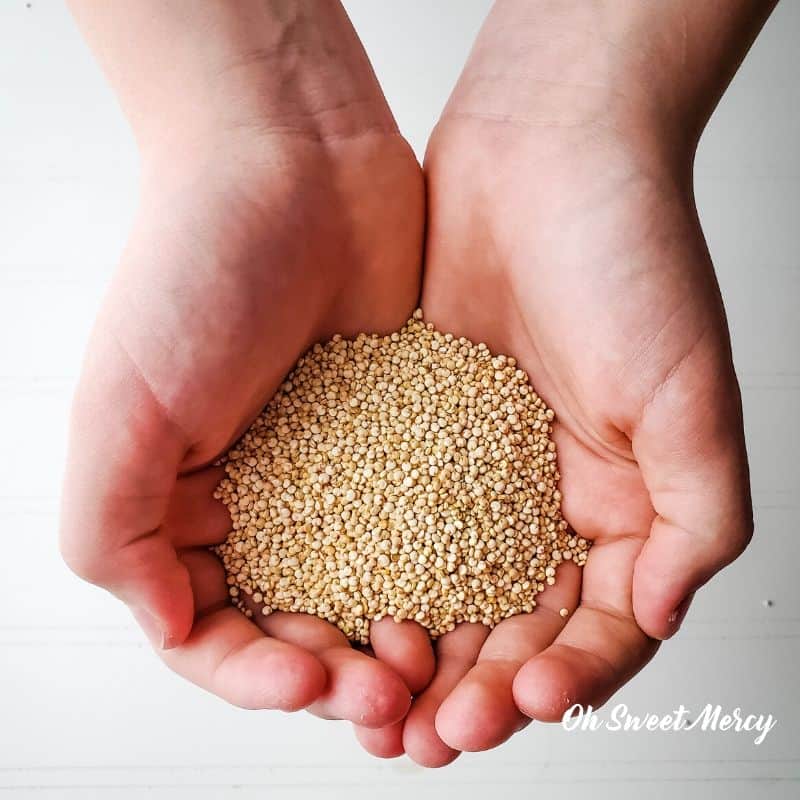 Quinoa is a very healthy complete protein. What that means is that, in addition to protein, it also contains an adequate proportion of the 9 essential amino acids necessary for the human diet (that are only available through food sources).
Animal proteins, such as meat, fish, dairy, and eggs, are complete proteins. There are a few plant-based sources of complete proteins, such as quinoa, buckwheat, hemp seeds, and chia seeds.
While quinoa has long been recognized for its outstanding protein content, recent studies have helped to clarify some key strengths of this food from a protein standpoint. 3/4th cup of quinoa provide 8 grams of protein – very similar to 1 cup of yogurt, and about double the amount of protein in an equivalent amount of wheat or brown rice. Equally important, within these 8 grams of protein are plentiful amounts of many amino acids (the building blocks of protein). In fact, for all amino acid requirements set forth by the World Health Organization (WHO), quinoa provides between 70-360% of each required amino acid (using the milligrams/gram standard put forth by the WHO). When combined together, the high total protein content of quinoa and its outstanding amino acid composition make it a fantastic source of plant protein in any meal plan.

Source
Quinoa Is A Terrific Carb Source For Trim Healthy Mamas.
Even factoring in soaking, quinoa is a quick-cooking THM carb, or E, fuel source. Just 3 minutes in my Instant Pot and I've got cooked, soaked, quinoa!
If you choose not to soak your quinoa, it's still a fast-cooking carb source. It generally cooks in 15 minutes on the stove.
TIP: if your package of quinoa does NOT say prerinsed, you'll want to rinse the quinoa with cool water in a fine mesh strainer for a few minutes. This removes the saponin on the quinoa. If you don't you'll end up with bitter quinoa.
Quinoa is also delicious in both sweet and savory recipes. While most of the time I use quinoa like I would rice in savory dishes, this Creamy Berry Quinoa Bowl is one way I enjoy it as a sweet dish.
If you're diabetic, it's actually a better choice than rice. Because of the higher protein and fiber content of quinoa, it has a lower impact on your blood sugar. More fiber and protein also means it's a slower-burning carbohydrate source.
More ways to enjoy quinoa: Red Bean, Quinoa and Kale Soup, Nourishing Sweet Potato and Quinoa Pancakes.
Quinoa Is Not A Grain.
Many people consider quinoa a grain. However, it's not! It may look like a grain but it's actually more of a seed. It's a flowering plant part of the amaranth family.
Quinoa is prepared like a grain, though. And just like grains such as oats and wheat, is best prepared by soaking first to reduce phytic acid.
My favorite way to make quinoa is with my pressure cooker. Lindsey over at All The Nourishing Things has a great tutorial on making perfect, fluffy, soaked quinoa in your Instant Pot. It's how I cook my quinoa and it turns out perfectly every time.
I'll make a large batch or two and freeze in 1 or 2 cup portions for quick and easy E meals later on. Quinoa is also OK in small amounts (1/4 cup or less) for an S meal. I love adding it to meatballs!
Making A Creamy Berry Quinoa Bowl.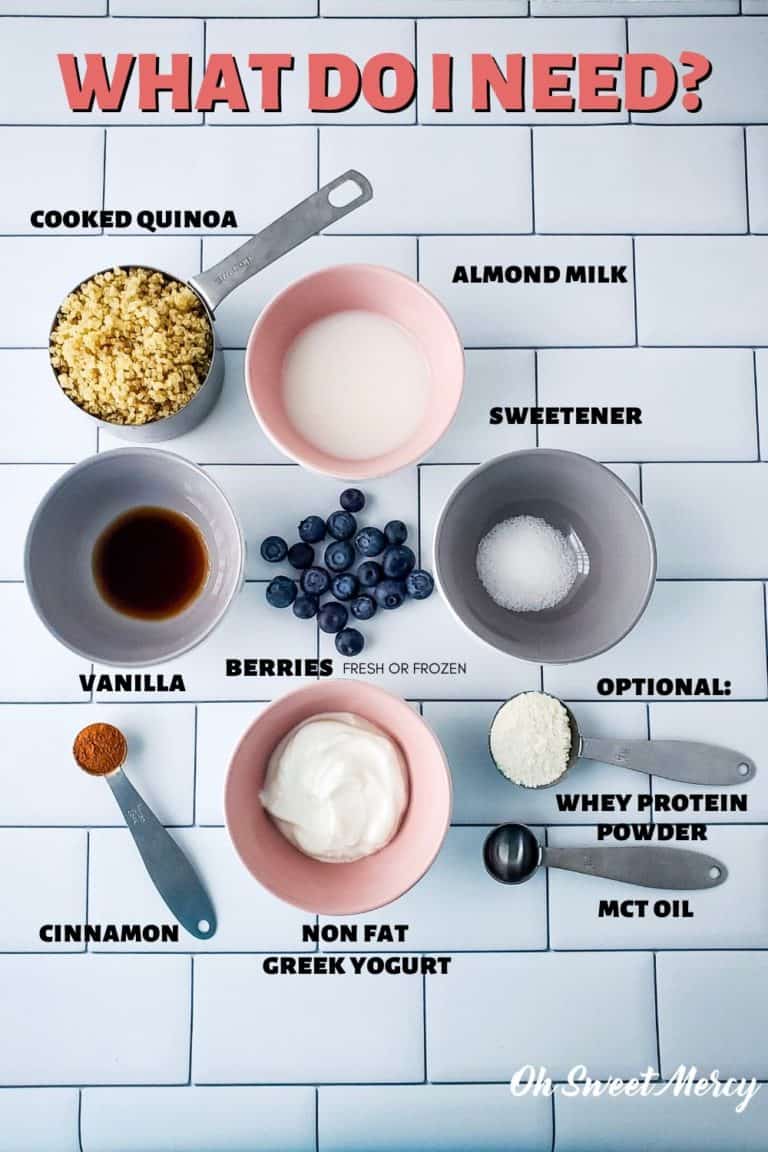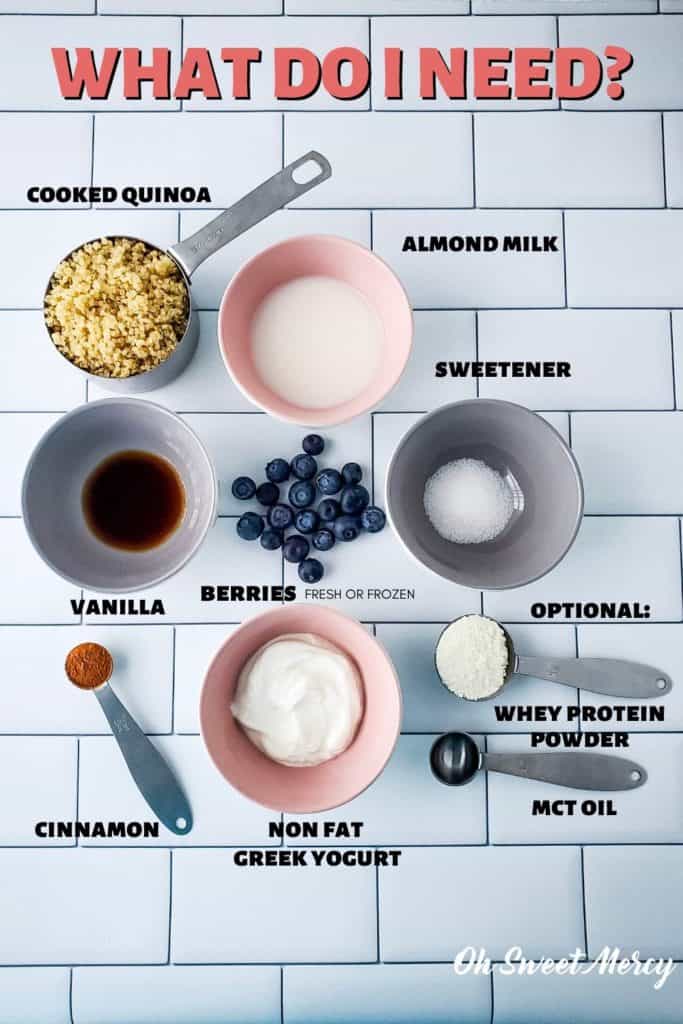 OPTIONAL INGREDIENTS NOTE:
I like to use a bit of MCT oil and Pristine Whey Protein Powder. These are entirely optional so if you don't have them don't worry! I use a small amount anyway and it won't affect the taste that much.
While I enjoy these cold for a no-cook breakfast, that's because I usually have cooked quinoa on hand. It's so quick and easy to throw this together when your quinoa is already cooked.
If you don't, no worries! This is also delicious as a warm breakfast bowl and a great substitute for oatmeal.
Here's how I make this cold:
In a cereal bowl, whisk together the 0% Greek yogurt, protein powder (if using), almond milk, vanilla, cinnamon, and sweetener.
Stir in quinoa.
Add berries on top or stir in.
See how easy that is?
Making a hot, creamy, berry quinoa breakfast bowl is pretty much the same. Just cook your quinoa first. Then whisk together the rest of the ingredients, add to the cooked quinoa, and warm gently for a few minutes.
TIP: in general quinoa expands by 3. So 1 cup of dry quinoa should yield 3 cups cooked. A single serving of my Creamy Berry Quinoa Bowl uses 3/4 cup cooked quinoa. So, cooking 1/4 cup dry in 1/2 cup water should yield 3/4 cup cooked quinoa.
How To Fit My Creamy Berry Quinoa Bowl Into Your THM Meal Plan.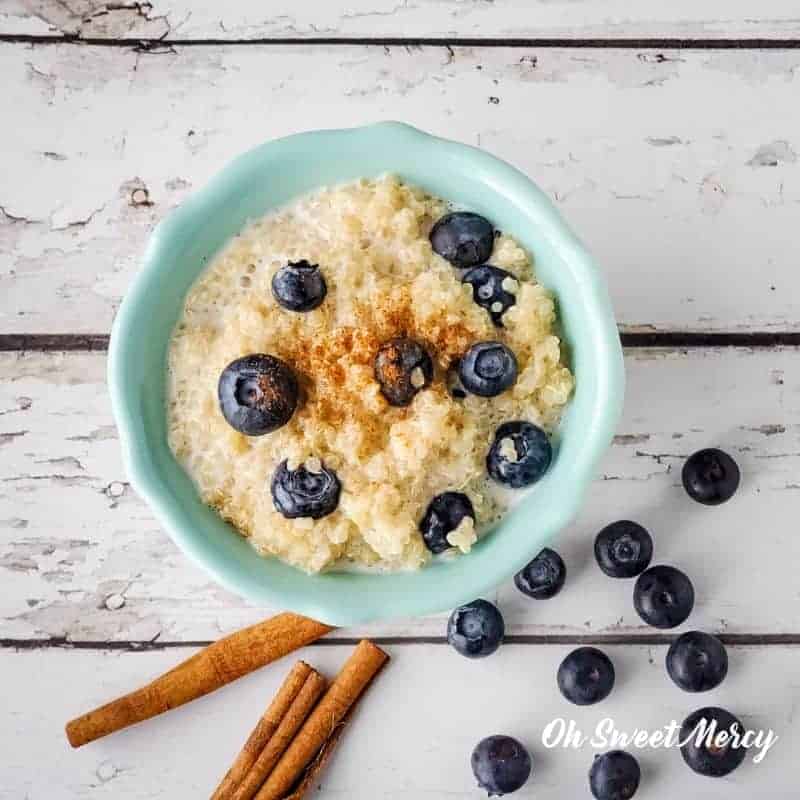 Prepared as written, this is a THM E meal. Make sure anything else you add to your meal is low in fat. There is very little added fat (the 1/2 teaspoon of MCT oil which is just over 1 gram) so you still have room for a little half and half in your coffee or tea if you like.
Remember, the ADDED fat is what we count in our E meals.
Need a Crossover? Simply add more fat to your meal. This is easily done by…
Adding heavy cream
Adding more MCT oil (this is optional, though)
Did you make it hot? How about a generous pat of butter?
Or, simply enjoying an S style Trimmy or other hot beverage along with your meal.
This also makes a tassty snack. Try a smaller portion along with a baby sized Fuel Pull smoothie or a sipper.
I adore blueberries so that's typically what I use. But feel free to use your favorite berry or combination of berries. Fresh or frozen both work well.
Cinnamon also helps keep blood sugar balanced and is a great addition to your sweet, carby foods.
Do You Like Quinoa? Will You Try My Easy Creamy Berry Quinoa Bowl?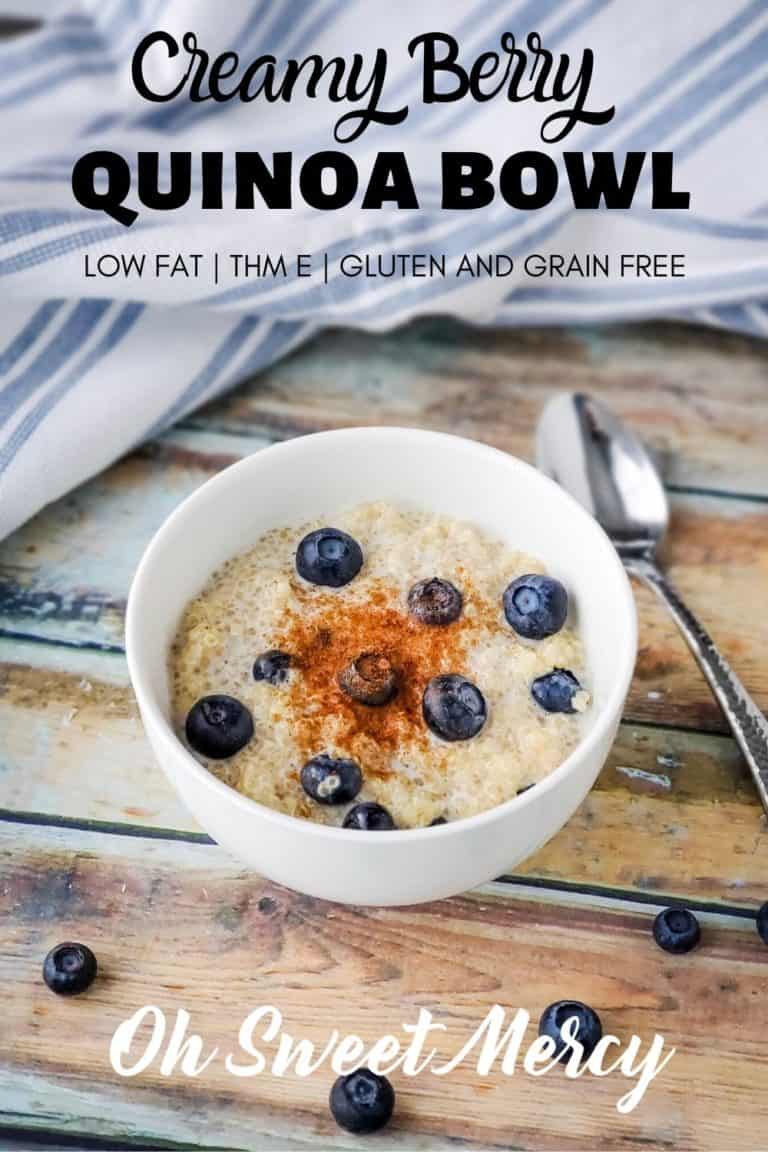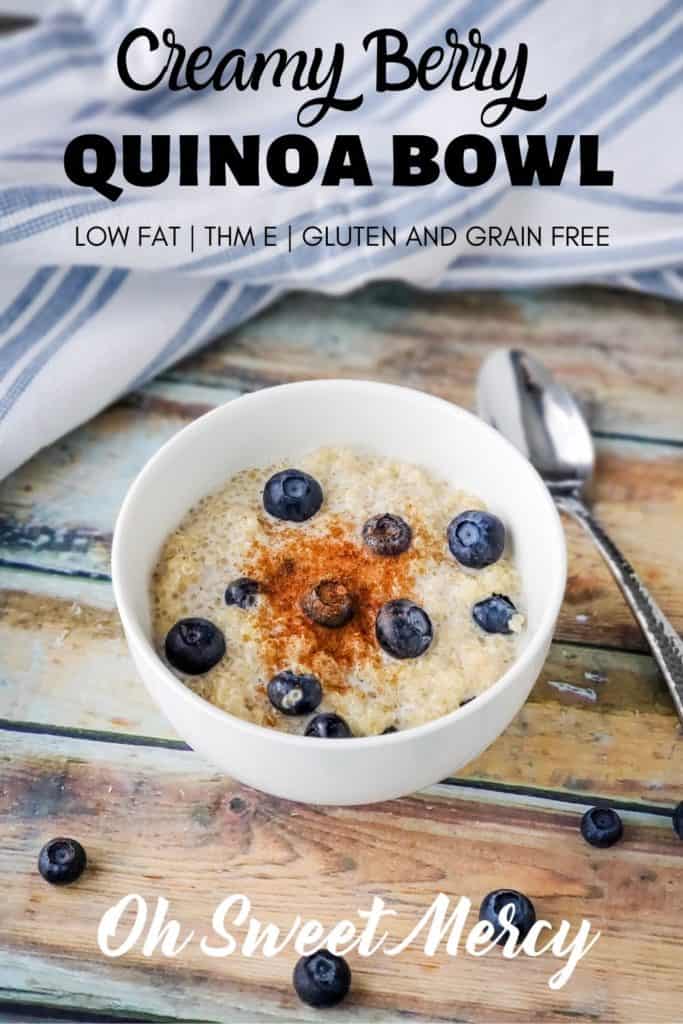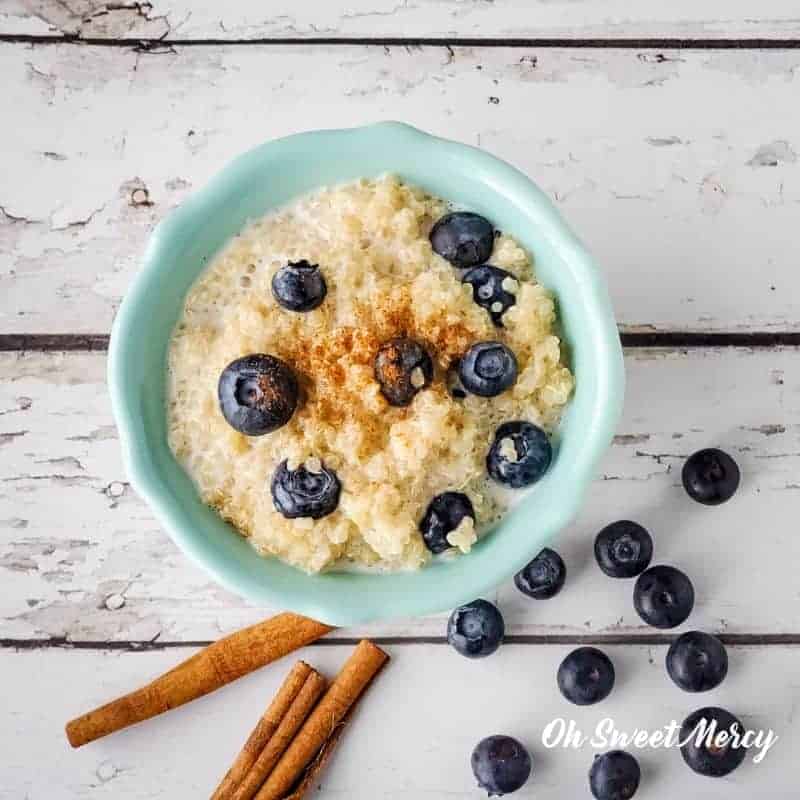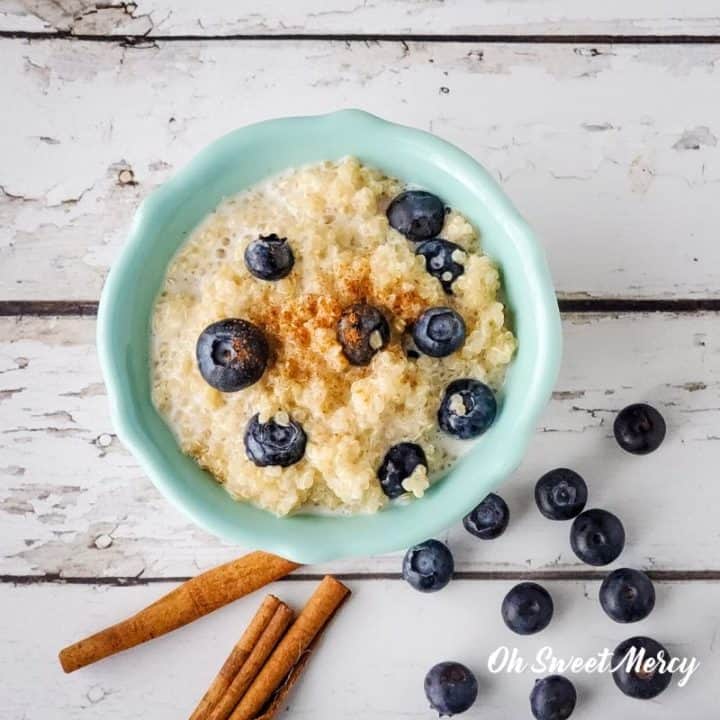 Creamy Berry Quinoa Bowl | Low Fat, THM E
Yield: 1 to 4 servings
Prep Time: 5 minutes
Total Time: 5 minutes
Super simple and easy to prepare my creamy berry quinoa bowl makes a delicious THM E breakfast or snack. Make a single serving or 4, and it's delcious cold or hot. If you keep cooked quinoa on hand this takes maybe 5 minutes to prepare, too.
Ingredients
2 tablespoons 0% Greek yogurt
2 to 3 tablespoons almond milk or other on-plan milk
1 tablespoon THM Pristine Whey Protein (optional)
1/2 teaspoon pure vanilla extract
1/2 teaspoon MCT oil (optional)
1/4 teaspoon cinnamon (or more to taste)
3/4 cup cooked quinoa
1/4 cup fresh or frozen blueberries (or any berries)
Desired on-plan sweetener to taste
For Multipe (4) Servings
1/2 cup 0% Greek yogurt
1/2 cup almond milk (or more as desired)
1/4 cup THM Pristine Whey Protein Powder (optional)
2 teaspoons MCT oil (optional)
1 teaspoon pure vanilla extract
1 teaspoon cinnamon
1 cup blueberries, fresh or frozen (or any berries0
Desired on-plan sweetener to taste
Instructions
Cold Berry Quinoa Bowl
In a cereal bowl, whisk together the yogurt, almond milk, whey, vanilla, cinnamon, MCT oil, and sweetener.
Stir in the quinoa and blueberries.
Taste for sweetness and adjust as needed.
Hot Berry Quinoa Bowl
In a saucepan, whisk together the yogurt, almond milk, whey, vanilla, cinnamon, MCT oil, and sweetener.
Stir in quinoa and warm over medium heat. Add more almond milk if needed.
Stir in berries and taste for sweetness, adjust as needed.
Notes
Prep Time Notes
Prep time is on the assumption you have cooked quinoa already and making this berry quinoa bowl cold.
Sweetener Notes
Since everyone has different preferences for sweetness and sweetening products I didn't give specific amounts for it in the recipe.
I generally do 1 doonk of THM Pure Stevia Extract and maybe half a teaspoon of something like Super Sweet or Pyure, depending on my mood, for a single serving.
Nutrition Notes
Nutrition calculated with THM Whey and MCT oil added. I find this keeps me satisfied sufficiently even at just 14 grams of protein. Feel free to add more lean protein if you need it. Add more yogurt, whey, or add collagen to a hot beverage.
Recommended Products
As an Amazon Associate and member of other affiliate programs, I earn from qualifying purchases.
Nutrition Information:
Yield: 1
Serving Size: 1 serving
Amount Per Serving:
Calories: 245
Total Fat: 3.6g
Saturated Fat: .2g
Unsaturated Fat: .4g
Sodium: 48.6mg
Carbohydrates: 39.8g
Net Carbohydrates: 32.7g
Fiber: 7.1g
Sugar: 7.9g
Protein: 14.3g