What is Organic India Moringa leaf powder?
Organic India Moringa leaf powder is made from the powdered leaves of the Moringa oleifera tree, which has a long history of traditional use. It is a nutritionally complex whole food rich in vitamins, minerals and amino acids. Moringa leaves have been eaten for thousands of years as a superfood nutritional supplement! In fact, it is often used to combat malnutrition in impoverished countries.
Recently, I was selected to review Organic India Moringa leaf powder.
That's one of the many perks of being a Moms Meet blogger! I'd heard of Moringa but really didn't know anything about it so I was excited to learn more about this amazing plant and give the product a try.

What nutrients are in Organic India Moringa leaf powder?
Organic India Moringa leaf powder contains…
Abundant B vitamins
All 18 essential amino acids
Antioxidant polyphenols, including kaempferol and quercetin
Vital trace minerals
Protein
Vitamins such as A and C plus Thiamin, Riboflavin, Calcium and Iron
Magnesium, manganese, phosphorous, and potassium
How do I use Organic India Moringa leaf powder?
Along with the 8 ounce canister of Organic India Moringa leaf powder, I received a set of recipe cards. There were several delicious-sounding recipes such as Moringa Garlic Aioli, Moringa Green Smoothie, Moringa Mayonnaise, Moringa Berry Smoothie, and Moringa Salad Dressing. I admit I have not tried these recipes, due to various factors such as not having all the ingredients or necessary equipment (no blender, no smoothies…).
But, that didn't stop me from finding ways to use it! My favorite ways to use Organic India Moringa leaf powder are (typically adding half a teaspoon to each below):
You can also sprinkle it in your soups, over salads and sneak it into your kids' foods, it's a great supplement for anyone's diet! One thing I did notice, however, is that it is difficult to mix into cold or room temperature liquids. It just kind of floats and clumps at the top and doesn't want to mix in well. I use a stick blender to make Bullet Proof Coffee and although it will settle at the bottom, it does at least mix better in a hot liquid.
What does Organic India Moringa leaf powder taste like?
Sometimes, I'm a little leary of new foods. I'm such a big texture person, too, so if it doesn't feel right, I don't want to eat it. When I opened the can I'll admit to wondering if I would like it. It's very green.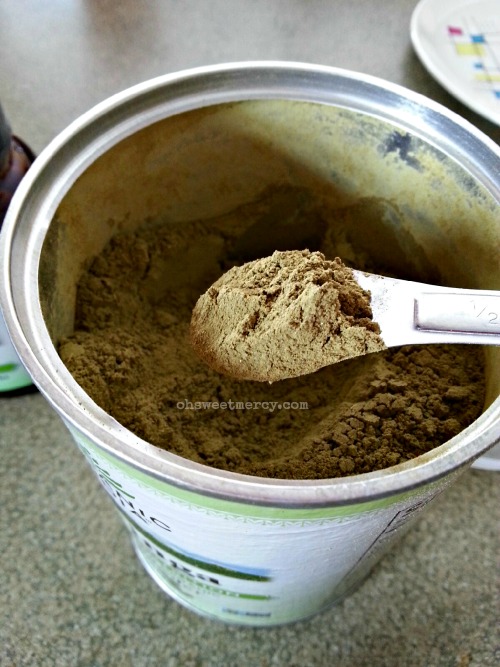 Thankfully, I loved it!
If you like matcha tea, you will most likely enjoy Moringa. I found it kind of gave almost a nutty flavor to some things, like my Bullet Proof Coffee, that was very delicious. In other things, I could not even taste it – like my Dark Chocolate Coconut Cake in a Mug. My seven year old son didn't care for the taste of it, but he'll eat it in something where the flavor does not come through, like chocolate cake.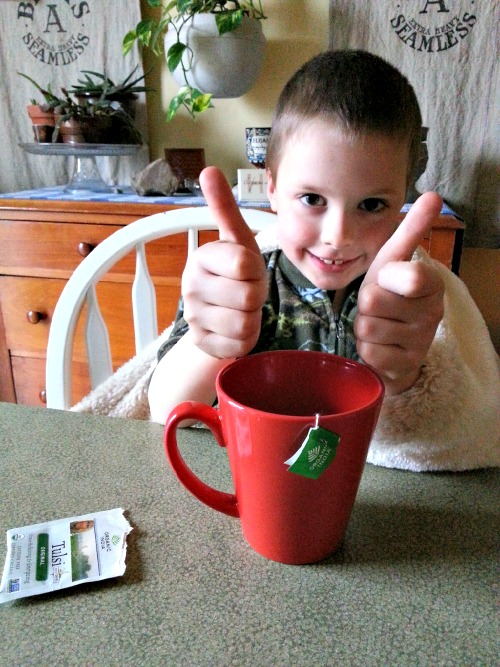 Mister, my 7 year old, loved all the teas in my Organic India sample pack
Did I notice any difference after taking Organic India Moringa leaf powder?
I wasn't sure what to expect, to be honest. I have tried many things that are supposed to be "energizing" (coconut oil, bullet proof coffee, raw ACV) because I've heard people talk about how much energy they get with those things. Moringa is also supposed to be energizing.
I've come to accept the fact that I am just a low key person and not prone to be energized. Period. I didn't find myself with boundless energy after taking the Moringa, but I did notice something that definitely sold me on this product.
No more ravenous cravings!
A few months after starting Trim Healthy Mama, I developed ravenous cravings for…peppers, of all things. Hot, mild, sweet, sour…I didn't care as long as it was a pepper or made from peppers (like the cayenne in My Favorite Creole Seasoning Blend).
Some days I ate peppers in some form at every single meal. It was like I had a ginormous Pepper Monster living within and demanding to be fed all day long. I was eating probably two pounds of peppers a week, at least.
The first thing I noticed was that after about two to three days of taking 1/2 to 1 teaspoon of Organic India Moringa leaf powder, I no longer craved peppers! I still wanted to eat them, but because I wanted to, not because I felt like I had to eat them.
Organic India Moringa leaf powder supplied nutrients my body desperately needed.
After looking into what is in peppers that my body might need, I realized why I was craving them so terribly. They contain many nutrients, but the ones that stood out to me were magnesium, manganese, phosphorous and potassium. All are essential to proper metabolism function, blood pressure and blood sugar regulation…and all are issues I struggle with, and have for years.
In fact, the nutritional profile of Moringa leaves helps support cardiovascular health and blood sugar regulation. That is something I definitely need! The informational sheet I received with the product said "daily use as a dietary supplement can help restore nutritional imbalances." I believe that is definitely true in my case!
Why should I trust Organic India?
Organic India Moringa leaf powder is USDA Certified Organic, Non-GMO Project Verified, Kosher and Halal certified, gluten free and vegan. Those are all very important to me! Another thing I love about this company is that they work with thousands of small family farmers in India to cultivate tens of thousands of acres of sustainable, organic farmland.
As someone who is increasingly disappointed (and even angry) about the way big companies produce "food", I am always happy to find a company that doesn't just seem to have their bottom line as their top priority.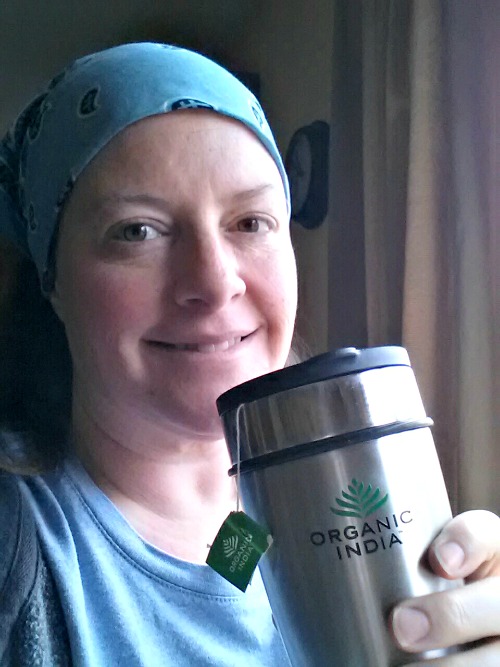 Since I love to "bullet proof" just about anything, including tea, I can add Organic India Moringa leaf powder for an extra nutritional boost.
Where can I get this amazing Organic India Moringa leaf powder and other Organic India products?
I'm sure you'd love to try this amazing nutritional supplement, so head on over to Organic India's website and be sure to check out their other amazing products as well (such as their delicious Tulsi teas and other herbal supplements). Don't forget to find them on Facebook, Twitter, Google +, and YouTube to stay up to date on the latest information and for recipes!
My readers can even use this coupon code to get 20% off their order!
kiwi20
---
I am not a doctor. I can not diagnose or treat any condition you may have. The experiences I am sharing here are my own. I trust you are intelligent enough to consult your own physician if you so choose as well as research and come to your own conclusions about your health care needs.
DISCLAIMER: I received this product for free from the sponsor of the Moms Meet program, May Media Group LLC, who received it directly from the manufacturer. As a Moms Meet Blogger, I agree to use this product and post my opinion on my blog. My opinions do not necessarily reflect the opinions of May Media Group LLC or the manufacturer of this product. And, as always, receiving this product for free does not influence my opinion. I always give honest reviews.