---
Cool and creamy, this Easy Peasy Pea Salad is quick to make. Great for a quick snack or side along with grilled meats. Or, mix in optional proteins for a complete meal. Trim Healthy Mama S friendly!
---
Some Days Just Call For A Quick And Easy Meal.
While my hubby likes a meal at mealtime, I'm totally OK with something easy. And peasy. Like this Pea Salad…
Did you catch that?
Easy…peasy…
Anyway, when I saw pea salad in the Trim Healthy Mama book, I was so happy! It was something I used to eat years ago and I had forgotten how much I liked it. Of course, I have to tinker around and own it.
That's just how I roll.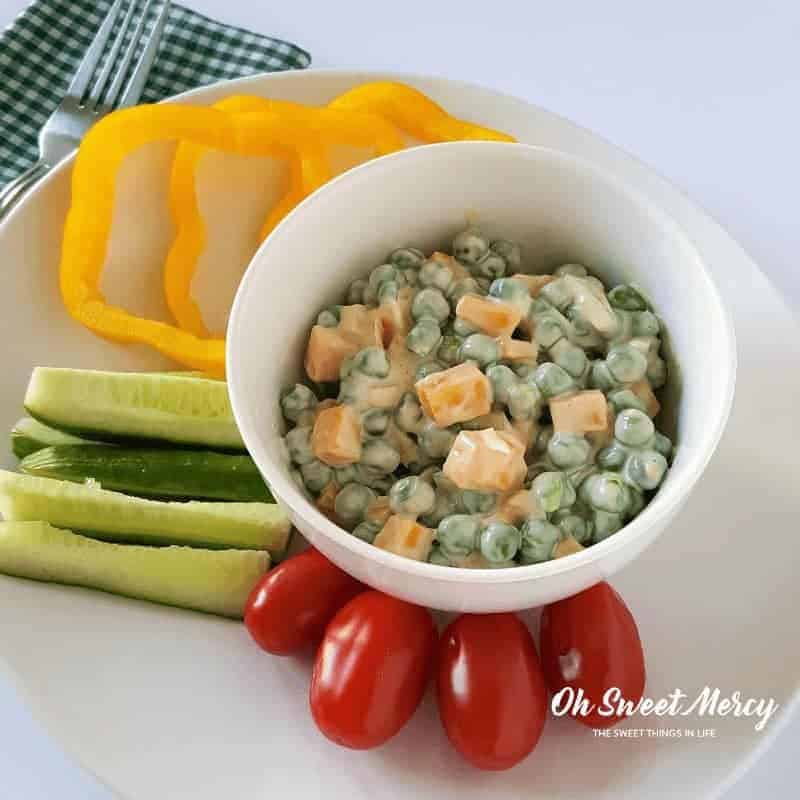 Another great way to add aminos to your diet!
One day I decided to try some Bragg's Liquid Aminos in this pea salad and oh sweet mercy! It really amped up the flavor. It is soy based, so if you're avoiding soy you'll want to use something like Bragg's Coconut Aminos.
I also have been adding moringa powder to my foods for the benefits of amino acids and other nutrients. Amino acids are vital to every metabolic process, and when you're trying to lose weight you want your metabolism running strong!
Easy Peasy…But Don't Forget The Protein!
Since peas are a starchier vegetable, it's best to not eat this every day…even though you may want to after trying it 🙂 And, it's important to be sure to have enough protein with your meals, they should be the main focus. I'll admit I'm not always great at that!
Adding leftover cooked chicken breast or ground meat like lean beef or turkey or even a chopped hard boiled egg are good options for increasing the protein.
You can also serve alongside your main protein, such as a grilled chicken breast.
On those days where I just want a light meal, my (also easy peasy) DIY Protein Water would be a great protein addition, too.
I like to use a heaping tablespoon of mayo and make it kind of saucy, then serve over a bed of fresh spinach or salad greens.
This may be more of a snack for some people, but I find this to be filling and satisfying for a light lunch or supper when I'm not especially hungry.
**This is a single serving recipe. I know I had updated it with instructions for making a family-sized recipe but have no idea what happened! I'll be updating it soon. Sorry for any inconvenience!**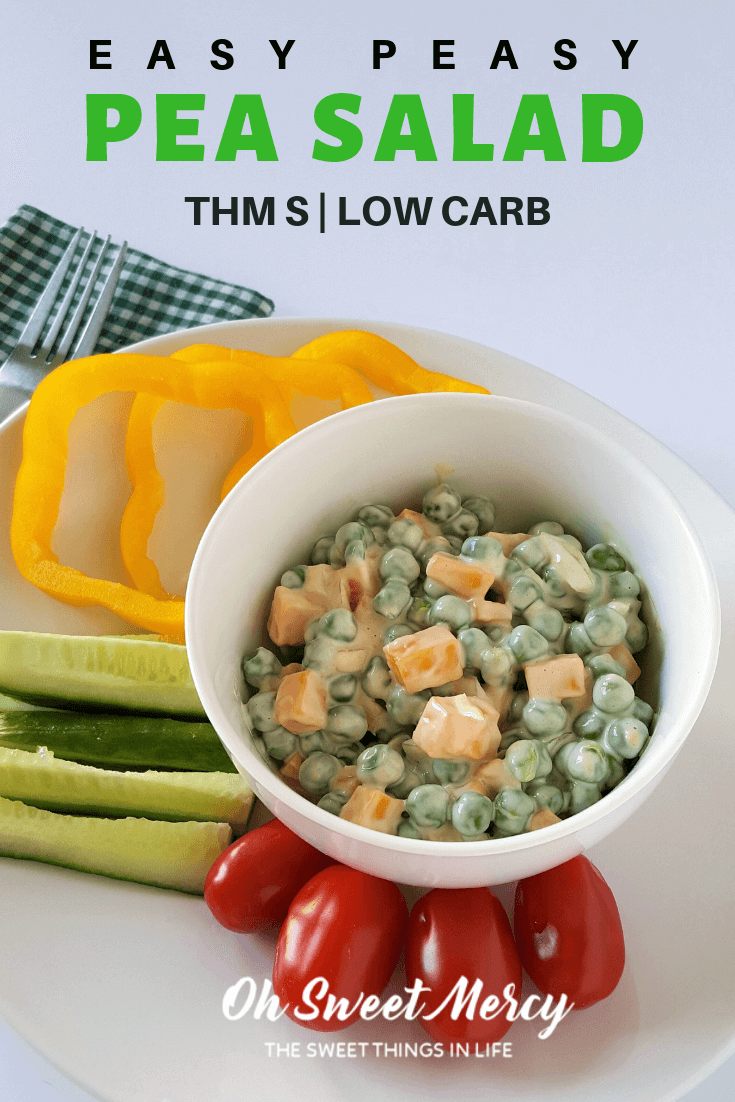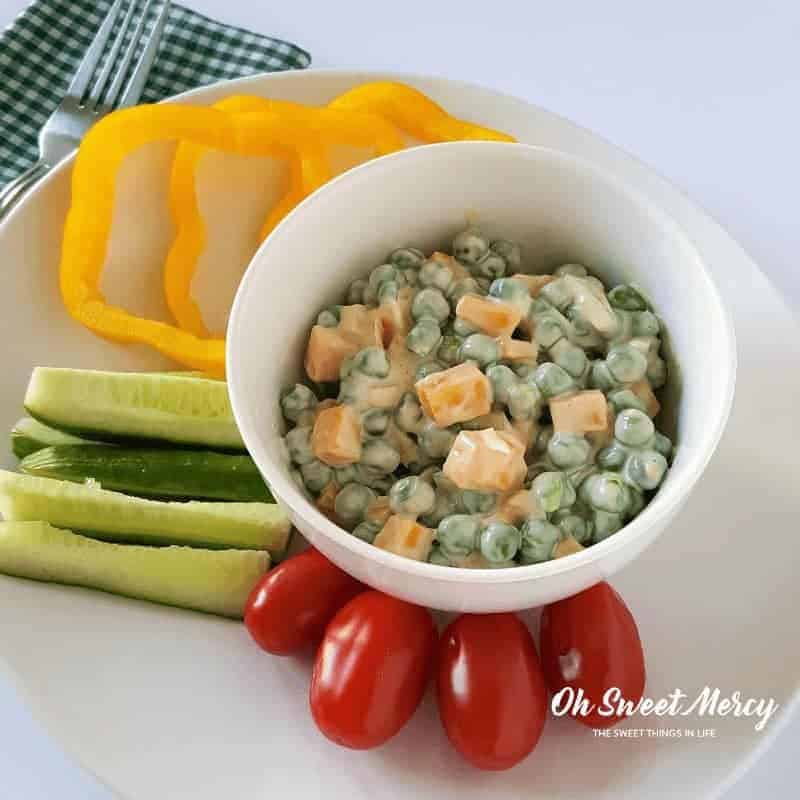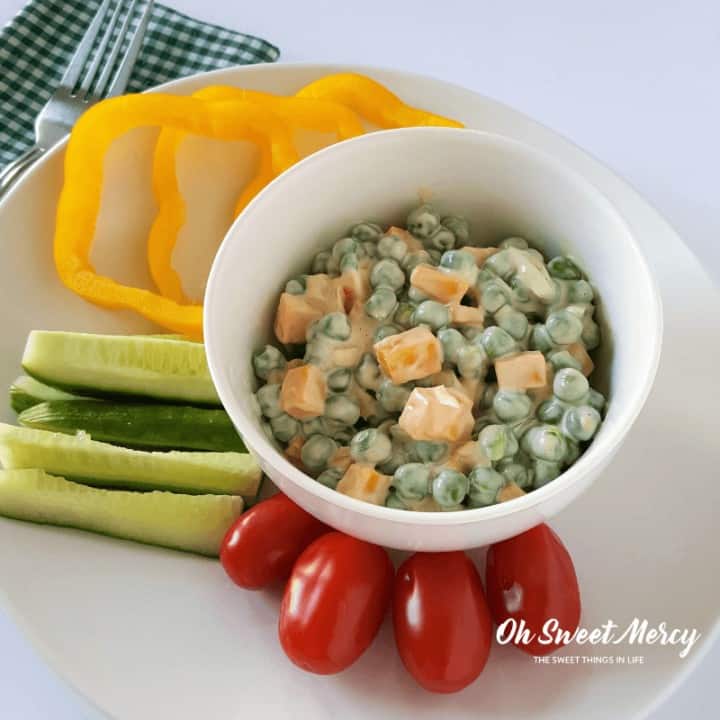 Easy Peasy Pea Salad | THM S, Low Carb
Yield: 1 serving
Prep Time: 5 minutes
Total Time: 5 minutes
This creamy pea salad makes a lovely side dish to grilled meats, or add chopped cooked chicken or boiled egg for an easy and complete meal.
Ingredients
1/3 c frozen peas, thawed or leftover cooked peas
1 Tbs mayonnaise (or less if you prefer)
1 tsp nutritional yeast (add more if you like, it boosts the protein content)
2-3 shakes of Bragg's Liquid Aminos
1/2 ounce of extra sharp cheddar cheese, cubed
1 tsp diced, fresh onion
1 tsp capers (optional - I LOVE capers but not everyone does)
leftover cooked and cubed chicken meat (optional)
tuna (optional)
turkey pepperoni (optional)
chopped hard cooked eggs (optional)
cooked, cooled, and chopped salmon (optional)
Instructions
For frozen peas put them in a cup of hot water to thaw, then drain very well.
In a small bowl combine mayo, nutritional yeast, liquid aminos, and Creole seasoning (if desired) and mix well.
Add peas, onions, and cubed cheese (and any optional protein) and mix well.
Notes
I like this saucy and served over a bed of fresh greens, but feel free to cut back on the mayo if you like.
Trim Healthy Mamas, this is an S recipe and as peas are starchier it is best occasionally. For a great meal option add chopped hard cooked eggs or meat
Recommended Products
As an Amazon Associate and member of other affiliate programs, I earn from qualifying purchases.

Don't forget to Pin this Easy Peasy Pea Salad Recipe to Your Favorite Recipe Boards!