Like this post and don't want to miss more like it? Be sure to sign up for my newsletter at the end!
Recently, I made myself a yogurt-based snack that was compliant with Trim Healthy Mama guidelines.
After the first bite, I realized it tasted even better than store-bought "light" fruit yogurt. A quick search on the internet revealed that a popular brand of light blueberry yogurt contained fourteen ingredients. And while they proudly declare that they have removed aspartame from their products (smart move!) there were still things listed like preservatives, Red #40 and the vague and worrisome "natural flavors."
It took me all of three minutes to make my own fruit yogurt. And it only took three ingredients. No unidentified flavors. No preservatives. No artificial colorings.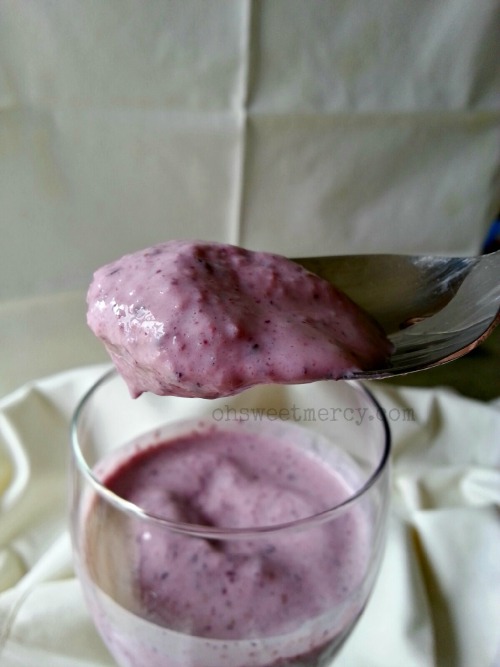 Yo, I can make it myself.
I would not be concerned giving this easy DIY 3 Ingredient Fruit Yogurt to my son, who is very sensitive to artificial ingredients in foods. In fact, he agreed with me that it was better than the stuff at the store!
If you want to make a blended fruit yogurt, you'll need either a blender, food processor or immersion (stick blender). I have been slowly working on killing off my appliances, so I am now down to an immersion blender. It worked great!
How to Make this Easy DIY 3 Ingredient Fat Free, Sugar Free Fruit Yogurt
ingredients (one serving)
1/2 c 0% Greek Yogurt
1/2 c fresh or frozen fruit, such as blueberries
stevia to taste – I used 2 "doonks" of Trim Healthy Mama Pure Stevia Extract (read my review here)
method
Place all ingredients in your blender, food processor or, if using the immersion blender, in a wide mouth mason jar or other appropriate container in which your stick blender will fit. Process until smooth and completely mixed.
Fruit Yogurt is a Healthy Snack
If you are following the Trim Healthy Mama plan, berries are your best choice for keeping the carb count low as they are naturally low in sugar. Berries are also very healthy! You could also use flavored liquid stevia, such as Sweet Drops by SweetLeaf (read my review of their cola flavored drops here).
A half cup of 0% Greek yogurt contains 4.5g of carbs and 11.5g of protein. A half cup of frozen blueberries has 6g of net carbs. That puts this fruit yogurt at just half a gram over the carb limit for a FP (Fuel Pull) snack. If you're super concerned about numbers, cut back a bit on the blueberries. I don't worry about half a gram, myself.
There are times where convenience rules out, I get that! But if you can start making your own "convenience" foods as often as you can, you will be doing your body a huge favor…not to mention often saving money in the process.
Don't Forget to Pin This DIY 3 Ingredient Fat Free, Sugar Free Fruit Yogurt Recipe to Your Favorite Recipe Boards!