One of the biggest challenges I have found while being on the Trim Healthy Mama plan is the E meal.
I have an inherent distrust of carbs. They make me fat, plain and simple. I can eat steak smothered in butter, a hunk of cheese, and a stick of butter just for fun and not gain a thing. But start putting carbs in the engine – in any form – and here comes the pounds.
But I love the carbs.
And the carbs are good for me…as long as I eat them correctly.
But, that means basically no fat with the carbs.
Boo. Hiss.
One day, I decided to give a recipe in my (original) Trim Healthy Mama book a try. I'm not sure why, it didn't sound appealing to me at all. But, I needed an E meal and I had the ingredients so I figured I'd suffer through it.
You know, since I'm the one in charge of what I eat now, and not my childish tongue.
Oh sweet mercy, I just loved it! It was so good! It was filling and satisfying, too…even without those delicious fats that I love so much. And even better, it's highly customizable…right up my alley!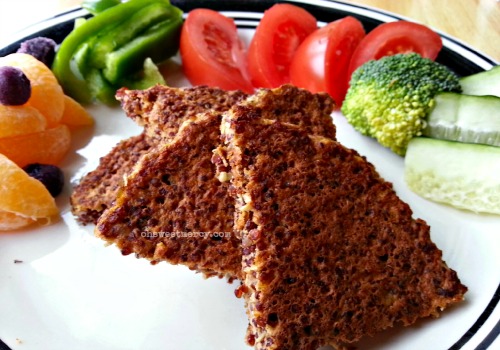 Today I made a spicy version, but you can leave out the spice if you want something mild. Or top these zippy quinoa fritters with 0% Greek yogurt and stay in the E range. If you don't like hot, spicy flavors you can add any of your favorite seasoning blends instead. I found eating them with fresh veggies like cucumbers and green peppers quite delightful.
Order your copy of the NEW THM Plan book here and the NEW THM Cookbook here
How to Make Spicy Quinoa Fritters
ingredients
method
Whisk egg whites briefly. Stir in remaining ingredients. Heat a cast iron skillet over medium heat. Add just enough butter or coconut oil to lightly grease the bottom of the pan. When water droplets sizzle it's ready for cooking. Pour  half the mixture into the pan and cook for about four minutes. Flip and cook for an additional 2-4 minutes. Repeat with remaining mixture.
Makes two 5 inch quinoa fritters
This recipe was inspired by Savory Skillet Quinoa in the Trim Healthy Mama book (read my review here). According to the recipe, this is one serving. I find it to be too generous of a serving, and even though quinoa is a great carb source with a lower glycemic index, for my body, that is too much at once. They are great cold, too, so I can snack on the other one later. 
Quinoa Fritters are a Great Source of Nutrition
On days that I exercise, I try to have an E style breakfast. I have found that I just need that energy boost from the carbs. Rice and oatmeal are not my friends, and I basically don't eat them anymore. But quinoa, now quinoa is my buddy. A nice, slow-burning carb source that is packed with (complete) protein and other important nutrients. I can eat that!
Ancient Harvest is one of my favorite brands, and they state on their website:
Quinoa is native to Bolivia and is a relative of Swiss chard, spinach and beets—bet you didn't know that. What's more, it's comes in three varieties (whole grain white, red and black) and it's a nutritional powerhouse. Just one cup contains 8g of protein, 5g of fiber, 15% DV iron, 30% DV magnesium, 19% DV folate and heart-healthy omega 3 fatty acids.
Be Sure to Pin This Spicy Quinoa Fritters Recipe to Your Favorite Recipe Boards!