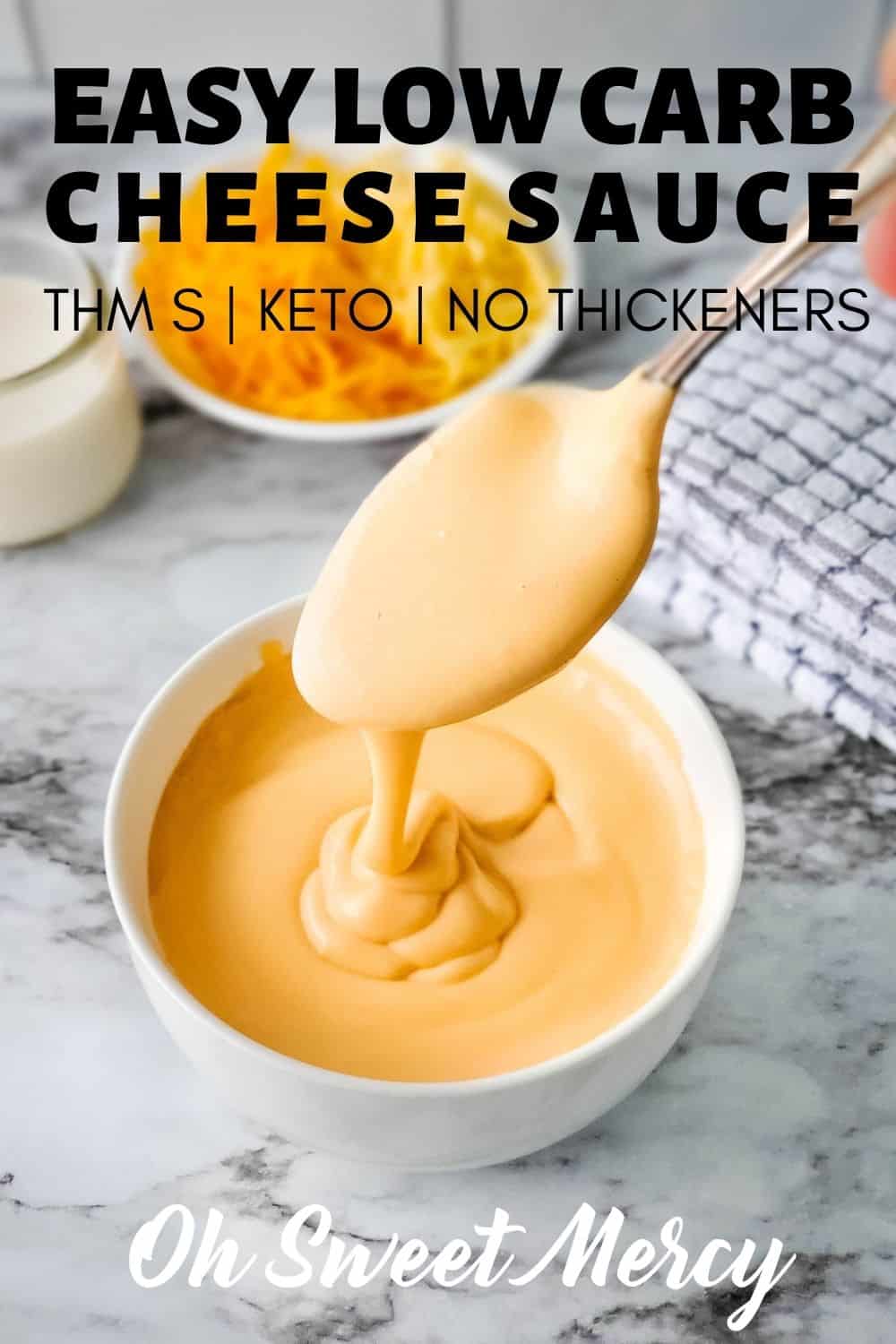 ---
My quick and easy low carb cheese sauce is perfect for casseroles, dips, pouring over veggies, or wherever you need comforting, melty, cheesy goodness. Making it without starches or thickeners means it's 100% THM friendly, too!
---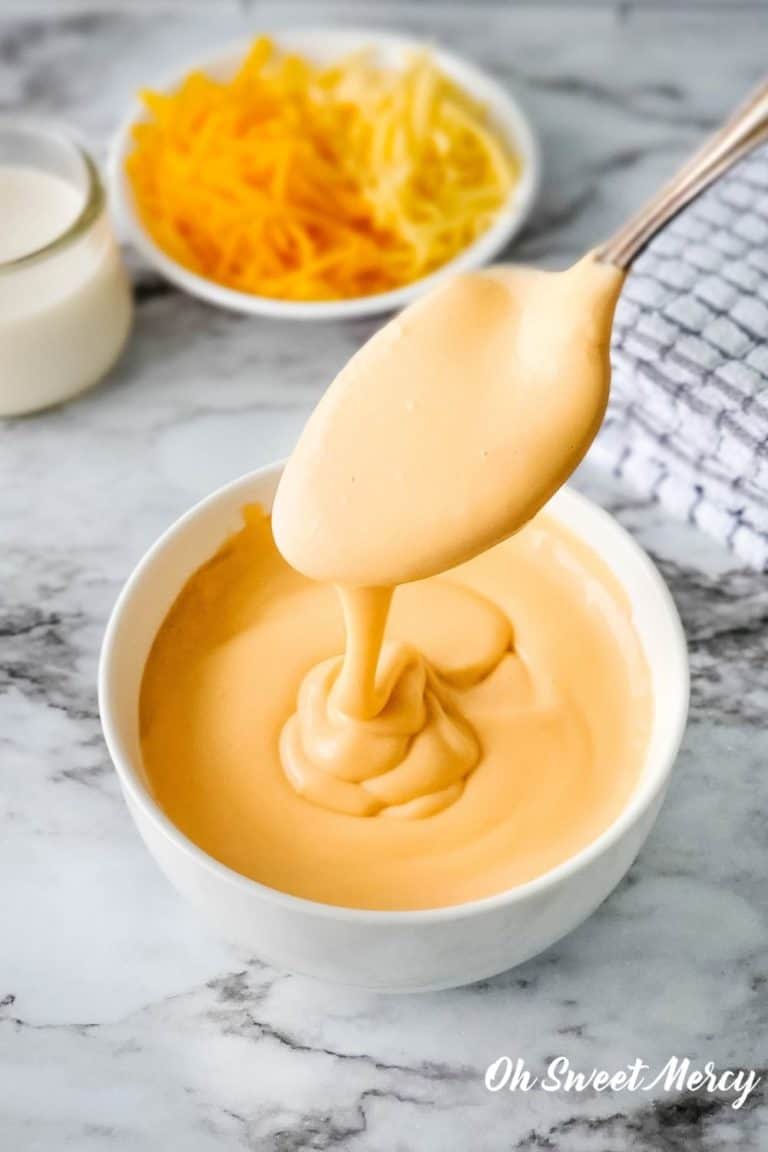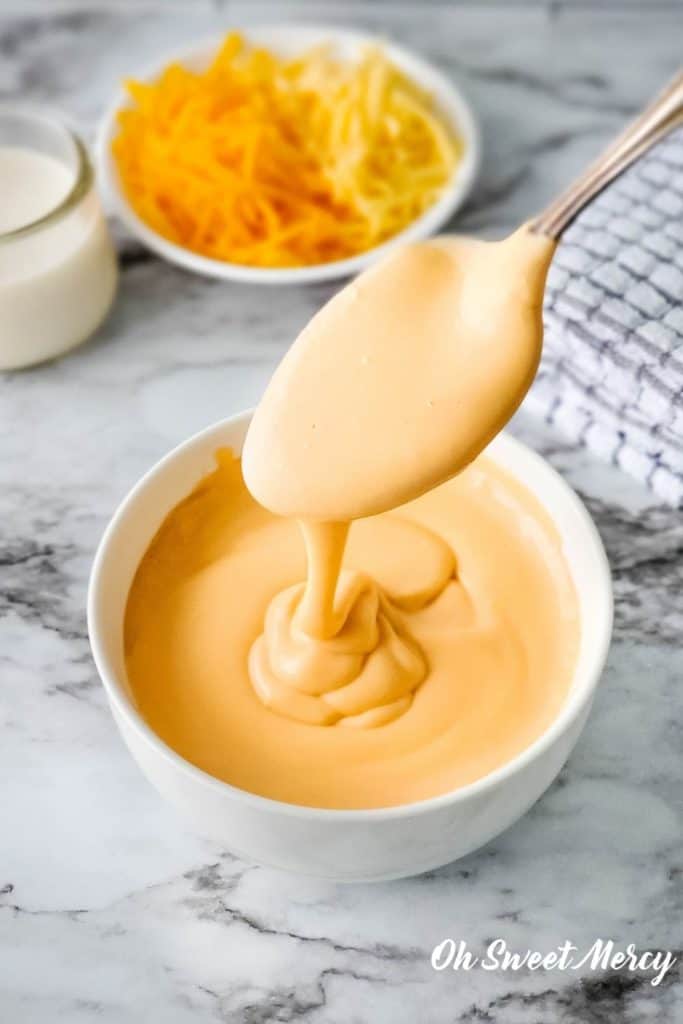 Cheese is one of those foods hard to give up sometimes. Other diet plans that severely restrict how much cheese one can enjoy can be hard to follow.
Not so with Trim Healthy Mama! Many people new to the plan (or not following THM but watching you eat) find it shocking that so much cheese is allowed.
Now, before you start thinking THM is just another form of keto and you can eat all the cheese you want every day take note:
Meals containing a lot of cheese and heavy cream fall into the Heavy S category. These are on-plan BUT if overdone, can cause a stall in progress.
For some people, dairy is simply not their friend. In this case, I highly recommend this amazingly delicious dairy free queso "cheese" sauce from All The Nourishing Things.
While it's made in the Instant Pot, you can also easily make it on your stove top. It's what I used in my THM E (that's right, it's low fat too!) Dairy Free Cheesy Chicken, Broccoli, and Rice Bake. I just omitted the queso seasonings to make it more suitable to a chicken and broccoli casserole.
However, if you can…and do…enjoy dairy in its full, unabashed, cheesy gloriousness, then this recipe is for you!
What Do I Need To Make This Recipe?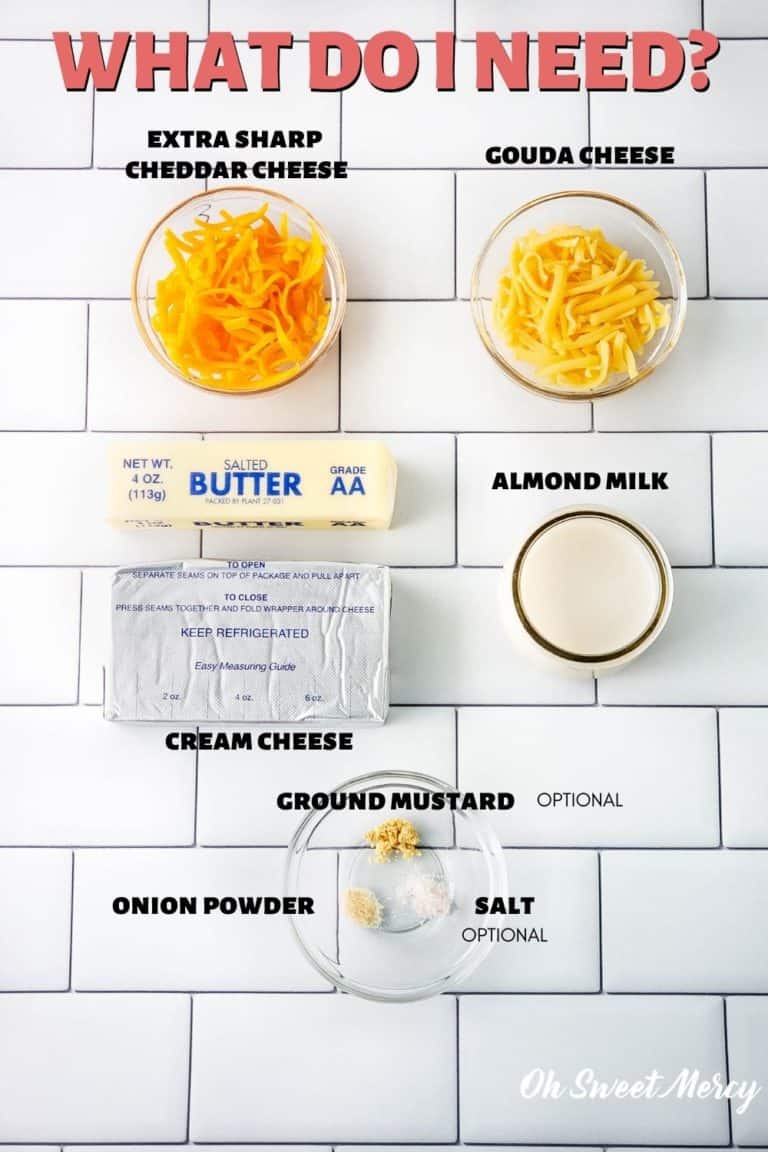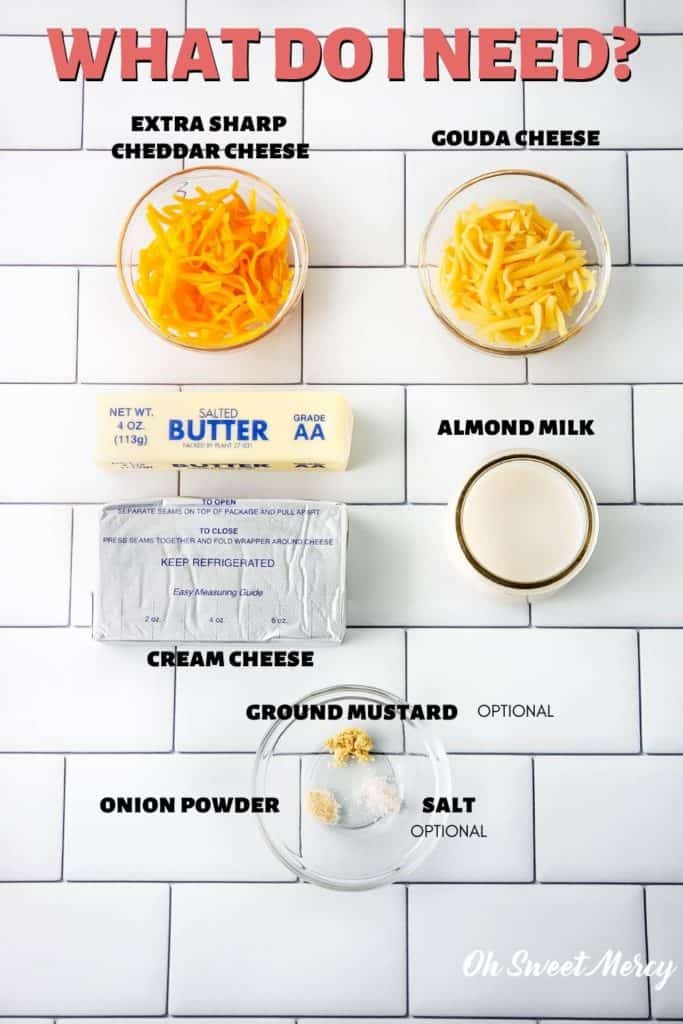 You just need a few simple ingredients to make this homemade low carb cheese sauce. No need for thickeners – regular flour, cornstarch, and other starches are not on-plan for THM anyway.
We often use gluccie (glucomannan powder) or xanthan gum in THM recipes to thicken sauces. If you don't like using them or can't buy them easily, you'll love this recipe!
As you see in the photo above, you just need:
Butter
Cream cheese
Extra sharp cheddar cheese
Gouda cheese
Almond milk
Onion powder
Ground mustard (optional)
Salt (optional)
With the cream cheese, I often use 1/3 less fat (or neufchatel) cream cheese as it's a bit lighter in fat and calories. While we don't religiously count those things on THM, especially in S meals, we still strive for balance.
For the best creamy, low carb cheese sauce it's important to pick cheeses that melt well.
What Cheeses Are Best For Melting (and What Cheeses To Avoid)?
Some cheeses simply do not melt well. Using cheeses like this results in grainy, stringy, or greasy cheese sauce. Not exactly comforting!
I use a combination of extra sharp cheddar cheese and gouda. The best cheese sauces use a combination of cheeses.
You can use any cheeses you want, or have on hand, just make sure to choose cheese that melts well for the largest measurement of cheese in the recipe below.
I recommend sharp or extra sharp cheddar for the "base" cheese. It gives great flavor and helps ensure a cheesy sauce, not one that's bland.
GOOD MELTY CHEESES
Cheddar (especially sharp or extra sharp for that good cheese flavor)
Monterrey Jack
Havarti
Gouda
Gruyere
Provolone
Asiago
Not So Good Cheeses For Melting.
Do not use these cheeses, especially for the base of your cheese sauce. A small amount of parmesan or other hard cheese may be ok, but not as the majority of the cheese in your sauce.
Hard, aged cheeses such as parmigiano reggiano
Goat cheese
Halloumi and Yanni (grilling cheeses – try my Mediterranean Grilling Cheese though, so yum!)
Mozzarella (a small amount works fine)
Feta
Paneer
Basically, there's some science behind cheese melting. In a nutshell:
Cheeses made with rennet melt, cheeses made with acids do not.
If you want to geek out on the science, check out this article: Why Some Cheeses Melt Better Than Others, According To Science.
You'll see I put mozzarella in the "don't use" list, even though it's a rennet-based cheese. It obviously does melt (pizza…), but I've found it doesn't work well in a cheese sauce when it's the primary cheese used.
Adding a small amount, along with 1 or 2 (or more) other cheeses is fine though.
SHREDDED CHEESE TIP: for best meltiness, don't use pre-shredded cheese. They have a coating added to prevent clumping. Shredding yourself takes less than a minute with a box grater or a food processor!
Can You Make low Carb Cheese Sauce Without Heavy Cream?
Yes, you sure can! When I first started making cheese sauce for THM meals I wanted to come up with a recipe that didn't rely on heavy cream.
Don't get me wrong, I love heavy cream! It makes wonderful cheese sauce! But, I wanted a sauce that wasn't so heavy on dairy, fat, and calories.
There's plenty in the cheese I use of course, so why add more to it if you don't have to?
Using cream cheese instead of heavy cream does 2 things: it adds creaminess without gobs of fat and calories, and helps thicken the sauce without using thickeners or starches.
Best Ways To Use This Creamy, Cheesy Sauce.
Use this delcious cheese sauce anywhere you want melty, creamy, cheesy goodness. It's perfect for low carb casseroles, smothering veggies like broccoli or cauliflower, as a hot dip, or for low carb pasta (or real pasta if you're making mac n cheese for non-THMers).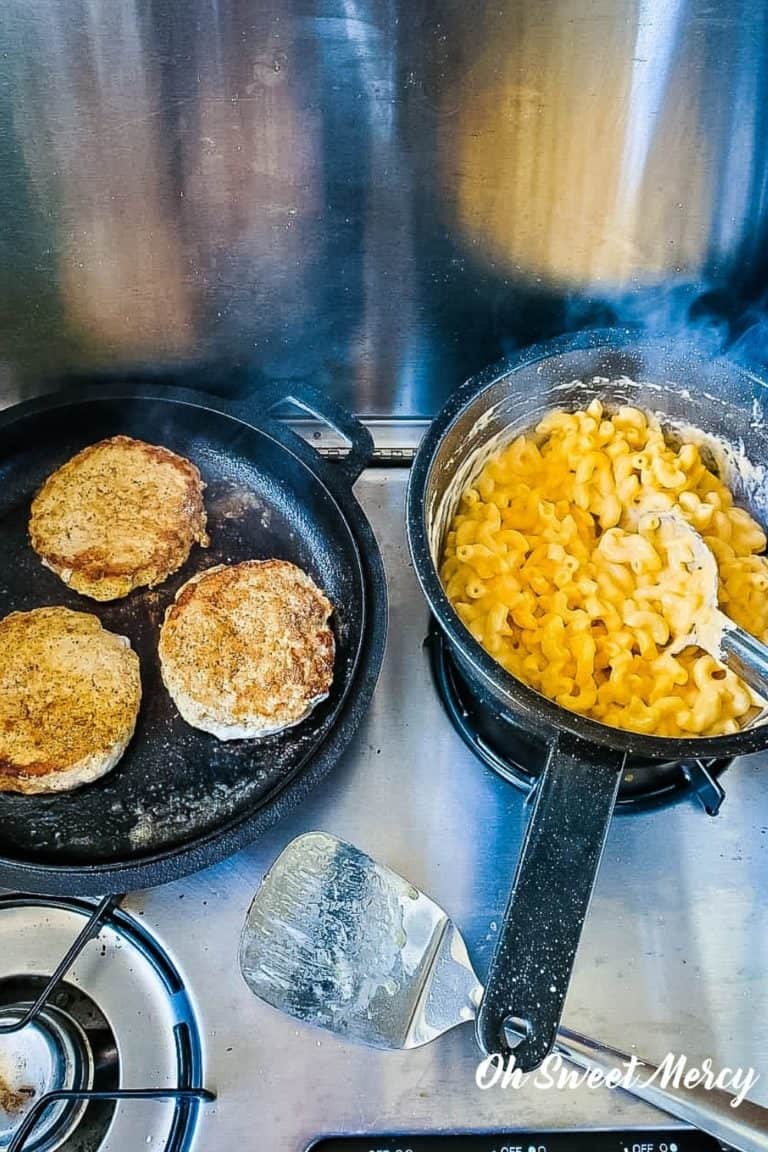 I've even made this recipe when camping, cooked on a pop-up camper stove hooked to the outside of our camper.
That's another reason I love it – doesn't require anything fancy in ingredients or equipment.
How To Fit This Easy Low Carb Cheese Sauce Into Your THM Meal Planning.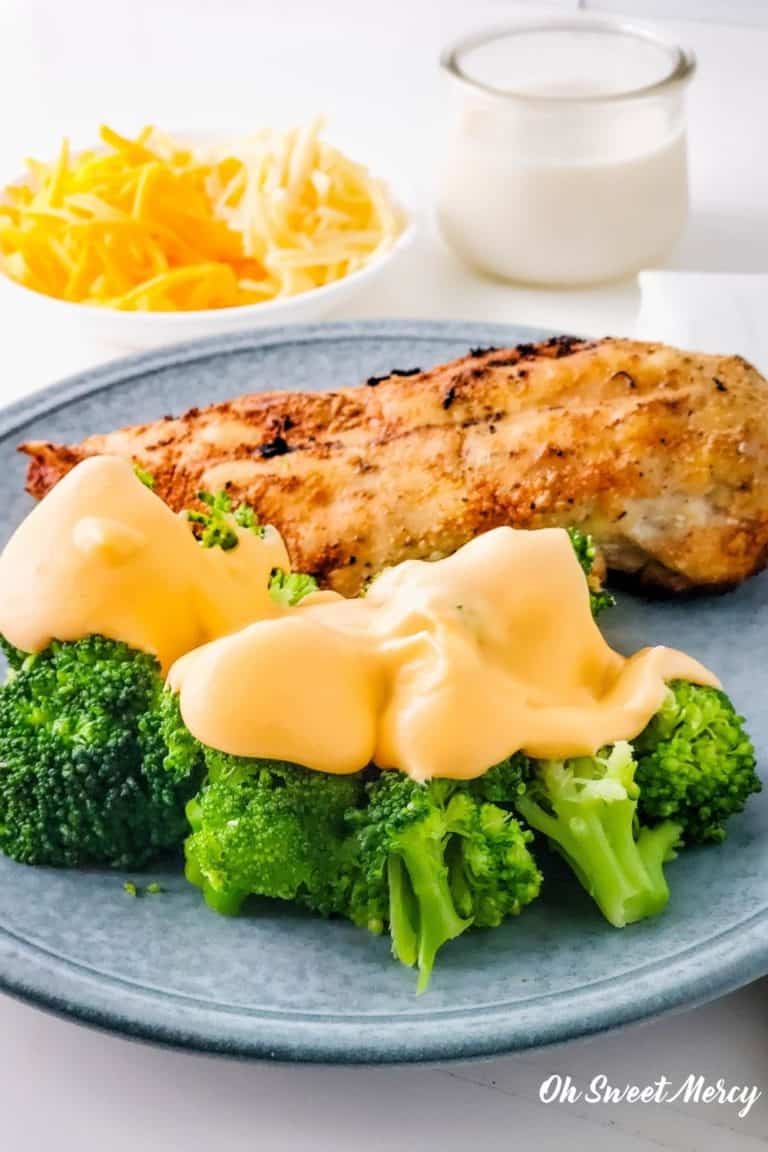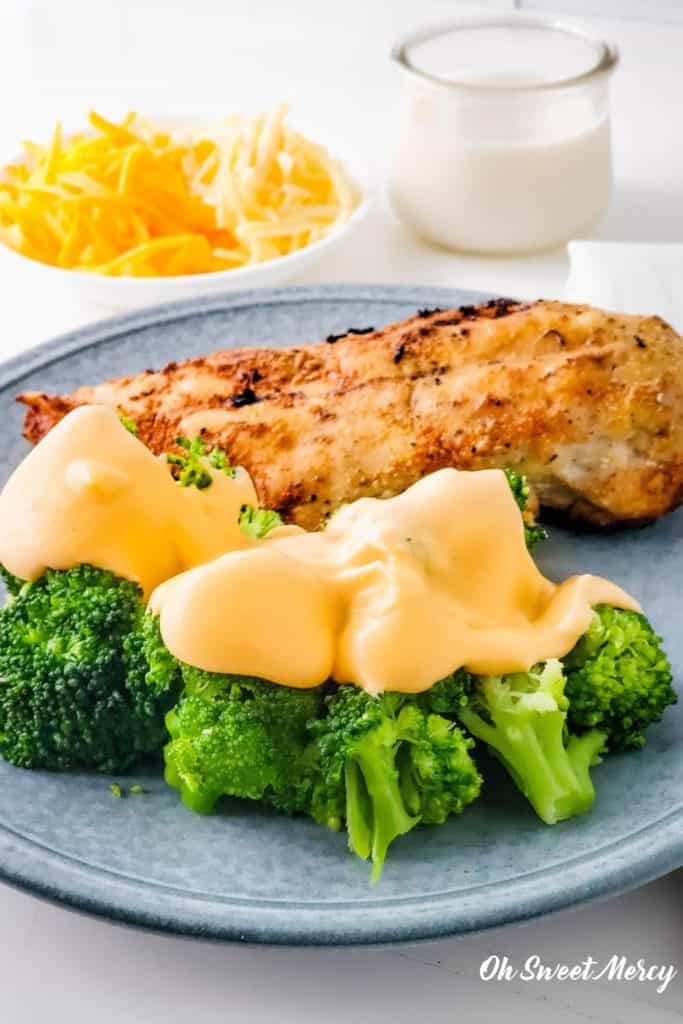 Since this is a low carb, THM S sauce make sure to enjoy it with low carb options.
Always choose an appropriate protein source for your THM meals. In the case of an S, any meat is fair game! Light or dark meat, you choose.
Remember your non-starchies! These veggies are low in calories, carbs, and fats but full of nutrients and fiber to help fill you up and nourish your body.
Give this easy meal idea a try:
One note: since dairy is not allowed in a Deep S meal, this cheese sauce is not Deep S friendly.
I've been wanting to get this recipe up on the blog for ages – it's so easy and delicious, especially when you're craving comfort food!
Hope you enjoy! I always love hearing from my readers when they try a recipe, so please come back and let me know how it turns out for you!
PIN IT!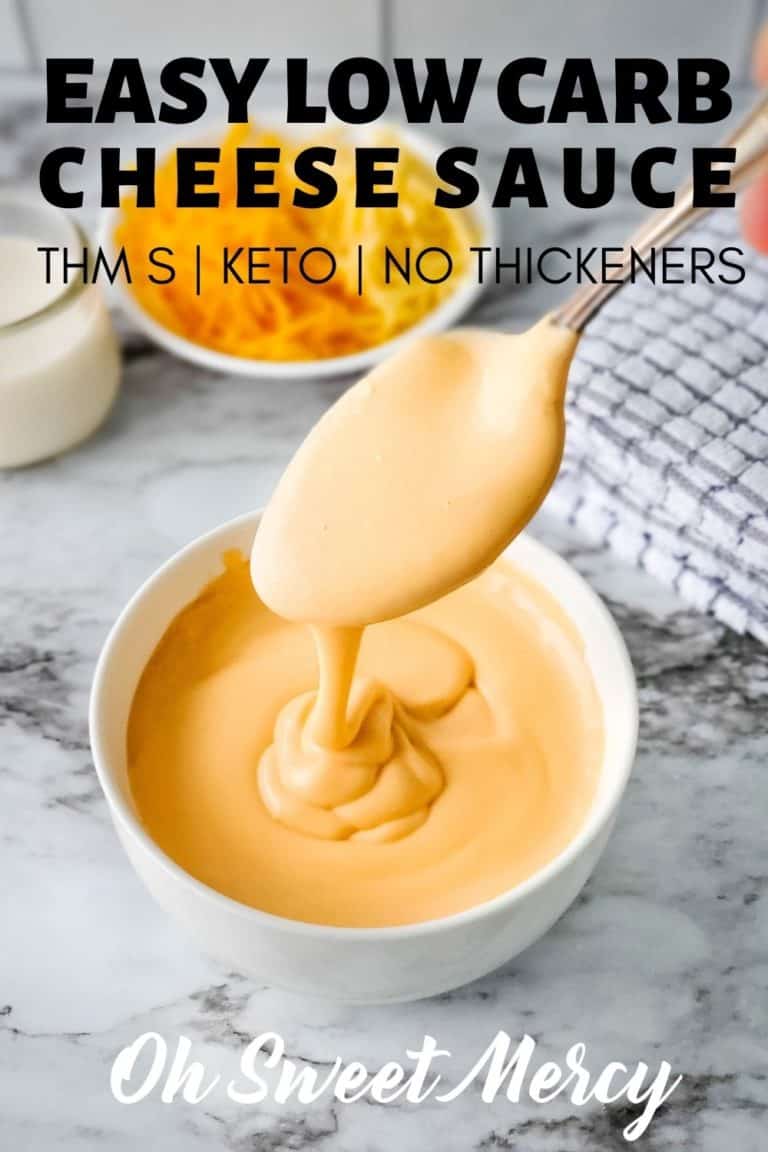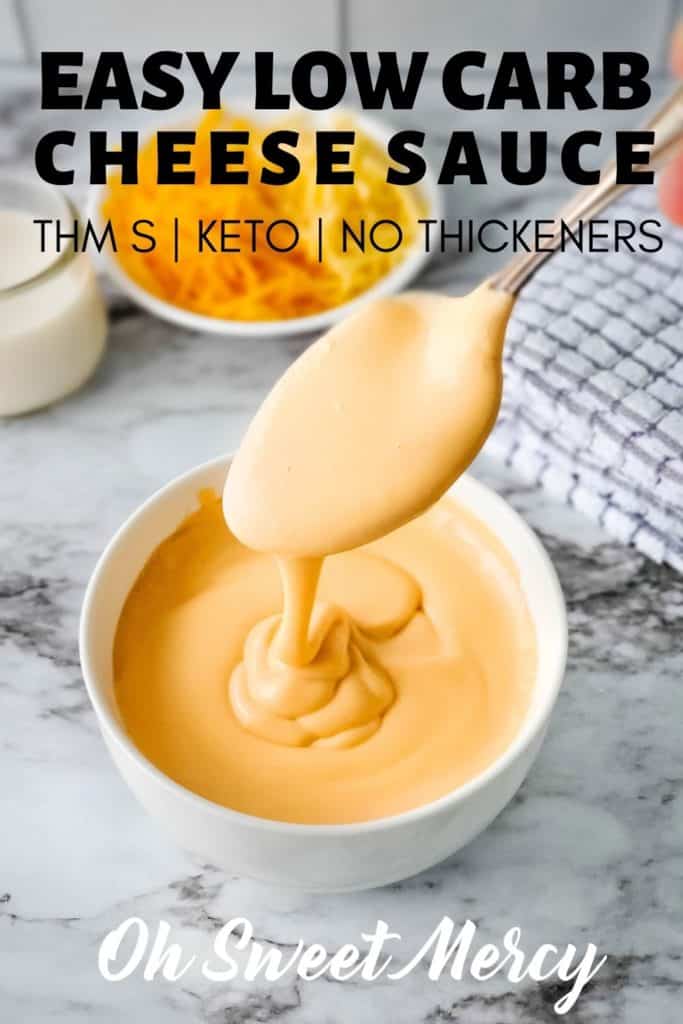 Easy Low Carb Cheese Sauce | THM S, Low Carb, Keto
Yield: 2 cups
Prep Time: 5 minutes
Cook Time: 5 minutes
Total Time: 10 minutes
Want an easy, low carb cheesy sauce but don't want to use thickeners? I've got you covered! Simple, real food ingredients without gums, starches, flours, etc. Totally THM friendly, too.
Ingredients
1 tablespoon butter
4 oz cream cheese or 1/3 less fat cream cheese (neufchatel)
1/2 to 3/4 cup almond milk
2 cups shredded extra sharp cheddar
1 cup shredded gouda
1/4 teaspoon onion powder
1/8 teaspoon ground mustard (optional)
High mineral salt, to taste (optional)
Instructions
In a sauce pan over medium heat, melt together the butter and cream cheese using a whisk.
Add almond milk, cheese, onion powder, ground mustard, and (if using) and whisk frequently until cheese is melted and sauce is smooth.
Taste and add salt if desired.
Sauce will thicken slightly as it cools.
Notes
For best results, use freshly grated cheese instead of packaged, pre-shredded cheese which has a coating to prevent clumping.
Recommended Products
As an Amazon Associate and member of other affiliate programs, I earn from qualifying purchases.
Nutrition Information:
Yield: 8
Serving Size: .25
Amount Per Serving:
Calories: 193.1
Total Fat: 16.5g
Saturated Fat: 9.6g
Trans Fat: 0g
Unsaturated Fat: 29g
Cholesterol: 54.4mg
Sodium: 413.4mg
Carbohydrates: 0.7g
Net Carbohydrates: 0.6g
Fiber: 0.1g
Sugar: 0.6g
Protein: 11.6g
Nutrition information is approximate and based on the best knowledge available at the time of recipe publication. Your results may vary due to differences in ingredients. You can make your own calculations if this recipe does not include nutrition info by using an online calculator such as https://recipes.sparkpeople.com/recipe-calculator.asp