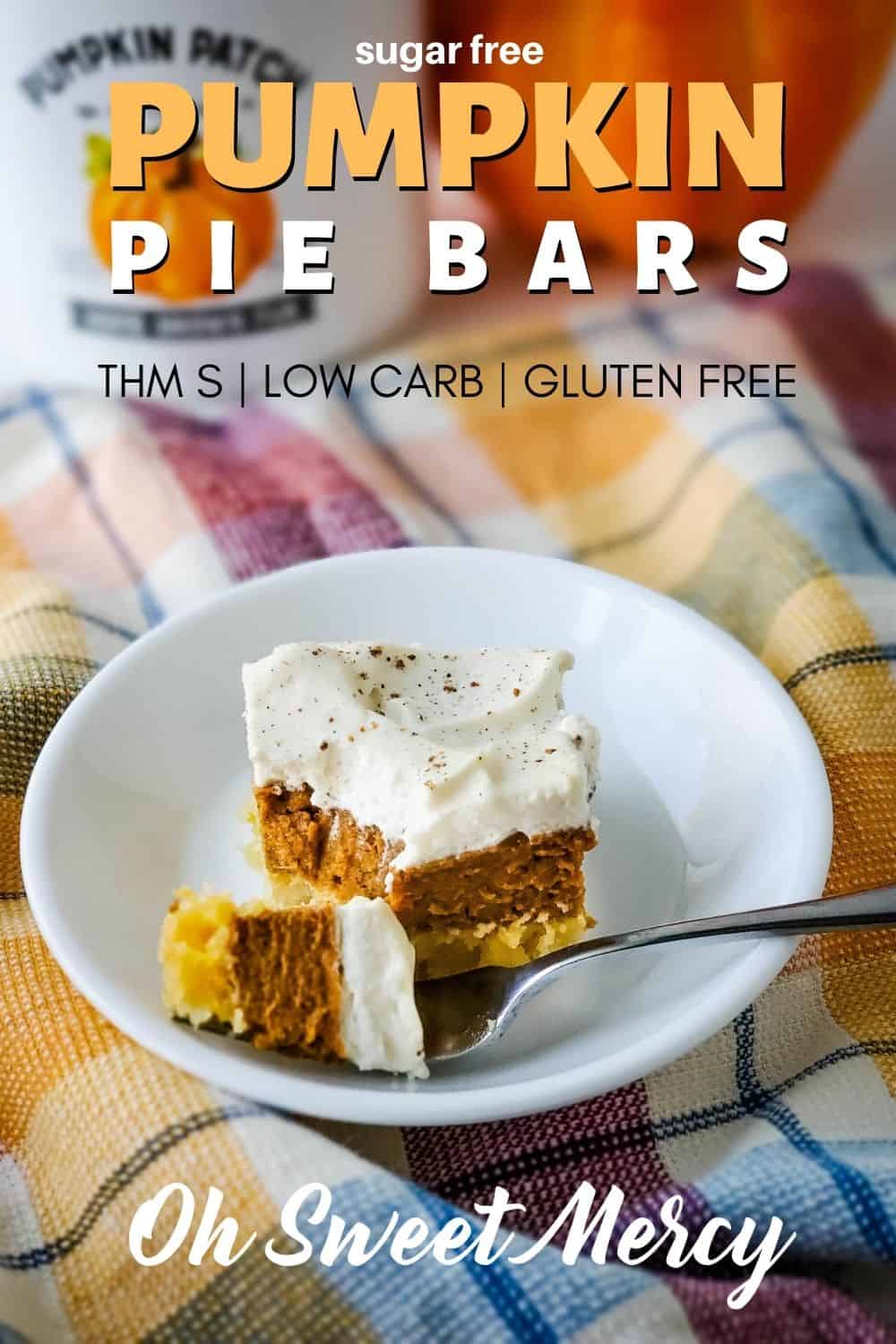 ---
If pie crusts aren't your thing, don't despair! My Sugar Free Pumpkin Pie Bars are easy to make, no fiddling with low carb pastry needed. Mister gave this 2 thumbs up and my youngest grandkids love it too! That's all the approval Gubba needs. THMs, this is perfect for the fall and winter holidays, take it along to holiday dinners and easily stay on plan.
---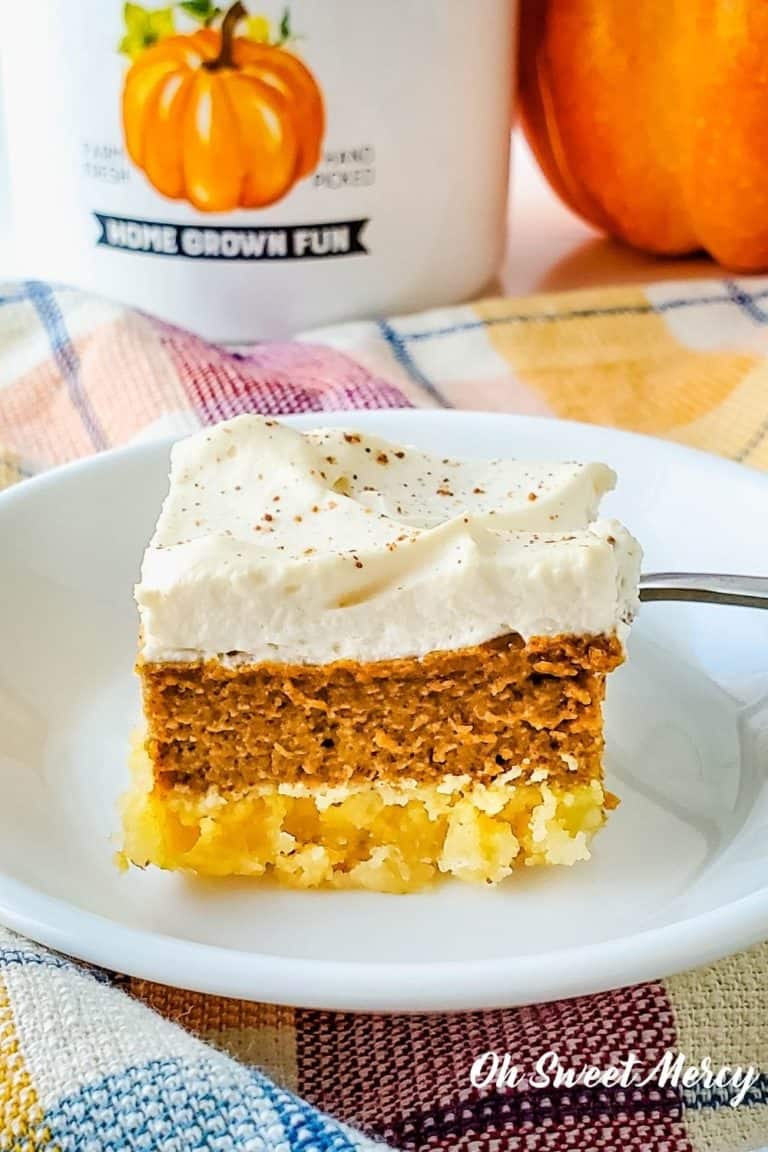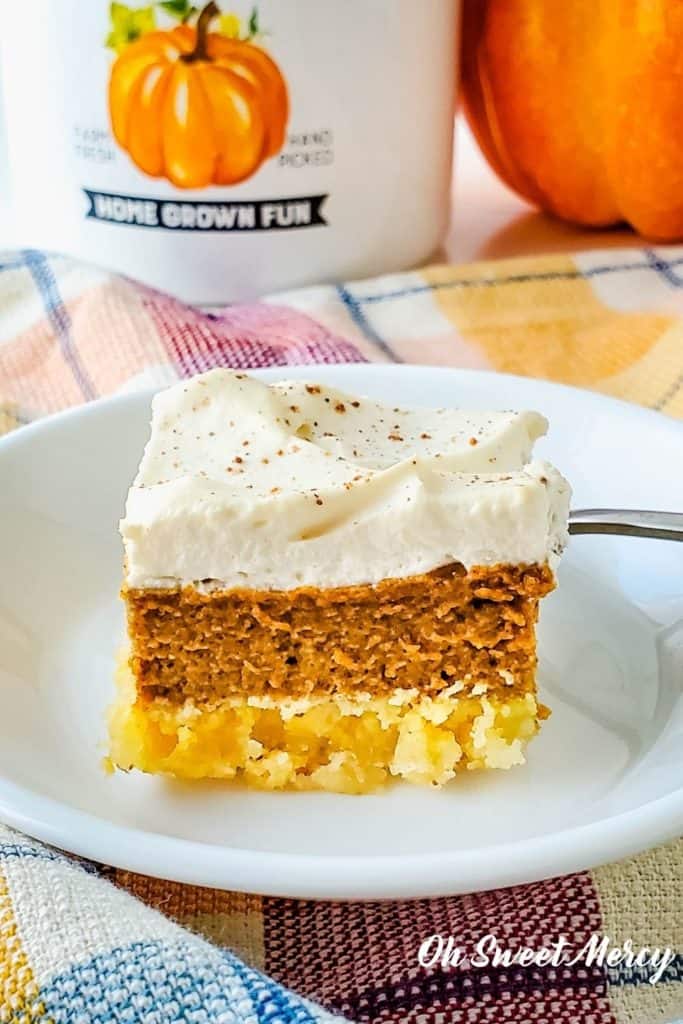 My mom makes wonderfully flaky pie crusts. They're not anywhere near THM friendly, but they're amazing and delicious.
She tried to pass her pie-crust-making skills on to me, but they just didn't seem to stick.
So, I haven't even tried to develop my own THM friendly, baked, low carb pie crust recipe.
But, I had a hankering for a baked pumpkin pie so I decided to make sugar free pumpkin pie bars instead.
I do have a no-bake pumpkin pie with gingersnap crust which is amazing. It's 100% no-bake too! (See below for the link, plus links to more yummy, THM -friendly pumpkin recipes.)
But sometimes, a baked pumpkin pie with whipped cream on top is the only thing that will do, right?
My easy crust is just press and bake – I've got instructions for both THM Baking Blend and just almond flour, too.
If you'd like a low carb crust recipe, check out Grandma's Pie Crust from Wonderfully Made and Dearly Loved.
What Do I Need To Make This Recipe?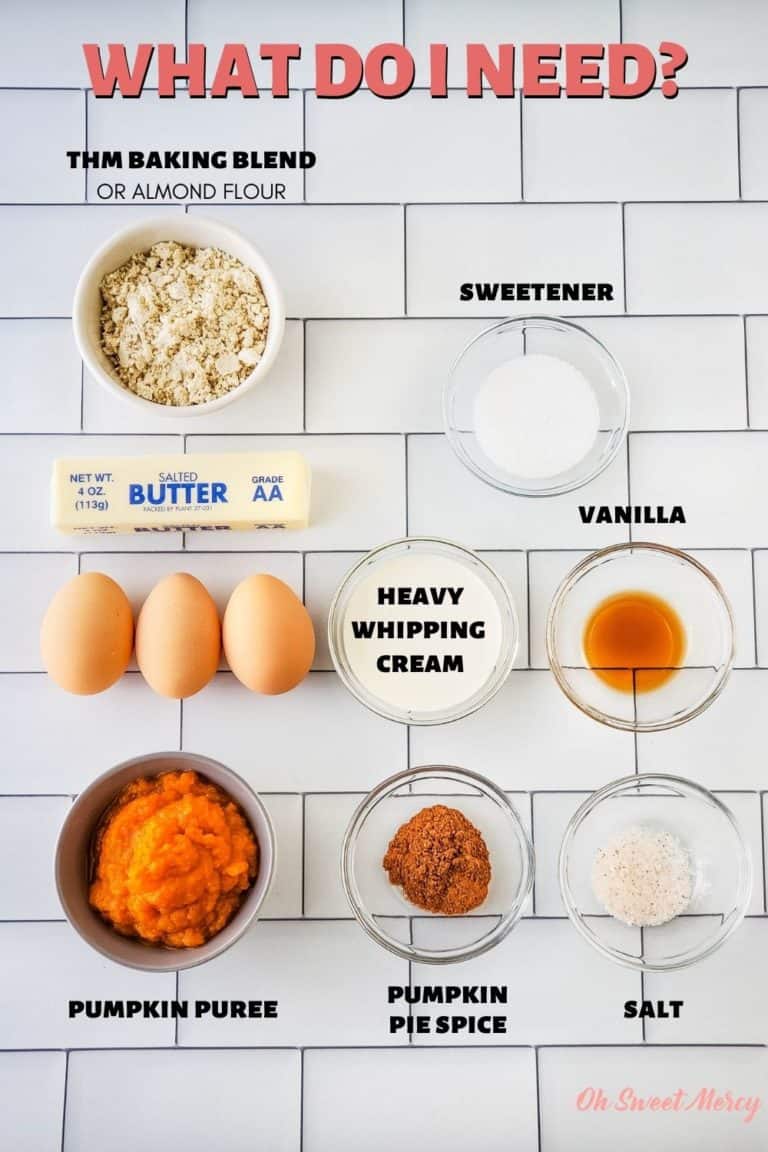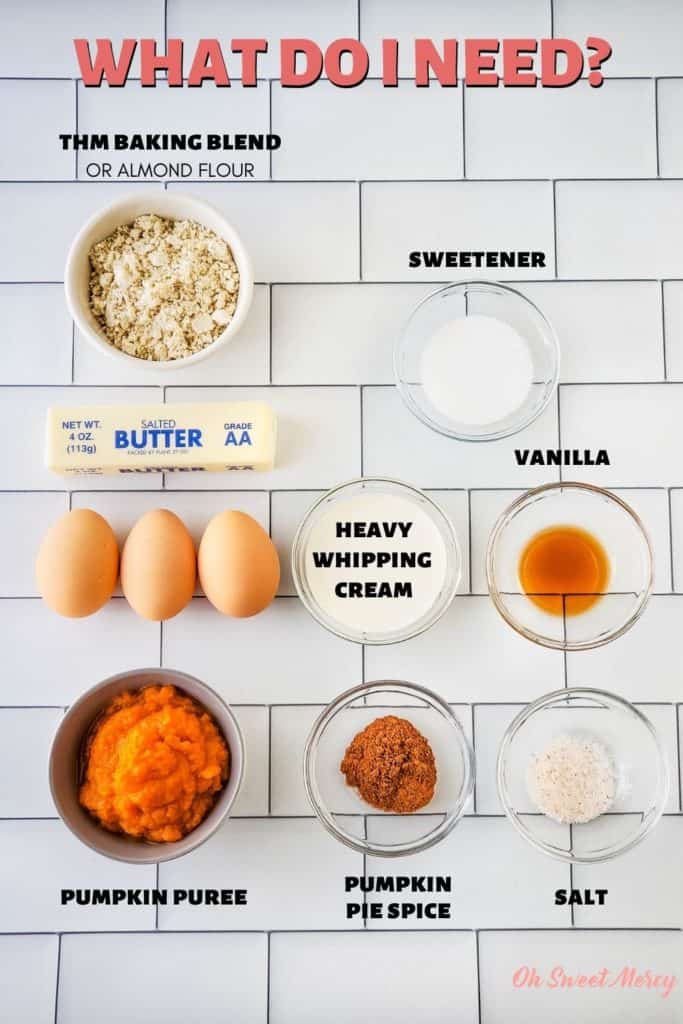 Just a few, simple ingredients come together to make a delicious, pumpkin pie experience without the hassle of making a pie crust.
pumpkin puree (NOT pie mix! Just pure pumpkin and that's it)
eggs
sweetener
salt
vanilla
whipping cream
butter
either THM Baking Blend or almond flour for the crust.
You'll need some pumpkin pie spice and I've got a super simple recipe for that, too! Just pop on over to my Easy Pumpkin Pie Spice Mix and whip up a batch if you don't have some on hand already.
You'll want some on hand to use in recipes like this, too:
No Bake Pumpkin Pie with Gingersnap Crust (THM S)
Pumpkin Spice French Toast (THM E)
Pumpkin Pie Yogurt with Chocolate Chips (THM FP or S)
Pumpkin Pie Ice Cream (THM S)
Pumpkin Scones with Pecan Brown Butter Glaze (THM S)
Dairy Free Pumpkin Spice Steamer (THM S or FP)
Dairy Free Creamy Pumpkin Shake (THM S or FP)
Help! I Can't Find Pumpkin At The Store! (3 Easy Subs To Try)
Sometimes, there's a pumpkin shortage. Bad crop years and other factors affect how much pumpkin is on the store shelves.
Fortunately, there are 3 easy substitutions for pumpkin puree!
Butternut squash. Bake and puree. If you use frozen butternut squash you'll want to roast them first to reduce the amount of water the frozen cubes contain.
Sweet potatoes. Simply bake and remove the flesh from the skin, then puree
Acorn squash. Bake and puree.
See a recurring theme there? Bake and puree, which is what you'd do with a pie pumpkin, too. If you have a farmer's market near you check for pie pumpkins.
You may also find them at your local grocery store. Pie pumpkins are quite a bit smaller than pumpkins you usually see this time of year, for carving.
I have a very old post (please pardon the pictures and styling of the post…it needs updating!) on making your own pumpkin puree. Check it out here if you'd like to make your own! I'll be updating it soon.
How To Fit My Sugar Free Pumpkin Pie Bars Into Your THM Meal Plans.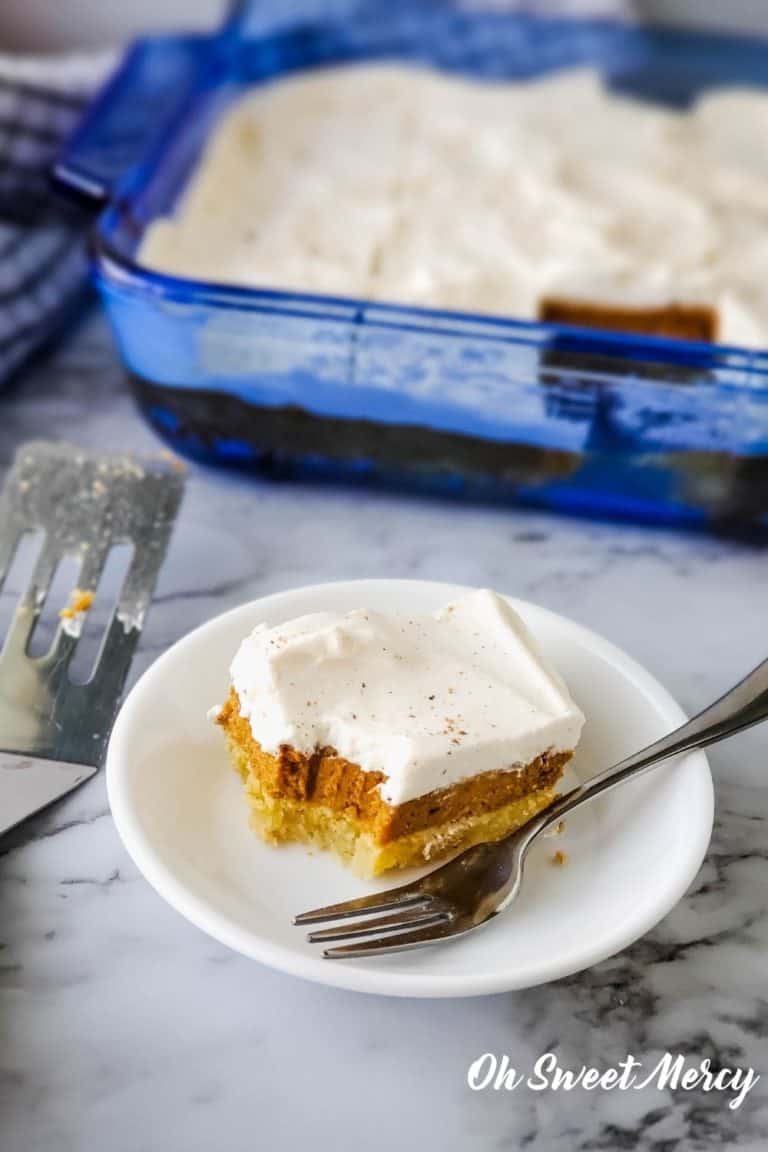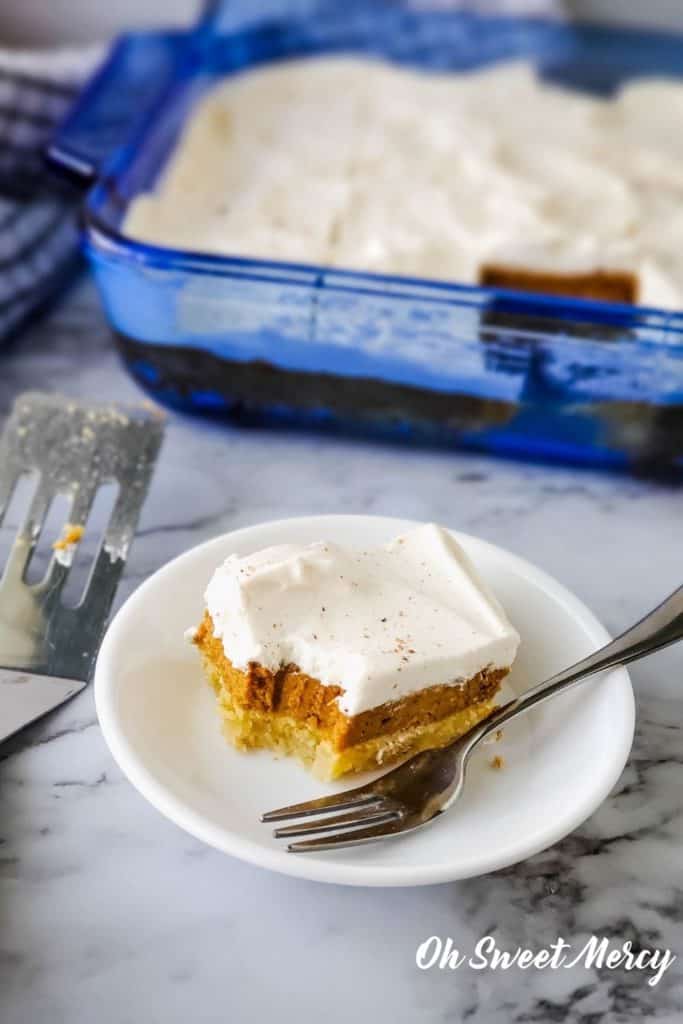 This is a gloriously delicious THM S dessert. It's going to lean more toward the Heavy S side, especially if you use almond flour for the crust.
Using THM Baking Blend (or a DIY version) lightens this dessert up a bit.
In addition, using the lower amount of whipping cream, or just piping a dollop of whipped cream on each slice instead of covering the whole dish, also reduces the fat content a bit.
We love fat but balance is a good thing!
Since it's a satisfying, higher fat recipe enjoy with a low carb meal. And, since it's already heavier on fats choose a lighter THM S meal, or THM FP (Fuel Pull) meal if you're having this for dessert.
The following works for either a light S or a FP (not counting the dessert) meal.
Baked turkey or chicken breast
Steamed broccoli
Side salad with Easy Ranch Dressing
Sugar Free Pumpkin Pie Bars
Need a Crossover (XO)? This is a meal with THM E amounts of carbs and THM S amounts of fats.
Crossovers are great for growing children, people with fast metabolisms, hard working/athletic teens or adults, and pregnant/nursing women.
Baked chicken or turkey breast
Easy Herbed Quinoa (or Brown Rice) – THM E
Steamed green beans (or non-starchies of choice)
Sugar Free Pumpkin Pie Bars
Holiday Temptation Protection!
Pumpkin pie is one of my absolute favorite things about Thanksgiving. It's hard to say no to mom's flaky crust. But, we can choose to stay on plan and it's easier when we have similar foods made THM style.
These easy, delicious no-sugar pumpkin pie bars help you say no to holiday meal temptations!
Plus, your gluten-free family and friends will appreciate a treat they can eat as well.
Gubba? Yes, that's my "grandma name" for our youngest 2 grandkids. It's an honor, because the original Gubba is a wonderful and amazing woman. She's the mother of one of my best friends in school and one of my friend's nephews was friends with our oldest son. So, he knew the OG (Original Gubba) and wanted his kids to call me that. I love it!
PIN IT!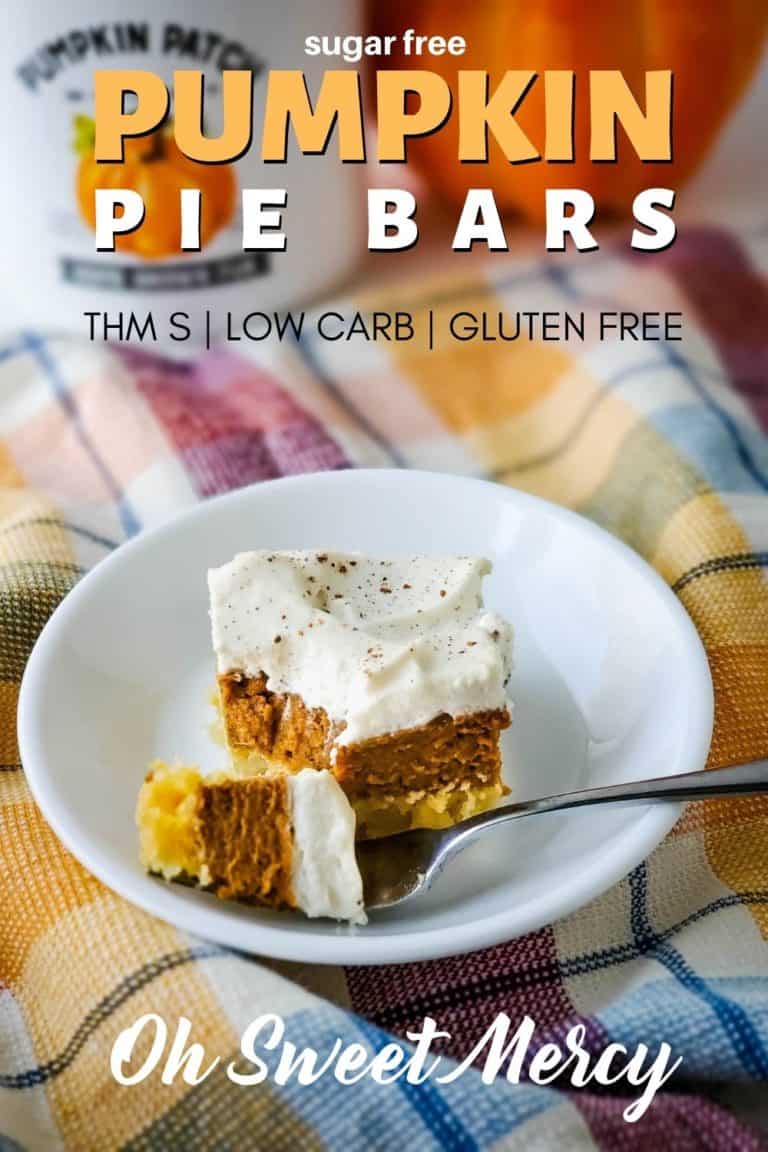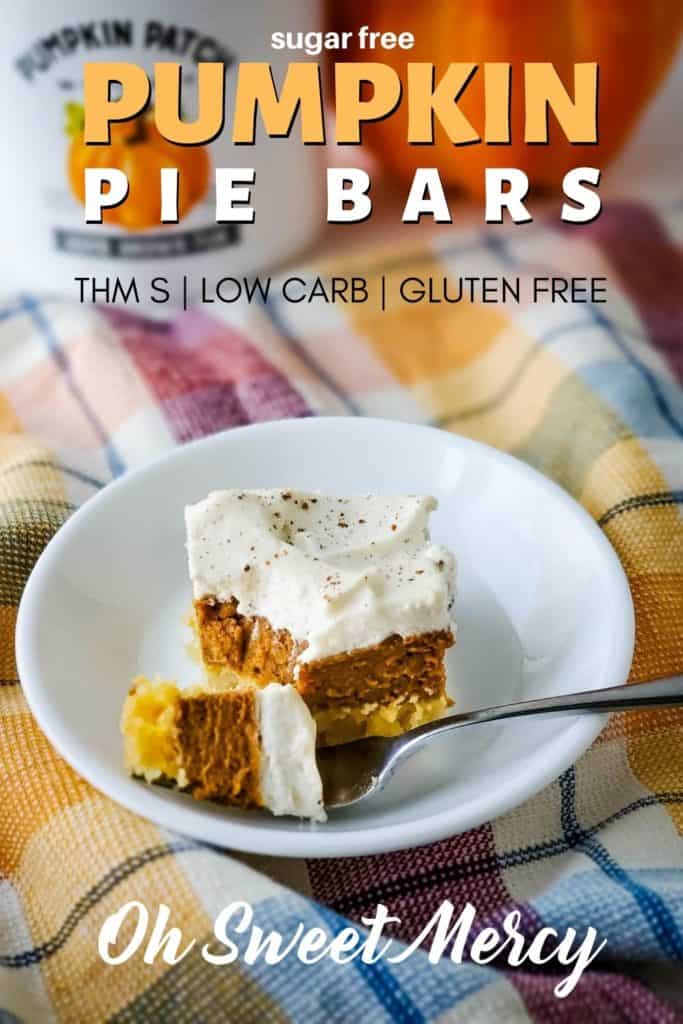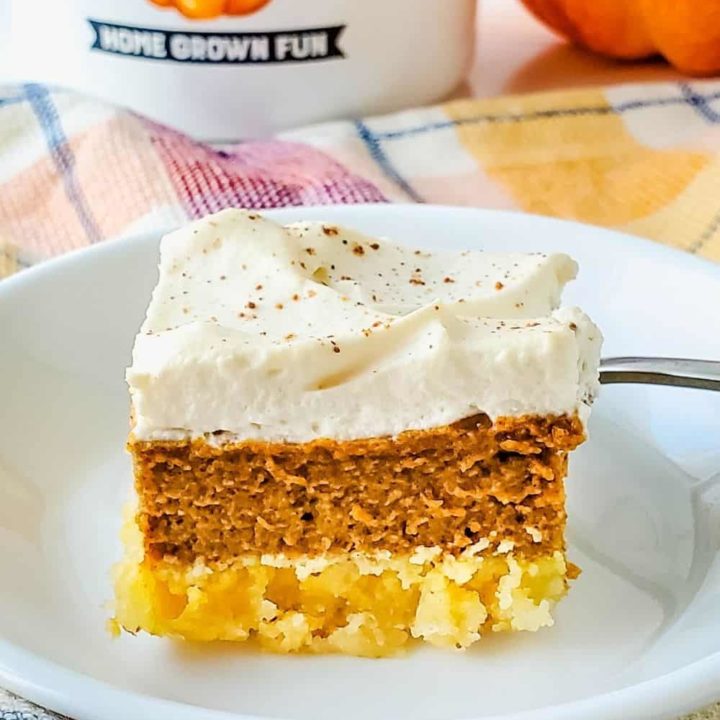 Sugar Free Pumpkin Pie Bars | THM S, Low Carb
Yield: 16 pieces
Prep Time: 20 minutes
Cook Time: 40 minutes
Cooling Time: 30 minutes
Total Time: 1 hour 30 minutes
No-fuss pumpkin pie goodness that's sugar free, gluten free, but full on flavor! If low carb pie crust scares you this is the recipe you need. It's easy, delicious, and THM S friendly. Make it with Baking Blend or almond flour. Perfect way to stay on plan during holiday dinners!
Ingredients
Crust
1 cup THM Baking Blend (or 1 1/2 cup almond flour)
2 tablespoons THM Super Sweet, or preferred sweetener to taste
1/4 cup butter, melted
Pumpkin Pie Filling
3 eggs, whisked
1 (15 oz) can pumpkin puree (or about 2 cups)
1 teaspoon vanilla extract
1/4 teaspoon high mineral salt
Topping
1/2 to 3/4 cup heavy whipping cream
1/2 to 1 teaspoon THM Super Sweet, or preferred sweetener to taste
3/4 to 1 1/2 teaspoon vanilla extract
Instructions
MAKE THE CRUST
Preheat oven to 350 degrees.
Mix together the Baking Blend (or almond flour) and sweetener until well combined.
Add melted butter and mix well until mixture clumps together.
Press into the bottom of an 8" x 8" baking dish.
Bake for 10 to 12 minutes or until lightly browned.
MAKE THE FILLING
While the crust is baking, whisk or stir together the eggs, pumpkin, sweetener, pumpkin pie spice, vanilla, and salt until completely incorporated.
Pour filling over baked crust and smooth top.
Return to oven and bake 35 to 45 minutes, or until the middle is set.
Cool completely before adding topping.
MAKE THE TOPPING
Whip together the whipping cream, sweetener, and vanilla until thick peaks form.
Spread or pipe over cooled dessert.
If desired, sprinkle more pumpkin pie spice over the top for decoration.
Enjoy immediately or cover and refrigerate until ready to eat.
Notes
NUTRITION NOTES
Nutrition information calculated using THM Baking Blend and 1/2 cup heavy whipping cream.
For lower fat, use THM Baking Blend and reduce the amount of whipped cream (for instance, pipe a dollop on each slice instead of covering the whole dessert).
Recommended Products
As an Amazon Associate and member of other affiliate programs, I earn from qualifying purchases.
Nutrition Information:
Yield: 16
Serving Size: 1
Amount Per Serving:
Calories: 89.7
Total Fat: 7.3g
Saturated Fat: 3.8g
Trans Fat: 0g
Unsaturated Fat: 2.3g
Cholesterol: 52.9mg
Sodium: 48.1mg
Carbohydrates: 5.5g
Net Carbohydrates: 1.5g
Fiber: 4g
Sugar: 1.8g
Protein: 3.4g
Nutrition information is approximate and based on the best knowledge available at the time of recipe publication. Your results may vary due to differences in ingredients. You can make your own calculations if this recipe does not include nutrition info by using an online calculator such as https://recipes.sparkpeople.com/recipe-calculator.asp