---
Grilling cheese is is absolutely delicious! It's not your typical cheese, so it holds its shape and develops a delightful, golden brown crust when cooked in a pan or on the grill. Top it with fresh tomatoes, herbs, onion, and olive oil and balsamic vinegar for a refreshingly simple grilling cheese salad. Trim Healthy Mamas, this is a refreshing appetizer or snack that anyone will enjoy.
---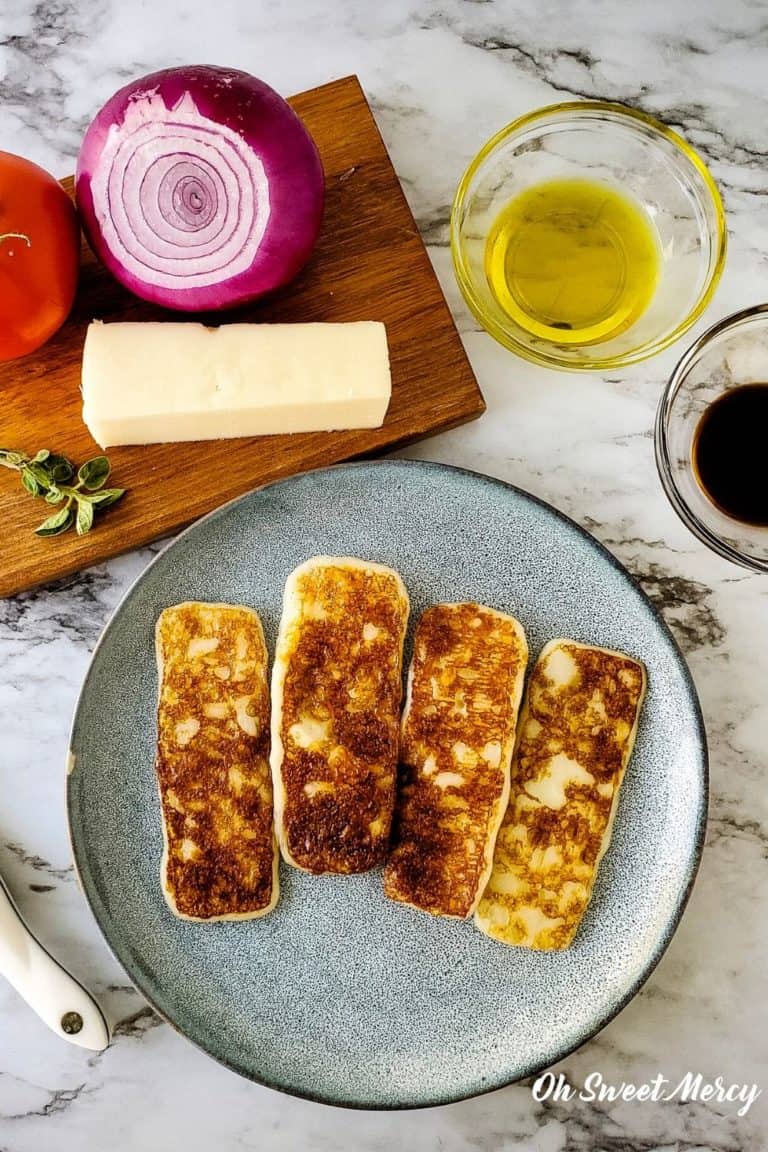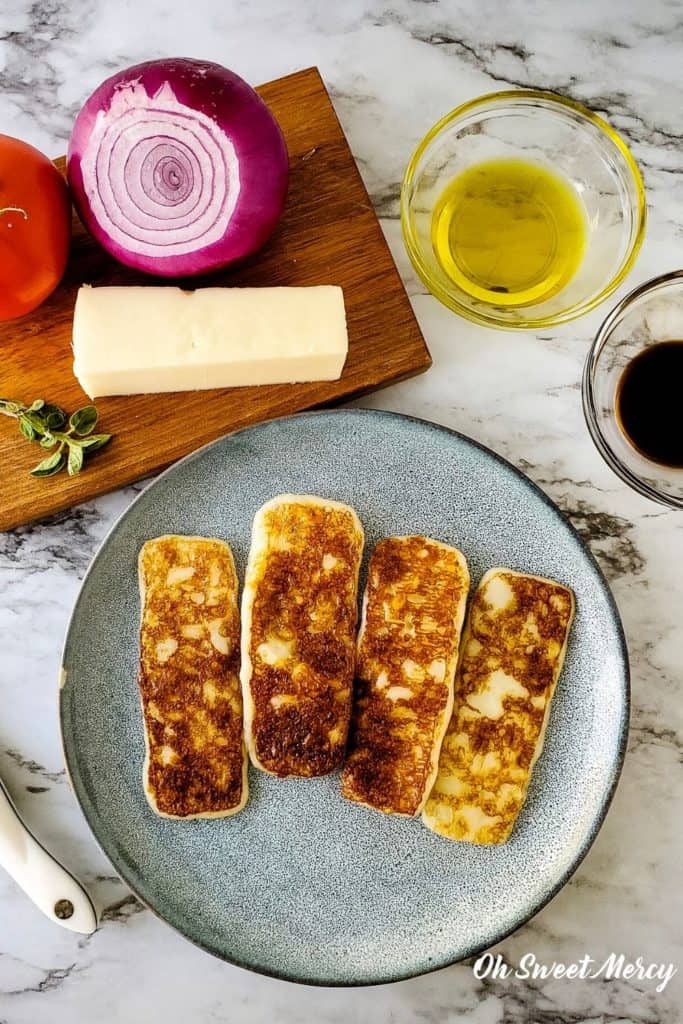 Have you heard of grilling cheese? As in a noun, not a verb? It's a thing. And oh. sweet. mercy. is it ever a delicious thing!
While preparing for our trip to England a few years ago, I watched a lot of YouTube videos. I wanted to get a feel for what to expect, see what Heathrow looked like, and of course check out some English nibbles.
Halloumi was mentioned often by the YouTubers I watched. Unfortunately, I forgot about halloumi while there and never tried it.
It apparently does not exist in Northern Indiana, sadly. But, I found a cheese called yanni grilling cheese and The Nibble said this about it:
Yanni is a traditional, semi-firm Mediterranean grilling cheese, creamy and mildly salty with a rich buttery taste. It develops a delicious golden crust when pan-seared, grilled or barbecued—similar to halloumi, but it's a much better cheese.

Both yanni and halloumi are dense cheeses that can withstand the heat of a stove or a grill without melting. Yanni is pale yellow compared to white halloumi. Yanni's texture is more layered. But the real reason to reach for the yanni it that it is much less salty than halloumi (much halloumi is way too salty for us).

Yanni Grilling Cheese on The Nibble
Since I've never had halloumi, I can't say whether or not yanni is better. Many times things like that are simply a matter of preference. If you prefer a saltier cheese, then you'd probably say halloumi is better, right?
But I can say that yanni grilling cheese is absolutely amazingly delicious!
It's also made with Kosher rennet, which I appreciate as we do not eat pork products. Many cheeses are made with rennet produced from pork.
What Types Of Cheese Are Good For Grilling Or Pan Frying?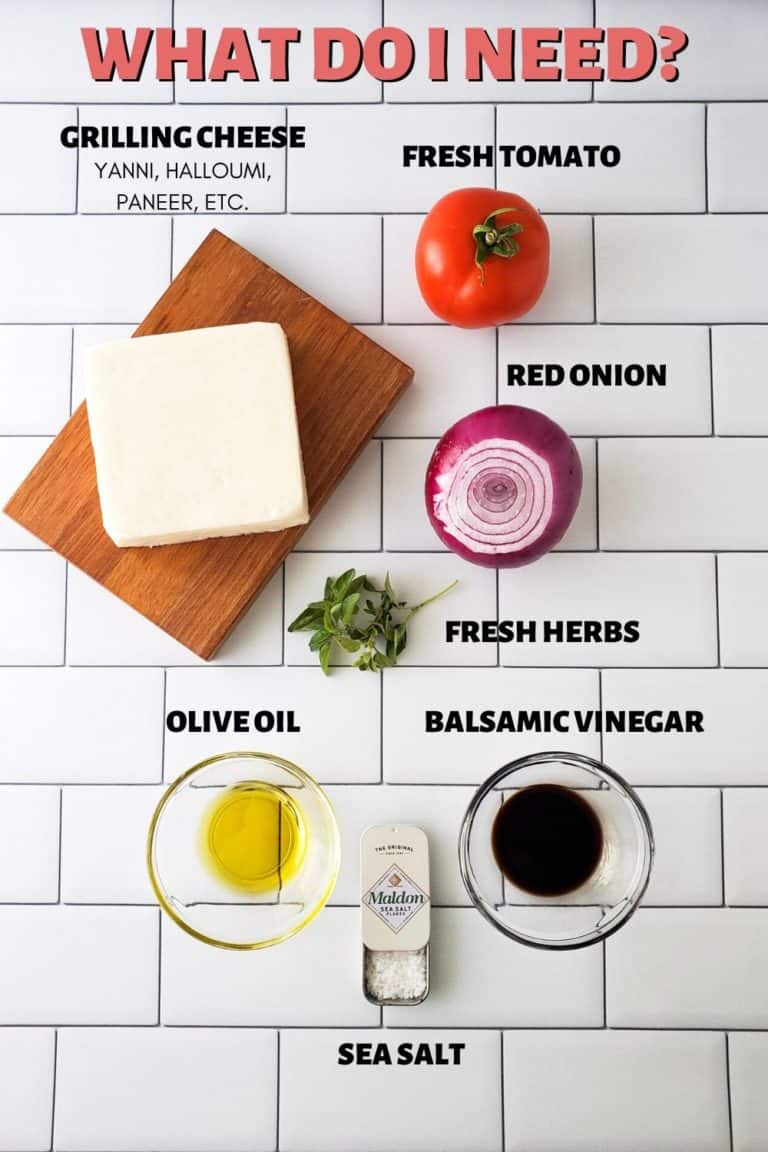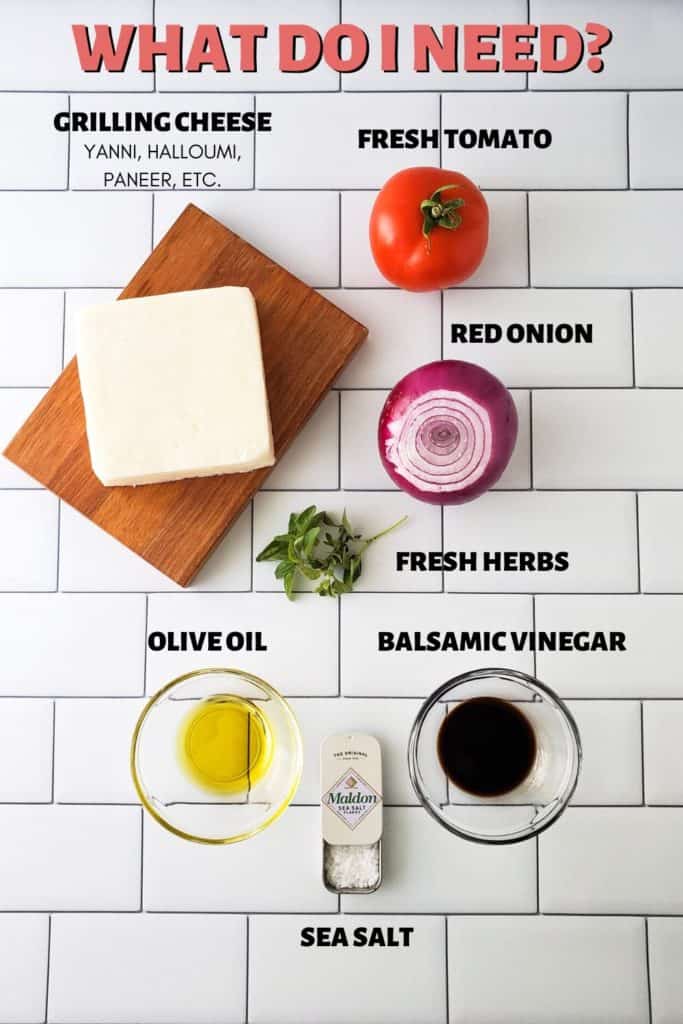 Being fascinated by the concept of grilling cheese, I had to research it.
Not all cheeses are not suitable for grilling. You want a cheese that holds its shape well instead of melting all over into a big, ooey, gooey puddle.
For the record, I have nothing against puddles of ooey, gooey, cheese. They're just a little messy.
A cheese that's suitable for grilling is sturdy and doesn't melt as much. But the result is still a delightful melty cheese experience.
Even better, it gets a to-die-for golden brown crust! I don't know about you, but my pizzas are not done enough until there's some browned cheese developing.
That's my favorite part.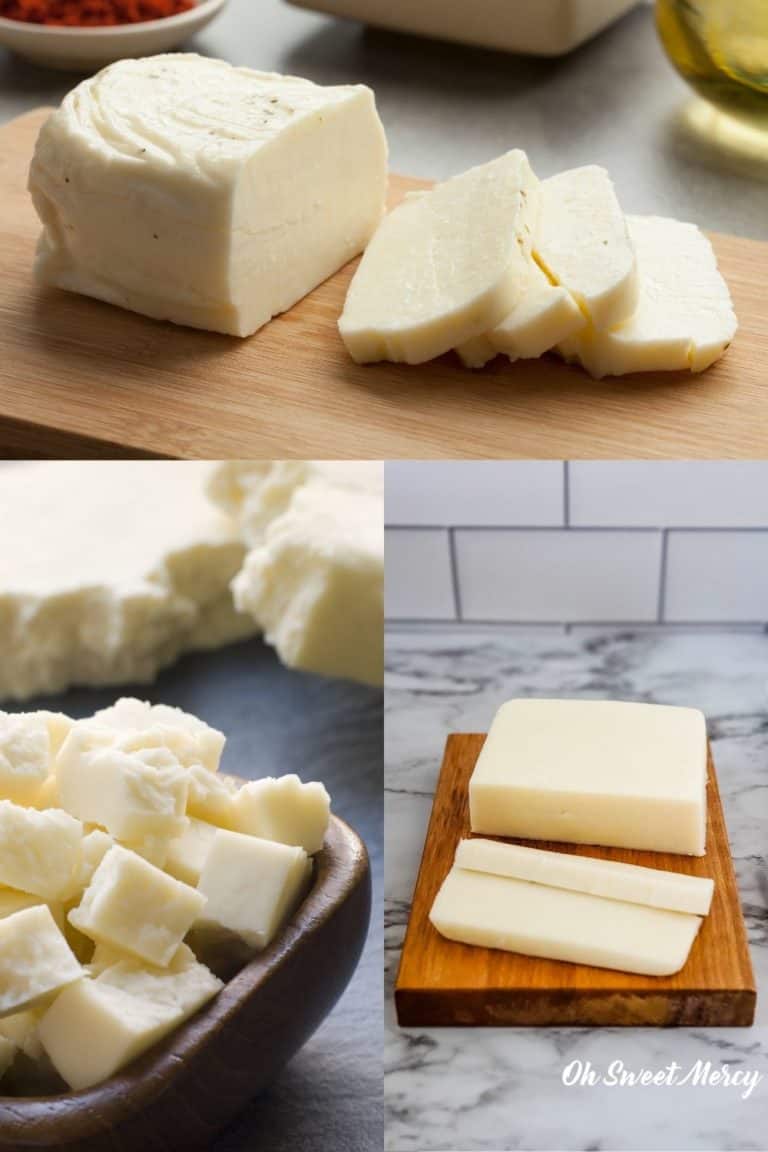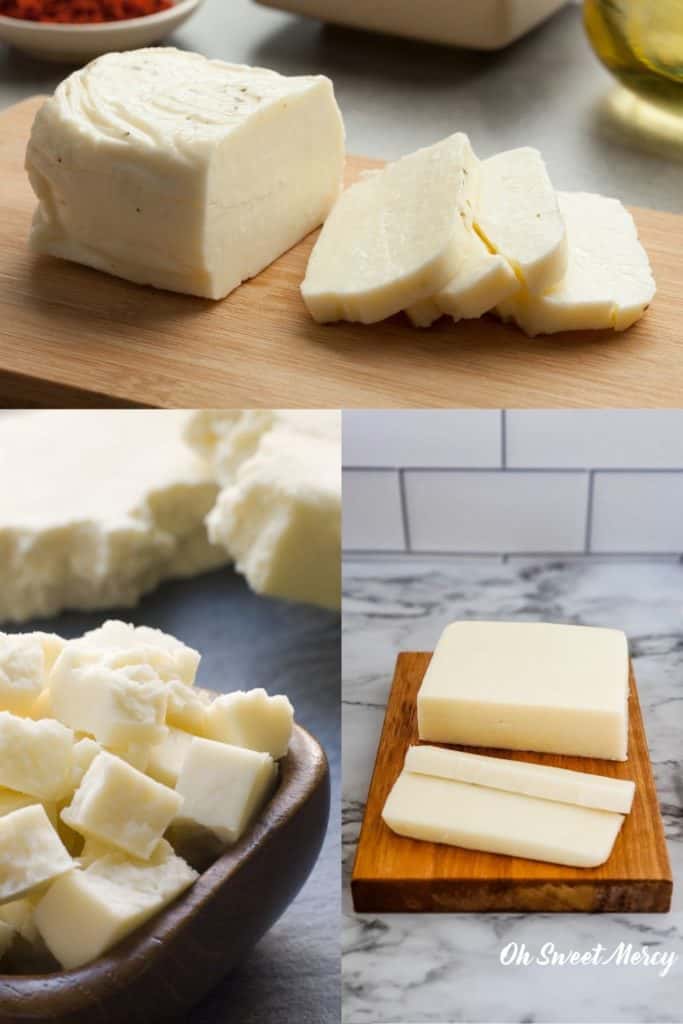 Some of the best cheeses for grilling are:
Yanni (of course) a cow's milk cheese
Halloumi a sheep and goat's milk cheese
Paneer a cow's milk cheese
Queso Panela a cow's milk cheese
Keflotyri a sheep or goat's milk cheese
How To Cook Grilling Cheese Perfectly.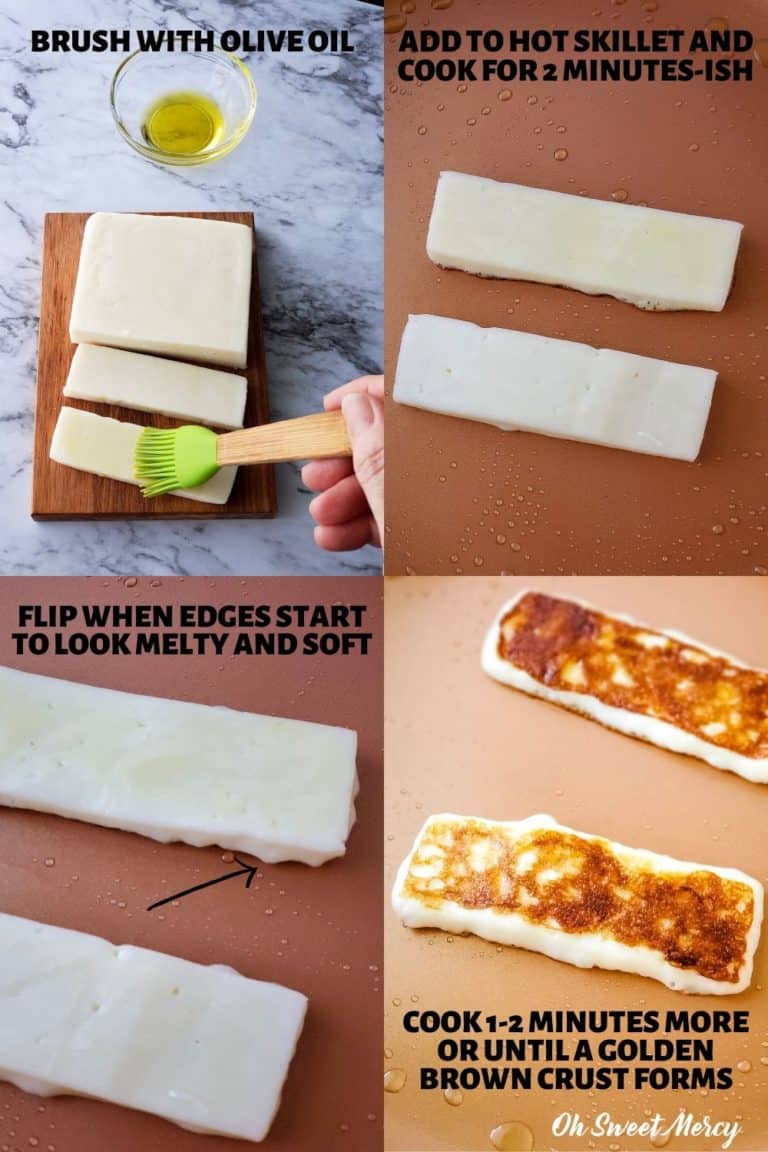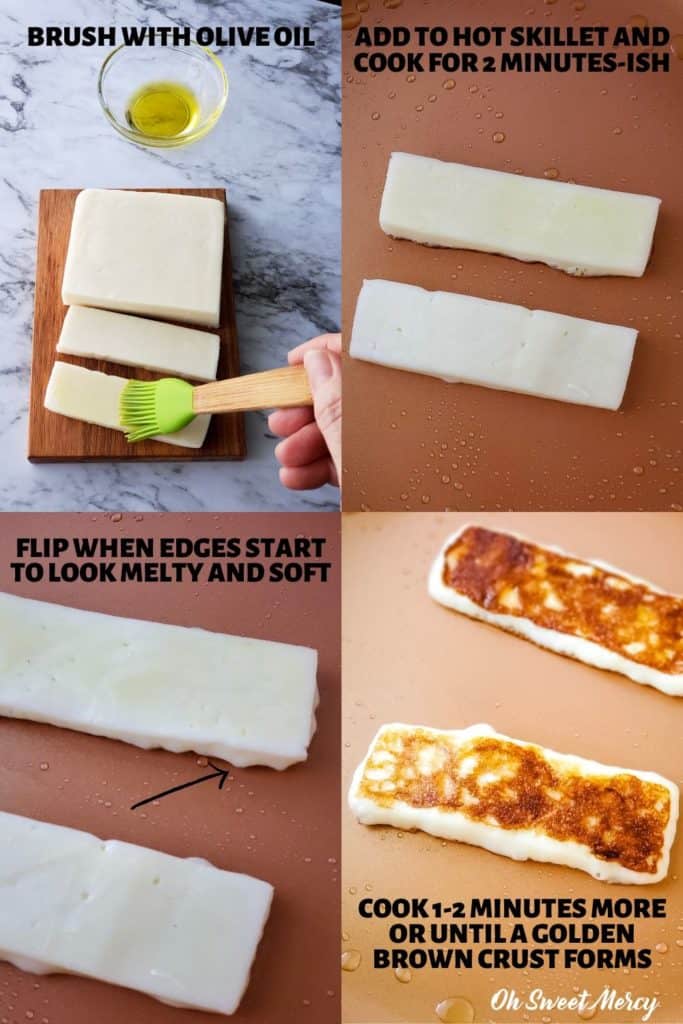 It's really very simple and quick! In just a few minutes you'll have golden brown cheesy goodness.
You'll just need either a well-seasoned cast iron skillet, a non-stick skillet, or a hot grill.
First, heat your pan over medium-high heat (or get your grill going).
Slice your cheese, brush each slice with olive oil, then place into your heated pan.
When the sharper, defined edges start to become softer and melty, and the bottom is a nice, golden brown color, flip the cheese slices over.
Cook for another minute or so, or until browned to your liking.
That's it! Now, let's make it a salad 😉
How To Eat This Amazing Grilled Cheese.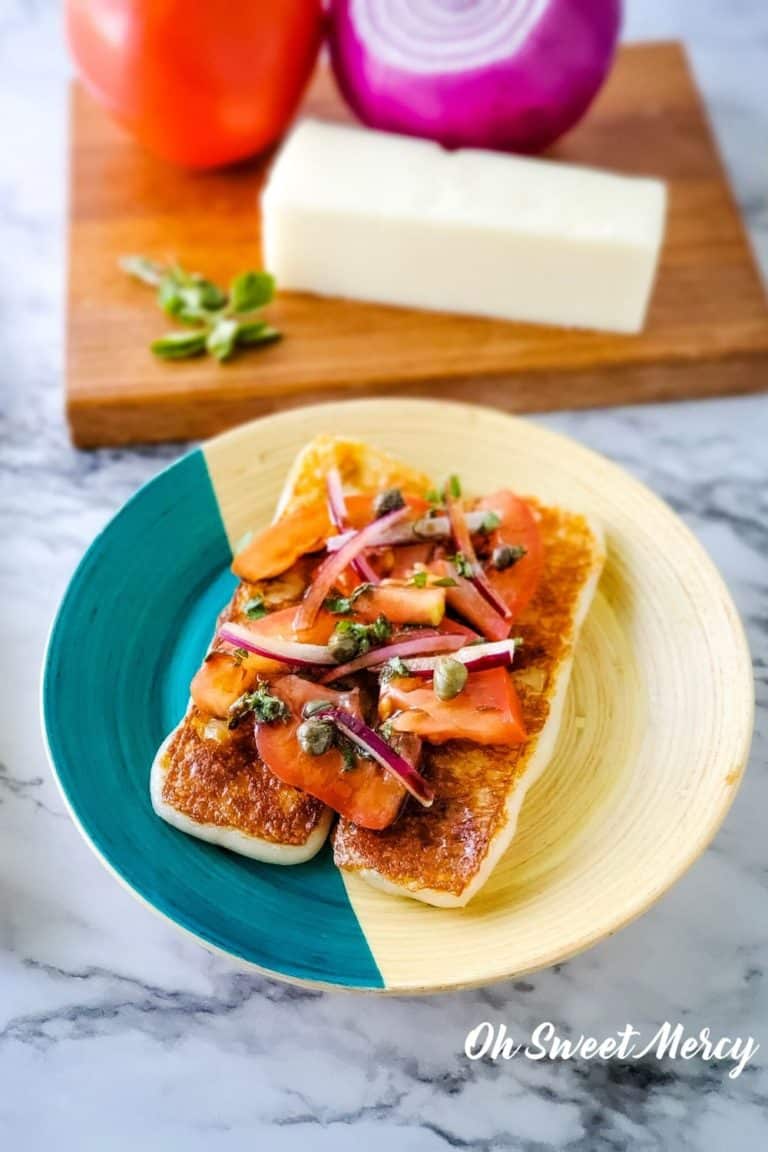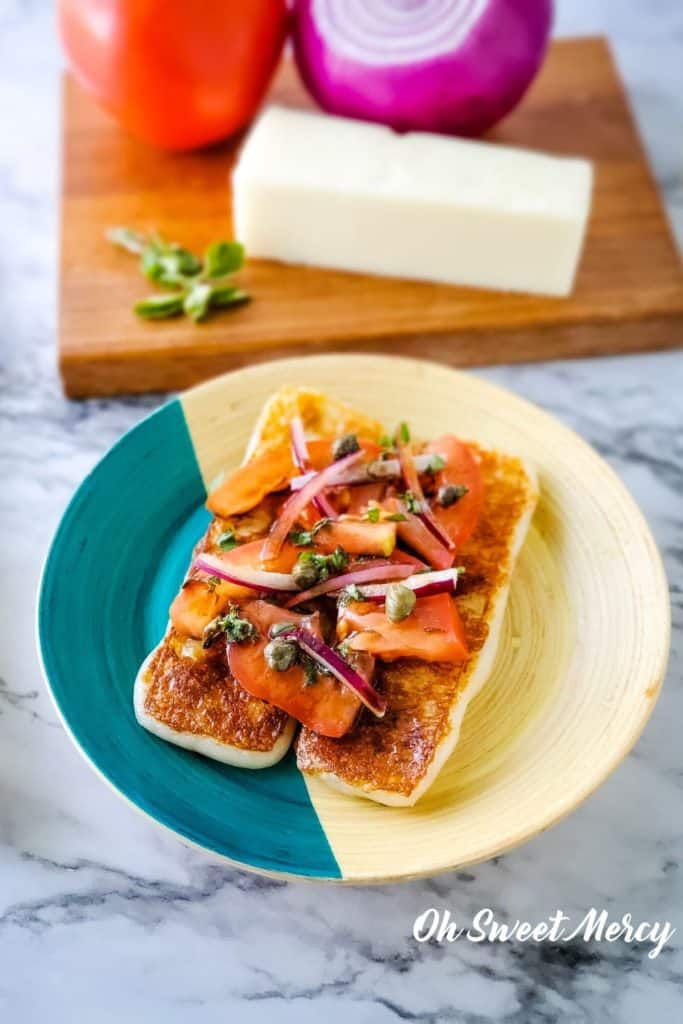 When I got home with my grilling cheese find, the first thing I did was fire up the skillet and try some.
As I ate it, I thought it would be fabulous with some tomatoes, onions, herbs, olive oil, and vinegar – similar to caprese, which I also adore!
That was absolutely the right call.
Simply add chopped (or sliced) fresh tomatoes, a bit of thinly sliced red onion, your favorite fresh herbs, then drizzle with olive oil and balsamic vinegar.
Finish with a sprinkling of your favorite salt.
Alternatively, if you like capers, you could skip the salt and sprinkle some of those on instead.
You can call it a grilling cheese salad, if you like. It's got veggies and a vinaigrette, after all.
Mostly, we just call this delicious! My kids absolutely LOVE it, especially with fresh basil and oregano.
How To Fit This Mediterranean Grilling Cheese Recipe Into Your THM Meal Plan.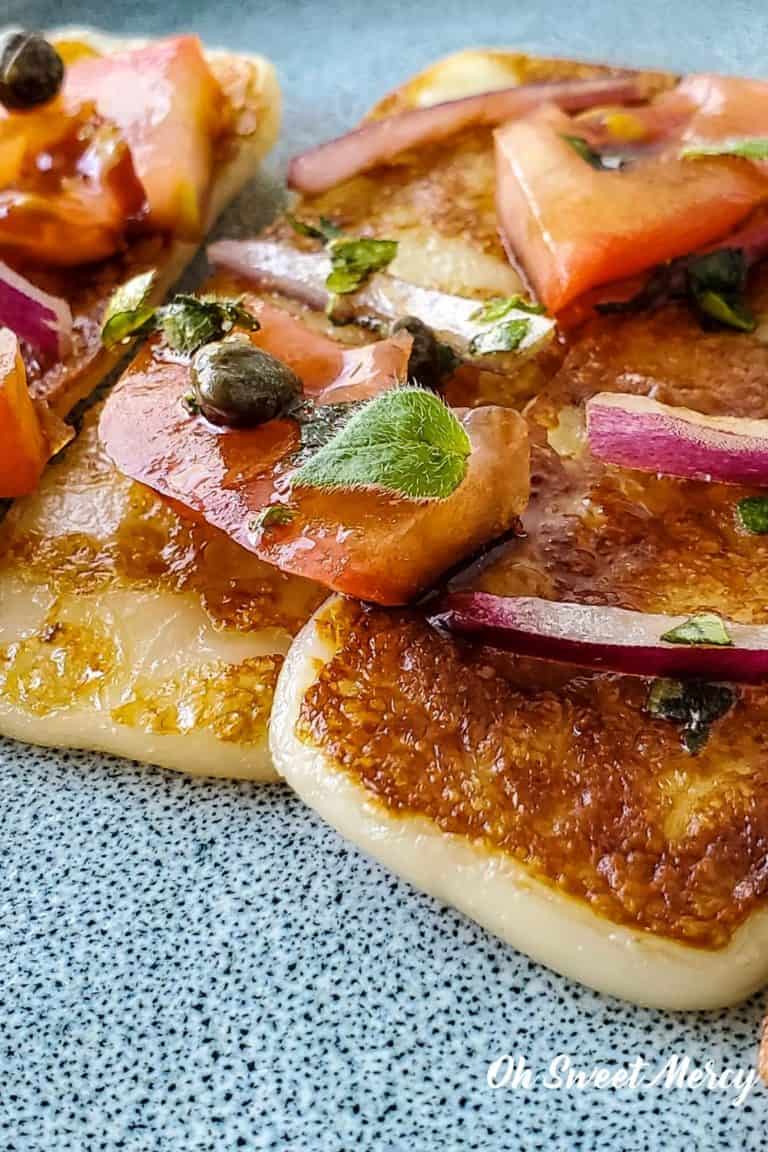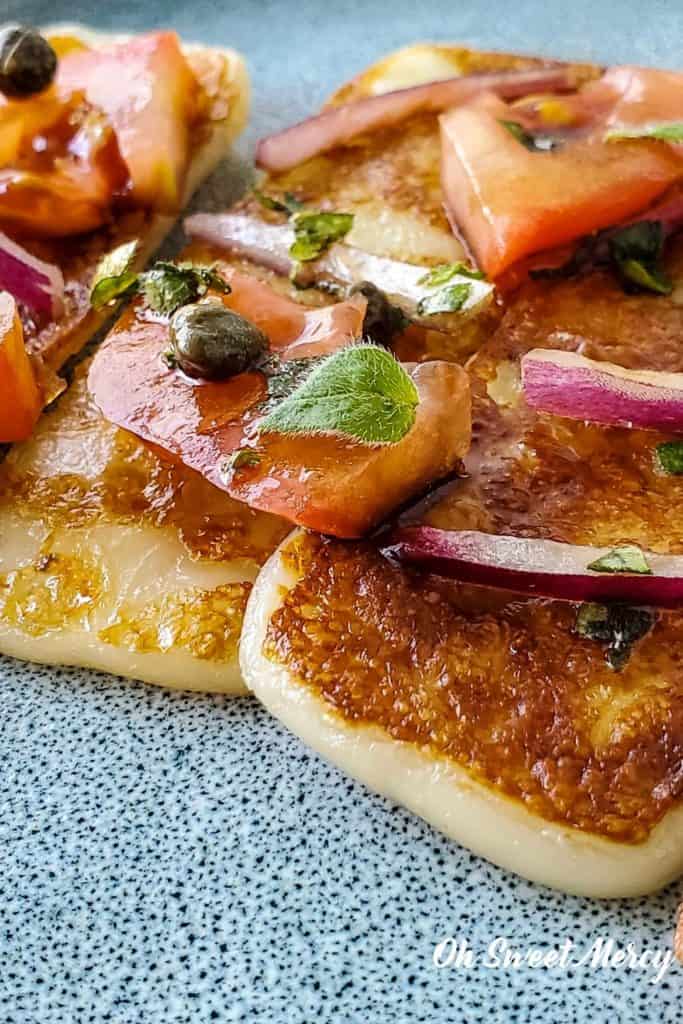 Always consult the Trim Healthy Mama Plan Book for complete information on how to put together your meals.
This easy grilling cheese recipe is a low carb, THM S dish. It makes a delicious appetizer or snack.
Make sure to keep your carbs within the plan guidelines for an S meal and you're good to go!
Other was to enjoy this grilling cheese include…
Adding to a big, leafy green salad
In a grilled cheese, with on-plan low carb bread
On top of a burger
In a low carb wrap, with or without meat
Alongside eggs for breakfast
With a bowl of tomato soup
In a Meaty Popper Pocket
With so many delicious ways to enjoy this grilling cheese, it's sure to become a favorite in your house. Enjoy!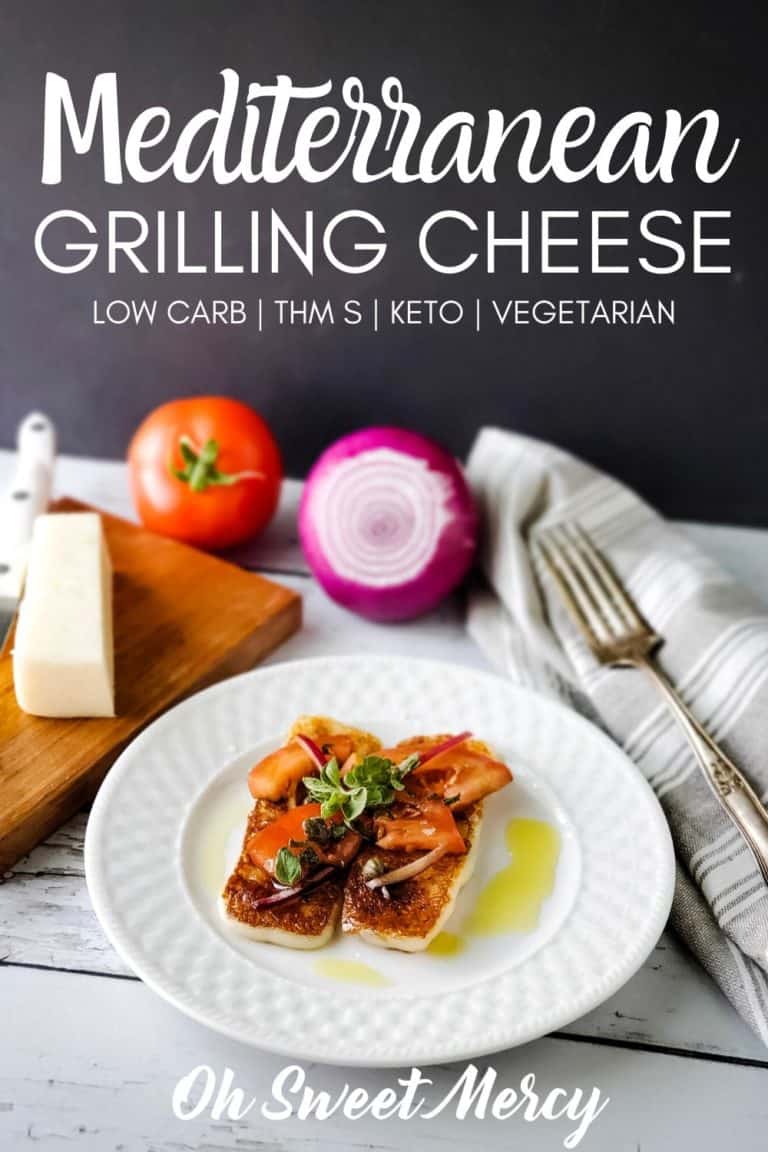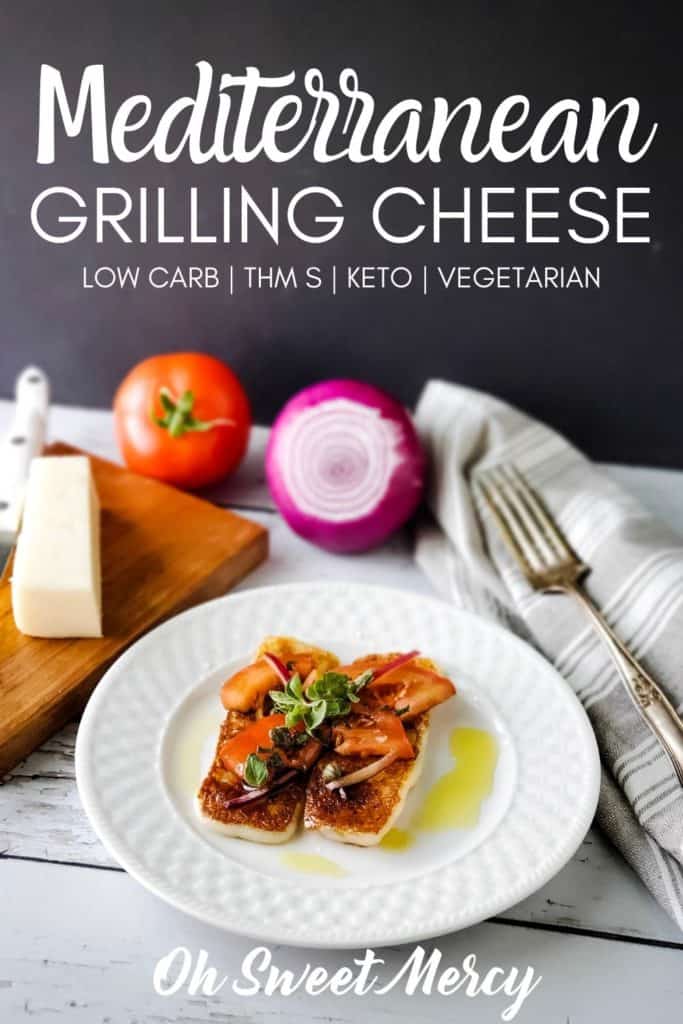 Mediterranean Grilling Cheese | Low Carb, THM S, Keto
Yield: 6 servings
Prep Time: 10 minutes
Cook Time: 4 minutes
Total Time: 14 minutes
Grill (or pan fry) this mild, delicious, Mediterranean cheese until it's soft inside and golden brown on the outside. Top with fresh tomatoes, red onion, your favorite fresh herbs, drizzle with olive oil and balsamic vinegar, then finish with your favorite salt. Divine! Low carb, THM S and keto friendly.
Ingredients
6 oz yanni grilling cheese (or other cheese suitable for grilling - see notes)
2 teaspoons olive oil for brushing, if desired
1 fresh tomato, sliced and cut into quarters
2 tablespoons red onion, sliced thin or diced
2 teaspoons chopped, fresh herb of choice, or as desired
Olive oil, for drizzling
Balsamic vinegar, for drizzling
Salt, if desired (see notes)
Capers, for garnish (optional)
Instructions
Preheat to medium-high a well-seasoned cast iron skillet, non-stick pan, or get your grill going.
Slice (or cube) cheese into 6 1-ounce portions.
Brush with olive oil, if desired, and place into hot pan.
Cook for 1 to 2 minutes or so, or until golden brown on the bottom and edges start to look softer.
Flip and cook another minute or two or until browned to your liking.
Remove from pan and top with tomatoes, onions, and herbs. Then drizzle with olive oil and balsamic vinegar and finish with a sprinkle of salt (or capers)
Notes
Choose a sturdy cheese that holds up to high heat, such as halloumi, paneer, kefalotyri, or queso panela.
Any large-flake sea salt, such as Maldon sea salt flakes, would be delightful here. Or use whatever salt you have on hand.
Recommended Products
As an Amazon Associate and member of other affiliate programs, I earn from qualifying purchases.