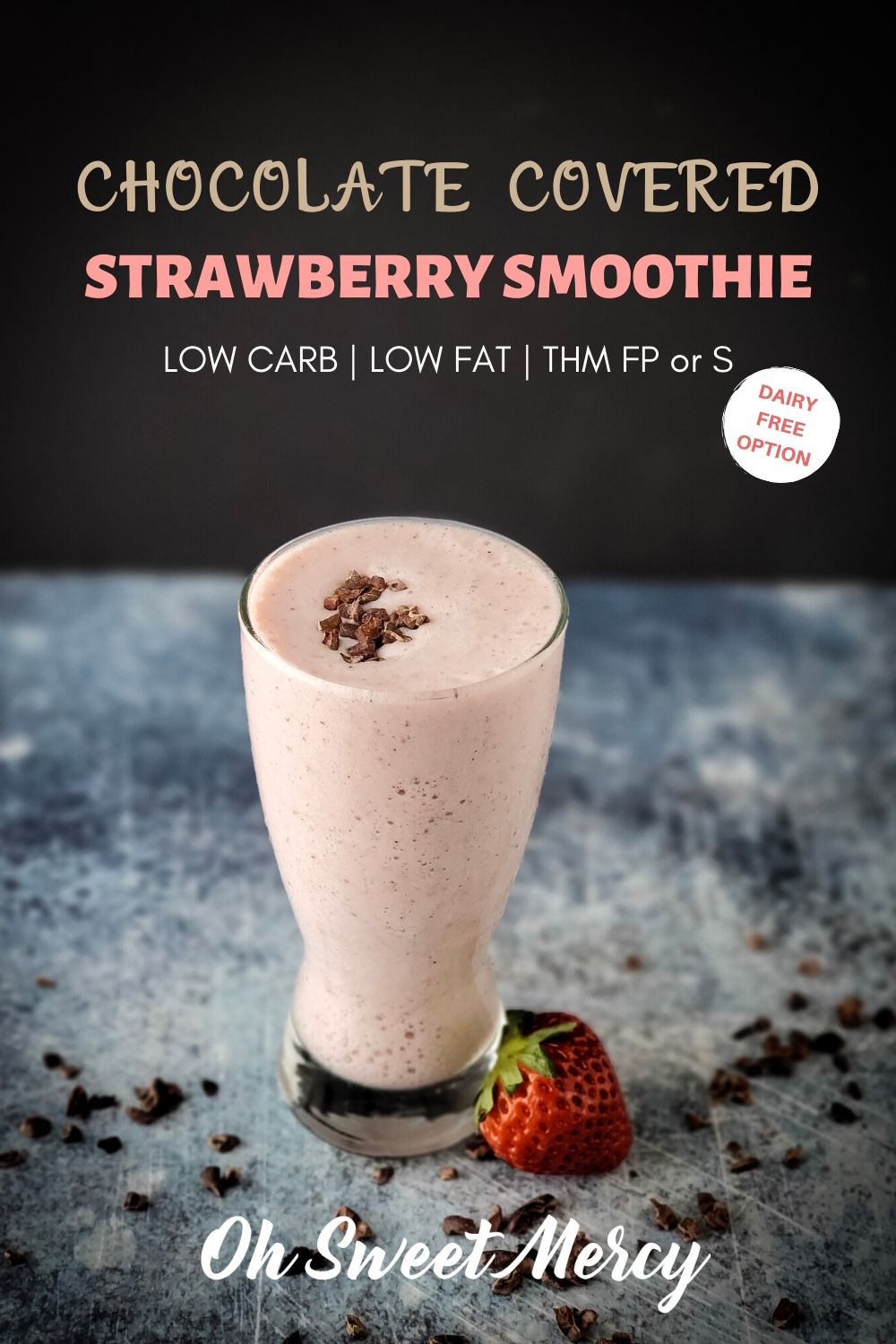 ---
Spring is just around the corner so time for more smoothies and shakes! This light, fruity chocolate covered strawberry smoothie includes cacao nibs for little bursts of chocolate flavor. If you don't have them, try on-plan sugar free chocolate chips or cocoa powder instead. THMs this is a FP smoothie and has a dairy free option!
---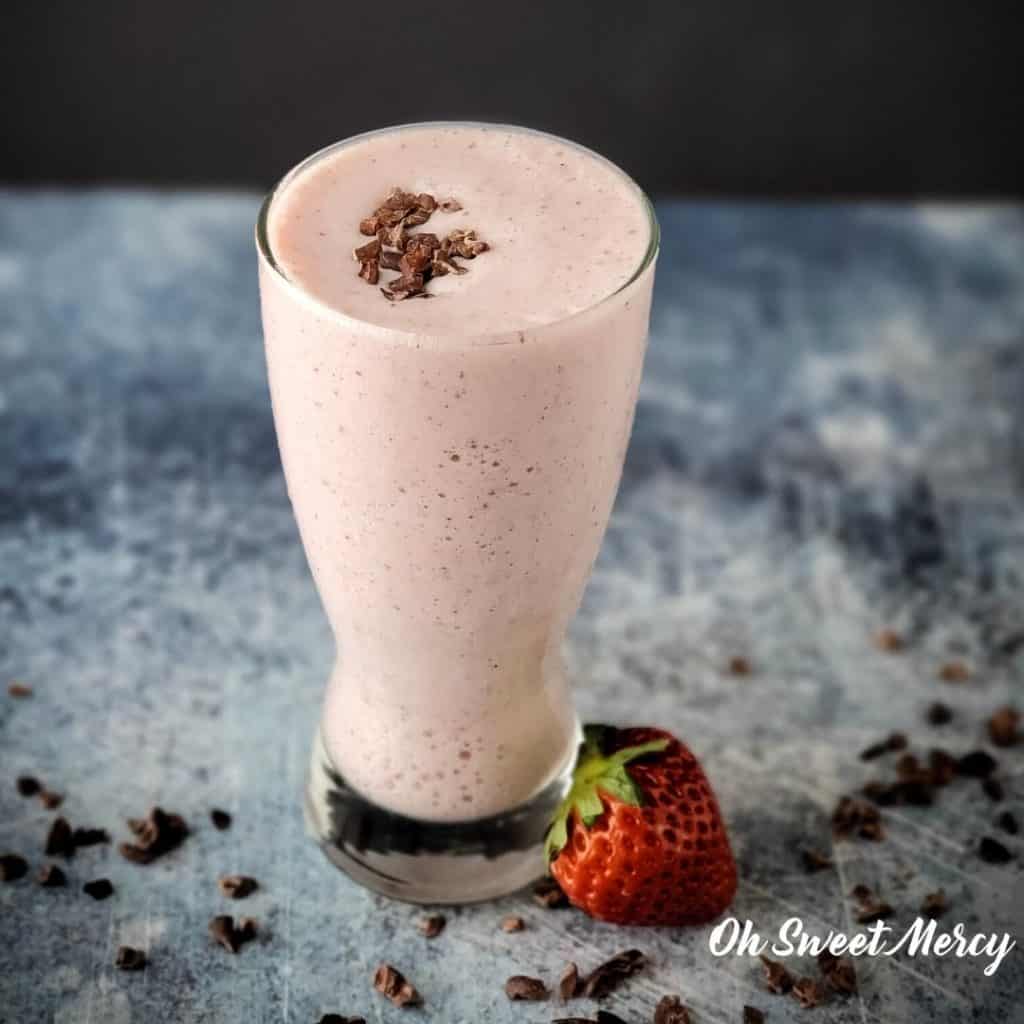 Did you see last week's recipe post? It's a superfood packed chocolate shake which included raw cacao nibs. You might think I'm a little obsessed. You might be right.
I absolutely adore raw cacao nibs. They smell chocolatey, they're crunchy, and pack a flavorful punch. You don't need much, either!
If you've never had them you need to know one thing: they are not sweet – at all.
I'm a huge fan of dark chocolate, so that helps. If you hate dark chocolate, I'd suggest substituting for on-plan chocolate chips instead. Or, try adding cocoa powder (or raw cacao powder, even better for you).
Seriously though, raw cacao in all its forms is so good for you! Be sure to check out the Superfood Chocolate Shake post for more info on cacao, including the difference between cocoa and cacao.
But for now, let's talk about strawberries. And how to make this super simple chocolate covered strawberry shake.
Why You Should Eat More Strawberries.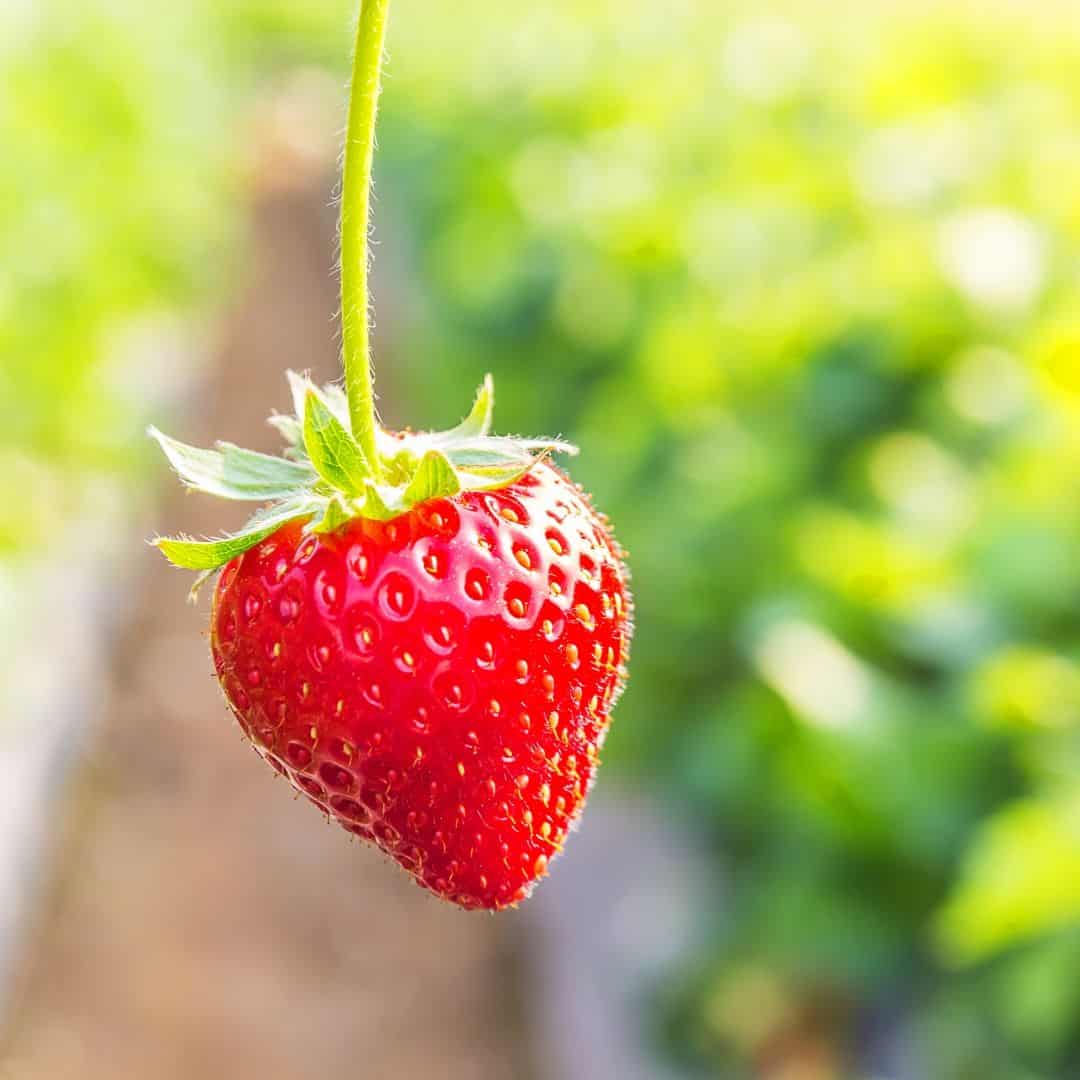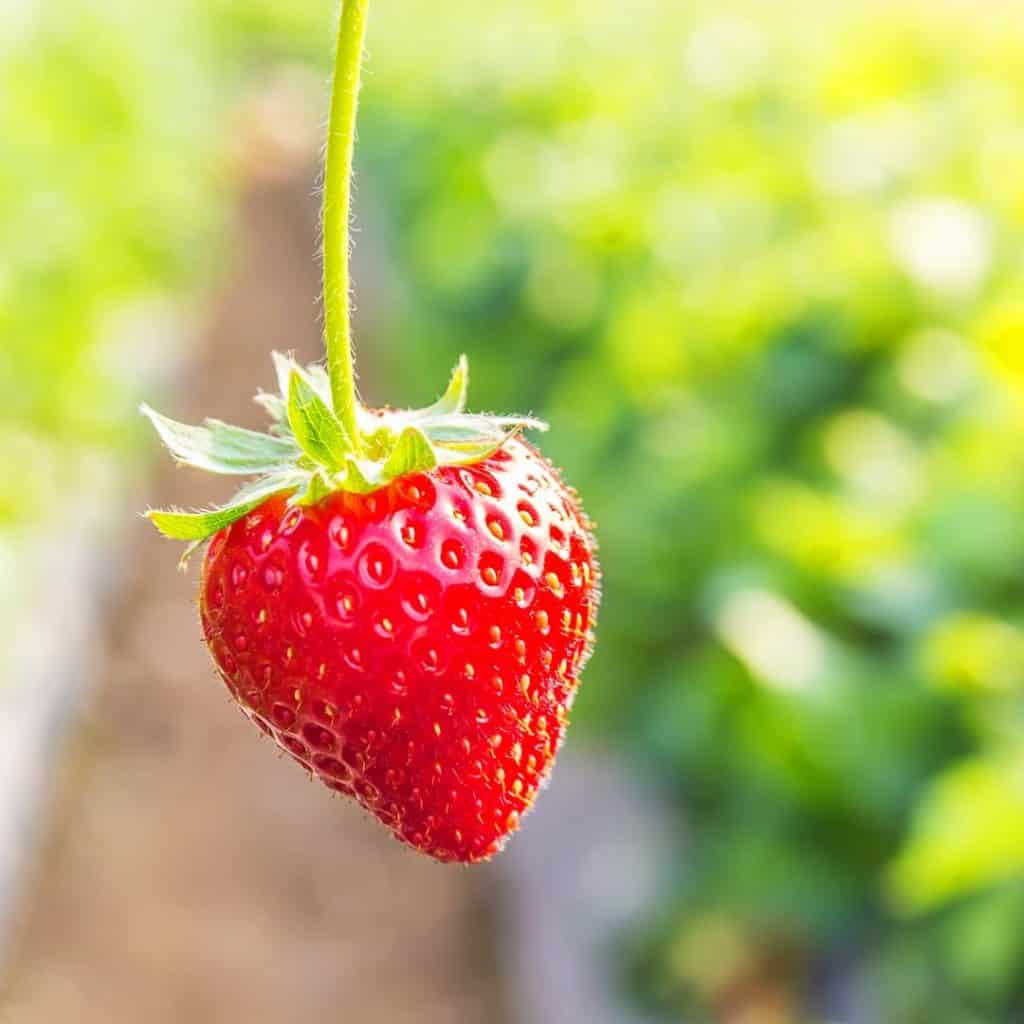 These juicy, red fruits are packed with nutrients for good health! High in heart-healthy antioxidants, strawberries can help protect your heart.
Strawberries can also protect against stroke, thanks to the anti-inflammatory properties they have that help prevent blood clots.
They're also high in vitamin C, rich in iodine, potassium, and magnesium. Their rich anthocyanin content can also prevent free-radical damage to the skin.
Strawberries are not actually berries. They're called aggregate fruits, or fruits that develop from multiple ovaries of a single fruit. Berries have seeds on the inside of the fruit.

Also, bananas are berries. Seriously. Isn't nature amazing?
On the Trim Healthy Mama plan, they're a fabulous FP (Fuel Pull) fruit that's perfect for S, E, and FP meal types. Just not Deep S – no berries allowed in that one! See the higher learning chapter in the revised plan book for more details on Deep S meals.
I also have another light, refreshing FP strawberry smoothie for you! Give my Cucumber Strawberry Smoothie a try.
Ways To Make This Easy Chocolate Covered Strawberry Smoothie.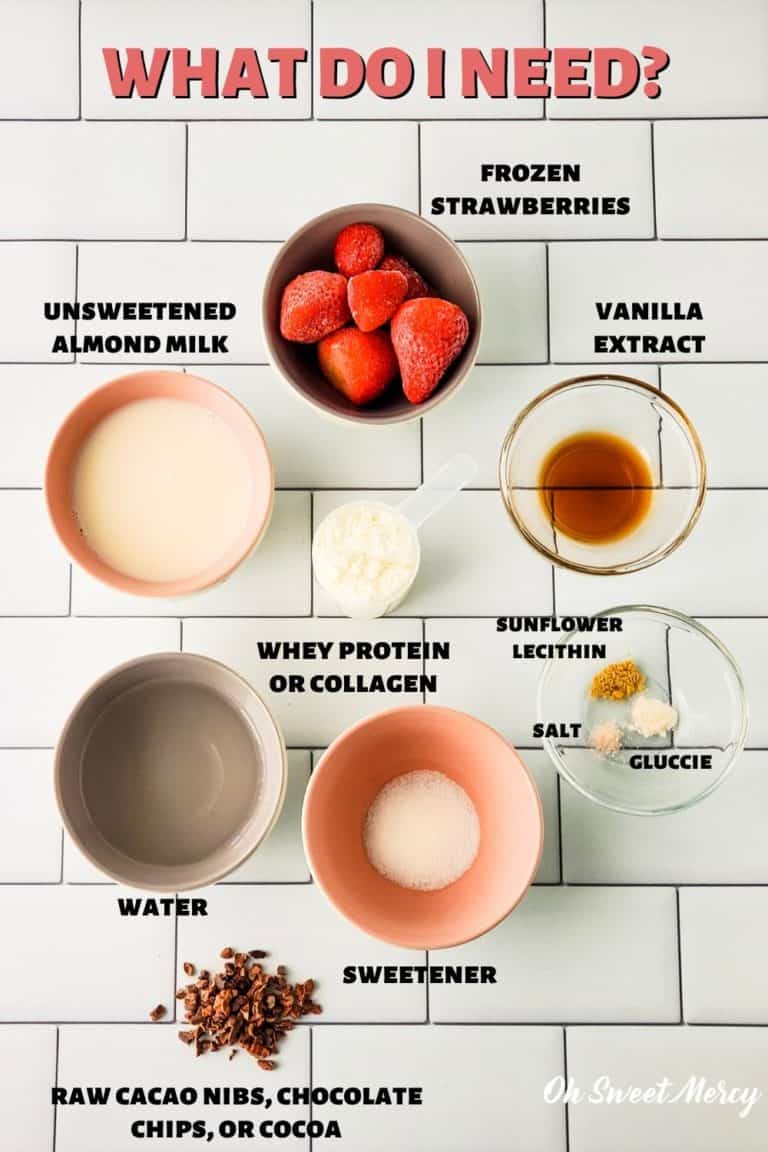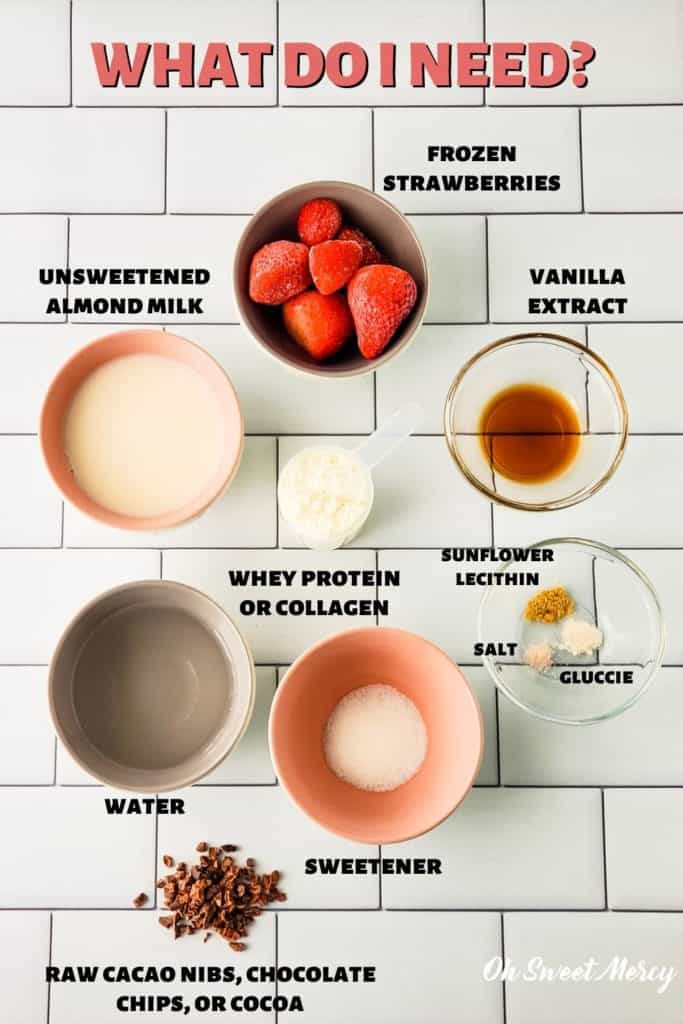 There's a few different ways to make this yummy healthy strawberry smoothie. I love mine with cacao nibs (of course) and usually include whey protein.
Whey protein powder makes it super fluffy. I used to not like my smoothies to be super fluffy, but now I actually like it. I can sip on them slowly and they fill me up nicely. Even this FP smoothie fills me and keeps me satisfied for a decent amount of time.
Don't like whey, or can't use it? Add a scoop of collagen instead for a dairy free version. Your smoothie will have a more intense strawberry flavor, too.
Or, skip the added protein in the smoothie all together and make sure you have protein in your meal.
Not a fan of cacao nibs? Use on-plan, sugar free chocolate chips or chopped 85% (or higher) dark chocolate. If you use a lot of these options you'll end up with an S chocolate covered strawberry smoothie. Totally fine, just be aware.
Finally, add a tablespoon or so of cocoa (or raw cacao powder) instead of nibs or chips. You'll probably want to up the sweetener if you use cocoa so taste and adjust as needed.
When To Add The Whey And Cacao Nibs To Your Smoothie.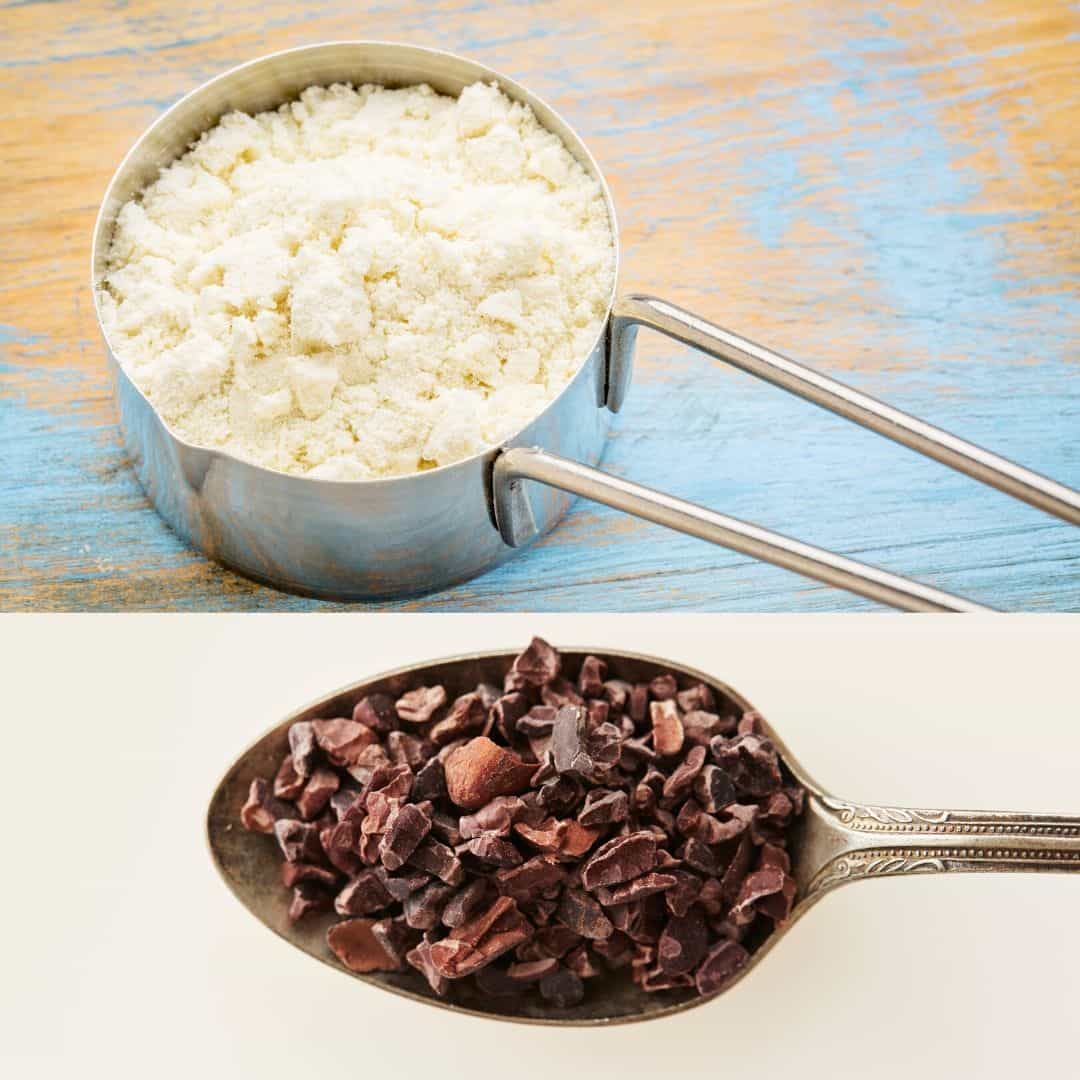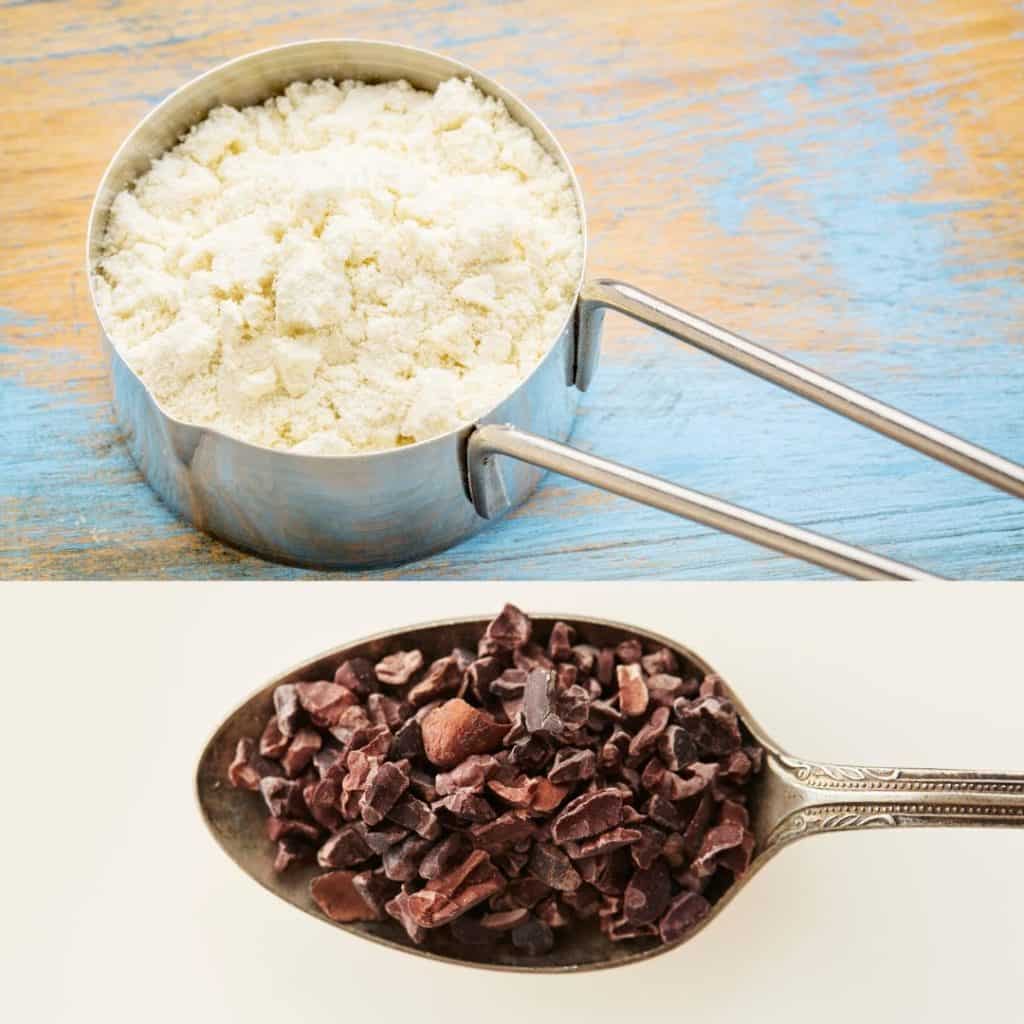 I don't recommend adding the whey or cacao nibs along with everything else. Your smoothie will end up way too fluffy and your cacao nibs might all but disappear.
Blend the almond milk, water, strawberries, sweetener, vanilla, lecithin, salt, and gluccie until the strawberries are smooth. Then, stop the blender and add your whey and cacao nibs or chips.
Pulse a few times until the whey is blended in and cacao nibs are broken down as much as you like.
Need more beverage ideas? Take a look at my Beverages category and find something new to sip on today.
How To Add This Chocolate Covered Strawberry Smoothie To Your THM Meal Plan.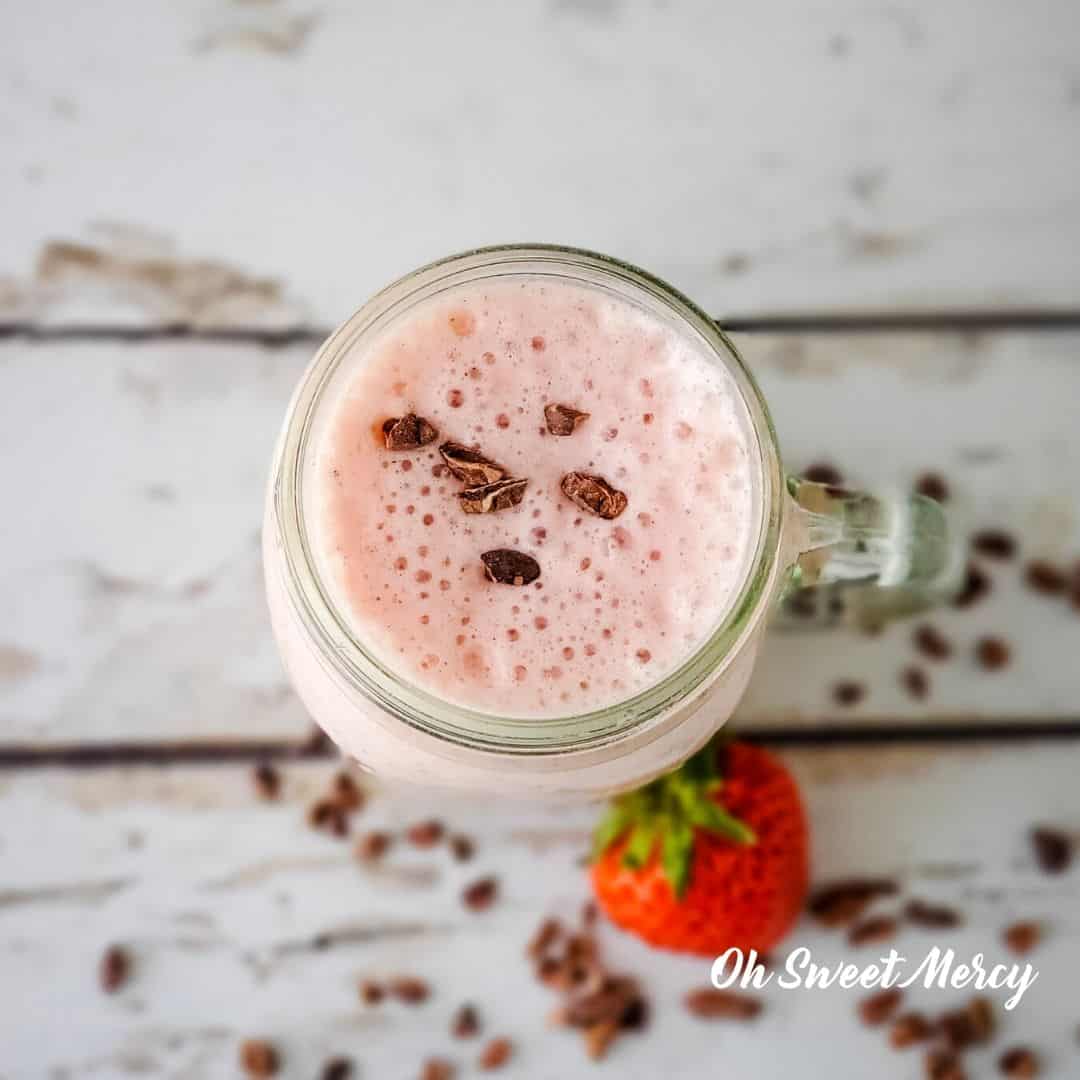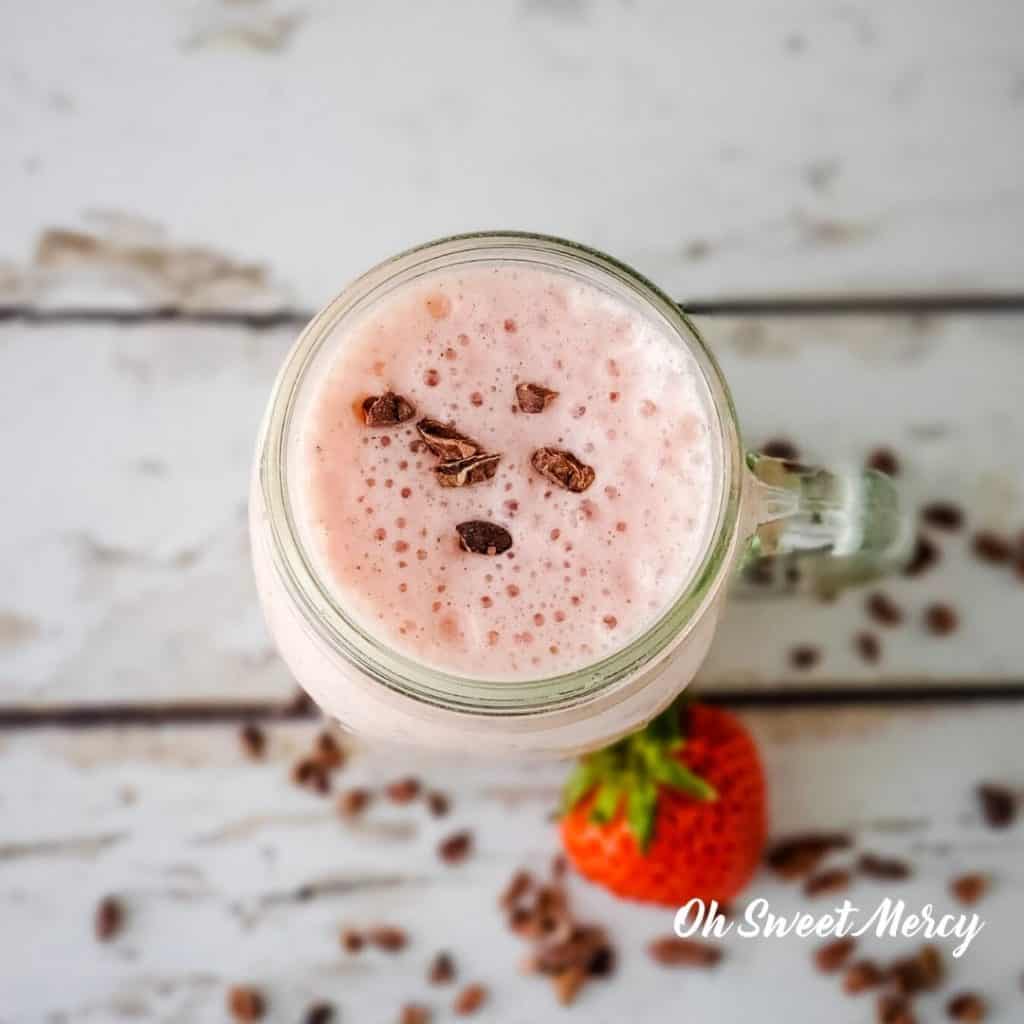 As written, this chocolate covered strawberry smoothie is a THM FP. If you'd like an S style smoothie, add a couple teaspoons of MCT oil or heavy whipping cream.
With a full scoop of whey or collagen, it makes a great quick meal option. Just make sure you're not always relying on smoothies! We want you to eat and enjoy food on THM!
Want a snack or light dessert? Just add a tablespoon or so of whey or collagen or leave it out completely. Just make sure you have enough protein in your meal.
REMEMBER: Protein is king! Always "anchor" every meal with healthy protein.
No matter how you make it, this chocolate covered strawberry smoothie is delicious! It's a great way to get more of those healthy berries into your day.
Pin It!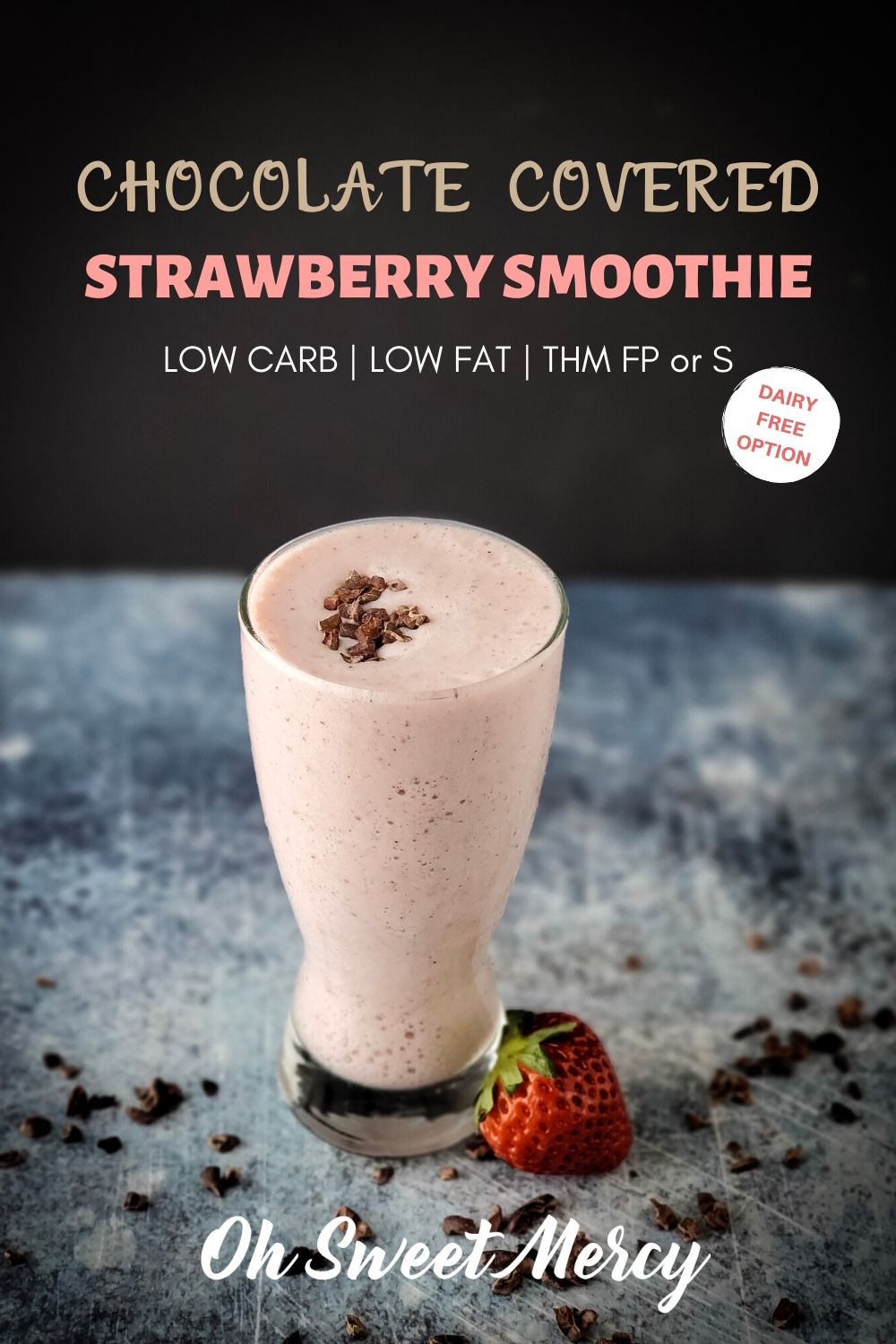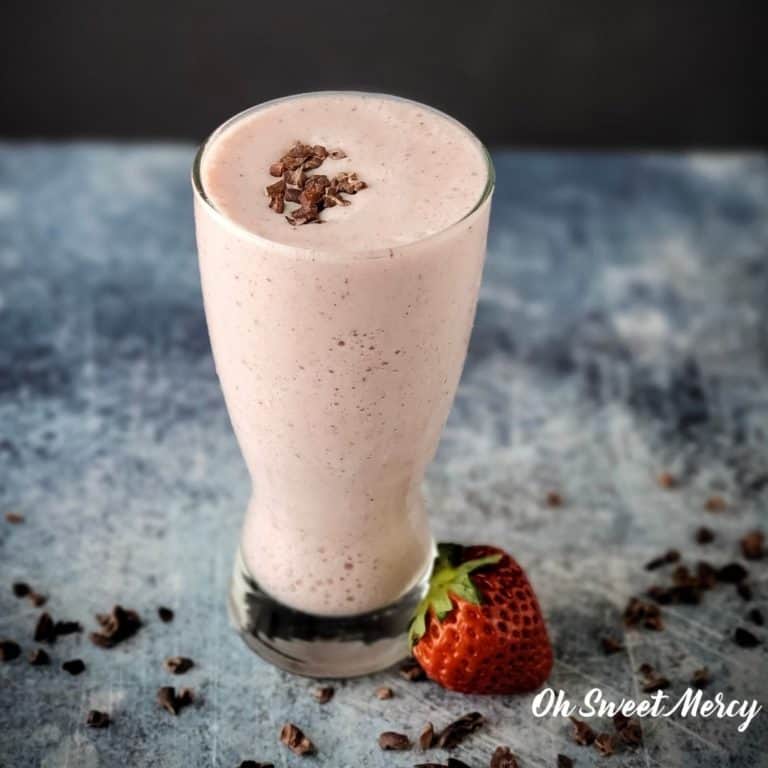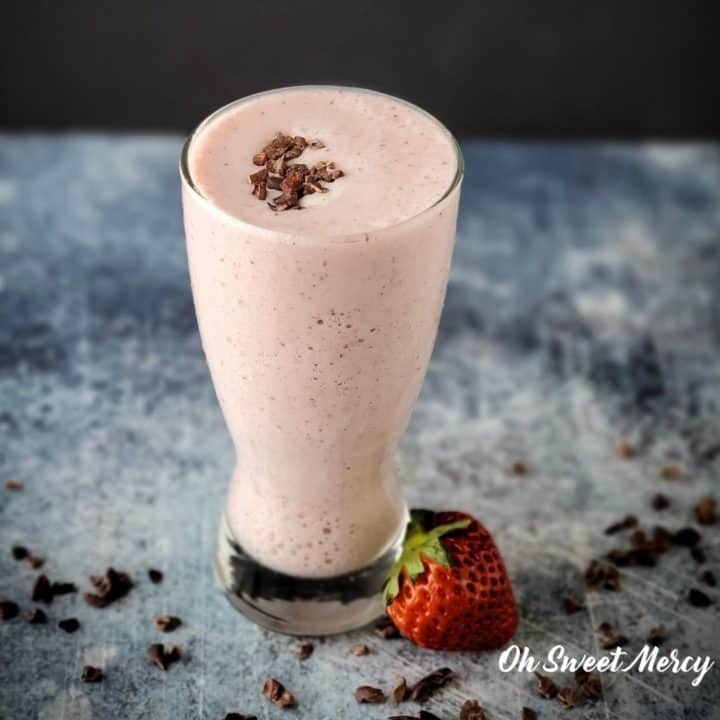 Chocolate Covered Strawberry Smoothie | THM FP or S
Yield: 1 serving
Prep Time: 10 minutes
Total Time: 10 minutes
Light, fruity, and with pops of dark chocolate this delicious chocolate covered strawberry smoothie makes a perfect light dessert or snack. Add a full scoop of protein powde or collagen for a quick meal on busy days.
Ingredients
1/2 cup unsweetened almond milk or non-dairy milk of choice
1/2 cup water
1 cup frozen strawberries (about 10 small to medium berries)
1/2 teaspoon vanilla extract
Instructions
To your blender jar, add almond milk, water, strawberries, sweetener, vanilla, gluccie, lecithin, and salt (if using).
Blend until smooth then stop the blender.
Add whey and cacao nibs, then pulse a few times until whey is blended in and cacao nibs are broken down as small as you like.
Enjoy!
Notes
If using cocoa powder, you'll likely need more sweetener. Add what's listed first then taste and adjust if needed.
If using THM Pure Stevia Extract, 2 or 3 doonks usually does it for me.
Remember that adding a lot of on-plan chocolate chips or chopped 85% dark chocolate moves this into S territory.
Nutrition Information:
Yield: 1 serving
Serving Size: 1
Amount Per Serving:
Calories: 205.4
Total Fat: 5.7g
Saturated Fat: 2.1g
Trans Fat: 0g
Unsaturated Fat: 1.8g
Cholesterol: 0mg
Sodium: 140.5mg
Carbohydrates: 19.8g
Net Carbohydrates: 12.6g
Fiber: 7.2g
Sugar: 7.6g
Protein: 22.3g
Nutrition information is approximate and based on the best knowledge available at the time of recipe publication. Your results may vary due to differences in ingredients. You can make your own calculations if this recipe does not include nutrition info by using an online calculator such as https://recipes.sparkpeople.com/recipe-calculator.asp