Don't you love feeling like you're cheating on your diet (when you're not)?
That's one of the best things about Trim Healthy Mama! So many healthy, delicious recipes and so many seem just the opposite of "diet" food.
I love the Cake in a Mug recipe in the Trim Healthy Mama book (on page 379 of the original plan book ). It is quick, easy and delicious. It's so hard to believe that it's a completely flourless chocolate cake and actually healthy!
Read my review of the Trim Healthy Mama book!
Generally, I don't use the microwave except to heat water. But, since I have yet to actually plan ahead enough to bake the In a Mug recipes (muffins, bread and cake) in bulk and freeze for quick and easy meal prep (one of these days…), I do use the microwave to make those.
Because flourless chocolate cake in under five minutes? Yes please!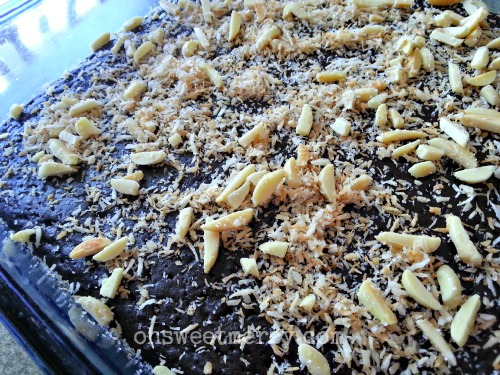 This Flourless Chocolate Cake seems like a cheat, but it's totally on plan!
When you have a bunch of cracked eggs, make cake!
We have backyard hens that give us lots of yummy, fresh, healthy eggs. Sometimes mishaps happen when little boys collect the eggs. When that happens, just make cake 😉
I decided to quadruple the Cake in a Mug recipe and bake it in the oven. I didn't want to make frosting, so I just topped it with a delicious, lightly sweetened, toasted coconut almond mixture. It was a big hit with the people I shared it with that evening, too!
Here's my modified Cake in a Mug recipe: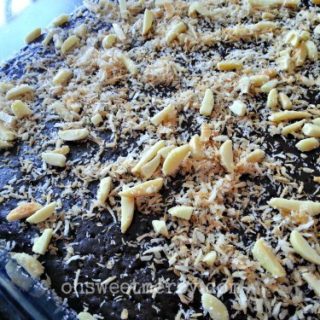 Flourless Chocolate Cake with Coconut Almond Topping | THM S, Grain Free
Yield: 9 servings
Prep Time: 10 minutes
Bake Time: 25 minutes
Total Time: 35 minutes
This easy, Flourless Chocolate Cake with Coconut Almond Topping is perfect for those on a sugar and grain free diet.
Ingredients
Cake
3/4 c cocoa powder
4-6 tsp Pyure Organic Stevia (this is similar to Truvia, or equivalent amount of your preferred sweetener)
2 tsp baking powder
1 Tbs coconut flour
1/4 c light olive oil OR coconut oil
4 eggs, whisked
2 tsp pure vanilla extract (read my post on how to make your own!)
2-4 Tbs water (or as needed to reach cake batter consistency)
Topping
1 Tbs slivered almonds
1 Tbs finely shredded, unsweetened organic coconut
1 tsp Pyure Organic Stevia
Instructions
MAKE THE CAKE
Preheat oven to 350.
Grease an 8" x 8" baking dish.
In a small bowl, whisk together dry ingredients.
Add oil, eggs and vanilla and mix well to combine.
Add enough water to reach a cake batter consistency.
Pour batter into prepared dish and bake in preheated oven 25 to 35 minutes or until a toothpick inserted in the center comes out clean.
Remove from oven and cool.
MAKE THE TOPPING
While the cake is baking, toast the slivered almonds.
Heat a cast iron skillet over medium heat and add the almonds.
Stir frequently to prevent burning.
When they just start to turn lightly brown, add the shredded coconut and stir constantly until coconut is lightly toasted (this won't take long at all, like maybe a minute tops, if you use finely shredded coconut).
Remove to a small bowl and add 1 teaspoon of Pyure Organic Stevia. It is like Truvia, so it's granulated like sugar, I haven't tried this with other forms of stevia, such as the THM Pure Stevia Extract.
Evenly sprinkle the toasted almond and coconut topping over the Flourless Chocolate Cake. Eat and enjoy the feeling of cheating on your diet!
Recommended Products
As an Amazon Associate and member of other affiliate programs, I earn from qualifying purchases.
Nutrition Information:
Yield: 9
Amount Per Serving:
Calories: 0
Total Fat: 0g
Saturated Fat: 0g
Trans Fat: 0g
Unsaturated Fat: 0g
Cholesterol: 0mg
Sodium: 0mg
Carbohydrates: 0g
Fiber: 0g
Sugar: 0g
Protein: 0g
Nutrition information is approximate and based on the best knowledge available at the time of recipe publication. Your results may vary due to differences in ingredients.
This flourless chocolate cake is a hit at potlucks!
I've taken this to several potlucks and everyone loved it. They were also amazed that it had zero flour or sugar!
Be sure to pin this to your favorite recipe boards!