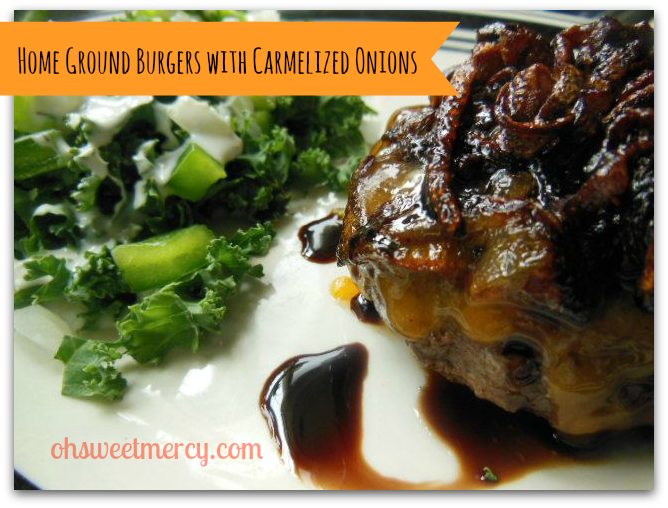 After making my own ground beef from a grassfed beef chuck roast yesterday
, I could only do one thing…make hamburgers for supper! There's lots of fancy ways to make burgers, but I opted for simple. Salt and pepper were the only seasonings this flavorful meat needed, although I should have used more salt. But, other than that they were delicious, juicy and tender. Grinding your own beef really results in more tender burgers. Not sure how, but it does.
I topped mine off with cheddar cheese, freshly sliced off the block and caramelized onions, hubby chose Swiss cheese, and picky 12 year old daughter went for mozzarella. Mister's a boy after his mommy's heart and wanted cheddar too. I'm typing this the next morning, and I would love to have a cheeseburger for breakfast right now. They were that good!
Caramelized onions…those are something I am trying to master and I get varying results. One thing I can tell you is that they can go from caramelized to carbonized in the blink of an eye. They are not really something you should try to make while you're doing something else, especially if you have a tendency to be distractible. Not that I don't try to prove that wrong. I should think about making them before I start making whatever I'm going to put them on, but what usually happens is I get some idea for [______] with Caramelized Onions and start making everything all at once. I wonder if I could make a bunch and freeze them in small portions. I think I'll try that.
Years ago, I cut out a newspaper article about making caramelized onions
and it takes
forever
to do it right. One of these days I'm going to follow those directions instead of doing it my way, I have a feeling they'll turn out better. Or, I'll try making them in my crock pot, following the recipe I found at food.com,
Crockpot Caramelized Onions
. Definitely look through the comments, there's some good tips there.
How I Make Caramelized Onions (and Sometimes Carbonized…)
This is one of those "recipes" that is not really a recipe…I cut up some onion (I prefer Vidalia), melt some butter in a hot cast iron skillet, dump in the onions, salt them a bit, and let them cook slowly. Or try to. Seems like I always end up with the pan too hot. But anyway, stir them around to get them coated in the butter, and stir occasionally. When they start to turn brownish, you have to really pay attention…stir often, and don't walk away from the stove!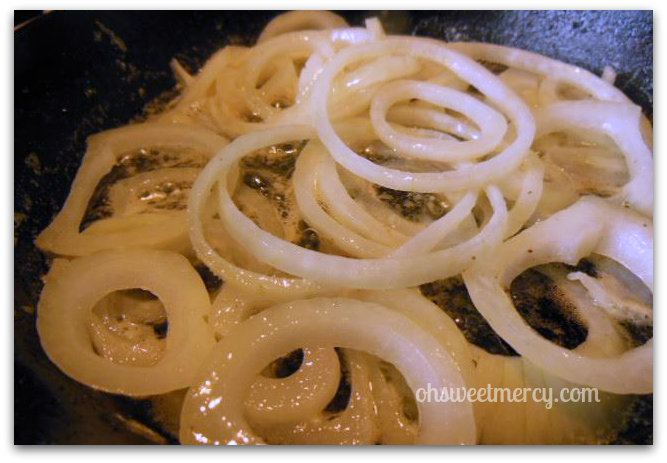 Add sliced, sweet onions to a hot cast iron skillet with melted butter. This was one small onion and 2-3 Tbs butter and a sprinkling of salt.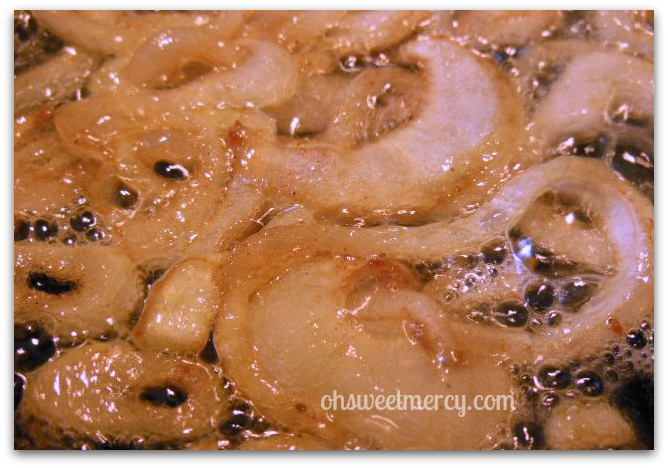 After several minutes of cooking, they are already starting to brown a bit.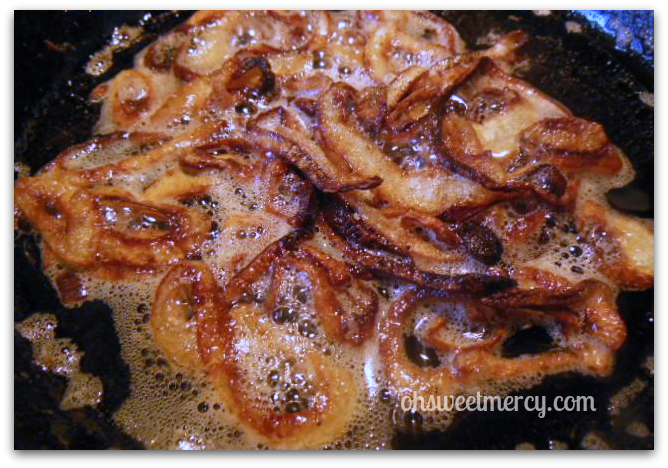 And, before you know it…they're getting overdone…sigh…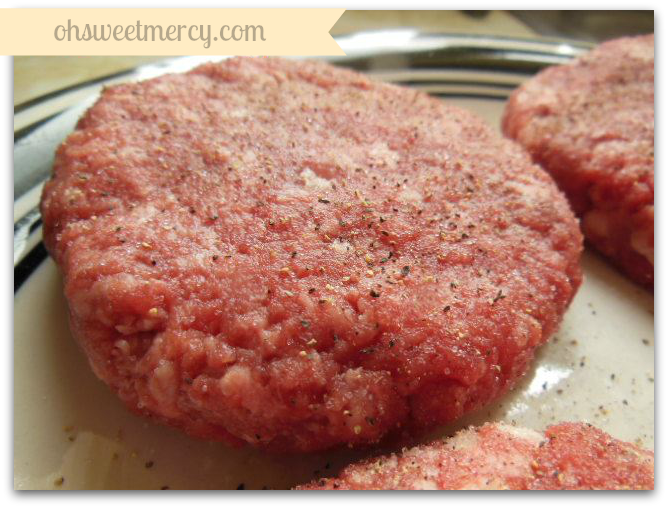 Now for the burgers…freshly ground, pattied and seasoned with salt and pepper.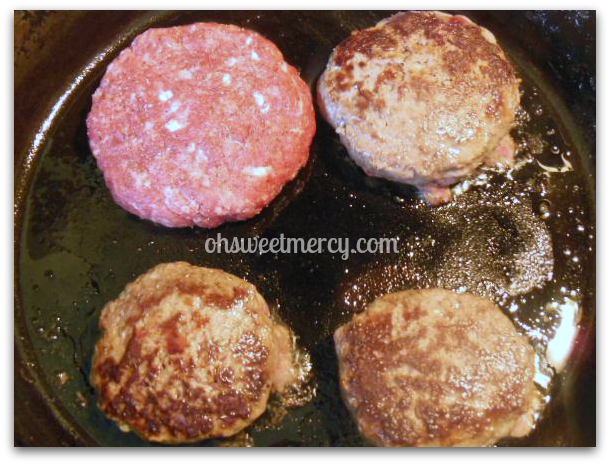 This is how I have to cook our burgers. Cook mine and the kids for several minutes first, flip, then add my husband's. He likes his still mooing. YUK.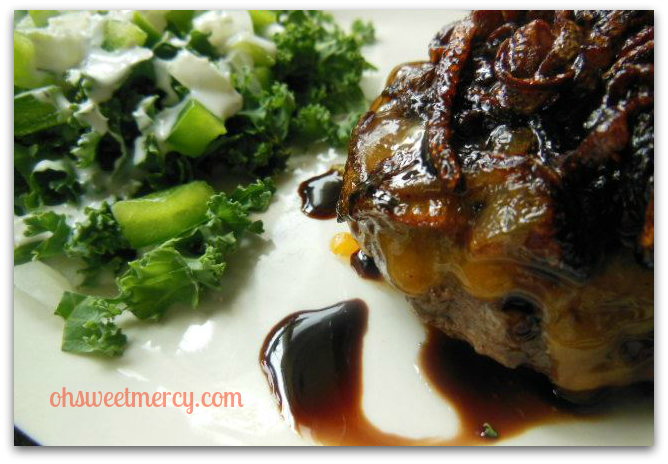 I drizzled balsamic reduction over my burger, and enjoyed a simple kale salad with green peppers, onions and homemade ranch dressing along with it. Oh, and some Mediterranean seasoned potato chips. Yummy!
Grinding your own hamburger may or may not be more economical. Our local butcher sells ground beef for $3.89 a pound right now, a chuck roast is $4.39. But honestly, I loved the beef I ground myself so much I think I just might be willing to pay a little more and do the work myself, at least if I'm going to make hamburgers. If it's going into chili or some other kind of ground beef dish, I'd stick with the pre-ground hamburger. A big, juicy, delicious hamburger really showcases the tenderness of home ground beef.
What are your favorite ways to prepare burgers? Have you ever ground your own beef? What's your favorite way to use caramelized onions?