What do you do when you're in the middle of making your famous game-day chili and realize you are out chili powder? Make your own healthy, homemade chili powder in just a few minutes!
Necessity is the mother of invention, right?
So there you are on Taco Tuesday making tacos for the fam. You decide to try making my homemade Taco Seasoning Mix (great choice 😉 ) and realize you don't have chili powder.
What do you do? You can run to the store real quickly (and come back with 47 things you didn't realize you needed) or you can make your own.
I know this because I was in a similar sitch myself:
I hadn't bought chili powder in ages because of the ginormous amount I'd bought at a bulk foods store and it seemed like it would never run out. But it did, and I had no desire to go outside in freezing cold and snowy weather just to get chili powder.

Nope. Unless the house is on fire, I'm not going outside. I'm fully embracing my inner hermit this winter.
Making your own homemade chili powder is unbelievably easy!
I thought chili powder was one of those ingredients you can't just make easily, like garlic powder or onion powder…and since I don't have a dehydrator or even knew what the right kind of chilis would be, I figured I was out of luck.
Amazingly, there is more to chili powder than meets the eye. It's a complex spice, deep and filled with mystery.
Until you get on the internet, and there you will find just what is in chili powder.
Interestingly, I learned that one of the ingredients in chili powder is paprika, which is actually a pepper. If I hadn't researched how to make homemade chili powder, I would have probably just dehydrated some chilis and ground them up (and probably would have been disappointed).
Isn't the internet wonderful?
You don't need to scour the internet though, I've put the recipe for homemade chili powder here for you.
Fair warning, it is spicier than what I usually buy at the store, but that's OK – I'll just use less and it will last longer.
Don't let that frighten you – when YOU make it, you can control the ingredients. I really liked this homemade chili powder much more than the store bought, it just has more depth of flavor. And, it was super easy to make – always a big plus in my book!
You can easily mix this up in a bowl, but I love to use my mortar and pestle any chance I get (this one is similar to what I use). Whatever vessel you choose, simply add your ingredients…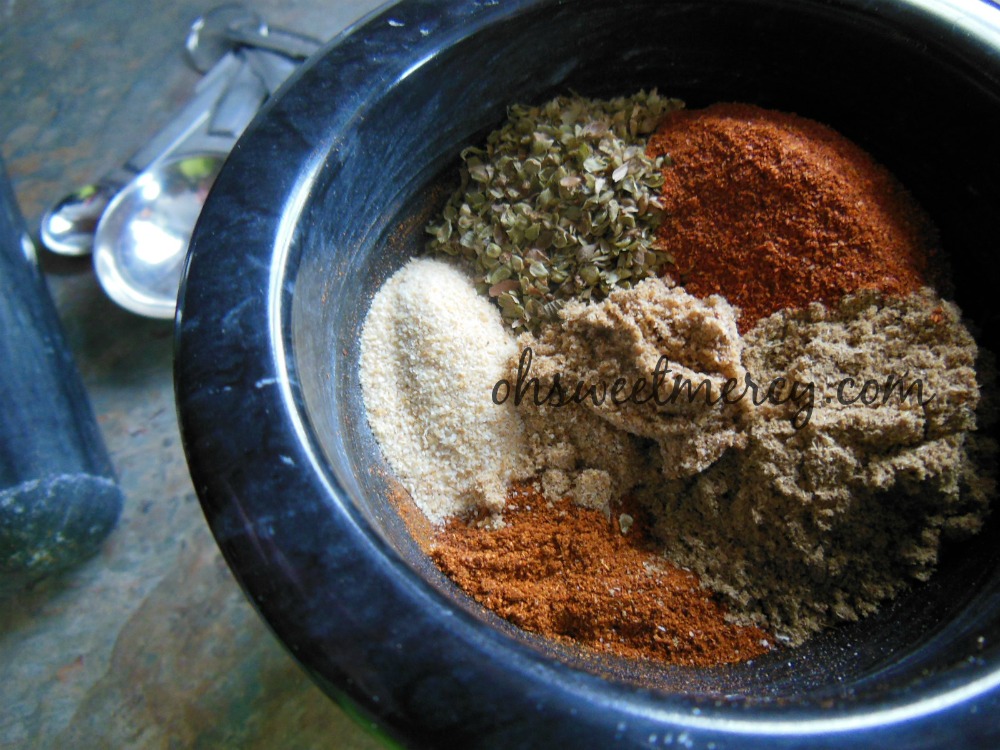 Mix it up well. I did want to kind of grind up the oregano…it's a texture thing for me. You could easily process this in a food processor too.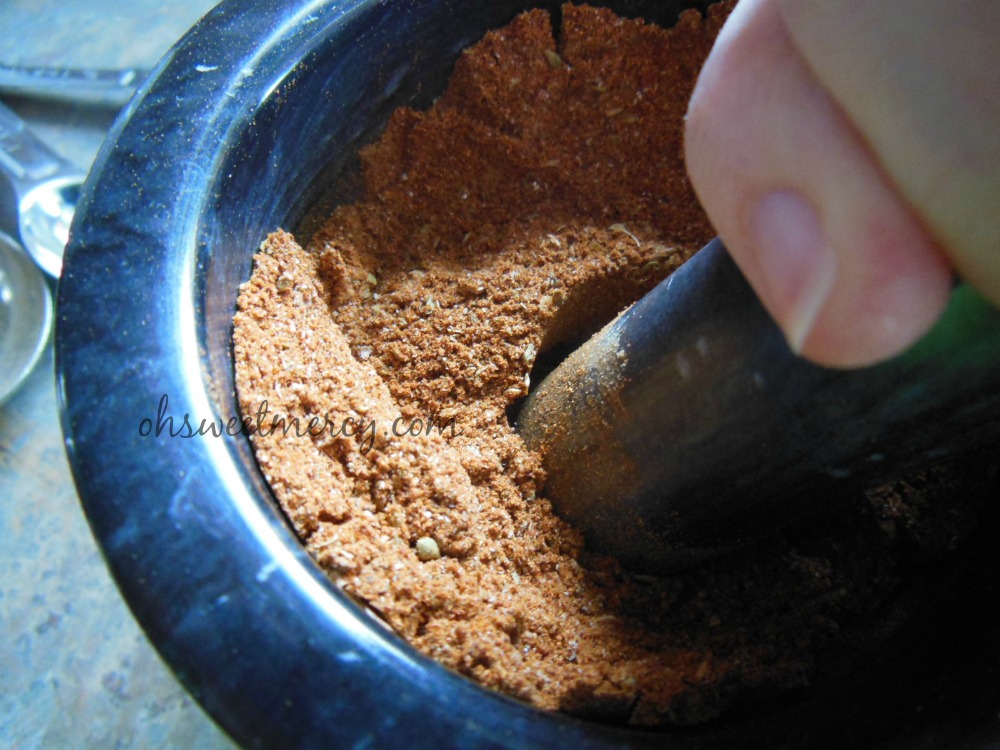 I decided to throw in a secret ingredient…can you guess what it is?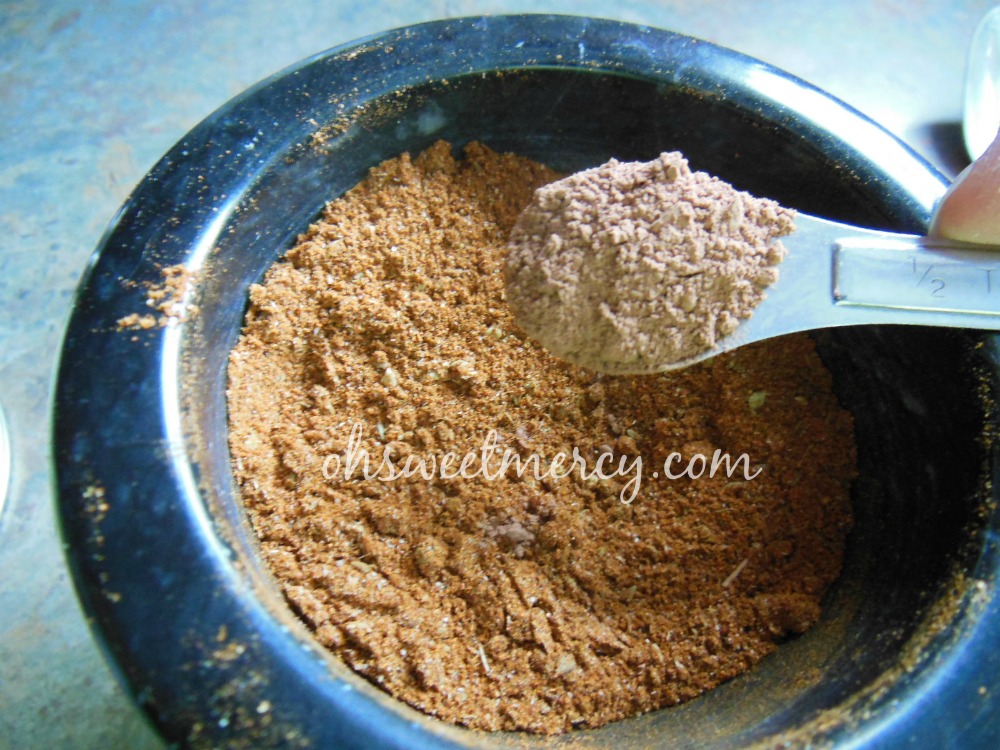 That's all there is to it! Just mix it up and store your homemade chili powder in an airtight container. I like to reuse spice bottles as much as possible, especially if they're glass.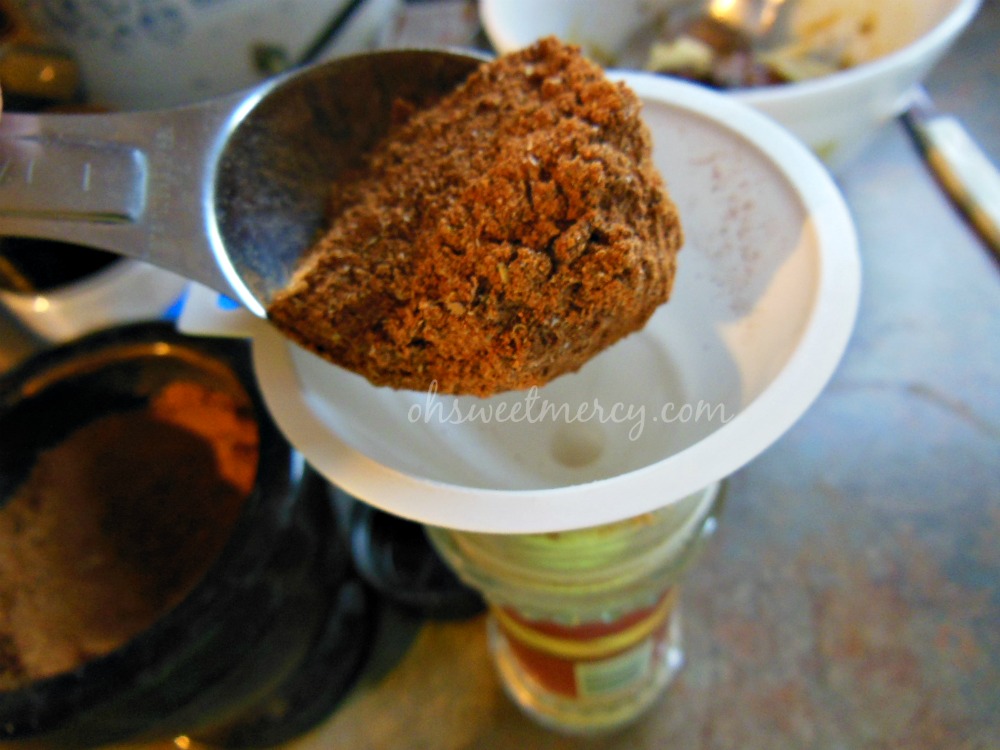 Like it spicy? Like it mild? Make it like you want it!
I love making my own spice blends for just that reason. You may find that you need to use less overall, not because of the spice factor, but because it is so flavorful.
When using this in a recipe for the first few times, I recommend using a small amount at first and tasting until you get it to taste like you'd like, then make a note of how much you used for future reference.
I loved this homemade chili powder so much, I will never buy it from the store again. It really is so flavorful! And since it's made with ingredients I always have on hand, there's no excuse not to make it myself.
Hermit 1, snow 0.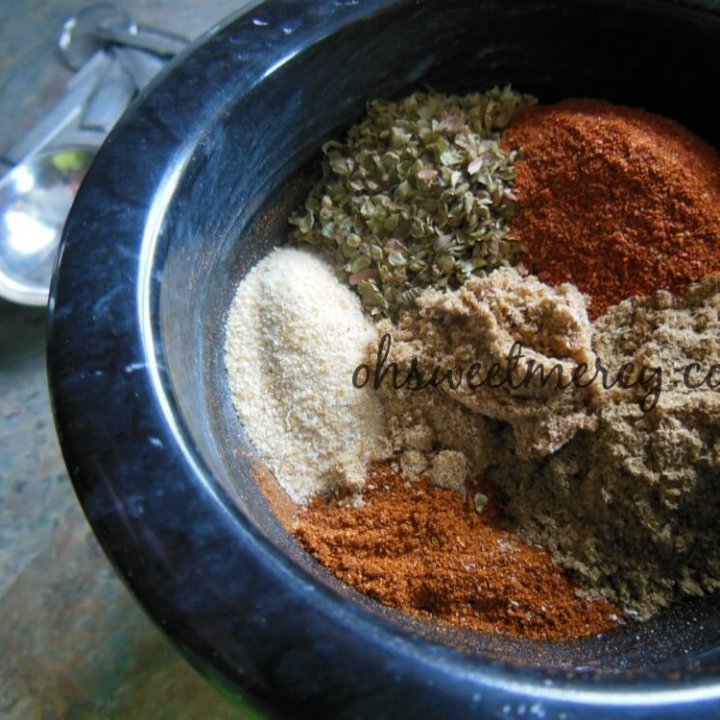 Healthy Homemade Chili Powder
Yield: About 7 tablespoons
Prep Time: 10 minutes
Total Time: 10 minutes
Never run out of chili powder again with this easy, healthy, homemade chili powder! It uses spices you probably already have in your spice cabinet plus a special ingredient to give it a lovely depth of flavor. Perfect for game day chili, homemade taco seasoning, grill rubs, or anything you'd add store-bought chili powder to for a spicy kick.Don't like spice? No problem! Easily control the heat factor when you make it yourself.
Ingredients
3 tablespoons paprika
2 tablespoons dried oregano
1 Tablespoon ground cumin
1 teaspoon cayenne pepper
1/2 teaspoon ground coriander
1/2 teaspoon cocoa powder
Instructions
Mix together in a bowl until well incorporated.
Alternately, grind together in a mortar and pestle or use a food processor for finely ground spice mix.
Store in an airtight container (a great way to repurpose those empty spice jars).
Notes
Adjust the spice factor by adding more or less cayenne pepper.
The cocoa is optional, but does add a lovely depth of flavor. Be aware that some people have allergies to chocolate so be sure to inform any guests that it contains cocoa.
When using this homemade chili powder for the first time, use less than you would of your normal chili powder and add more until you get the flavor and spice level you like.
Nutrition Information:
Serving Size: 1
Amount Per Serving:
Calories: 17.3
Total Fat: 0.8g
Saturated Fat: 0.1g
Cholesterol: 0mg
Sodium: 2.9mg
Fiber: 1.9g
Sugar: 0.4g
Protein: 0.7g
Like this post? Pin this Healthy Homemade Chili Powder recipe to your favorite Pinterest boards!