---
Yes, you should have gotten that turkey breast out of the freezer in time to thaw before Thanksgiving. But life happens, right? No need to stress! I'll show you how to cook a frozen turkey breast in the Ninja Foodi (and give it a gorgeous, golden-brown skin) in time for dinner.
---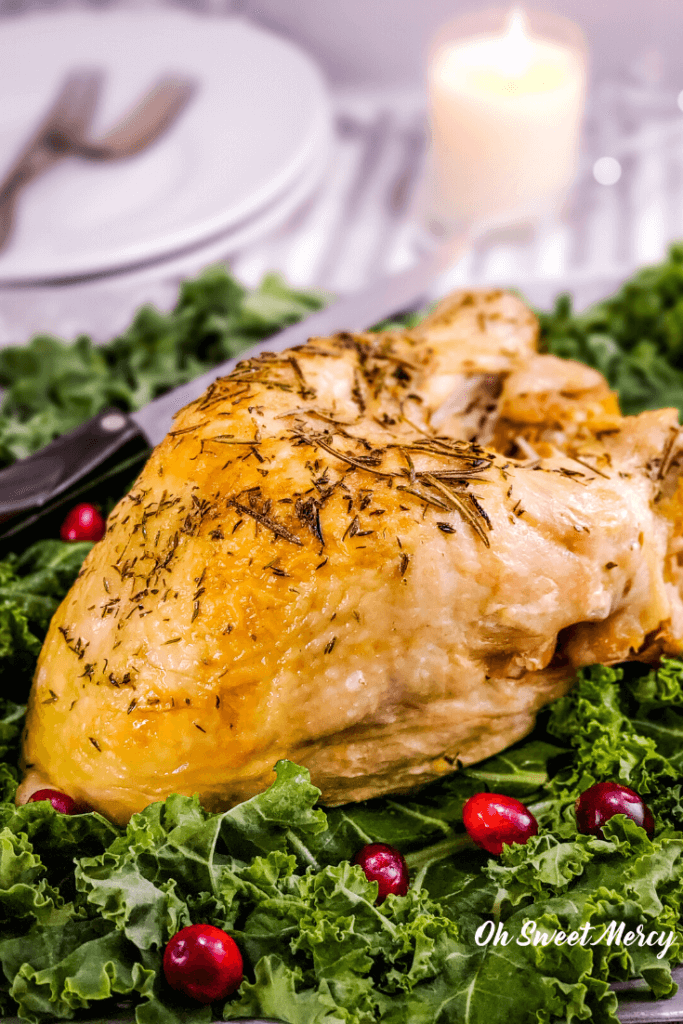 While many families roast a big old turkey for Thanksgiving, there are some who have a smaller circle gathering together. A big turkey is just overkill.
In addition, lean turkey breast is a great THM protein option all year long. That means knowing how to cook a frozen turkey breast in the Ninja Foodi (or another pressure cooker) is important for staying on plan.
Instant Pot Or Ninja Foodi – What's Best For Cooking A Frozen Turkey Breast?
Since the Instant Pot came on the scene several years ago many other brands have developed similar multi-cookers. You certainly can cook a frozen turkey breast in any pressure cooker.
However, the Foodi has a specific advantage over regular pressure cookers, like the Instant Pot. It's the Air Crisp lid – part of their TenderCrisp Technology that makes pressure cooked foods that much better.
Using the Air Crisp lid to crisp up the skin of your pressure cooked turkey breast is fairly quick and definitely easy. Depending on how much surface area your turkey breast it can take as little as 8 minutes to give that turkey breast a lovely golden tan.
Let's get started, shall we? You can follow the same directions for other pressure cookers, you'll just have to skip the Air Crisp step.
Step 1: Pressure Cook The Frozen Turkey Breast.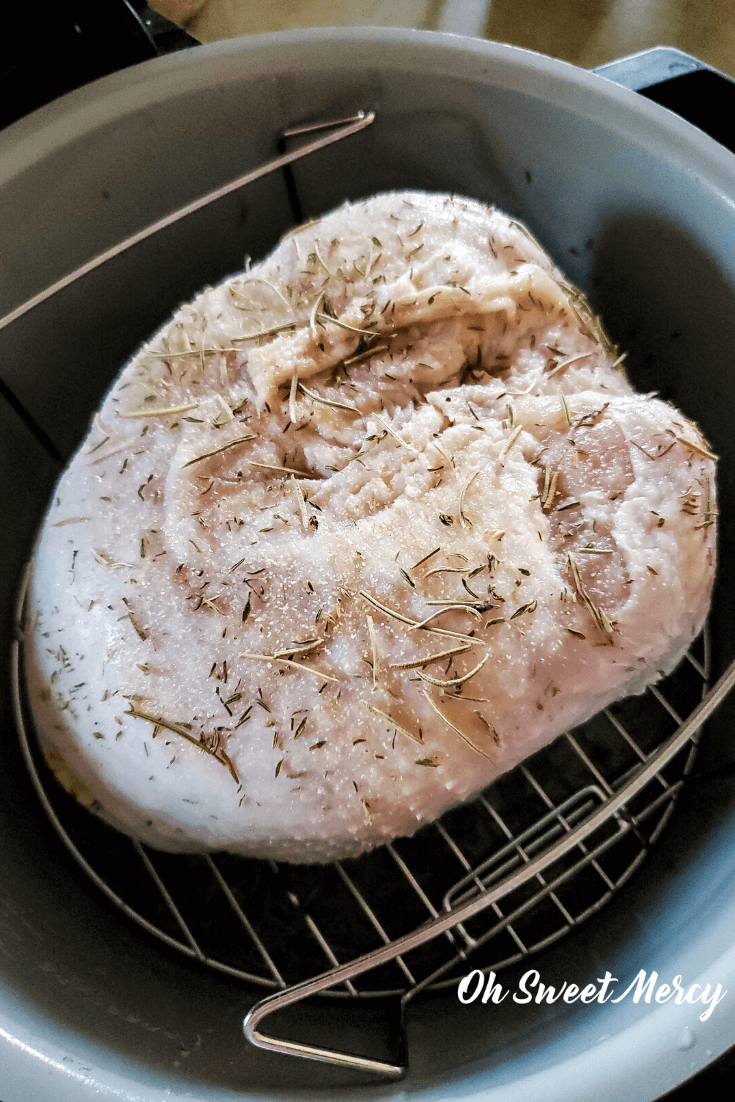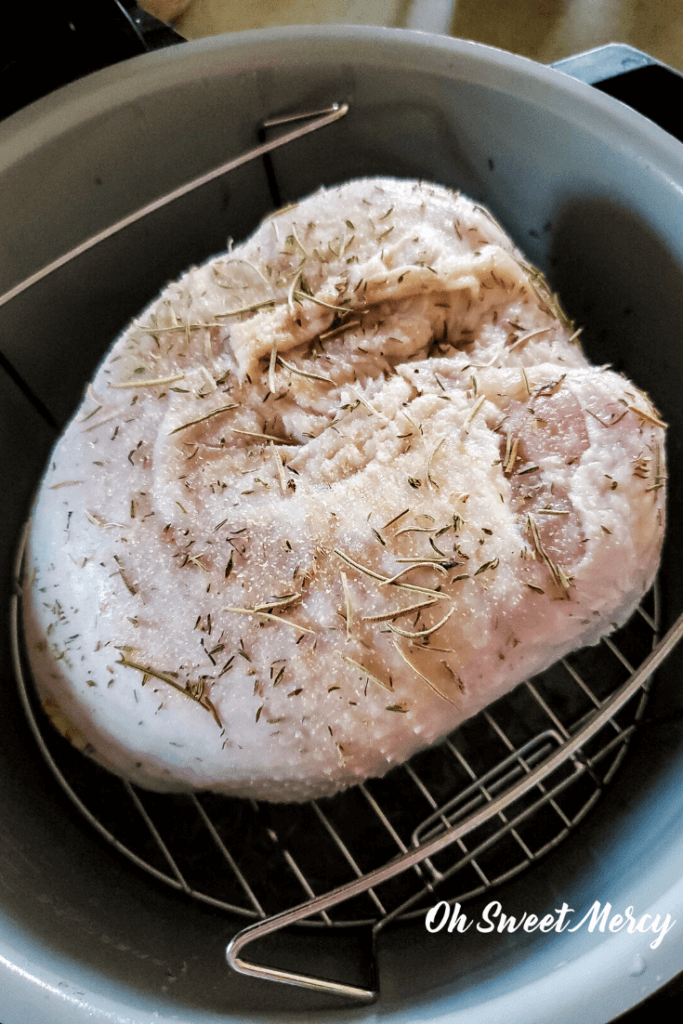 TIP: Since you'll be using the Air Crisp lid make sure your turkey is not too tall. When you first put it in, it may seem like it's going to be too tall to close the Air Crisp lid. However, after it cooks the turkey breast shrinks down so it should be OK. If you can't put the pressure lid on, it's definitely too big! You should be able to fit up to a 5, possibly 6, pound turkey breast into your Foodi, depending on the shape.
Remove the plastic packaging from the frozen turkey breast. Note how many pounds the turkey breast weighs. You'll need this info to determine how long to pressure cook it.
If there's a plastic pouch of gravy or giblets in the cavity, remove that. Running some hot water over the pouch and using a butter knife to pry it out helps.
Pat the turkey breast dry.
Put 1 cup of broth or water into the cooking pot of the Foodi and place the rack in so the grill surface is on the bottom.
Next, put the turkey breast on the rack. Season as desired. I simply shake some onion and garlic powders, salt, dried thyme and rosemary over the whole turkey breast.
Secure the pressure cooking lid and make sure the vent knob is set to SEALING.
Set the Foodi to PRESSURE. You'll need to cook the turkey breast for 12 minutes per pound. For example, a 4 pound frozen turkey breast would cook for 48 minutes.
Push the START button to start the cooking cycle.
After the cooking cycle is complete, allow the Foodi to depressurize naturally for only 5 minutes. Then turn the vent knob to VENT to release the remaining pressure.
TIP: If you want your turkey breast to look nice, pay close attention and release that pressure after 5 minutes. If you get distracted and forget about your turkey breast…for say half an hour or so…when you open the lid the meat will be falling off and almost impossible to remove intact. Not that I would know anything about that of course….
Step 2: Air Crisp For Golden Brown Skin.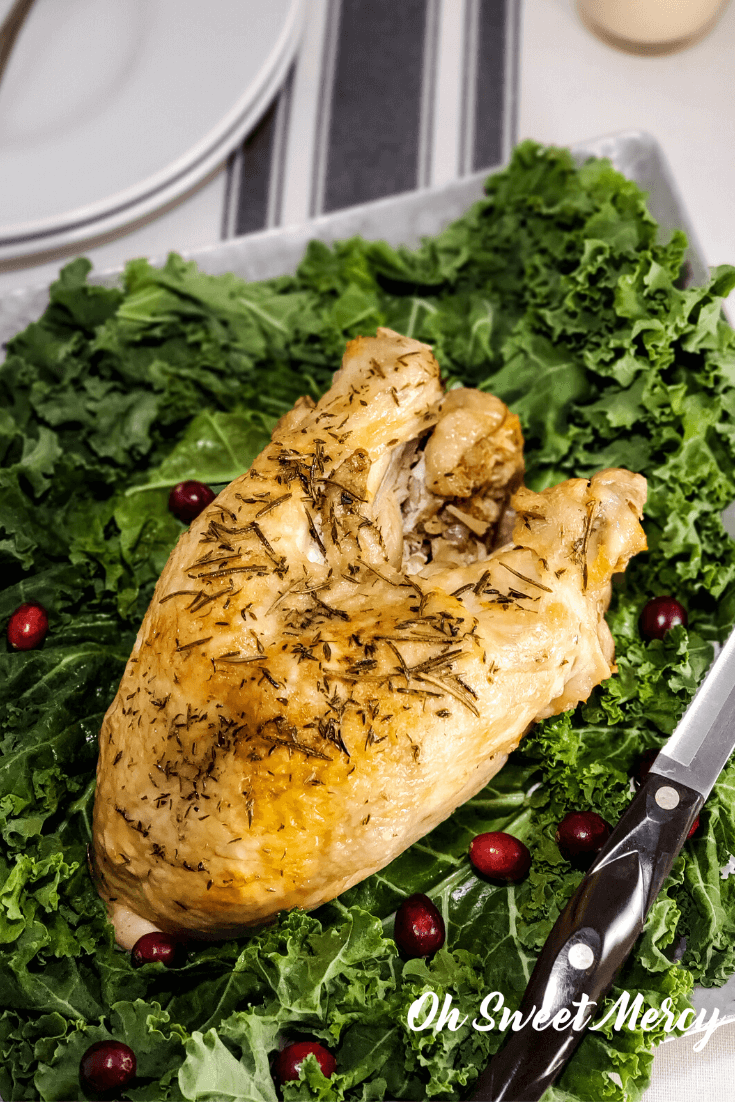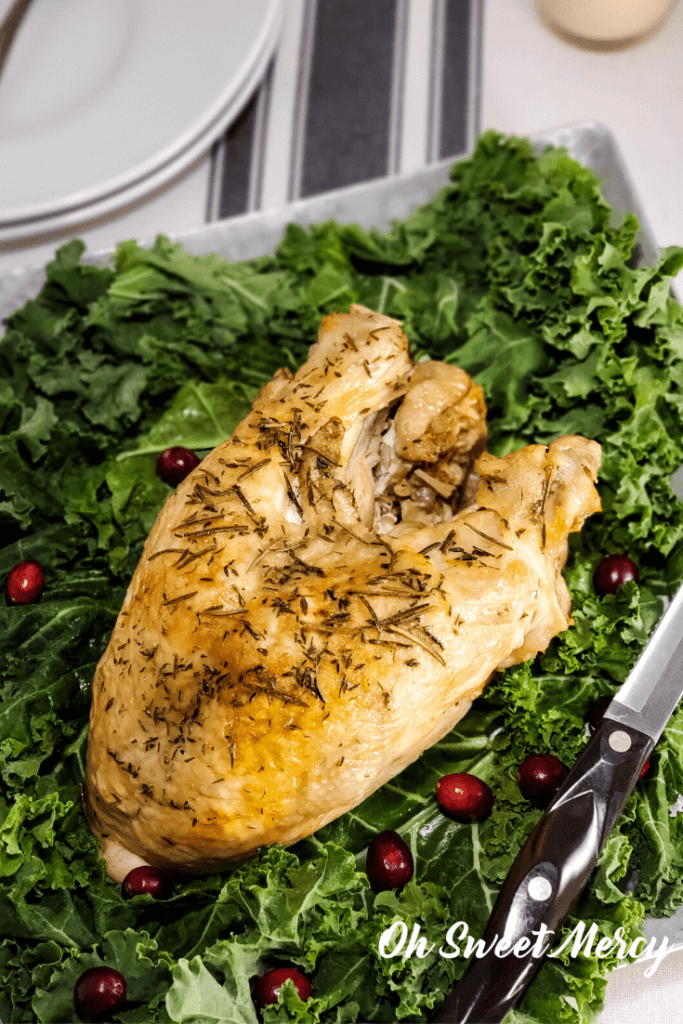 Here's where the magic happens! Now we're going to give our pale-looking turkey breast some color so it looks like you baked it in the oven.
First, make sure the Air Crisp lid will close without touching the turkey breast. If it doesn't, remove the rack and turkey breast, drain the juices out of the pot, and replace the turkey breast. Make sure the skin side is facing up.
Spray or brush the cooked turkey breast with oil or other healthy fat. An oil sprayer is a great tool to have in your kitchen!
Set the Foodi to AIR CRISP, set the temperature to 400 degrees, and the time to 8 minutes.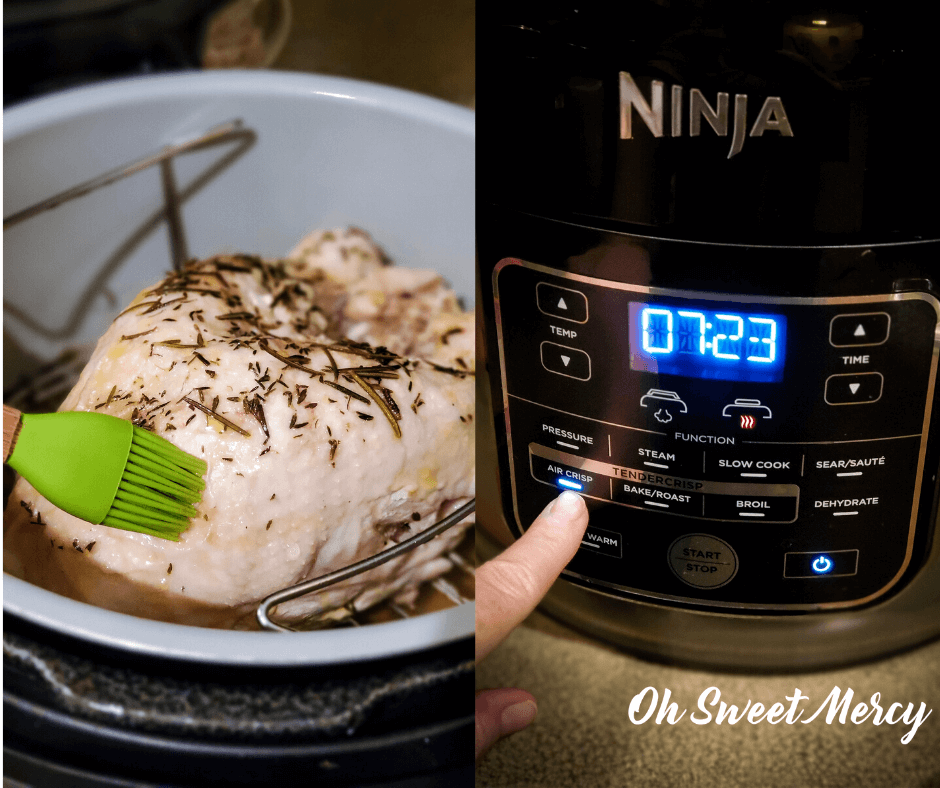 Open the lid after 6 minutes or so and check. If you think it needs more time then increase the time by a few minutes. Don't forget to push start so the time change will register!
When your turkey breast is as nice and golden brown as you like, remove it from the Foodi. Allow the breast to rest for about 10 minutes before slicing, then enjoy!
Using Other Pressure Cookers To Cook A Frozen Turkey Breast.
Be sure to check your model's recommendations on cooking time and follow the manufacturer's recommendation.
To get a golden brown skin you can try broiling in the oven for a few minutes. Be sure to spray or brush with oil or other healthy cooking fat first.
Now That You Know How To Pressure Cook A Frozen Turkey, Let's Talk About How To Enjoy It!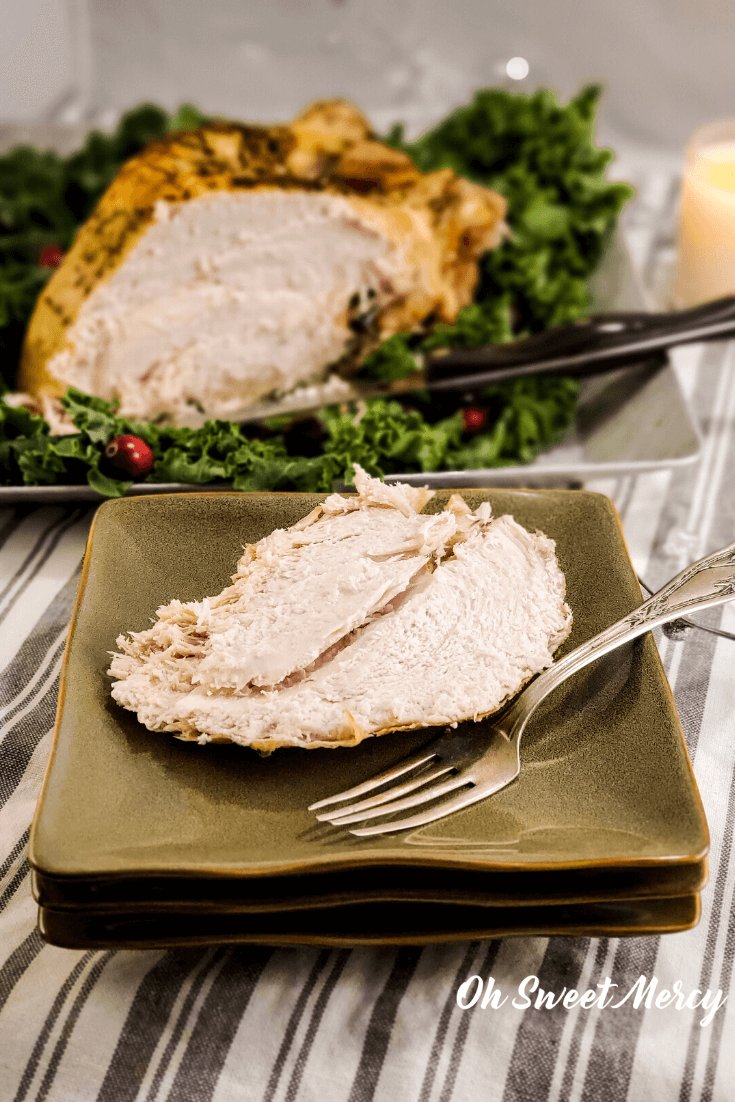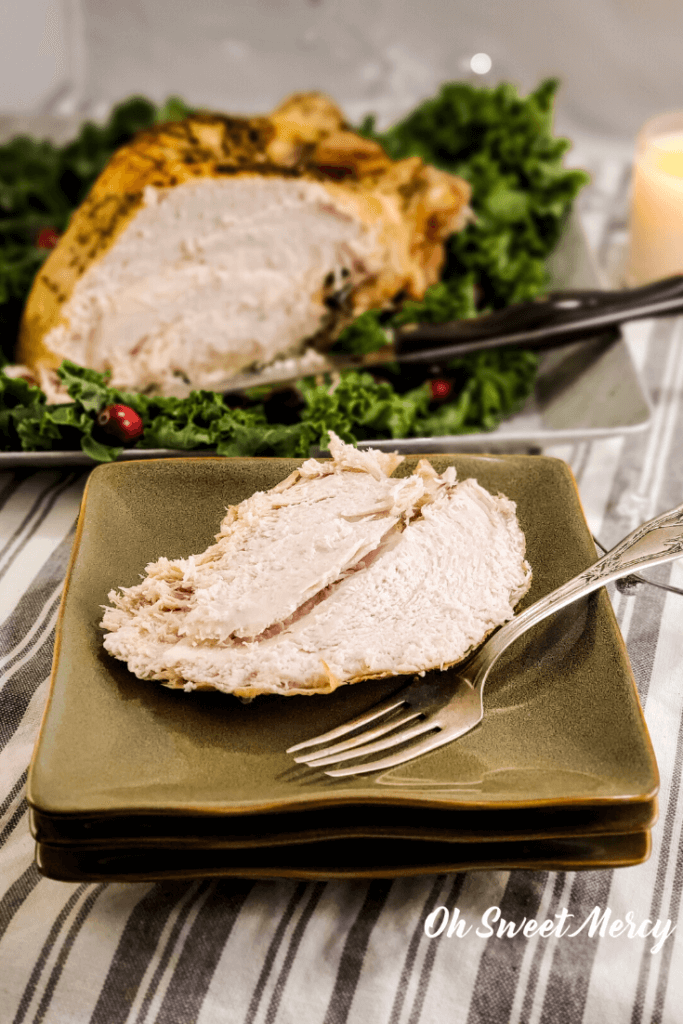 Unless you're new to the US and are just learning about our Thanksgiving traditions, you probably don't need any coaching. Turkey with all the trimmings is the order of the day.
Trim Healthy Mama plan followers have many options for staying on plan or enjoying a Crossover, too.
Turkey breast, green beans, lettuce salad, etc. make a great low carb holiday plate.
Want to enjoy a little off plan food? Indulge wisely then hop back on plan as soon as possible. Under no circumstances heap a pile of guilt and shame on your plate!
Do you like cranberry sauce with your turkey? I've created a smooth, pourable, sugar free Spiced Cranberry Sauce that's delicious with a juicy, roasted turkey breast!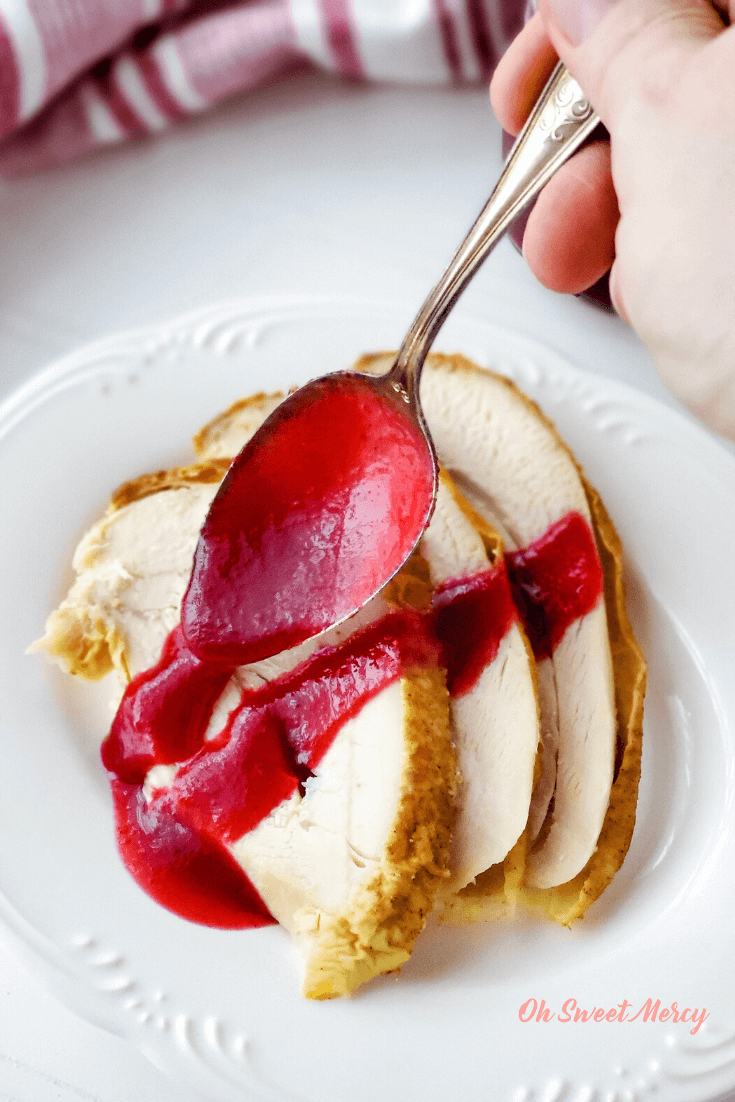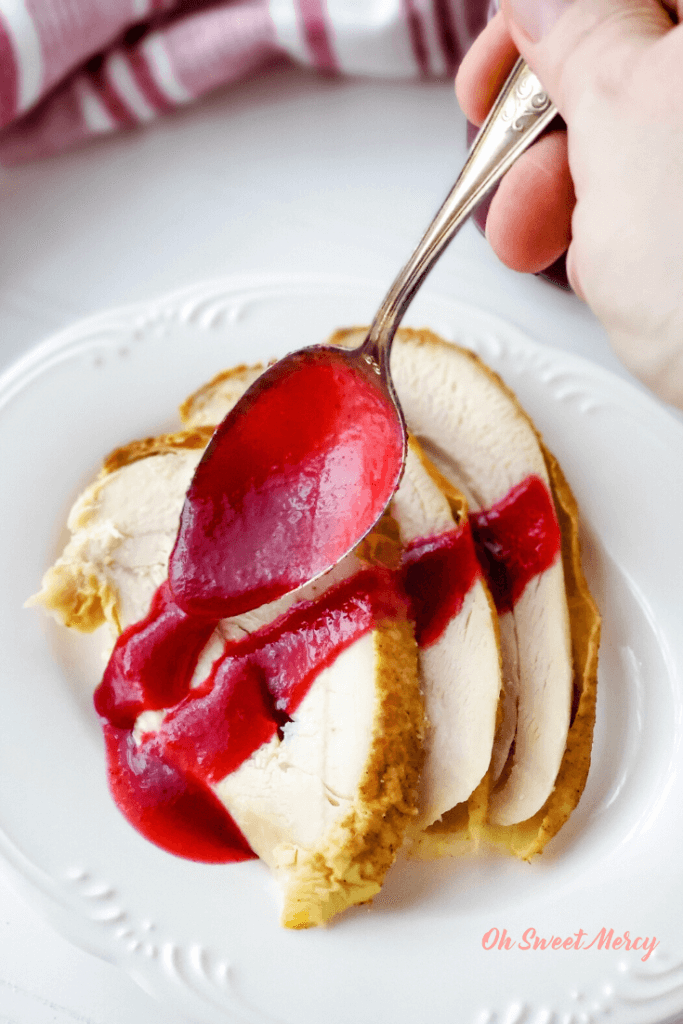 Since Thanksgiving isn't the only time of year to enjoy turkey, here's a few ideas:
Stock up on after the holidays sales when turkey breasts are cheap. Then use your Ninja Foodi to make delicious, healthy, and lean turkey breast all year long!
Do You Always Remember To Thaw Your Turkey?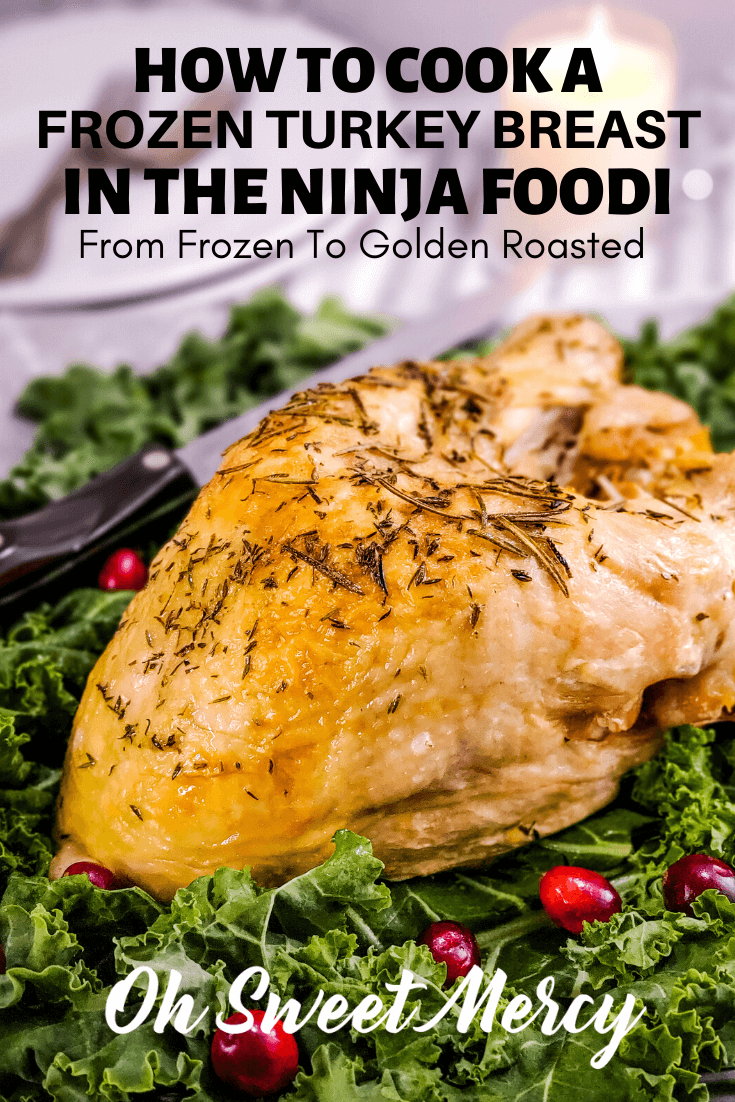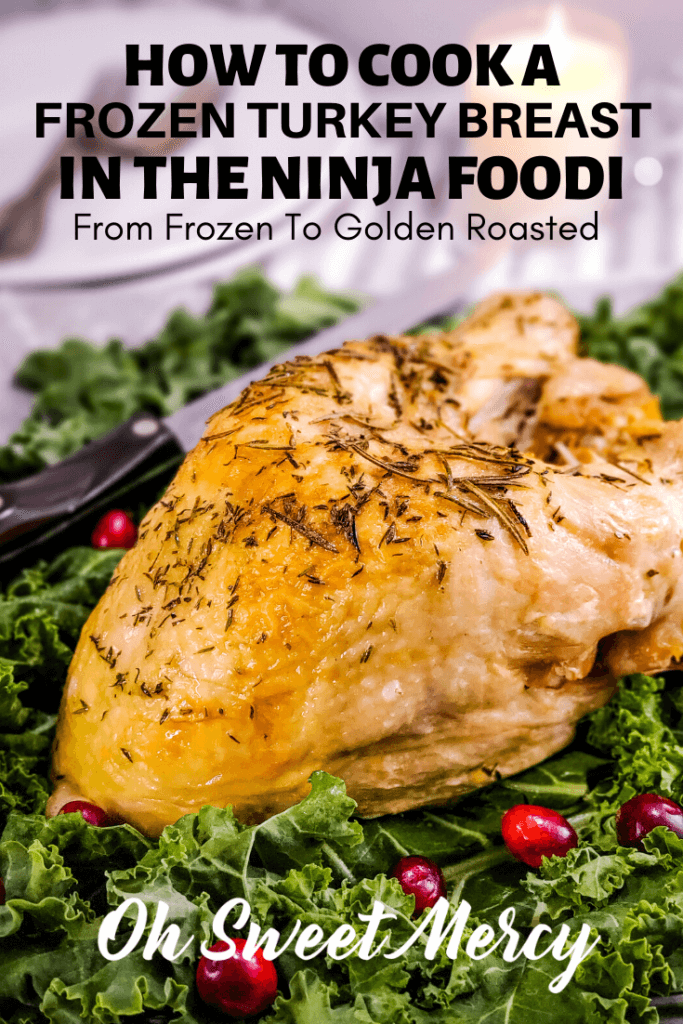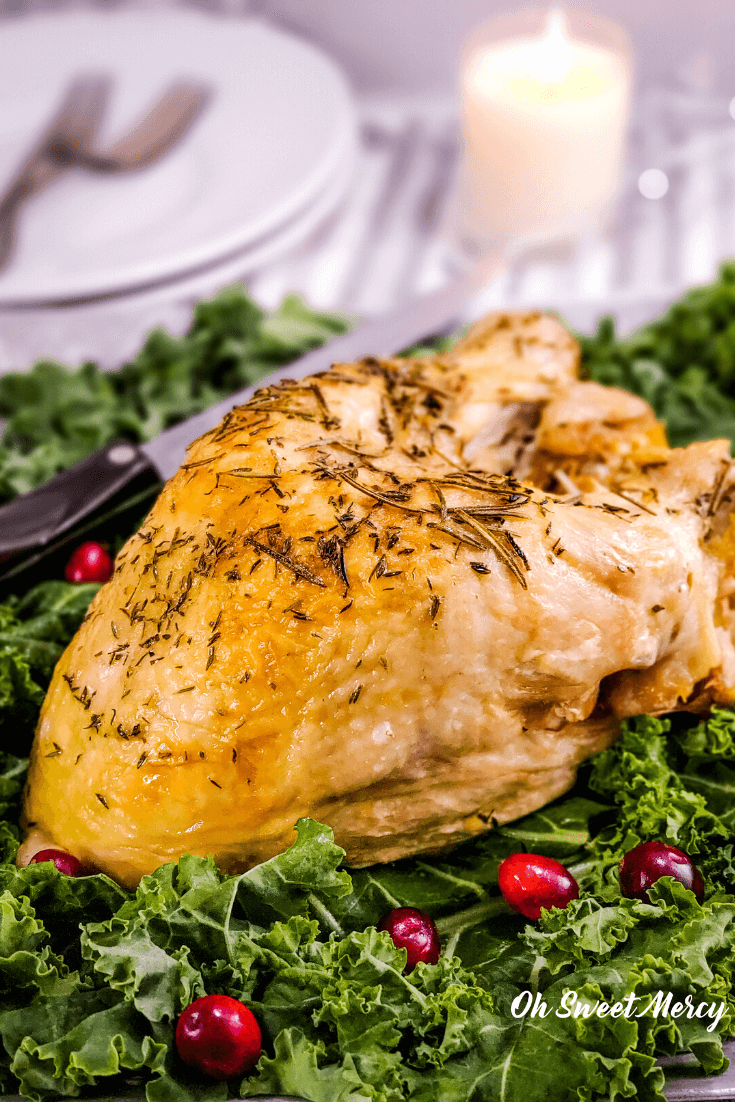 How To Cook A Frozen Turkey Breast In A Ninja Foodi
Prep Time: 10 minutes
Cook Time: 48 minutes
Additional Time: 8 minutes
Total Time: 1 hour 6 minutes
Forget to take your frozen turkey breast out to thaw? No worries! Use your Ninja Foodi to pressure cook it then use the Air Crisp lid to give it a golden brown finish. All in around an hour! Turkey breast perfection any time of year.
Ingredients
1 frozen, bone-in turkey breast; up to 5 to 6 pounds
1 cup broth or water
Poultry seasonings of choice such as rosemary, thyme, marjoram, garlic powder, onion powder
High mineral salt
Oil, butter, or other healthy cooking fat
Instructions
PRESSURE COOK THE TURKEY BREAST
Pour broth or water into the inner liner pot of your Ninja Foodi (or other pressure cooker).
Put the rack into the pot with the grilling surface down.
Remove packaging from turkey, including any pouches with gravy or giblets and remove.
Pat turkey dry and place onto the rack in the Foodi, breast side up.
Season the turkey breast as desired.
Secure the lid on to the Foodi and set the vent knob to SEALING.
Set the Foodi to PRESSURE and adjust the time (12 minutes per pound)
Push start.
After cooking cycle is finished, allow to naturally depressurize for 5 minutes then turn the vent knob to VENT to release the remaining pressure.
Remove the lid and test with a meat thermometer in the thickest part of the meat to test for doneness: 155 degrees as it continues to cook plus you'll be using the Air Crisp setting next.

AIR CRISP THE SKIN
Brush the skin with healthy fat for cooking, or spray if you have an oil sprayer.
Close the Air Crisp lid, ensuring the turkey breast does not touch the element. If it does, remove the turkey and the rack, drain the juices from the pot, and place the turkey back in.
Set Foodi to Air Crisp, set temperature to 400 degrees, and adjust time to 8 minutes.
Push start.
Check after 6 minutes or so and add more time if necessary (remember to push start!)
When browned to your liking, remove the turkey breast and let rest for 10 minutes before carving.

Recommended Products
As an Amazon Associate and member of other affiliate programs, I earn from qualifying purchases.