---
Most cranberry sauce recipes are chunky or set like a gelatin dessert. My easy Spiced Cranberry Sauce is smooth and pourable making it perfect for drizzling over desserts. Since it's a THM FP recipe, enjoy it with your favorite S, E, and FP foods.
---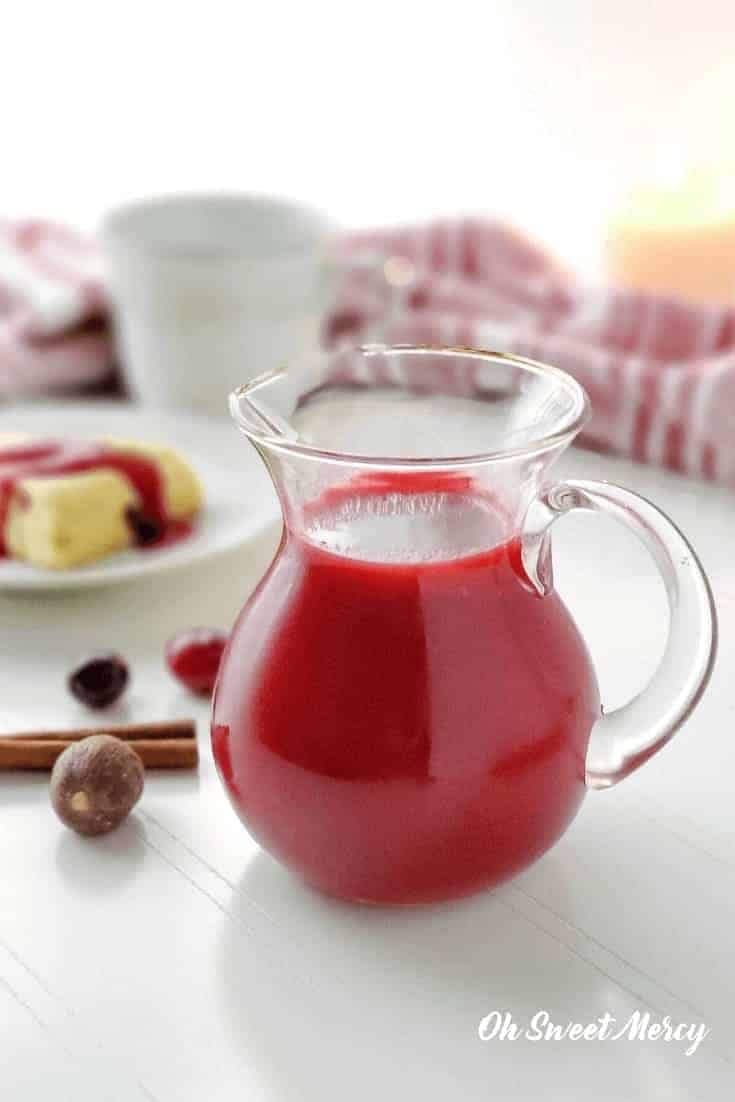 When I created my Spiced Stuffed Baked Pears recipe I thought a delicious sauce or syrup to drizzle over it would be perfect. Especially when adding a dollop of fat free Greek yogurt.
Since I love cranberries, and there's a small amount of cranberries in the filling for the pears, naturally a cranberry sauce is a must.
However, when searching for cranberry sauce recipes, most results are for the typical holiday recipes. You know, chunky and more like a relish. Or set like a gelatin dessert.
Not sure why those are called sauces! My sugar free spiced cranberry sauce is truly a sauce. It pours, just like you'd expect a sauce to behave.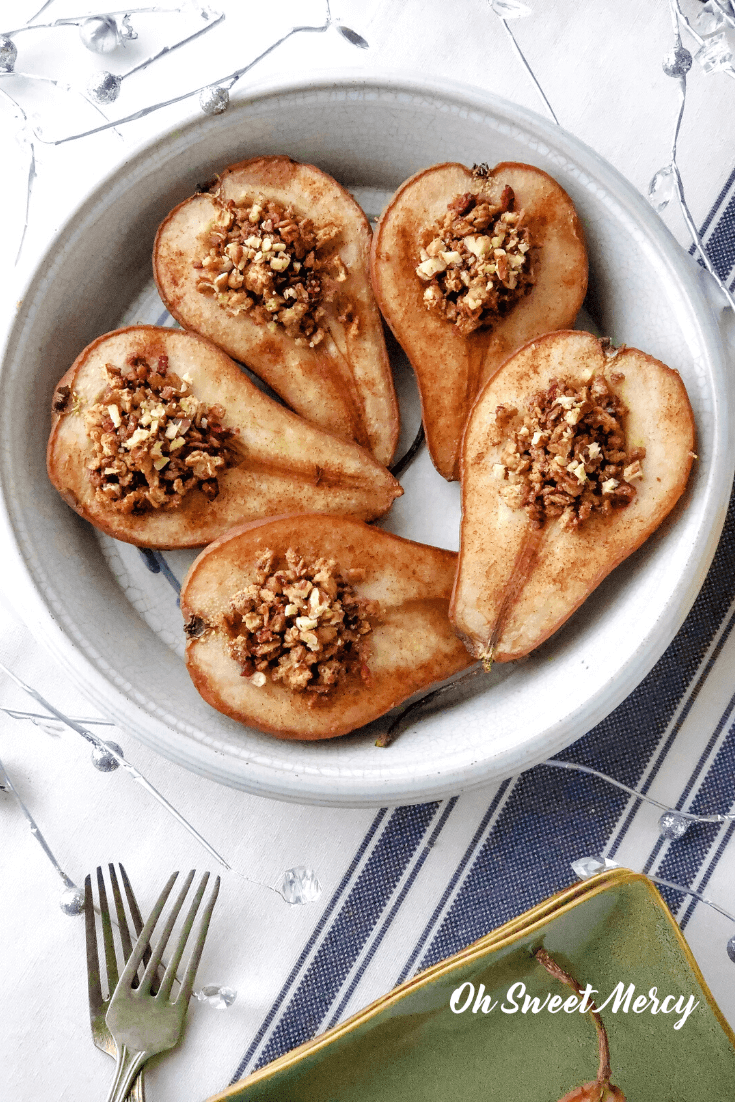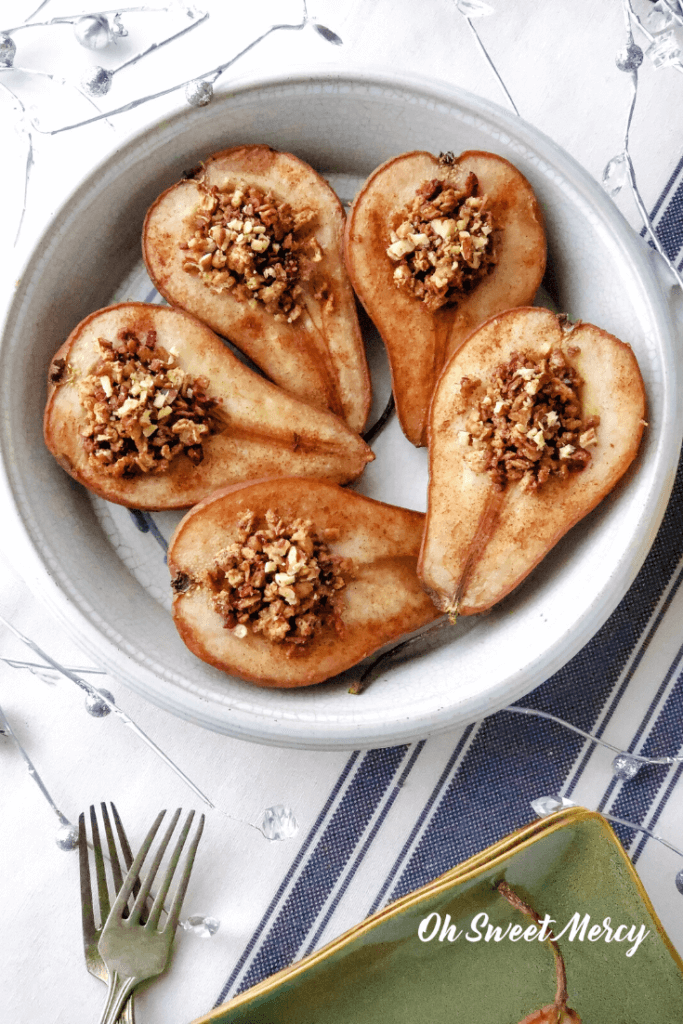 How To Make Smooth Cranberry Sauce With Fresh Cranberries.
Making cranberry sauce with fresh cranberries is really pretty easy. You'll need: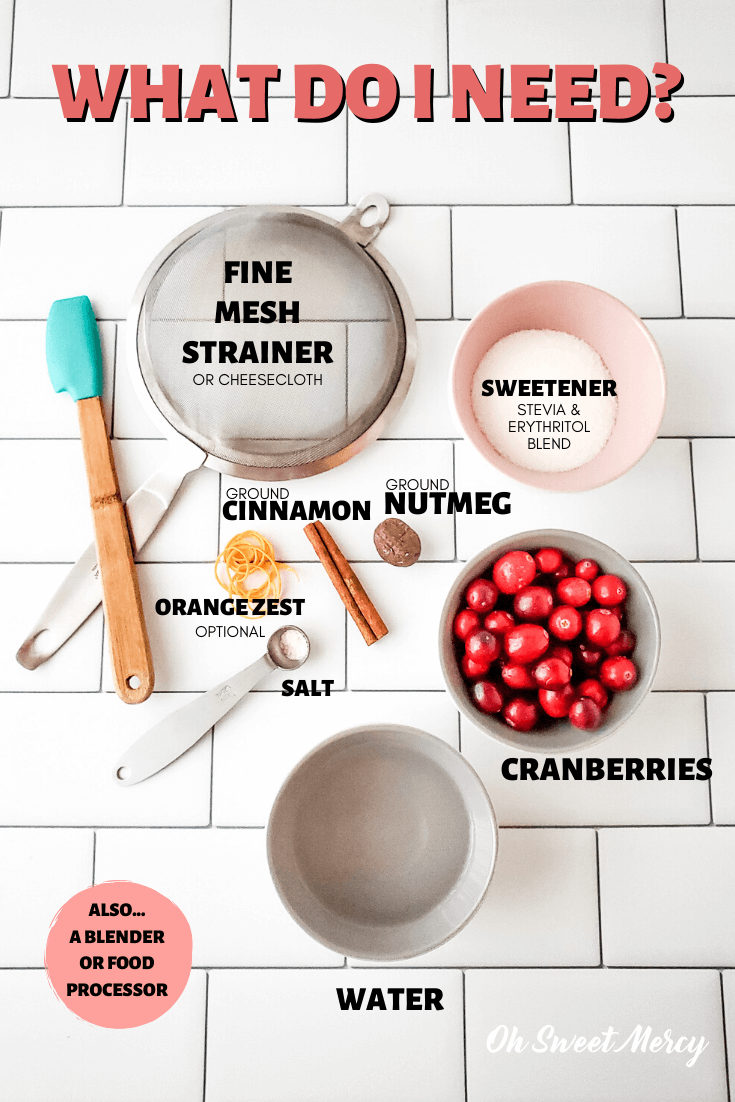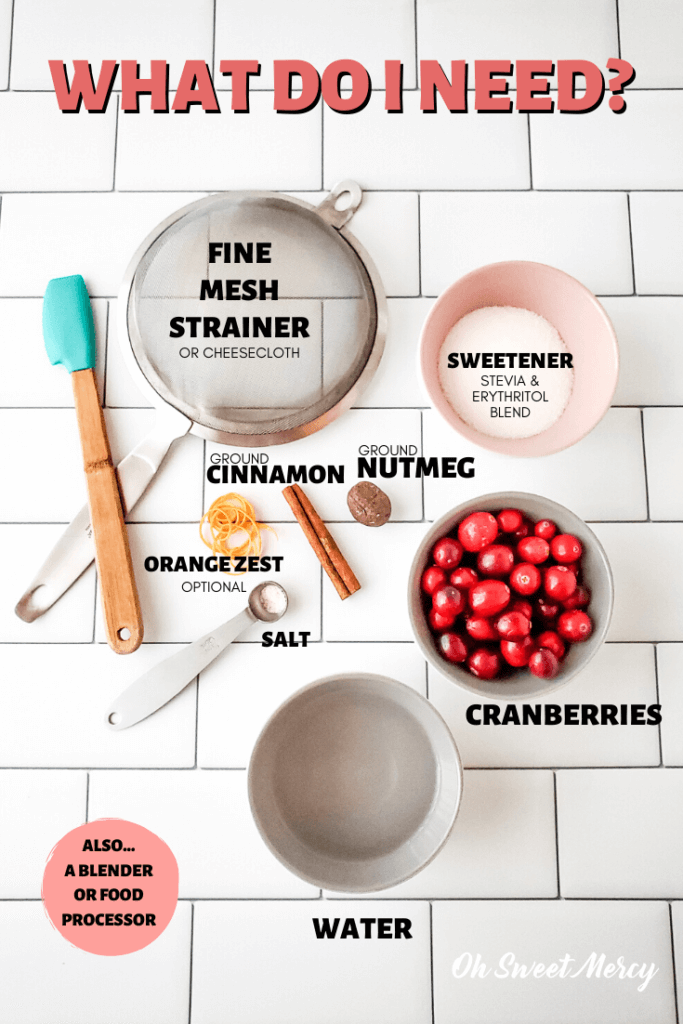 It takes just 4 steps to create this deliciously smooth and pourable sauce.
PUREE
I find it easiest to puree the cranberries with 1/3 of the water needed. It's just enough to make a puree.
Then, use the remaining water to swirl around the blender and get all the puree out of the blender jar.
COOK
Cook the puree over medium heat for 5 minutes, stirring constantly. It will bubble and spit just like tomato sauce if you don't keep stirring.
Cranberries stain, too! Wear an apron or at least not your best white shirt 😉
STRAIN
Push the cooked puree through a fine mesh strainer using a spoon or scraper. I love using my mini spatulas for this, they work perfectly.
This will take a bit of time and at first may look like you're not going to get much through the strainer. However, you should be able to get most of it pushed through.
TIP: I ended up with about 2 tablespoons of pulp and seeds left. This results in a bit thicker sauce. Stop at around 1/4 cup of pulp for a thinner sauce.

Alternatively, add water to thin it down as needed. Because of the pectin naturally present in the cranberries this sauce can thicken in the fridge.
Overall this homemade cranberry sauce only takes about 30 minutes to prepare.
SWEETEN AND FLAVOR
Since you'll be left with some pulp and seeds there's no sense wasting sweeteners and spices on that. That's why I just cook the cranberries and water together then sweeten and season after straining it.
Depending on how sweet you like your sauce you may want to add more (or less) sweetener. I love the tartness of cranberries and find that 1/4 cup of THM Super Sweet is just right.
Is Salt Necessary?
While you don't absolutely have to add salt, it can help cut bitterness. Try a pinch in your coffee some time if you find it too bitter! That's a tip I learned from Alton Brown.
Salt is also a flavor enhancer. I find that it also balances the sweetness in this sauce as well. Chocolate based recipes also taste better with a pinch of salt thrown it, especially hot chocolate.
If you have to watch your sodium intake feel free to omit the salt in this recipe.
How To Fit This Sugar Free Spiced Cranberry Sauce Into Your THM Meal Plan.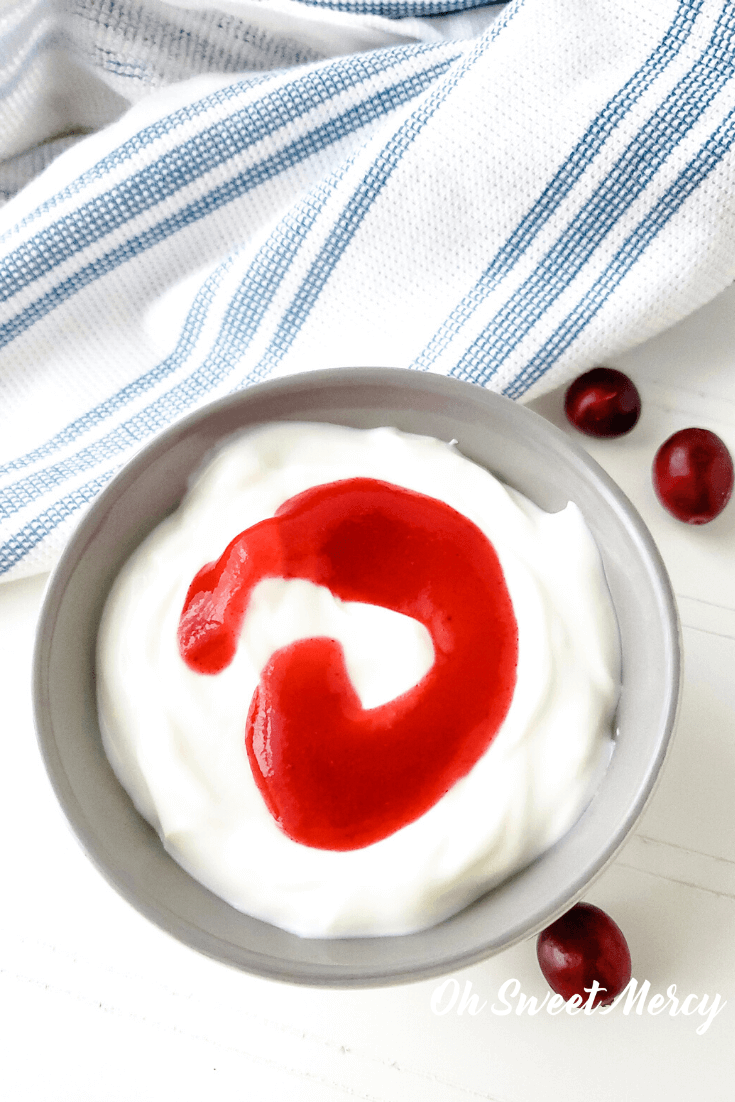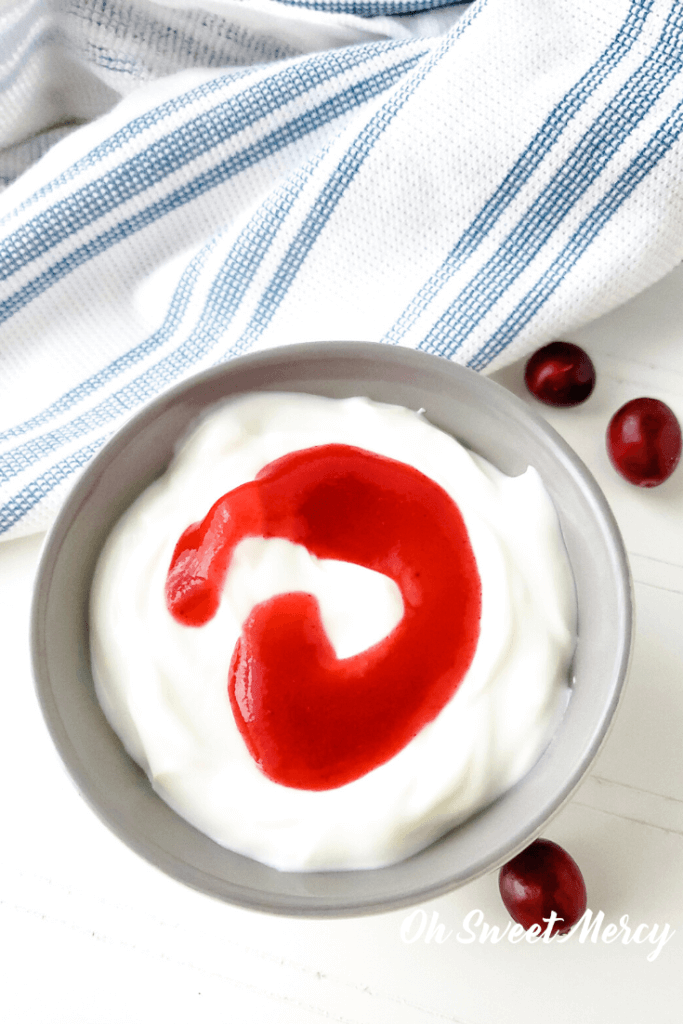 This lovely, spiced, tart sauce is a THM FP recipe. This means it's low in both fats and carbs. In fact, it's entirely fat free. It also means it can be used in THM S, E, and FP recipes.
In the recipe card below, you'll see the carbs amount listed as 3.2 grams. However, 2 grams of this is from the erythritol in the sweetener and do not count toward the net carbs per serving.
We also subtract the amount of fiber when calculating net carbs. Thus, each tablespoon only has 0.8 grams of carbs. So, practically carb free too!
Best Ways To Use Sugar Free Spiced Cranberry Sauce.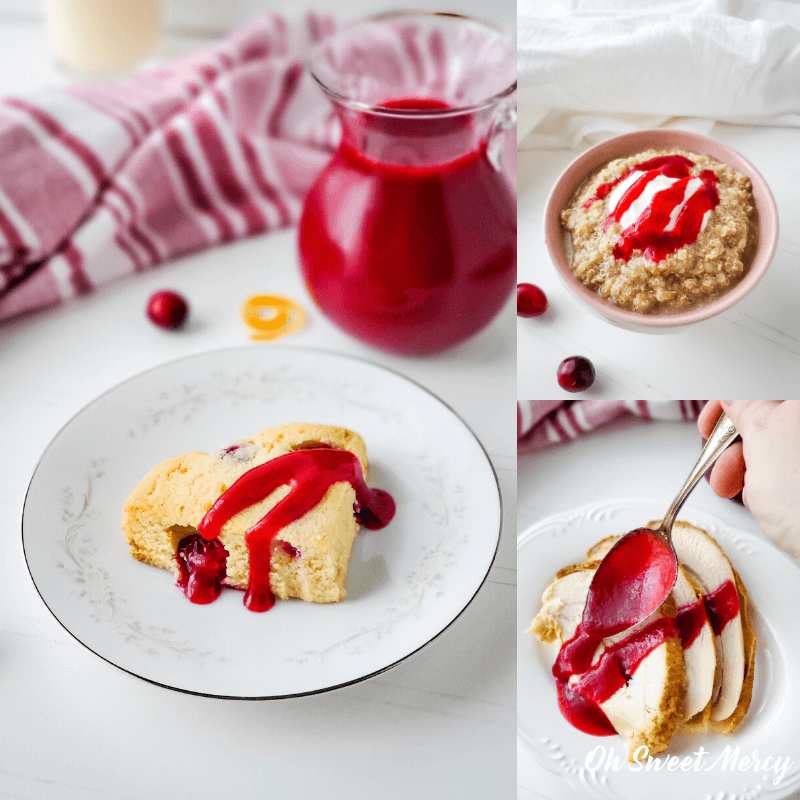 Drizzle warm over Spiced Stuffed Baked Pears for a dessert or snack (THM E).
Swirl cold into yogurt (THM S, E, or FP) also delish with no added sugar applesauce (THM E)!
Pour over on-plan ice cream (THM S, E, or FP).
Spread on a baked treat like a muffin (maybe my low carb Cranberry Orange Baobab Muffins?) (THM S, E, or FP).
Stir into your morning oatmeal (THM E).
Add to a smoothie or shake (THM S, E, or FP).
Or try a savory twist and top baked chicken or turkey (THM S or FP).
**Fuel types referenced in the above list depend on the recipe you choose to make.
When Not To Use This Cranberry Sauce.
On the Trim Healthy Mama plan, there is only one meal type where cranberries are a no — the Deep S meal. Berries of any kind are not allowed!
Deep S meals are pure protein, healthy fats, and ultra low non starchy veggies like greens.
How Will You Enjoy This Sugar Free Cranberry Sauce?
While cranberry sauce is typically thought of as a holiday thing, don't wait all year to enjoy it! Cranberries are full of vitamin C and antioxidants. They're good any time of year!
Pin The Image Below To Your Favorite Pinterest Boards: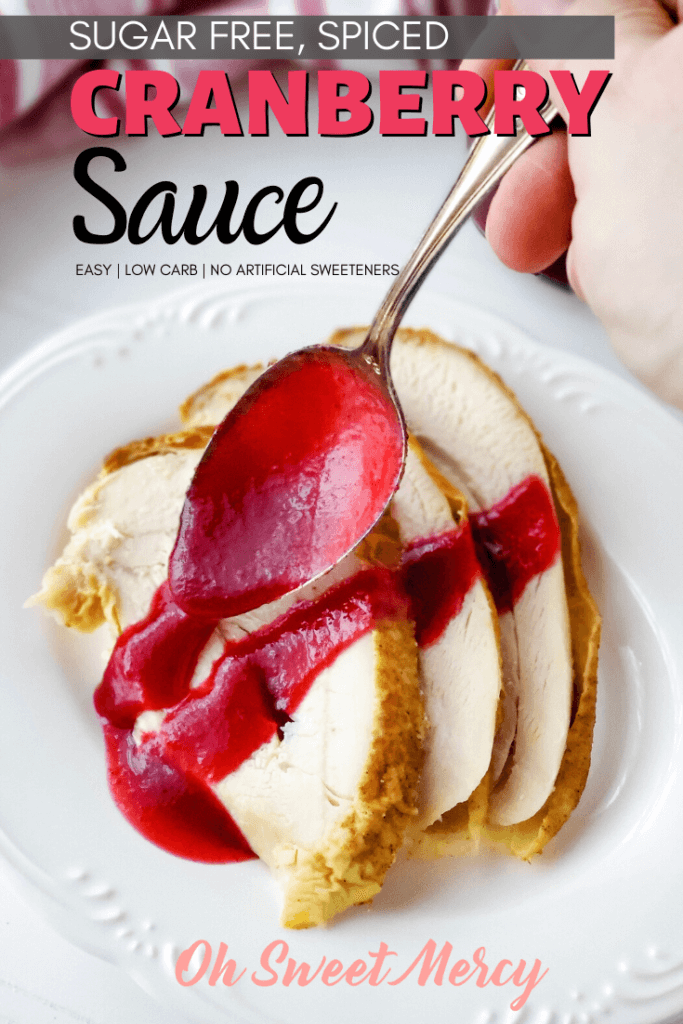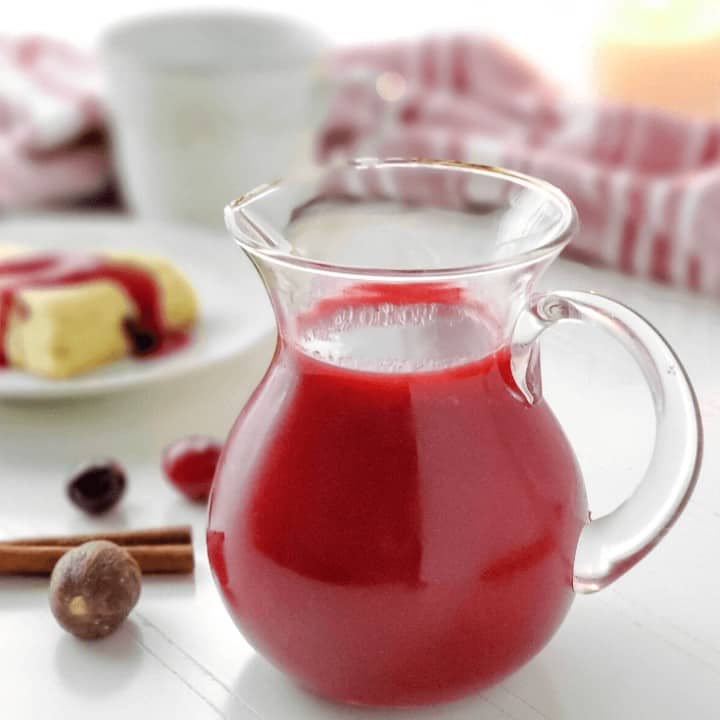 Spiced Cranberry Sauce | Sugar Free, THM FP
Yield: 1 1/2 cups
Prep Time: 7 minutes
Cook Time: 5 minutes
Additional Time: 20 minutes
Total Time: 32 minutes
This smooth, pourable spiced cranberry sauce is a perfect sugar free and low carb sauce to pour over yogurt, ice cream, and baked treats. THM FP so goes with S, E, and FP foods!
Ingredients
2 cups fresh cranberries, washed and sorted
1 cup water, divided
1 teaspoon pure vanilla extract
3/4 teaspoon ground cinnamon
1/4 teaspoon ground nutmeg
Instructions
Puree cranberries and 1/3 cup water until smooth, 30 seconds or so.
Pour puree into a sauce pan and add remaining water.
Bring to a simmer, stirring occasionally, over medium heat.
When simmer begins, stir constantly and cook for 5 minutes.
Carefully strain cooked puree through a fine mesh strainer, using a spoon or spatula to push the puree through the strainer. You should end up with about 2 tablespoons of thick pulp and seeds.
Whisk in the sweetener, spices, vanilla, and salt.
Adjust sweetness and/or spices to taste if desired.
Use warm immediately or refrigerate for later.
Recommended Products
As an Amazon Associate and member of other affiliate programs, I earn from qualifying purchases.
Nutrition Information:
Yield: 24
Serving Size: 1 tablespoon
Amount Per Serving:
Calories: 5.3
Total Fat: 0g
Saturated Fat: 0g
Trans Fat: 0g
Cholesterol: 0mg
Sodium: 1.5mg
Carbohydrates: 3.2 gramsg
Net Carbohydrates: 0.8 gramsg
Fiber: .4 gramsg
Sugar: .8 gramsg
Sugar Alcohols: 2 gramsg
Protein: 0g