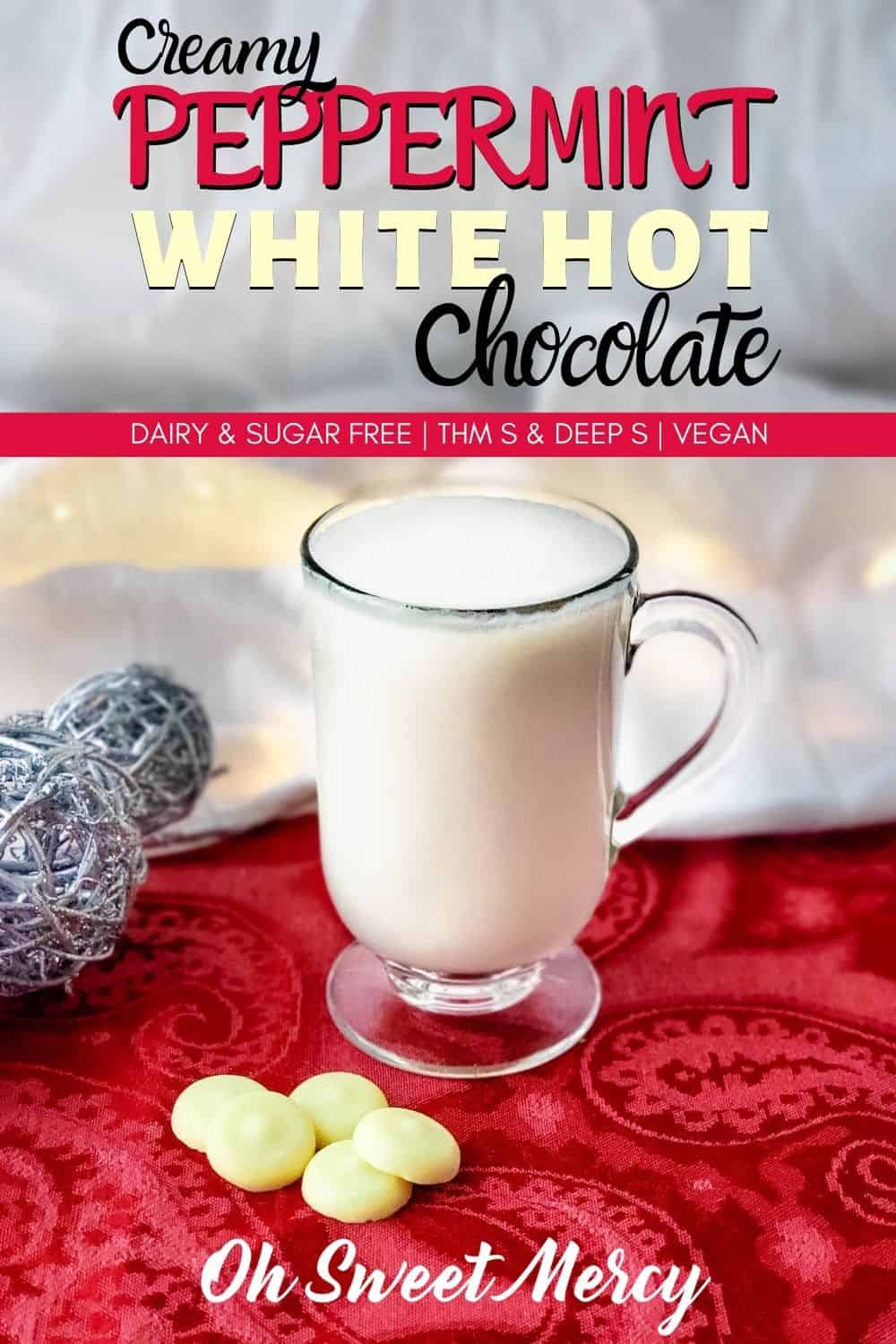 ---
This delicious, creamy, peppermint white hot chocolate is just the thing for cold weather days. Not only does it warm you and satisfy that sweet crave, it also nourishes you with the benefits of raw cacao butter. Trim Healthy Mamas, this one is even Deep S friendly! Perfect for the holiday season or any time of year.
---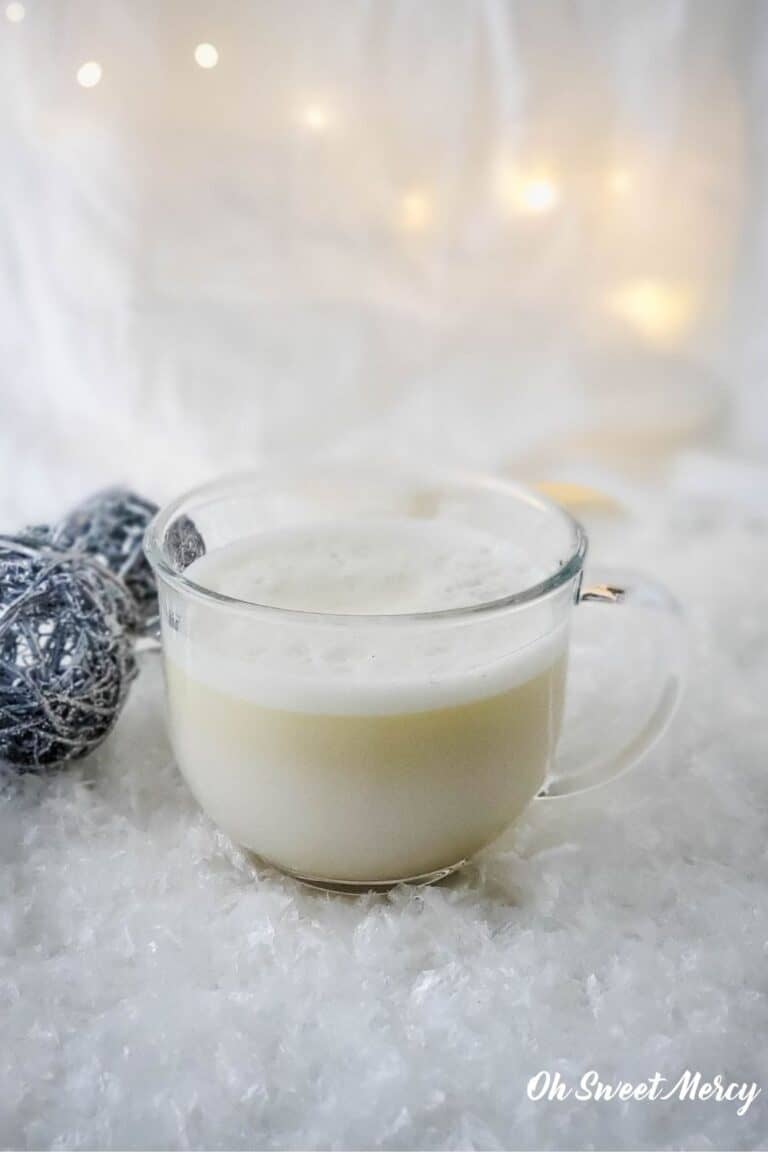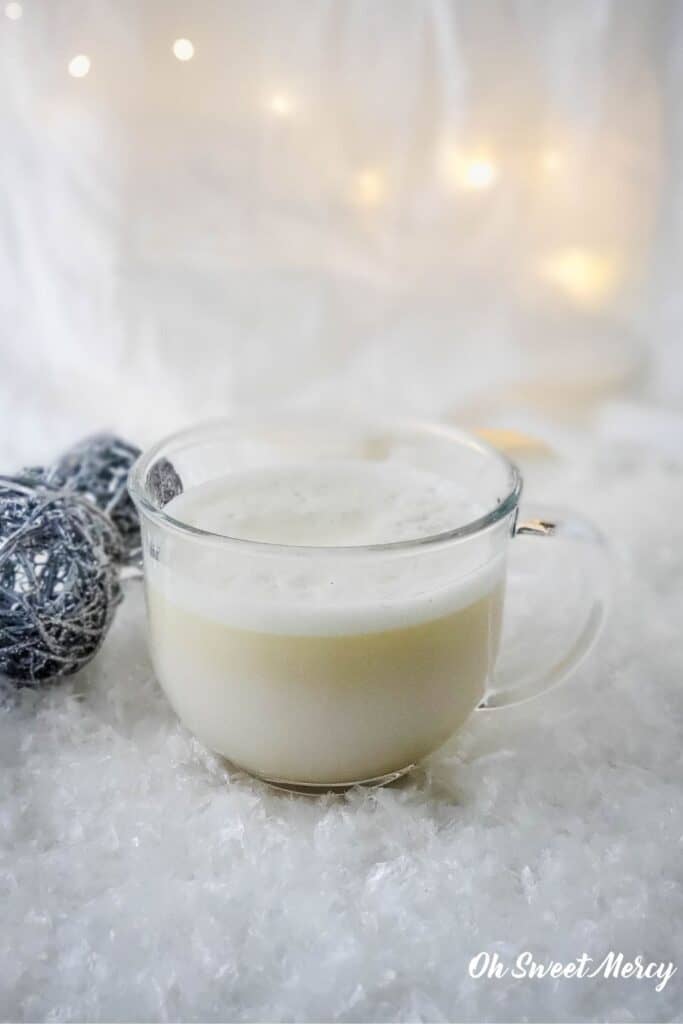 As we head into the holiday season, cozy drinks like creamy peppermint white hot chocolate sound delicious, don't they?
Before THM that meant sugar-laden drinks, often from expensive cafes. But it's so easy to make your own at home – with healthy, sugar free ingredients!
I do have a couple notes in the recipe card so be sure to pay attention to those!
What Do I Need For This Recipe?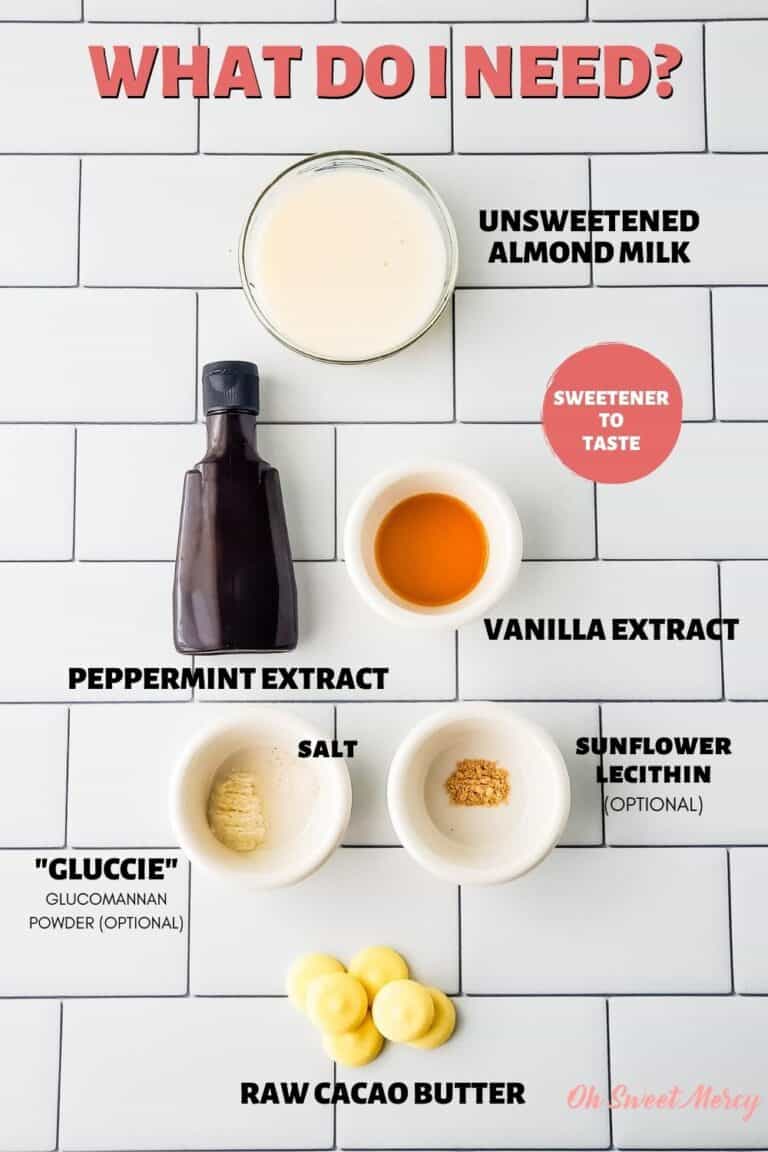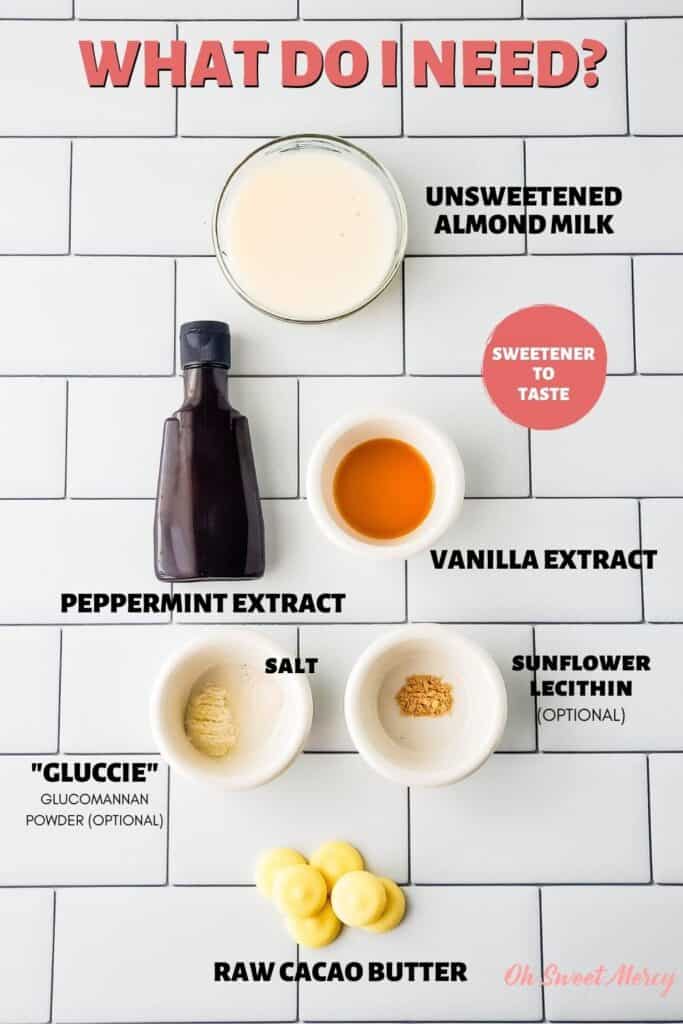 As shown above, you just need a few things to make this decadently delicious dairy free peppermint white hot chocolate.
While I do my best to use commonly found ingredients, if you want WHITE hot chocolate you need raw cacao butter, also called pure cocoa butter.
Be sure it's food grade! I find it at local health food stores. I've also ordered online. My 3 favorites are:
Benefits of Cacao Butter.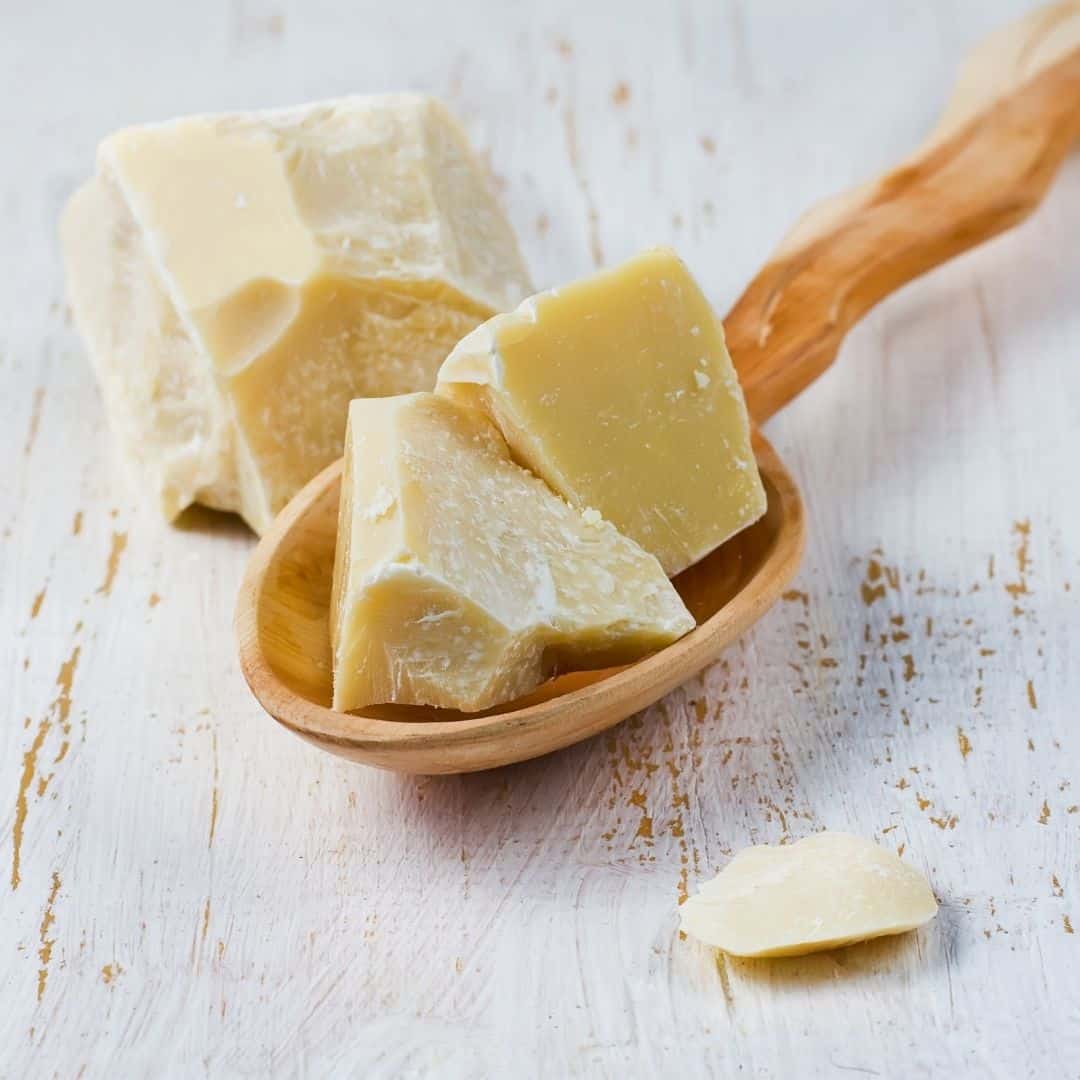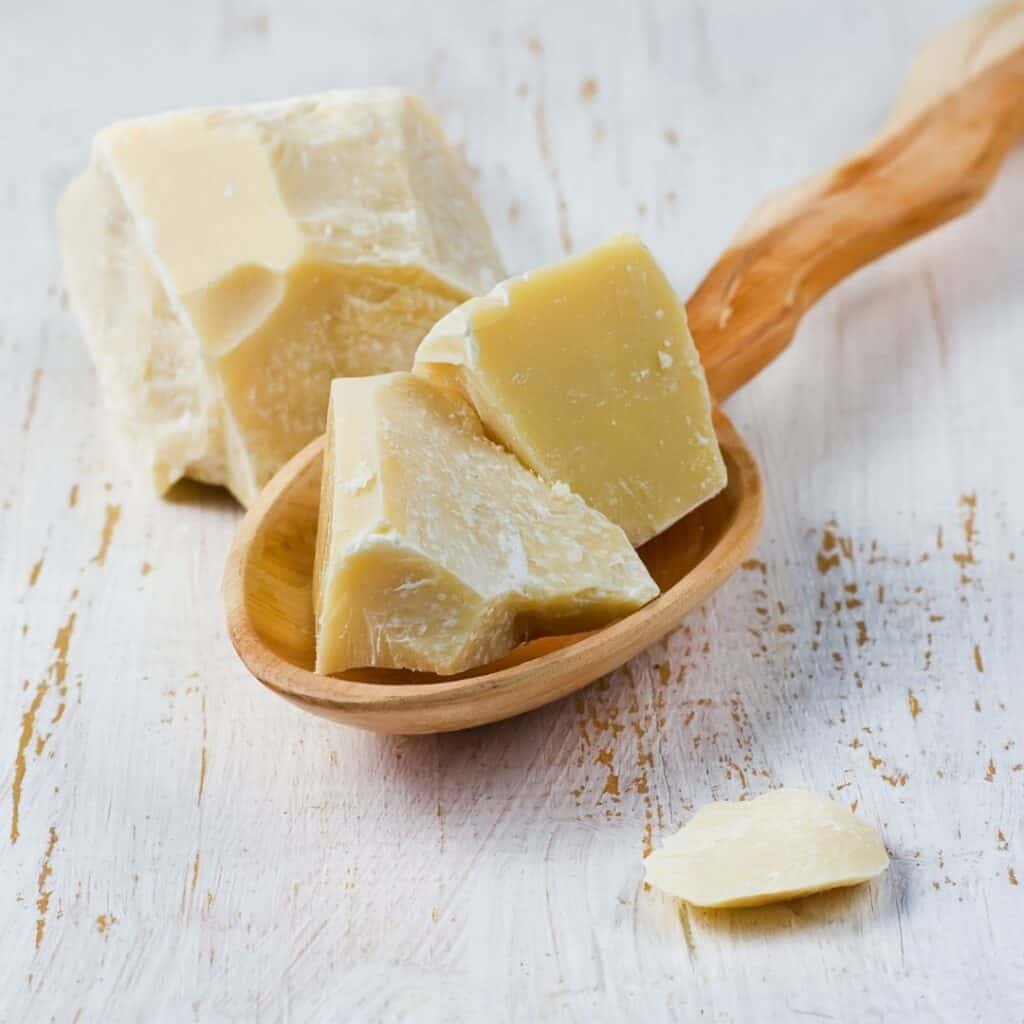 Since raw cacao butter isn't heated to high temperatures during processing, more of the natural nutrients and healthy fat components remain.
This healthy fat contains antioxidants and is a wonderful mood lifter! I can verify that last benefit for sure, as testing recipes multiple times that contain raw cacao butter leaves me feeling happy.
Also, I find I'm not so easily irritated and generally just feel more loving toward people. I love you, man. Really, I do!
Chocolate in general contains substances known to positively effect mood and release serotonin. Chocolate is, of course, typically made with cacao butter.
This is a perfect, nourishing, healthy fat for Deep S meals on the Trim Healthy Mama plan.
Do I Need Gluccie Or Sunflower Lecithin?
These ingredients help give a more dairy-like feel to this drink. However, feel free to omit them if you don't have them on hand or don't like using them.
The main reason for the gluccie is to help the melted cacao butter stay incorporated and not separate out.
One note on the gluccie though, if you're a slow sipper…this drink may thicken considerably as it cools. I found that using 1/8 teaspoon resulted in this, so just use a sprinkle or maybe 1/16th teaspoon (2 "doonk" scoops) instead.
The lecithin helps give dairy-free recipes a more dairy-like mouth feel, and taste. However, I did find it tricky to dissolve since it wasn't being blended.
You can do 2 things:
Blend the almond milk and lecithin in a blender (or bullet blender BEFORE heating)
Use a stick blender in your sauce pan
You can also try whisking by hand and get an extra workout but I found that method less than satisfactory. Of course, you can always just leave out the lecithin.
Can I Use Protein Powder Or Collagen?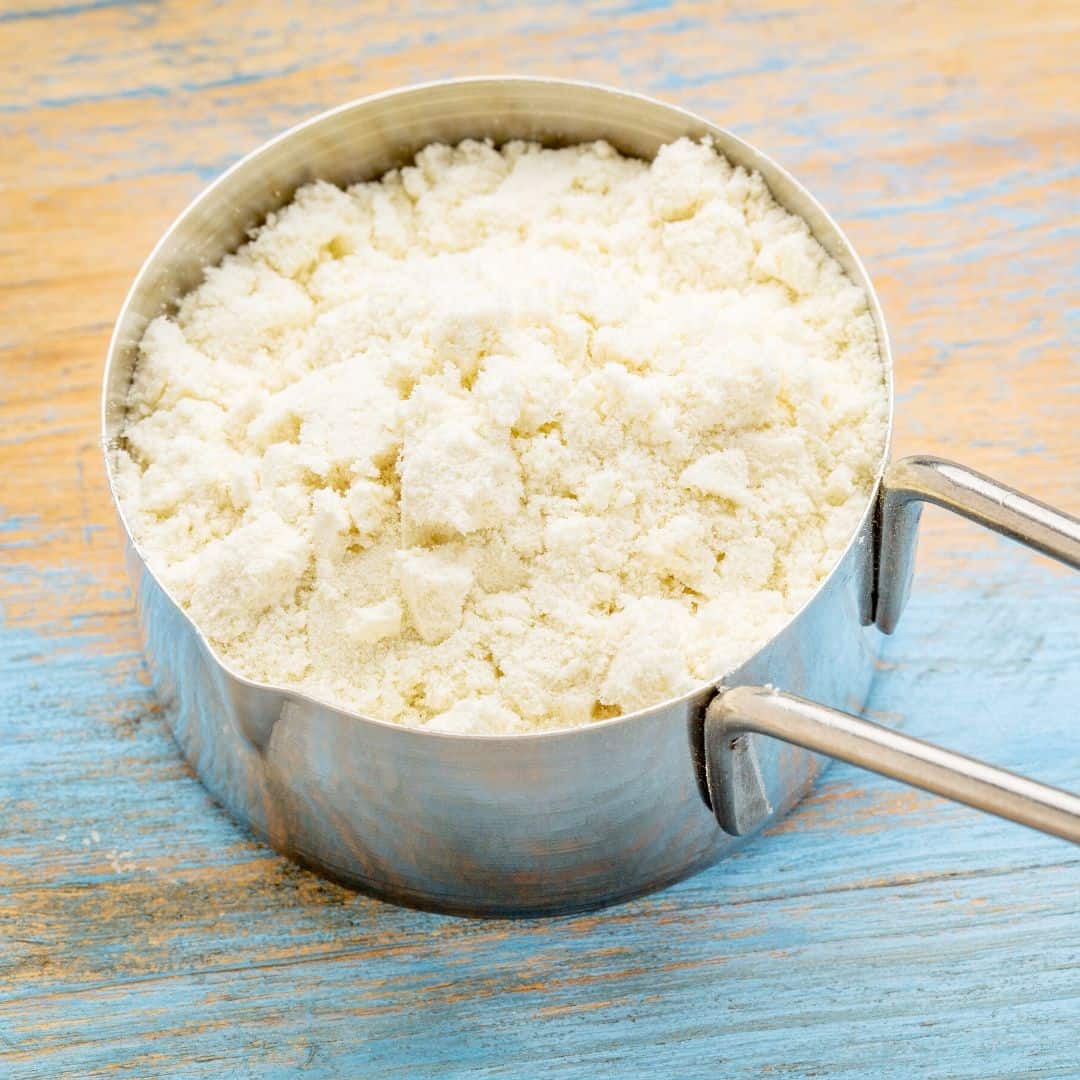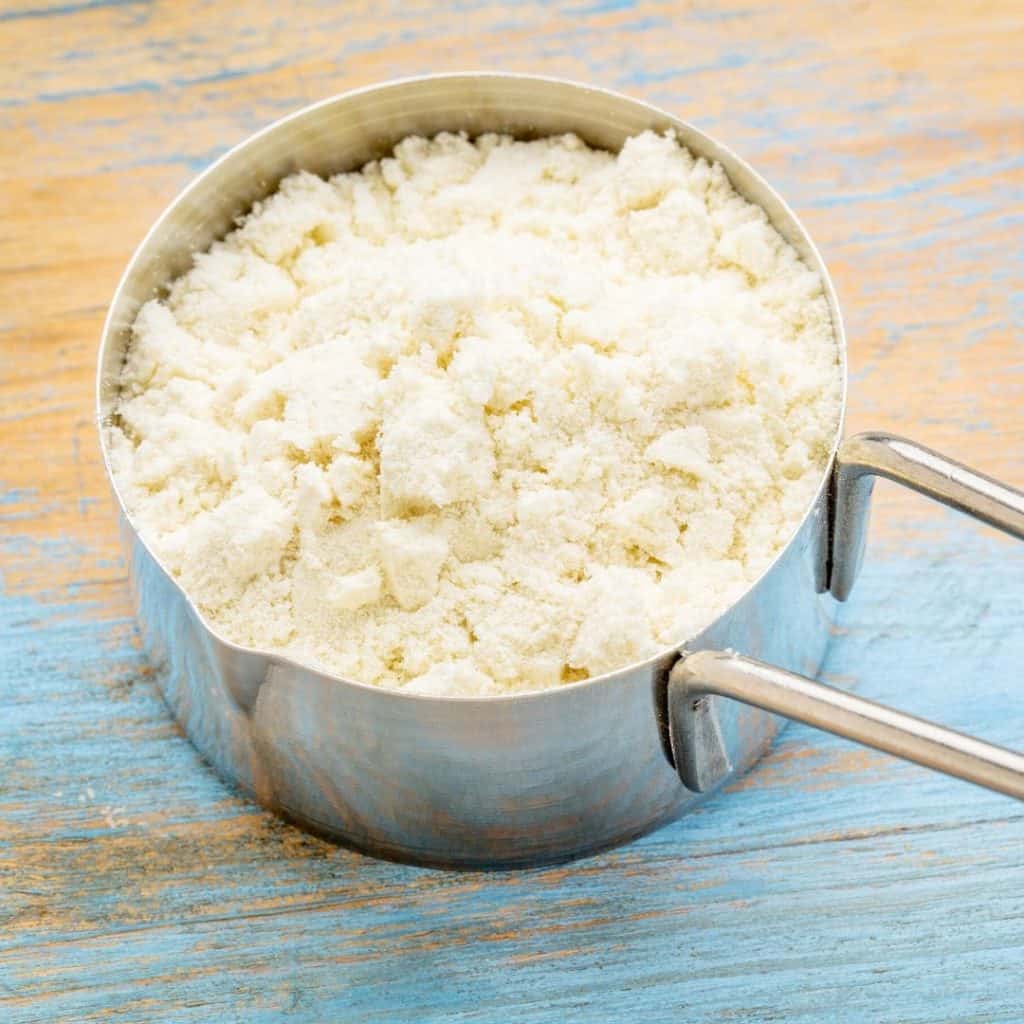 You certainly can add an on-plan powdered protein source to this drink, if you like.
I've not used any dairy-free protein powders, so I can't speak to how that affects flavor.
If you can use whey protein powder, it would be a delicious creamy boost. Just be careful adding it to hot liquid, it can easily curdle!
Add to the almond milk first before heating, then heat gently to avoid curdling.
More Dairy Free Beverages To Try: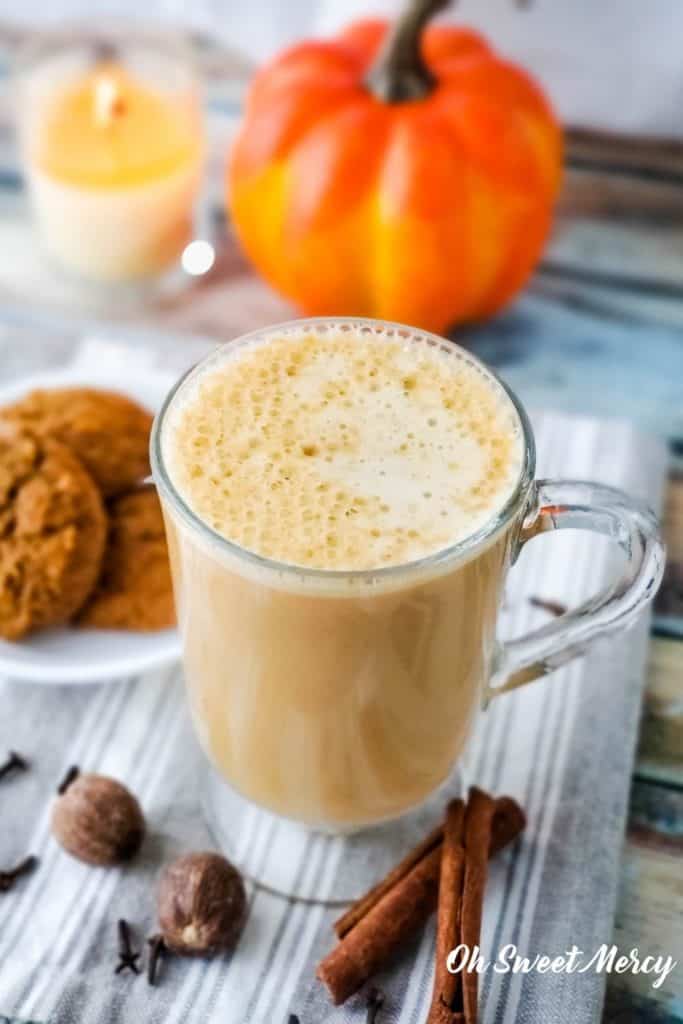 I've been working on adding more dairy free recipes to the blog! Here's a few more seasonal (and not necessarily seasonal) dairy free beverages for you:
Dairy Free Pumpkin Spice Steamer (FP or S)
Dairy Free Gingersnap Steamer (FP or S)
Low Carb Pumpkin Shake (FP or S)
Easy Superfood Chocolate Shake (S or FP)
Blueberry Lemon Smoothie (with a Secret) (FP)
If you can have whey protein, give these a try, they're best with that instead of collagen.
Maple Cinnamon Protein Shake (FP or S)
Chocolate Covered Strawberry Smoothie (FP or S)
Also, one of my absolute, all-time favorites is the Creamy Vanilla Custard Shake from Wonderfully Made and Dearly Loved. It uses whey protein but is Deep S friendly!
How To Fit This Dairy Free Peppermint White Hot Chocolate Into Your THM Day.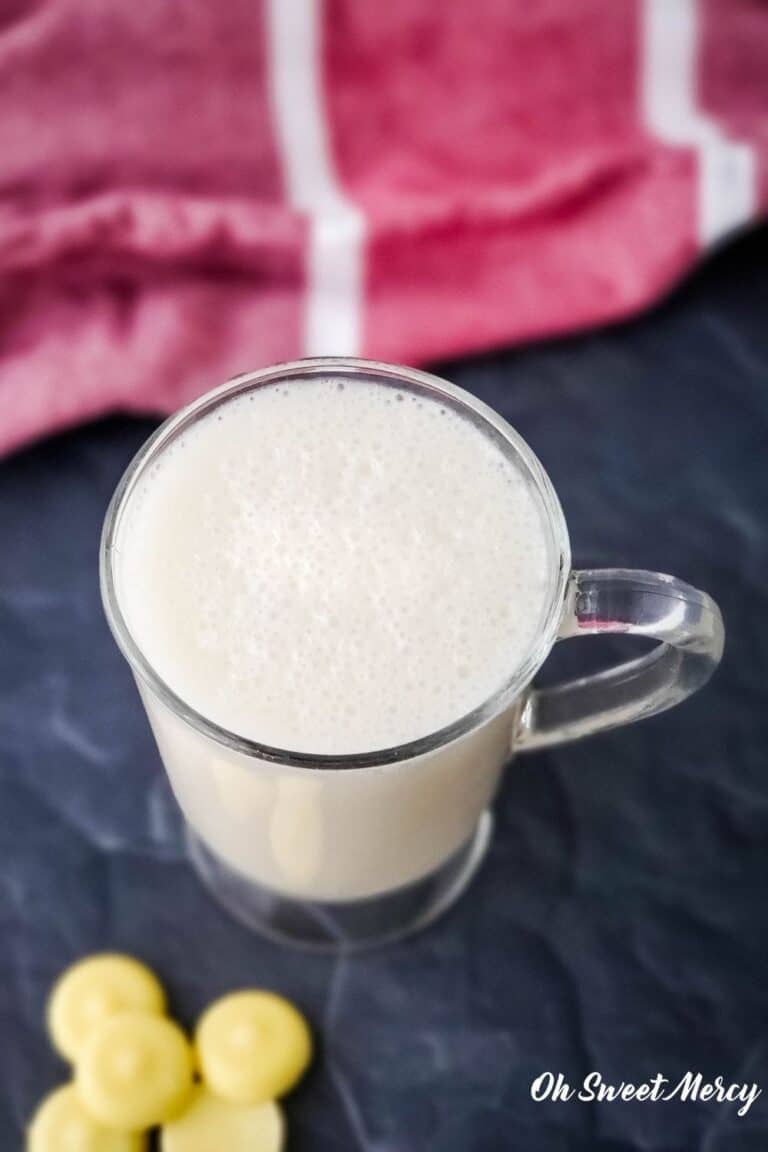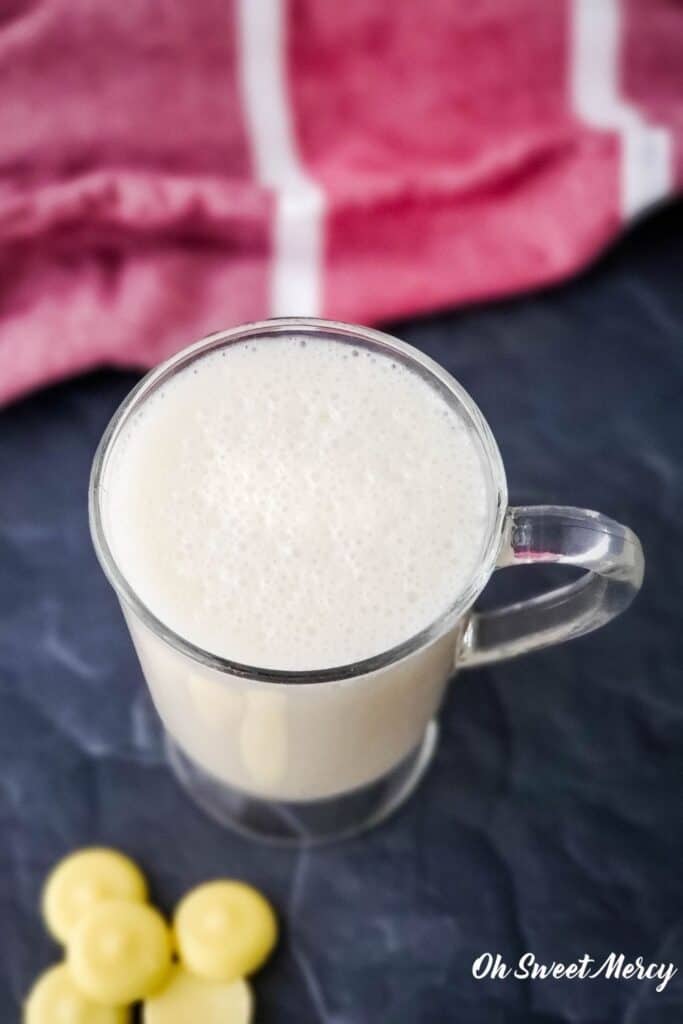 Since this is a high-healthy-fat THM S beverage, be wise on how you consume it.
For those in the Weight Loss Phase of THM, keep this drink in a low carb, THM S setting.
OR, enjoy as a decadent dessert beverage after either a Light S or Fuel Pull (FP) meal. Your Fuel Pull meal then becomes an S.
Light S Meal Example
This meal has lean meat and little to no other fat in it. So, you won't be going off the deep end with your fats adding this low carb peppermint white hot chocolate at the end.
Fuel Pull Meal Example
This meal has no fat and very little carbs. This also keeps your fats reasonable when adding this yummy drink as a dessert.
Are you in Maintenance Phase? Nursing or Pregnant?
Add this drink to a Light E meal or snack for a yummy Crossover. Or as part of an S Helper meal.
A Light E could be baked chicken breast, green beans, and a few Sweet Potato Kale Tots.
An S Helper might look like this: Low Carb Sloppy Joes on 1 slice sprouted wheat bread, steamed non-starchy veggies, and a side salad with a light dressing.
The best part about this drink? It's perfect for Deep S. So, if you get a little too indulgent during the holidays and need to do a few Deep S meals to get back on track, the nourishing fats in this drink are perfect for that.
It also satisfies that craving for creamy, sweet stuff without adding dairy.
So many options! I love the flexibility of the THM lifestyle. And I hope this delicious, creamy, dairy free peppermint white hot chocolate helps you stay on-plan during the holiday season.
Pin It!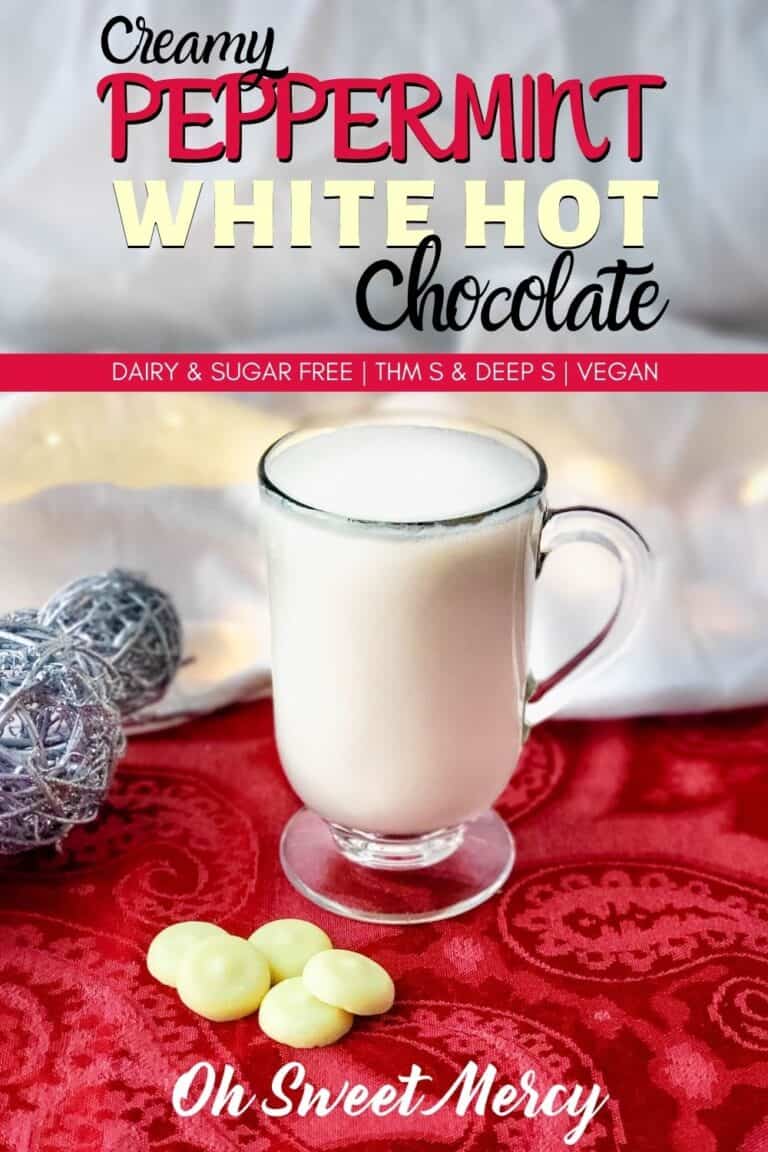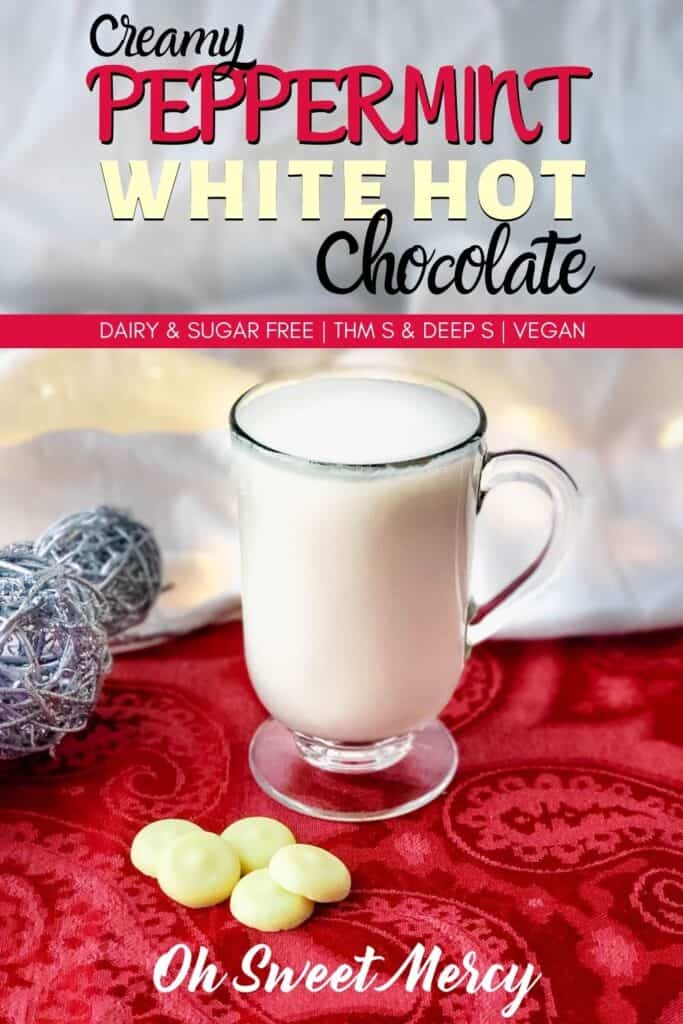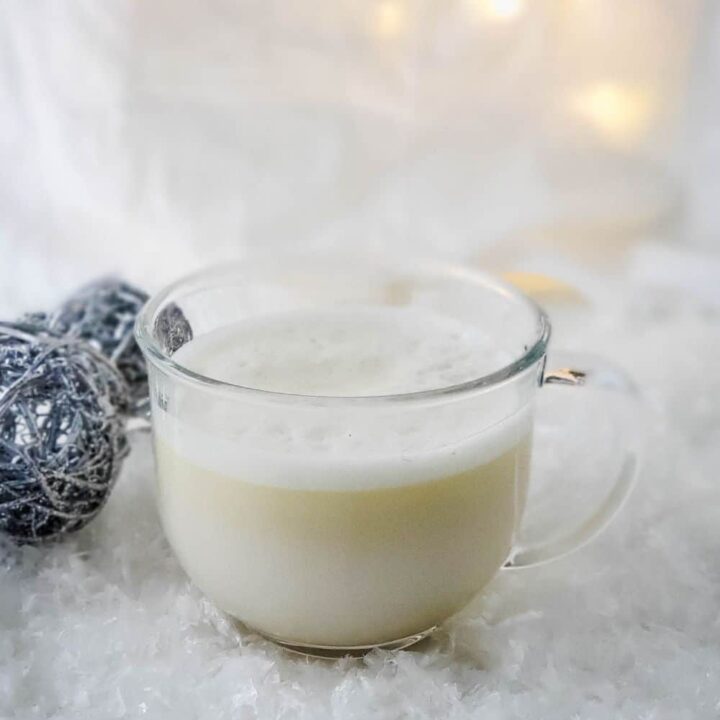 Creamy Peppermint White Hot Chocolate | THM S, Dairy Free, Vegan
Yield: 1 serving
Prep Time: 10 minutes
Total Time: 10 minutes
Ingredients
1 1/2 cups unsweetened almond milk (or other on-plan non-dairy milk)
2 doonks, or generous pinches, high mineral salt
1/2 to 1 teaspoon peppermint extract
Instructions
In a sauce pan, add non-dairy milk and raw cacao butter and heat over medium high heat until cacao butter is melted, whisking occasionally.
Add sweetener, salt, and if using, lecithin and gluccie, and whisk well until combined and frothy. See notes about using gluccie and lecithin.
Add vanilla and peppermint, taste and adjust sweetness and flavor as needed.
Notes
Lecithin notes:
I had a bit of trouble getting the lecithin to play nicely. If using a hand whisk, you may not be able to get rid of small clumps. I used the whisk attachment on my stick blender, tilted the pan, and whisked for about 30 seconds.
You could also put the almond milk and lecithin into a blender or bullet-type blender and blend before adding to your sauce pan. DO NOT TRY TO BLEND HOT LIQUIDS IN A BULLET-STYLE BLENDER.
Gluccie Notes:
If you're a slow sipper, this may thicken quite a bit, as it cools, before you finish it. It's fine to leave out the gluccie, or use just a sprinkle of it. I mainly use it to keep the cacao butter incorporated so it doesn't separate out.
Recommended Products
As an Amazon Associate and member of other affiliate programs, I earn from qualifying purchases.
Nutrition Information:
Yield: 1
Serving Size: 1.5 cups
Amount Per Serving:
Calories: 180
Total Fat: 19.1g
Saturated Fat: 8g
Trans Fat: 0g
Unsaturated Fat: 4.2g
Cholesterol: 0mg
Sodium: 270mg
Carbohydrates: 3g
Net Carbohydrates: 1.5g
Fiber: 1.5g
Sugar: 1.5g
Protein: 1.5g
Nutrition information is approximate and based on the best knowledge available at the time of recipe publication. Your results may vary due to differences in ingredients. You can make your own calculations if this recipe does not include nutrition info by using an online calculator such as https://recipes.sparkpeople.com/recipe-calculator.asp