---
SweetLeaf so kindly sent me a sample of their WaterDrops Natural Stevia Water Enhancer to review. So I came up with an easy DIY protein water recipe! Save money, hydrate naturally, and get protein when you need it.
---
Are you getting enough water every day? Or protein?
That's a challenge for many of us and when the weather warms up, staying hydrated is essential. If you just can't do plain old water or get bored drinking plain old water, you need a flavorful option that won't upset your healthy eating plan.
I've got the perfect solution for you, plus a free recipe!
SweetLeaf WaterDrops Natural Stevia Water Enhancers! They are an easy way to boost the flavor your boring glass of water without adding sugar or artificial colorings.
I'm sorry water, for calling you boring…there's nothing wrong with plain old water, sometimes I'm just in the mood for a little bit more than what you have to offer. It's nothing personal!
A box of SweetLeaf WaterDrops water enhancers was dropped on my doorstep.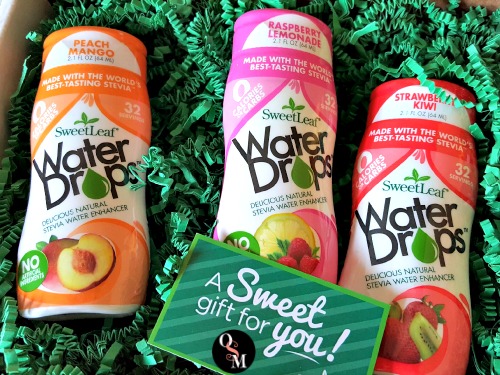 It was perfect timing, too – I was heading out the door to meet some friends at a restaurant.
Of course, I took the SweetLeaf WaterDrops along with me and shared. We tried all three flavors and they were a big hit! There's also a Lemon Lime flavor available, but that one wasn't in the box.
The next day, I found myself afflicted with Food Apathy.
You've been there, right? Your kids are sick. You're tired. You really need to eat, like an hour ago (because you were busy and forgot). Nothing sounds good. You need protein. And you need it to be quick and easy. That's just where I found myself.
Then I thought of protein water.
I've had protein waters before, they're not bad. But they're also not necessarily the healthiest either. You'll find ingredients such as Potassium Sorbate, Potassium Benzoate, Sucralose, Acesulfame Potassium, Red 40 and Blue1 in some beverages. The FDA says they're safe, but you may disagree.
I haven't had one since I've been on the Trim Healthy Mama plan, so I'm not sure if any are on plan. I am certain, however, that they are not cheap!
Even buying in bulk and having it delivered to your door is pricey (although convenient). Oh, if only we could make our own.
I've got some good news for you…you can! With just three ingredients – or, only two if you consider water a given.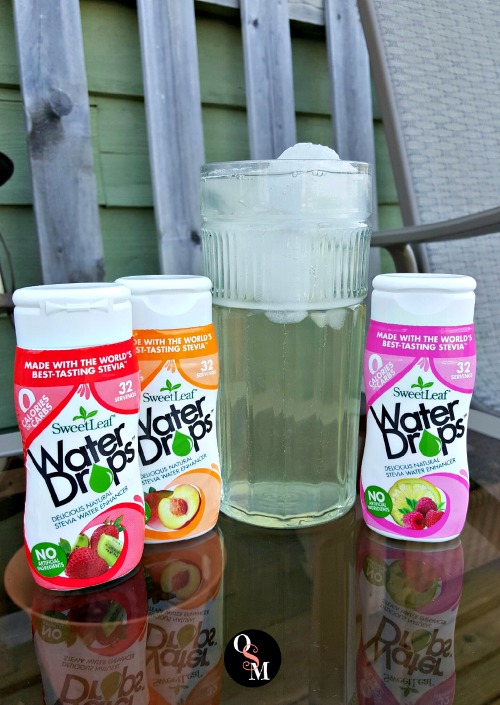 In just a few minutes, you can be lounging on your deck, sipping on this delicious, healthy protein water enhanced with the stevia-sweetened power of SweetLeaf Water Drops. Aaaahhh….
How to make your own healthy, sugar free, carb free protein water with SweetLeaf WaterDrops.
You'll need some WaterDrops and a protein source that will dissolve in water. For Trim Healthy Mamas, that can only mean one thing, right? Collagen!
Collagen is similar to gelatin, but it won't thicken liquids and dissolves nicely, even in room temperature water. One scoop of Integral Collagen provides 11 grams of healthy protein.
Let's talk about FLAVOR for a moment…
I've seen some THMs in the groups on Facebook say 'I can't stand the taste of collagen!" But many of us can't taste a thing! What gives? I asked in the main group to see if it was a brand thing or a taste bud thing.
From my purely random and not scientific sampling, I can only conclude that it's a taste bud thing.
If you can't taste collagen, or aren't bothered by it if you do, you'll love this super easy recipe. SweetLeaf WaterDrops really do enhance the flavor of your water, without adding a bunch of junk you don't want in your body. You'll find yourself wanting to sip on this delicious protein water every day, and your body will thank you for it!
SweetLeaf WaterDrops usage tip: "you can always add more, but you can't take it out." Start with one squirt and add more if you need it.
There are two ways to mix up this DIY Protein Water.
One is simply using a whisk or frother. Add some water to your glass first, then add your collagen powder, whisk a bit, then add the remaining water and SweetLeaf WaterDrops. Continue whisking until the collagen is completely dissolved.
I've only used the THM brand, Integral Collagen, so I can't comment on how well other collagen powders dissolve in room temperature water. The THM brand does dissolve completely, just be patient if it looks like it won't.
You can also pop everything into your blender and give it a whirl for about ten seconds or so. My blender is an Ambiano, the Aldi version of a Vitamix. It's amazingly powerful and the result was a pitcher of foam! I thought it would take forever for the foam to dissipate but it took less than three minutes.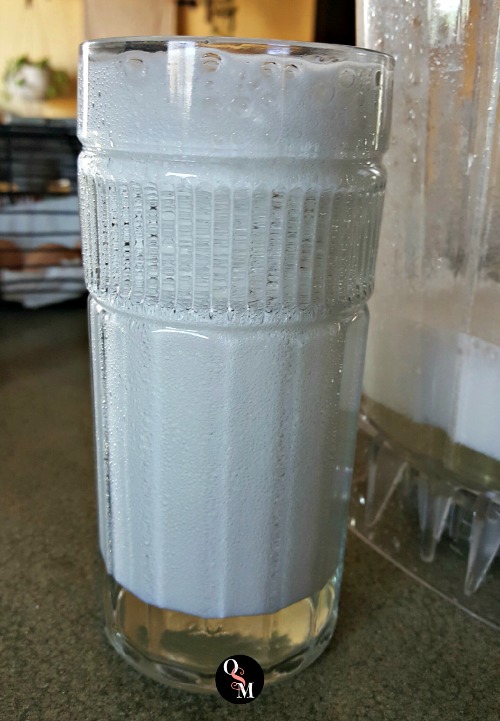 So, it really took about the same amount of time using the whisk as using the blender – the whisk takes a bit of physical effort, the blender requires waiting for the foam to disappear.
Using SweetLeaf WaterDrops natural water enhancers is a great way to stay hydrated during hot, steamy summer days.
There is nothing more refreshing than a delicious, cold beverage after an afternoon of yardwork, a vigorous walk or run, or just a long, hot day when you don't have air conditioning.
Water is a healthy hydration choice, and when you're wanting something flavored but not wanting sugar, calories or chemical additives you'll want to add WaterDrops to your healthy glass of water. You'll simply get a boost of flavor, and nothing else. You can find WaterDrops in over 7000 stores nationwide. Click here to find a store near you.
Or, if you like the convenience of online ordering, try my affiliate partner. It doesn't cost you any extra but does help me keep providing you with free recipes like this one!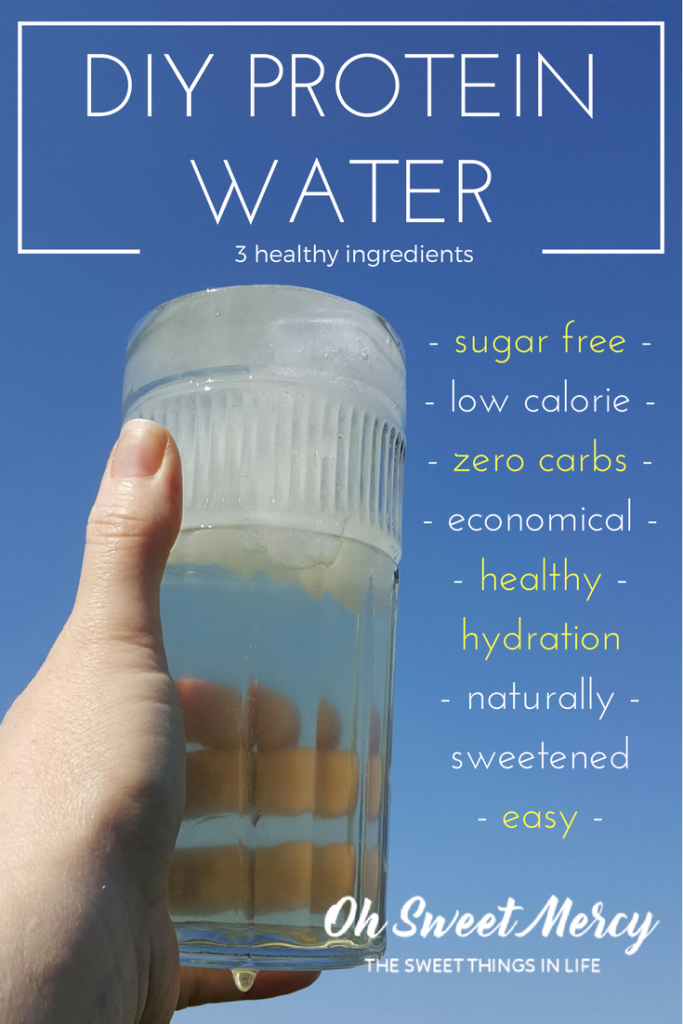 Trim Healthy Mamas, take note!
This refreshing, hydrating beverage is NOT a sipper because it contains protein, which is a fuel source. You can, however, supplement a meal that is lacking a little on protein, include it as part of a snack (it would be a Fuel Pull on its own), or after a workout.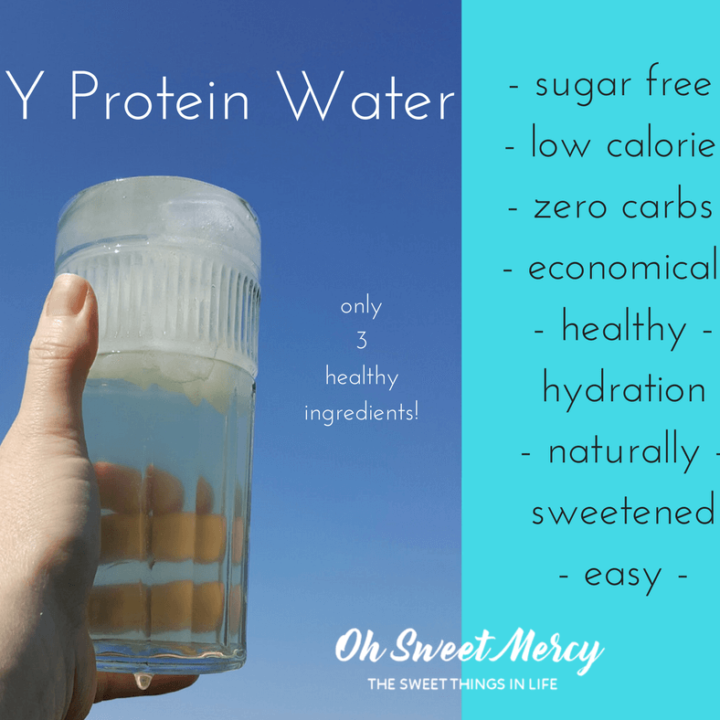 How to Make Your Own Protein Water with SweetLeaf WaterDrops
Yield: 1
Prep Time: 5 minutes
Total Time: 5 minutes
Just 3 simple, healthy ingredients transform your plain old water into a refreshing, hydrating, protein-packed drink. Sugar free, low calorie, and zero carbs!
Ingredients
Instructions
Add all ingredients to blender jar
Blend for 10 seconds or until collagen is completely dissolved
Wait several seconds for foam to dissipate
Pour over ice and enjoy
Notes
Trim Healthy Mamas, this is NOT a "sipper" because it contains protein. It is, however, a perfect beverage to include when you're not feeling like eating a whole lot, in a hurry, or after a workout.
Recommended Products
As an Amazon Associate and member of other affiliate programs, I earn from qualifying purchases.
Nutrition Information:
Amount Per Serving:
Calories: 42
Cholesterol: 0mg
Sodium: 60mg
Carbohydrates: 0g
Fiber: 0g
Sugar: 0g
Protein: 11g

Be sure to PIN this easy DIY Protein Water Recipe to your favorite Summer Beverages board!
DISCLOSURE: I received this product in order to do a review. The opinions expressed above are entirely my own.