---
Say goodbye to boring old tuna salad. Punch up your lunch with pops of salty caper-y goodness. Capers are more than just flavorful, they are surprisingly high in phytonutrients, antioxidants, vitamins, and minerals. This low carb, healthy fat recipe is perfect for a Trim Healthy Mama lunch, supper, or snack. Or breakfast. No judgment here.
---
What comes to mind when I say "Tuna Salad"?
Maybe bland, mushy-ness sandwiched between soggy pieces of white bread, wrapped in plastic, waiting patiently on the shelf of a convenience store refrigerator (for who knows HOW long)? If that's the case, you'll be delightfully surprised with this punched-up tuna salad recipe. It's a twist on a classic with an ingredient you probably never thought of adding.
When I was a kid, tuna salad came three ways.
We were a mayonnaise and Miracle Whip household, as my dad hated the whip and would only eat mayo.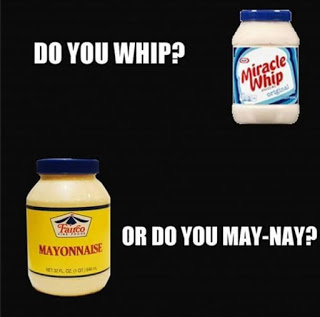 Mom liked both, especially the whip on "Merry Go Round" sandwiches – so called by my baby brother, who just couldn't say Miracle Whip.
This probably sounds completely weird, but something magical happened when mom took some white bread, spread peanut butter on one slice, Miracle Whip on the other, and sandwiched a thick slice of fresh, ripe garden tomato between them. I can still remember how they taste.
No, I'm not going to suggest adding peanut butter to your tuna salad. That would just be nasty.
Since we had both mayo and the whip in the fridge, I had tuna salad made with one of those and sometimes with onions, sometimes without. Never any of that sweet pickle relish nonsense, either. So when I once had the misfortune of eating a convenience store tuna sandwich, I was just completely shocked. Ugh. Gross!
Don't eat those. Ever. Just don't.
Now that I'm all grown up, I've learned to try new things.
I once had a jar of capers in my cabinet for over a year. I bought them at a local Amish-run scratch-and-dent grocery store, because they were cheap and I thought, well why not?
But then they just sat there in my cabinet. Staring me down. Daring me to try them.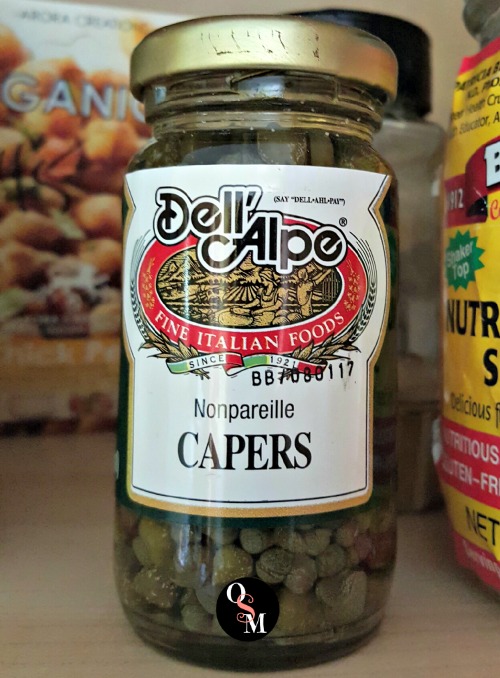 I was afraid.
What if they taste nasty? Or worse, what if they have a weird texture?
Then I started seeing realfoodrevolution's posts on YouFood…delightful looking dishes with capers in them. I started to really get intrigued. So I asked her…what do they taste like?
Salty. Vinegary. A punch of flavor. Oh sweet mercy…I can definitely go for that!
What are capers, anyway? Are they good for you?
If you don't know what capers are, you'll probably be shocked to discover that they are actually the flower buds of the caper bush or Capparis spinosa. They must be hand picked, which makes them a bit more expensive (but trust me, they are totally worth it!).
Capers are then dried and pickled in a salty brine, or sometimes packed in olive oil. The smallest and most desirable are the non-pareil, which is most often used in recipes.
Larger varieties of capers are eaten like olives. These little gems are very similar in flavor to green olives. You should find them in the same section as olives at your local grocery store. If not, you can order them from my affiliate partner.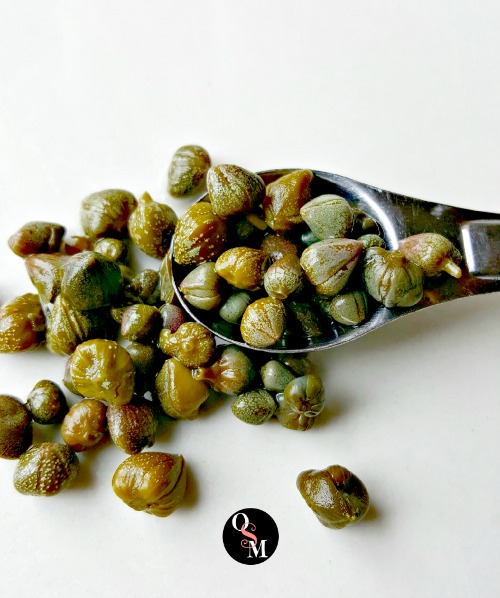 Capers are surprisingly good for you! They are high in phytonutrients, antioxidants, vitamins, and minerals.
Capers are one plant source high in rutin (or rutoside) and quercetin, both are powerful antioxidants.

Research suggests that quercetin has antibacterial, anticarcinogenic, anagesic and anti-inflammatory properties.

Rutin strengthens capillaries and inhibits platelet clumping in blood vessels, which help in smooth circulation of the blood.

Capers contain vitamins A and K, niacin and riboflavin as well as calcium, iron, copper, magnesium, phosphorous, selenium and more. [source]
One note, they can act as a blood thinner so if you're having surgery any time soon, you might want to consider skipping the capers.
Make this salad creamy or vinaigrette style to suit your needs.
If you are a Trim Healthy Mama plan follower, you can make this salad suit any style of meal. While I prefer the S style, because tuna in olive oil is so much more flavorful, you can easily make this suitable for the low fat E or FP style by using tuna in water.
For a Fuel Pull, remember to keep your tuna serving to three to four ounces. If you'll have no other fat in your meal, use two teaspoons of MCT oil to help make a lovely vinaigrette with the pickled onion juice.
Mixing this with a big helping of organic greens and wrapping in a Wonder Wrap or two (page 204 in the new Trim Healthy Mama cookbook) makes a delicious and healthy lunch. Or serve on top of greens alongside fresh veggies and some berries.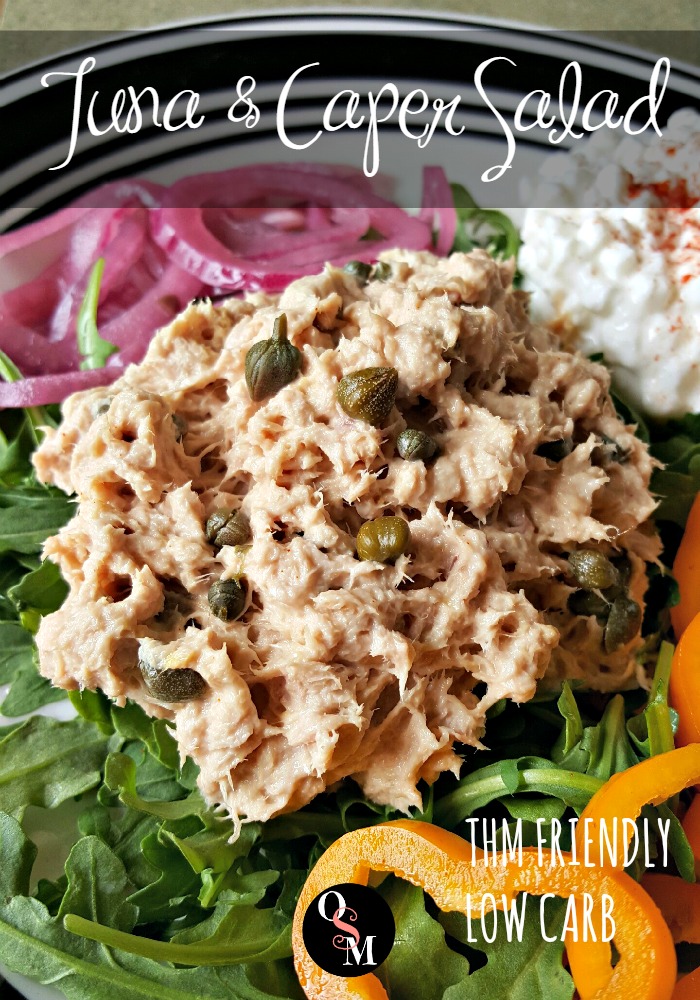 Capers add a surprising kick of flavor to a variety of foods!
They are absolutely delightful with eggs, meats and fish or sprinkled on pizza or salads. The possibilities are endless. Anywhere you want a salty, puckery punch of flavor the caper is the one to call.
Capers are often used in Mediterranean dishes and pair wonderfully with fish.
So, why not throw some capers in tuna salad? It elevates this simple, often misunderstood dish to an elegant and sophisticated level.
And that punch of flavor…well, even elegant and sophisticated can stand being kicked up a notch or two, right?
Move over, soggy convenience store grub…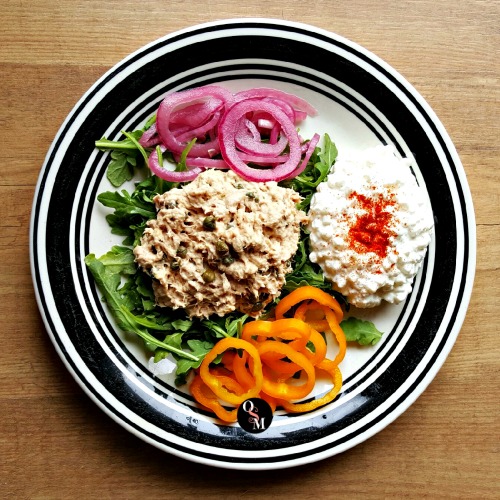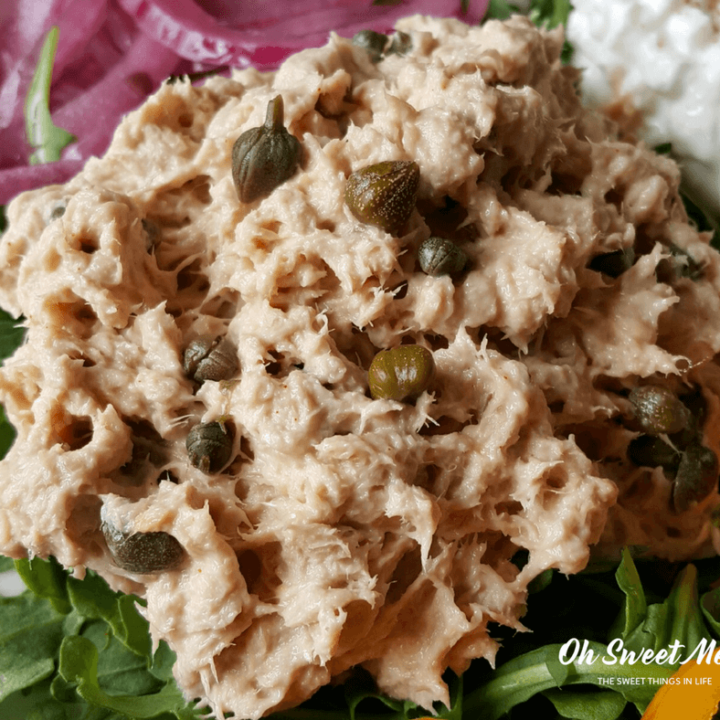 Tuna and Capers | THM S
Yield: 1 to 2
Prep Time: 8 minutes
Total Time: 8 minutes
A delightful twist on an old classic. Add a punch of flavor to your tuna salad, along with the healthy benefits of capers.
Ingredients
1 small can tuna in olive oil (or water, for low fat version)
2-3 Tbs mayonnaise (optional)
1/2 - 1 tsp nonpareil capers
Instructions
Do not drain tuna (if packed in olive oil)
(For low fat style, drain water from tuna and use MCT oil if desired)
In a bowl, combine tuna, nutritional yeast, capers, pickled onions and desired amount of pickled onion juice (or ACV)
Mix well until thoroughly combined
Notes
TRIM HEALTHY MAMAS:
This recipe fits with the S style of eating.
You can also make it suitable for E or FP by using TUNA IN WATER instead of tuna in olive oil. The tuna in olive oil just tastes so good, I like to make it this way.
You can also add a teaspoon or two of MCT oil.
Recommended Products
As an Amazon Associate and member of other affiliate programs, I earn from qualifying purchases.
Nutrition Information:
Amount Per Serving:
Calories: 0
Cholesterol: 0mg
Sodium: 0mg
Carbohydrates: 0g
Fiber: 0g
Sugar: 0g
Protein: 0g
Like this Tuna & Caper Salad Recipe? Why not share with your friends? Pin to your favorite Pinterest boards!