---
You probably know that probiotics are good for you, and that you should get more of those good critters into your gut. This refreshing peach mango kefir smoothie is an easy and healthy way to do that! It's low fat and nut milk free too, perfect for Trim Healthy Mama followers or those with nut allergies.
---
Peach and Mango are perfect companions for tangy kefir.
Dairy kefir is a rich source of probiotics and is similar to yogurt. Some find the tangy flavor of kefir a bit much. I'm a big fan of sourdough and other sour foods, and I found that the flavors of peach and mango were a lovely compliment to the tartness of the kefir.
If it's still to strong for you, try using half kefir and half nut milk if you don't have a nut allergy.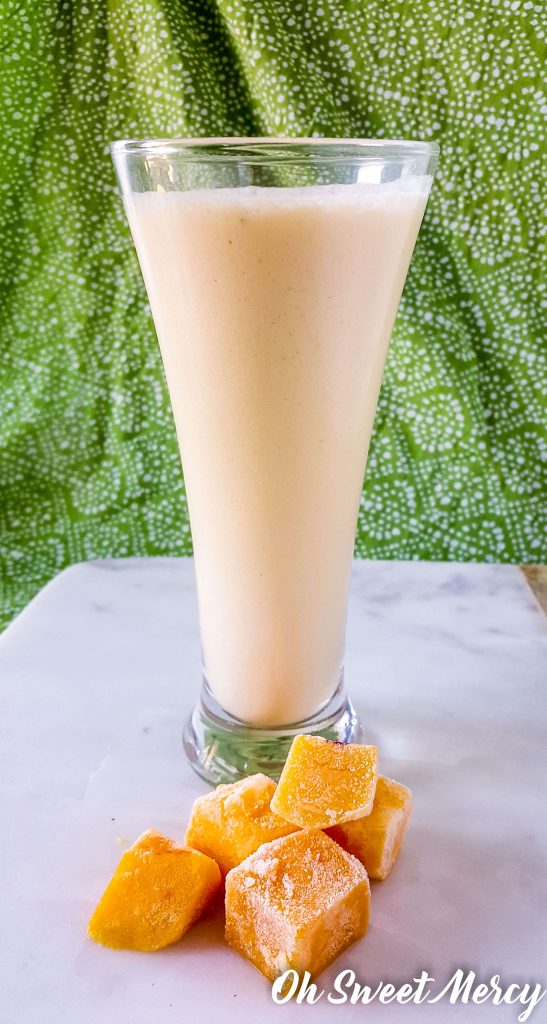 Do you have to use gluccomannan [and why you should consider it]?
Gluccomannan comes from the root of the konjac plant, also known as elephant yam and devil's tongue. Don't let that scare you though! It's been used for centuries in Asia and has many uses such as a replacement for pasta.
The gluccomannan powder (or Gluccie as THMs affectionately call it) is optional in this peach mango kefir smoothie, however your smoothie will not turn out as thick. Adding this fiber rich powder will not only thicken your smoothie, but help you feel full longer and may help stabilize your blood sugar, among other benefits.
Feel free to substitute with some xanthan gum if you don't have gluccie or just leave it out if you don't like using either. You could add a bit more frozen fruit to help thicken it more.
Trim Healthy Mamas here's how to incorporate this healthy smoothie into your menu.
Peaches and mangoes are always E fruits on the THM plan. That means you need to keep your fat low. I used Lifeway plain low fat kefir for this smoothie and I even found it at Aldi! One cup has 2.5 grams of fat, so for this recipe you'll have your full fat allowance for your E meal if you want a big smoothie.
If you only want half a recipe, just be sure to have some lean protein with it such as an egg white omelette or add some collagen for a complete meal. Half a recipe does make a great E snack though!
Kefir is high in protein, so a full batch of this smoothie will give you 22 grams of it. That makes it a terrific quick fix for busy mornings.
I do not have any substantial experience with making my own kefir, but if you have questions about that let me direct you to Traditional Cooking School. It's a wonderful resource for fermenting and other forms of traditional food preparation.
You can also make this with just mango (or peach) and I highly recommend it. It's light, refreshing, and so delicious!
Be sure to consult the THM Plan Book for the plan specifics!
Ready for a Peach Mango Kefir Smoothie? Let's make one!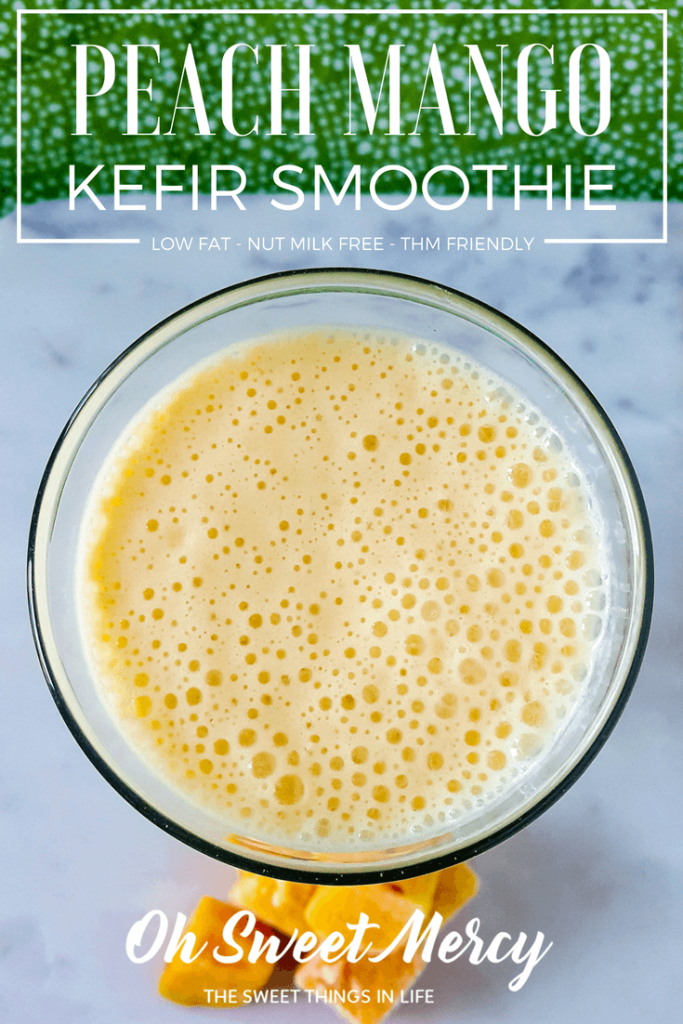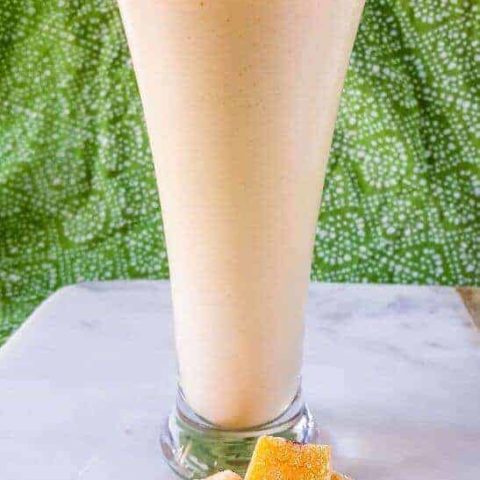 Refreshing Peach Mango Kefir Smoothie | THM E, Low Fat
Yield: 1 or 2
Prep Time: 5 minutes
Total Time: 5 minutes
This quick and easy low fat Peach Mango Kefir Smoothie is packed with protein and probiotics making it a terrific quick meal for busy mornings. Trim Healthy Mama E friendly, no added sugar!
Ingredients
2 cups plain, low fat kefir
1/2 cup frozen mango
1/2 cup frozen peaches
1 teaspoon pure vanilla extract
Instructions
Place all ingredients into your blender jar
Blend until smooth
Notes
Trim Healthy Mamas, a full recipe has enough protein and carbs to be a complete E meal, great for busy mornings!

If having half a recipe, be sure to include some lean protein and a small serving of another carb source to make an E meal.

Half a recipe would also make a great E snack.
Recommended Products
As an Amazon Associate and member of other affiliate programs, I earn from qualifying purchases.
Nutrition Information:
Yield: 1
Amount Per Serving:
Calories: 319.7
Cholesterol: 20mg
Sodium: 251.5mg
Carbohydrates: 50.4g
Fiber: 12.2g
Sugar: 36g
Protein: 24g