These hot summer days we're having bring back memories of my trip to the Israel and Jordan a few years ago. Specifically the delicious, fresh foods we had. Foreign to me, but oh so delicious, was a light and fresh tuna salad that was often on the breakfast buffets. Naturally, I had to make my own version – say hello to Mediterranean Tuna Zucchini Salad!
Wait, tuna salad for breakfast?
Yes, that's exactly right. Fish, vegetables, and fruits were alongside the more American fare of pastries and muffins and were a much healthier option. Lightly dressed with olive oil and a bit of lemon juice, it was a refreshing change from the normal mayo-based tuna salads here in America.
We are so conditioned to think that "breakfast" foods are cereals, muffins, pancakes – all the carby things. You can certainly have those for breakfast but who says you can only have carby, blood-sugar-spiking foods to start your day? The breakfast food manufacturers would like you to keep believing this…
If you have trouble with keeping your blood sugar stable, starting your day with a bunch of carbs might not work best. Even within the very reasonable guidelines of the Trim Healthy Mama Plan, some find starting their day with the healthy carbs of an E meal just doesn't suit their body well.
This healthy salad has protein, good-for-you olive oil, fresh herbs and veggies, and no starchy carbs to spike your blood sugar. It's a gentle, nourishing way to fuel your day.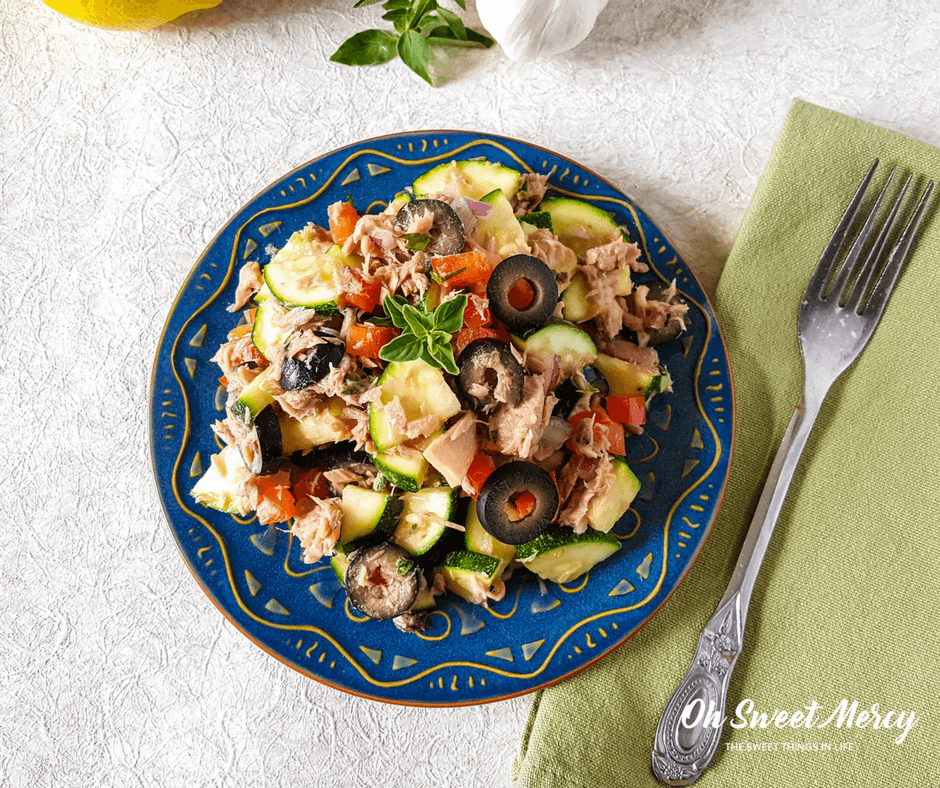 Zucchini – the wonder vegetable!
Zucchini is such a wonderful and versatile vegetable, it's perfect for bulking up a salad without adding carbs or fats. It also has nutrients our bodies need for good health and properly functioning metabolisms like Vitamin C, potassium, and fiber. It's high water content helps hydrate our cells, especially important during these hot summer days!
It's neutral flavor readily takes on the flavor profile of the dressing or sauce you bathe it in, letting those herbs and spices take center stage. You can eat this salad right away, but letting it sit a bit before serving makes it taste even better.
Every bite brings back precious memories!
This Mediterranean Tuna Zucchini Salad is reminiscent of what I had on my trip. Some mornings I wake up longing to return, so I'll have coffee with only cream and this quick and easy salad, sometimes with a side of Greek yogurt and berries for my THM S meal carb source. Every sip, every bite, takes me back for just a moment.
I've also added tomatoes before, but if you're wanting to make it ahead I would not add them until you're ready to serve. They can make the salad very watery after a night in the fridge! For a spectacular presentation, you could serve this salad inside hollowed out tomatoes.
How this Mediterranean Tuna Zucchini Salad fits into your healthy eating plan
If you're following the Trim Healthy Mama plan, this is a healthy Light S salad (for a one cup serving).
For a one cup serving, you'll need to add a bit more protein, as one can of tuna spread out over four generous servings isn't going to quite meet the recommended amount. A hard boiled egg and some DIY Protein Water should do the trick. Or a serving of Greek yogurt (you can have the whole milk version in an S setting!) with a splash of vanilla and sweetened with stevia.
You can certainly have two cups, and that would make this a solid S with enough protein for a meal. Enjoy some fresh berries for dessert.
If you are low carb, gluten-free, diabetic, or just trying to eat real, whole foods, this is a healthy choice for you too. My Mediterranean Tuna Zucchini Salad is quick to put together and bursting with flavor and nutrition! Perfect for a light lunch or snack, or as a side for a meal that may be a little lacking on protein.
Ready to join me for some Mediterranean deliciousness (for breakfast)?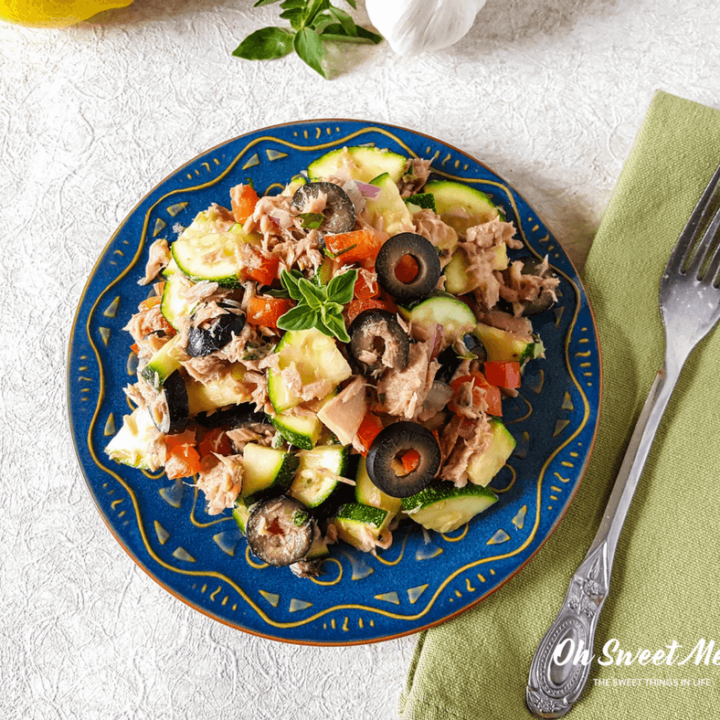 Real Food Mediterranean Tuna Zucchini Salad
Yield: around 4 cups
Prep Time: 10 minutes
Total Time: 10 minutes
This simple, real food Mediterranean Tuna Zucchini Salad is light, refreshing, and bursting with flavor and nutrition. Naturally low carb, healthy fats, no processed ingredients and quick to prepare. Perfect for THM, low carb, diabetic, and paleo diets.
Ingredients
1 can yellowfin tuna in extra virgin olive oil (OR tuna in water and add 1 to 2 tablespoons olive oil)
2 medium baby zucchini, chopped
2 tablespoons red onion, diced
1/2 cup red bell pepper, chopped
1/4 cup sliced black olives
2 tablespoons fresh lemon juice (bottled is OK too)
1 to 2 cloves fresh garlic, pressed or minced
1 teaspoon chopped fresh oregano
1 teaspoon chopped fresh marjoram
Sea salt and ground black pepper to taste
Instructions
In a mixing bowl, combine all the ingredients
Mix well so that all the tuna is evenly incorporated
Serve immediately, or refrigerate until ready to serve (be sure to give it a stir if not serving immediately)
Notes
Trim Healthy Mamas: One cup serving would be a Light S, be sure to add some extra protein if just having one cup.
Two cups would make it a solid S with enough protein for a meal.
Recommended Products
As an Amazon Associate and member of other affiliate programs, I earn from qualifying purchases.
Nutrition Information:
Yield: 4
Serving Size: 1 cup
Amount Per Serving:
Calories: 160
Total Fat: 7g
Saturated Fat: 1g
Trans Fat: 0g
Unsaturated Fat: 5g
Cholesterol: 28mg
Sodium: 419mg
Carbohydrates: 8g
Fiber: 3g
Sugar: 3g
Protein: 18g
Nutrition information is approximate and based on the best knowledge available at the time of recipe publication. Your results may vary due to differences in ingredients.
What foods bring back happy memories for you?
Be sure to pin to your favorite summer salads boards!