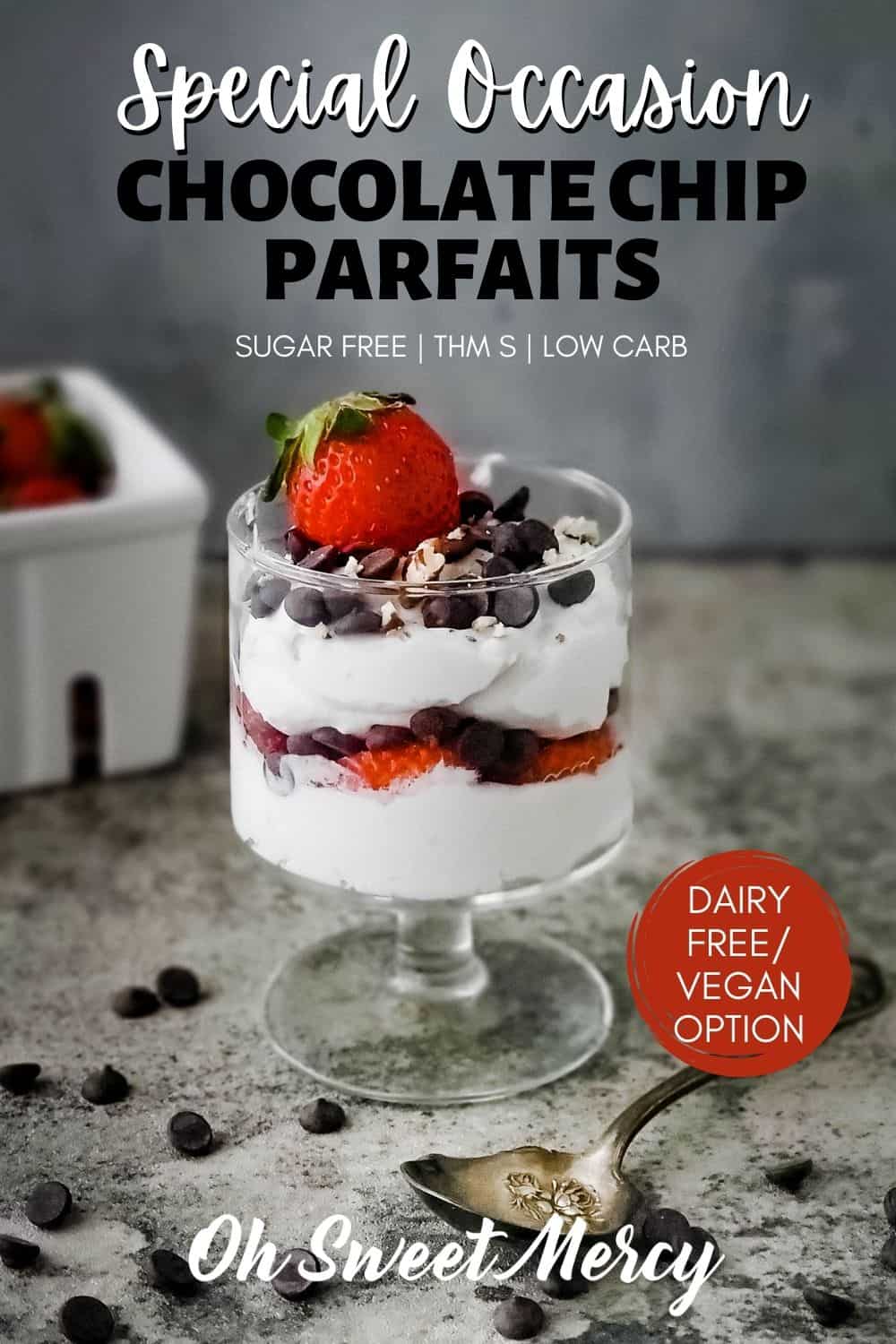 ---
Sweet and creamy like cheesecake these Special Occasion Chocolate Chip Parfaits are an indulgent, sugar free dessert. Trim Healthy Mamas, low carbers, and diabetics rejoice and celebrate those special occasions with this low-glycemic treat! NEW: updated for dairy free vegan option.
---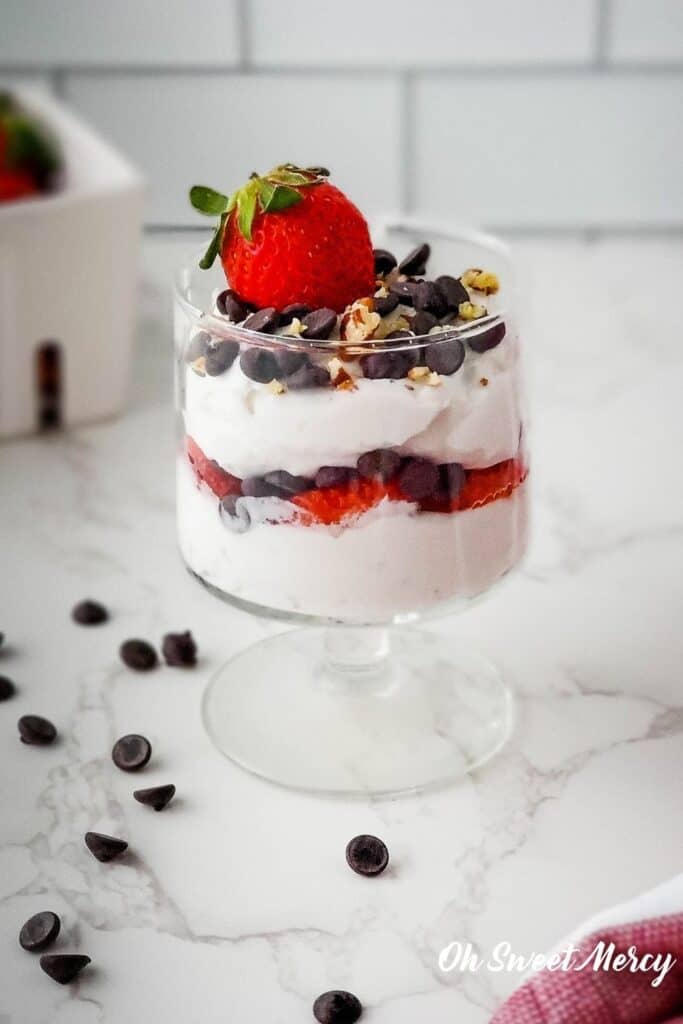 There's nothing worse than feeling left out, is there? Especially when it comes to sweet treats at celebrations!
It stinks having to always think about things like carbs and sugar and blood glucose levels. I mean, you just want to eat what everyone else is eating. Is that so much to ask?
Sometimes it sure feels like it. For some of us we have to think about those things whether we like it or not. We have to choose to make healthy, low-glycemic choices at every meal if we want to be healthy and feel well.
Not fair, I know. Need some encouragement when things don't feel fair? Remember this Creed…
But guess what? These decadent, low-carb, sugar-free chocolate chip cream cheese desserts are so good you won't care about that sugar-laden celebration food at all.
They're keto friendly, too! Plus these low carb cream cheese treats are quick and easy to make.
And what's better than an easy dessert when you're wanting a sweet treat?
What Do I Need To Make This Recipe?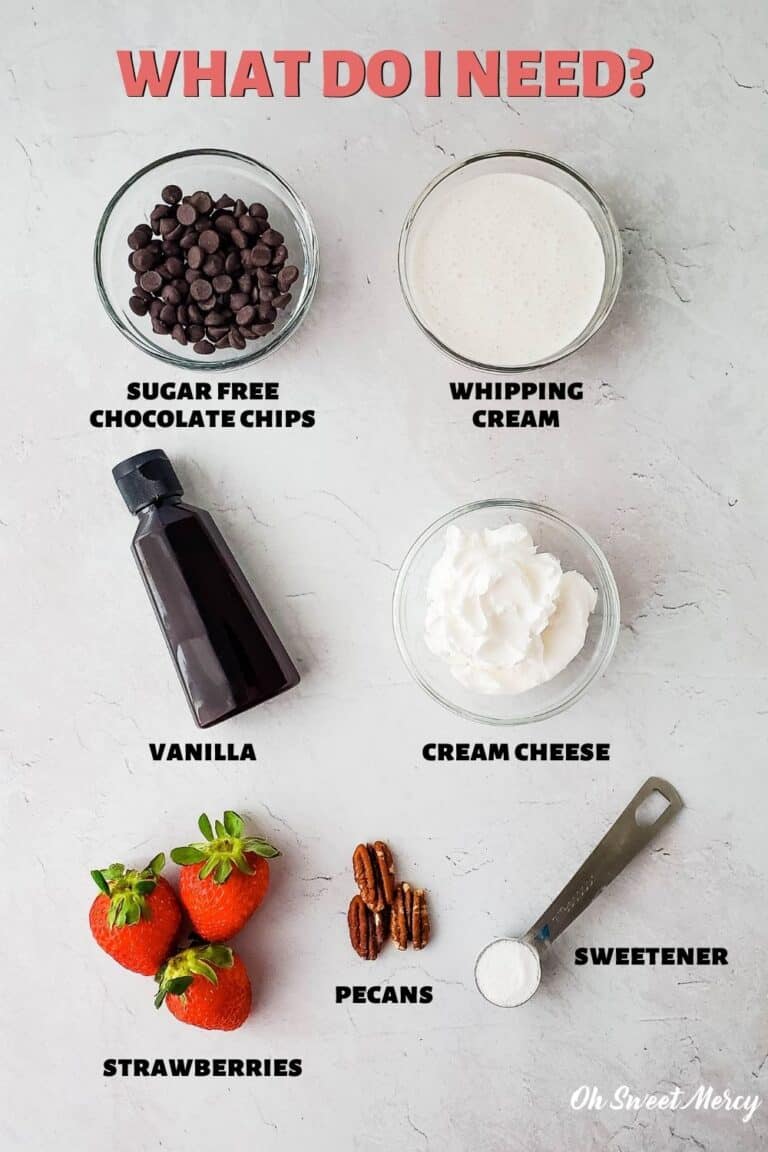 This is a super simple low carb chocolate chip parfait recipe made with ingredients you can easily find in most grocery stores.
Cream cheese (for dairy free or vegan, use a plant based cream cheese)
Heavy cream (use dairy free or vegan heavy whipping cream or make coconut whipped cream)
Vanilla
Sweetener
Sugar free chocolate chips
Strawberries
Pecans (or other nuts, optional)
Let's Talk Chocolate Chips.
The only ingredient that may not be easily found is the on-plan sugar free chocolate chips. Many stores now carry on-plan for THM chocolate chips such as Lily's.
Can't find any sugar free chocolate chips at your local store? The Trim Healthy Mama Chocolate Chips are wonderful! They don't have any cheap fillers or ingredients that often cause tummy troubles like some store brands.
However, if you don't have a problem with store bought chocolate chips, Lily's or Bake Believe are great options.
You don't want to go over 2 or 3 grams net carbs per serving, particularly if you want to have any other carbs in your S meal. Keep that in mind when looking at store bought options.
I've only included 1/3 cup (5 servings) of chocolate chips. Initially, I made it with 2/3 cup…very good, but once I calculated the nutrition information I had second thoughts!
Since there are 5 servings in this recipe, you can either mix all the chocolate chips in to the cream cheese mixture OR divide 1 tablespoon of chocolate chips per serving into 2 layers when putting the parfaits together. I recommend this method, personally.
If store bought sugar free chocolate chips aren't something you can or want to use you can make your own.
Check out these homemade Stevia Sweetened Chocolate Chips from Wonderfully Made and Dearly Loved.
Let's Talk About Indulgence…
Indulgence is something that might have gotten you to a place where you need the Trim Healthy Mama Plan (or other plan to help you shed excess weight). So let's be realistic about this treat 😉
I called it Special Occasion Chocolate Chip Parfaits because it's a rich, creamy, treat in the Heavy S range (if you're a THM). This means it's high in yummy fats but also has some naturally-occurring carbs in the dairy products and nuts. It's best saved for special occasions and not an every-day treat.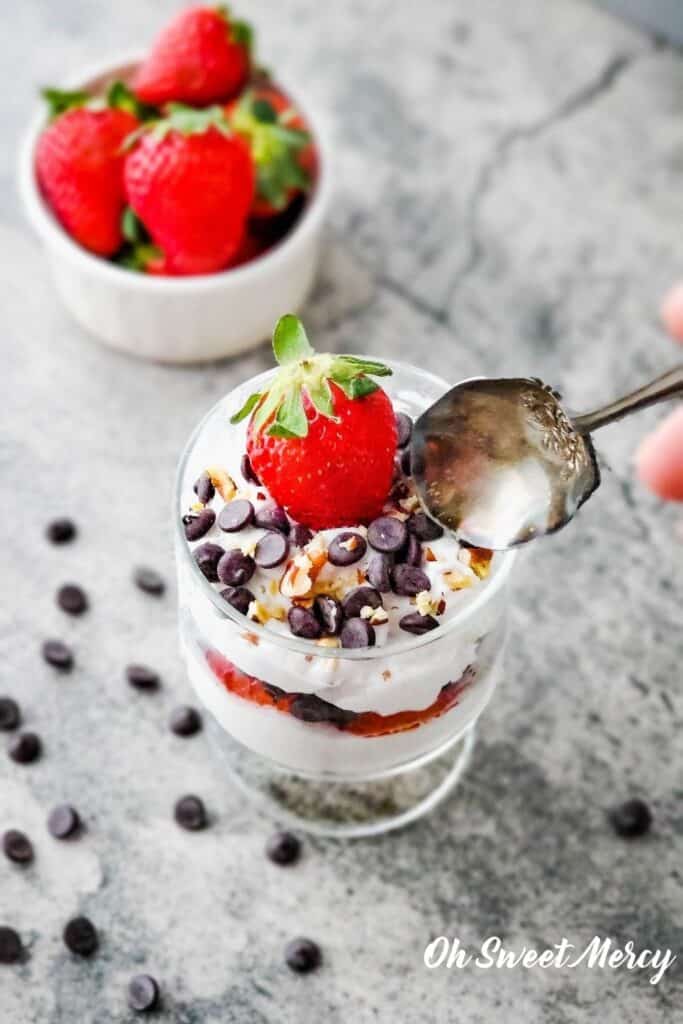 All totally on plan! But, having this dessert every day or multiple times a day could slow things down for you in the weight loss department.
It's an indulgence. A once-in-a-while treat best reserved for celebrations. Or when you've had a really horrible, awful, no good, very bad day and just need something indulgent or else you're going to go off the rails.
It is totally on plan, just not something to overdo.
Of course, if you're all about keto recipes this one is right up your alley. Feel free to include it in your meal plan. In addition, you can also omit the berries.
Alternatively, make smaller sized parfaits for more servings.
However you choose to put this creamy, decadent dessert together just enjoy responsibly!
Want more sweet treat recipes? Check out my Desserts and Sweets category page.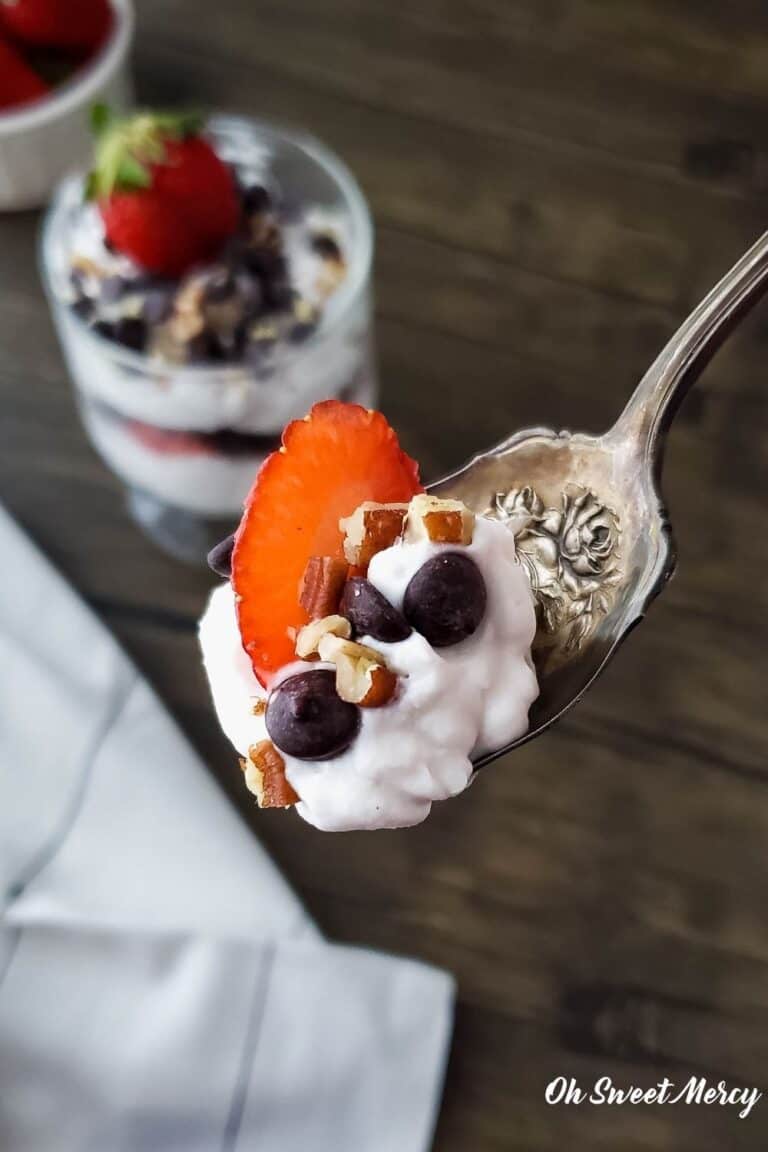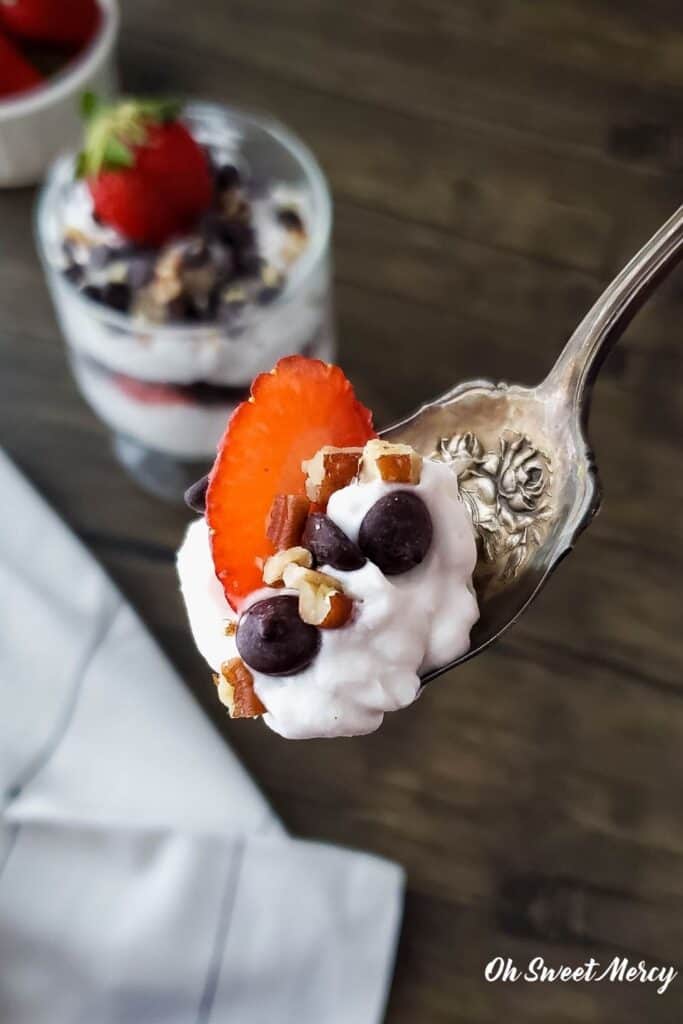 THM's: How To Enjoy These Special Occasion Chocolate Chip Parfaits.
Always consult the Trim Healthy Mama Plan Book for the most accurate information on how to put your meals together.
If you're following the Trim Healthy Mama plan, here's my suggestions for including this indulgent dessert. Since it's a Heavy S and one serving contains almost 7.5 grams of your carbs, choose wisely in the rest of your meal:
Have a Light S meal, such as baked chicken breast or lean salmon and steamed veggies
Have a Fuel Pull soup (such as one of the Trimmy Bisques from the Trim Healthy Table cookbook) and a generous leafy green salad with an S-friendly dressing (or just a squeeze of fresh lemon or some raw ACV)
Only have half a serving of this dessert. You can still layer it if you want of course!
Cut back on the chocolate chips as only a garnish amount for each serving, 1 teaspoon or so.
Use one strawberry instead of 2, or omit entirely. But remember berries are so good for you!
Enjoy a full serving as an occasional snack instead of a dessert.
What Occasion Will You Make These Chocolate Chip Parfaits For To Celebrate?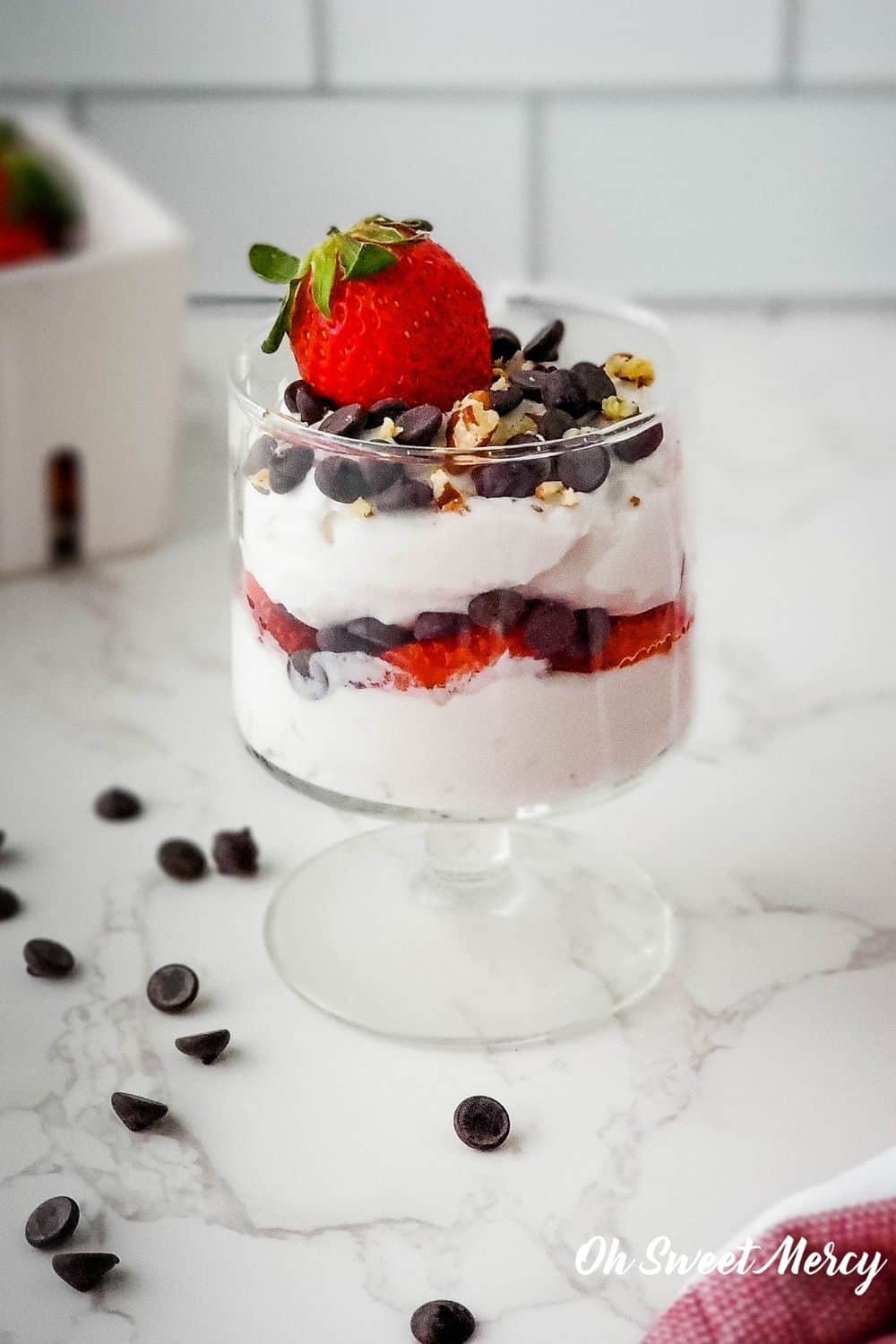 Special Occasion Chocolate Chip Parfaits - Low Carb
Yield: 5
Prep Time: 15 minutes
Total Time: 15 minutes
Sweet and creamy like cheesecake, with bursts of fresh berries and bits of chocolate, these low carb Special Occasion Chocolate Chip Parfaits are a rich and satisfying indulgence. Enjoy responsibly 😉
Ingredients
8 oz light cream cheese (use dairy free/vegan if desired)
1 teaspoon pure vanilla extract
1 cup heavy whipping cream (use dairy free/vegan or make coconut whipped cream, if desired)
10 fresh strawberries, hulled and sliced or diced - 2 berries per serving
5 pecan halves, optional
Instructions
In a mixing bowl, beat together cream cheese, sweetening, and vanilla until creamy.
In a separate bowl, whip the heavy cream until fairly stiff.
Add whipped cream to cream cheese mixture and beat together.
Options: fold in chocolate chips OR reserve for layering/garnish
In parfait glasses, layer 1/4 cup cream cheese mixture, 1/2 tablespoon chocolate chips (unless mixed into cream cheese mixture), and 1 sliced/diced strawberry. Repeat.
Use any remaining cream cheese mixture to dollop on top and garnish with a chocolate chip or two and a chopped pecan half if desired
Notes
Trim Healthy Mamas:
When choosing sugar-free chocolate chips, keep the net carbs per serving to no more than 3 grams.
If having as a dessert, keep your meal lighter and mind the carbs.
Or, enjoy as an indulgent snack on its own.
Recommended Products
As an Amazon Associate and member of other affiliate programs, I earn from qualifying purchases.
Nutrition Information:
Yield: 5
Serving Size: 1
Amount Per Serving:
Calories: 275.4
Total Fat: 27.3g
Saturated Fat: 16.4g
Cholesterol: 77.2mg
Sodium: 154mg
Carbohydrates: 10g
Fiber: 2.6g
Sugar: 5g
Protein: 3.7g
Be Sure To Pin It Here: