Like this post and don't want to miss more like it? Be sure to sign up for my newsletter at the end!
---
Egg salad doesn't have to be boring! Spice it up with my creamy, low carb Sriracha Egg Salad! It's a great Trim Healthy Mama meal or snack served over a big bed of fresh salad greens, rolled in a low carb wrap, or tucked between 2 slices of low carb bread. 
---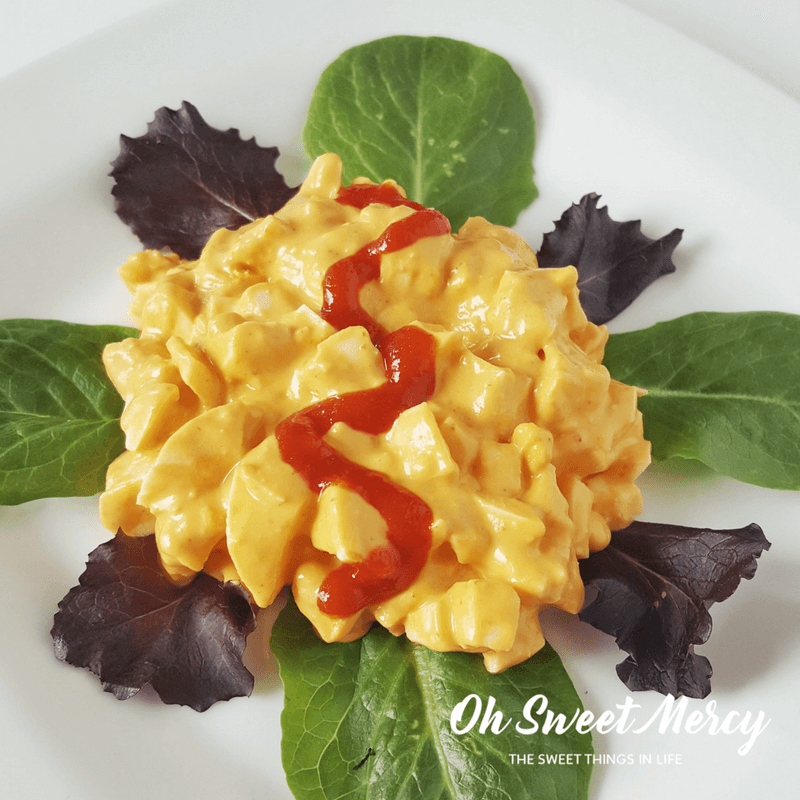 Did you like my Sriracha Deviled Eggs?
Let's not stop there! Sriracha Egg Salad is great for when you want deviled eggs but don't want to do all the work. Let's face it, some days that's just too much effort.
Just bein' real, folks. Life gets busy and crazy sometimes and we've got to go with the flow.
That's exactly how this Sriracha Egg Salad came about, actually.
As much as I love those spicy stuffed eggs I just didn't feel like taking the time to mash egg yolks and stuff egg white halves. I just wanted to dig right in to that spicy, eggy, goodness.
I know…how lazy, right? Like I said — just keepin' it real.
Hard Cooked Eggs Made Easy.
The bane of any egg salad recipe is peeling the eggs after they are cooked. I've tried ev-er-eee-thing under the sun to get my eggs to peel easily. But the only thing that actually works 99% of the time (there's always that ONE egg now and then that won't play nice) is my Instant Pot.
Since we have hens in the back yard we almost always have fresh eggs on hand. Even those peel easily!
Here's how I do it:
Put 1 cup of water in the liner pot and add the trivet.
Add your eggs. You can pile them on top of each other, really!
Secure the lid and set to SEALING.
Set on MANUAL for 5 minutes.
Forget about them for about 15 minutes after they are cooked…
Open the IP and remove the liner pot (it's hot, use these handy silicone mitts).
Place the liner pot in the sink and fill with cold water.
Allow the eggs to cool a bit then peel.
Now, sometimes this method leaves you with that green tinged outside that indicates over cooking. Ideally, you will release the pressure immediately and get them out of the IP to cool. 
I just tend to forget about them. If you are more precision-minded than I am check out these detailed instructions for No Fail Instant Pot Eggs over at All the Nourishing Things.
You can also check out my Crock Pot Hard Boiled Eggs post if you don't have an Instant Pot.
Best Ways To Eat Low Carb Creamy Sriracha Egg Salad.
Whether you're following the Trim Healthy Mama plan or just want a healthy, tasty, low carb egg salad made with healthy fats there's so many ways to enjoy it:
Wrapped in Romaine leaves for a low-carb lunch
On light rye Wasa crackers (watch your carbs here, THMs)
Stuffed in bell peppers (either full sized or halved mini sweet peppers)
Rolled into a low-carb wrap, such as Joseph's Lavash (1/2 wrap for an S meal, find it at Wal-Mart or order online here **not gluten free)
In a sandwich with Coconut Flour Flatbreads (low carb and gluten free/grain free)
With my delicious Low Carb Bread in a Mug (With a Secret)
On top of a big bed of dark, leafy greens such as fresh spinach and baby kale
Eat with celery stalks
Or, just use a spoon 😉
Be sure to check the Plan Book for complete information. You can find links to the books and my favorite THM products on my Best THM Products Page.
Do You Love Sriracha Sauce? Will You Try This Sriracha Egg Salad?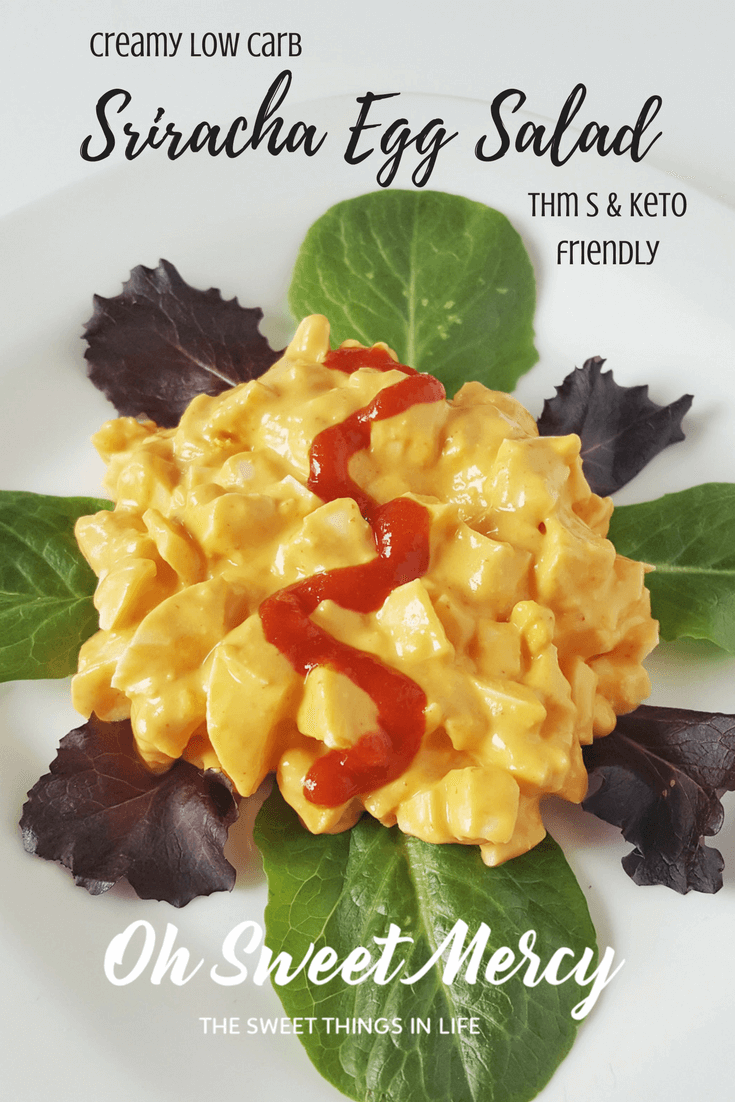 Creamy Low Carb Sriracha Egg Salad
Directions
Peel and chop hard boiled egg (I highly recommend an egg slicer for this job!) and place into a mixing bowl.
Add mayonnaise, mustard, vinegar, Sriracha sauce, onion powder, curry powder and salt and pepper and mix well.
Recipe Notes
Trim Healthy Mamas:
This is a higher fat, practically-zero carb recipe that fits within the S guidelines. Enjoy with low carb bread or wraps, or on a big pile of fresh salad greens.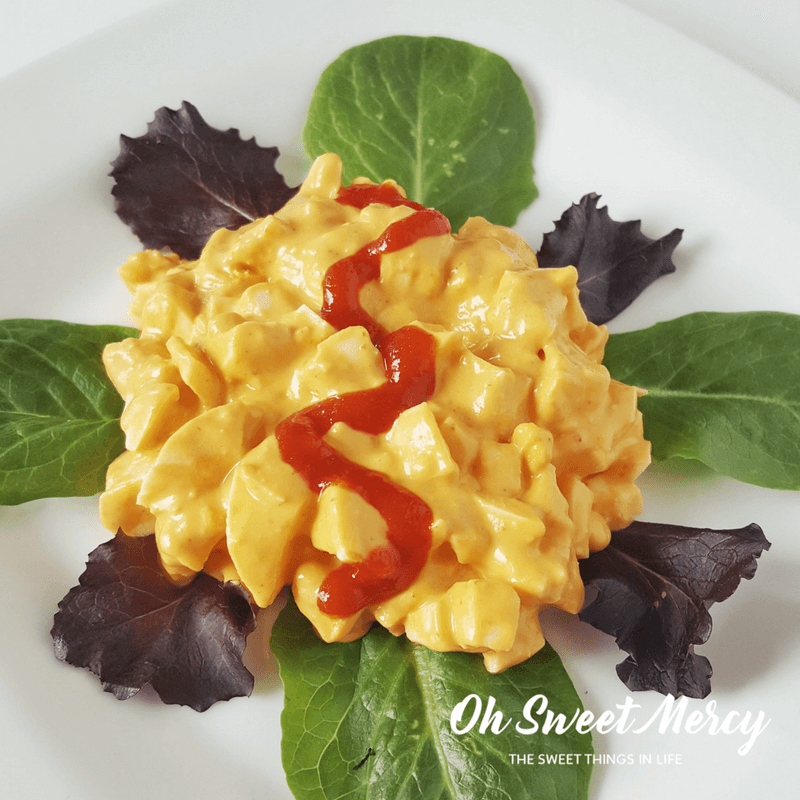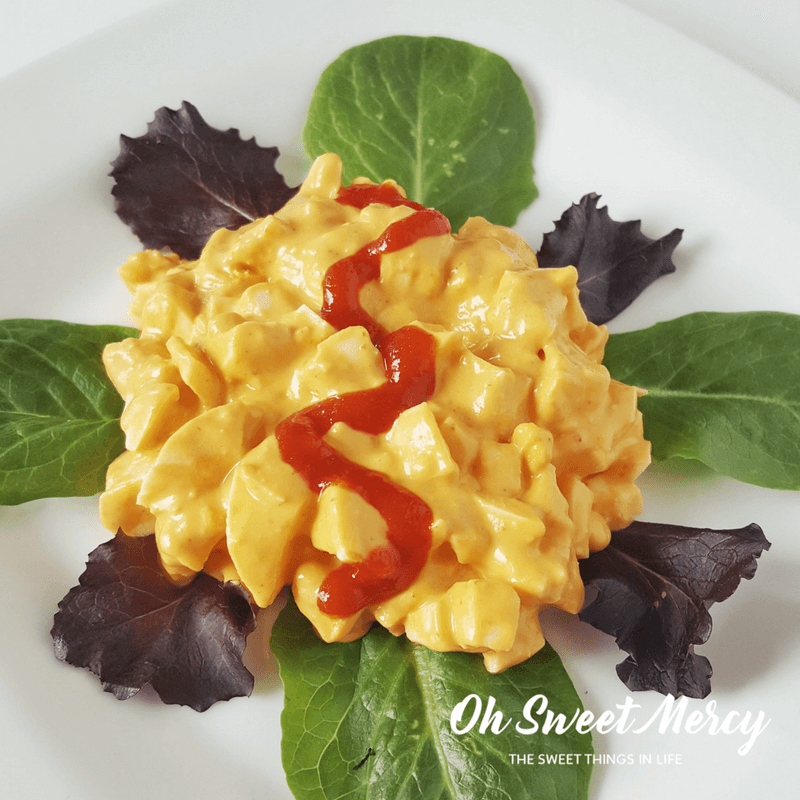 Loading nutrition data...
While my recipes are not officially endorsed by Trim Healthy Mama, I do my best to ensure they meet plan guidelines. Always refer to the THM plan book for complete information.