With a hint of orange and bursts of tart cranberry, these tasty little muffins will be a delight for breakfast, brunch, or any time. Adding baobab powder imparts fiber plus an antioxidant boost to help support your immune system during the cold, winter months.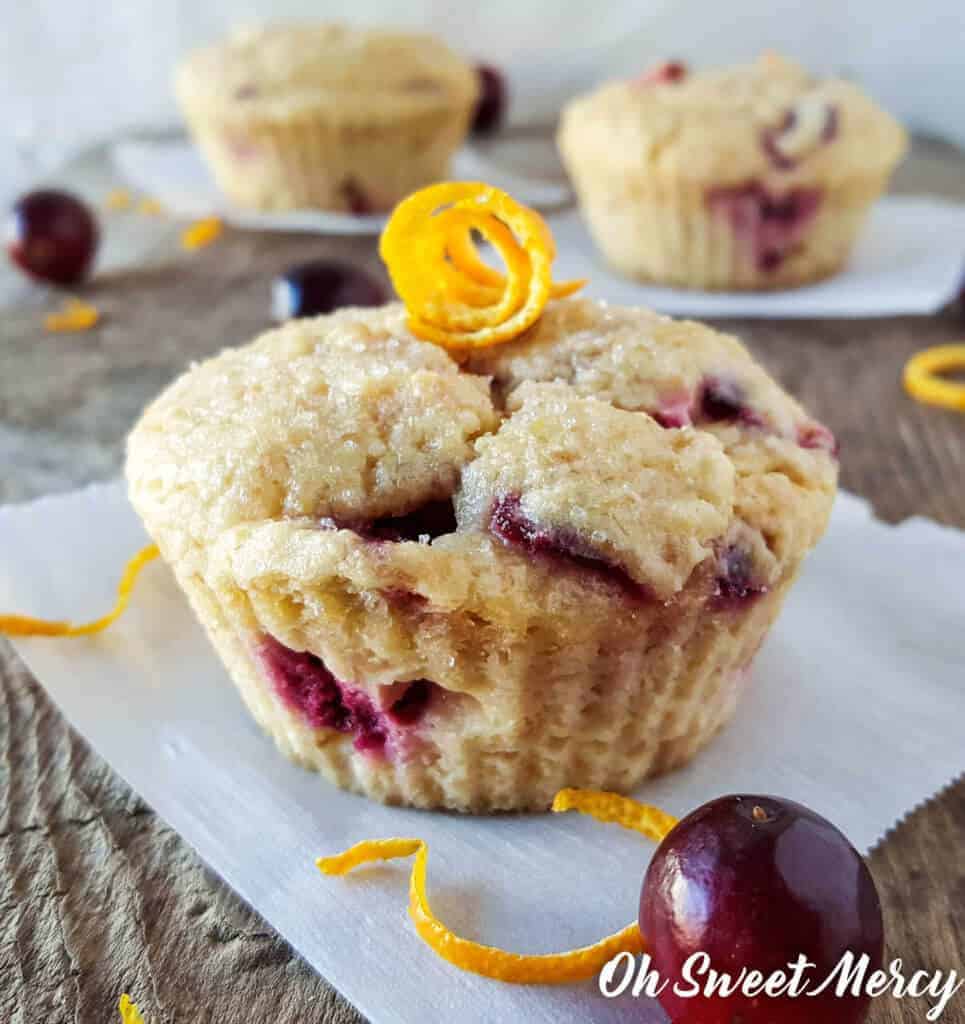 Have You Hopped on the Baobab Wagon Yet?
Ever since the first time I made "baobab water' I've been hooked. I literally crave it. Its light, fruity flavor is so refreshing! It's even delicious in hot beverages, like my Hot Creamsicle Cocoa.
What if you've tried it in a beverage and don't like it, though? You can still enjoy the benefits of this amazing substance since baobab powder is incredibly versatile!
When I added it to these delicate, sweet-tart muffins, I thought perhaps its slightly orange flavor would come through. However, you really can't taste it at all. A little zest of organic orange gives just the right hint of that lovely citrus flavor (without spiking your blood sugar like juice will).
So, if you don't like the taste of baobab but long to include its healthful properties in your day these muffins are perfect for you!
You should also try it in Grandma's Fabulous Yeast Rolls from Wonderfully Made and Dearly Loved! They are a Fuel Pull, oh sweet mercy! Yeasty, bready rolls for any THM fuel type meal!
What's the Big Deal About Baobab?
Grown in areas like Madagascar, the fruit of the magnificent baobab tree is packed with fiber, Vitamin C, calcium, potassium, magnesium, and even iron!
Adding this powerfully nutritious powder to your beverages, smoothies, yogurt, and even baked goods is a wonderful way to support your immune system year round. As we're entering into cold and flu season, a strong immune system is even more important.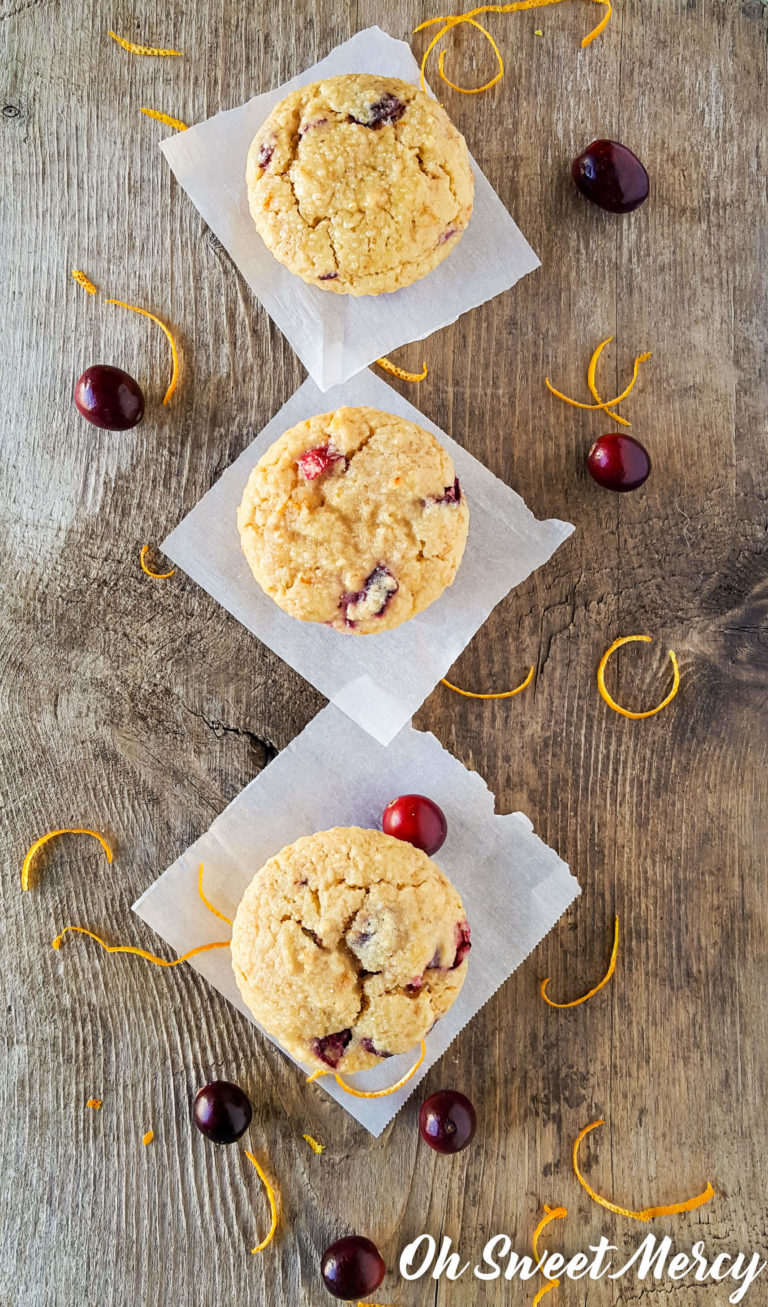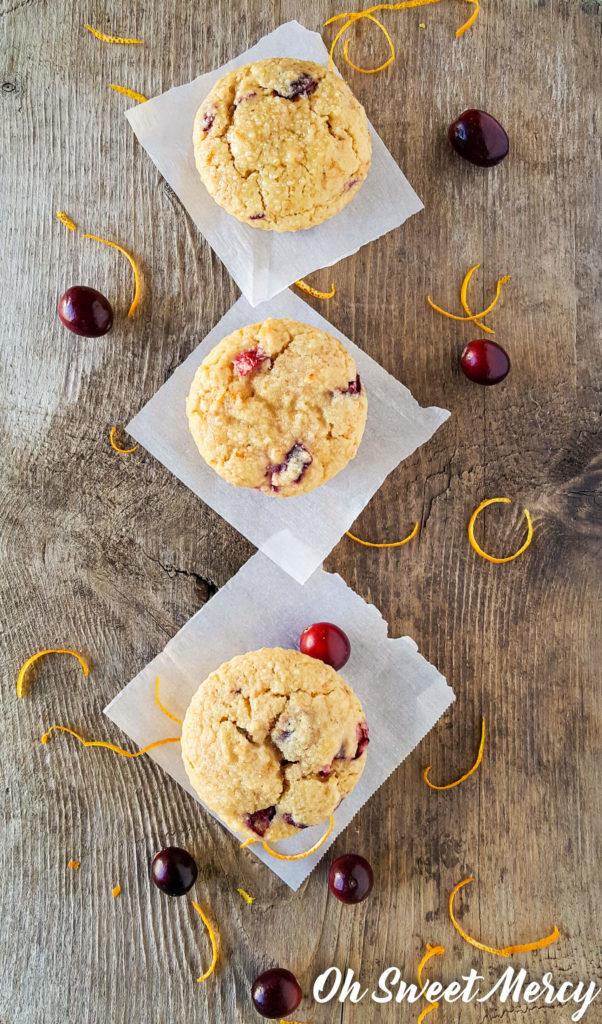 Where to Buy Baobab Powder (and which one).
First of all, make sure your baobab powder contains ONLY baobab. I saw a comment in one of the THM Facebook groups and the lady showed a photo of the product her and her hubby couldn't choke down. I just happened to see that it also contained moringa.
That will definitely change the flavor! Moringa is very healthy, though! It's packed with nutrients (and helped me overcome severe pepper cravings when I first started THM).
I've tried two brands of baobab powder, BetterBody Foods (also available at most Wal-Mart stores) and the THM Baobab Boost Powder. The THM brand tastes a little different that the BetterBody brand, but I found that it just tastes cleaner than the other brand. I don't know how to describe the subtle difference better than that!
The THM brand is also more economical! A 6 ounce package of the BetterBody Foods brand at my local Wal-Mart is around $9. You get nearly twice that much THM Baobab Boost Powder for just around $14.
Shipping cost is a factor, of course, but if you're already ordering several items from the THM Store it will still be more economical per ounce than the other brand.
You may be able to find Baobab Boost in a local store that carries THM products, or even better – live close enough to the THM Store to stop in and pick up some!
A Note on Baking Blend.
In anticipation of the question "will Baking Blend work in this recipe?" I'll share my experience – possibly.
I did try a DIY blend that I often use for individual muffin recipes (or my Garlic Biscuits in a Mug recipe) that has always worked as well as the THM Baking Blend. The flavor and texture was not as good as using just almond flour and golden flax.
It could just be that I'm not super crazy about the taste of oat fiber. I love the benefits of it, but just not the flavor. Recently, I've just really been able to detect it and it's jut not my favorite. Several people have said that the THM Oat Fiber is far superior, and I'll be trying that soon.
However, if YOU try using Baking Blend (or one of the many DIY recipes out there) please come back and leave a comment on how they turned out! I would love to know and I'm sure my readers would as well.
---
I highly recommend these silicone baking cups from my affiliate partner. Eat ALL the muffin – no sticking!
This mini silicone bamboo handled utensil set is so cute and perfect for scraping batter and brushing butter on the tops of your baked muffins.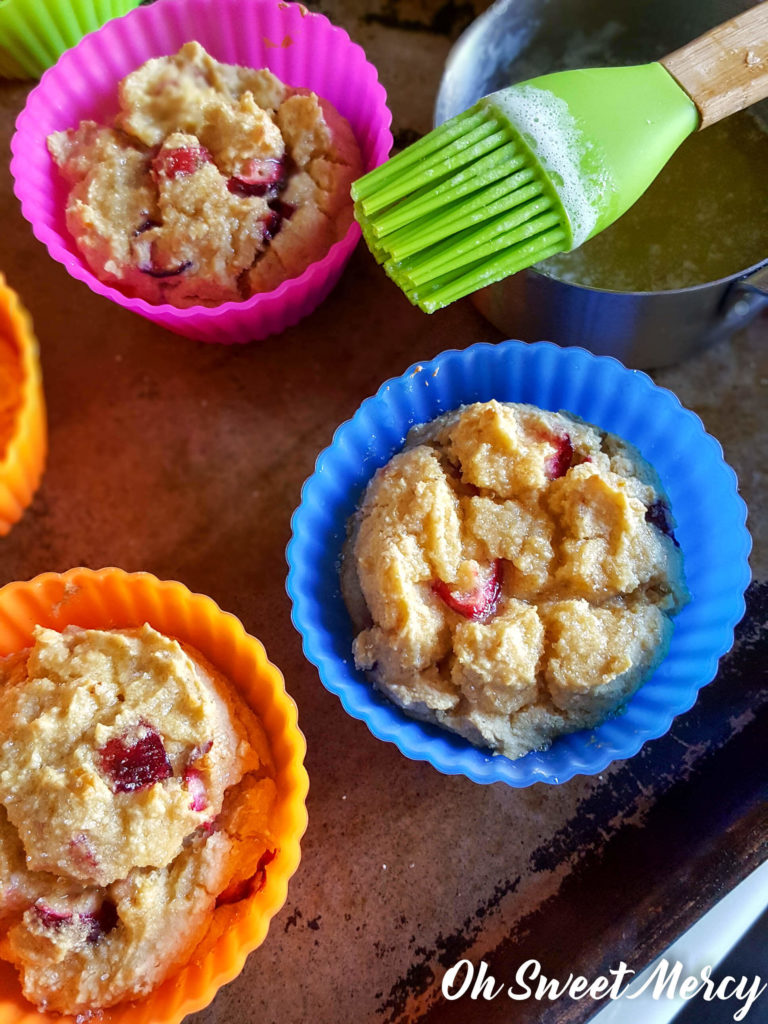 I brushed these babies with some melted buttah (pop a stainless steel measuring cup in the oven for the last 5 minutes of baking time for easily melted butter) and sprinkled with a bit of erythritol for some crunch.
Trim Healthy Mamas, Here's How To Include These Muffins In Your Healthy Eating Plan:
These delightful cranberry orange baobob muffins fall into the S category because of the amount of almond flour, coconut oil, and whole eggs. Each muffin has just under 4 grams of protein, so be sure to include enough protein with your meal to meet plan guidelines.
Try 2 muffins with some grassfed butter spread on top and:
a half cup of Greek yogurt, sweetened with stevia, plus a splash of vanilla
2 scrambled eggs with a sprinkle of nutritional yeast
For a lighter S meal, my Egg White Omelette
A smoothie with added protein powder or collagen
A hot beverage with added protein powder, collagen, or even gelatin
On their own, they make a quick and delicious snack with some string cheese, perhaps.
PIN IT!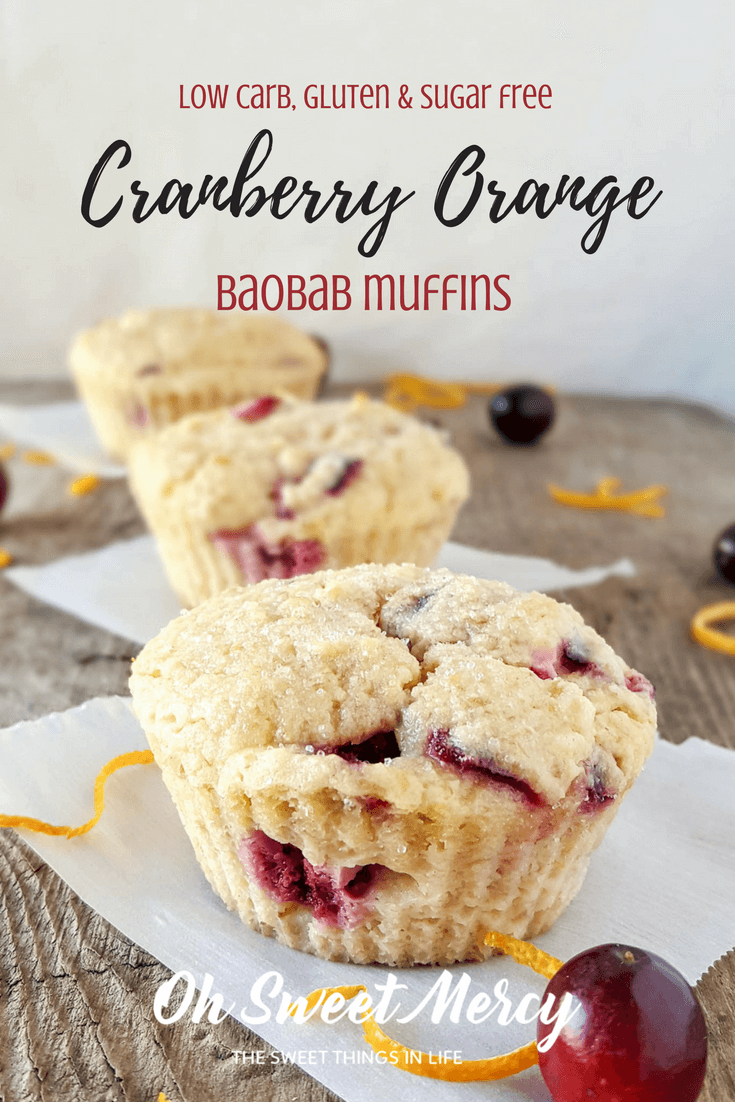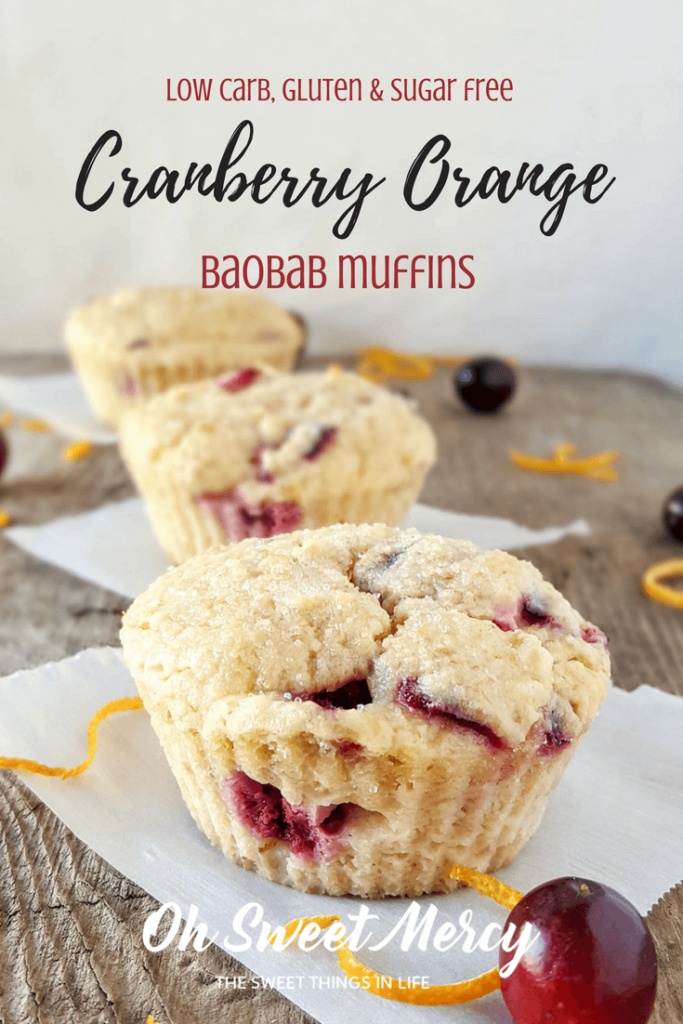 Cranberry Orange Baobab Muffins
With a hint of orange and bursts of tart cranberry, these tasty little muffins will be a delight for breakfast, brunch, or any time. Adding baobab powder imparts fiber plus an antioxidant boost to help support your immune system during the cold, winter months. Low carb, sugar free, gluten free and Trim Healthy Mama friendly for an S setting.
Ingredients
1 cup almond flour
1/4 cup golden flax
1/4 cup url href="http://amzn.to/2Bg8VVM" target="_blank" rel="nofollow"]THM Super Sweet Blend[/url or DIY Sugar Alternative Blend from Today in Dietzville
1 1/2 teaspoons baking powder
1/2 cup coarsely chopped fresh cranberries (more if you really love cranberries!)
2 eggs
2 to 3 teaspoons finely minced orange zest from an organic orange
2 teaspoons vanilla extract
3 tablespoons coconut oil or butter, gently melted
1/2 cup nut milk*, more if needed for consistency
Optional Topping Suggestion
1 tablespoon melted butter
Erythritol or granulated stevia
Instructions
Preheat oven to 350.
In a small bowl, combine coarsely chopped fresh cranberries, minced orange zest, and 1 tablespoon granulated stevia. Stir to coat evenly and set aside.
In a mixing bowl, combine almond flour, flax, baobab powder, granulated stevia, salt, and baking powder. Mix well to combine thoroughly.
In a small bowl, whisk together eggs, nut milk, and vanilla.
Pour egg mixture into dry mixture and mix well.
Add melted butter or coconut oil and mix well.
Add more nut milk if batter seems too thick, a tablespoon at a time, until the batter is the right consistency.
Fold in cranberry mixture.
Divide evenly between 12 silicone muffin baking cups (or paper liners in a muffin pan).
Bake in preheated oven for 30 to 35 minutes or until the center passes the toothpick test.
Allow to cool completely before removing from silicone baking cups.
Optional Topping Idea
When you pull the muffins out of the oven, gently brush melted butter on the tops and sprinkle with a bit of erythritol or granulated stevia.
Notes
SWEETENER NOTES
I used the DIY Sugar Alternative Blend from Today in Dietzville to develop this recipe, which she says is very similar to the Homemade THM Super Sweet Blend so they should be interchangeable.
To be on the safe side, add half as much of whatever granulated sweetener you are using and taste. If not sweet enough add more a little at a time until it's as sweet as you like.
Whenever you use alternative sweetening options that include stevia, ALWAYS err on the side of caution and add less to start. It's always easier to add more than it is to take it out if you add too much! Too much stevia can end up tasting very bitter.
Recommended Products
As an Amazon Associate and member of other affiliate programs, I earn from qualifying purchases.