---
Success on the Trim Healthy Mama Plan starts with healthy protein. Are you getting enough? Do you find yourself hitting the drive-through because you weren't prepared? Make this easy Chocolate Raspberry Protein Drink and tuck it in your insulated bag for when you're on the go. This easy and tasty recipe is low carb, low fat, sugar free, and has over 20 grams of healthy protein!
---
Whether you're on the go all the time or just busy at home (all. the. time.) getting enough protein can be tough. It's essential on the Trim Healthy Mama plan, our meals are centered around healthy protein! I know how hard it is sometimes – you don't feel like making something to eat, you don't have anything easy to make, or you literally do not have time to hardly even eat let alone actually make something!
For instance, in addition to my blogging duties here at OSM I also:
homeschool, though this year we're down to 1 as we just graduated Sister!
have a household to manage
develop recipes, photograph them, and write about them for Traditional Cooking School and Wildly Organic
work for a local catering company (with weird hours)
am slowly building a Trim Healthy Mama Coaching business (more on that later)
I'm probably forgetting something…as I write this I've been up for about 16 hours (up at 3 am to get ready for a catering) and have been packing and putting together the last little details for our trip to England Thursday. This week I've worked Sunday, Monday, Tuesday, and today at a huge catering event. To say I've been a little busy this week is an understatement!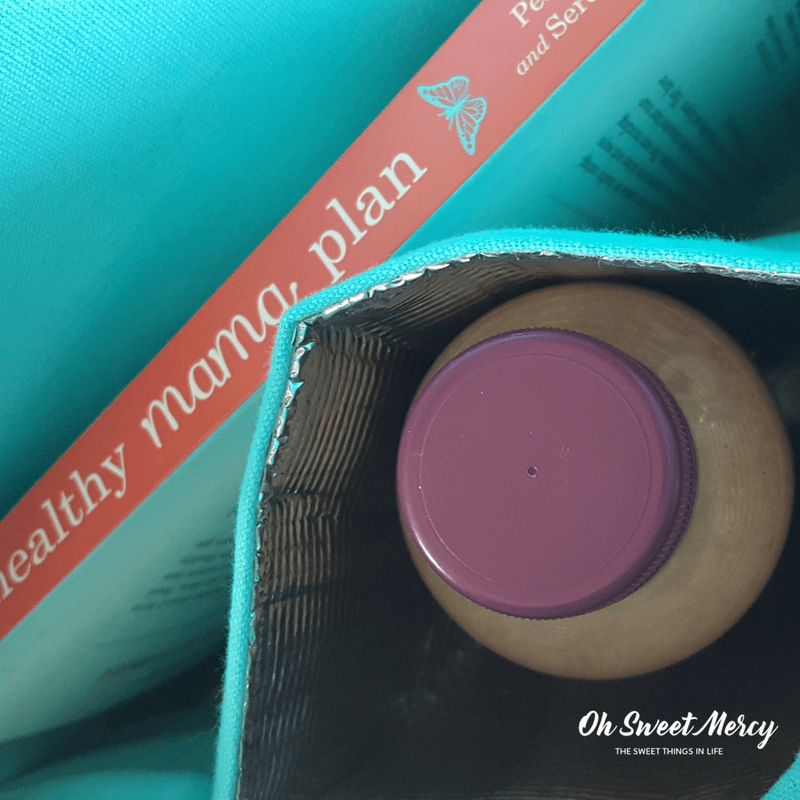 Chocolate Raspberry Protein Drink – The Drink That Saved Me This Week!
Seriously, guys. If I hadn't packed this guy in my cute little insulated lunch tote every day I don't know what I would have done. Since I not only follow the THM plan but also don't eat pork or most seafood there are many times that nothing is available at a catering event that I can eat.
Tha means having some quick and easy protein is a must! Bonus points if it tastes like a chocolate covered raspberry, right?
This chocolate raspberry protein drink is super easy to make with just a whisk. It's also great for adding things like beet powder (helps give it a pretty color as well as added nutrients), moringa powder, or ashwagandha powder. You don't have to add those of course but if you have them go for it! Adding extra healthy nutrients wherever we can is always beneficial.
I've found that mixing the powders with a small amount of almond milk first before adding all the almond milk makes it easier to get a smoother chocolate mixture with less clumps. Beet powder seems to be particularly prone to clumping but making sure it's finely powdered when adding it helps.
You could also use a blender bottle, an immersion blender, or your blender if you prefer.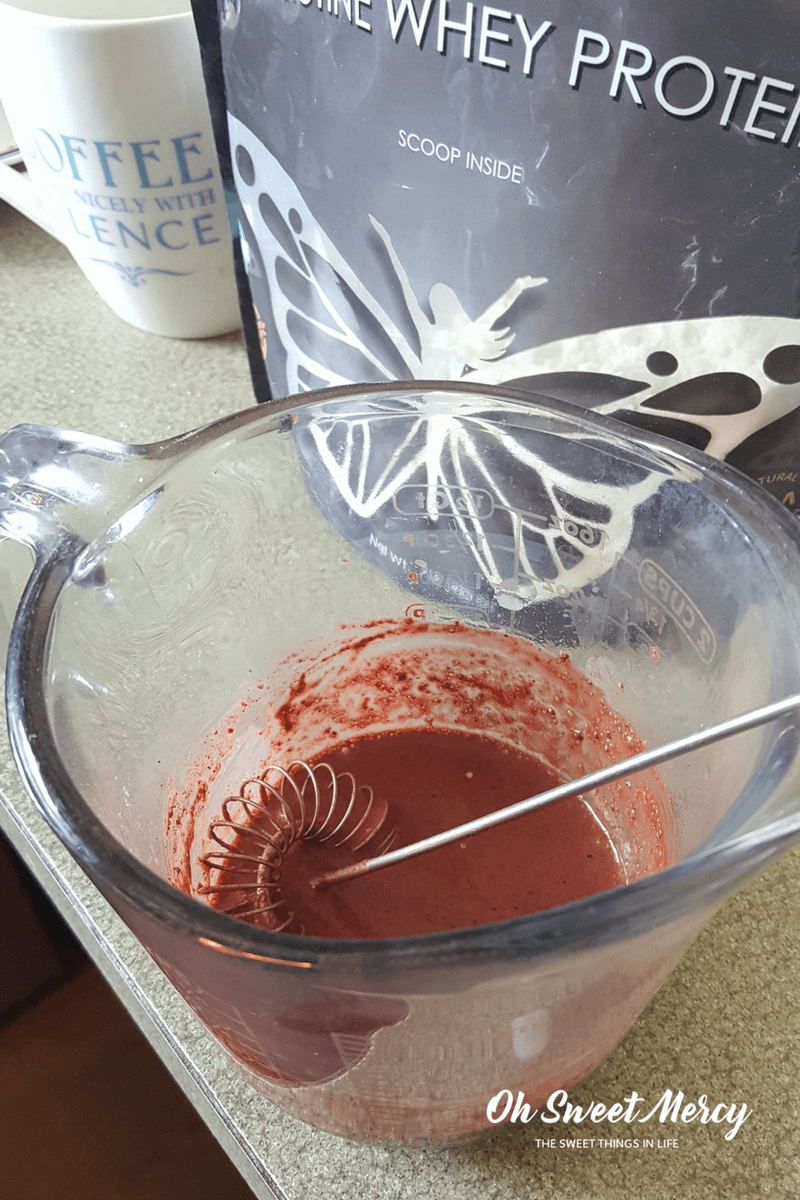 A Meal? A Snack? Whatever You Need!
You can easily vary the amount of protein in this DIY protein drink recipe to suit your needs. Sometimes I just use half a scoop of Pristine Whey Protein Powder (my favorite whey protein powder) for just 10 grams of protein. Paired with fresh berries or a cheese stick it's a perfect snack. It's also great for when your meal is a little lacking in protein.
Need a quick lunch to pack? Make an easy muffin in a mug, such as my Balsamic Berry Coconut Muffin in a Mug along with a 10g protein version of this Chocolate Raspberry Protein Drink.
While having an actual meal is always best, for those times when you just can't take the time to eat you need this easy protein drink! You can even make ahead several servings (I like to use a repurposed glass bottle), they keep well in the fridge for several days. Then grab and go as needed!
Do You Struggle With Getting Enough Protein? Have You Ever Tried A DIY Protein Drink Recipe?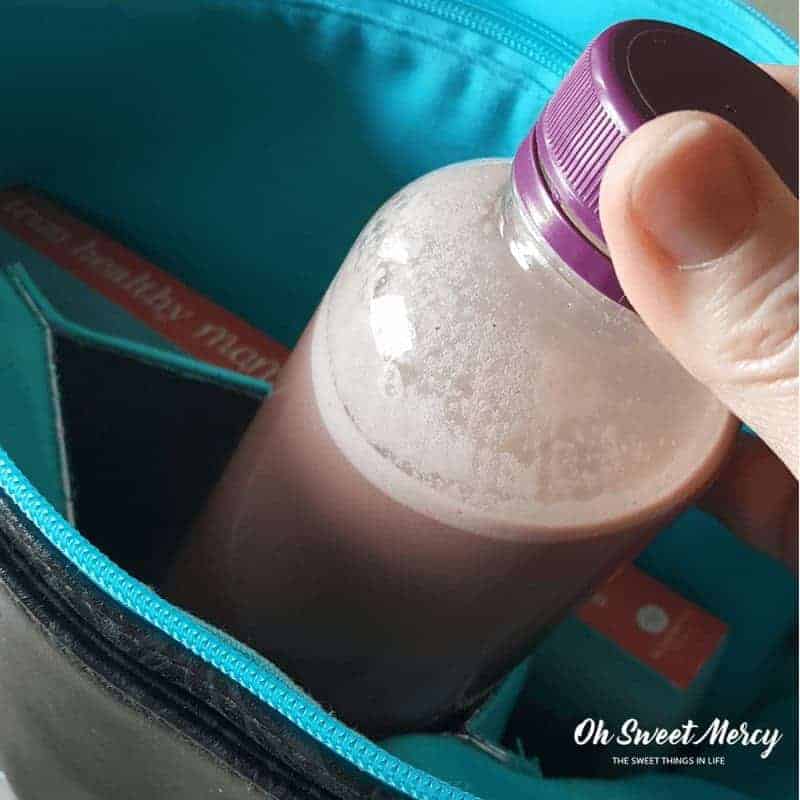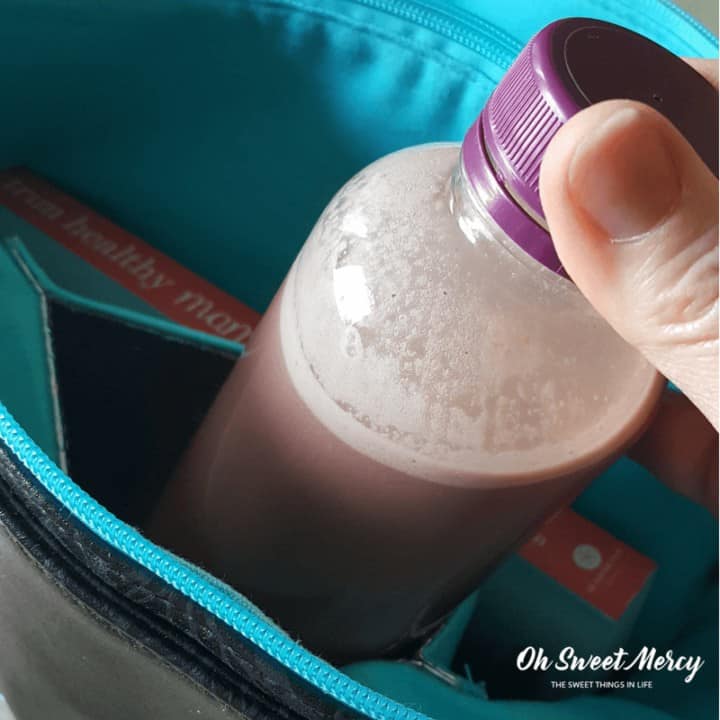 Chocolate Raspberry Protein Drink
Yield: 1 serving
Prep Time: 5 minutes
Total Time: 5 minutes
When you're on the go taking along a protein drink can help you stay on plan. Same thing at home on a busy day. Either way, this simple protein drink's got you covered.
Ingredients
2 to 3 teaspoons cocoa powder
1 teaspoon beet powder (optional)
3 to 4 "doonks" pure stevia extract (a doonk is 1/32 tsp)
pinch of high mineral salt
1/2 teaspoon raspberry extract
1 scoop Pristine Whey Protein Powder (or less, as desired)
1 3/4 cup unsweetened almond milk (or other on-plan non dairy milk)
Instructions
In a small bowl or Pyrex measure, add all the ingredients except for almond milk.
Whisk together to combine well.
Add about half a cup of the almond milk and whisk well until no lumps remain. Add more almond milk if necessary to get a smooth consistency.
Add remaining almond milk and whisk well or pour the chocolate mixture and remaining almond milk into a bottle, cap, and shake.
If you have a blender bottle, add all the ingredients and shake until well blended.
Taste and adjust as desired.
Notes
As written this is a Fuel Pull protein drink. You can add MCT oil to make it an S if desired.
Recommended Products
As an Amazon Associate and member of other affiliate programs, I earn from qualifying purchases.
Nutrition Information:
Yield: 1
Serving Size: 1 serving
Amount Per Serving:
Calories: 81
Total Fat: 5.3g
Sodium: 345.2mg
Carbohydrates: 10.1g
Fiber: 3.9g
Sugar: 1.8g
Protein: 22.8g