---
Is there anything better than a warm scone, fresh from the oven, enjoyed with your favorite coffee or tea? These Cranberry Orange Scones are super easy to make and a delicious THM S treat. Special thanks to Maya from Wholesome Yum for letting me share this recipe from her new book, The Wholesome Yum Easy Keto Cookbook, with you! I also give my review of this cookbook so keep reading.
---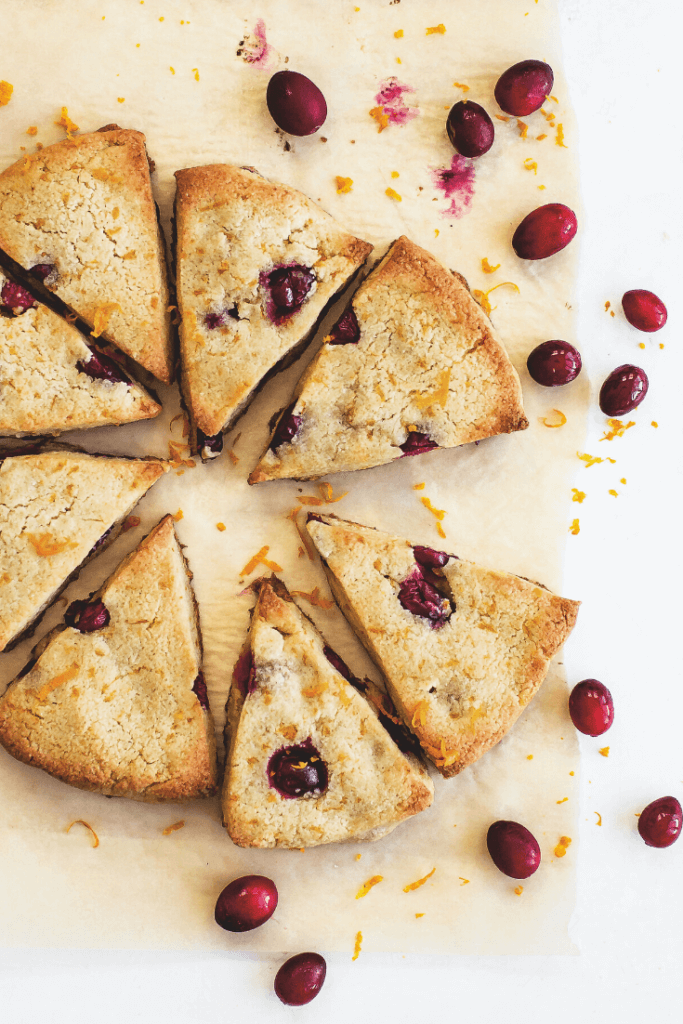 Say Hello To The Wholesome Yum Easy Keto Cookbook!
If you've been to the Wholesome Yum website, you know it's full of gorgeous, mouthwatering, low carb recipes. Now you can have 100 of Maya's tasty, easy, low carb recipes in a printed cookbook!
80 of those recipes are brand new and not available anywhere else, too!
This cookbook is just as gorgeous as her website, too. it's full of all kinds of great things to help you get healthy, low carb meals on your table without a lot of fuss.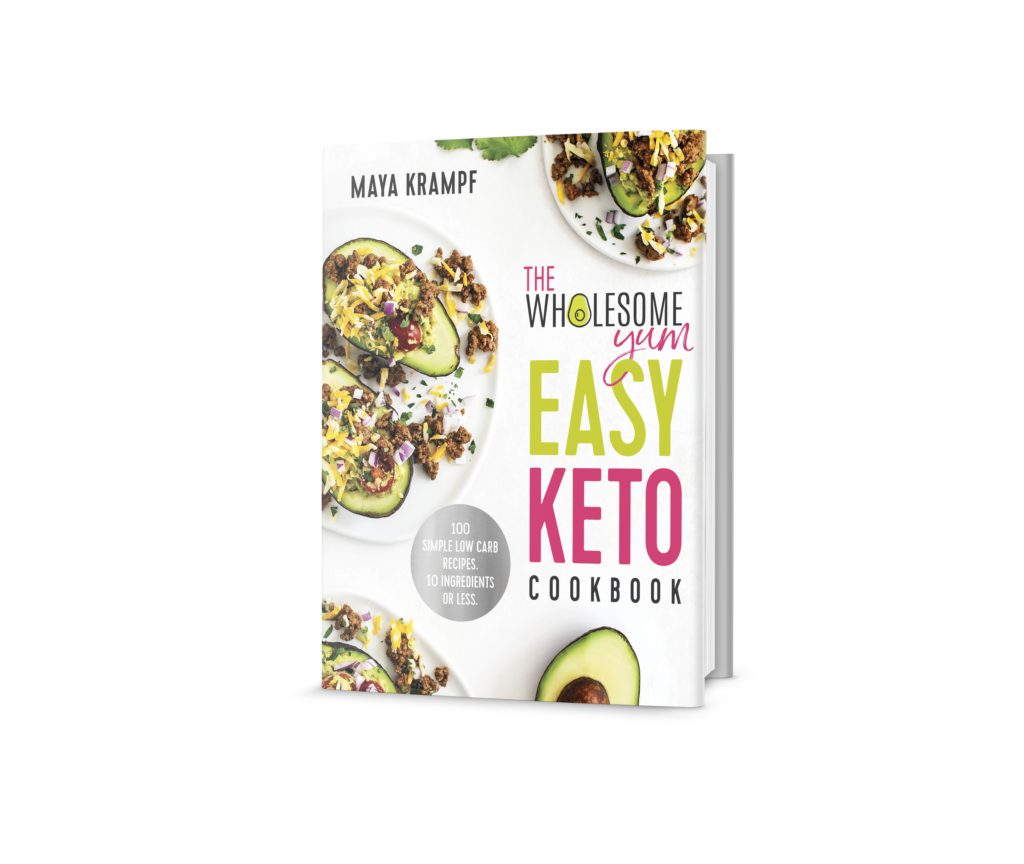 Easy Recipes, 10 Ingredients Or Less – Including Cranberry Orange Scones!
When time is short, you don't feel like cooking, or don't feel super confident in the kitchen, easy recipes are a must. Especially recipes without tons of ingredients.
Inside this cookbook you'll find…
Sweet Breakfasts like French Toast Sticks
Savory Breakfasts like Crustless Quiche Lorraine
Simple Lunches like Thai Beef Lettuce Wraps
Hearty Soups & Salads like 5-Ingredient Broccoli Cheese Soup and Honey-Mustard Chicken Cobb Salad
One-Pan Meals like Tuscan Garlic Chicken Casserole
Meat & Fish Entrees like Maple Pecan-Crusted Salmon
Veggies & Side Dishes like Almond Pesto Zucchini Noodles
Quick Bites & Snacks like 3-Ingredient Almond Flour Crackers and Crispy Avocado Fries with Chipotle Dip
Too-Good-To-Be-Keto Breads like Chewy Fathead Bagels
Decadent Desserts like Fudgy Brownies
Basic Condiments like 2-Minute Avocado Oil Mayonnaise and Homemade Sugar-Free Maple Syrup
Gorgeous, Mouthwatering Photos.
One thing that has always set Wholesome Yum apart, in my view, are the stunning photos of her recipes.
This cookbook does not disappoint in that area, either! Imagine a meal of Caramelized Onion Meatballs, Almond Pesto Zucchini Noodles, and Italian Garlic Bread Sticks…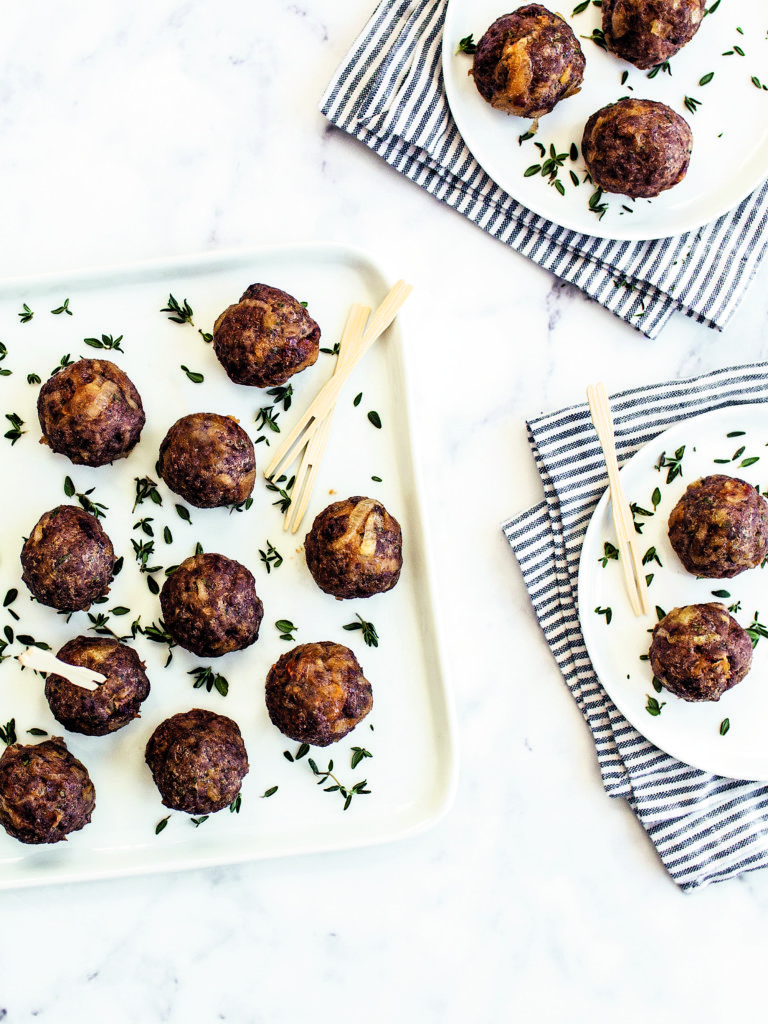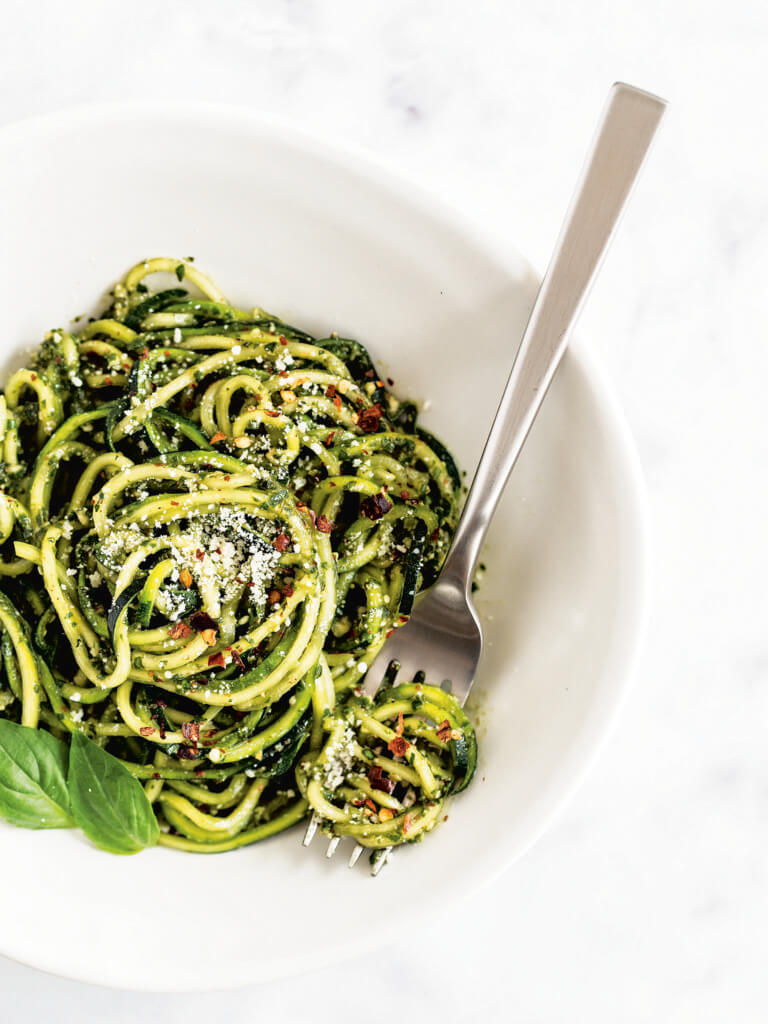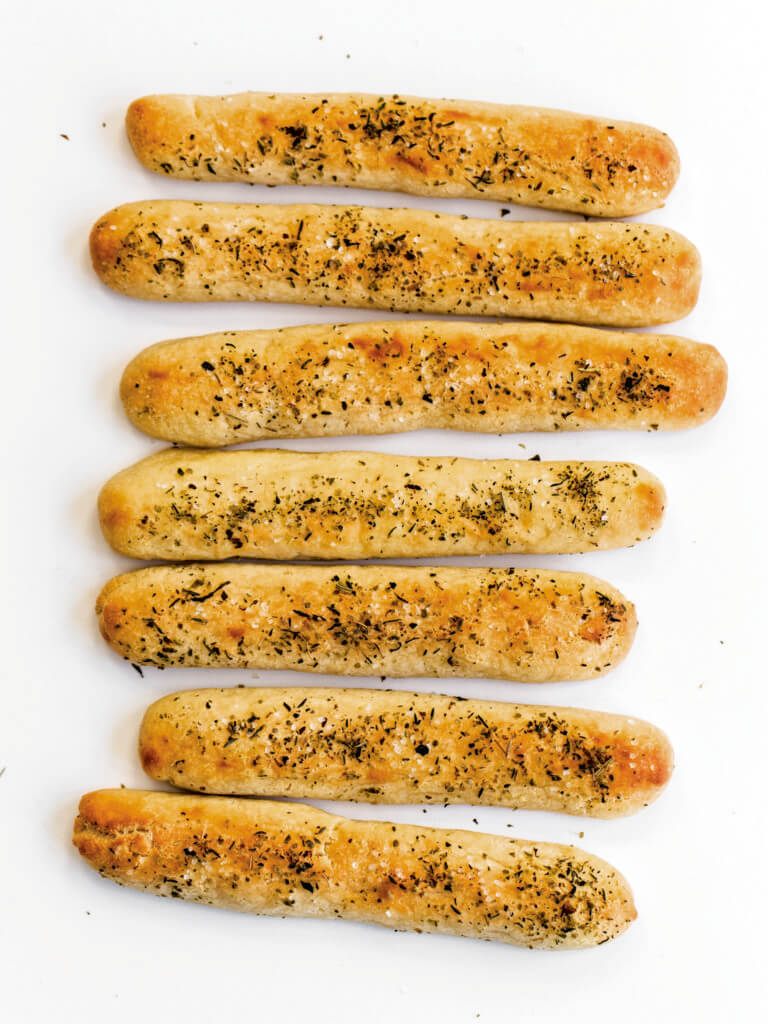 Are you hungry yet? Maybe low carb/keto cooking is a new thing for you and you feel overwhelmed? No worries! Maya has thoughtfully included help, too.
Helpful Hints, Tips, And Tutorials.
The first thing you find when flipping through the pages of the Easy Keto Cookbook is the Getting Started Section. Maya goes over how the keto diet works, how to get started, stocking your pantry, and more.
In addition to the Getting Started section, each recipe includes a Tips & Variations section. She gives helpful tips on preparing the recipes and other variations to try.
Is The Easy Keto Cookbook Compatible With the THM Lifestyle?
Absolutely! The balanced aspect of the Trim Healthy Mama plan includes healthy carbs. However, keto recipes certainly have a place in your THM menu!
You might consider cutting back on the fat a bit in some recipes on occasion. Not because we're afraid of healthy fats, though! It's all about balance.
In addition, many keto recipes are heavy on the cheese and nuts, which is fine for keto. Do keep in mind though that while in weight loss phase on THM, overdoing these foods can lead to a stall in progress.
However, including a reasonable amount of healthy, whole-food keto style recipes in your meal rotation each month works just fine for most people.
A Wonderful Addition To Your THM Or Keto Cookbook Collection.
If you love cookbooks, you'll want to add this beautiful Easy Keto Cookbook to your collection. I've currently got several THM and keto cookbooks on my shelf and I'm thrilled to give The Wholesome Yum Easy Keto Cookbook a home there, too.
My daughter loves to peruse through them and make new recipes. And while I tend to be more of a throw-it-together cook, I often pull down my books and look through them while meal planning.
Where Can I Buy The Wholesome Yum Easy Keto Cookbook?
You can order directly from Wholesome Yum! Plus, register your purchase for over $65 of bonuses (as of the date of this post).
This book is also available on Amazon, with Prime shipping too! Click here to order your copy now.
Cranberry Orange Scones (And How To Fit Them Into Your THM Meal Plan)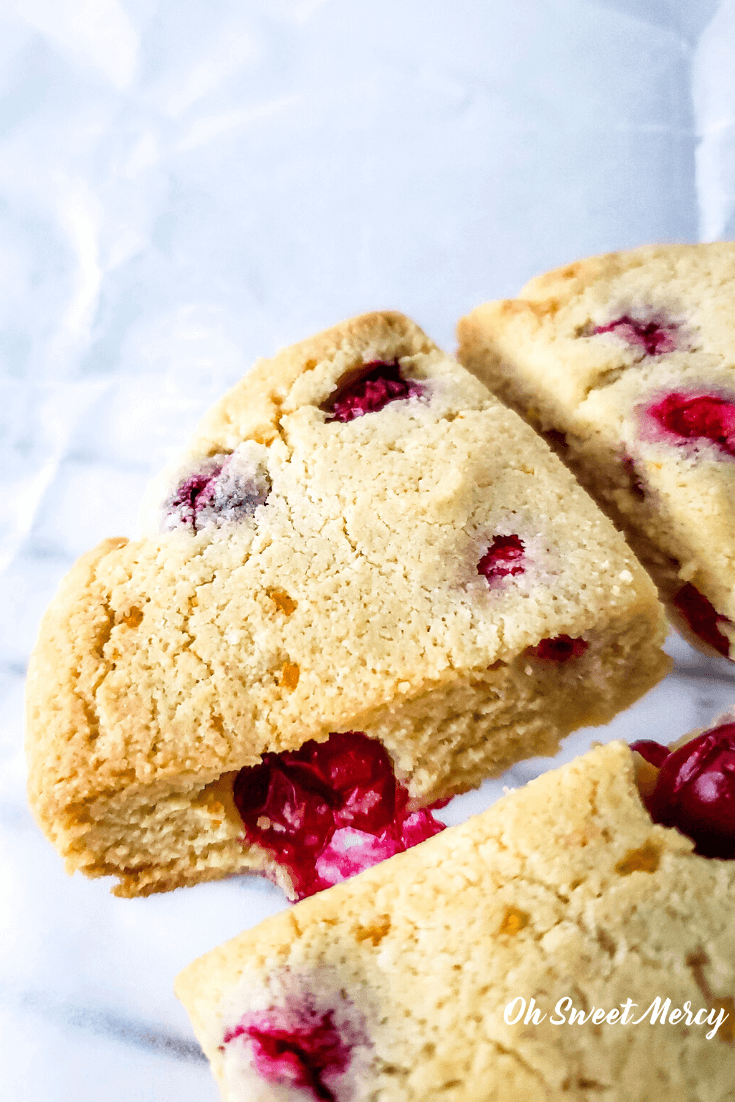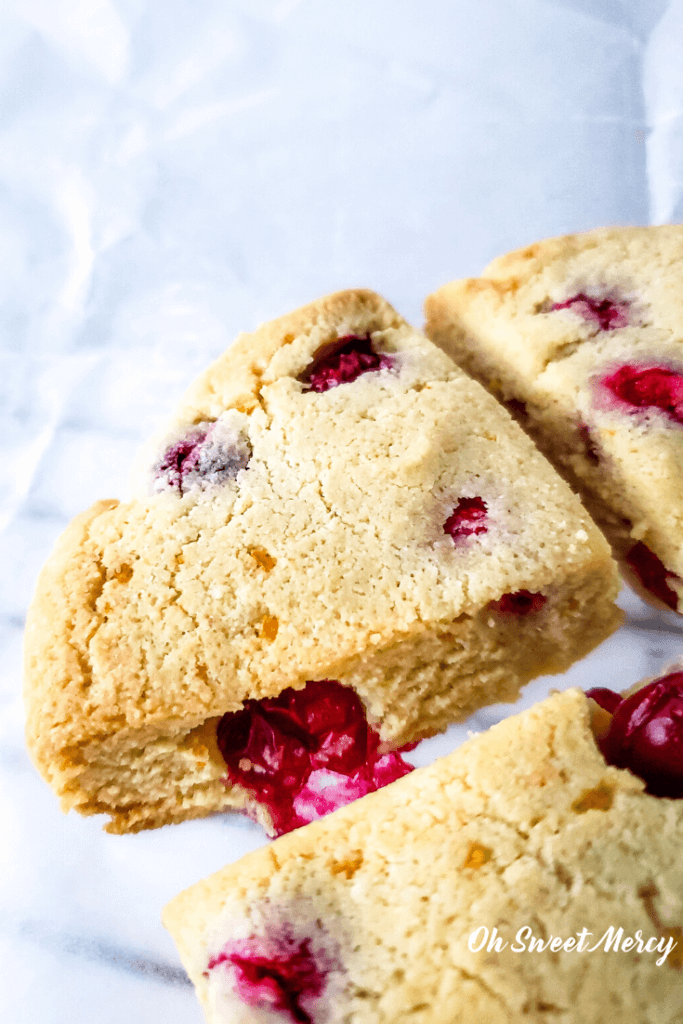 How Did These Cranberry Orange Scones Turn Out?

These scones were super easy to make. The dough turned out exactly as described in the recipe – pliable and dense, but not crumbly. In my oven, it took about 25 minutes to bake through.

My kitchen smelled absolutely amazing. Also, I did not wait for them to cool completely before trying one. They were still slightly warm but did not fall apart. You definitely want to let almond-flour baked goods cool significantly before handling

Taste-wise…they are slightly sweet with delicious bursts of tart cranberry and bright orange zest. Perfect with tea or coffee and with my sugar free Spiced Cranberry Sauce!
Since these lovely Cranberry Orange Scones are low carb and made with almond flour and a significant amount of coconut oil, they're a THM S recipe.
Also, since all almond flour is used it's considered more of a Heavy S recipe. I recommend enjoying with a mug of collagen coffee or tea as a snack.
If you'd like a cranberry orange scone for dessert, choose lighter options for your meal more often.
A Fuel Pull meal leaves plenty of room for a decadent dessert like this! Try my Chicken Florentine Wonders and some steamed green beans, and a side salad with my Easy Ranch Dressing (made FP style), for example.
Finally, even just a Light S meal helps keep you going way overboard on fat for a THM meal. Grilled chicken breast or lean fish with steamed veggies, lightly buttered, and some cauli rice, for example, are lighter on fat.
As you can see, it's easy to include keto recipes in our THM meal and snack plans!
Now, Time For That Cranberry Orange Scones Recipe!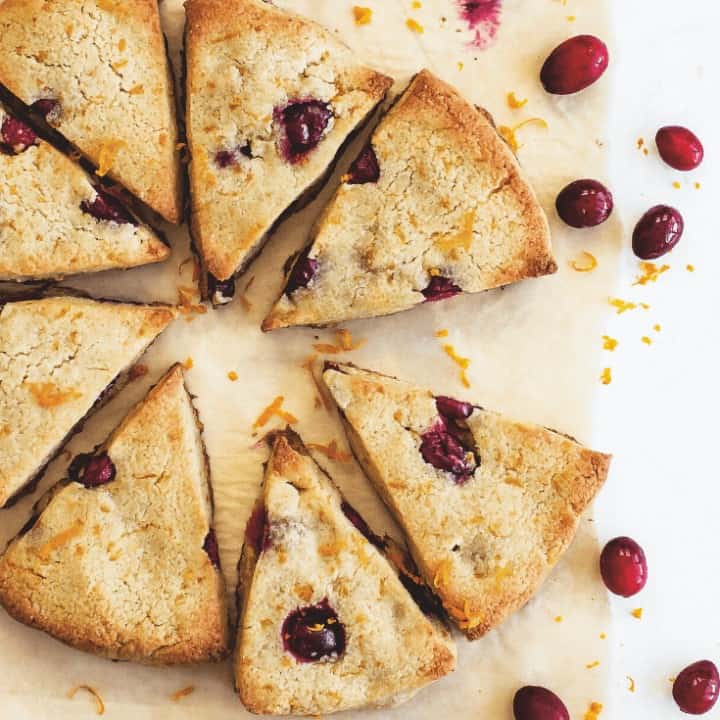 Cranberry Orange Scones from Wholesome Yum's Easy Keto Cookbook
From Maya: "Before switching to a low carb lifestyle, one of my favorite pastimes was sitting in a coffee shop with my laptop or a friend, cradling a steaming latte and a scone. A lot has changed since then, but my love for scones sure hasn't! I hope these keto-friendly cranberry-orange scones will remind you of your favorite coffee shop, as they do for me, every time I make them."
Ingredients
1/2 teaspoon baking powder
1/4 cup coconut oil, melted
2 tablespoons orange zest
1/2 teaspoon vanilla extract
1 large egg
1/2 cup (2 ounces) cranberries, fresh or frozen
Instructions
Preheat the oven to 350 degrees. Line a baking sheet with parchment paper.
In a medium bowl, combine the almond flour, erythritol, baking powder, and sea salt.
In a small bowl, whisk together the melted coconut oil, orange zest, vanilla, and egg. Stir the wet mixture into the almond flour mixture, pressing with a spoon or spatula, until a uniform dough forms. (The dough should be pliable and dense, but not crumbly; add a little more coconut oil, a teaspoon at a time, if it's very dry.) Stir and press the cranberries into the dough.
Place the dough onto the lined pan and form a disc shape, about 1 inch thick and 6 inches in diameter. Cut into 8 wedges, like a pie or pizza. Move the pieces about 1 inch apart. Bake for 18 to 22 minutes, until golden.
Cool completely on the pan to firm up. Scones will fall apart if you move them before cooking.)
Notes
Tips & Variations
Make sure to use blanced, finely ground almond flour for the best texture.
If using frozen cranberries, do not thaw them first. Otherwise the scones will be too wet.
To avoid the hassle of zesting an orange, you can use 1/2 or 1 teaspoon orange extract instead, depending on the potency.
If you are not dairy-free, butter works as a substitute for coconut oil.
Recommended Products
As an Amazon Associate and member of other affiliate programs, I earn from qualifying purchases.
Nutrition Information:
Yield: 8
Serving Size: 1 scone
Amount Per Serving:
Calories: 232
Total Fat: 21g
Carbohydrates: 9g
Net Carbohydrates: 4g
Protein: 6g
PIN THE IMAGE BELOW TO YOUR FAVORITE PINTEREST BOARDS: