---
I've taken the classic flavors of Chicken Florentine and trimmed them down to make a delicious and satisfying Trim Healthy Mama Fuel Pull recipe! This easy low carb and low fat Chicken Florentine recipe will leave you satisfied.
---
Sometimes, I go out into the kitchen and find zero inspiration.
Zip. Zilch. Nada.
It's especially aggravating when I'm hungry and need to eat like an hour ago.
Then there's times when I'm just on a roll, banging out recipes left and right.
Like this past week or so…I've posted a delicious Creamy Coconut, Lemon, and Turmeric Shake, an Easy 3 Step Guacamole Recipe, AND I have a few more tasty posts in the process of being crafted.
Because let me tell you, blogging is definitely a craft…an artform…and I am meticulous about it, which is why it takes me forEVer sometimes to write a post.
But every now and then, I find my groove and start firing on all pistons. It's nice.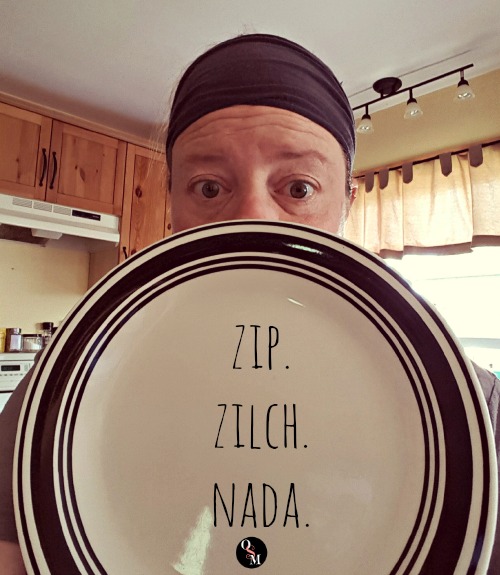 "Something With Chicken" is on my menu, but what?
Vagueness is often a component of my menu planning. I know I've got this protein, those veggies, some seasonings…I'll start throwing things together until it tastes good. I'm a dump cook. That's how I roll.
Since I'm in the groove, I remembered to get the chicken breasts out of the freezer and into the crock pot in a timely fashion. I sprinkled some salt, pepper, minced onions and garlic powder on them, added a bit of water, and went out to weed stuff.
I'm just a machine lately. Seriously. (And now that I have an Instant Pot, watch out!)
I had no idea what I was going to make with said chicken. But I had a few hours to figure it out.
Are you a Trim Healthy Mama in a "fuel rut"?
It happens to even the most dedicated THMs…you just get in a pattern of eating one style of meals, usually because it's your favorite. My rut of choice is always S. Love me some S…in all its glorious forms. Light. Regular. Heavy. Deep. Just give me those yummy, nourishing fats.
Oh, I love me some carbs, believe me. But one thing I discovered on the Trim Healthy Mama plan is that I'm not as much of a carboholic as I thought – if I can't have those carbs deep fried and smothered in some kind of decadence…like cheese sauce…or buttah…they just aren't that appealing. I'd rather not eat them!
I've been in another S fuel rut lately, and needed to break out of it.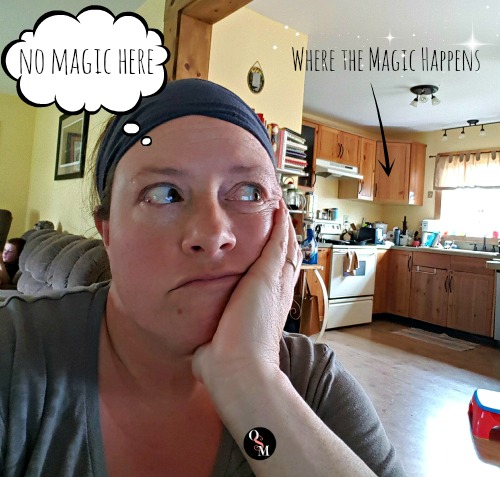 Don't ignore the Fuel Pull, mamas!
A Fuel Pull style meal or snack can sometimes be a big let down. I mean, practically no fat and no carbs? Where's the fun in that?
The secret to a satisfying Fuel Pull is making it flavorful and nutritious. When your body is nourished, you may find that you just feel satisfied more often. And when your tongue is tickled with flavors, your mind will say "hey, this is rather satisfying…" and not beg for donuts or something else that is totally not on plan, threatening to derail the hard work you've been doing.
Thankfully, you CAN have donuts that won't throw you off track – especially after a Fuel Pull meal. I love THM. Check out these delicious S recipes:
Ginger Spice Mini Donuts – Wonderfully Made and Dearly Loved
Glazed Crumb Donuts – Joy Filled Eats
Chocolate Mini Donuts with Ganache Glaze – Briana Thomas
If you want to stick to a Fuel Pull, cook a FP muffin recipe in a donut maker or bake in a mini donut pan. Thanks, Briana Thomas for that great tip!
Dark green veggies are what your body needs.
Any time you can get dark, leafy green veggies into your meals, your body will thank you. Spinach, for example, contains quite a lot of iron. Dark green veggies also have chlorophyll, and both of those are great for your blood.
Chicken. Spinach….ding! Chicken Florentine.
Chicken Florentine ingredients are rich and decadent. It would be an absolutely fabulous S meal (just use an on-plan white sauce and skip the pasta). But for a Fuel Pull, that is a no-no.
Time to lighten it up.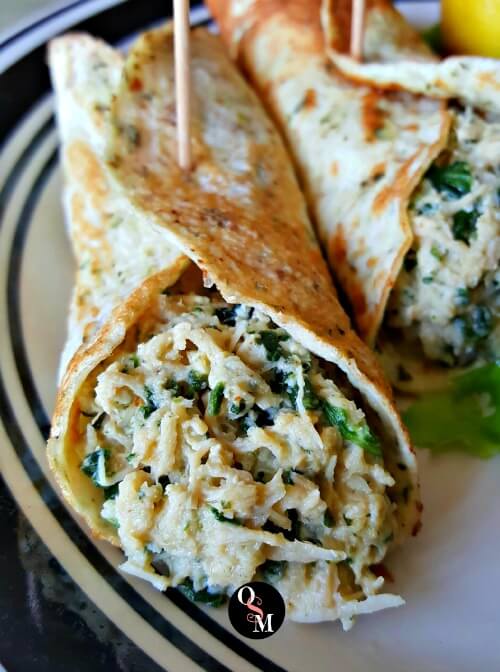 Wonder Wraps are a THMs best friend!
If you haven't yet added Wonder Wraps to your THM meals, you really should. You can find the recipe in the new Trim Healthy Mama Cookbook on page 204.
Wonder Wraps utilize the wonders of psyllium husk to help create a flexible wrap that can also be layered like lasagna noodles. Just see page 146 in the cookbook for Light and Luscious Enchilada Wonder Casserole (another tasty Fuel Pull) and page 148 for Wonder-Wrap-Ful Lasagna (a lovely low carb S).
For this recipe, I adapted a similar recipe that I found on Pinterest.
These wonderful wraps have practically no carbs, so you can use them for any style meal. They are perfect for S or FP, and even E, if you want to get your carbs from another source other than a regular, on plan wrap.
I took the components of Chicken Florentine and trimmed them down, and these Chicken Florentine Wonders are the delicious result.
Trim Healthy Mamas, here's how this tasty recipe will fit into your healthy eating plan.
There's two ways you can make this:
Want to save the majority of your fat grams for a side dish or salad dressing? Use all nonfat Greek yogurt instead of part sour cream. The total fat content of this recipe will just be 1.5 grams, leaving you 3.5 grams for a light drizzle of oil on your salad or a side dish with no more than that amount of fat.
Want all your available fat grams in the dish itself? Use part sour cream and part nonfat Greek yogurt. You'll have 4 grams of fat in the dish, with a little wiggle room. Dress a leafy green salad with fresh lemon juice and sprinkle a teaspoon of parmesan cheese on your salad. That lemon juice will also help your body absorb the iron in your leafy greens better, too.
I opted for #2 (but no parmesan on my salad). Two hours later, I was still satisfied. Many times after eating a Fuel Pull, we can start feeling hungry again. This is totally normal, and a small Fuel Pull snack is fine, or if you know what style your next meal will be, a snack in the same style works too.
A Fuel Pull that leaves me satisfied and functioning like a well-oiled machine? Yes, please!
We have a winner folks! These Chicken Florentine Wonders were so flavorful I did not miss the decadent cream and butter.
You want to be in a groove, NOT a rut.
A groove is a good thing. You're rocking it.
A rut, not so much. If you've been in a Fuel Rut, use this tasty Fuel Pull recipe to pull you out and into your new THM groove.
Need more Fuel Pull ideas? Check out this post on 50 Terrific Fuel Pull Ideas
Let's make some Chicken Florentine Wonders!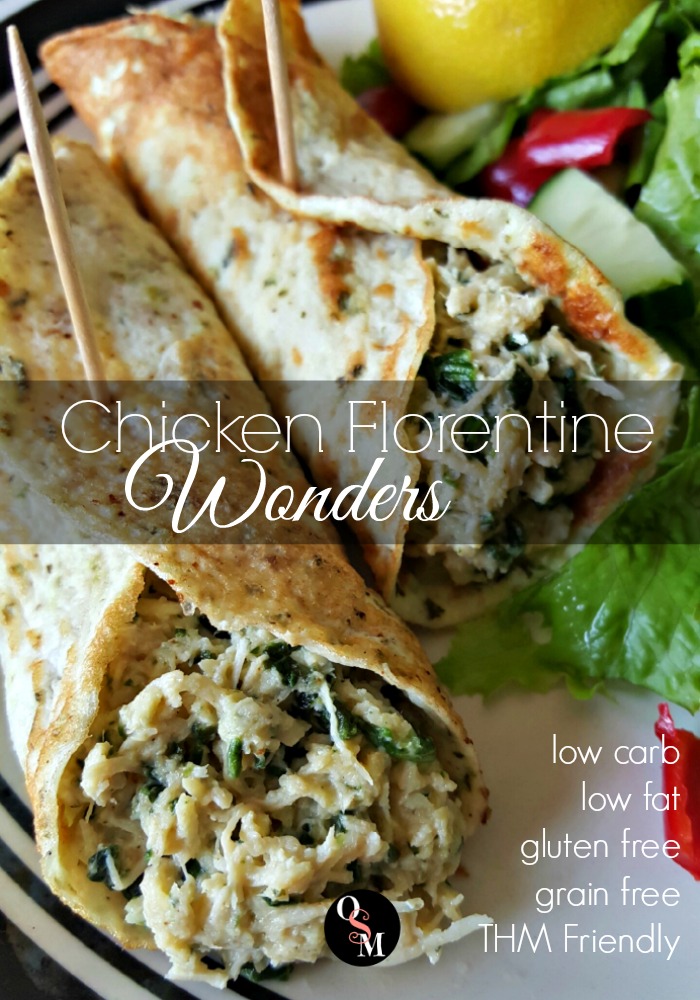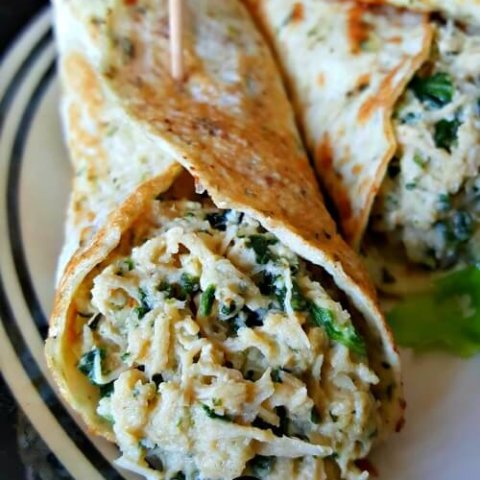 Chicken Florentine Wonders
Yield: 1 to 8
Prep Time: 30 minutes
Total Time: 30 minutes
I've taken the components of a decadent Chicken Florentine and trimmed them down to fit the Trim Healthy Mama Fuel Pull guidelines. You could also easily make this an S by using all sour cream and adding some butter.
Ingredients
For the wraps (single serving)
3 egg whites
1 tsp grated Parmesan cheese
For the Filling (Single Serving)
1 tsp white wine or cooking sherry
1/2 tsp Mineral Salt or sea salt, or to taste[br]
Dash or two of freshly ground black pepper
1 tsp grated Parmesan cheese
1/2-3/4 tsp garlic powder
2 heaping Tbs frozen, chopped spinach
2 Tbs nonfat Greek yogurt OR 1 Tbs plus 1 Tbs sour cream
1/2 c cooked, shredded chicken breast (with no added fat)
FOR MULTIPLE SERVINGS OF FILLING:
1/4 c grated Parmesan cheese
1 1/2 to 2 Tbs garlic powder
1 c frozen chopped spinach
1/4 c cooking sherry or dry white wine (optional)
1/2 c nonfat Greek yogurt OR 1/4 c each nonfat Greek yogurt and sour cream
4 c shredded chicken (2 large boneless, skinless breast halves cooked with no added fat, seasoned with salt, pepper, garlic powder and onion powder)
1/2 tsp ground black pepper
LARGE BATCH OF WRAPS (8 servings/16 wraps)
1 tsp Mineral Salt, or to taste[br]
1 Tbs plus 1 tsp Italian Seasoning
2 Tbs plus 2 tsp grated Parmesan cheese
2 Tbs plus 2 tsp psyllium husk
1/4 c coconut flour
2 2/3 c egg whites
Instructions
Divide the filling evenly between the two wraps
Secure with a toothpick or place on the plate so the two edges of the wrap are underneath
Notes
Use all nonfat Greek yogurt if you want to save some fat grams for a salad dressing or side, you'll have 3.5 to work with.
Or, use half yogurt, half regular sour cream and a nonfat side, such as a salad dressed with lemon juice.
Recommended Products
As an Amazon Associate and member of other affiliate programs, I earn from qualifying purchases.
Nutrition Information:
Amount Per Serving:
Calories: 0
Cholesterol: 0mg
Sodium: 0mg
Carbohydrates: 0g
Fiber: 0g
Sugar: 0g
Protein: 0g

Don't forget to pin this Chicken Florentine Wonders recipe to your favorite Pinterest boards!