---
Sweet, crunchy, oats and cranberry nestled in a pear half and spiced with the flavors of the season, this low fat baked pears recipe is elegant enough for a fancy dinner dessert or weekday snack. Low in fat and including healthy carbs, it's also a delicious THM E choice.
---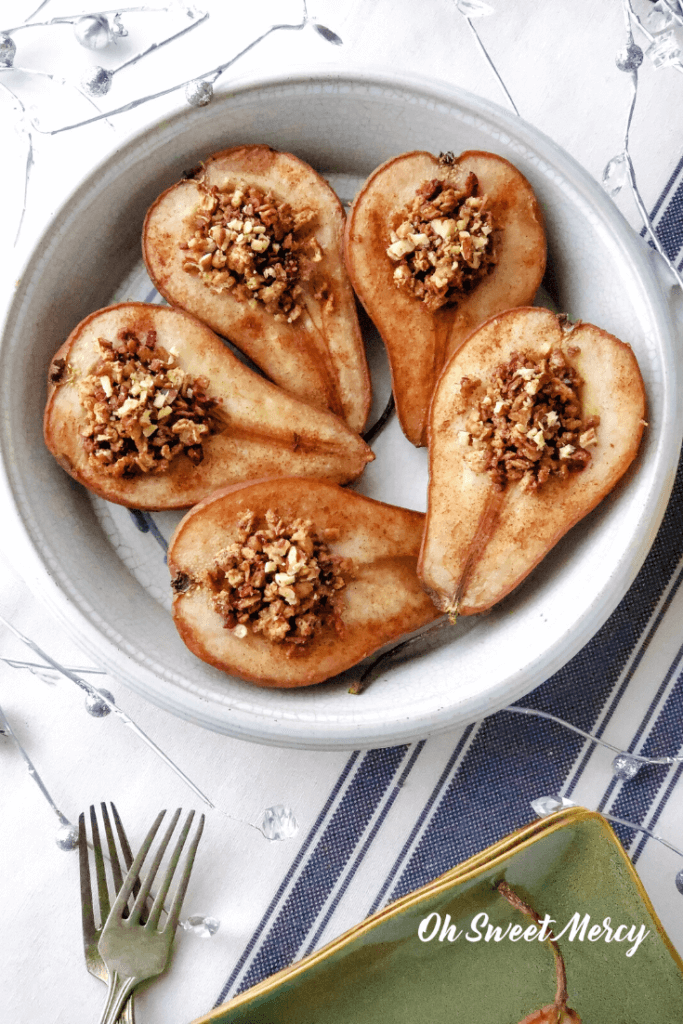 Have you ever wondered how to bake pears in the oven? It's really one of the easiest things you can do. Pears bake up wonderfully!
Baked pears also make the perfect backdrop for a crunchy, cinnamon-y, nutmeg-y, and allspice-y oat filling. Throw in some tart fresh cranberries, a small sprinkle of chopped pecans and you've got an elegant holiday dessert.
But wait, there's more!
My version of a stuffed baked pear recipe is low fat and makes a perfect THM E dessert or snack. Check below for how to fit this delicious treat into your Trim Healthy Mama meal plan.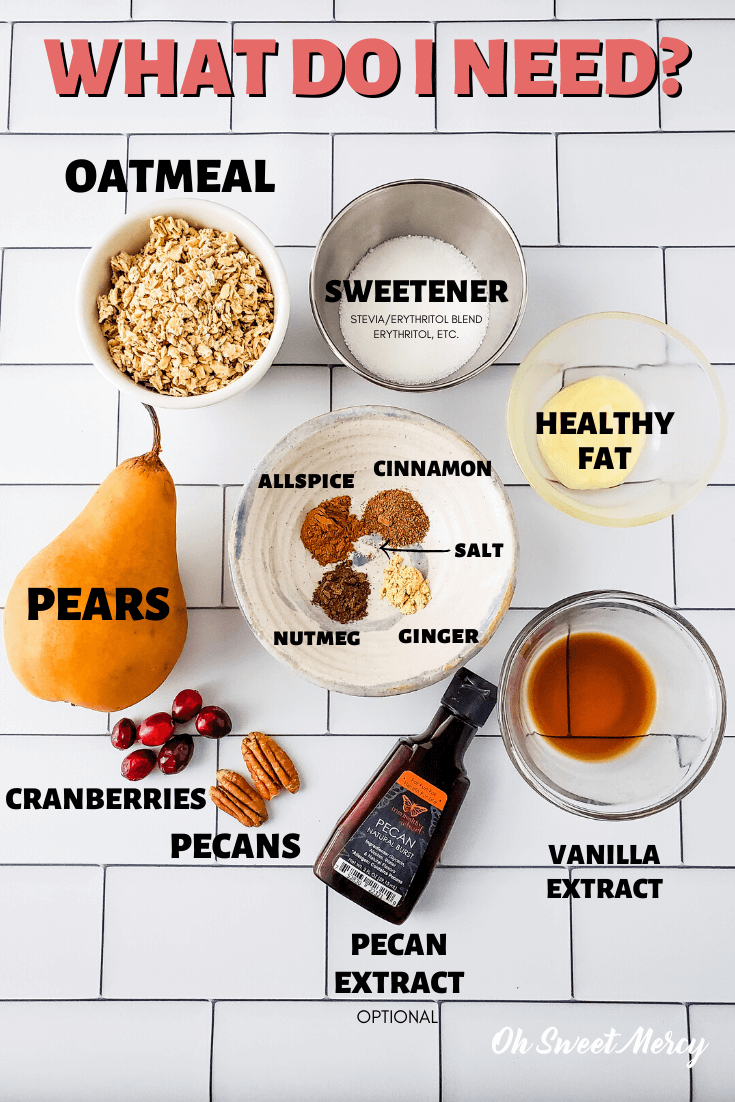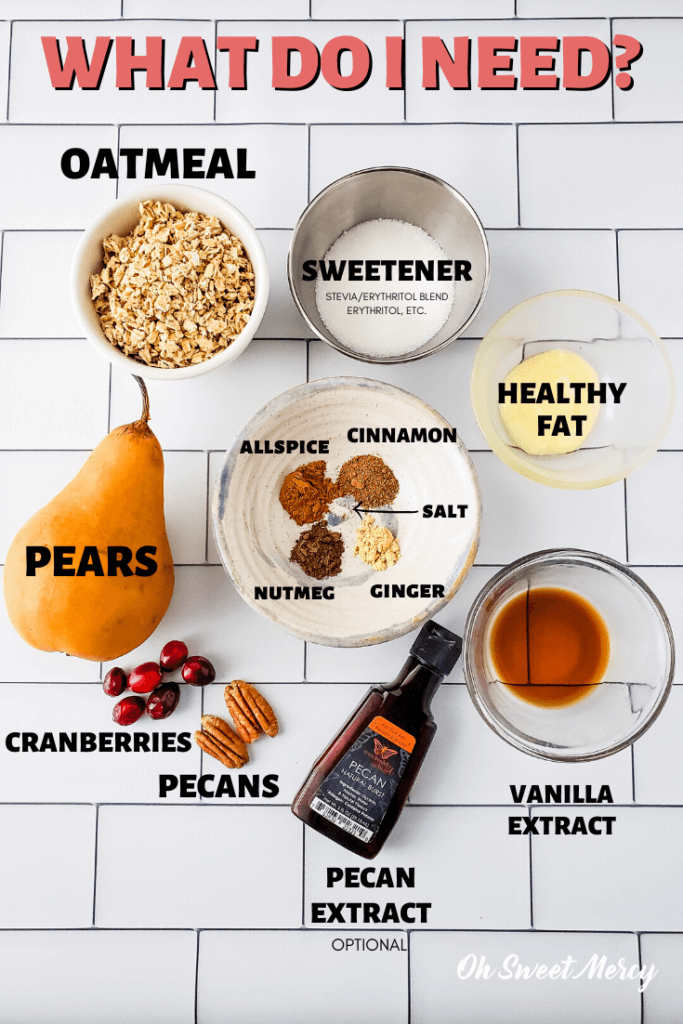 Can I Use Soaked Oats In This Recipe?
If you're wanting a crunchy, granola-type result then using wet, soaked oats is not the way to go. See also Don't Add This Ingredient… below for another thing that won't lead to crunchy oaty goodness.
However, there is a way to use soaked oats here! If you prefer your oats soaked, you simply must try the Presoaked Oats method from Traditional Cooking School!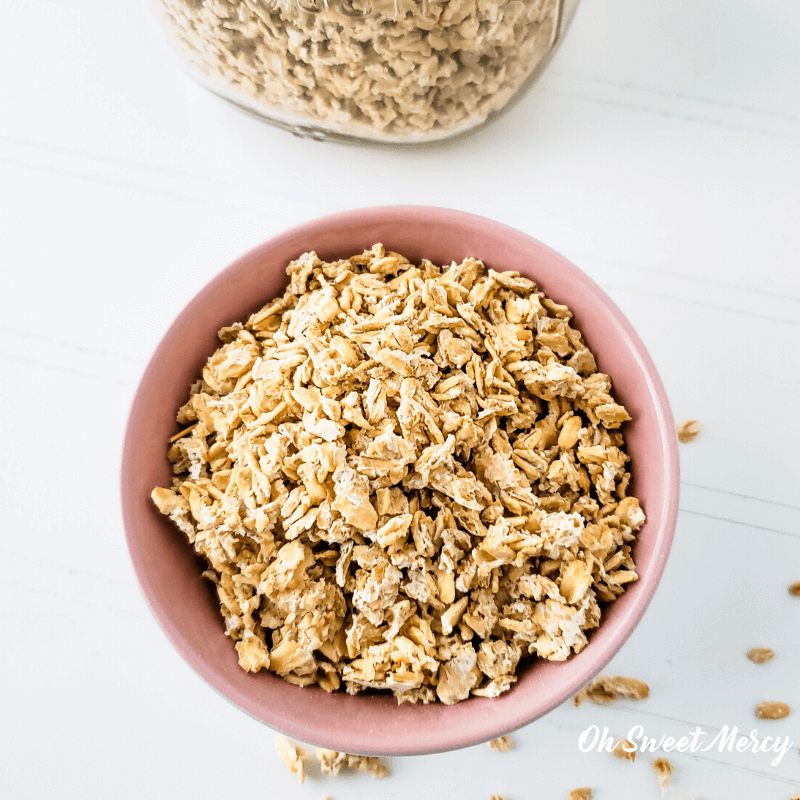 It does take a bit of time, but most of it is hands-off. Then you always have soaked oats ready to go when you need them.
You simply soak and dehydrate them. BUT be sure to follow Wardee's method so you don't end up with rock-hard oats. It works perfectly every time.
What Are The Best Pears For Baking?
While I chose Bosc pears for this recipe, there are other varieties that work just as well for baking.
I love the look of Bosc pears, especially for an elegant presentation. They also taste delicious with a delicate sweetness and flavor.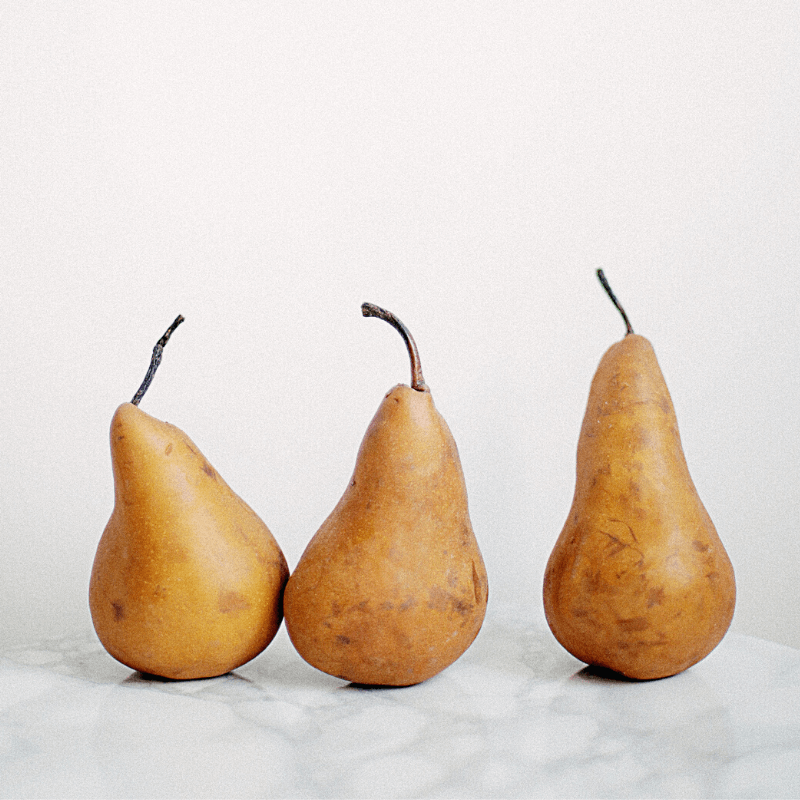 My research shows that Bosc and Anjou pears are best at holding their shape when baking. Pears that fall apart while cooking are great for making pear sauce but not for making stuffed baked pears.
For example, avoid Comice (pronouced ko-MEESE) pears they just do not hold up well when cooking.
Also, Asian pears have a higher water content and are more crisp and starchy. Because of that they do not bake well.
USA Pears has some quick info on the different pears grown in the US.
How To Bake Pears In The Oven.
While testing my baked pears recipe I tried two ways: with liquid and without. I truly find no difference between the two methods.
Some recipes for baked pears call for mixing maple syrup and water (or some such thing) and baking in that. Others call for apple juice.
Either way, that is way too much added sugar and not an on-plan choice for weight loss on the THM plan.
To bake pears in the oven, simply halve the pears, core, stuff and season. Arrange in a baking dish or on a baking sheet. Bake in a 350 degree oven for 30 minutes.
If the pear halves don't lay flat on the baking sheet just slice off a bit of the round part of the half until it lays flat.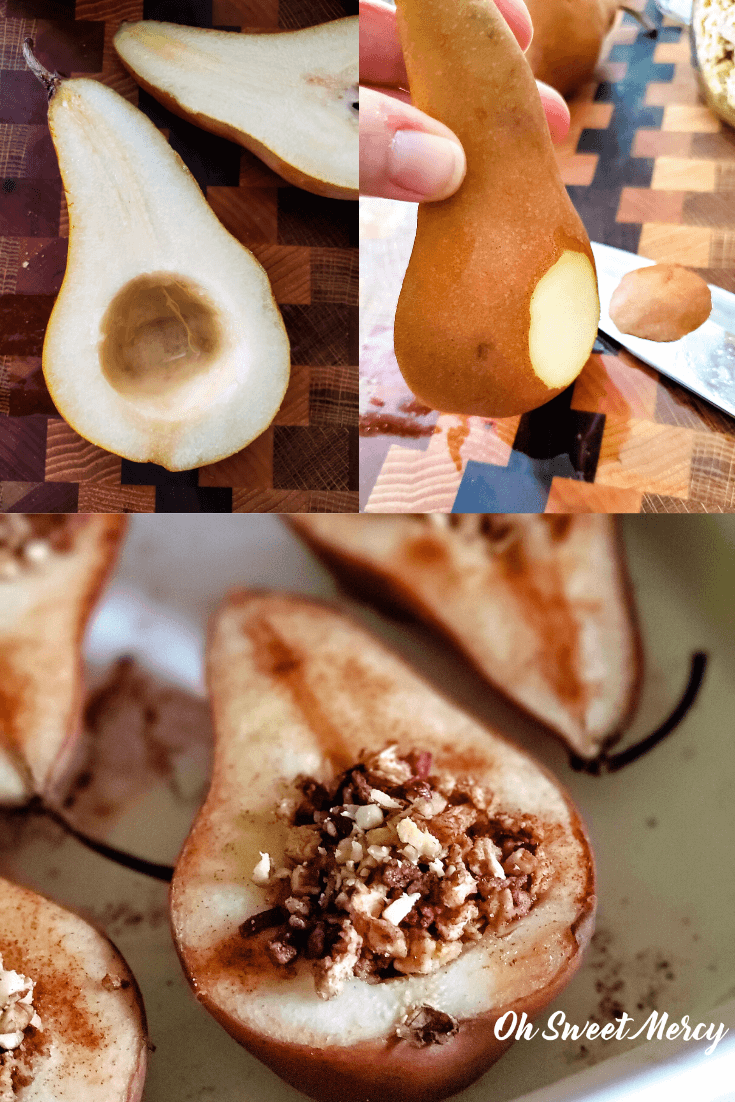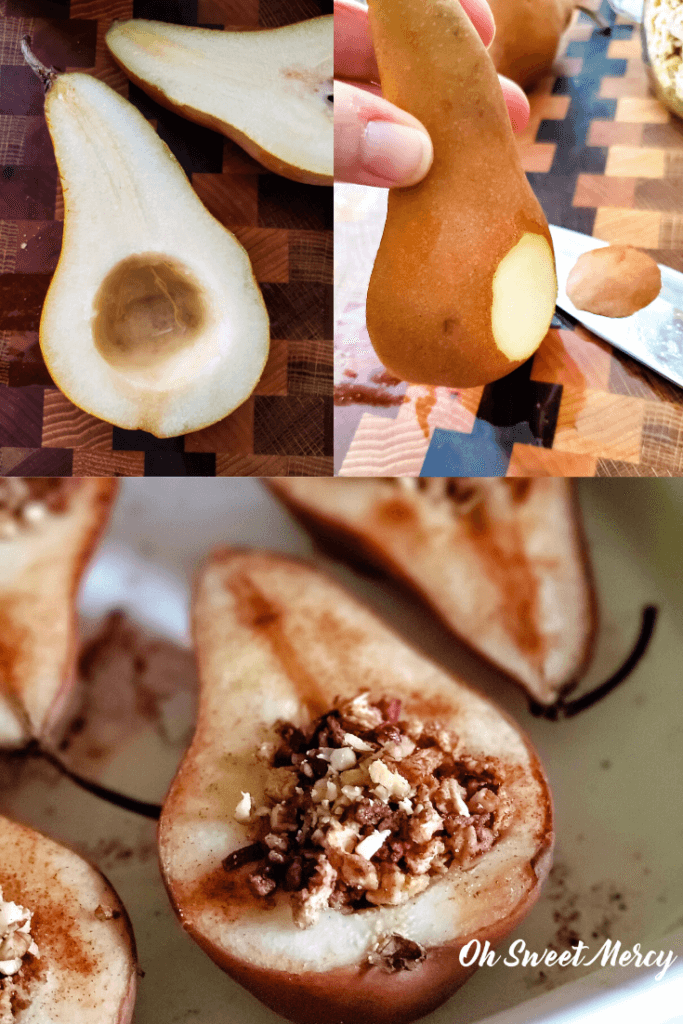 Do Not Add This Ingredient To Your Baked Pear Filling…Trust Me On This!
If you're a Trim Healthy Mama plan follower you might be thinking…
But where is the protein?
You might then think adding some fat free Greek yogurt to your oat mixture is a great idea.
Don't. Just don't.
The first round of testing for this recipe, that's exactly what I did. Not much, but it ended up making the filling gummy and gluey.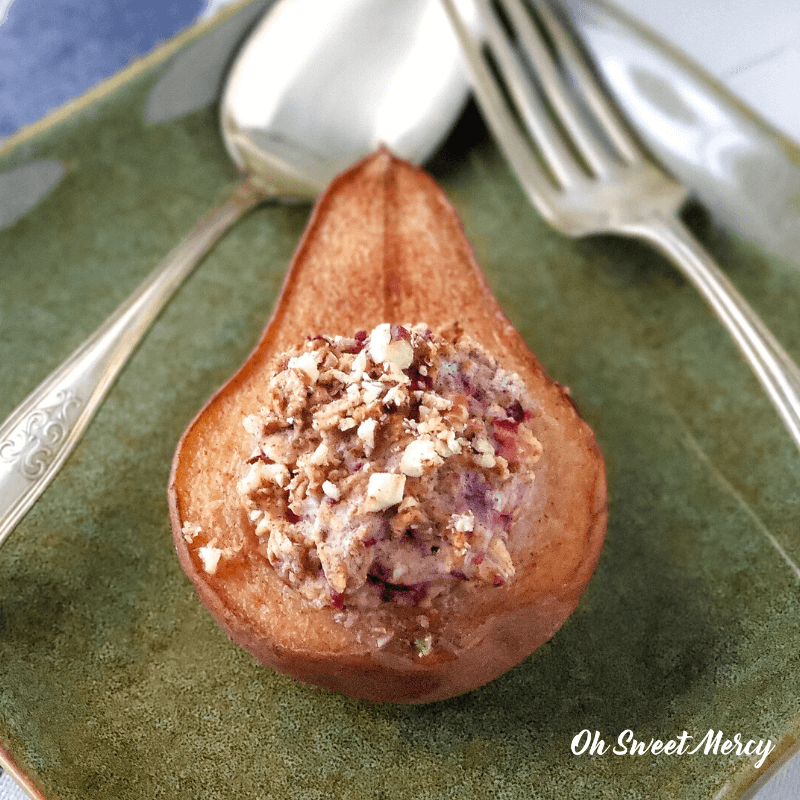 While it still tasted good, the texture was way wrong!
If you'd like extra protein with this add your yogurt on top after the pears are baked. Read on for more ways to get a little more protein with this dish…
How To Fit These Spiced Stuffed Baked Pears Into Your THM Meal Plan.
Pears are an E fuel choice on the THM Plan, as are oats. We add a bit of fat to this recipe so that should be factored in to the overall added fat content of your THM E meal or snack.
Enjoy Baked Pears As An Elegant Dessert.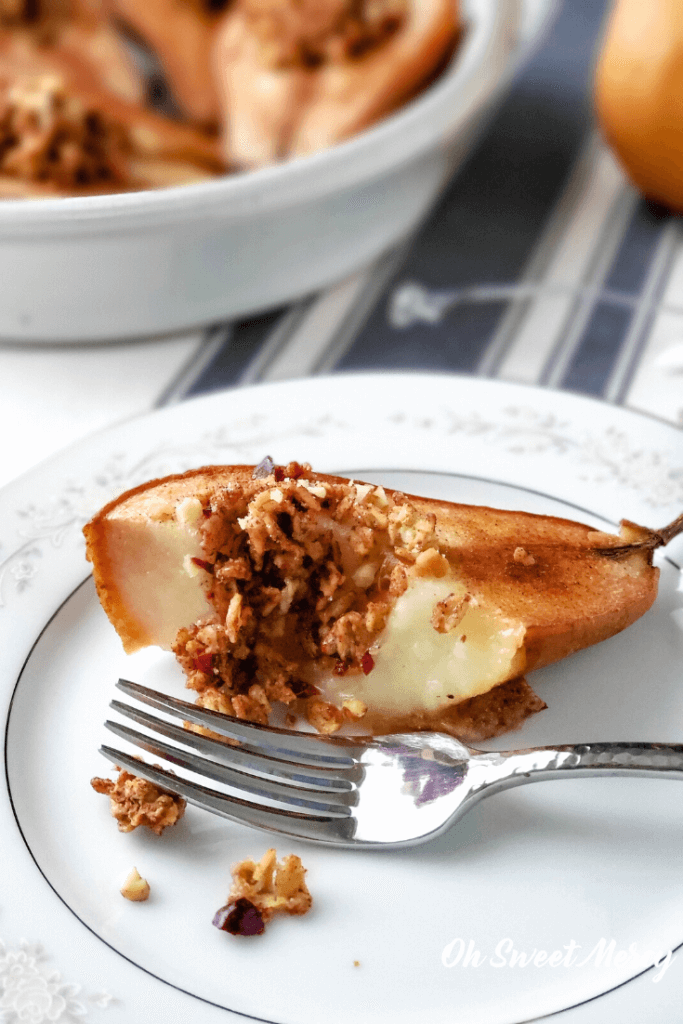 If enjoying as a dessert, don't go overboard on E fuel in your meal. Perhaps just half a cup of rice, quinoa, beans, or 1 slice of sprouted or soured bread.
As always, make sure to have lean protein! An elegant holiday dinner choice might look like this…
Baked turkey breast, steamed green beans, roasted sweet potatoes or butternut squash. Finish off with half a baked pear topped with a THM Fuel Pull ice cream or dollop of sweetened 0% Greek yogurt.
If you'd like something to drizzle over the top, try one of these homemade low carb syrup recipes:
Need more THM friendly desserts? Click Here!
Baked Pears Are Also Perfect As A Snack (Even Cold). Just Add Protein!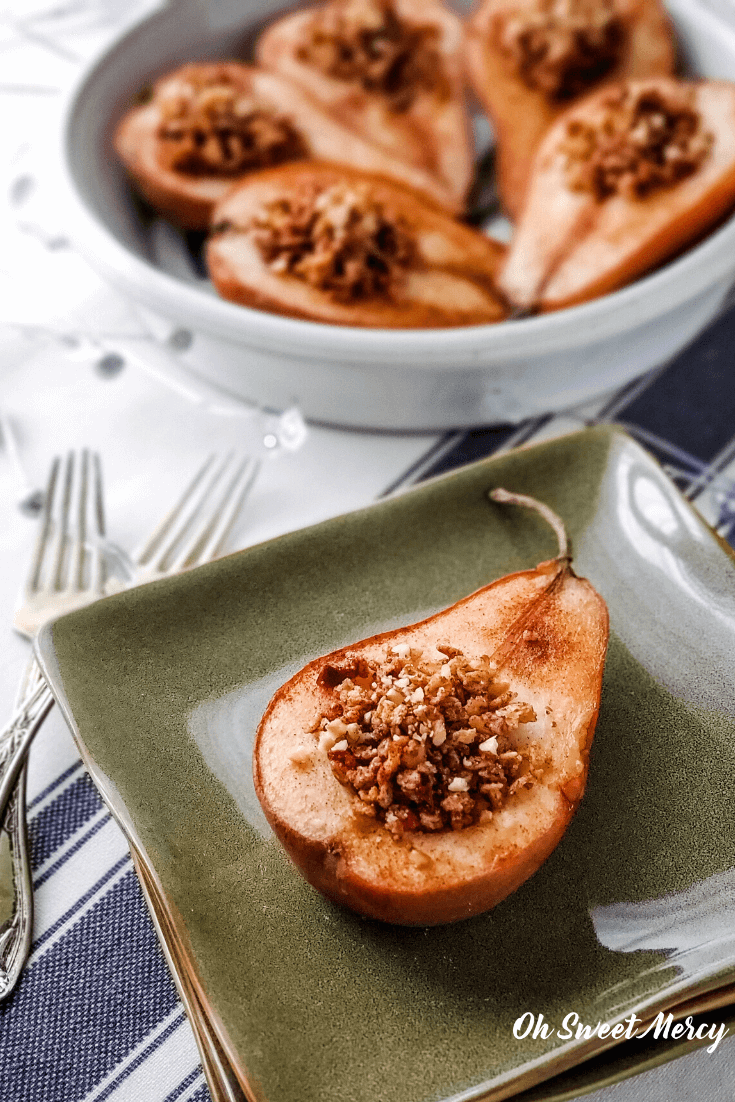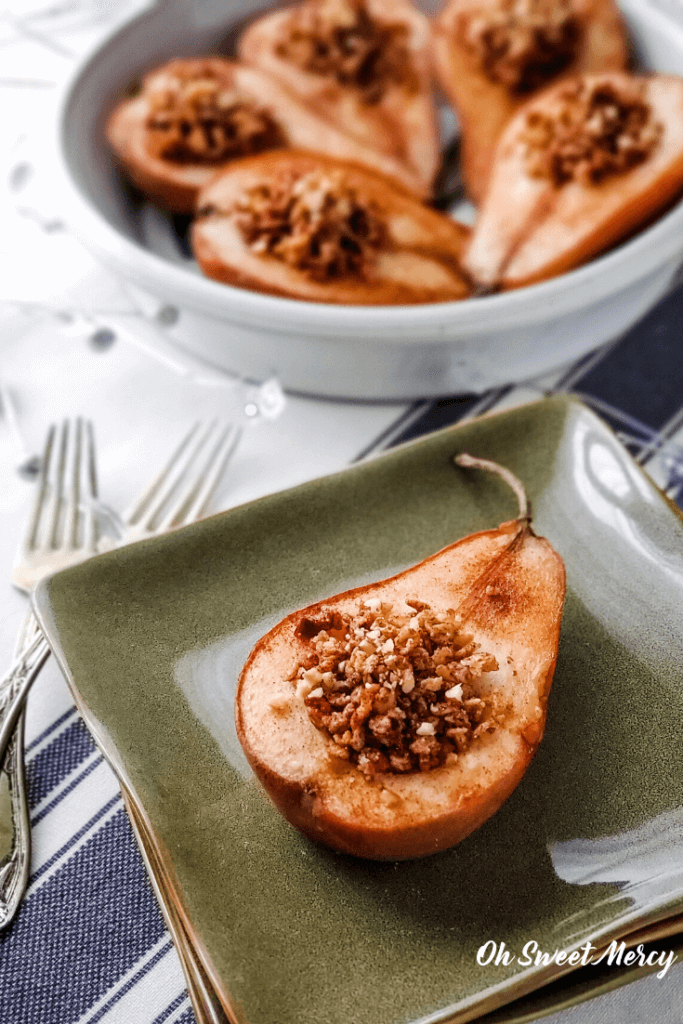 On their own, these baked pears don't really have enough protein. Especially if you have blood sugar control issues, be sure to have some lean protein with your baked pear snack.
Since it's a snack though you don't need to have as much protein as for a meal. I personally aim for around 10 grams.
Add a generous dollop of 0% Greek yogurt with a splash of vanilla and sweetened with an on plan sweetener.
A light string cheese stick
Add 1/2 to 1 scoop collagen to your coffee or tea
While these baked pears are amazing warm from the oven, they're also delicious cold. I've packed them in my lunch when working caterings and so enjoyed this treat!
Don't let snack time derail your THM plan. Click here for more snack ideas.
Have You Ever Made Baked Pears? Will You Try This Recipe?
If you've never made baked pears before I hope you'll give this recipe a try. It's so easy and the result of all that not-hard work is a beautifully elegant dessert perfect for holiday feasts.
Don't just keep this for the holiday season. It's a great on-plan THM E snack to make ahead for the week any time of year, too.
PIN THE IMAGE BELOW TO YOUR FAVORITE PINTEREST BOARDS!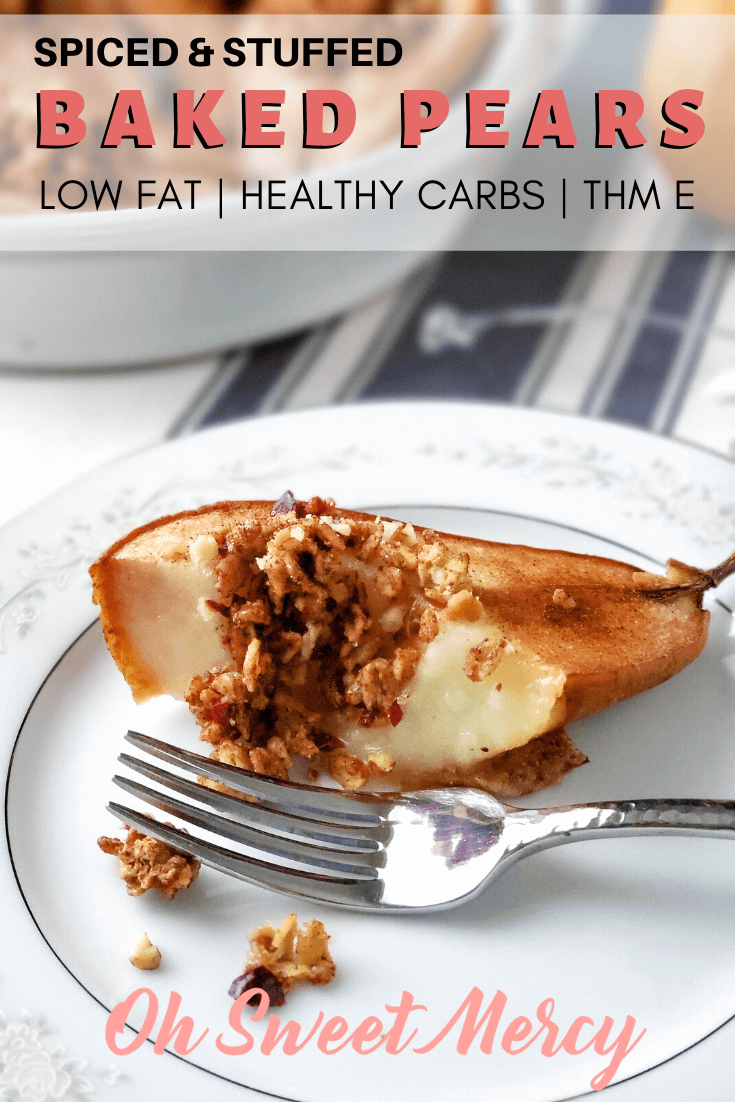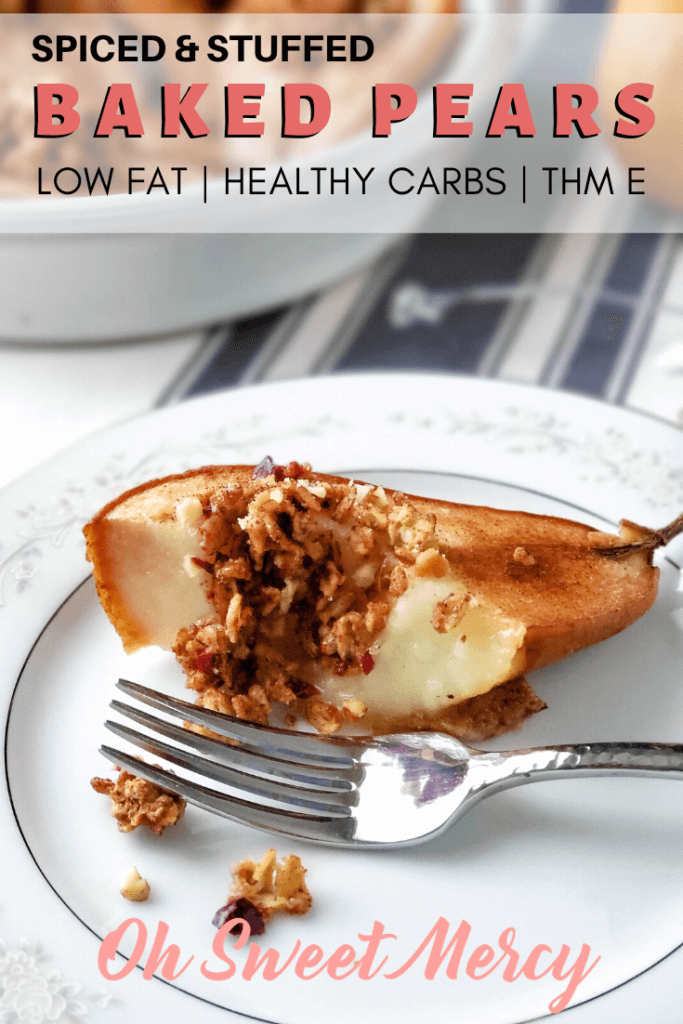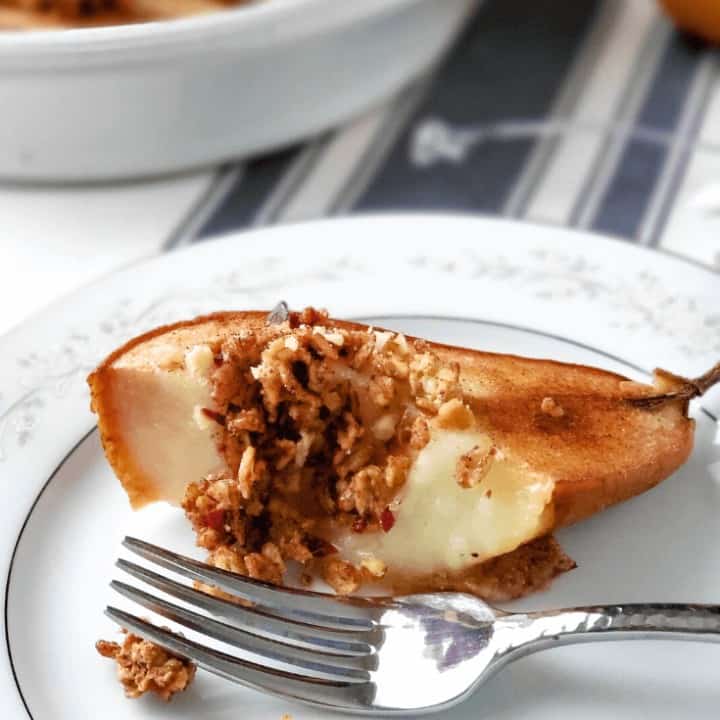 Spiced Baked Stuffed Pears | THM E, Low Fat
Yield: 6 halves
Prep Time: 10 minutes
Cook Time: 30 minutes
Total Time: 40 minutes
Sweet, crunchy, oats and cranberry nestled in a pear half and spiced with the flavors of the season, this low fat baked pears recipe is elegant enough for a fancy dinner dessert or weekday snack. Low in fat and including healthy carbs, it's also a delicious THM E choice.
Ingredients
3 Bosc pears (or preferred pears for baking)
1 teaspoon melted ghee, butter, coconut oil, or other healthy fat
2 tablespoons chopped fresh or frozen cranberries (about 6 to 8)
1 teaspoon pure vanilla extract
1/2 teaspoon cinnamon
1/8 teaspoon ginger
1/8 teaspoon allspice
1/8 teaspoon nutmeg
CINNAMON SUGAR FOR SPRINKLING
1/2 teaspoon THM Super Sweet or equivalent preferred sweetener
1/4 teaspoon cinnamon
Instructions
Prehat oven to 350 degrees.
MAKE THE FILLING
In a small bowl, mix together the oats, melted fat, and vanilla and pecan extracts.
Add sweetener, spices, and chopped cranberries and mix well until the oats are evenly coated with the sweetener and spices.
PREPARE THE PEARS FOR BAKING
Wash pears and pat dry.
Cut each pear in half vertically (from stem to bottom).
If the pear halves don't lay flat, cut off a small piece of the round part of the pear until it lays flat
Scoop out the core and seeds with a spoon, leaving a circular well. be careful not to go too deeply if you cut the pear to lay flat.
FILL AND BAKE THE PEARS
Evenly divide the oat filling among the prepared pears.
Top each pear with a sprinkle of chopped pecans
Mix the 1/2 teaspoon sweetener and 1/4 teaspoon cinnamon together and sprinkle on the exposed pear flesh.
Bake in preheated oven for 30 minutes.
Notes
TRIM HEALTHY MAMAS
This is a low fat, THM E dessert or snack. Remember to include lean protein along with it, such as baked chicken breast in your meal, with 0% Greek yogurt, mug of tea or coffee with collagen, or a light string cheese stick for example.
Also, don't have a full serving of an E fuel in your meal if having this as a dessert. I suggest 1/2 cup of an E fuel food such as rice or sweet potato, etc.
There is about 1 gram of ADDED fat per pear half. The total fat listed in the nutrition information includes fat naturally present in the oats.
Recommended Products
As an Amazon Associate and member of other affiliate programs, I earn from qualifying purchases.
Nutrition Information:
Yield: 6
Serving Size: 1 pear half
Amount Per Serving:
Calories: 137
Total Fat: 1.5gg
Trans Fat: 0g
Cholesterol: 2mg
Sodium: 99mg
Carbohydrates: 23g
Net Carbohydrates: 19g
Fiber: 4g
Sugar: 9g
Sugar Alcohols: 2 g
Protein: 2g
Nutrition information is approximate and based on the best knowledge available at the time of recipe publication. Your results may vary due to differences in ingredients. You can make your own calculations if this recipe does not include nutrition info by using an online calculator such as https://recipes.sparkpeople.com/recipe-calculator.asp