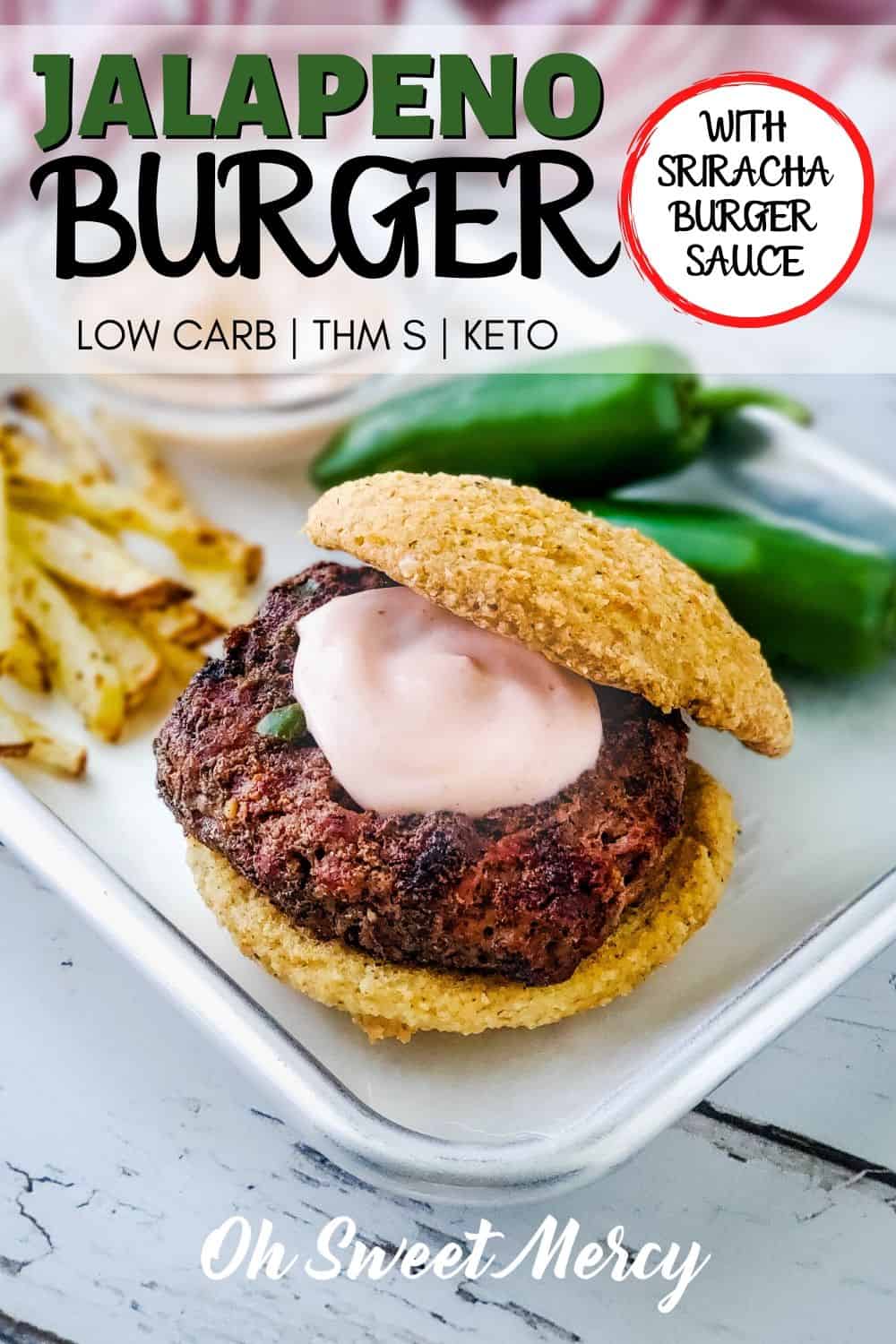 ---
This spicy Jalapeno Burger is perfect for summer grilling (and just as delicious cooked on a stove top). The creamy Sriracha Burger Sauce adds another layer of delicious heat. Trim Healthy Mamas will love these S-style burgers as well as low-carbers. Get your spicy burger on!
---

Ever have your tastes completely change?
Something happened to me a few years ago. I began to develop a taste for spice. Like hot spice. I was in Arizona at a wings place and I don't even know why, but the Mango Habanero sauce just sounded good.
And it was. Even though it was so hot I could barely eat it, I loved it. [Read about that harrowing tale in my Sriracha Chicken Salad post]
This from a girl who has suspected that some "mild" salsas were tragically mislabeled.
Sometimes it's because your body needs something specific.
A few months after I'd started doing Trim Healthy Mama, I began to develop a ravenous pepper craving.
Hot, mild, sweet, sour…didn't care as long as it was peppers. I've since learned that it was probably due to finally being able to hear my body's cues desperate cries for certain nutrients.
Since I've started paying attention to those cries and adding extra nutrients, I don't crave the peppers anymore.
I still love hot and spicy though! This tasty burger and sassy sriracha burger sauce came about because I needed something quick and easy and I was feeling like some beef and spice.
Use as much…or little…jalapeno as you like. Since I'm the only one in my family that will eat a jalapeno burger, I just add jalapenos to my burger (and a bit more Creole seasoning).
My mother in law loves these spicy jalapeno burgers and they often appear at family cookouts in the summer.
Layer The Heat For Complex Jalapeno Burger Flavor!
Technically, you can leave out the jalapenos and just make plain burgers and top with the Sriracha Burger Sauce. It's still delicious!
But, it's better with layers of heat. You've got the green zing of jalapeno, the cayenne from My Favorite Creole Seasoning Blend, and the unique garlicky goodness of Sriracha.
How To Fit My Tasty Jalapeno Burgers Into Your THM Meal Plan.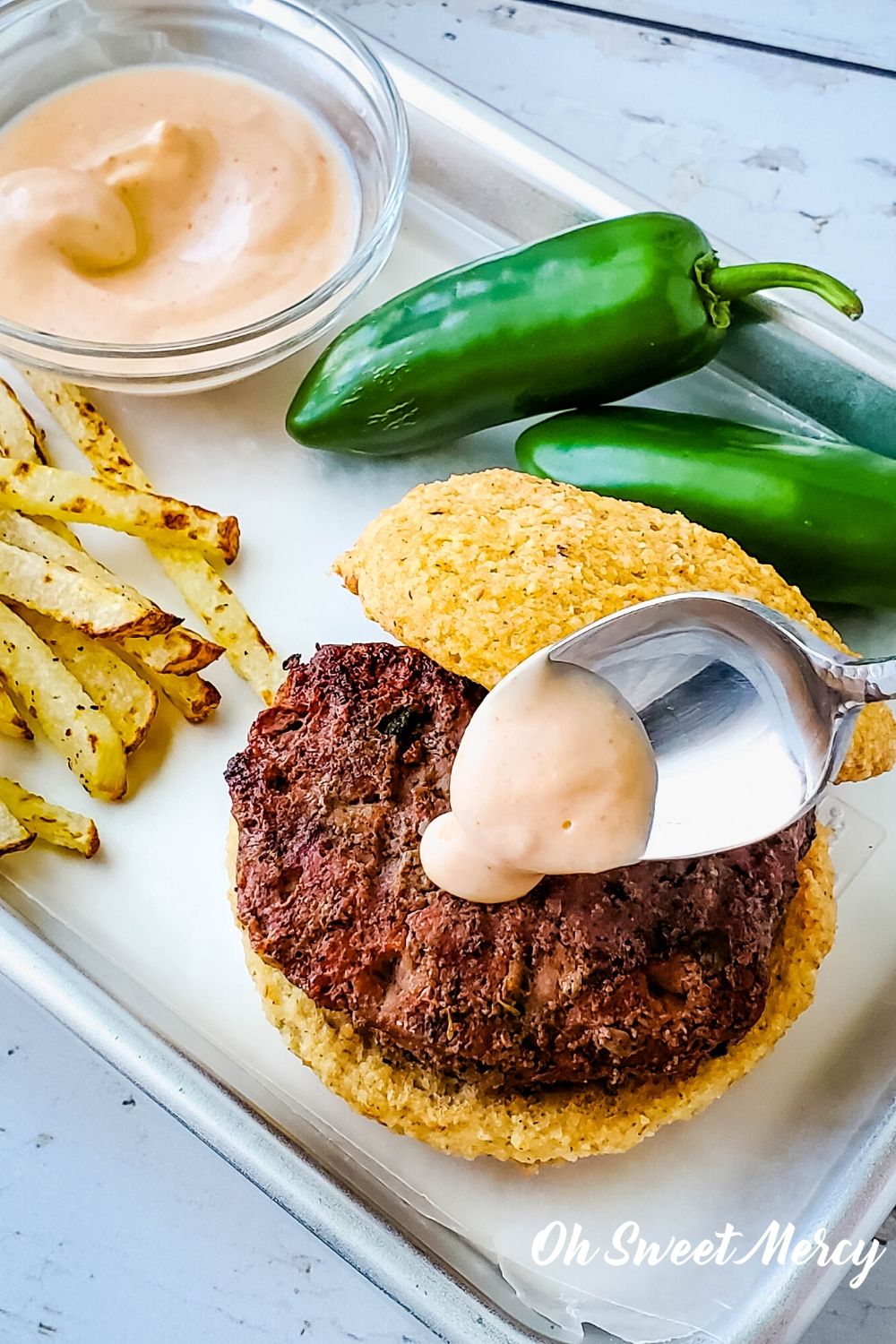 This recipe is one of those super satisfying S recipes. That means we need to keep our carbs low, mamas!
After several years of eating gluten free, I learned to prefer my burgers without a bun.
Peppery arugula is a fantastic greens option for making a "burger salad" with this recipe. Or, choose a low carb bread option from the THM Cookbook or other on plan low carb bread.
Some of my favorite low carb breads to try:
Low Carb Bread in a Mug THM S
Mock Rye Bread THM S
Coconut Flour Flat Bread THM S
Best Keto Dinner Rolls (in the photos on this page) THM S or FP
Healthy Breads, Buns, and Biscuits THM S or E RECIPES LISTED
Swiss Bread, THM FP, page 196 in the first Trim Healthy Mama Cookbook
For a THM XO (Crossover) have your jalapeno burger on a THM E bun.
PIN IT!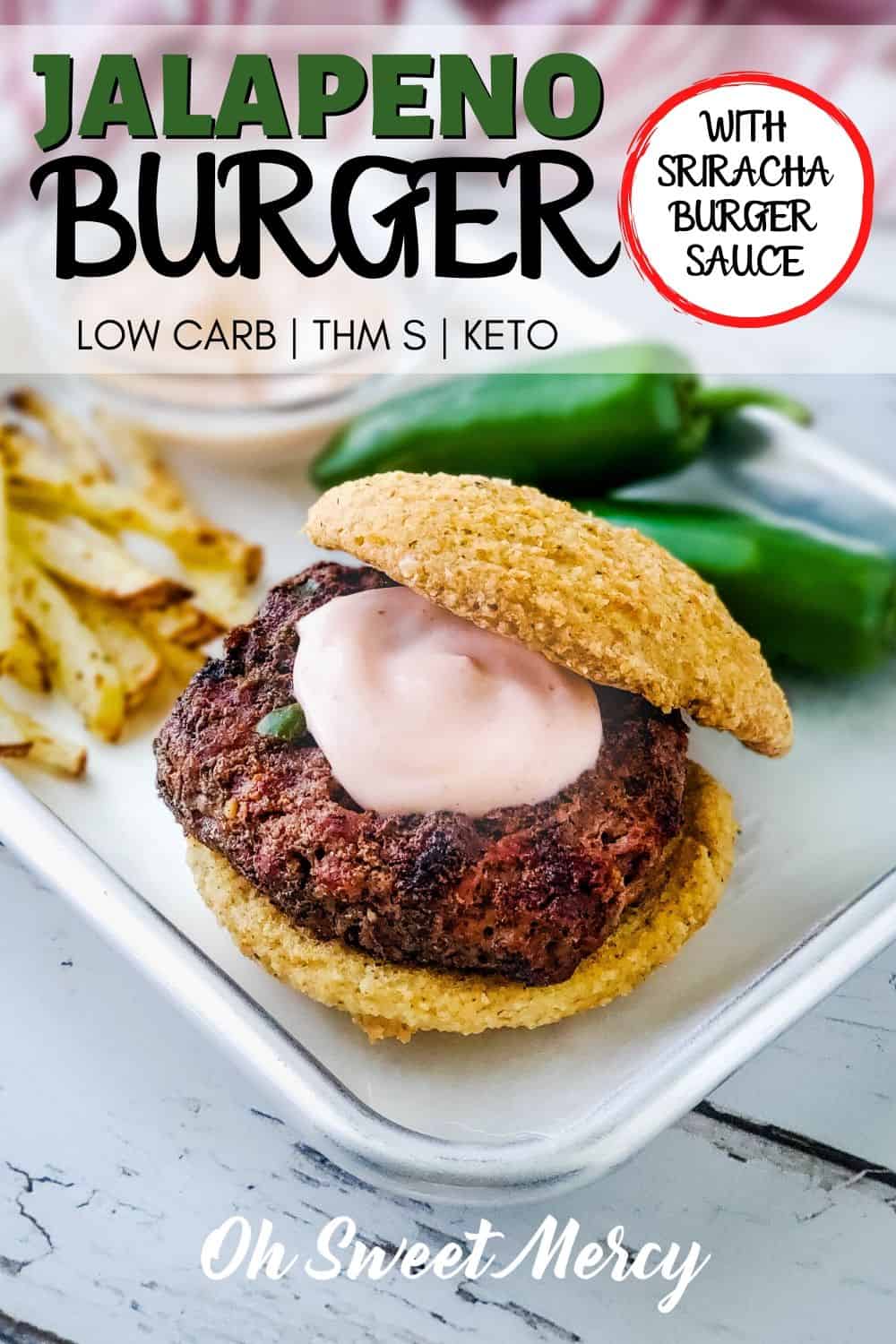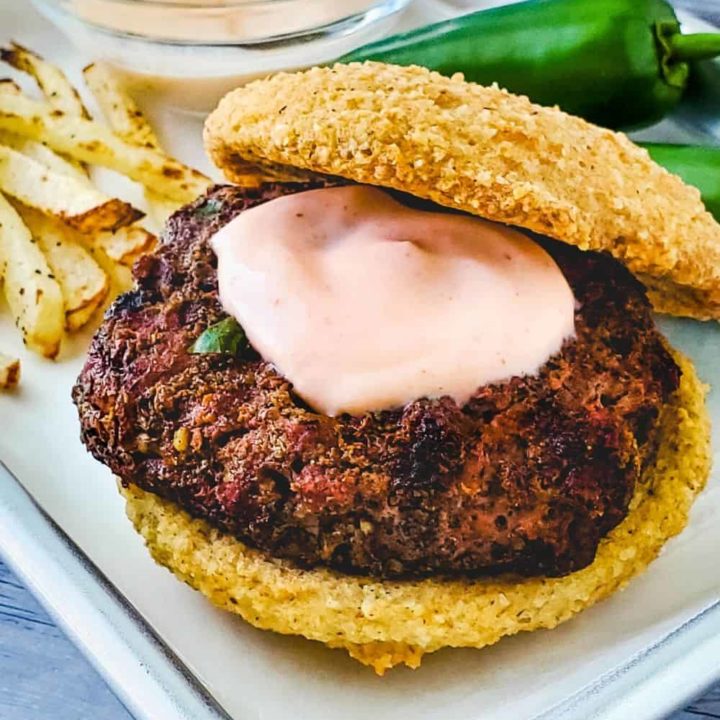 Jalapeno Burger with Sriracha Burger Sauce
Yield: 4
Prep Time: 5 minutes
Total Time: 5 minutes
A spicy little number that's sure to be a crowd pleaser at your next grill party! Just as tasty cooked in a cast iron skillet on your stove top and topped with my creamy, spicy Sriracha Burger Sauce, it makes a tasty THM S meal. Low carb, gluten free.
Ingredients
Jalapeno Burgers
Sriracha Burger Sauce
2 Tbs mayonnaise
2 Tbs sour cream
3/4 tsp onion powder
Instructions
MAKE THE BURGERS
Combine hamburger and seasonings and mix well.
Form into 4 patties.
Cook 7 to 10 minutes, flipping once, or to your desired level of doneness. Great on the grill or in a cast iron skillet.
MAKE THE SRIRACHA BURGER SAUCE
Mix all ingredients well.
Adjust flavors as desired.
Recommended Products
As an Amazon Associate and member of other affiliate programs, I earn from qualifying purchases.
Nutrition Information:
Yield: 4
Serving Size: 1 burger
Amount Per Serving:
Calories: 321
Total Fat: 19g
Saturated Fat: 6g
Trans Fat: 1g
Unsaturated Fat: 10g
Cholesterol: 88mg
Sodium: 3179mg
Carbohydrates: 7g
Fiber: 1g
Sugar: 3g
Protein: 33g
Nutrition information is approximate and based on the best knowledge available at the time of recipe publication. Your results may vary due to differences in ingredients.