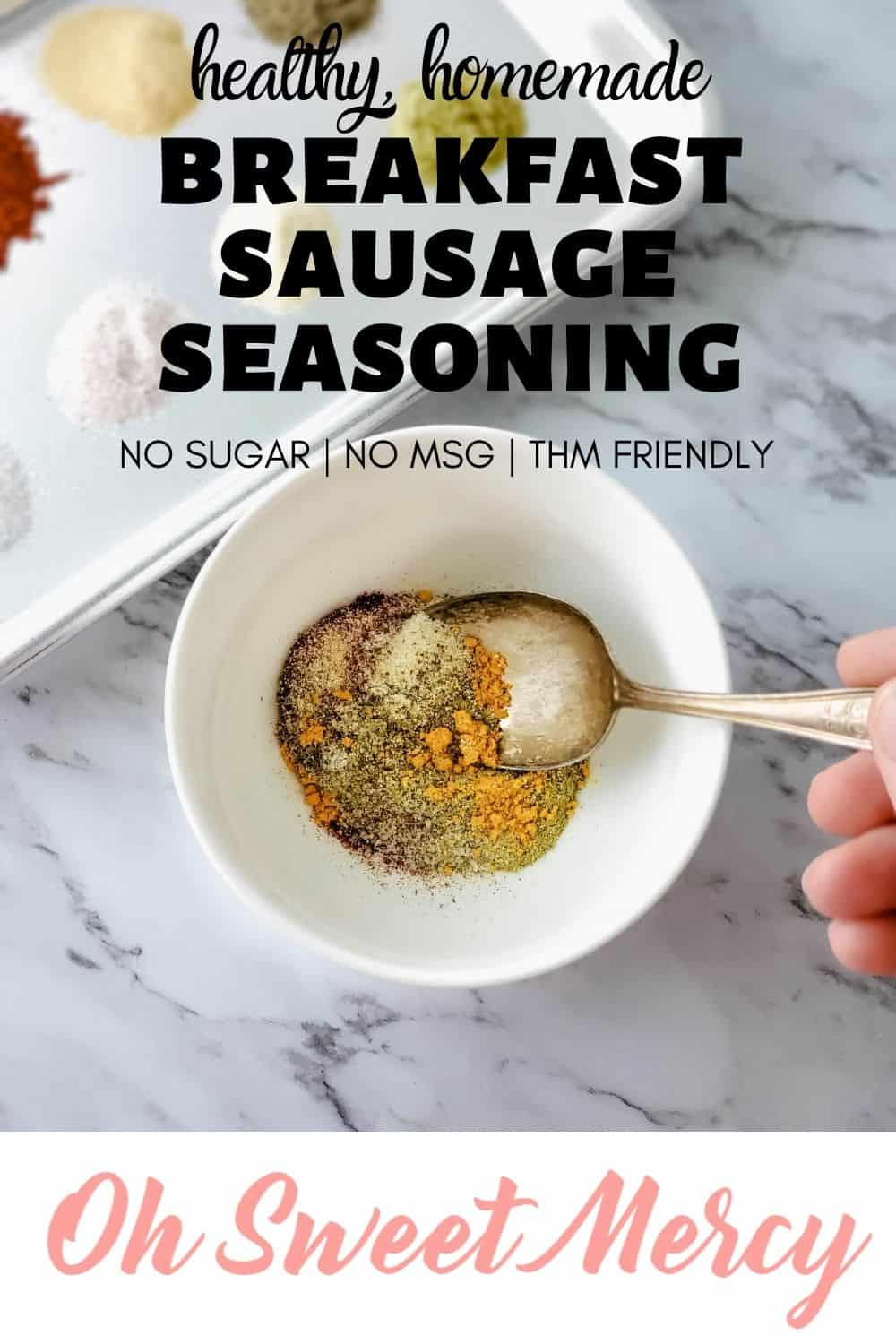 ---
Like my Sugar Free Breakfast Sausage recipe? Here's a bulk version of the seasoning blend from that recipe. Make a batch of this easy bulk breakfast sausage seasoning to have on hand – it makes making healthy homemade breakfast sausage even easier! No sugars, MSG, preservatives or other unwanted ingredients – just simple seasonings from your spice cabinet.
---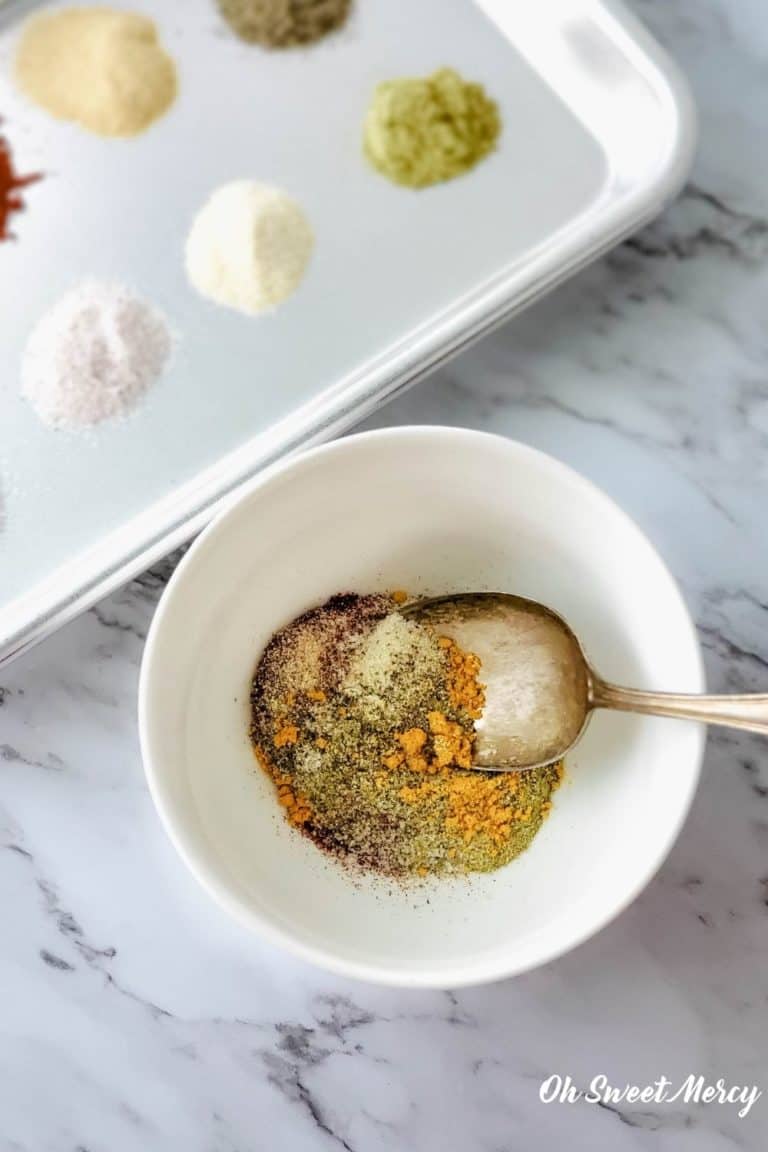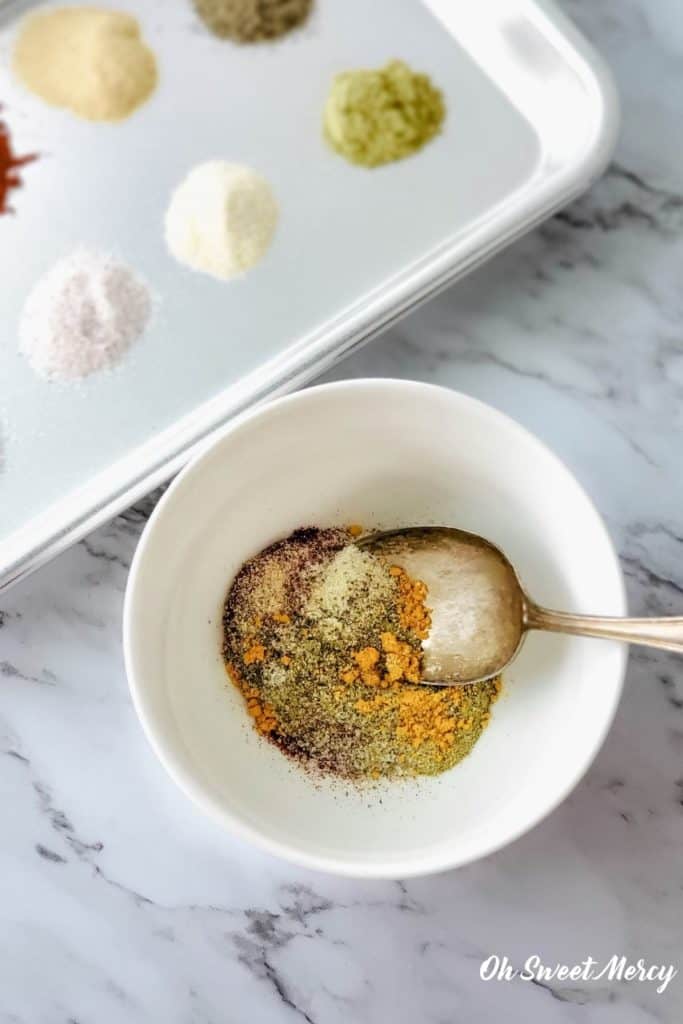 Earlier this week I shared my easy homemade breakfast sausage recipe. Today, I'm sharing a bulk version of the seasoning blend to make sausage-making even easier for you!
When you make changes in what you put in your body, that often means making your own versions of store-bought products.
Case in point: breakfast sausage. It's often difficult to find sausage that doesn't contain sugars, nitrates, MSG, or other unwanted ingredients.
In addition, they're often way high in sodium. I use high-mineral salt in this recipe – pink Himalayan is my favorite. Unlike the salt used in processed foods, this salt contains healthy trace minerals our body needs for healthy functioning.
The sodium per serving is also way, way less, too.
Breakfast Sausage Spices.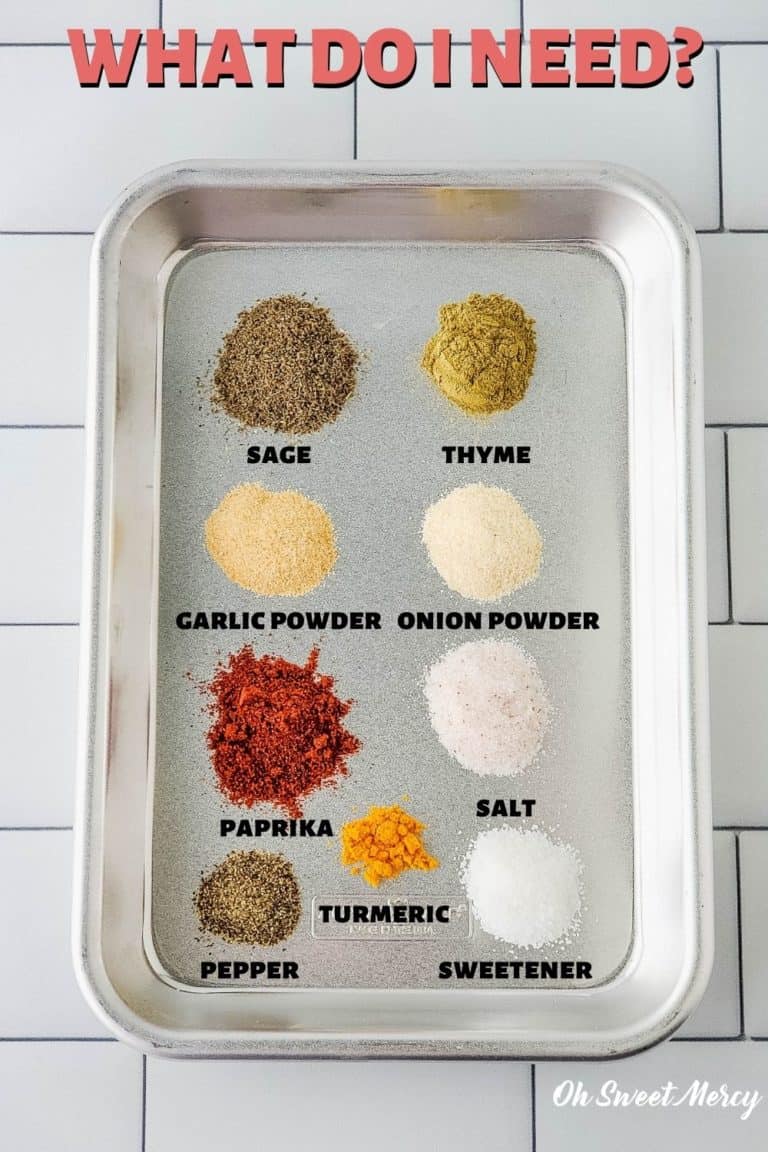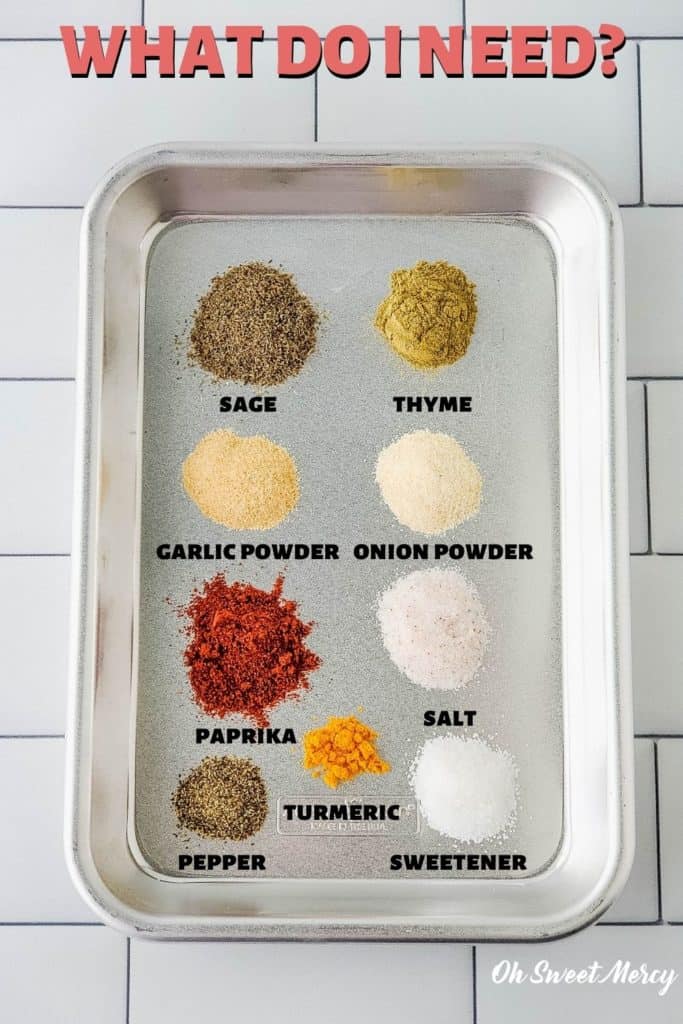 Chances are you already have all these spices in your cabinet! Then, just add some salt and sweetener and you're good to go.
You'll need:
Sage
Thyme (I used ground)
Garlic powder
Onion powder
Paprika
Salt
Pepper
Turmeric
Sweetener (I used my Mercy Sweet Sweetener Blend but any granulated stevia/erythritol or other on-plan sweetener works too)
If not, don't dismay or feel bad. It can take some time to build up a big collection of spices!
However, I feel like the spices in this breakfast sausage seasoning blend are pretty common and likely to be in your cabinet. Unless, of course, you happen to be out at the moment.
How To Make This Easy Seasoning Blend.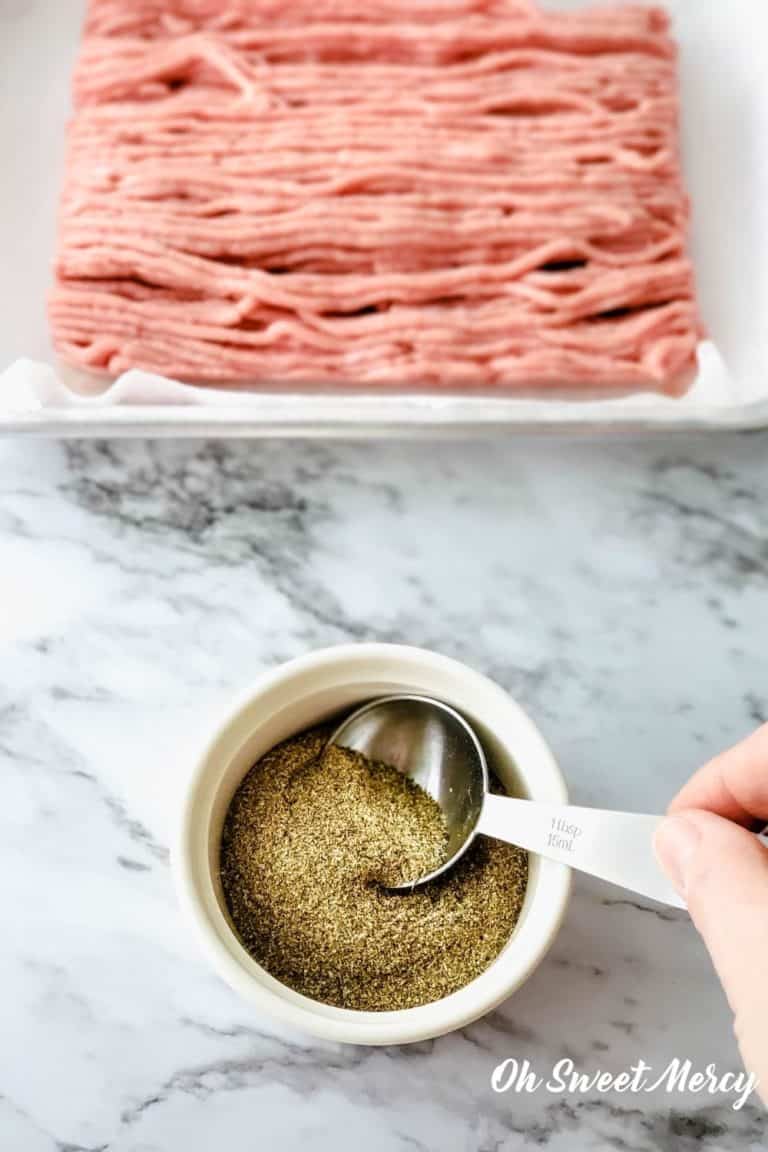 It really doesn't get any easier than this:
Mix or shake all the ingredients in a mason jar or zipper bag. I love these cute 16 oz glass jars with airtight lids. They even come with chalkboard labels!
Label and store!
Don't skip the labeling part. You might think you'll remember what it is but there's a huge chance you won't.
This saves you from that "what in the world is this" moment a few weeks down the road when you pull the jar out of your cabinet.
#askmehowiknow
How Long Will This Breakfast Sausage Seasoning Mix Last?
Herbs and spices never "expire" in the sense that they go bad. They simply lose potency over time.
One way to tell if your herbs and spices are fresh or not is to sprinkle some in your palm and rub with a finger. Take a sniff – if you can easily smell it, it's still fresh. If you can't you might as well toss it. It's not going to have any flavor, either.
Generally speaking, most herbs and spices "last" 2 to 3 years. Some less, some longer.
The ingredients in my sugar free breakfast sausage seasoning fall in the 2 to 3 year range.
So, if you use just-opened herbs and spices the mix should last 2 to 3 years. Otherwise it depends on how long the spices you use have been opened.
All that to say…it will stay good for a while! Just don't mix up 20 pounds of it unless you know you'll use it all, right?
How Much Sausage Can I Make With This Bulk Seasoning Recipe?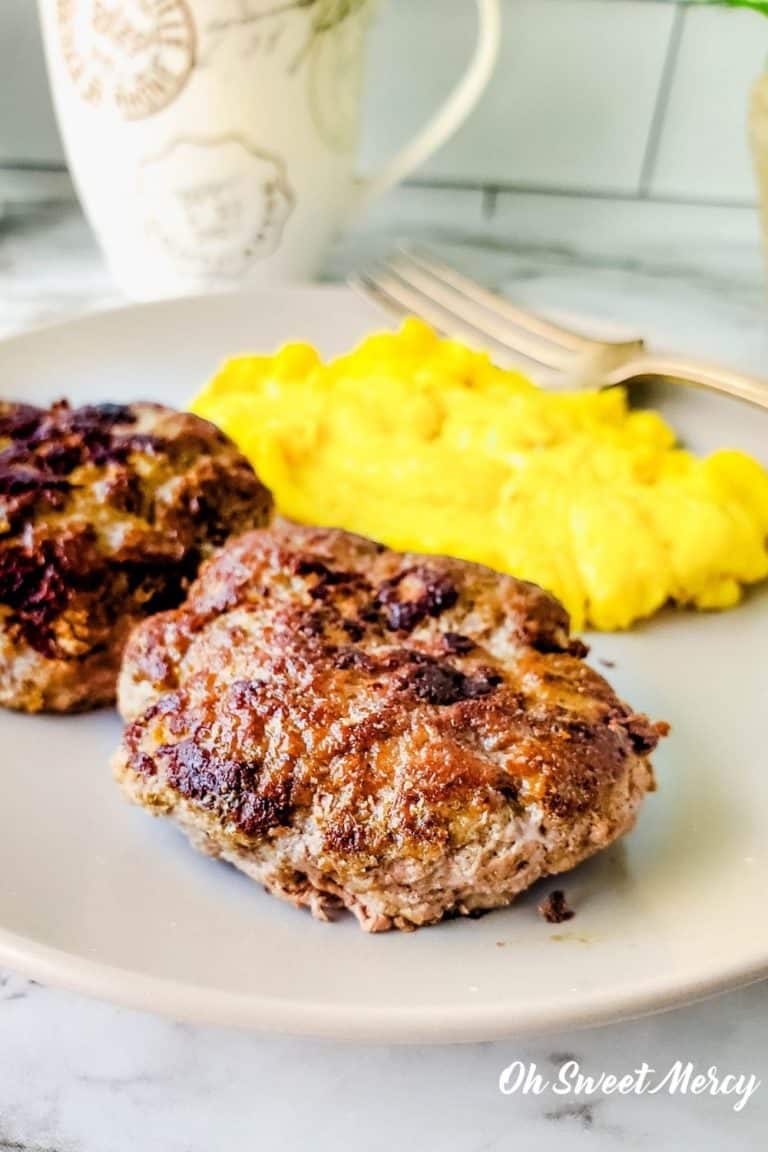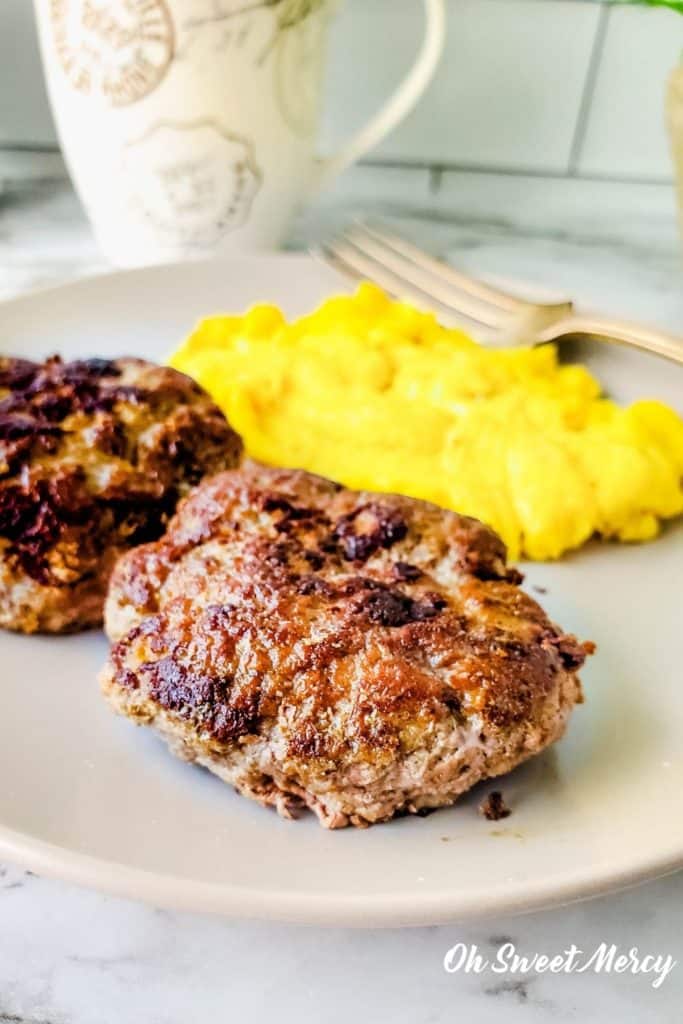 The recipe below is enough for 10 pounds of mildly seasoned breakfast sausage. If you like yours more boldly seasoned it will season less.
So, when you find a good deal on ground turkey or chicken, snatch it up and make sausage with it. Either make patties and freeze or freeze in bulk if you use it more as crumbles.
To freeze patties, form and place on a cookie sheet then pop in the freezer until frozen. Then, put into a zipper bag or freezer container with a tight fitting lid and store in the freezer until ready to use.
Making and freezing your own homemade breakfast sausage helps you be prepared and stay on plan! My easy, healthy, sugar free bulk breakfast sausage seasoning makes that even easier.
How Much Seasoning Should I Use?
That really depends on your own taste preferences, but I'll tell you how much I use.
For 1 pound of ground meat use 1.5 tablespoons (4.5 teaspoons) of bulk breakfast sausage seasoning. For more boldly seasoned sausage, use 2 tablespoons or more to taste.
SEASONING TIP FOR RAW MEAT MIXTURES: take a small, bite-sized portion of your meat mixture and cook it in a skillet. Flatten it out and it cooks very quickly. Taste and adjust seasoning as desired. Keep in mind that the flavor does develop a bit more after chilling for several hours before cooking.
If you're not sure how to make homemade breakfast sausage, be sure to check out my Sugar Free Breakfast Sausage recipe!
Is This Recipe THM Friendly?
Absolutely. There are no off-plan ingredients in this healthy seasoning blend. Use it in any THM Fuel Type recipe – it's delicious to season things other than sausage, too!
The carbs in the nutrition information below are not something we need to worry about. Remember, you'll be using 1 to 2 tablespoons per pound of meat so the small amount of carbs will be spread out.
Also, this recipe is great for nearly all food lifestyles. It's fat free, cholesterol free, low sodium, sugar free, vegan, vegetarian, and common allergen free (eggs, gluten, dairy, etc.).
Of course, if you're allergic to any ingredient either sub for something else or omit it.
People following the blood type diet, low-FODMAP diet, or other food lifestyles with specific restrictions on foods please consult your approved food lists to ensure this recipe is compatible with your needs.
Make your own seasonings, salad dressings, and condiments! It's easy! I have several recipes for you in my Seasonings and Condiments category.
PIN IT!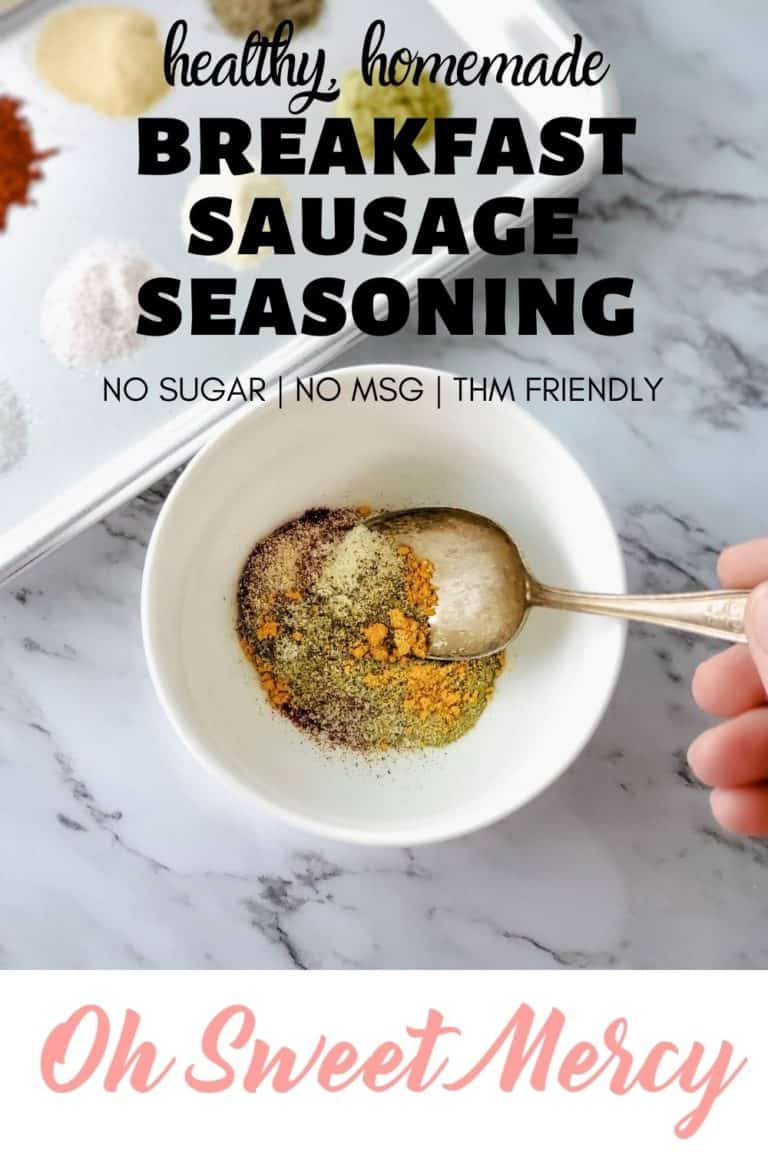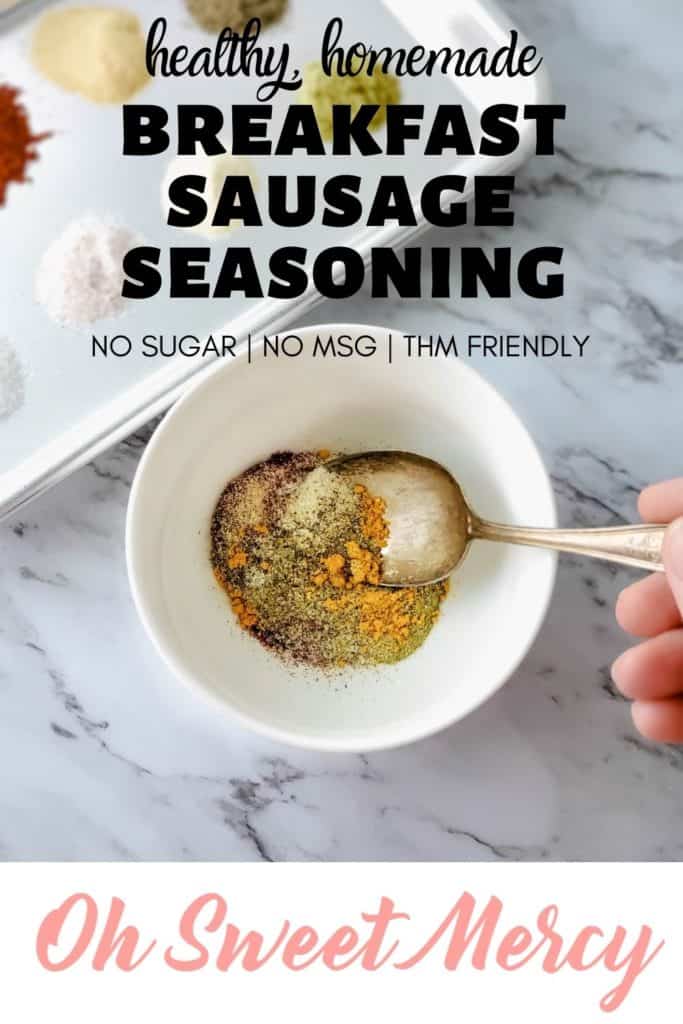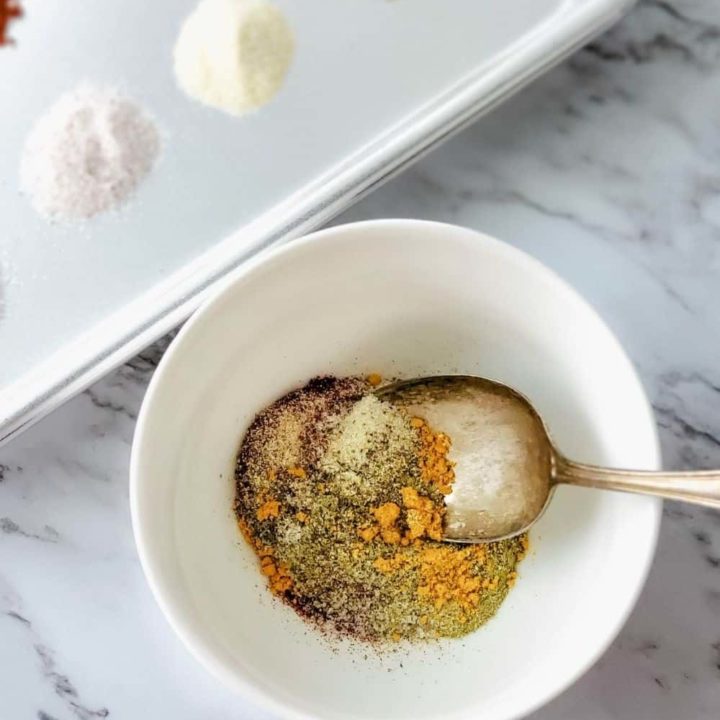 Sugar Free Bulk Breakfast Sausage Seasoning Mix
Yield: 10 servings
Prep Time: 8 minutes
Total Time: 8 minutes
Season up to 10 pounds of ground meat to make healthy, homemade breakfast sausage. No sugar, MSG, preservatives or other unwanted ingredients. THM friendly and great for nearly all food lifestyles.
Instructions
In a mason jar, add all ingredients, screw on the lid, and shake until well blended.
Or, use a whisk and mixing bowl.
Store in an airtight container.
Use with my Sugar Free Breakfast Sausage recipe (1.5 tablespoon per pound of ground meat or more as desired).
Recommended Products
As an Amazon Associate and member of other affiliate programs, I earn from qualifying purchases.
Nutrition Information:
Yield: 10
Serving Size: 1.5 tablespoon
Amount Per Serving:
Calories: 17.8
Total Fat: 0.3g
Saturated Fat: 0.1g
Trans Fat: 0g
Unsaturated Fat: 00.1g
Cholesterol: 0mg
Sodium: 145.6mg
Carbohydrates: 3.8g
Net Carbohydrates: 2.5g
Fiber: 1.3g
Sugar: 0.2g
Sugar Alcohols: 5g
Protein: 0.7g
Nutrition information is approximate and based on the best knowledge available at the time of recipe publication. Your results may vary due to differences in ingredients. You can make your own calculations if this recipe does not include nutrition info by using an online calculator such as https://recipes.sparkpeople.com/recipe-calculator.asp