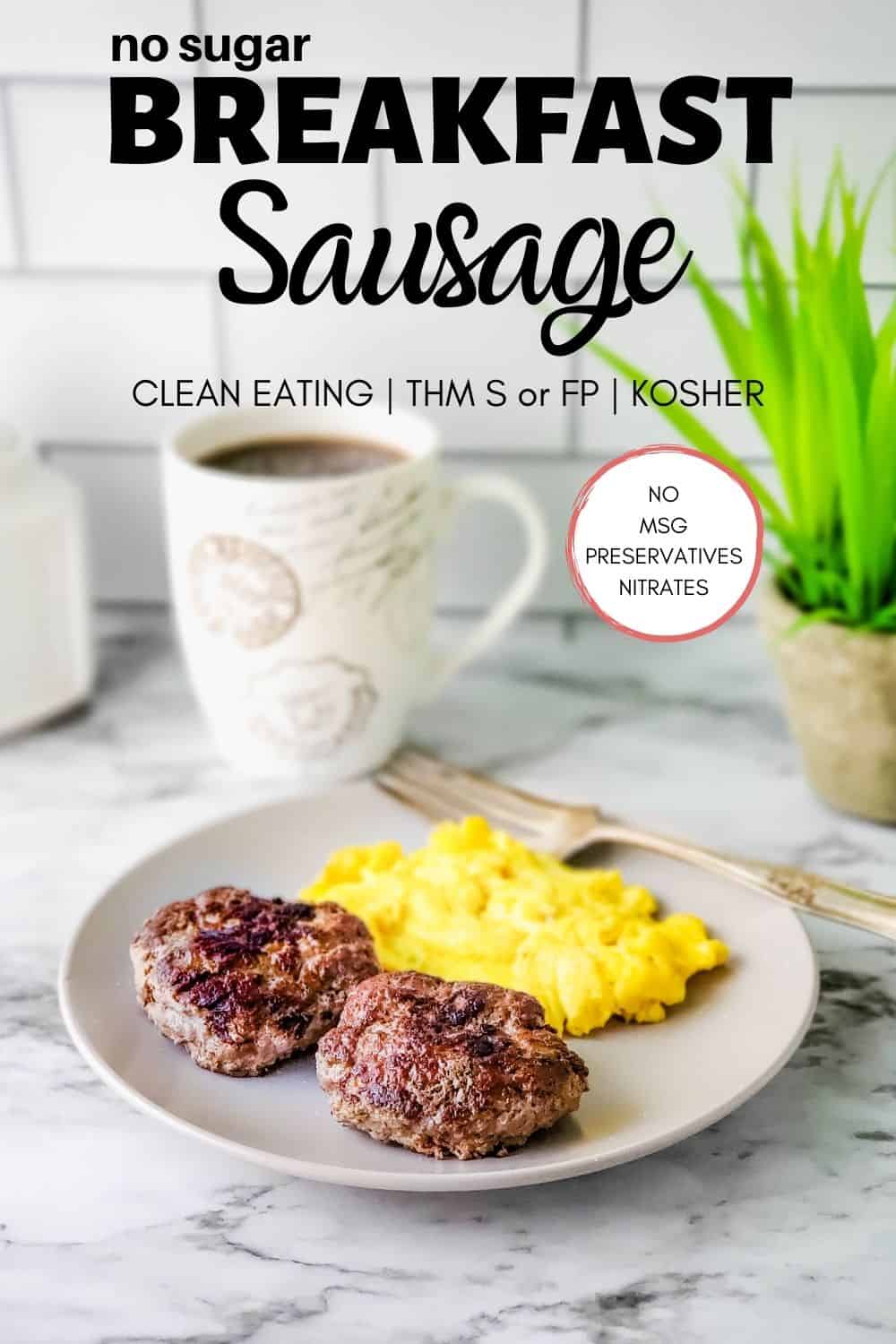 ---
Make delicious, clean-eating, sugar free breakfast sausage yourself? Yes, you can! My easy seasoning blend makes delicious breakfast sausage without unwanted ingredients. Choose your own meat and make sausage that's suitable for either THM S, E, FP, and even Deep S. Start your day off with a healthy breakfast meat option!
---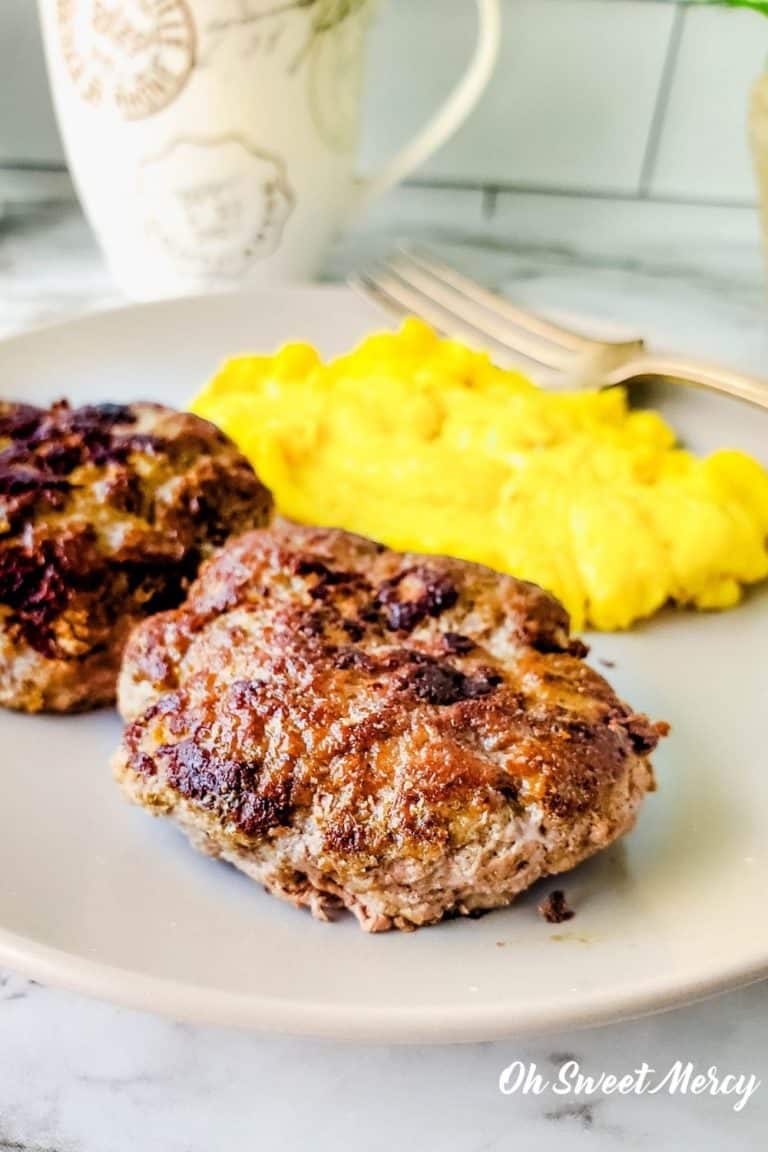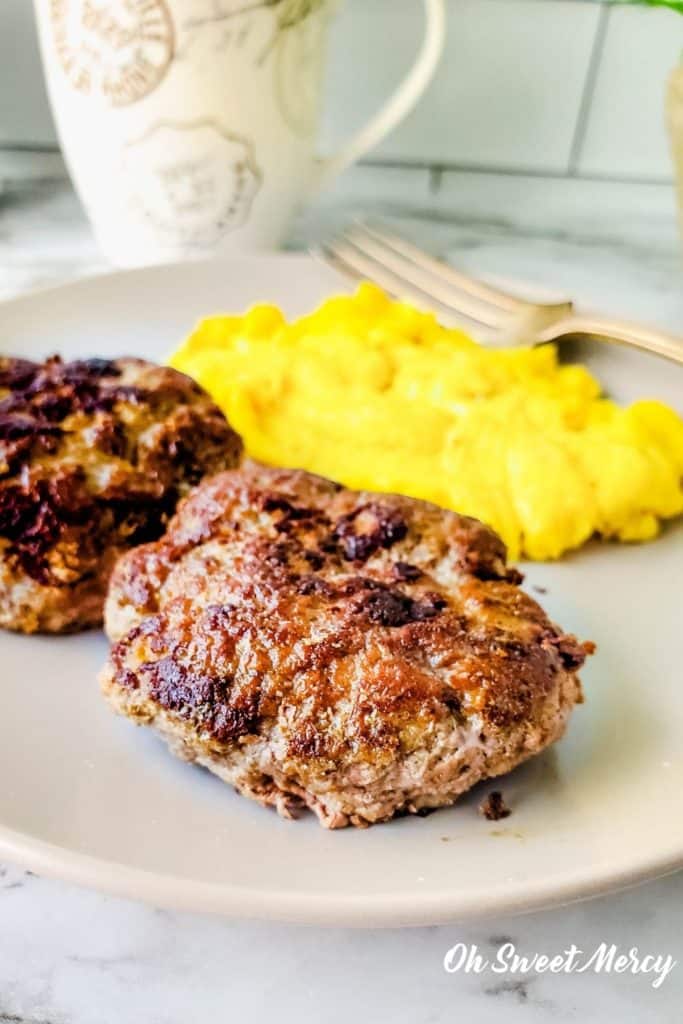 Our family quit eating pork several years ago. You can always find turkey breakfast sausage at the store but they're often full of unhealthy ingredients.
For example, one popular brand of turkey breakfast sausage contains:
Ingredients: Turkey, Contains 2% or Less Seasoning (Salt, Dextrose, Spice, Spice Extractives, Hydrolyzed Corn Protein, BHA, BHT, Citric Acid), Rosemary Extract, Calcium Lactate.
Also, one serving contains 370 mg of sodium. Compare that to just 62.6 grams in this healthy homemade sausage. And, that comes from high mineral salt, too.
It's so easy to make your own sugar free breakfast sausage! While it tastes best after a chill in the fridge for several hours (or overnight), it's still delicious mixed up and cooked right away.
Mister loves this sausage! It's mildly seasoned so if you like a lot of seasoning in your breakfast sausage use 1 1/2 to 2 times the amount of seasoning called for in the recipe below.
In fact, making the seasoning for this sausage in bulk is a great idea if you eat sausage a lot. I've got a recipe for that, too, so you don't have to do math 😉
How To Make Bulk Breakfast Sausage Seasoning
What Meat Should I Use For This Recipe?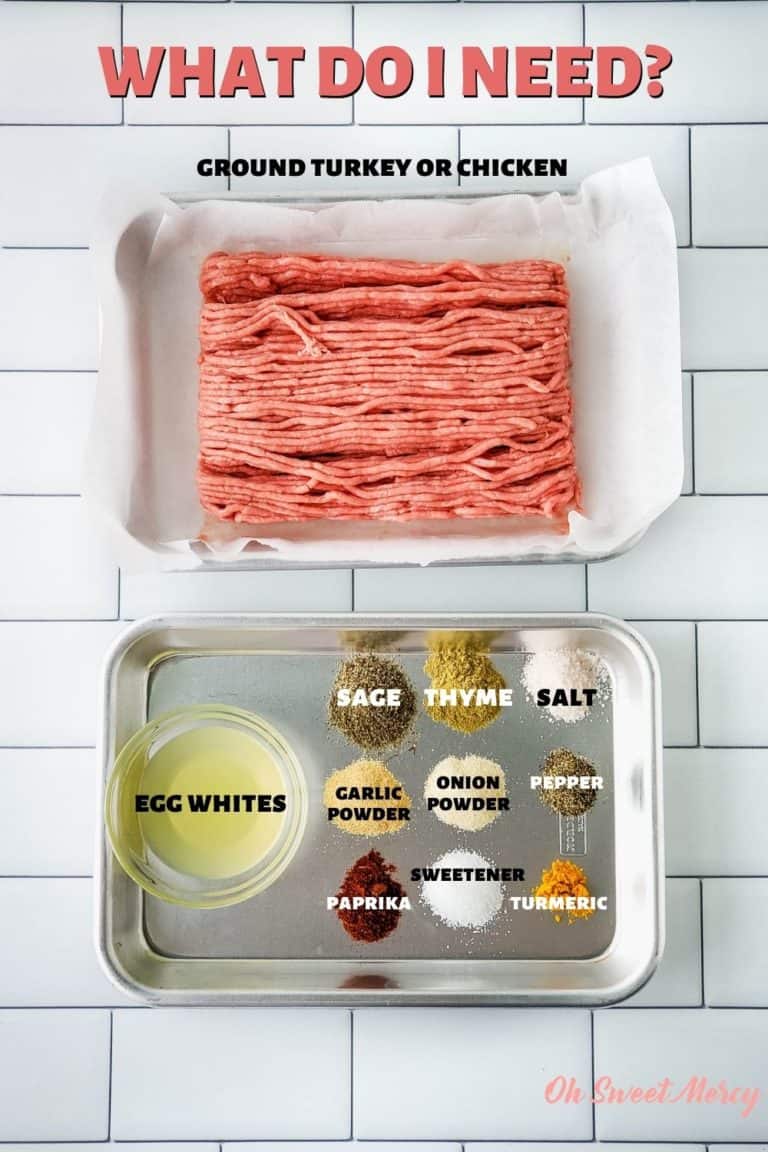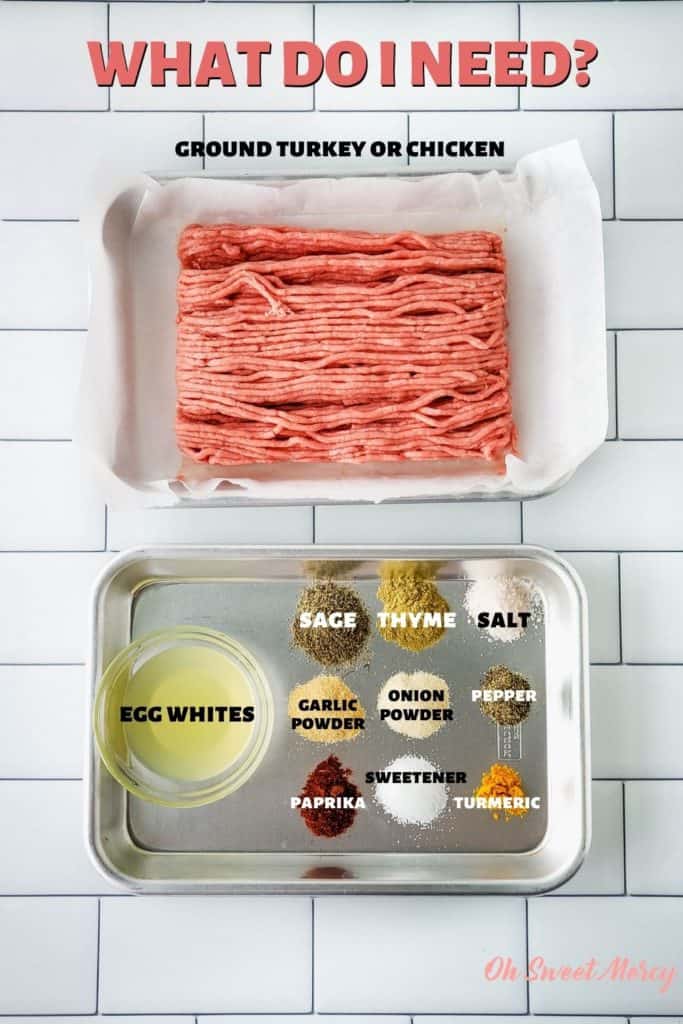 Use any ground meat you like! We choose ground turkey or chicken and even ground venison sometimes.
Make this recipe THM FP (Fuel Pull) style by using ground chicken or turkey breast (99% fat free).
MAKE IT VERSATILE: make this sugar free breakfast sausage recipe FP style, with ground turkey or chicken breast and keep it on hand. Then, to make for FP or E meals, use healthy cooking spray or very light amount of oil to cook your sausage (or bake in the oven).

For an S meal, simply cook in a healthy fat!
How To Easily Tell If Your Homemade Sausage Is Seasoned Properly Before Cooking.
You surely don't want to taste test raw meat, right? Yuck! But, how do you make sure your homemade sausage is seasoned the way you like it?
I have an easy solution for that:
Take a bite-sized portion and cook it in a preheated pan. Flatten it out fairly thin and it cooks very quickly.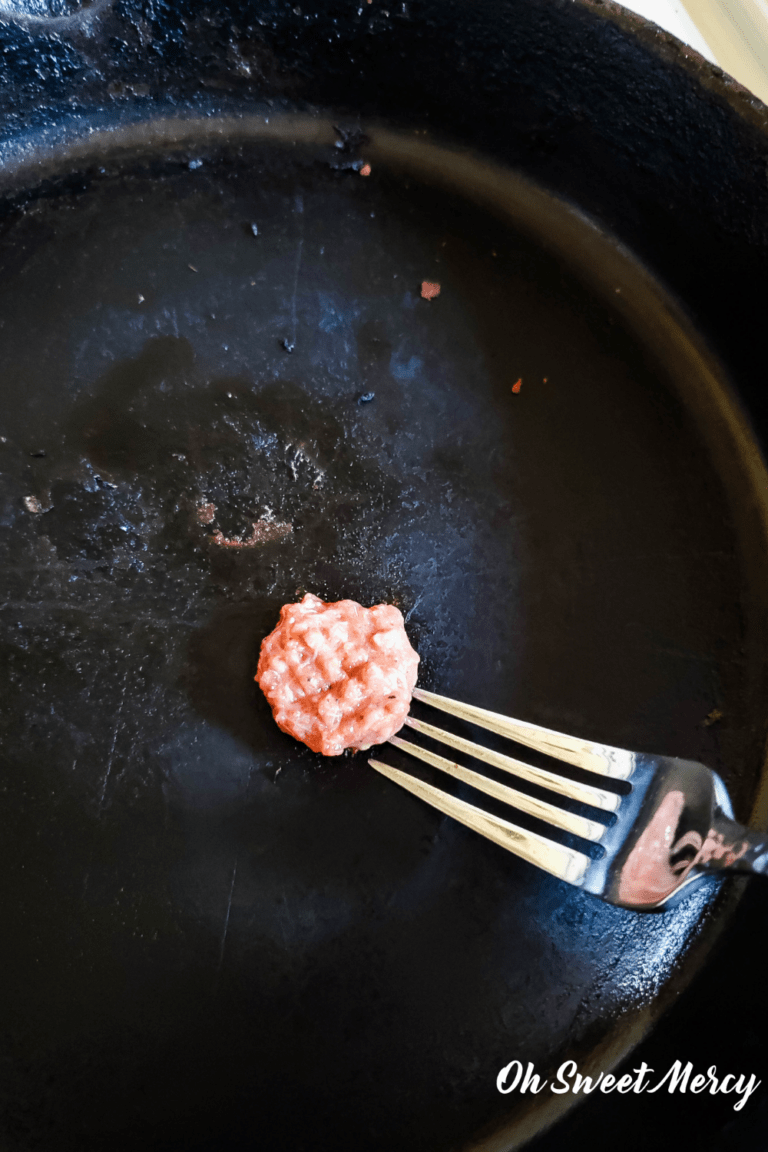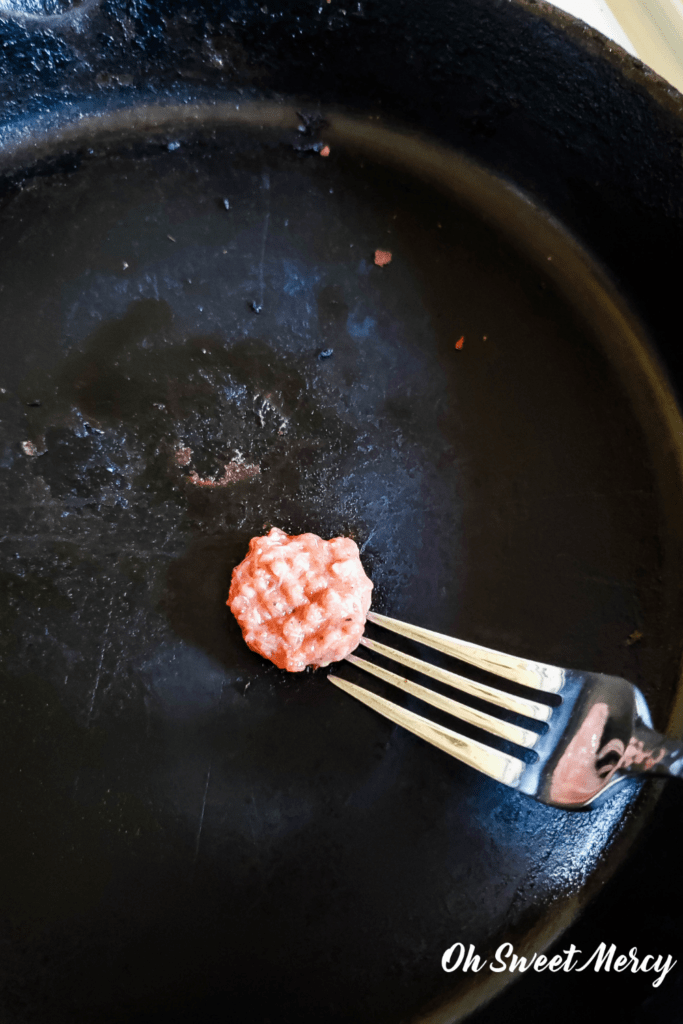 Then, just taste it! Add any salt or other seasonings to your preference and test again.
I do this with meatball and meatloaf mixtures too.
How To Cook.
This sausage mixture works well as both patties and cooked "crumbles."
TIP: use a 1/4 cup measuring cup to scoop out sausage mixture. Then, pop the "puck" out and flatten to shape into sausage patties.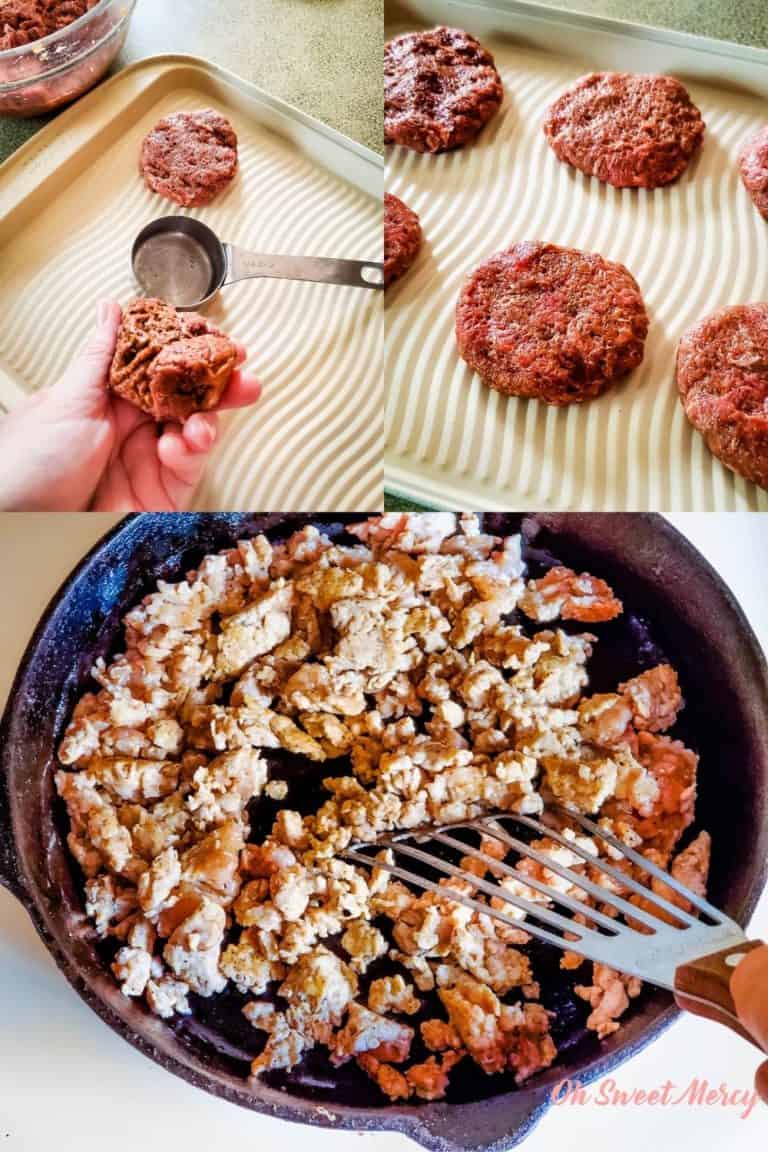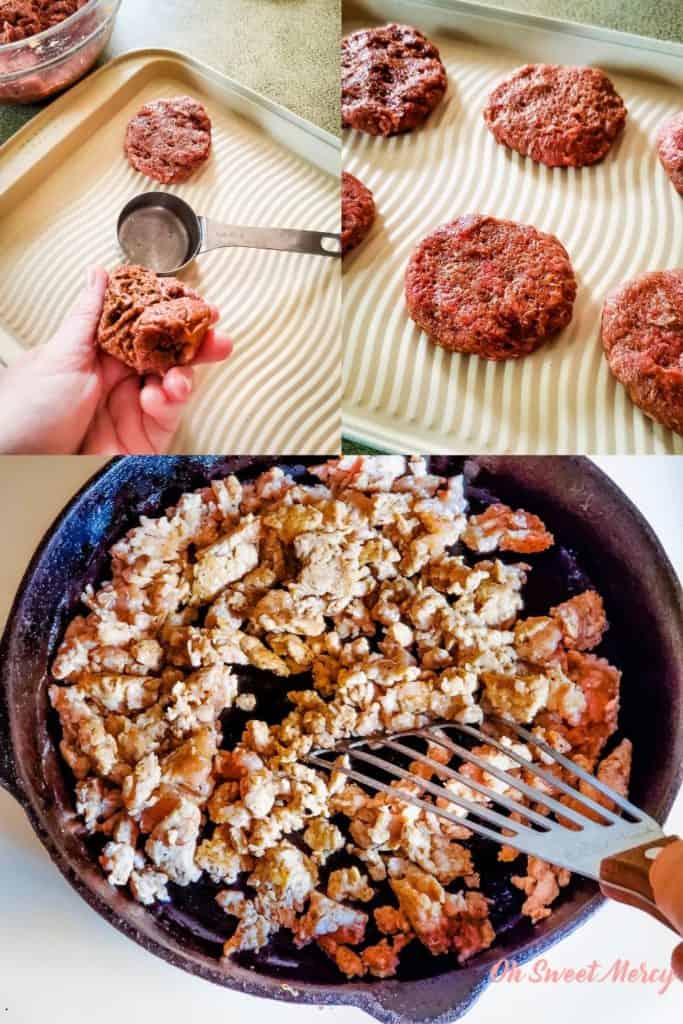 I've cooked patties in my cast iron skillet and baked in the oven. Skillet cooking is easy: cook for 7 to 8 minutes on one side, then flip and cook another 7 to 8 minutes or until internal temp reaches 165 degrees.
To oven bake, just bake on a cookie sheet or in a cast iron skillet in a 350 degree oven for about 20 minutes or until the internal temperature reaches 165 degrees.
A digital meat thermometer is super handy. Do you have one?
Is This Recipe Spicy?
No, it's not. Though you can easily add spice if you'd like.
Try a teaspoon of crushed red pepper flakes or 1/4 to 1/2 teaspoon cayenne pepper.
Or, give my favorite Creole seasoning a try instead.
Can You Freeze It?
Sure! Either freeze as bulk sausage or patties.
To freeze patties, form and place on a baking sheet and pop in the freezer until frozen. Then, store in a zipper bag or airtight container in the freezer.
Cooking from frozen will take a few minutes longer so plan ahead.
Tasty Ways To Use Homemade Breakfast Sausage.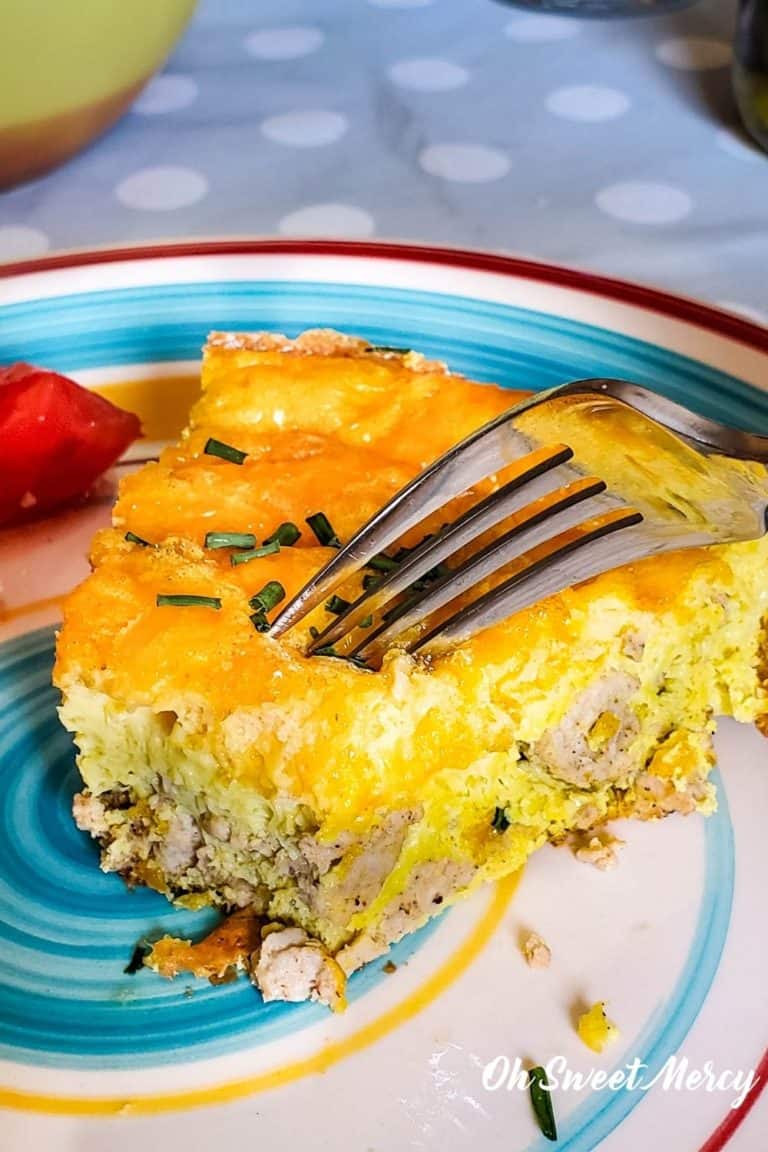 I'm not a huge fan of breakfast so I don't limit breakfast sausage to just the first meal of the day. It is, of course, delicious with eggs or along with pancakes or French toast.
See below for THM meal recommendations, including links to recipes!
This deliciously seasoned ground meat is also great for breakfast casseroles, fritattas, breakfast burritos, tacos, pizza, chili, or anywhere ground meat is used.
I've made many a homemade pizza with breakfast-style sausage and it's just as delicious as Italian style sausage.
How To Fit This Recipe Into Your THM Meal Plan This Week.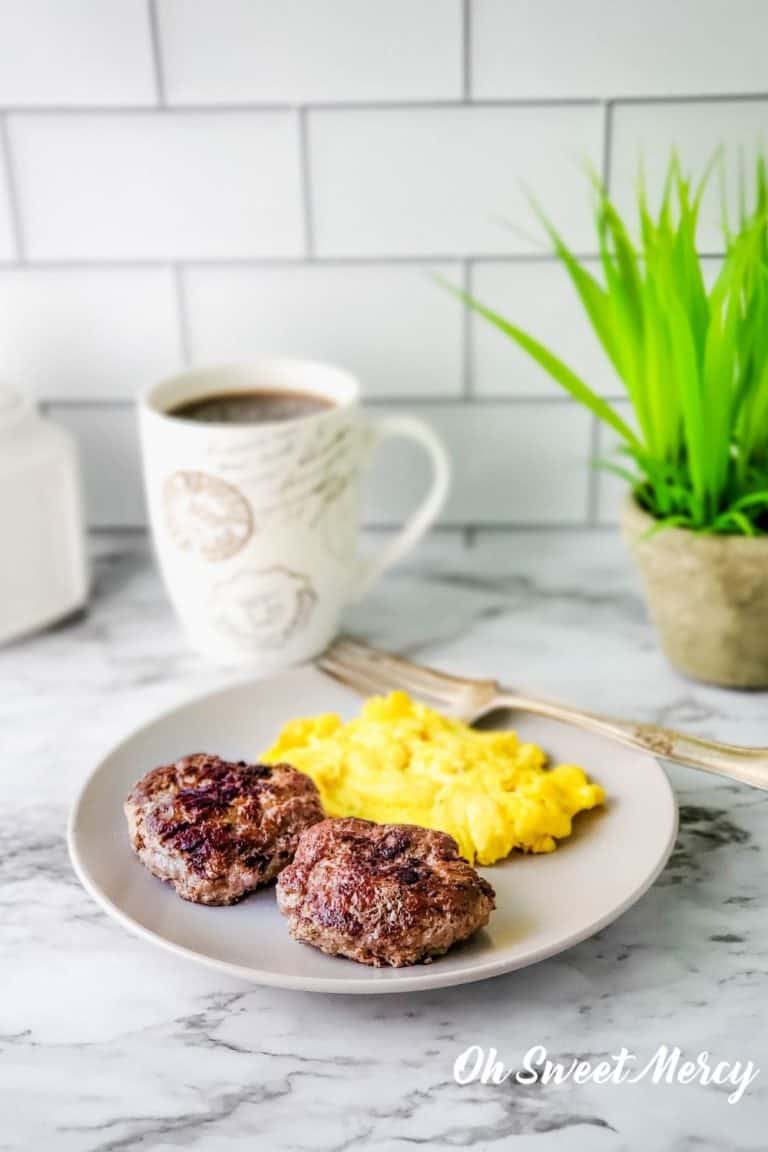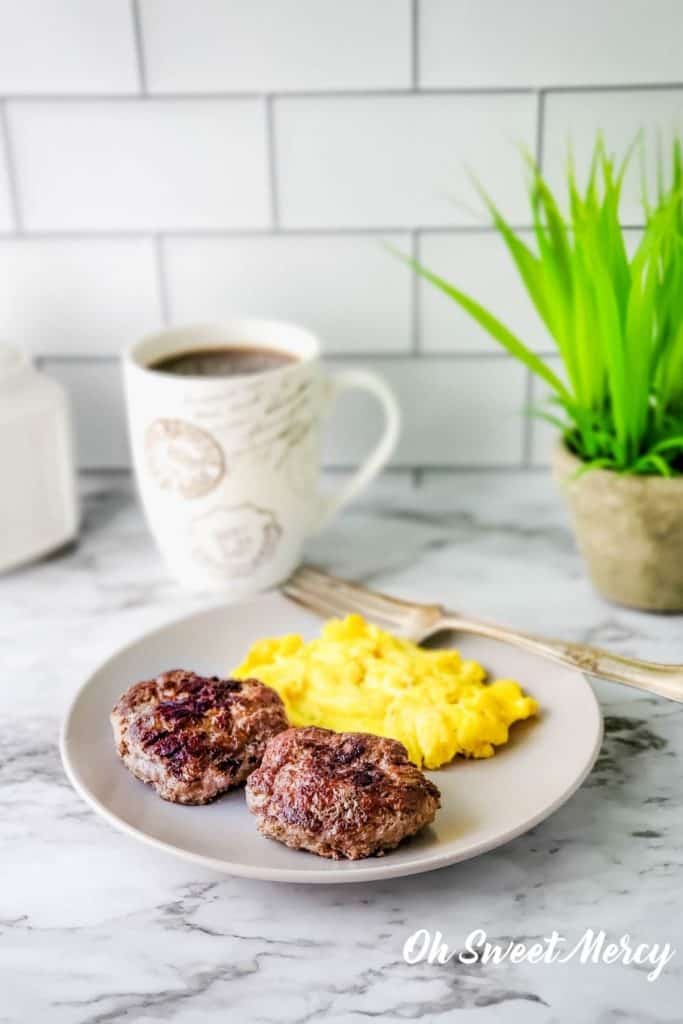 First, Choose Your Ground Meat Wisely.
As mentioned above this recipe is very versatile! The type of meat you choose determines the THM Fuel Type.
For THM S and Deep S meals, use regular ground turkey (85% lean) or other fattier meats.
For THM E and FP meals, use ground turkey or chicken breast (99% fat free).
You can always cook FP style breakfast sausage in healthy fats, making the sausage an S.
Then, Plan Meals Using Your Homemade Breakfast Sausage.
Keeping cooked, crumbled sausage or patties on hand means quick and easy protein for your meals.
Let's start with breakfast!
THM S Ideas:
Fried eggs and sausage patties with sauteed kale (Deep S)
Egg scramble with sausage, peppers, onions, and mushrooms
Bring On Da Buttah Pancakes (page 262 in first THM Cookbook) with sausage patties
Egg Puffs with cooked, crumbled sausage added
THM E Ideas:
How About Some THM FP Ideas?
Remember to keep your main protein serving to 3 to 4 ounces. 2 cooked patties have just under 3 ounces.
Egg white omelette with 1 or 2 sausage patties, fresh berries
Low carb breakfast burrito made with egg whites, cooked, crumbled sausage, and plenty of veggies. Top with hot sauce for a metabolic boost. Use non-fat Greek yogurt instead of sour cream.
Egg white muffins with cooked sausage and veggies
THM Lunch Suggestions:
THM S Ideas:
THM E Ideas (With FP Style Sausage):
THM FP Ideas:
Make a soup with fat free broth, cooked sausage, and nonstarchy veggies. Serve with a side salad with a FP salad dressing and fresh berries for dessert.
Make Wonder Wraps (page 204 in first THM Cookbook) and use cooked sausage patties or crumbles to make wraps. Use my Low Fat Mayo and top with lettuce, cucumbers, tomato, and onion.
Sausage sandwich on Swiss Bread on page 196 in first THM Cookbook. Use mustard or my low fat mayo and top with your favorite sandwich veggies. Fresh veggies on the side with Creamy Cajun Ranch Dip (made FP style).
THM Supper Ideas.
THM S:
THM E:
Add cooked sausage to this Hearty 2 Bean and Lentil Chili. Serve with my Creamy No Mayo Coleslaw or your favorite low/no fat nonstarchy side dish.
Egg white and sausage patty sandwich on toasted sprouted bread with either low fat mayo or an LLC wedge (Light Laughing Cow cheese wedge). Serve with plenty of veggies.
Or go full breakfast for supper with an egg white veggie omelette, sausage patties (made FP style), and fresh E fruit.
THM FP:
Make the sausage FP style and keep portion to 3 to 4 ounces.
Sausage patties, Creamy Cucumber Salad, Miracle Mousse Makeover (made FP style – page 444 in Trim Healthy Table cookbook) for dessert.
Cabbage and sausage skillet with Gluccie Pudding (page 351 in first THM Cookbook) for dessert
Swap out the bacon for sausage in this Bacon Cauliflower Soup, serve with fresh veggies or a side salad with low/no fat dressing.
So many ways to use this delicious, healthy, homemade, sugar free breakfast sausage! Best of all it contains no preservatives, nitrates, or other unwanted ingredients. That makes it a smart choice for all your THM meals that need a good breakfast sausage.
PIN IT!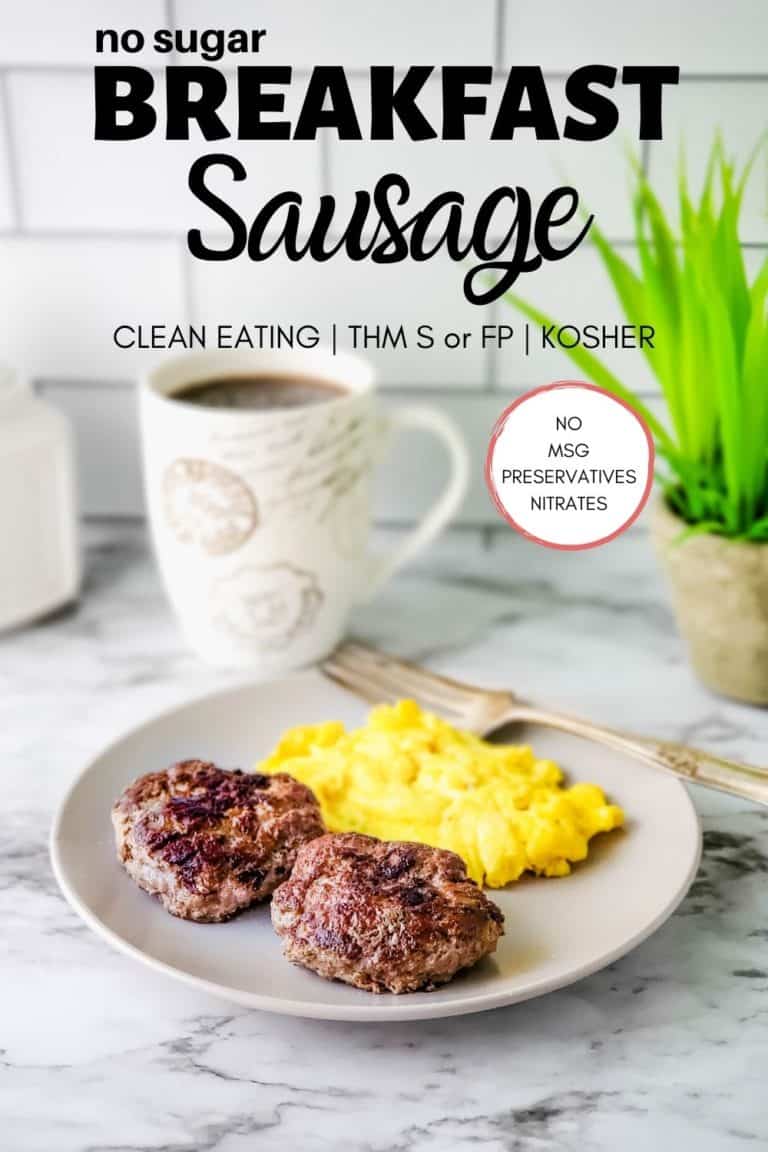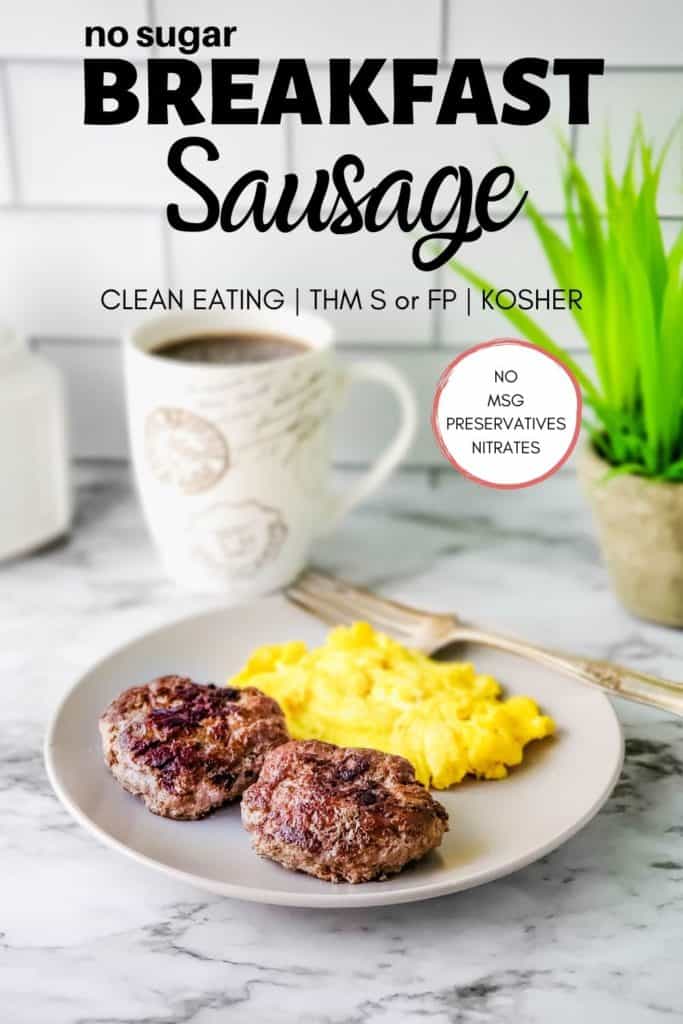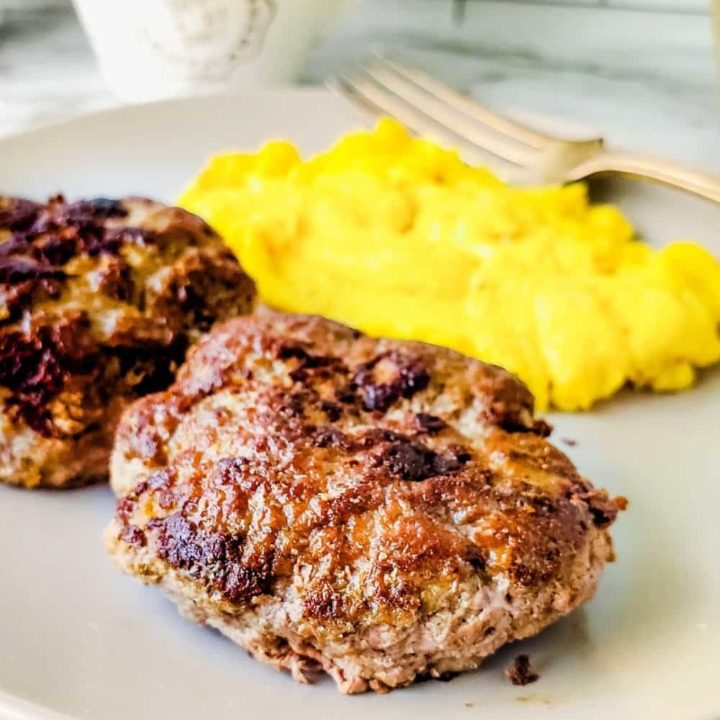 Clean-Eating Homemade Breakfast Sausage | THM S or FP, Keto, Kosher
Yield: 8 patties/1 pound
Prep Time: 8 minutes
Chill Time: 3 hours
Cook Time: 15 minutes
Total Time: 3 hours 23 minutes
Need a healthy breakfast sausage without sugars, preservatives, or other unwanted ingredients? Make your own with this easy and versatile recipe. Make it THM S or FP style, too. Don't just use it for breakfast though, it's delicious anywhere you'd use ground meats.
Ingredients
Sausage Seasoning Mix
1 teaspoon sage
1/2 teaspoon ground thyme
1/2 teaspoon onion powder
1/2 teaspoon garlic powder
1/2 teaspoon paprika
1/2 teaspoon high mineral salt
1/4 teaspoon black pepper
1/8 teaspoon turmeric
Remaining Ingredients
1 pound ground turkey or chicken (see notes)
3 tablespoons egg whites or 1 whole egg (see notes)
Instructions
In a mixing bowl, whisk together the dry seasoning ingredients until mixed well.
Whisk in the egg whites (or whole egg).
Add meat and mix well using a fork or your hands until all the seasoning is well incorporated.
Use right away, or for best flavor refrigerate at least 3 hours or overnight.
Notes
SEASONING NOTES
This is a mildly-seasoned sausage. If you like very seasoned sausage, make 1 1/2 to 2 times as much seasoning mix.
Add red pepper flakes or cayenne for a spicy sausage if desired.
NUTRITION NOTES
Nutrition information given is for 85% lean ground turkey. For 99% lean ground turkey breast: Calories 65.3; Fat 0.8g; Sat Fat 0.3g; Cholesterol 42.5mg; Sodium 62.6mg; Carbs 0.5g; Fiber 0.2g; Sugar 0g; Protein 13.7g.
THM NOTES
For THM S use any kind of ground meat.
For THM FP use ground turkey or chicken breast. You'll probably want to increase the seasoning when using ultra lean meat.
For THM FP meals, 2 patties have just under 3 ounces of protein.
THM FP style sausage can be cooked in a good amount of healthy fat to make it THM S sausage.
Recommended Products
As an Amazon Associate and member of other affiliate programs, I earn from qualifying purchases.
Nutrition Information:
Yield: 8
Serving Size: 1 cooked patty
Amount Per Serving:
Calories: 125.3
Total Fat: 8.5g
Saturated Fat: 2.3g
Unsaturated Fat: 0g
Cholesterol: 42.5mg
Sodium: 62.6mg
Carbohydrates: 0.5g
Fiber: 0.2g
Sugar: 0g
Protein: 10.7g