This low carb breakfast pizza delivers satisfying flavors with a lightly crisp edge. Creamy, garlicky cream cheese is your "sauce", then top with scrambled eggs and your favorite toppings. So yummy, and Mister-approved!
Pizza for breakfast! I'm so not opposed to actual pizza for breakfast. You've got your protein, dairy, some fiber, and even veggies if you go the supreme route, right?
Growing up, I often had leftover cold pizza in the morning. Now, as a Trim Healthy Mama, I still enjoy pizza for breakfast, it's just a healthier version.
Healthier doesn't mean not as tasty though, not at all!
All my favorite low-carb pizzas make for fantastic leftovers (like my Holy Grail/Fathead Himalayan Salt Plate Pizza…IF there's leftovers of course 😉 ). But what if you're in the mood for actual breakfast food?
You know, eggs and stuff?
No problem! Just Make This Easy Low Carb Breakfast Pizza!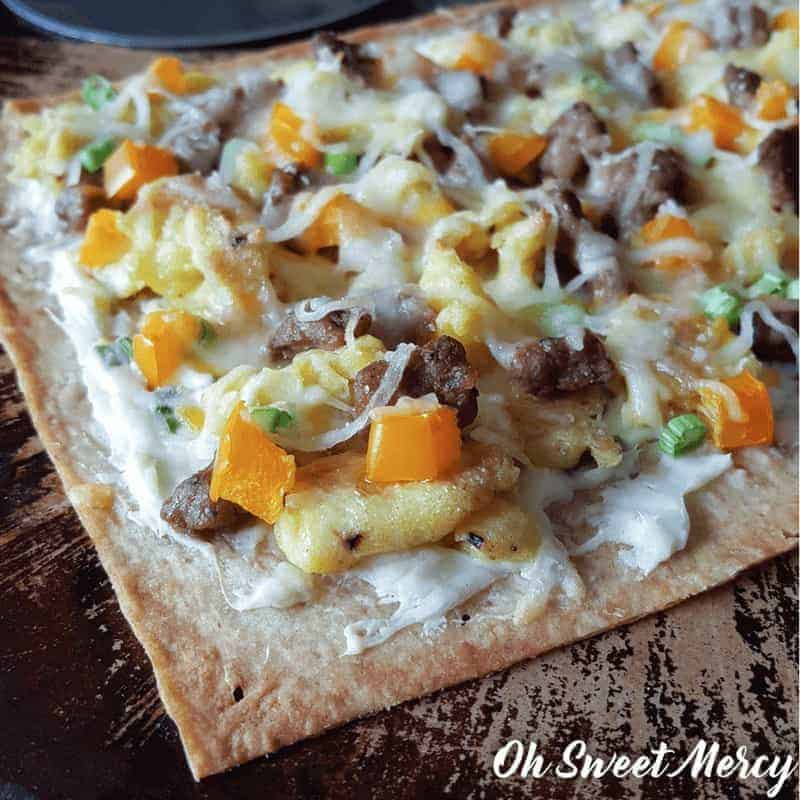 It's easy because it uses a low carb wrap for a crust.
I personally prefer the Joseph's Lavash Bread – the kind with flax and oat fiber and 5g net carbs per serving. If you can't find it locally (many Walmart stores carry it) you can order it from my affiliate partner.
They're considered a "frankenfood" but they are plan-approved for the Drive Through Sue types. I'm a combination of both Serene (and her crunchy purist ways) and Pearl (who doesn't mind shortcuts here and there), so I don't mind using these convenience foods on occasion.
If you find the weight not budging, and you eat a lot of convenience-type foods like these, you might want to try cutting back on them. Some people just don't lose as well eating lots of prepackaged low carb wraps. Focusing on real, whole foods the majority of the time is best nutritionally.
You could of course use your favorite homemade low-carb pizza crust, but that moves this recipe out of the easy category. If you're a purist, it's no big thing though, right?
Top It Any Way You Want.
The beauty of this easy low carb breakfast pizza recipe is that you can really get creative. I chose common breakfast food toppings, but feel free to go wild.
Just stick to plan guidelines, ok? This is an S-friendly recipe, so that means you'll want S-friendly toppings. No sweet potatoes or pineapple here, those are too starchy and carby for S meals.
Not sure what the plan guidelines are for an S meal? You'll want to refer to Chapter 3 in the Trim Healthy Mama Plan Book. You'll find a list of S-friendly foods there (as well as learn all about the S meal, if you're new to the plan).
Some possible combinations to consider (with or without scrambled eggs):
Turkey bacon, avocado, one or two sliced cherry tomatoes, and arugula
Cooked chicken, diced hard boiled egg, spinach
Turkey bacon, turkey sausage, olives or capers
Leftover taco meat, jalapenos, salsa, olives – then top with lettuce and sour cream before serving
Or a non-starchy veggie bonanaza: peppers, onions, tomatoes, spinach or arugula, thinly sliced zucchini
If you're a breakfast-any-time-of-day person, this would also make a great lunch or supper option.
How Will You Top Your Easy Low Carb Breakfast Pizza?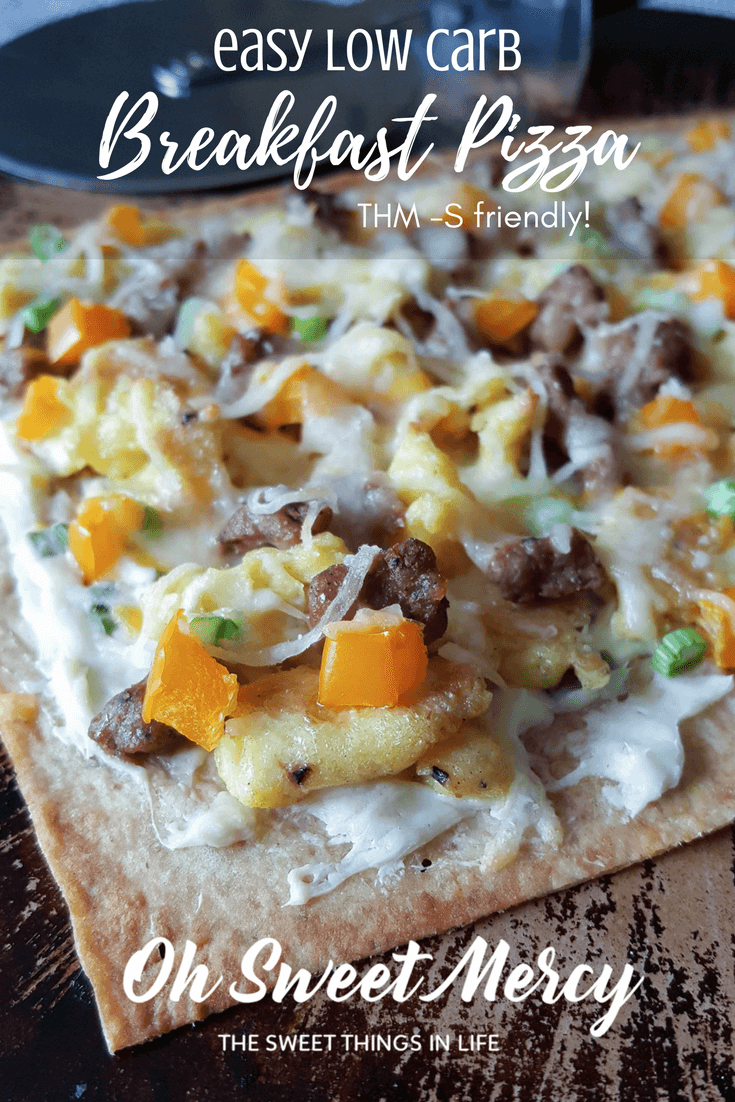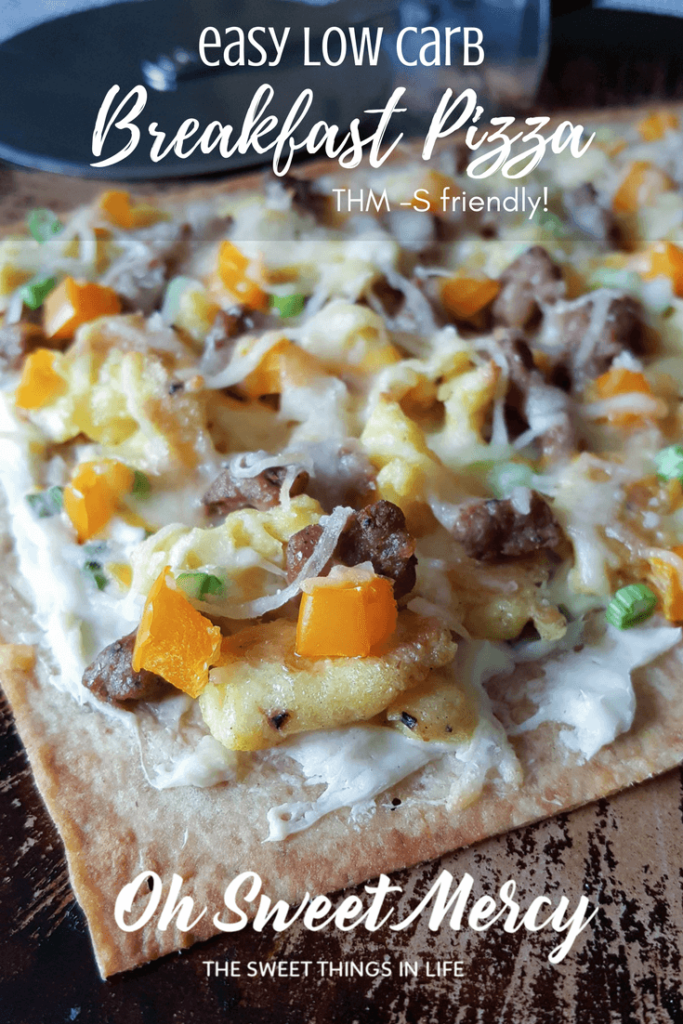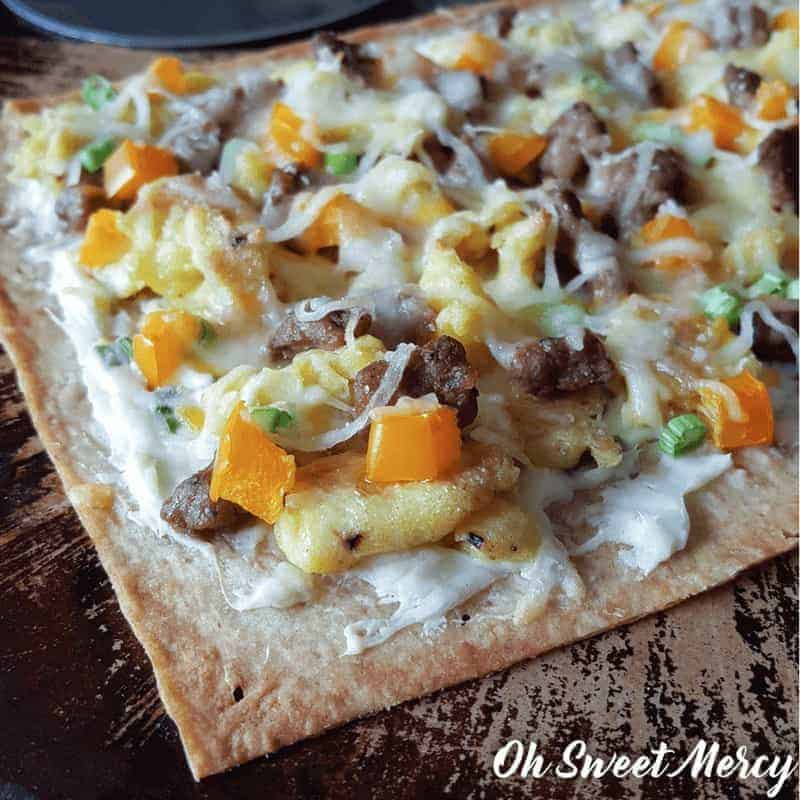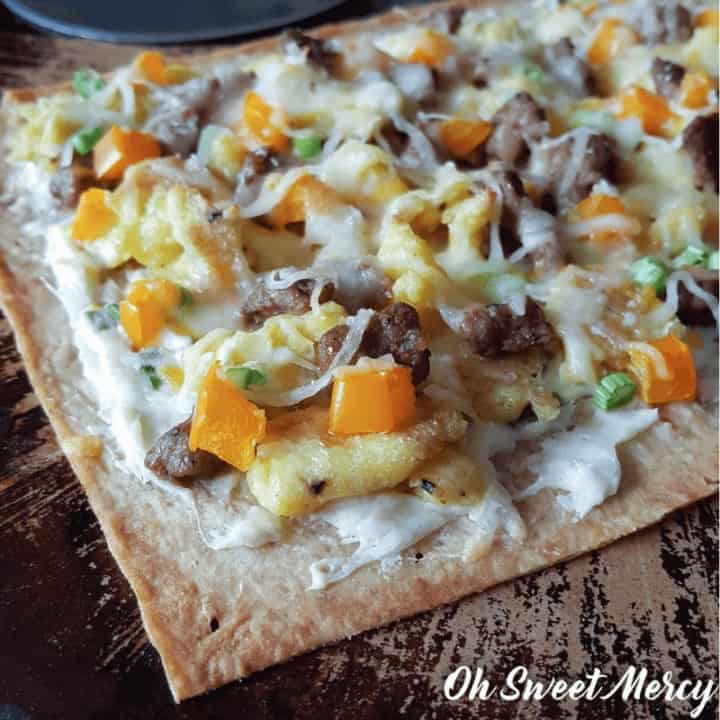 Easy Low Carb Breakfast Pizza
Yield: 1
Prep Time: 10 minutes
Cook Time: 12 minutes
Total Time: 22 minutes
This low carb breakfast pizza delivers satisfying flavors with a lightly crisp edge. Creamy, garlicky cream cheese is your "sauce", then top with scrambled eggs and your favorite toppings. So yummy, and Mister-approved!
Ingredients
1 egg
1 teaspoon water (optional)
Pinch or 2 of mineral salt
Pinch or 2 of black pepper
Fat or non-stick spray for cooking egg
1 teaspoon ghee or butter (optional, but makes the edges of the
1 green onion, sliced and green tops reserved
1 tablespoon light cream cheese (regular is fine, too)
1/8 teaspoon garlic powder
2 tablespoons crumbled, cooked turkey breakfast sausage
2 tablespoons diced bell pepper
OR desired toppings
3 tablespoons of shredded cheese (any kind)
Instructions
Preheat oven to 400 degrees.
Whisk together egg, water, salt, and pepper.
Melt fat in pan, or spray with non-stick spray, and scramble egg. Set aside.
Spread 1 teaspoon of ghee or butter on the Lavash bread, making sure to go to the very edges.
In a small bowl, mix together the cream cheese, garlic powder, salt, and reserved green onion tops.
Spread mixture onto the Lavash bread, leaving about a 1/4" edge.
Top with scrambled eggs, sausage, peppers, sliced green onion, or desired toppings.
Sprinkle shredded cheese on top.
Bake for 8 to 12 minutes, or until the cheese is melted and edge of Lavash are lightly browned.
Notes
Trim Healthy Mamas:
You can use any low carb wrap for the crust, just make sure it's 6g of net carbs or less. The Lavash bread makes the best low carb pizza crusts, in my opinion.
This is an S-friendly recipe.
Nutrition Information is approximate due to variations in ingredients.
Recommended Products
As an Amazon Associate and member of other affiliate programs, I earn from qualifying purchases.
Nutrition Information:
Amount Per Serving:
Calories: 343
Total Fat: 23.7g
Saturated Fat: 12.11g
Cholesterol: 266.17mg
Sodium: 594mg
Fiber: 3.7g
Sugar: 2.7g
Protein: 21.83g