---
I've got a new best bud in my kitchen! Say hello to the new Ninja® Foodi™Pressure Cooker! If you haven't heard about the Ninja Foodi Pressure Cooker yet, pour yourself a drink and sit yourself down because this machine is going to amaze you.
---
This post was created in partnership with Ninja and I received a complimentary product but all opinions within are my own.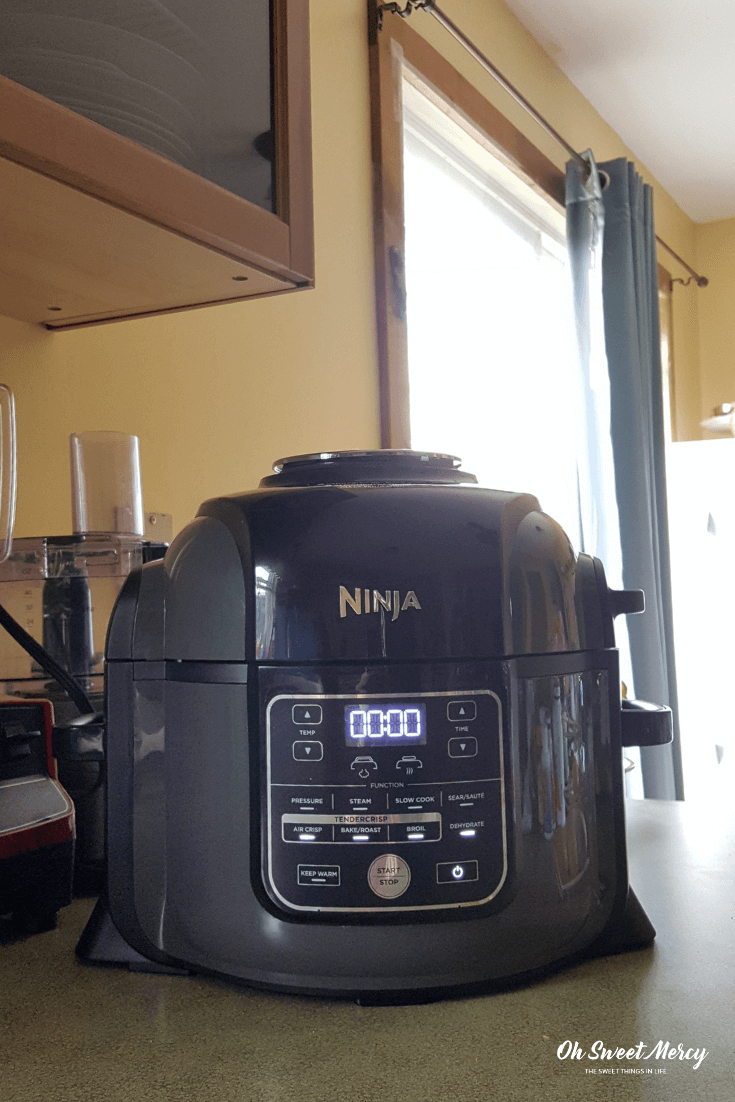 Air fryer recipes are super popular these days. Judy over at Wonderfully Made and Dearly Loved has a bunch of creative, amazing THM friendly air fryer recipes and they seriously made me want to run out and buy one.
But, where would I put it? As you can imagine, my "foodie" kitchen is chock full of tools for creating tasty, on-plan foods for all my Trim Healthy Mamas out there. I could not think of one more thing to reasonably add to the mix.
However, when the email from Ninja Kitchens arrived in my inbox asking if I wanted to review the Foodi I was curious. I thought Ninja only made blenders. Then I saw that the Ninja Foodi Pressure Cooker is (are you sitting down??) A PRESSURE COOKER THAT CRISPS.
Mind. Blown.
And yes, please, send it on over!
Since my Ninja Foodi Pressure Cooker arrived I've been using it nearly daily. Let me introduce you to my new best kitchen friend:
The Ninja Foodi – Pressure Cooker + Air Fryer (and More)
The Ninja Foodi Pressure Cooker has some pretty awesome features:
TenderCrisp Technology – pressure cook your food first to lock in juices, then finish with a crisp. Want to take your pressure-cooked meal to the next level? Give it that crispy, golden outside using the Air Crisp setting. This gives you the best of both worlds – tender and juicy inside and crispy on the outside.
Pressure Cook – pressure cooking is a fast and easy way to make tender, juicy recipes quickly and easily. It's a great way to batch cook your favorite THM meal components for the week and be prepared, too!
Air Fry Crisping – this is by far my favorite feature. Get crispy fried foods without deep frying in oil! Plus bake, roast, or broil to evenly crisp and caramelize your foods. We're talking that golden-brown goodness 😉
Frozen to Crispy – you're busy and the ability to grab something from your freezer, defrost, cook, and crisp all in one pot saves you time (and fewer dishes to wash).
360 Meals – cook all the things in one pot at the same time – proteins, grains, and veggies!
Easy Cleanup – the inner pot and Air Crisp basket have a ceramic coated non-stick surface, making cleanup super easy. They're also dishwasher safe!
Why Trim Healthy Mamas Need One.
First, see the above list 😉 Those are all great features that will make staying on plan easier (and tastier), right THMs? Here's my favorite reasons for adding the Ninja Foodi Pressure Cooker to the THM kitchen:
Air Fryer! Need I Say More?
With Trim Healthy Mama meals we keep our fats and carbs reasonably separated. I love sweet potato fries and have made them in the oven. They're good. But the Air Crisp setting on the Ninja Foodi Pressure Cooker takes them to the next level for sure.
In addition, it seems to be quicker than using an oven. It takes less time to heat up and to cook. And with summer just around the corner, not heating up the oven is definitely a good thing.
I've also made salmon, low carb pizzas, breaded chicken tenders, roasted veggies, chili, corned beef, 3 dozen hard cooked eggs (yes, you read that right – 3 dozen at one time), grilled cheese sandwiches and warmed tortillas for taco night for the non-THM eaters in the house, baked single serving THM foods, reheated leftovers, and more.
Also, my daughter loves roasted veggies. Since we have the Ninja Foodi Pressure Cooker now we don't use the oven to roast our veggies. We also think they turn out better, and more quickly! I'm all for anything that gets my kiddos eating more veggies.
The chicken tenders below were breaded with a mixture I just threw together. I need to get it on the blog, no?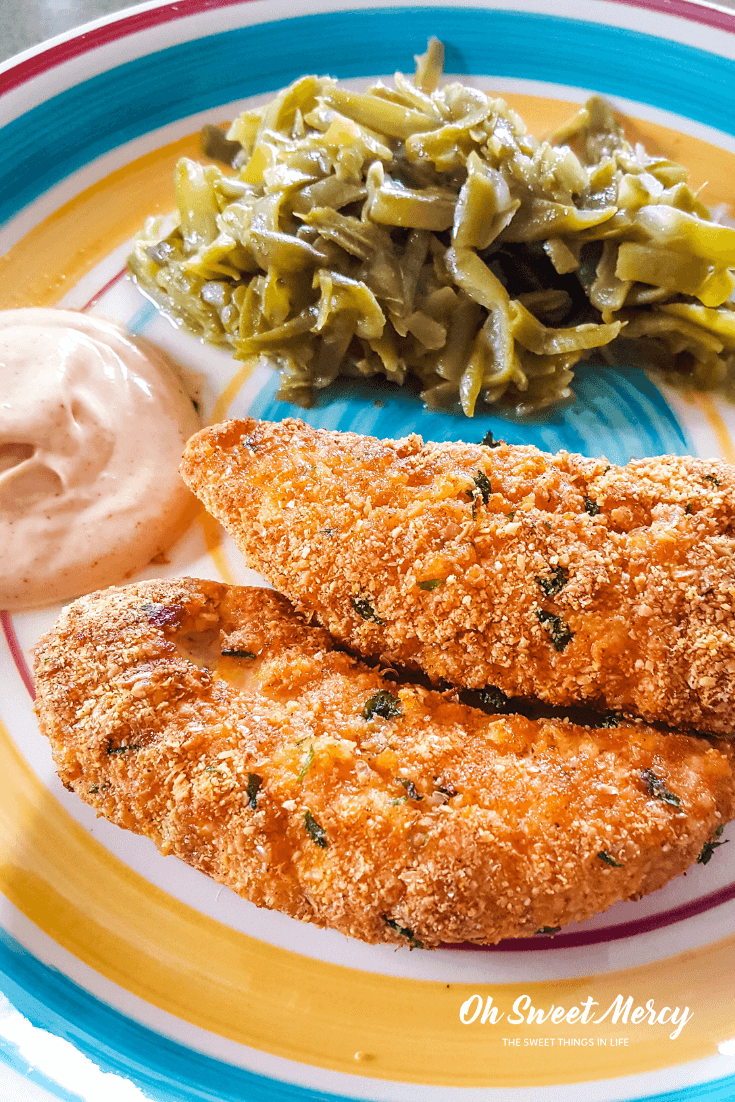 These gorgeous chicken tenders were cooked on the Air Crisp setting. My whole family loved them and I make them frequently.
The Inner Pot Is Wider Than The Instant Pot Liner.
While that means it's shorter, it also means that I can get wider pieces of frozen meat in there. Have you ever tried to shove a frozen roast into a pressure cooker pot that would fit if it wasn't a solid block of ice? It's practically impossible.
We often get meat in bulk and my hubby is a hunter. Men who process meat don't think about things like "will this fit in a pressure cooker", trust me!
Since the Ninja Foodi Pressure Cooker can handle an over-sized block of frozen chicken breasts, it's perfect for batch cooking. Making on-plan proteins ahead of time, like my 30 Minute Chicken Tacos or Quick Tomato Basil Chicken using the pressure cooking feature makes meal prep through the week a snap.
Make Family Meals Or THM Meals Just For You.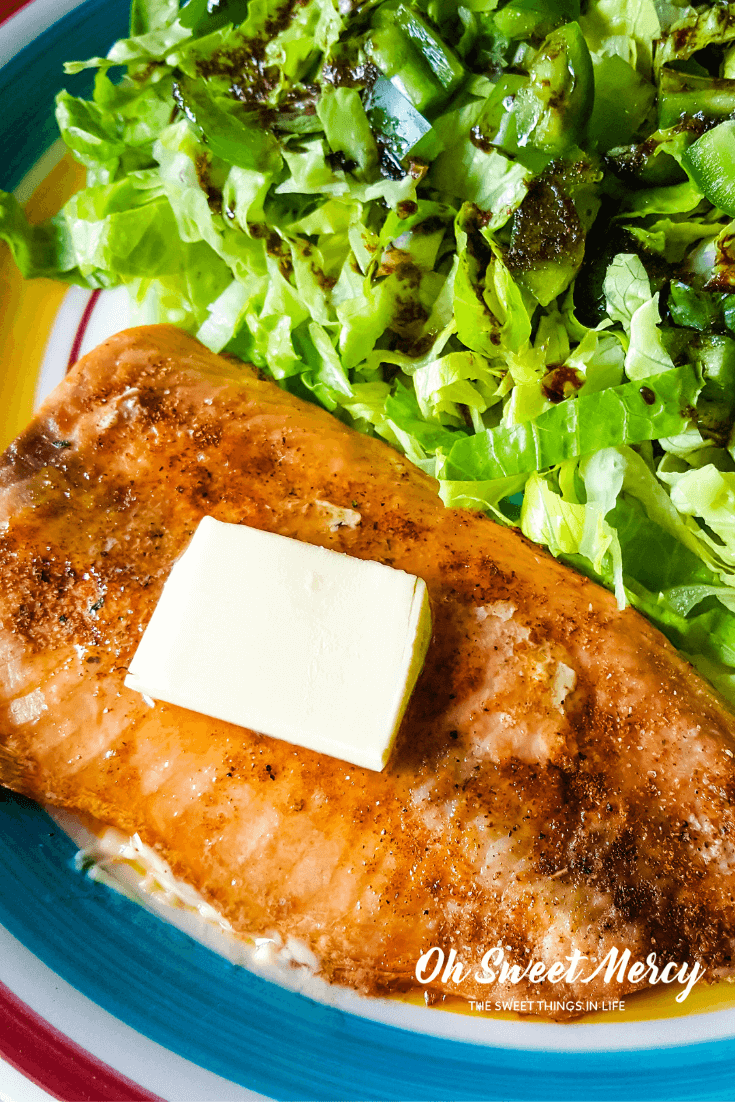 Air fryer salmon is one of my absolute favorites! It's quick and easy and better than pan fried. I'll have a recipe coming soon for this wonderfully healthy, nourishing dish.
You can make plenty of tasty THM-friendly meals the whole family will love using the Ninja Foodi Pressure Cooker. Chilis, soups, stews, roasts, casseroles, even desserts and more are often easily adapted to suit THM and your family's tastes.
But there's another perk. If you're the only one doing THM and your family balks at trying on-plan recipes, you can use this wonder machine to make your own meal while using the stove or oven to make your family's meal. Or the other way around. Everybody wins!
Not many family members can resist a TenderCrisp roasted chicken. The pressure cooking seals in the juices. Finishing off with Air Crisp gives it that golden brown color and texture that makes a good roast chicken irresistible.
The bake function makes baking foods a breeze too. I made this single serve low carb lasagna with zucchini ribbons one night when everyone else wanted something off plan. It ended up being too much for one sitting, so I reheated it easily the next day for lunch.
Who knew an air fryer could do so much? Or a pressure cooker?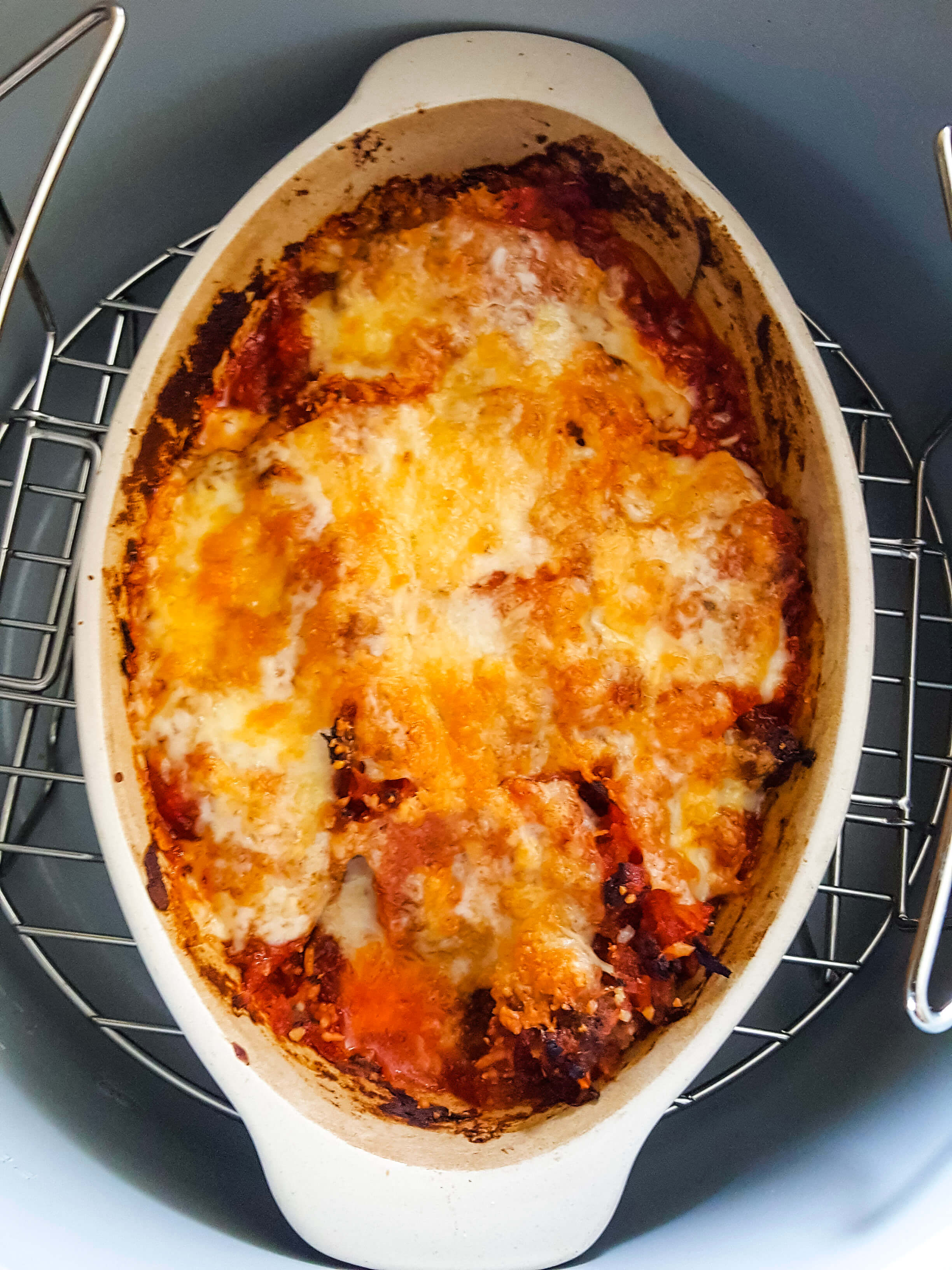 BONUS: The Outside Stays Cool To The Touch.
If you have little ones around you'll appreciate that the outside of the Ninja Foodi Pressure Cooker does not get burning hot. In fact, it barely gets warm!
This is also great if you tend to forget that things like plastic bags melt. No burning or melting of things going on is definitely a plus!
Not that I would have personal knowledge about that of course…*cough*
Some Things To Consider About The Ninja Foodi Pressure Cooker.
No fair and honest review would be complete without noting any aspects of the product I don't care for. I truly do love this machine! As you can see from the above list, it's a perfect fit for the THM lifestyle.
That said, here are a few things to consider before purchasing a Ninja Foodi Pressure Cooker. I don't think any of them are deal breakers, but it's good to know that…
It's Really, Really Big.
I have the 6.5 quart size and compared to my Instant Pot, this thing is HUGE. I can't imagine how large the 8 quart size is! As I mentioned above, I didn't buy an air fryer already because I really don't have anywhere to store one.
While the Ninja Foodi Pressure Cooker takes up a lot of space on my counter, I do feel it's totally worth it. If it sat there unused, I'd have a different opinion. Since I still use it nearly daily (I've had it for a few months now) I don't mind having it on the counter.
I've seen people store theirs on rolling carts. My kitchen organization and storage "system" really needs an overhaul, honestly! Finding a better solution to place this wonderful machine where it's easy to use is something I'll keep in mind when making organization and storage work better in my kitchen.
You Need To Have A Place To Store Some Of The Accessories (And A Second Lid).
Unfortunately, you can't store everything compactly within the unit. You get a crisper basket with removable stand/legs, a grill stand that also inverts and functions as a trivet, and a pressure cooking lid. The grill/trivet legs fold outward, rather than inward, making it impossible to store the item inside the machine.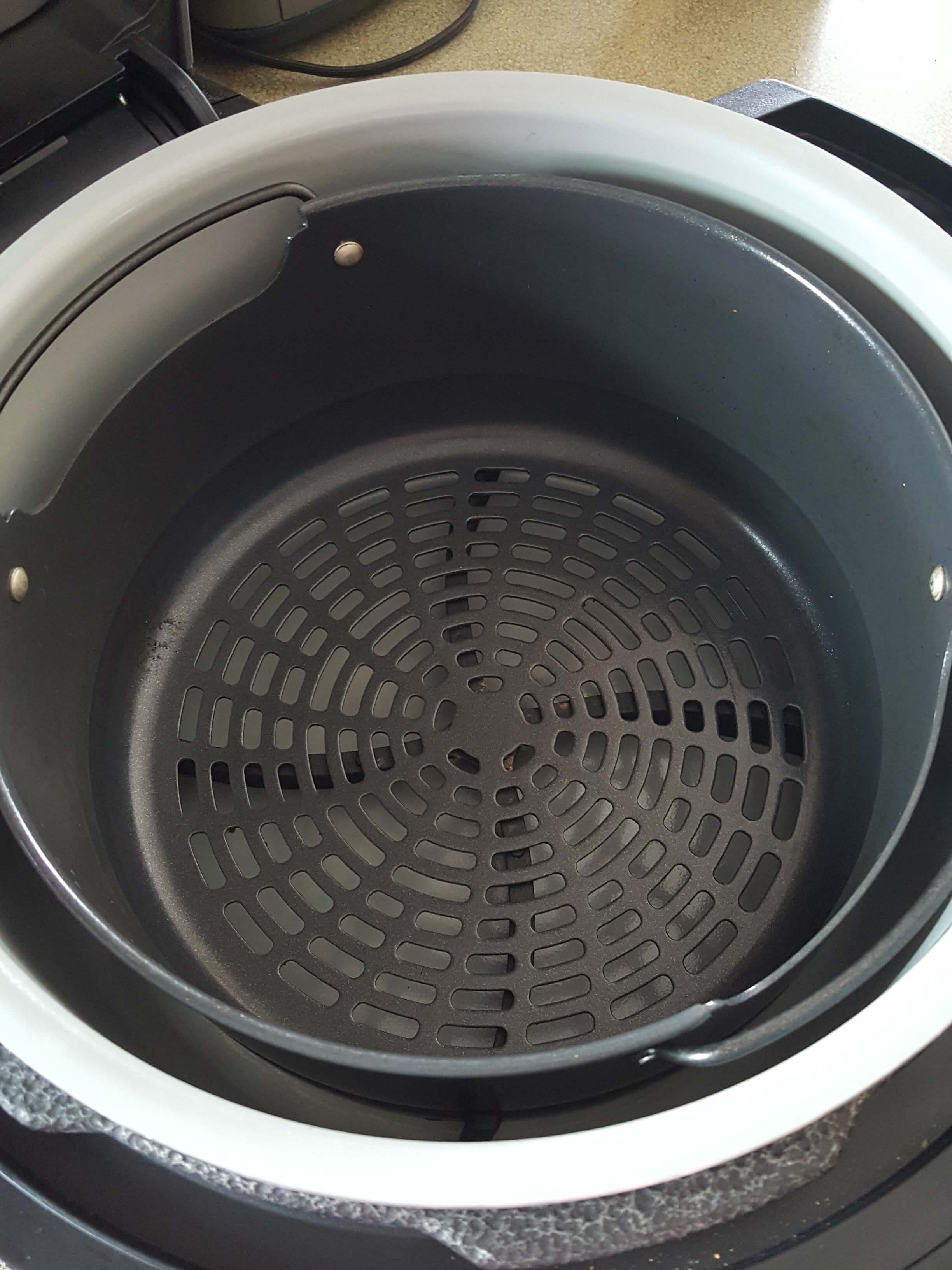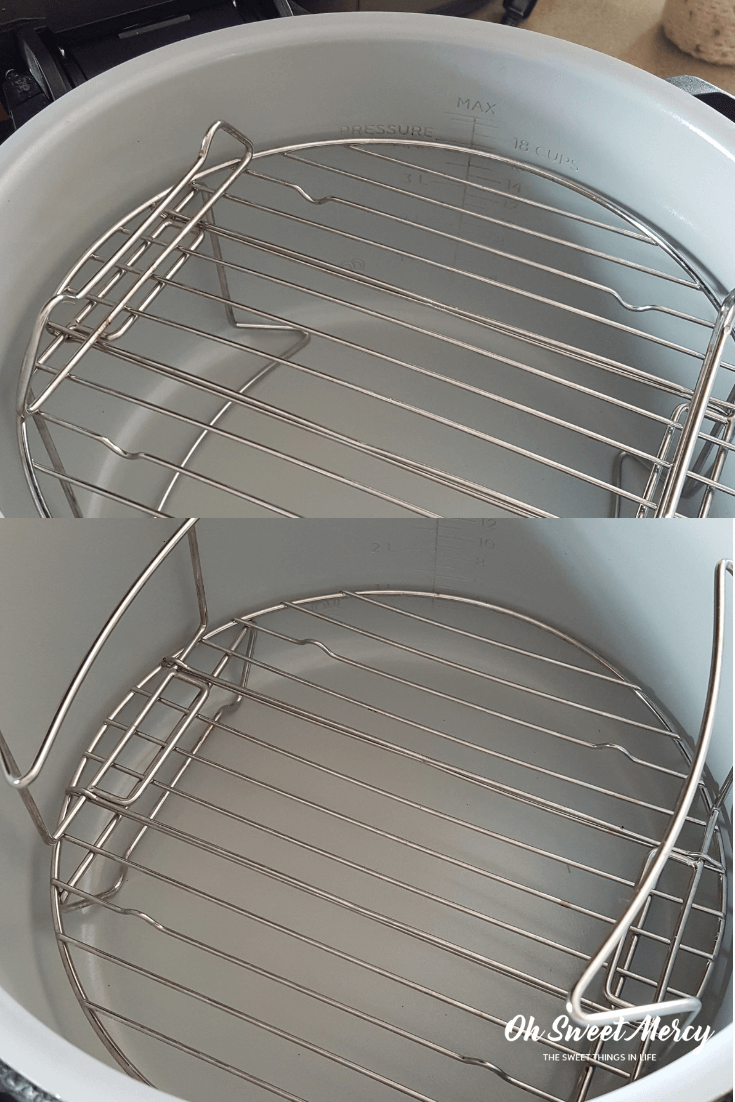 The Air Crisp lid is permanently attached. So, where do you keep the pressure cooking lid when not in use? Someone suggested setting it on top of the closed Air Crisp lid, which I tried. Unfortunately, however, it's left some small scratches on the Air Crisp lid.
You could prevent this by placing a towel between the two lids.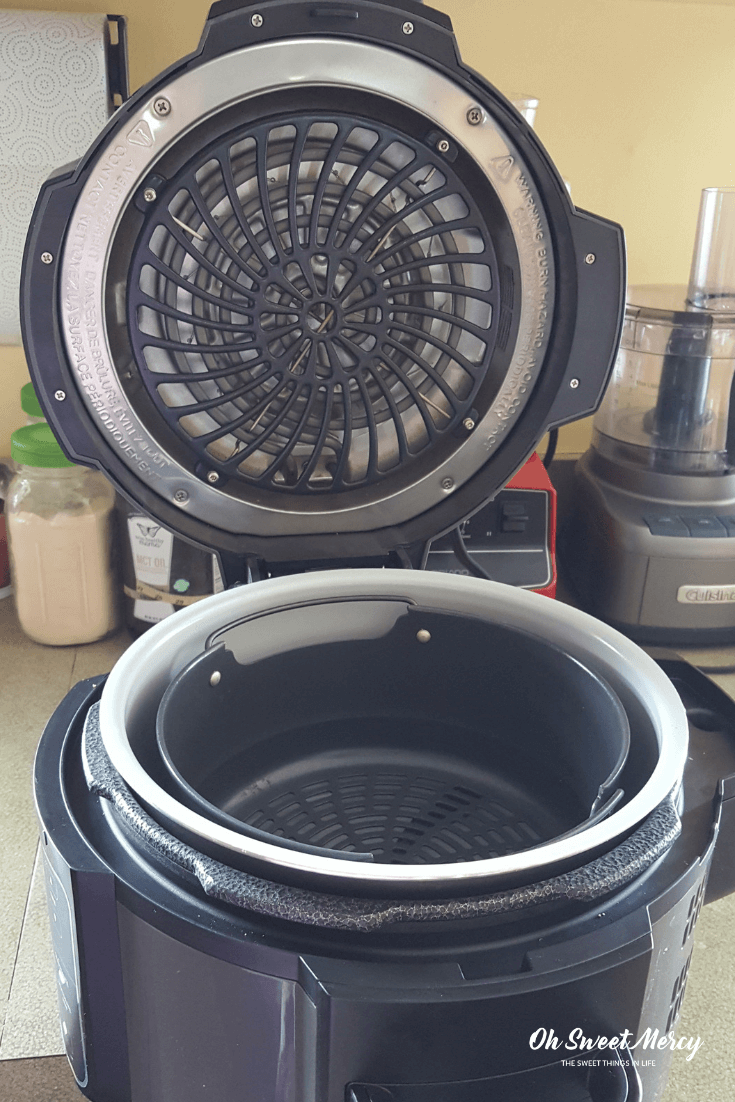 This is where a rolling storage cart would be great (if you have the room). Right now in my kitchen, the pressure lid and grill stand/trivet get stored on top of my Instant Pot (I keep the lid to my IP inverted to keep the seal aired out). Since we use the Air Crisp setting the most, the crisping basket just stays inside the pot.
The Ceramic Coating Seems Somewhat Delicate.
Even though I am meticulously careful about handling and using the inner pot, there is a small scratch somehow. It could have been from someone else in the house (even though they've been instructed to NEVER EVER USE THE METAL UTENSILS ALWAYS USE THE SILICONE UNTENSILS…) but I can not figure out where it came from. The crisping basket is just fine and that gets used even more than the inner pot.
Don't let this be a deal breaker though! In the 3 months or so I've had it there's just been this one small scratch. I just continue to be very careful when using the ceramic coated parts. Typically, I hand wash the inner pot and crisping basket (which is super easy as it's nonstick) but occasionally run them through the dishwasher. No problems there, thankfully!
Be sure to check out the Ninja Kitchen website for recipes, usage inspiration, where to purchase, and more information on the Ninja Foodi Pressure Cooker.

CONNECT WITH NINJA VIA THEIR SOCIAL CHANNELS:
The Verdict: The Ninja Foodi Pressure Cooker Makes THM Life Easier.
This machine has really become my best kitchen buddy. I wasn't sure at first how much I would use it, I've had an Instant Pot for several years and don't use it super frequently. However, since the Ninja Foodi Pressure Cooker is so versatile (and makes things crispy without fat or oil, hello!) it is perfect for Trim Healthy Mama E and FP foods.
There's nothing wrong with cutting back on fat in S meals, too. So using the oil-free frying feature of the Air Crisp setting helps you create tasty Light (or lighter) S meals too.
I love how effortlessly I use this machine nearly daily. From the smallest task of reheating last night's leftovers to pressure cooking a whole chicken and finishing off with air crisping (TenderCrisp!) for that golden, brown, crispy skin, the Ninja Foodi Pressure Cooker makes THM cooking a breeze.
Where's The Recipe?
Initially this post was going to have a recipe included, but there's just too much to say about the Foodi. That, and I tend to be very descriptive and include a lot of info in my reviews. Information is important for making a good decision. I think anyone will love a Ninja Foodi Pressure Cooker but also want you to make an informed decision.
So, you'll need to head over to my Crispy Air Fried Falafel with Creamy Tahini Sauce post and to see what I made in my Foodi! I still can't believe I made that falafel with absolutely NO fat or oil!
Just look at that falafel ball here…doesn't that make you want some right now?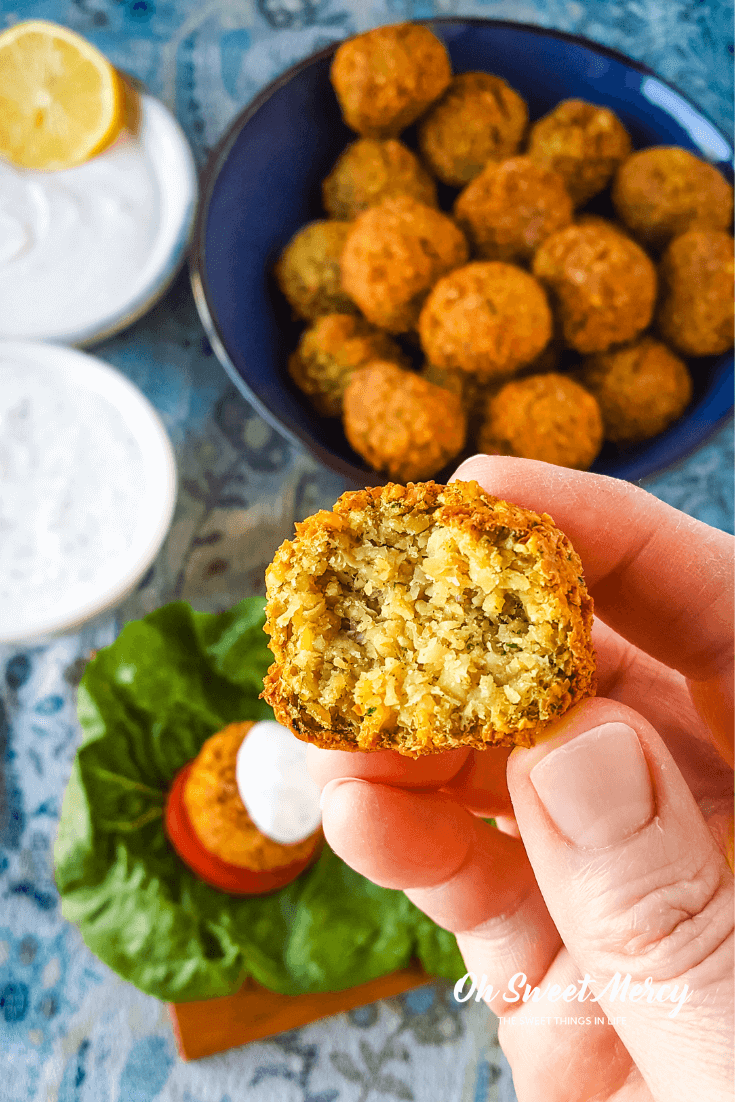 Do You See How The Ninja Foodi Pressure Cooker Will Make THM Cooking Easier? Be Sure To Pin This Post!