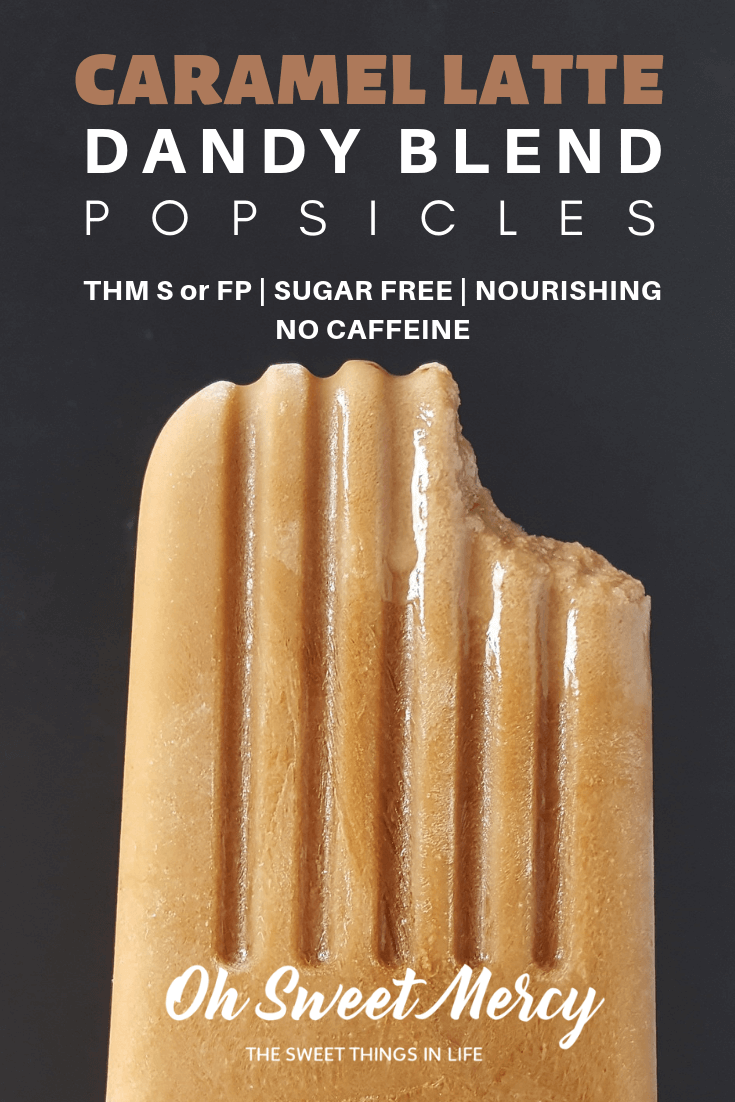 ---
Dandy Blend is a fabulous substitute for coffee – it's caffeine free, healthy, and mixes up instantly! You can make hot or cold drinks with Dandy Blend (and even bake with it). In anticipation of hot summer days I've created these delicious sugar free popsicles in a grown-up flavor – Caramel Latte – but they're great for any age . Trim Healthy Mamas, make them S or FP for a cool, on-plan summer treat. Dairy free option, too!
---
As I write this I'm wearing a sweatshirt and my winter slippers. It's gotten as high as 50-something once or twice since the official start of spring. I think I remember seeing the sun once, too.
So why on earth am I creating a frozen summer treat recipe? Because tomorrow it's just as likely to be 85 degrees. Indiana's weather is unpredictable, and any more we seem to skip right over spring and dive right into the humid heat of summer.
It's good to be prepared.
Planning ahead is part of my 12 Months of Trim and Healthy Habits printable habit tracker. Need help with developing healthy THM habits? Learn more here.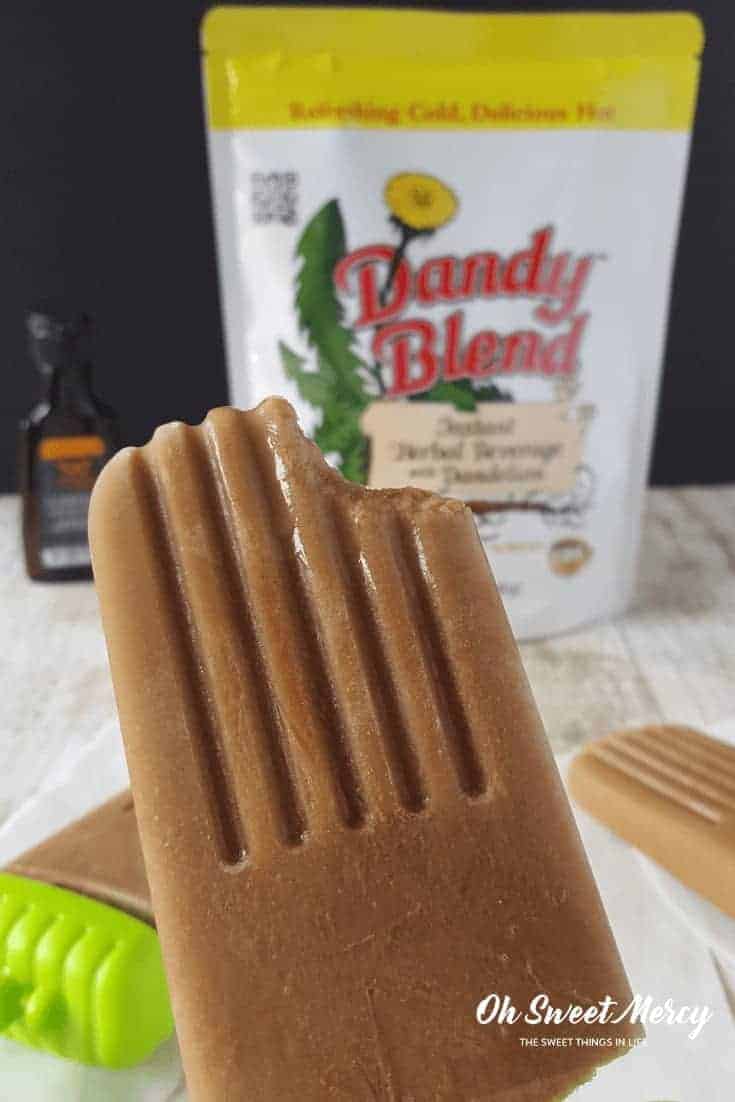 Today Is National Dandelion Day!
That's right, April 5 is National Dandelion Day. While many people view the humble dandelion as just a bothersome weed, those in the know understand it's a wonderfully healthy herb.
Dandelion root is rich in antioxidants, may help reduce cholesterol, and supports liver function. It also seems to have antimicrobial properties.
For centuries dandelion has been used as an herbal treatment for many ailments. Some of the conditions include kidney and liver problems, digestive upset, and diabetes.
Dandy Blend is a caffeine free, instant herbal beverage made from roasted dandelion root. It's rich in many vitamins, minerals, and trace minerals. One teaspoon contains 22.2 mg of potassium, for example.
It's also been my best morning friend since I gave up coffee 😉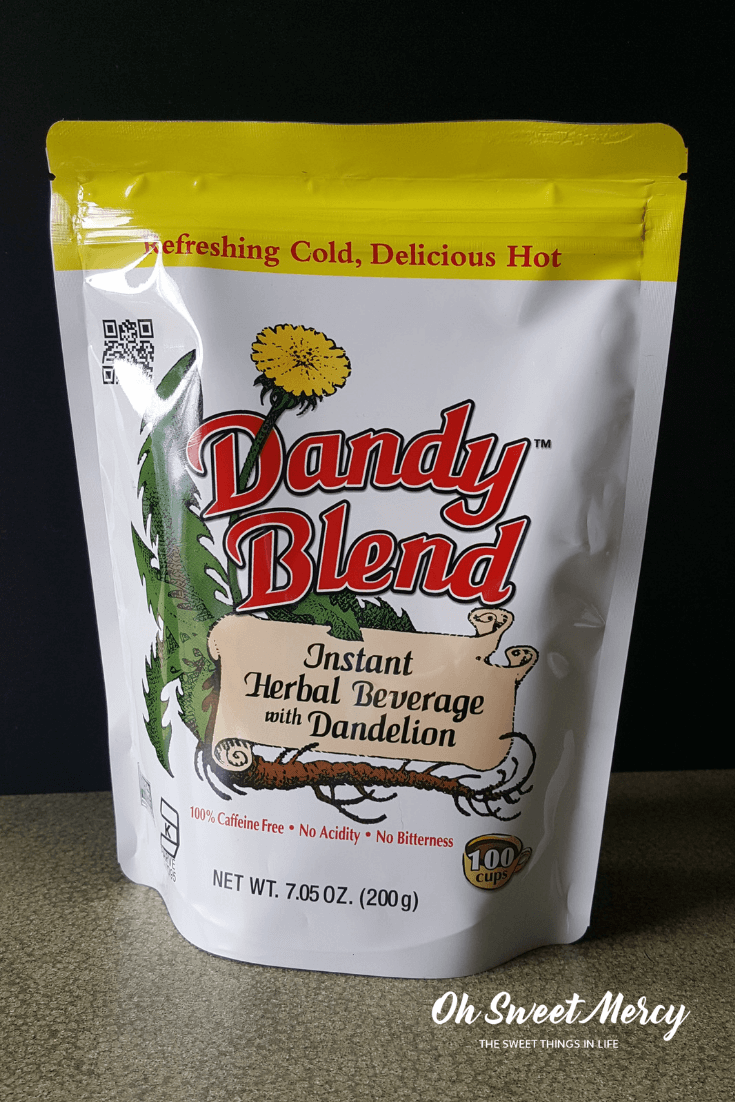 Sugar Free Caramel Latte Popsicles Are Super Easy (and Healthy)!
Since Dandy Blend dissolves nearly instantly (in hot or cold liquids) these sugar free popsicles are quick to put together. In fact, Lori from Dandy Blend told me she mixes up a pitcher of Dandy Blend concentrate to keep in her fridge so it's always ready to go. How perfect for hot summer days!
One tip for easy mixing: mix the dry ingredients in this recipe together then mix in a small amount of the liquid before adding in the rest of the liquid.
Trim Healthy Mamas, you can make these to suit either S or FP. You can also make them dairy free if needed.
For S, use some heavy cream or more half and half. For FP or dairy free, use all nut milk.
I've added a few optional ingredients because I had them on hand but they are totally optional. Integral Collagen adds some protein and the healthy benefits of collagen. Simply Sunflower Lecithin is great for brain health and an emulsifier.
Did you get some Caramel Natural Burst in the last THM sale? These yummy low carb popsicles are transformed into Caramel Latte Popsicles with the addition of caramel extract.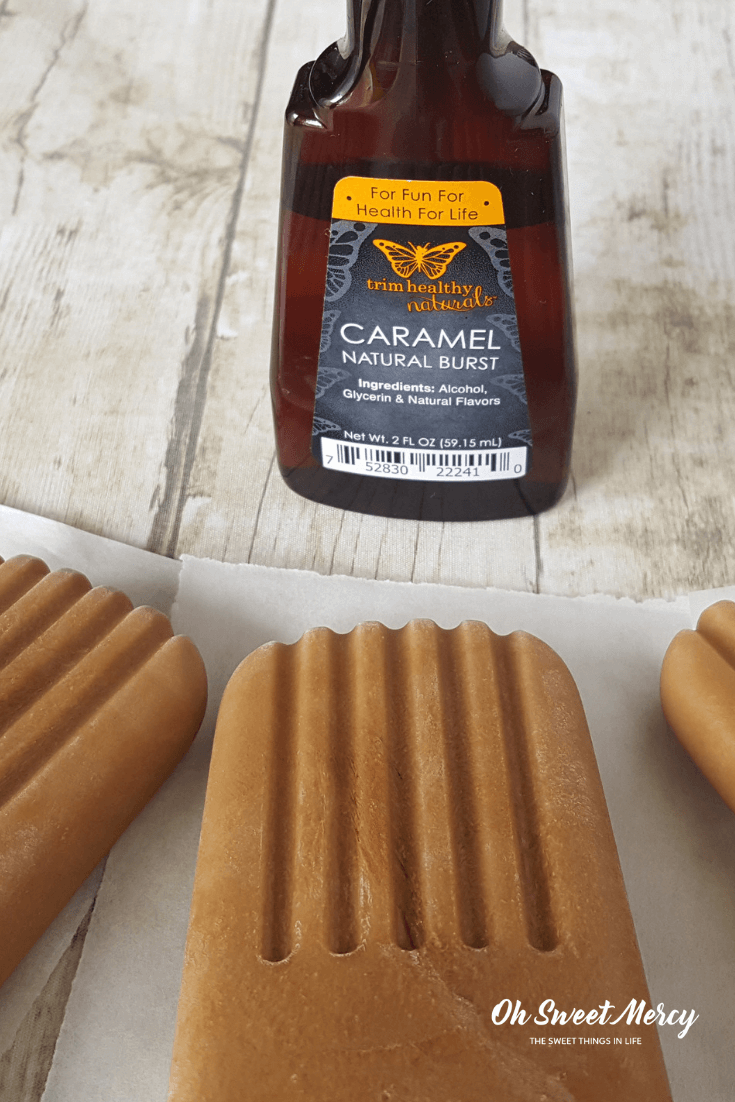 If you prefer not to use flavorings, you can leave it out and add more vanilla. You'll still have a delicious sugar free latte popsicle.
Pop your popsicles into the freezer for 4 hours (or overnight). Soon you'll have an easy to grab, cooling treat for hot days.
How About A Dandy Blend Giveaway?
Now, are you wanting to try some Dandy Blend yourself? I've got great news – a giveaway! One lucky winner will receive a gift pack with a 7 oz bag of Dandy Blend, a mug, and a tote.
If you're not the lucky winner, you can still give Dandy Blend a try – very inexpensively too! You can purchase samples on the Dandy Blend website. As of the date of this post, they are 2 single-serve samples for $1 (max 4 single-serve packs per person).
These single-serve packs are also available in boxes of 25 and are great to tuck in your purse or bag when you're on the go.
Enter the giveaway in the Giveaway Tools widget below, then check out the Sugar Free Caramel Latte Popsicles recipe!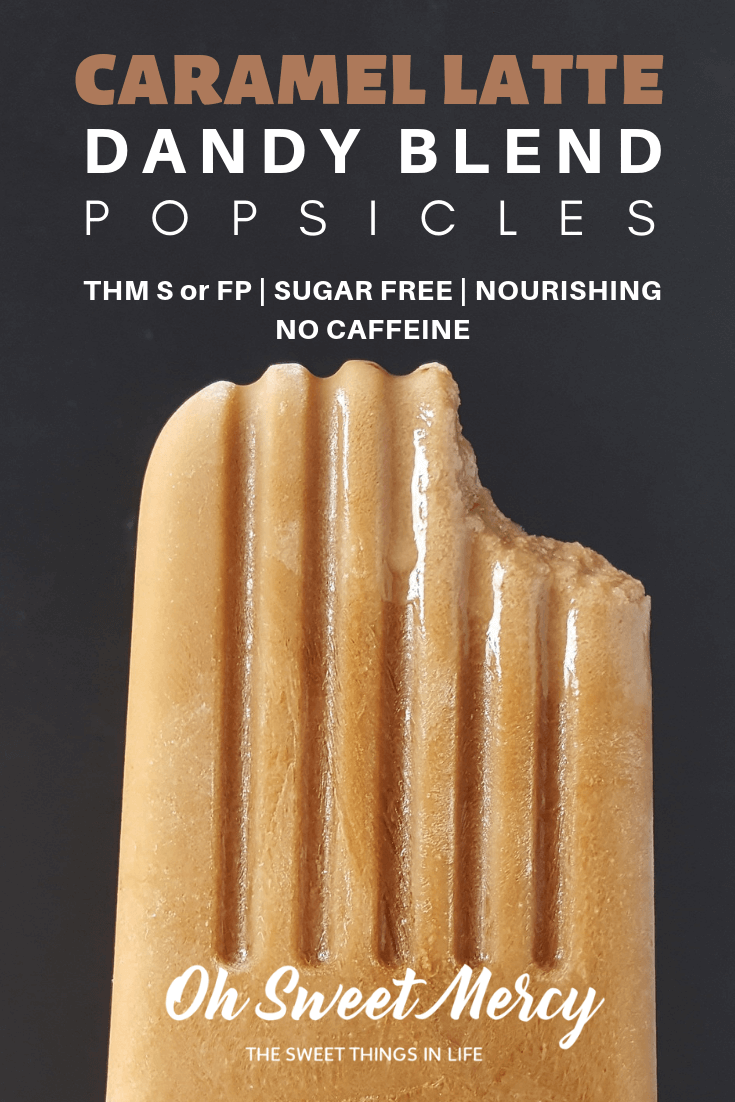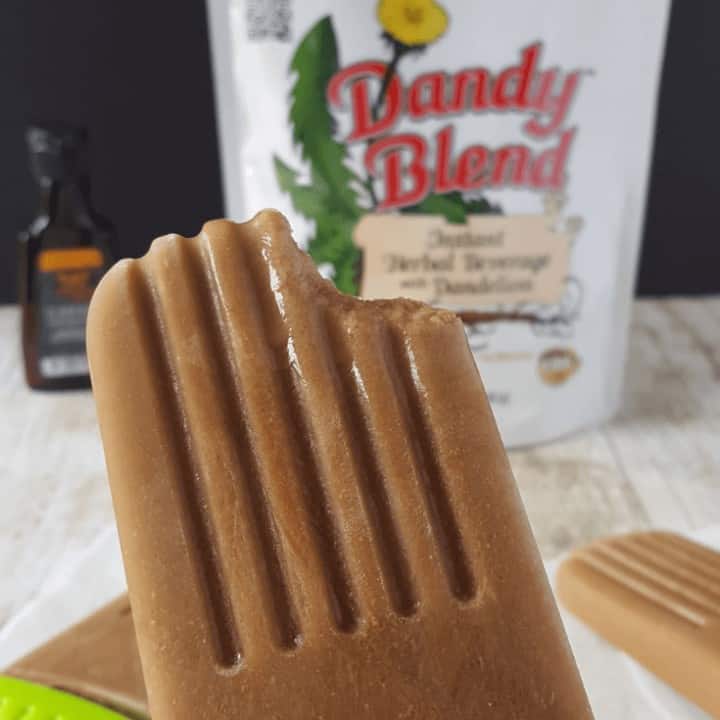 Sugar Free Caramel Latte Popsicles | THM S or FP, Dairy Free Option
Yield: 6 pops
Prep Time: 5 minutes
Freezer Time: 4 hours
Total Time: 4 hours 5 minutes
Dandy Blend tastes like coffee but is caffeine free, not acidic or bitter, and a healthy herbal beverage packed with nutrients. These Sugar Free Caramel Latte Popsicles are great for any age! Low carb, THM S or FP, and with a dairy free option, everyone will enjoy the cool caramel latte taste of these popsicles.
Ingredients
2 cups nut milk (for Dairy Free or THM FP, 2 1/4 cups)
1/4 cup half and half or heavy cream (omit for dairy free and THM FP)
1/4 teaspoon pure vanilla extract
Instructions
In a pourable mixing container or bowl, wisk together the dry ingredients.
Add a small amount of liquid and whisk well to completely dissolve the dry ingredients.
Add remaining liquid and whisk well.
Taste and adjust for sweetness or strength of the Dandy Blend as desired.
Pour into popsicle molds and freeze for 4 hours or overnight.
Recommended Products
As an Amazon Associate and member of other affiliate programs, I earn from qualifying purchases.