Cold winter months are perfect for hearty soups and stews. This Quick and Meaty Instant Pot Chili is easy to prepare and guaranteed to satisfy. Trim Healthy Mama friendly for S, E, or FP!
It's Time for Supper. What to make?
If you've been busy running errands, running after little ones, or just running around like mad trying to get things done you need a quick dinner solution! This meaty Instant Pot chili only takes 10 minutes of cooking time in your Instant Pot and can be on the table in under an hour.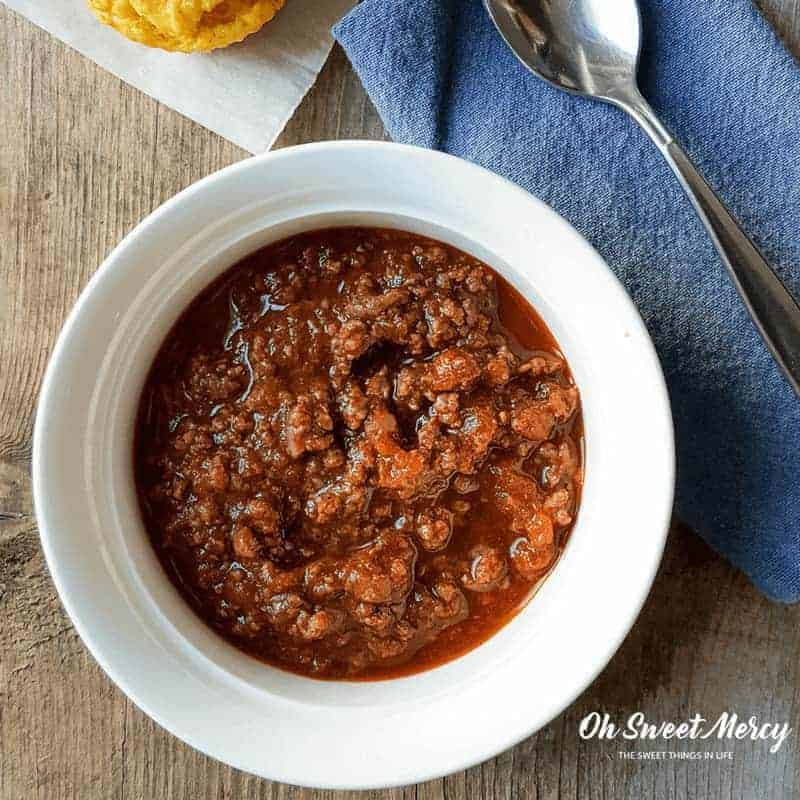 Quick and Versatile.
Are you a Trim Healthy Mama plan follower? You'll appreciate the versatility of this easy recipe too. Just a few simple tweaks takes it from a satisfying S to E and Fuel Pull friendly.
Having an S meal? It's delicious with a leafy green salad and my Creamy Cajun Ranch Dressing and a hot, buttered Garlic Biscuit (or a couple of Gwen's Nest In a Jiffy Corn Muffins if you like cornbread with your chili). Finish with some fresh berries for dessert.
Having an E meal? Use very lean meat (96% or higher) or rinse your regular ground beef very well in hot water before adding to the Instant Pot. Add a can of your favorite beans (or serve over cooked brown rice for your carb source), enjoy a leafy green salad lightly dressed with fresh lemon juice and a drizzle of MCT oil (or my Creamy Cajun Ranch works well here too). Finish with my Mango Lime Instant Pudding for dessert.
Having a Fuel Pull? Use very lean meat, as in an E above and don't add beans. Serve over steamed cauli rice and add a side of steamed broccoli with a squeeze of fresh lemon and some cracked black pepper. Make a Baby Fuel Pull shake or smoothie from Trim Healthy Table for dessert.
See how easy that is? One recipe, many faces. I love recipes that pull double…or triple…duty!
Fast (and Frugal) Family Favorite!
This dish has graced our dinner table many times since the weather turned cold. It's so quick and easy AND pretty cheap. Making it THM E style makes it stretch even farther if you add beans or serve over rice (or a bit of both).
You can use any kind of meat, too. So if you find a great deal on ground turkey [or beef, or chicken, or have venison in your freezer…] this is a frugal way to use it.
My hubby doesn't like soups so he prefers his chili thick. You could also add a can of tomato sauce for a thinner, more soup-like consistency. Just be sure to not over fill your Instant Pot if you're using the pressure cooking function. Consult your manual for the maximum capacity for your machine.
Please read this article to learn more about safely filling your Instant Pot.
Will This Quick and Meaty Instant Pot Chili Save You On Busy Nights?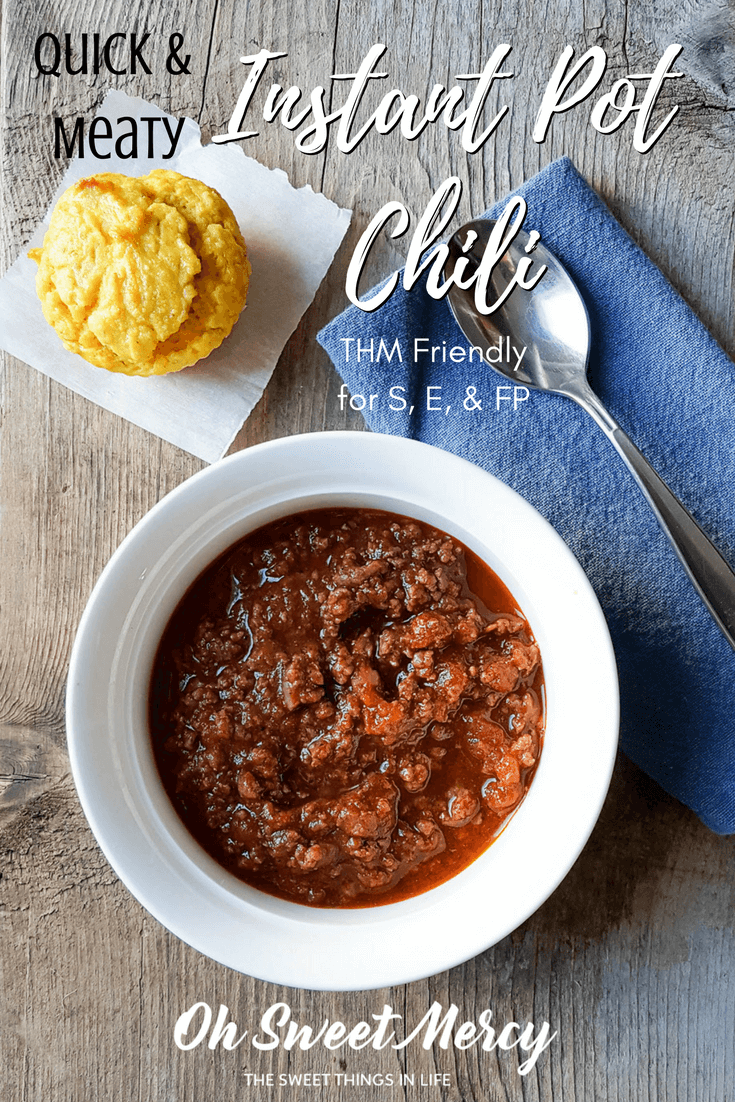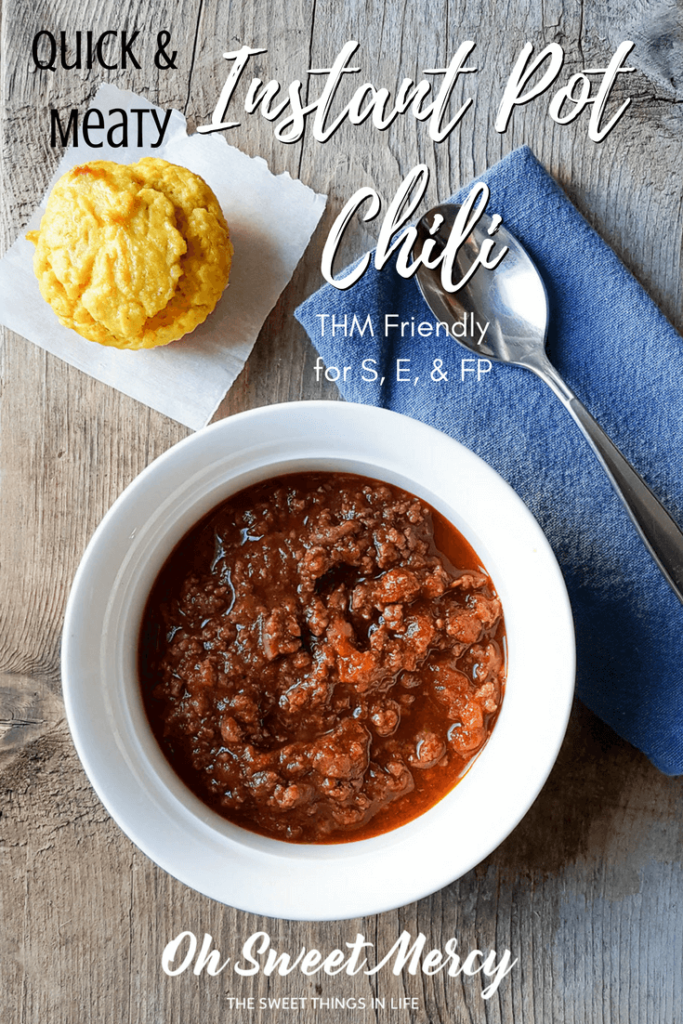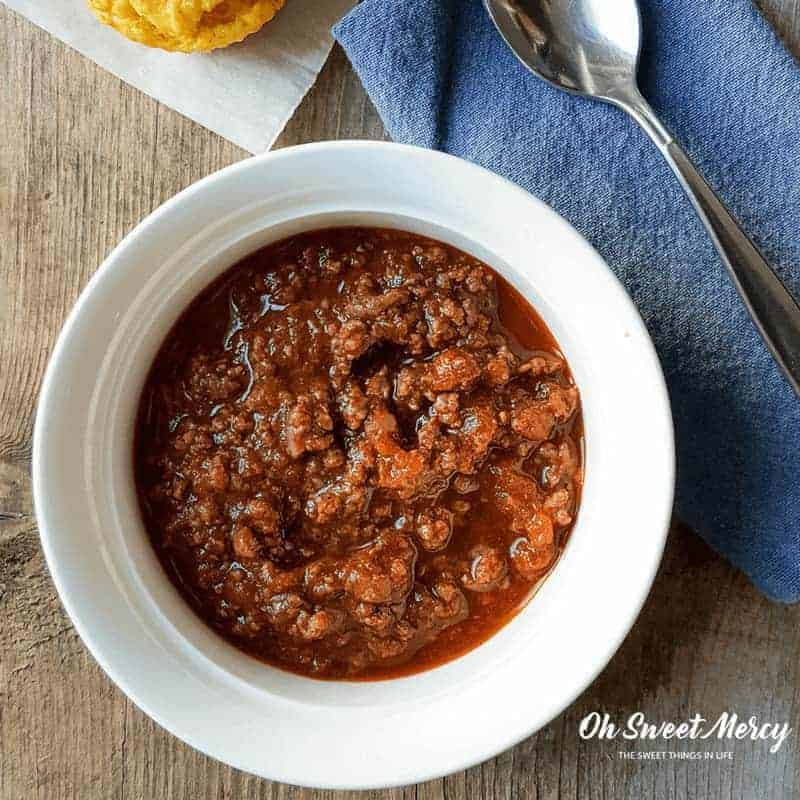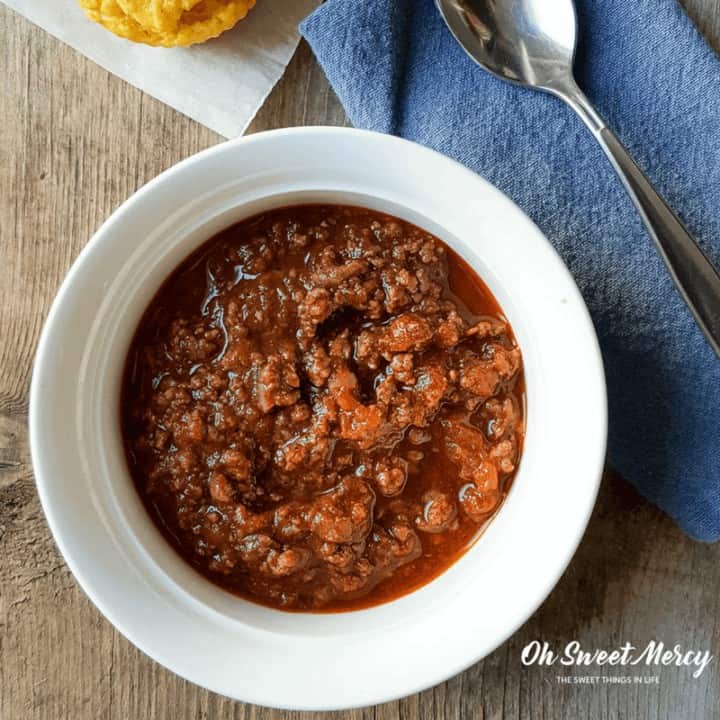 Quick and Meaty Instant Pot Chili
Yield: 4
Prep Time: 20 minutes
Cook Time: 30 minutes
Total Time: 50 minutes
Cold winter months are perfect for hearty soups and stews. This Quick and Meaty Instant Pot Chili is easy to prepare and guaranteed to satisfy. Make it Trim Healthy Mama friendly for S, E, or FP!
Ingredients
1 pound ground meat (use 96% lean or higher for E or FP versions)
1 small onion, or approximately 1/2 cup diced
1 - 28 ounce can diced tomatoes
1/4 cup brewed coffee
1 1/2 teaspoon garlic powder
1 teaspoon cocoa powder
1/2 teaspoon black pepper
Instructions
In your Instant Pot, use the SAUTE function to brown your ground meat (or use a skillet), and drain any fat. (See Recipe
;Notes)
Add onions, tomatoes, coffee, beans (if using for an E meal) and seasonings to the Instant Pot liner pot and stir well to combine.
If you used a skillet to cook your meat, set your Instant Pot to SAUTE to warm up the pot and help it come to pressure more quickly, then add browned and drained meat to the tomato mixture.
Secure the lid and make sure the vent knob is set to SEALING.
Set the Instant Pot to Bean/Chili for 10 minutes.
After the cooking time has ended, allow to NPR* for 5 minutes, then QPR.
When it's safe to open the lid, remove it and stir the chili. Check for seasoning and adjust if necessary.
Notes
Nutrition information is based on 93% lean ground beef. Values will change with different types and leanness of meats.
*NPR = Natural Pressure Release, QPR = Quick Pressure Release
Trim Healthy Mamas:
S meals: use any kind of ground meat, omit beans or just add a cup or less. Serve with non-starchy sides and keep your carb count in the S range.
E meals: use 96% (or higher) lean ground meat. Add beans as desired, or serve over brown rice or quinoa for your carb source. Keep your added fat within E guidelines.
FP meals: use 96% (or higher) lean ground meat. Do not add beans. Keep your carbs to E limits and added fats to S limits and have plenty of non-starchy veggies.
Recommended Products
As an Amazon Associate and member of other affiliate programs, I earn from qualifying purchases.
Nutrition Information:
Serving Size: 1
Amount Per Serving:
Calories: 323
Total Fat: 8g
Saturated Fat: 3g
Cholesterol: 81mg
Sodium: 587mg
Fiber: 3g
Sugar: 4g
Protein: 24g