---
---
Are you sitting down? You should, because crispy-outside, soft-and tender-inside Falafel without deep frying is enough to make you weak in the knees. And, it's not a fairy tale either! Thanks to the modern wonders of air frying technology you can enjoy crispy, tender falafel and still be on-plan with your Trim Healthy Mama E meal. Seriously. I'm not kidding!
---
What comes to mind when you think of falafel? Gloriously crispy balls of chickpea goodness, right? Oh but the oil you fry it in…that definitely makes typical falafel a no on the Trim Healthy Mama plan.
Thanks to the modern wonders of air frying technology, you can now enjoy crispy, tender falafel balls and not blow your healthy THM eating plan. For real! I would never kid about something like crispy, carby, goodness. Especially when it's THM friendly.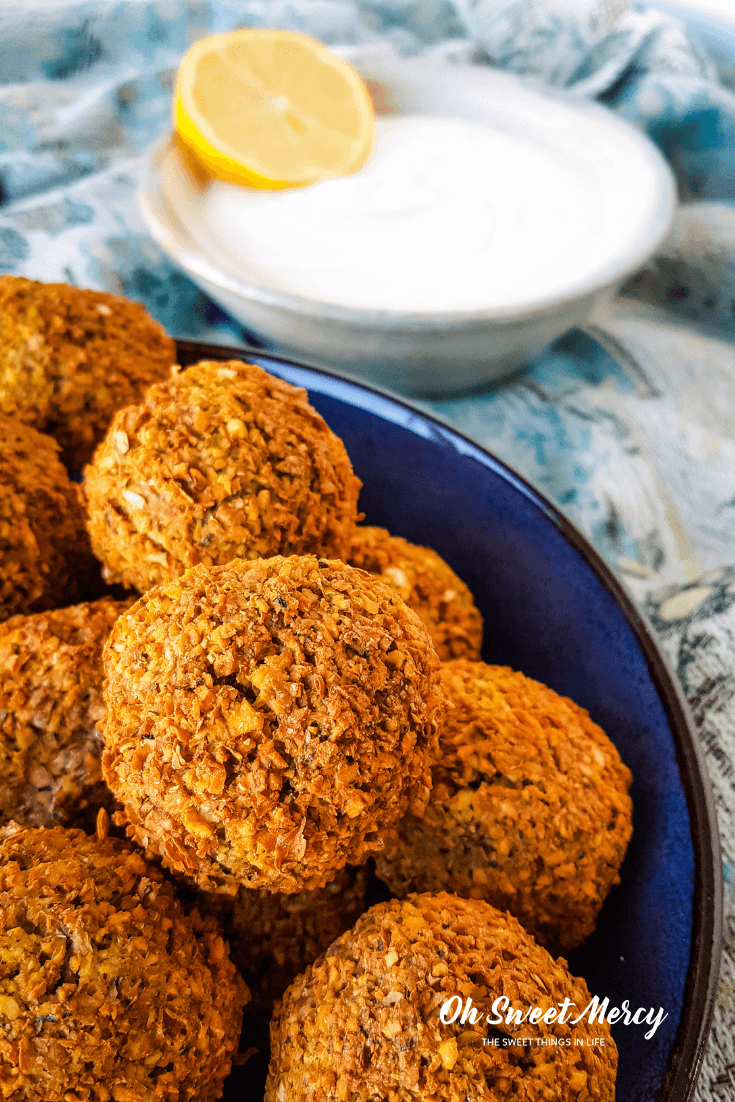 How do I know this? Recently, I received a complimentary Ninja Foodi Pressure Cooker for review. Instantly I knew Air Fried Falafel needed to be created and posted here on the blog for you.
If you're curious about how a Ninja Foodi can enhance your THM journey, check out my review here.
So I set about researching how to make the best falafel. The best techniques for forming the falafel balls. And whether or not they'd even hold up in an air fryer.
Praise the Good Father in Heaven Above, they sure do hold up in an air fryer. I've got a few tips for you though so keep reading to learn how to make the best THM E air fried falafel balls. Then check out the recipe at the end of the post.
How To Make Fat Free Falafel That Will Amaze Your Mouth.
First of all, don't bake them if you have an air fryer. If you don't have an air fryer, then by all means bake them in the oven.
However, if you've ever baked falafel, you probably weren't super, duper thrilled with it. Especially if you've had real, authentic falafel.
I did try baking these fat free falafel balls in order to compare with the air fried falafel. They were good, but the overall experience was a bit underwhelming.
They were rather dense inside, instead of light and fluffy. And the outside had gone beyond crispy to just plain hard.
The air fried falafel, on the other hand, were an absolute delight. The outside was crispy, the inside soft and flavorful. It was like they were fried in oil – without the greasiness and damage to your waistline.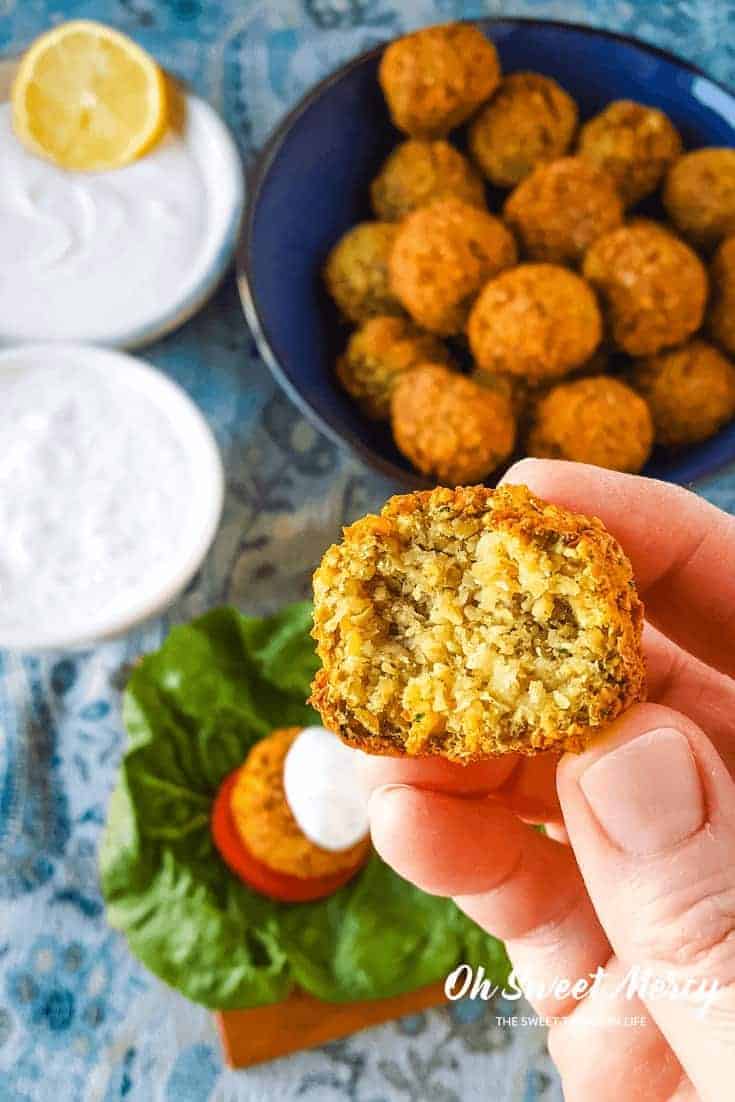 Here's a few more tips for making amazing fat free, air fried falafel balls…
Use Soaked, Dried Chickpeas – Not Canned.
This means you need to plan ahead a bit, but it's worth the extra effort. While you certainly can use canned chickpeas, if you want a more authentic falafel experience, skip the can.
I'll be honest here: I'm going by research, not experience. Nearly every article on authentic falafel I read said the same thing – don't used canned chickpeas. Apparently, they end up dense and somewhat mushy. There are recipes for falafel out there made with canned chickpeas though so it must not be an issue for some people.
The good news is that you can freeze these cooked falafel balls and reheat them very easily. They're just as good, too. That means you can make a batch or two and freeze them for later and still have delicious falafels without the work every time you want them.
Soak The Chickpeas For 24 Hours. Trust Me On This.
Perhaps it's just my gut, but I tried just soaking for 12 hours and let me just say don't do that. Soak them for 24 hours, then rinse well.
Of course I ate several, recipe testing requires testing the recipe result, right? A few hours later my gut was NOT a happy camper. Very painful gut cramps was the reaction to skimping on the soaking time. With the 24 hour soak I did not experience any gut discomfort. You've been warned.
Use A Food Processor.
You're processing chickpeas and other ingredients into a mealy mixture. Don't overprocess or you'll end up with hummus.
When the mixture starts to climb up the side of the bowl you're almost there. You want the mixture to stick together when you pinch some between your fingers.
Depending on the size of your food processor bowl you may have to process the ingredients in batches. I have an 8-cup Cuisinart and I had to do 2 batches. I simply divided the ingredients in half, processed, then mixed the two batches together well.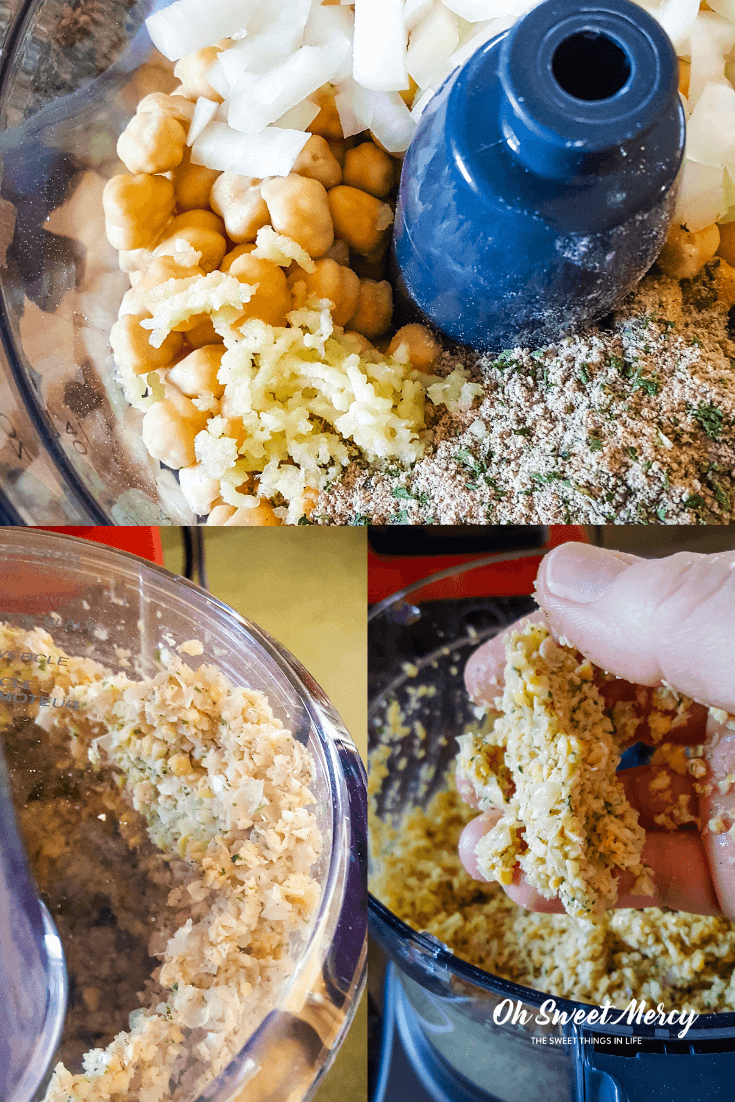 Speaking of ingredients, this works best if all the ingredients are roughly the same size. So chop your onions, garlic, and any other larger ingredients such as leafy herbs (if you're using them) until they're about the same size as the chickpeas before adding to the food processor bowl for a more even result.
Refrigerate The Falafel Mixture For A Couple Hours.
I have not made them without refrigerating the mixture first. Again, I'm going on my research. Nothing I read said why, just to do it. I really don't know what this does to make the falafal amazing.
Since the resulting air fried falafel was indeed amazing, I'm not going to question this step. Some articles recommended adding baking soda to make them more fluffy. I tried both with and without baking soda and did not notice any difference.
Wet Hands Make Forming Falafel Balls So Much Easier.
Several articles I read said to wet your hands when forming the falafel balls. One article was quoting a professional falafel ball maker so I figured he must know what he's talking about.
I kept a tall glass wide enough for my hand to fit in easily right on the counter. Dip as necessary to keep your hands wet and make perfectly formed falafel balls.
Another useful tool is a small cookie scoop. Scoop and pack the mixture into the cookie scoop, release into your hand, then gently pat and form the falafel ball, keeping your hands kind of cupped.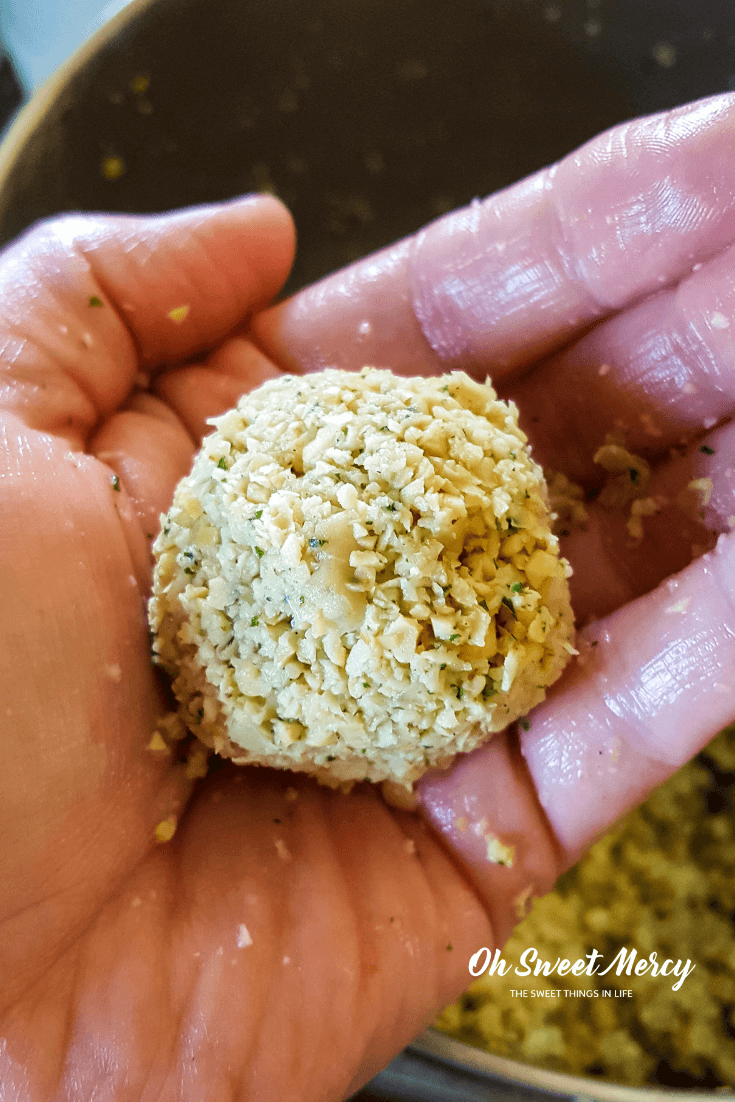 This mixture in the photo above could have been processed just a bit further. But I still got some delicious falafels out of it! Subsequent batches turned out even better with a bit more processing.
You don't want to press hard or it will just fall apart. It may take a few times to get the hang of it but once you do you'll get a rhythm going and be done in no time. Well, except don't get too far ahead of yourself. Keep reading…
Don't Make All The Mixture Into Balls At Once.
Since you need to handle these falafel balls gently, you don't want to be over-handling them. Doing so may make them fall apart. Don't worry though, once they're air fried they hold together very well.
Form the balls, add them to the basket of your air fryer, then repeat once the basket is empty and ready for a new batch.
Turn The Falafel Balls Over Halfway Through The Cooking Time (But Don't Worry If You Forget).
In my Ninja Foodi, it takes just 12 minutes to achieve falafel perfection.
I gently turn them over at around 6 minutes. Doing so ensures very even browning. However, if you get distracted testing other recipes while making falafel and forget don't sweat it. They'll still be delicious, they just may be darker on one side.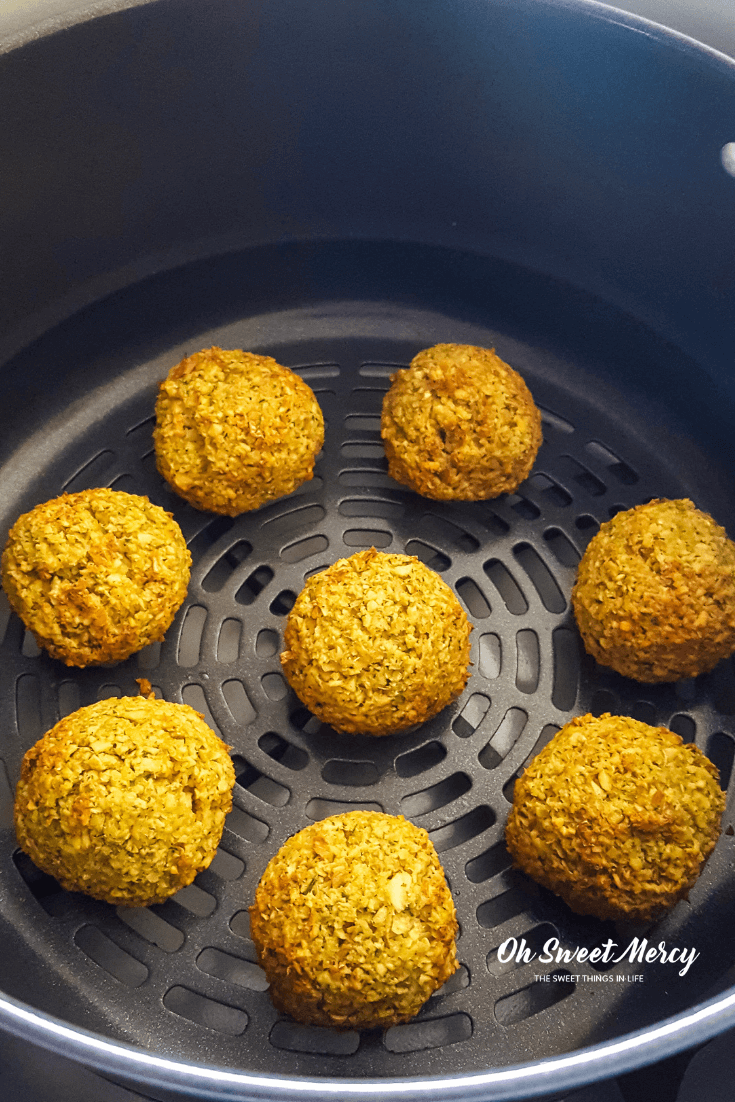 Don't Spray With Oil. It's Totally Unnecessary In The Ninja Foodi.
Because I just could not get my mind around frying without oil actually working, I sprayed the first batch lightly with olive oil. I tried one…delicious!
The second batch I used no oil and you know what? I could not tell any difference at all. If you're a Trim Healthy Mama plan follower, this means you can save your E-meal fat grams for something else on your plate, like a tasty dipping sauce! Rejoice!
How To Fit These Fat Free Falafel Balls Into Your Trim Healthy Mama Eating Plan.
Chickpeas are an E fuel, meaning they are starchy/carby. They're also a wonderfully healthy, slower-burning carb source. They have protein, fiber, and other nutrients that help nourish your body in a healthy way.
Since they're an E, you need to keep your added fat grams within the E limit. Check the plan book for full details.
In addition, they already contain some protein so you don't need to go overboard on adding protein to your plate. If you do make sure it is very lean.
Chicken breast, egg white omelettes or puffs, fruity Greek yogurt, or a smoothie or other drink with added collagen or whey are great choices.
On their own, a few falafels make a delicious snack, too. Of course, don't forget to include plenty of non-starchy veggies whether you're having a meal or a snack.
The nutrition information in the recipe card is for 8 falafels, which would make a filling meal along with veggies. For reference, each single falafel contains:
5.1 calories
9.4 g carbohydrates
4.5 g fiber (for 4.9 g net carbs each)
0.3 g sugars
2.6 g protein
The Creamy Tahini Sauce is super easy and very low fat. Just enough tahini for flavor without tons of fat. It's a perfect pairing with these delicious falafel balls. See the nutrition information notes in the recipe card for the nutrition info for the sauce.
Are You Ready To Make Fat Free Air Fried Falafel? Be Sure To Pin!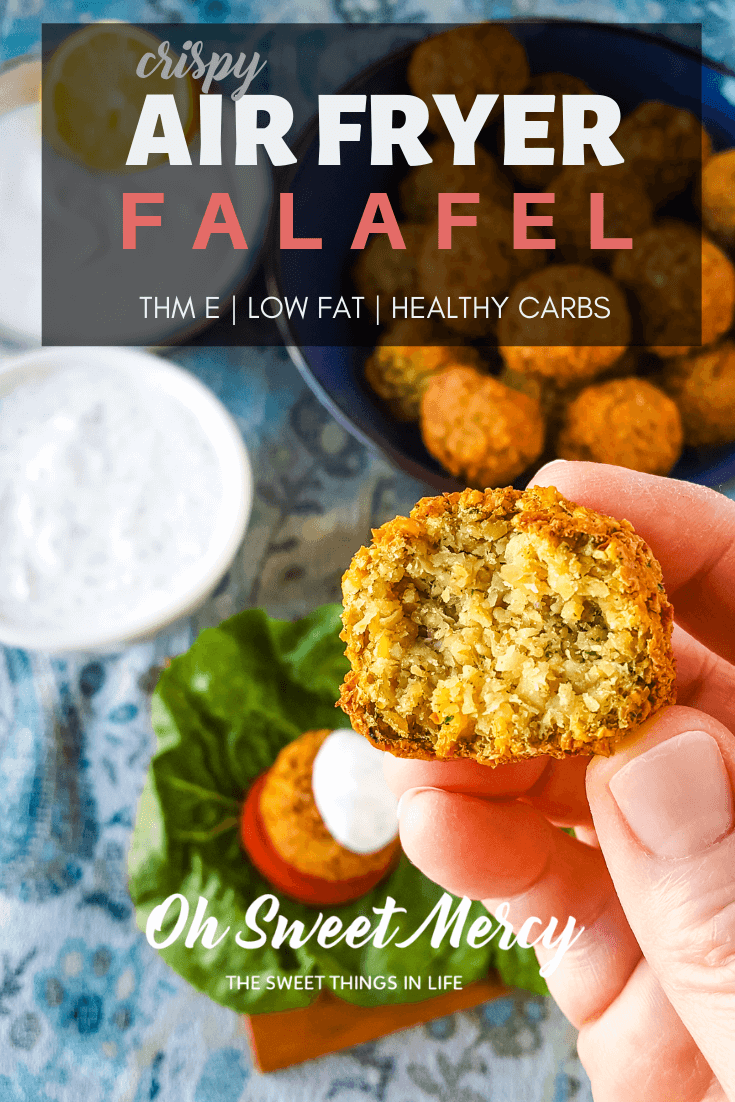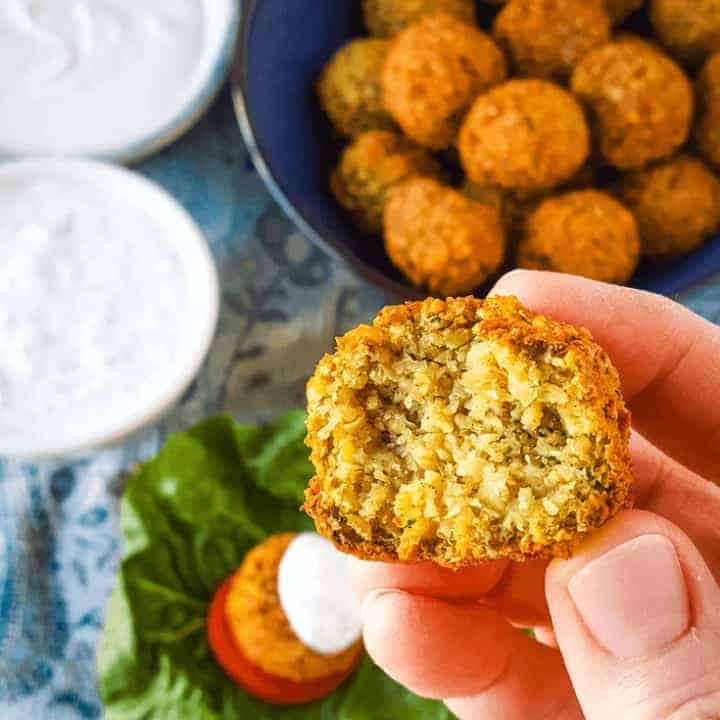 Fat Free Air Fryer Falafel with Creamy Tahini Sauce | THM E
Yield: 32 Falafel Balls
Prep Time: 30 minutes
Cook Time: 12 minutes
Additional Time: 1 day 2 hours
Total Time: 1 day 2 hours 42 minutes
Crispy outside, moist and flavorful inside, you'll never miss deep fat frying for these falafel balls. Since they're totally fat free, they're a perfect THM E option. The Creamy Tahini Sauce is a perfect low-fat dip for these crispy, delicious falafels!
Ingredients
Falafels
Cold water to cover chickpeas by 2"
6 cloves garlic, sliced, minced or pressed
1 small onion, chopped
2 tablespoons dried parsley (or 6 tablespoons fresh, chopped)
2 tablespoons plan-approved flour such as sprouted wheat
3 teaspoons ground coriander
1 to 2 teaspoons cumin
1/2 teaspoon ground cardamom
1/2 teaspoon ground black pepper
1/4 teaspoon (or more) cayenne pepper
Low Fat Creamy Tahini Sauce
2 to 3 teaspoons lemon juice
1/2 teaspoon tahini
1/2 cup non-fat Greek yogurt
1/2 teaspoon garlic powder
Instructions
PREPARE THE CHICKPEAS
Sort and rinse dry chickpeas.
Put in a bowl and add enough water to cover chickpeas by 2"
Cover and leave on the counter for 24 hours.
Drain and rinse chickpeas after soaking is complete.
Spread out on cookie sheets lined with towels and pat dry lightly. Let sit out while preparing the remaining ingredients, you don't want them to be too wet.
MAKE THE FALAFEL MIXTURE
If necessary, divide ingredients into 2 equal batches (or more if your processor is very small).
Add half the chickpeas (or less if you are doing more than 2 batches) and half the remaining ingredients.
Pulse until you start to see the mixture climbing the side of the bowl. You may need to push the mixture down in to the bowl a few times with a rubber scraper.
When the mixture is a small-grained consistency that holds together when you pinch between your fingers, it's ready.
Repeat until all ingredients are processed, then combine in a big bowl.
Refrigerate for 2 hours, or until ready to make the falafel balls.
MAKE THE CREAMY TAHINI SAUCE
In a small bowl, mix together the lemon juice and tahini until tahini is creamy an smooth.
Add remaining ingredients and mix together well.
Refrigerate until ready to use.
AIR FRY THE FALAFEL BALLS
Set your Ninja Foodi, or other air fryer, to 375 degrees and allow to preheat for about 5 minutes.
When the air fryer is preheated, begin forming the falafel balls by using a cookie scoop to scoop and pack the mixture into the scoop, then release into the palm of your hand. Remember that wet hands make this easier!
Keeping your hands cupped, gently press and pat the scooped mixture into a round ball. Don't press too hard!
If the mixture seems too dry, add water a teaspoon at a time until it holds together well. If it seems too wet, add additional flour a teaspoon at a time until it holds together well.
As each falafel ball is formed, place it into the basket or tray of your air fryer. Keep about an inch or so between each falafel ball.
Air fry for 12 minutes, turning over gently at 6 minutes.
Allow to cool slightly before eating.
Refrigerate or freeze any uneaten cooked falafels.
OPTIONAL OVEN BAKING INSTRUCTIONS
Preheat oven to 400 degrees.
Place formed falafel balls on a baking sheet.
Bake in preheated oven for 20 to 25 minutes or until done to your liking.
Notes
PREP AND COOK TIME NOTES
It takes about 30 minutes to make the mixture.
Forming the falafel balls will vary according to your speed and skill level.
Each batch of falafel in your air fryer should take 12 minutes. Total cooking time depends on the capacity of your machine.
TRIM HEALTHY MAMA NOTES
Remember this is an E food, so for a true E meal or snack keep your fat grams within plan guidelines for E meals. Include a bit of lean protein in a full meal, but remember that chickpeas have some protein so you don't go overboard.
Enjoy with a low or non-fat dipping sauce and plenty of non-starchy veggies.
NUTRITIONAL INFORMATION NOTES
Nutritional information is for the falafel balls only, one serving is 8 falafels. Each single falafel contains:
5.1 calories
9.4 g carbohydrates
4.5 g fiber (for 4.9 g net carbs each)
0.3 g sugars
2.6 g protein
The fat content listed is naturally occurring in the chickpeas and is not counted against your additional fat grams for an E meal on the THM plan.
Additional Nutritional Information for the Creamy Tahini Sauce
Recipe makes approximately half a cup of sauce, 2 tablespoons per serving
29.5 calories
1.2 g fat
1.3 g cholesterol
37.9 g sodium
3.2 g carbohydrates
0.7 g fiber
1.8 g sugar
1.9 g protein
Recommended Products
As an Amazon Associate and member of other affiliate programs, I earn from qualifying purchases.
Nutrition Information:
Yield: 4
Serving Size: 8 falafels
Amount Per Serving:
Calories: 40.8
Total Fat: .5g
Saturated Fat: 0g
Trans Fat: 0g
Unsaturated Fat: 0g
Cholesterol: 0mg
Sodium: 64mg
Carbohydrates: 75g
Fiber: 36g
Sugar: 2.4g
Protein: 20.8g
Nutrition information is approximate and based on the best knowledge available at the time of recipe publication. Your results may vary due to differences in ingredients.