---
The amazing Instant Pot makes feeding hungry bellies quick and easy! Nothing could be easier than this Quick Tomato Basil Chicken, either. Simple, flavorful ingredients and a set-it-and-forget-it cooking method means a healthy meal for your family in no time. For the Trim Healthy Mama it also means a versatile protein source that works for S, E, and FP meals and snacks.
---
Because recipes that work with any THM Fuel Type that can be prepared easily make a busy home cook's life so much easier I'm always looking for ways to do that. Thanks to the versatility of the Instant Pot, you can throw all the ingredients for this Quick Tomato Basil Chicken into your IP and use the slow cook function so it's ready when you are.
Or, if you happen to forget you were supposed to slow cook the chicken, then you can use the pressure cooking function and you'll have tomato basil chicken cooked to perfection in no time. Not that I've ever had to do that…[cough].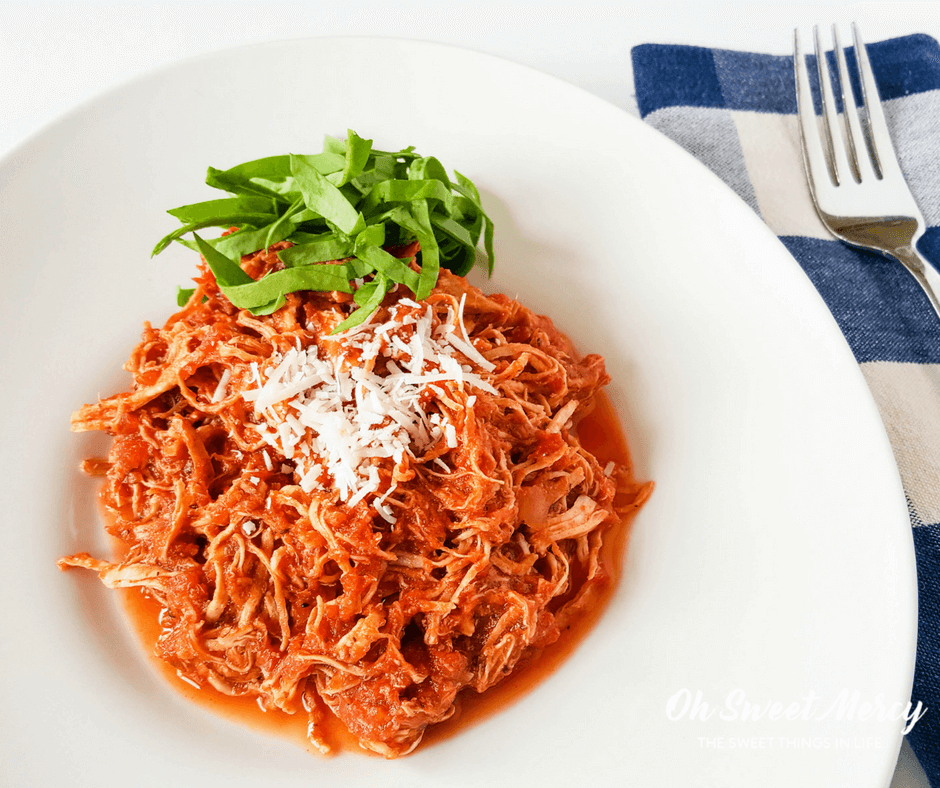 Fresh, quality ingredients make a simple dish shine.
You don't have to have a long, complicated list of ingredients to make a delicious meal. Just a few simple, fresh, high quality ingredients can make a flavorful and healthy meal.
Tomato and basil are perfect companions, and the combo always makes me happy! It's such a fresh, summery flavor too. Fresh basil is always best but if you don't have any on hand dried works just fine. I used dried in this recipe but when my basil is ready for harvest I'll reach for the fresh, fragrant basil leaves every time.
Just remember the conversion ratio for fresh and dried herbs: 3 parts fresh = 1 part dry. So for this recipe, substitute 3 teaspoons of fresh, chopped basil for the 1 teaspoon of dried herb. Or more, if you really love basil!
Low fat or higher fat in your tomato and basil chicken – you choose!
Lately, I've taken to just paring back the fat a bit and not being quite so liberal with it. The THM Poddy (podcast) has been a great source of encouragement for me.
While listening to their "Practice the Comeback" episode I realized that at 45, I just might need to make some adjustments. What was working for me a few years ago just isn't working the same now.
There's no reason to fear healthy fats, but moderation is always good. Sure, now and then enjoy a heavy fat treat (like my Decadent Salted Caramel Whip) but make most of your meals with reasonable amounts of fat.
If you're not concerned about fat content choose boneless, skinless chicken thighs instead of breasts. You can make this with a liberal amount of olive oil or try red palm oil for an antioxidant boost.
Need a low fat option? Choose chicken breasts and use just a little fat, or leave it out entirely. What are you eating it with? That will determine how much healthy fat to use.
A versatile recipe for the Trim Healthy Mama!
You can serve this quick tomato basil chicken for an E, S or FP meal, here's how:
S meals, increase the amount of olive oil and melt mozzarella on top. Enjoy with a fresh, dark, leafy green salad dressed with an on plan vinaigrette and a dessert of fresh berries.
E meals, keep the olive oil to 1 teaspoon (or leave out entirely if you want your fat in a side dish) and serve over cooked quinoa, cooked brown rice, on-plan E pasta, or with a serving of on plan bread such as this Savory Sprouted Wheat Cottage Bread from Nana's Little Kitchen. Always include plenty of fresh, non starchy veggies to accompany your meals! How about a simple fresh crudite?
FP meals, make as for an E meal but keep your serving to FP protein guidelines. Lots of fresh, non starchy veggies are a perfect side, and a FP dessert such as Gluccie Pudding from the first THM Cookbook will leave you feeling satisfied in spite of the low fat and low carb nature of this meal.
Want to know more about the THM plan? Read my review here, or order your copy of the plan book here to get full details on plan guidelines.
Let's make some Quick Tomato Basil Chicken!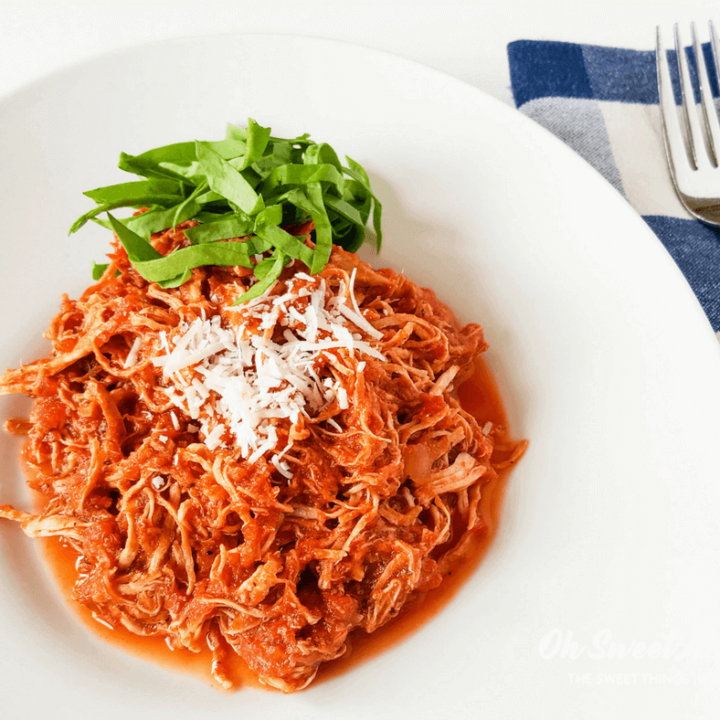 Quick Tomato Basil Chicken for the Instant Pot
Yield: 6 servings
Prep Time: 10 minutes
Pressure Cook Time: 20 minutes
Pressure Release Time: 10 minutes
Total Time: 40 minutes
A simple, savory, chicken dish with the classic combination of tomato and basil. Low fat, low carb and suitable for any Trim Healthy Mama meal style! Make it quickly in your Instant Pot or let it slow cook all day.
Ingredients
2 pounds boneless, skinless chicken breasts
28 oz can crushed tomatoes with basil
1/2 onion, chopped
1 teaspoon dried basil OR 3 teaspoons fresh, chopped basil (or to taste)
1 tablespoon balsamic vinegar
1 teaspoon olive oil (optional)
Instructions
Pressure cooking
Select saute function on Instant Pot, set to normal
For low fat versions, spray liner pot with non stick spray Not worried about fat content? Add a couple teaspoons of healthy fat such as red palm oil or coconut oil to the pot and let it melt
Add chicken breasts, chopped onion, and minced garlic
Brown slightly on both sides
Pour crushed tomatoes over the chicken
Add remaining ingredients and stir a little to combine (doesn't have to be perfect)
Put lid on the IP, make sure vent knob is set to SEALING
Set IP to manual for 20 minutes (add a few more minutes for frozen chicken breasts)
After cooking time has completed, NPR for 10 minutes then QPR to release remaining pressure
Shred the chicken breasts and serve
Slow cooker
Place chicken breasts in IP or slow cooker
Add remaining ingredients, mixing slightly
Set to slow cook 4 to 6 hours on High
Shred chicken when cooked
Recommended Products
As an Amazon Associate and member of other affiliate programs, I earn from qualifying purchases.

You'll want to pin this Tomato Basil Chicken recipe to your favorite Pinterest boards, right?