This creamy, dreamy Coconut, Lemon, and Turmeric Shake is a perfect recovery shake after a workout. The bright and sunny flavor of lemon combined with the richness of full fat coconut milk is a great way to mask the bitterness of inflammation-fighting turmeric.
Have you ever had fresh coconut milk? It is truly divine!
And if you're fortunate to live where they grow, you are probably nodding your head. The closest I've been to the tropics is…well, never actually.
But I've had fresh coconut milk from the coconuts in the grocery store, and that beats canned by a mile. And to make this dreamy, Creamy Coconut, Lemon, and Turmeric Shake you want the decadent goodness that's found inside a fresh coconut, even if that means picking coconuts from the local grocery store produce section.
In the meantime, I'll have to be satisfied with dreaming about strolling along a white, sandy tropical beach with the waves gently lapping at my nicely pedicured toes while I'm gathering coconuts.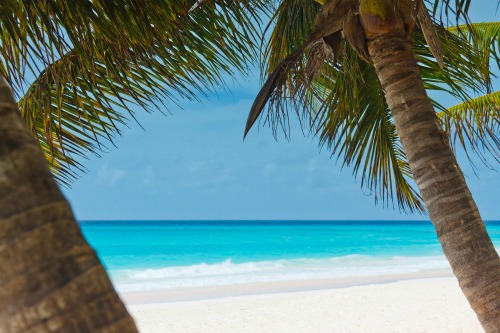 When I get back to my tropical grass hut with the hammock tied between two palm trees, I'll whip up this delicious Creamy Coconut, Lemon, and Turmeric Shake. Because all tropical grass huts should come equipped with high-powered Vitamix blenders.
Hey, it's my tropical island fantasy. It can have a Vitamix.
This dreamy shake reminds me of my Healthy Lemon Turmeric Gummies.
Have you tried those yet? They are SO delicious! And it's been a very popular recipe here on the blog. My Healthy Lemon Turmeric Gummies are full of good nutrition, from the amino acids in grass fed beef gelatin, vitamin C power of lemon and anti-inflammatory benefits of turmeric. They're a great Fuel Pull snack you can eat anytime.
This delicious, creamy shake is not a Fuel Pull, however. This creamified version of those yummy gummies also has amino acids, vitamin C and turmeric but it is a glorious, satisfying "S" style shake, thanks to creamy, full-fat coconut milk.
If you have access to fresh coconut milk, please use that in this recipe! It is so delicious. Canned coconut milk will work just as well, but just as with any food, fresh is always better.
You'll also notice the addition of a pinch of black pepper, but don't let that scare you! I promise, you won't even taste it. Black pepper is reported to boost the bioavailability of turmeric's powerful health benefits, so I added a pinch – with a bit of trepidation. I couldn't even tell it was in there!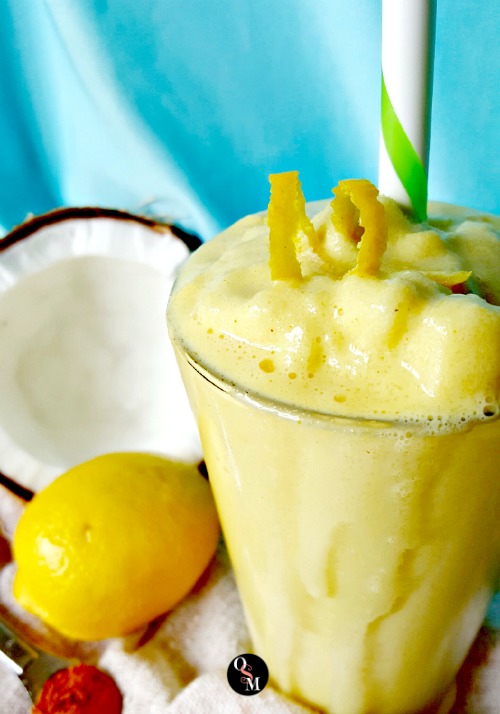 Trim Healthy Mamas, here's how this drink fits into your healthy eating plan.
Since this Creamy Coconut, Lemon, and Turmeric Shake is a creamy, satisfying S recipe, you'll want to have this for a dessert after a very Light S or Fuel Pul style meal. But leave out the collagen if having after a meal since you'll already have plenty of protein.
If you want to use collagen, this shake makes a great snack on its own or a quick meal for those busy days when the island natives are restless and pulling you in a million directions..
You can also lighten it up a bit by using half coconut milk and half almond or cashew milk. But do indulge on occasion and make this with all coconut milk.
We don't count fat grams on Trim Healthy Mama (yay for food freedom!) but we don't go overboard either.
Now, let's make this Creamy Coconut Lemon Turmeric Shake!
This delicious shake also reminds me of that famous Trim Healthy Mama sipper, the Singing Canary. Unlike the Singing Canary, this creamy, dreamy shake is NOT a sipper. Trust me, though, you'll want to chug this one down and make another!
But, I recommend that you savor it slowly. In a hammock in front of your tropical grass hut on the beach…even if it's just in your mind and your island is overrun with little, restless natives.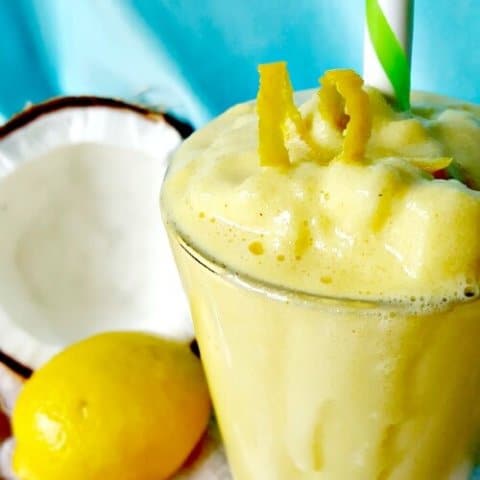 Creamy Coconut, Lemon, and Turmeric Shake | THM S, Low Carb
Yield: 1 large serving
Prep Time: 8 minutes
Total Time: 8 minutes
This creamy coconut shake adds bright, citrusy lemon juice and the anti-inflammatory power of turmeric for a healthy snack or dessert. Trim Healthy Mamas can enjoy alone as a snack, or after a Light S or FP meal as an occasional treat.
Ingredients
1/2 c fresh or canned coconut milk
1/2 c 0% Greek yogurt
3 Tbs lemon juice
Splash of vanilla
Pinch of black pepper
14 ice cubes
Instructions
Put all ingredients in blender
Blend until smooth and creamy. You may need to use a tamper or stop the blender and restart if you have a less powerful blender.
Recommended Products
As an Amazon Associate and member of other affiliate programs, I earn from qualifying purchases.
Nutrition Information:
Amount Per Serving:
Calories: 0
Cholesterol: 0mg
Sodium: 0mg
Carbohydrates: 0g
Fiber: 0g
Sugar: 0g
Protein: 0g
Like this recipe? Your friends will too, be sure to share and pin to your favorite Pinterest boards!