Do you remember those maple nut candies made by Brach's years ago?
They're called Maple Nut Goodies, and I LOVED them as a kid. That combination of maple and peanut is just so delicious! If you have kicked sugar to the curb, those sweeties are definitely off the menu. But you can still get that nostalgic flavor by making this easy shake.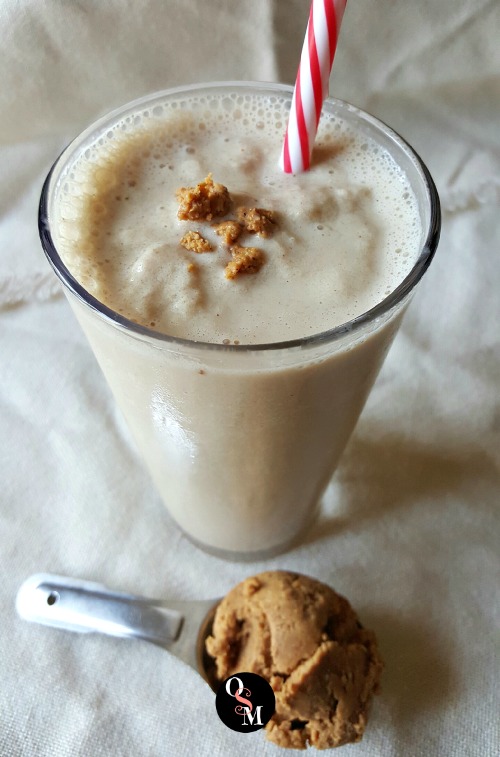 This flavor combination was the result of a delightful accident.
Well, maybe more of an Oh Nuts, I Forgot To Buy Vanilla incident (I seriously need to start making my own vanilla extract again…). Maple extract was the only choice so I tried it. The first sip yanked me back to the 80's in a hurry!
I loved munching on those yummy candies, and this protein shake made me happy deep down in my soul. Can you imagine being a kid again, just for a brief moment in time? No bills. No laundry. No politics. Just you and some maple nut goodness and all is right with the world.
My Goodie Maple Nut  Shake won't blow your healthy eating plan.
One problem with those yummy candies…the sugar. As someone with blood sugar control issues, I just can't be eating them. This easy recipe won't jack up your blood sugar because it's entirely sugar free.
Adding a scoop of collagen will give it enough protein for a meal, perfect for those busy times when you need to eat but just can't stop to cook something. Leave out the collagen and you have a delicious snack. You could also use a whey protein powder. I recommend these products for adding protein to your shakes and smoothies:
Not all protein powders are created equal, though. Ideally, you want an organic, grassfed source of cross-flow, micro-filtered whey protein isolate. Consult pages 144-45 of the new Trim Healthy Mama plan book for more information,
Trim Healthy Mamas, here's how this shake fits with the Plan.
This is a delicious, creamy shake that is low in carbs and higher in fats so that makes it an "S" style shake. Pair with a Fuel Pull or Light S meal for dessert, or if you make with enough protein it can be a meal on its own.
If you have gluccie (glucomannan powder), be sure to add it to your shakes! It helps you feel full and is reported to help keep blood sugar levels stable. I've tried both the THM Glucomannan and NOW brand. They are both excellent, although I do think that the THM brand is a bit more powerful for thickening. I seem to need less of it to achieve the thickness I like.
Want to know more about the Trim Healthy Mama Plan? Click here to read my review or here to order the new, revised plan book.
Let's get our maple nut goodness on!
Goodie Maple Nut Shake
Author:
Dawn | Oh Sweet Mercy
Instructions
Add all ingredients into your blender jar
Blend until smooth and enjoy.
Do you have a nostalgic sweet that you'd like to see made into a delicious, healthy, sugar free shake? Email me by clicking "contact me" on the menu bar above or leave a comment below. I'd love to help you have a brief moment of childhood abandon again!
Like this recipe? Your friends will too! Please share and pin to your favorite Pinterest boards, I'd be ever so grateful!