This naturally low-carb Creamy Vanilla Chai Protein Shake can be made with all the healthy fats or low fat. Perfect for Trim Healthy Mamas and other carb-conscious peeps.
What does a serial blender killer do with a new blender?
She blends all the things! Because she must blend while the blending is good (and possible), not knowing when or if this new blender will fall victim to whatever it is she does to send her blenders to the grave.
My Creamy Mint Matcha Shake was my first blender creation and today I'm introducing to you this Creamy Vanilla Chai Protein Shake.
If you've got a few basic ingredients in your kitchen (plus a working blender, like this one if you're super blessed!), you can make this too. If you're a Trim Healthy Mama, you'll be glad to know you can make it two ways – that satisfying S way or as a Fuel Pull.
No Chai Spice? No Problem!
Head on over to my Homemade Chai Spice Blend post for an easy recipe. You may be surprised what you find on the label of a store-purchased chai blend, I know I sure was. That's why I decided to create my own spice blend, so I could control the ingredients and leave out the nasty, unnecessary stuff. I think it tastes much better, too.
Don't just limit it to this delicious creamy vanilla chai protein shake, though. I also use it in one of my favorite Muffin in a Mug recipes – Coconut Chai Muffin in a Mug. Add it to yogurt or applesauce. Sprinkle it on top of anything that needs a bit of chai seasoning love.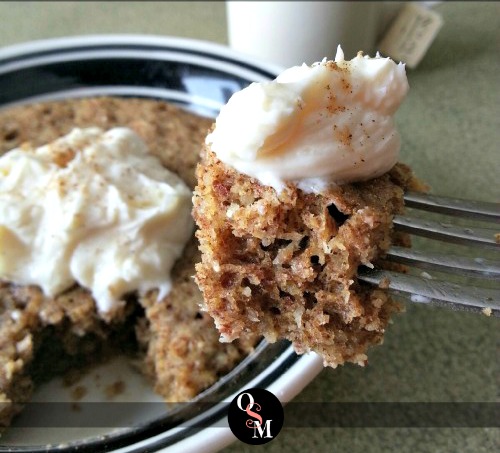 If you've got some "special ingredients" be sure to add them to this Creamy Vanilla Chai Protein Shake.
Look, I'm a very tight-budgeted Trim Healthy Mama and I know what it's like to want to use those special ingredients the plan mentions, but not have room in the budget. I happen to have some of those ingredients right now, but I can't say for certain that when they run out I can order more right away.
So I don't just add that metabolism-revving MCT oil, brain-boosting Simply Sunflower Lecithin or skin-tightening Integral Collagen in all the things all willy nilly like they grow on a tree in my back yard. A recipe has to really be worth making for me to add them!
So what makes this shake special ingredient worthy?
It reminded me of the chai-flavored frozen blender beverage I used to make as a barista years ago, working for one of those big-named coffee chains, but it's way better! (Check out my other barista-style blender creations: Salted Caramel Frappe and Decadent Dark Chocolate Raspberry Mocha)
It's not sickeningly sweet (unless you want to make it that sweet of course), it won't send you into a diabetic coma, and it won't break the budget. It's made with wholesome ingredients that will help keep your blood sugar stable, nourish your body with healthy protein and fill you up – either as a dessert or a between-meal snack.
If you're wanting this as a dessert, making it Fuel Pull style is great. If you want a snack between meals, a satisfying S is perfect – just be sure to follow plan guidelines to keep your fuels from stacking.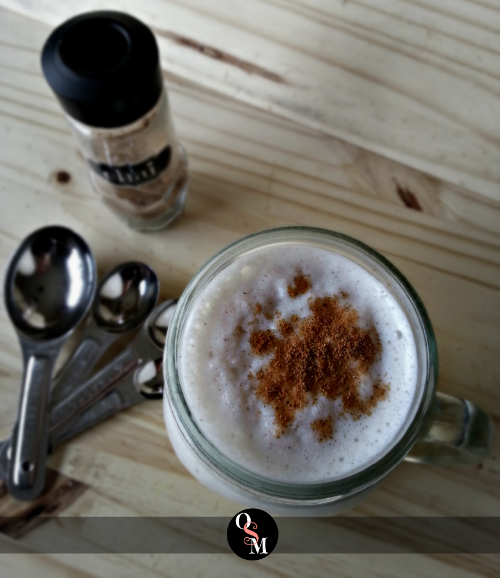 But know that I first created this shake without any special ingredients.
And it was still delicious. It was so delicious, I decided to make it again later that afternoon and add some of those coveted special ingredients to see how it would turn out. Winner!
It's good enough both ways so even when you do run out of something like MCT oil or lecithin, you can still enjoy this creamy, delicious shake. That will make you – and your wallet – happy.
Let's get our Creamy Vanilla Chai Protein Shake on, shall we?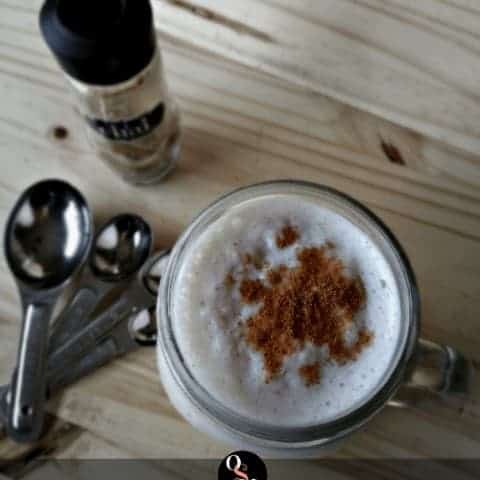 Creamy Vanilla Chai Protein Shake
Yield: 1
Prep Time: 5 minutes
Total Time: 5 minutes
A smooth, creamy and satisfying protein shake with the exotic flavors of chai. THMs make it S or Fuel Pull as desired.
Ingredients
1/2 c cashew or almond milk (cashew milk is creamier)
1/2 c water
1/2 c cottage cheese
1 tsp pure vanilla extract
Pinch or two of Mineral Salt or Sea Salt
For Fuel Pull add this optional ingredient:
1/4 tsp Simply Sunflower Lecithin
For S add these optional ingredients:
For an even thicker shake, add this optional ingredient:
For all versions, add:
Instructions
Place all ingredients into blender jar.
Add ice a few at a time and blend until smooth and creamy.
Taste and adjust seasonings until it hits the spot, if needed.
Recommended Products
As an Amazon Associate and member of other affiliate programs, I earn from qualifying purchases.
Now, go make a Coconut Chai Muffin in a Mug, whip up this Creamy Vanilla Chai Protein Shake and
treat yourself to something good today
.
Like this recipe? Pin it to your favorite Pinterest boards!