---
If you grew up eating French toast dredged in eggs, fried in oil, then slathered with butter and drowning in syrup you might think that good French toast is impossible in a low fat THM E meal. I'm here to prove that notion wrong with my newest recipe – Pumpkin Spice French Toast! This recipe was rigorously tested and loved by my kids (and myself). And, it makes your kitchen smell ah-MAZ-ing.
---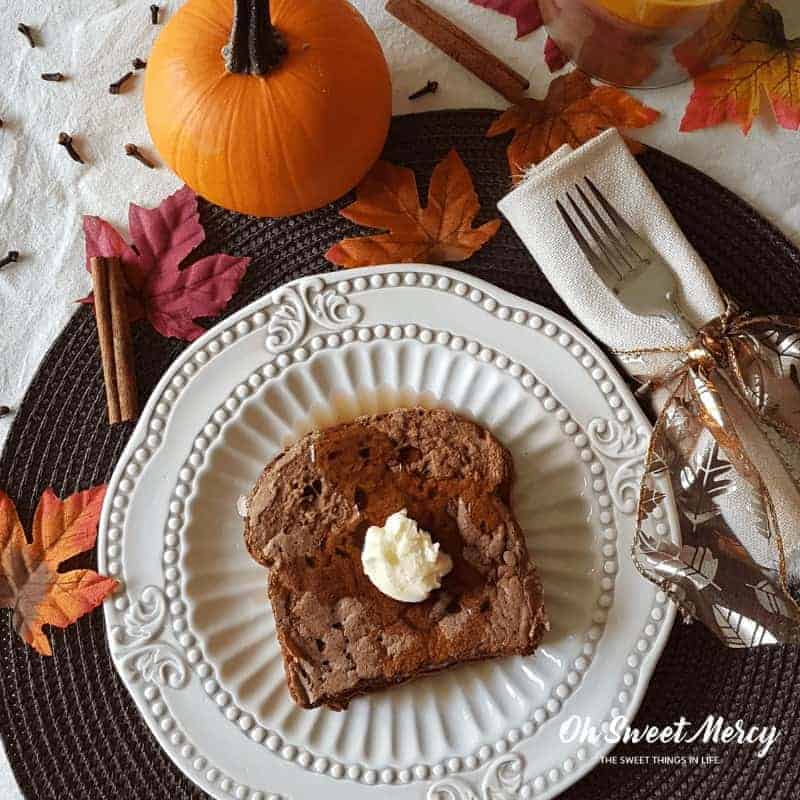 Years ago, I ditched my Teflon-coated cookware and switched to cast iron, stainless steel, and stoneware. The reason? Reducing my family's exposure to chemicals that may not be so good for us in the long run.
If you know anything about not-nonstick pans you know that it can be a challenge to cook anything in them without copious amounts of fat. That's fine for S meals on the Trim Healthy Mama plan but not so much for E and FP meals that require very little added fats.
That also means things like Wonder Wraps (pg. 204 in the THM Cookbook), Wonderfully Made and Dearly Loved's Slimming Sandwich Wraps, or Trim Healthy Pancakes (pg. 259 in the first cookbook OR 223 in the original THM book) can be harder to cook. I struggled with finding the balance between enough fat to keep it from sticking and too much fat, making a Crossover when I wanted an E or an S when I wanted a FP.
Then I Discovered Ceramic Coated Nonstick Cookware.
I'm not sponsored by or getting paid to promote this line of cookware.
Last week I had some Kohl's cash I need to use and this ceramic coated nonstick pan caught my eye. It's not expensive, which may be an issue down the line quality-wise but so far I've been very happy with it! The instructions say to use LOW or MEDIUM heat and NEVER USE NON STICK SPRAY.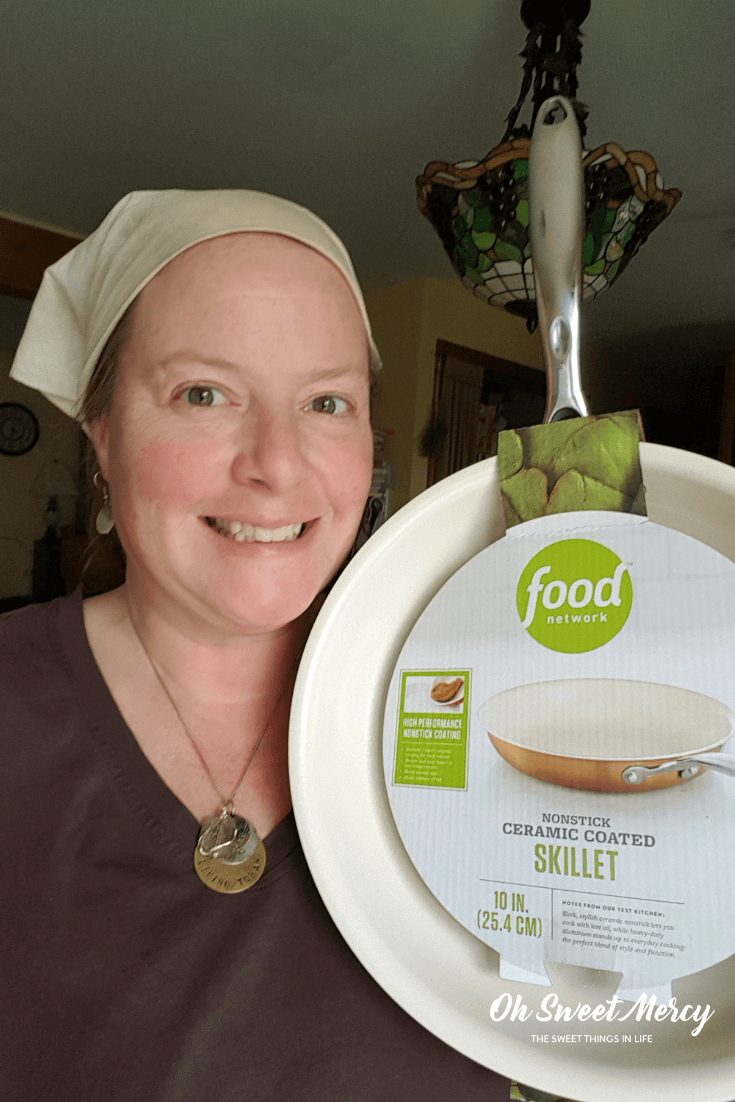 So far so good! I've made the Slimming Sandwich Wraps in it and they turned out beautifully. Several batches of this tasty Pumpkin Spice French Toast recipe have also turned out perfectly. No sticking, and it wipes clean easily.
Being able to make low fat foods easily and without sticking? Right now I need that kind of convenience in my life. Dr. Weil seems to think ceramic coated nonstick pans are a healthier alternative.
Well-cared for cast iron is known to be non-stick. Since I have trouble with mine I'm guessing I really need to pay closer attention to how they are used and cleaned. This post from Traditional Cooking School offers some great tips for keeping your cast iron in tip-top shape.
French Toast Cooked Without Fat? Is That Even Possible?
Yes, it absolutely is! What makes this Pumpkin Spice French Toast so delicious, in spite of no fat used to cook it? The fragrant pumpkin pie spice seasoning plus the yummy goodness of pumpkin come together for so much flavorful deliciousness there's no need for a bunch of fat.
Plus, the pumpkin helps keep this low fat French toast from being too dry. It's also full of antioxidants, contains fiber, and is quintessentially Autumn. I can't imagine not loving pumpkin.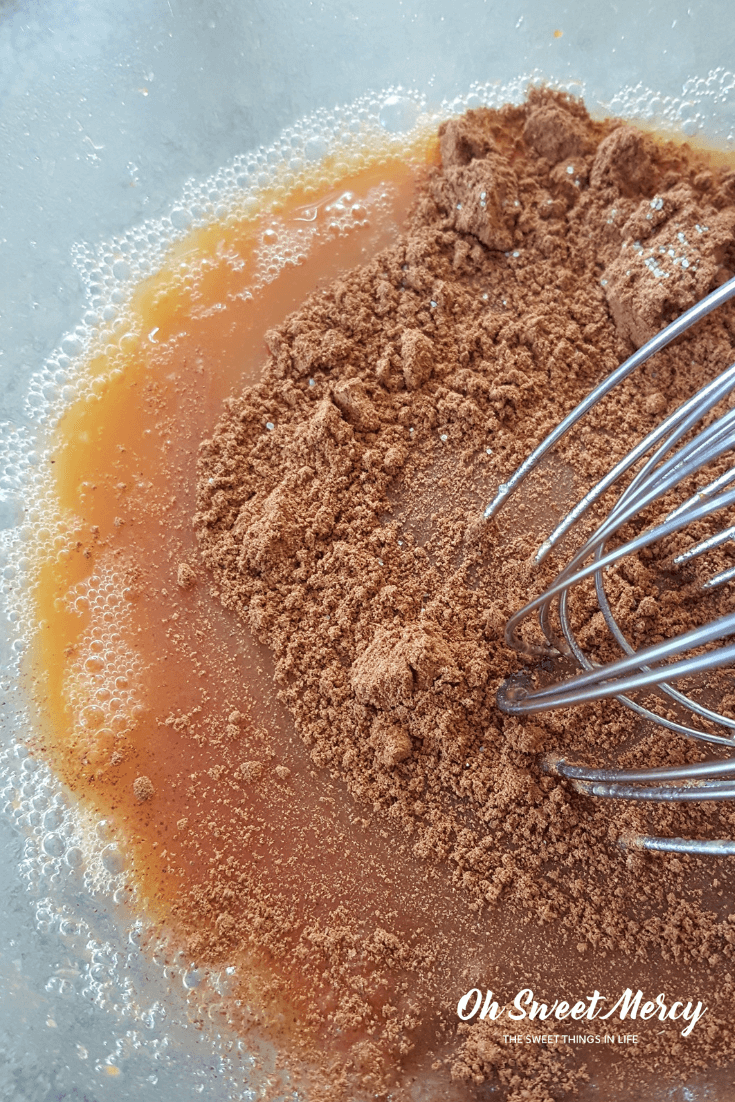 Now, if you need to use a small amount fat to cook yours don't let that stop you. If you're following the Trim Healthy Mama plan then you know we don't stress and worry over numbers. Just be mindful and try to keep your added fat within guidelines. Or have a Crossover now and then, those are totally on plan!
If you have a ceramic coated nonstick pan like this, rejoice! You can save ALL your added fat grams for a pat of butter on top.
How To Enjoy This Low Fat Pumpkin Spice French Toast, THM Style.
Real maple syrup, while a much healthier alternative to high fructose corn syrup or other highly processed sugars, is not what you should use here. If you're not a THM follower, or have reached your goal size/weight and are maintaining, then a little now and then is fine.
For those in weight loss mode you'll want something sugar free made with on-plan sweeteners. Try making the homemade pancake syrup from the first THM Cookbook. Have you seen the NEW, healthy, Natural Burst extracts from Trim Healthy Mama? A little maple extract is what you need.
You'll also find an easy recipe from Nana's Little Kitchen here: Rich Buttered Sugar Free Maple Syrup
Don't want to make it yourself? Nature's Hollow is solidly on-plan. I would love to try it but since it's made with xylitol I won't. Xylitol is what I prefer over erythritol, but since it's highly toxic to dogs it's a no-go in this Labrador home.
Don't Forget The Protein!
Depending on the sprouted bread that you use, one serving of this Pumpkin Spice French Toast can have about 16 grams of protein. That's a little shy of the recommended amount so here's a few options:
Add collagen to your coffee or tea
Have some fat free Greek yogurt
Make a whey protein drink or smoothie (just be mindful of fat grams in your non-dairy milk as part of your meal)
As long as I'm not super hungry, two slices of Pumpkin Spice French Toast keeps me satisfied surprisingly long. When you find an E meal that really delivers on flavor that can help you stay satisfied longer, too.
Don't believe me that a low fat french toast recipe can really be good? Go on, give it a try! I'd love to hear what you think, too so come on back and let me know.
Are You Ready To Make Some Pumpkin Spice French Toast?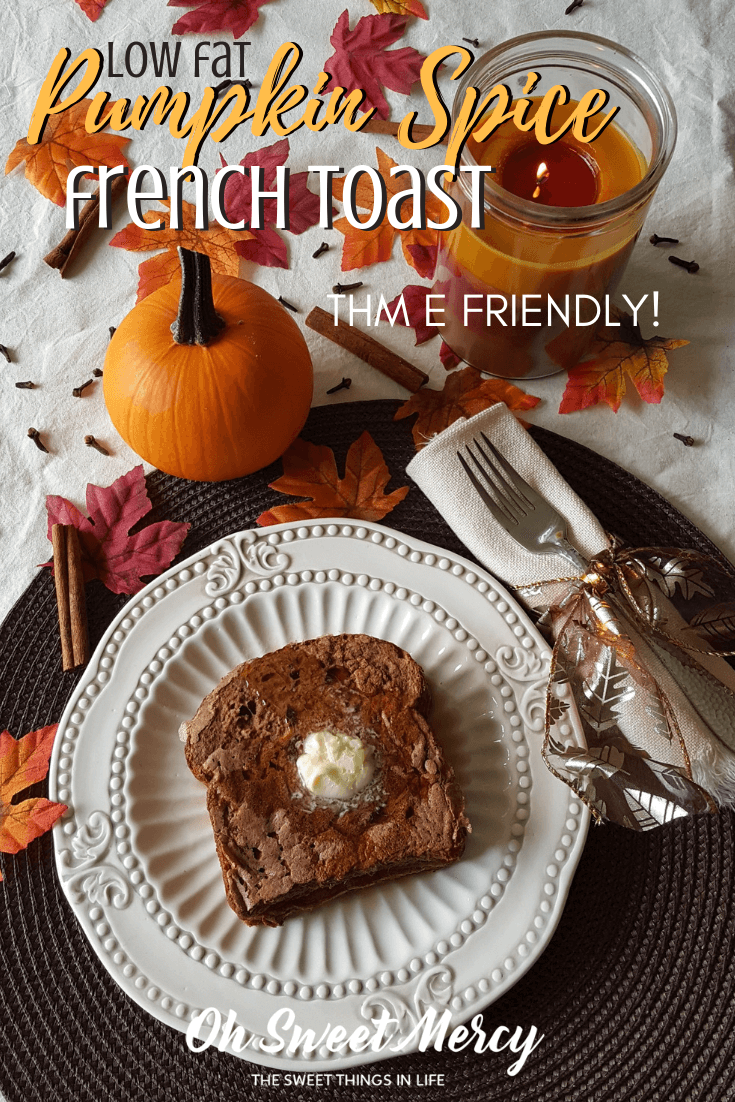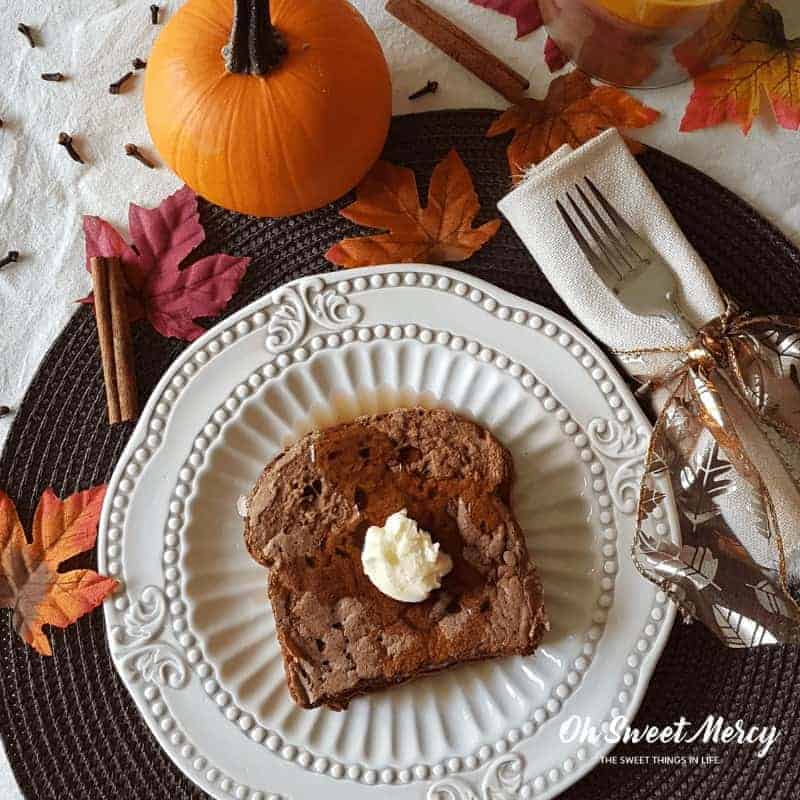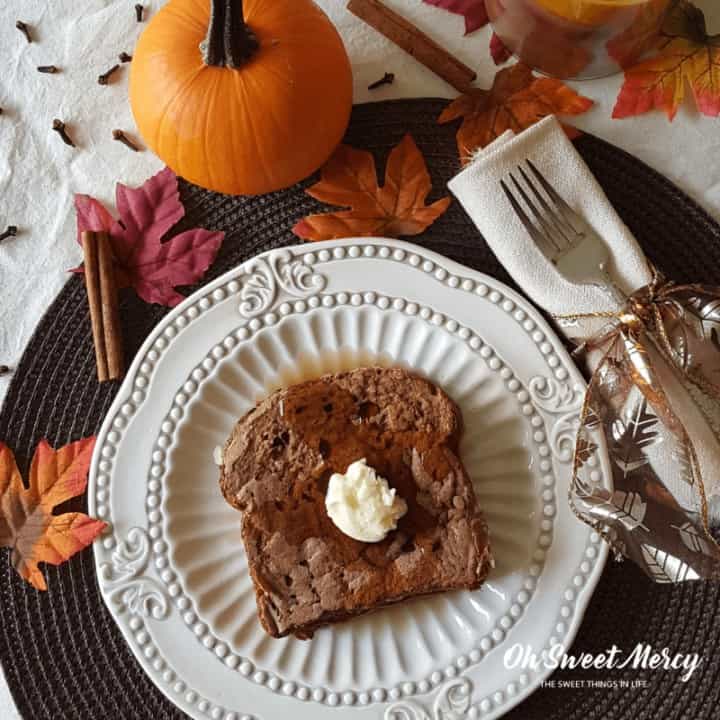 Pumpkin Spice French Toast - Low Fat, THM E
Yield: 2 Servings
Prep Time: 5 minutes
Cook Time: 12 minutes
Total Time: 17 minutes
Full of autumn flavors without the fat! This Pumpkin Spice French Toast is perfect for a Trim Healthy Mama E meal or anyone wanting a low-fat option.
Ingredients
1/2 cup egg whites
2 tablespoons pumpkin puree
2 teaspoons pumpkin pie spice
1 teaspoon THM Super Sweet or sweetening of choice, to taste
1 teaspoon pure vanilla extract
pinch or two of high mineral salt (optional)
4 slices sprouted bread
Instructions
In a mixing bowl, combine the egg whites, pumpkin, spices, sweetener, salt (if using), and vanilla.
Whisk well to combine thoroughly.
Preheat your skillet and if needed, add a small amount of fat or nonstick spray
When ready to cook, dredge each piece of bread in the egg white and pumpkin mixture, making sure each is well coated.
Place in the pan and cook for 3 minutes then flip and cook for 3 more minutes.
Top with your preferred THM-friendly French toast toppings.
Notes
I've had the best success with bread that is not frozen. If your sprouted bread is frozen, allow the slices to thaw first for best results.
Depending on the size of your bread you may have some leftover mixture, or not quite enough. I've added a bit of water to get more bread coverage on the last slice once with good results, or just add a splash or two of more egg whites if you have the carton kind.
The nutrition information includes fat that is naturally present in the pumpkin. I typically use the sprouted bread from Aldi, which is fat free. Other on-plan brands may have a small amount of fat. This is not counted toward your "added fat" grams.
Trim Healthy Mamas
This is a low fat E recipe. If you use no added fat for cooking then you can use your allowed added fat grams for an E meal for butter!
You may want more protein with this meal. Fat free Greek yogurt, collagen in your coffee or tea, or a small smoothie made with whey protein powder are good options.
Recommended Products
As an Amazon Associate and member of other affiliate programs, I earn from qualifying purchases.
Nutrition Information:
Yield: 2
Serving Size: 2 pieces
Amount Per Serving:
Calories: 155
Total Fat: 0.1g
Saturated Fat: 0g
Trans Fat: 0g
Unsaturated Fat: 0g
Cholesterol: 0mg
Sodium: 240.6mg
Carbohydrates: 23.1g
Fiber: 4.6g
Sugar: 2.5g
Protein: 13.3g