If you cook, you know how important it is to keep food from sticking, right?
Do you use parchment paper often? Does it just burn your cookies to buy something that's just going to get tossed out? It does mine! I used to think parchment paper was just a frou-frou Martha Stewart thing, but then I tried baking on it and loved the non-stick qualities. I even reused it as long as I could, but let's face it…it's still paper and it's just not going to stand up to repeated use in the oven. This means I have to buy it again, and at over $3 a roll, that can really add up to a lot of money in the trash.
What about non-stick sprays or added oils? If you're concerned about chemicals in your life, such as this mouthful – Demethyl Silicone…or this vague description…Propellant…then you'll certainly appreciate a product that will keep foods from sticking to your baking sheets without possibly harming you or your family. And if low-fat cooking and baking is part of your repertoire, you need something tat is truly non-stick.
Is there a truly non-stick prodct out there that saves money, eliminates waste and doesn't pollute your kitchen or your bodies? Yes, there sure is!
Introducing the SmarterBaking Silicone Baking Mat.
I was thrilled to get the opportunity to try the SmarterBaking Silicone Baking Mat. I was very curious to know if I could forgo buying parchment paper. While it's not something that I use all the time, it does seem to be one thing I'm out of when I need it most! I hate not being able to make something because I don't have the right tools.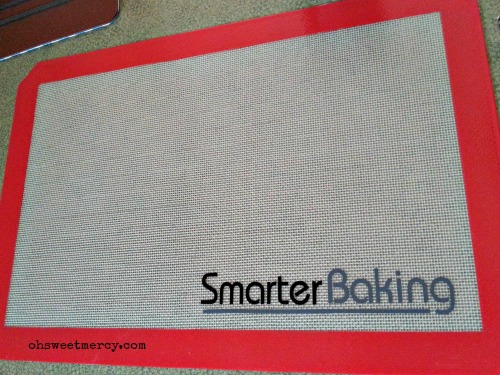 The SmarterBaking Silicone Baking Mat comes in a half-sheet size (16 5/8″ x 11″) and is reinforced with a fiberglass weave. This allows the heat to be evenly distributed throughout the baking surface, helping your baked goods to bake evenly and brown nicely.
Incredibly versatile, the SmarterBaking Silicone Baking Mat can go from temperatures ranging from -40 to 480 degrees Fahrenheit. You can bake breads, cookies, cakes, fish and other meats…anything you'd bake on a baking sheet. It can also be used as a non-stick kneading surface for bread and pastry doughs, making clean up so much easier!
The SmarterBaking Silicone Baking Mat is also eco-friendly as it is reusable and easily cleans with minimal soap and water. No need for parchment paper or non-stick cooking sprays!
From baked goods to low-carb cheese "crackers", the SmarterBaking Silicone Baking Mat makes baking a breeze.
While I'm a big fan of good, healthy fats, as a Trim Healthy Mama I know there are times when lower fat cooking and baking are necessary. The SmarterBaking Silicone Baking Mat allows me to bake without added oils on the baking sheet, keeping my E style foods low in fat. Being silicone, it will not retain odors (provided that it is cleaned properly, which is super easy!). That means your cookies won't taste like baked salmon…or vise versa.
The first thing I made with the SmarterBaking Silicone Baking Mat was a loaf of challah for Shabbat. Absolutely no sticking whatsoever! And a quick wipe with a soapy dishcloth, rinse and pat dry with my towel and my SmarterBaking Silicone Baking Mat was cleaned and ready to be stored away. This busy mama is a big fan of easy peasy, believe me!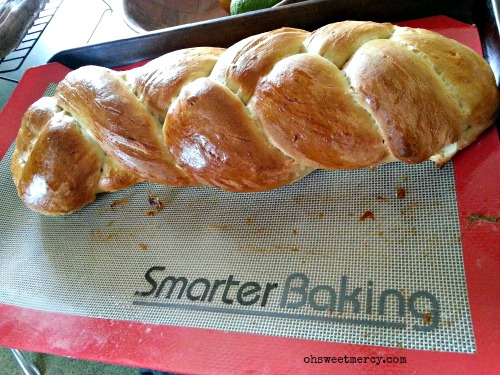 The big test – baked, low carb cheese "crackers" – would you melt cheese in your oven on your baking sheets?
Have you ever had cheese ooze off onto your skillet, baking sheet or bottom of your oven? What a nightmare to clean! That stuff can be like cement. So what better way to see if the SmarterBaking Silicone Baking Mat is really superbly non-stick than to melt some cheese on the mat…on purpose?
Have you seen those No Carb Cheese "Crackers" recipes floating around on Pinterest? Being a big (former) fan of Cheez-Its, I was intrigued by the claims that these crackers taste just like their carb-laden cousins. Since I didn't have parchment paper, and kept forgetting to buy it, I couldn't make them. Until I got my SmarterBaking Silicone Baking Mat, that is.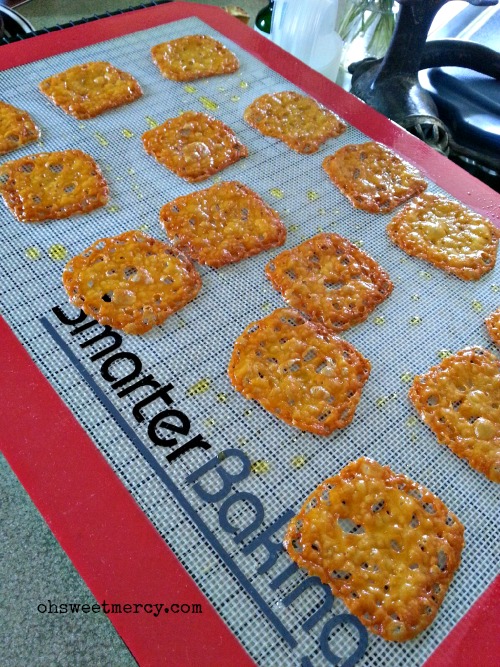 These "crackers" were neatly lined up when they went into the oven. They just slide right off, no sticking!
Oh. Sweet. Mercy. For real, people. If the only thing you ever use this baking mat for is to make these crispy, cheesy goodies, your low-carb life will be forever changed. I'm sure, however, that you'll find lots of ways to use these versatile baking mats!
They are super easy to make, too:
Easy No-Carb Cheese "Crackers" Recipe
Preheat your oven to 400. Place cheese slices (I used presliced cheese cut into fourths) 1/2″ apart on your SmarterBaking Silicone Baking Mat. Sprinkle with seasonings, if desired, such as My Favorite Creole Seasoning Blend, Curry Powder, Garlic Powder, or even freshly snipped chives. Bake in preheated oven for 10-12 minutes or until lightly golden brown. Dab with a paper towel or napkin to remove excess grease. Crackers will crisp up as they cool.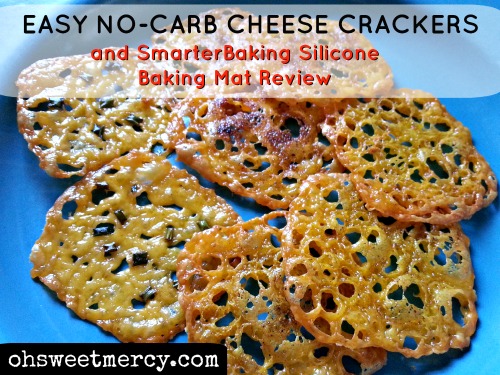 Pin this to your favorite Pinterest board!
These golden globs of cheese did not stick! In fact, as I was moving the baking mat, they started to slide right off! The SmarterBaking Silicone Baking Mat cleaned up quickly and easily, once again.

I love how easy it is to clean the SmarterBaking Silicone Baking Mat! The first picture was after baking the challah, the second I'm wiping off the grease from the cheese "crackers" (notice there is no baked on stuff from the challah because that cleaned right off too.). The final picture is my baking mat after washing with a soapy dishcloth. Still looks new!
The Verdict is…I love this product!
Overall, I was very impressed with the quality and performance of the SmarterBaking Silicone Baking Mat. I love how easily it cleans up and how versatile it is. A product that can be used for more than one thing is something that I love! The only thing I did not like was that the mat was just a bit too large to fit exactly in my beloved Pampered Chef Large Bar Pan. I was still able to use it, but it wouldn't work baking cake or brownies. I was also able to use it successfully with my Large Round Pizza Stone, but had to be careful not to get my "crackers" too close to the corners that hung off the stone…because they sure don't stick one bit!
Where can I buy a SmarterBaking Silicone Baking Mat and learn more about SmarterBaking?
You can purchase these high quality baking mats on Amazon, and if you're an Amazon Prime member, you get free 2 day shipping!
SmarterBaking also has a website you can visit for more information or Customer Service and can also be found on Pinterest, where you can find tons of recipes!
Plus, keep your eye out for their new product line under the SmarterBaking brand featuring the tools you use in your kitchen – cutting boards, spatulas and measuring cups and spoons. I know I'm looking forward to them!
---
FTC DISCLOSURE: I received this product free of charge in exchange for an honest review. The opinions expressed here are from my personal experience with this product and were in no way influenced by receiving a free product.