---
These Sriracha Deviled Eggs live up to their namesake! You control the heat, though, so add a little or a lot – either way these delicious low carb eggs make a great appetizer. Perfect for a quick Trim Healthy Mama Snack, too. Or breakfast, no judgment here!
---
Like I mentioned in my Spicy Sour Cream Sauce post, I'm loving hot and spicy foods these days.
Sriracha sauce gets liberally applied to just about anything. So why not make deviled eggs a bit more true to their namesake? Like, make them Sriracha Deviled Eggs and make them hot and spicy! I've recently updated this recipe, too and it's even more amazing.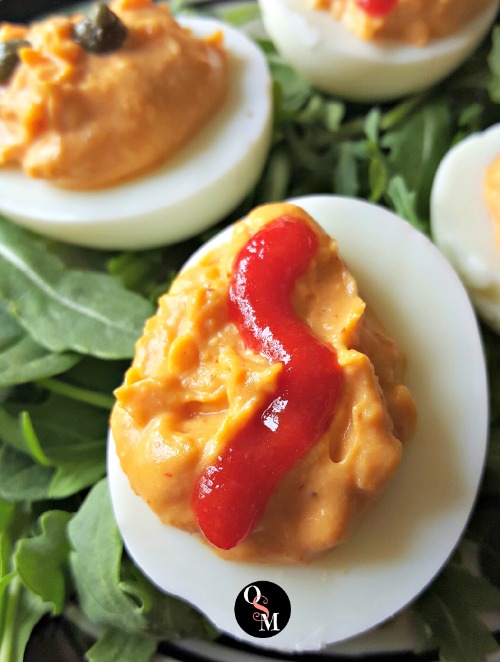 YouFood (formerly TwoGrand) is an app I use daily to help me track what I eat. It's also a great source of inspiration. I wish I could take the credit for thinking up this delightfully tasty Sriracha Deviled Eggs concept, but I saw a post from a fellow TGer and just had to try it. Thanks so much, @friendlyshoe!
It was love at first bite. And, an update…
In fact, I spent an entire evening daydreaming over how I was going to make and eat Sriracha Deviled Eggs for breakfast the next day. Oh, the anticipation…
As if these things aren't delicious enough, I made some today and added two of my favorite ingredients – nooch (nutritional yeast) and Simply Sunflower Lecithin, which is available through my affiliate partner, the THM Store.
Why nooch and lecithin?
I love to put nooch in all the things because it's a great way to add B vitamins and a little extra protein and fiber. It has a cheesy/nutty flavor that goes well in so many savory applications. It's also the secret ingredient in my Bread in a Mug recipe that makes this gluten free bread more bread-y.
Sunflower lecithin is fast becoming one of my favorite ingredients. Lecithin is rich in the lipids phosphatidylinositol, phosphatidylethanolamine, and phosphatidylcholine as well as abundant in fatty acids which are essential for a healthy brain and nervous system.
It also has this amazing superpower – the ability to make things creamier with just a tiny amount! I just added a small amount to this and what a difference in texture!
Trim Healthy Mamas, this is one satisfying S!
Enjoy these devilishly good brain boosters in a low carb setting. Have them for breakfast, lunch, supper or snacks – they are amazing any time of day.
Always make sure you center your meals and snacks around a healthy protein source, THM recommends 20 grams. One whole extra large egg contains 7 grams of protein, so make yourself three of these (that's SIX halves…feast!) and you've got enough protein.
Take them to a potluck. Or eat them all yourself. I'd probably do the latter, to be honest. Sriracha Deviled Eggs bring out the devil in me, I guess 😉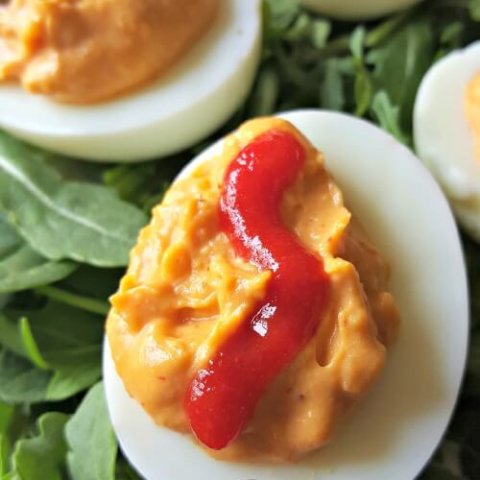 Sriracha Deviled Eggs | THM S, Low Carb, Keto
Yield: 1 or more servings
These creamy, spicy deviled eggs live up to their namesake. Add a little or a lot, either way Sriracha sauce kicks up the flavor in these easy, low carb snacks or appetizers. Make one serving or cook up a dozen eggs to make for a potluck or party.
Ingredients
FOR SINGLE SERVING
1 hard boiled egg, peeled and cut in half lengthwise, yolks removed
1 Tbs mayonnaise
1 tsp Sriracha sauce, more or less to taste. I like it spicy
1/4 tsp yellow mustard1/4 tsp raw ACV, more or less to taste. I like it tangy too
1/4 tsp Simply Sunflower Lecithin (optional)
1 tsp Nutritional Yeast (optional)
Mineral Salt and black pepper, to taste
My Favorite Creole Seasoning Blend or paprika, optional and to taste
FOR MULTIPLE SERVINGS
12 hard boiled eggs, peeled and sliced lengthwise, yolks removed
3/4 c mayonnaise
1/2 c yellow mustard
1/4 c Sriracha sauce, more or less to taste
3 tsp Simply Sunflower Lecithin (optional)
1/4 c Nutritional Yeast (optional)
Mineral Salt and black pepper, to taste
2 Tbs raw ACV, more or less to taste
My Favorite Creole Seasoning Blend or paprika, optional and to taste
Instructions
For one or a dozen, mash yolks with a fork (or potato masher, if doing a dozen).
Add remaining ingredients and mash and mix well until smooth.
Spoon mixture into empty whites.
Top with a bit of Sriracha or capers if desired.
Recommended Products
As an Amazon Associate and member of other affiliate programs, I earn from qualifying purchases.
Nutrition Information:
Serving Size: 2 halves
Amount Per Serving:
Calories: 180.4
Total Fat: 15.3g
Saturated Fat: 3.1g
Cholesterol: 189.8mg
Sodium: 246mg
Carbohydrates: 2.4g
Fiber: 0.4g
Sugar: 3g
Protein: 7.4g
Like this Sriracha Deviled Eggs recipe? Be sure to share with your friends and pin to your favorite Pinterest boards!